From 1st May 2022 Malaysia also started not to require PCR test submission befor entering to Malaysia. And if you are fully vaccinated also not required quarantine anymore. Traveling to oversea become more easy.
This time will introduce how to enter to Malaysi by to 2way. From Malaysia you can enter Singapore by bus or flight, so if you are from other country you can refer to how to enter by flight.
Enter to Singapore by bus
Enter to Singapore by flight
This article is useful for the person below
Want to use bus to go to Singapore from Malaysia
Want to know the process of immigration by bus
Want to know the process of immigration b flight
Want to make the transportation fee cheap (bus)
How to go to Singapore by bus
You may book from Bus Online ticket.com .
Once you go to that site you will see below display.
Select 「Origin」 and 「Arrive to」and select Singapore "City Plaza".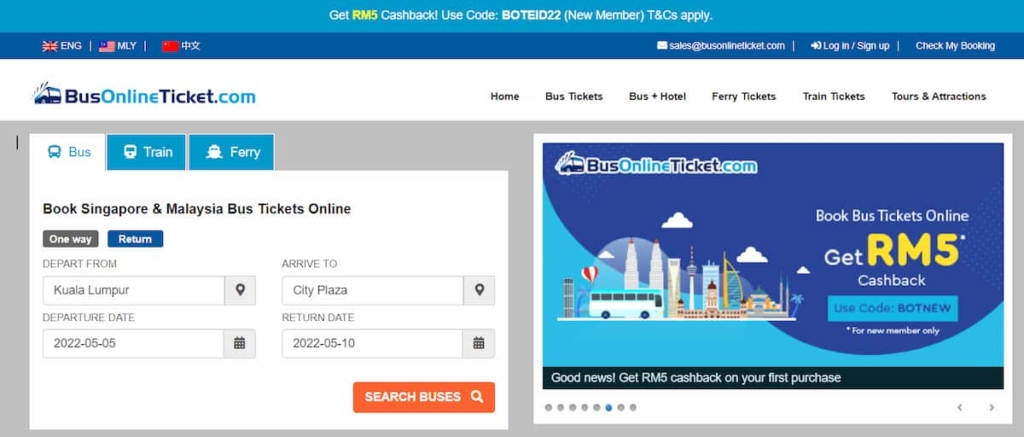 The arrival location you can choose the Singapore city which you are familiar. For me City Plaza was easy to know so I prefer this place for arrival.
You can use grab right in front of City Plaza, Marina Bay Suns is near and also near to main city in Singapore.
Price was around 65 SGD(50 USD)for return.
The departure from Kuala Lumpur is TBS bus terminal. At the reception counter it's bit long queue so better to arrive there 1 hour before the departure. From Kuala Lumpur city it took around 10 to 15minutes.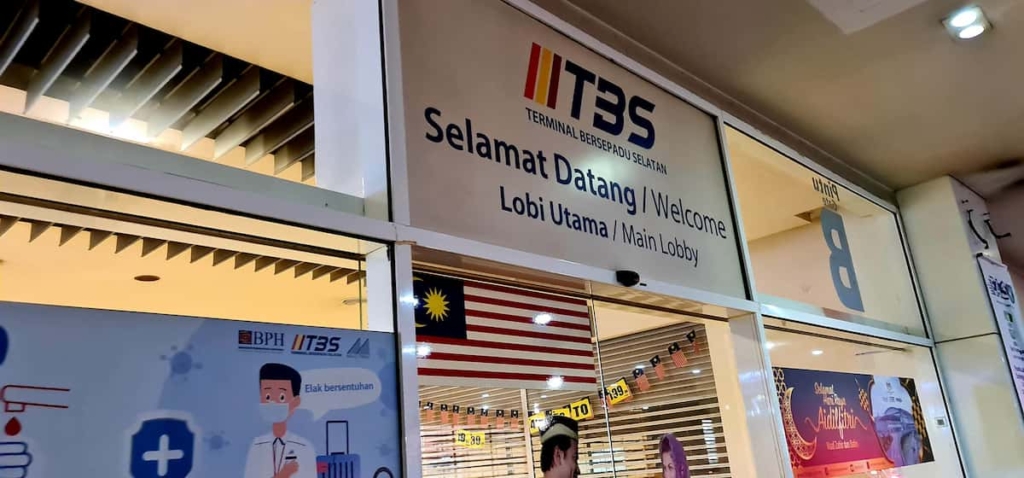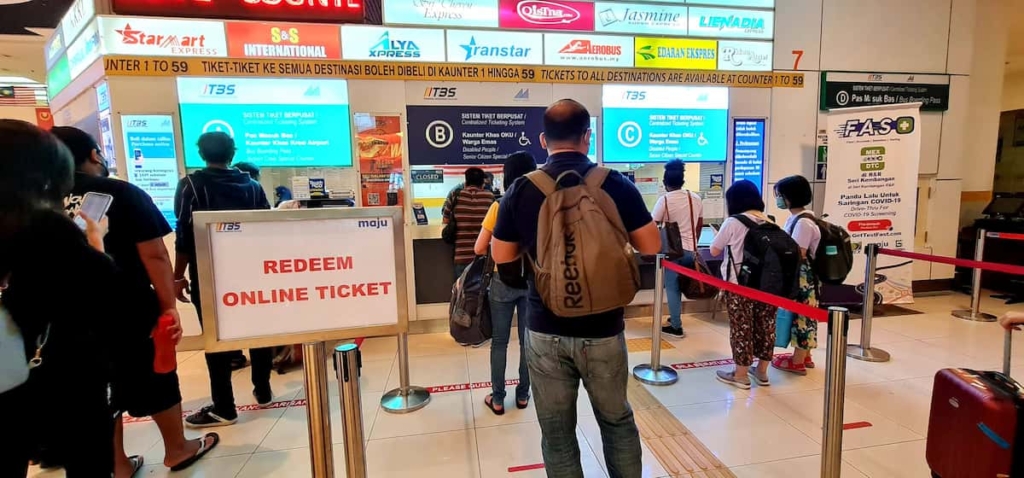 From this reception desk you can get the bus ticket by showing the online ticket from Malaysia to Singapore.
The bus ticket will be like below. You just go to the departure gate same like flight. By reading the QR code you can enter.
The right bottom side is mentioning the gate where you need to wait.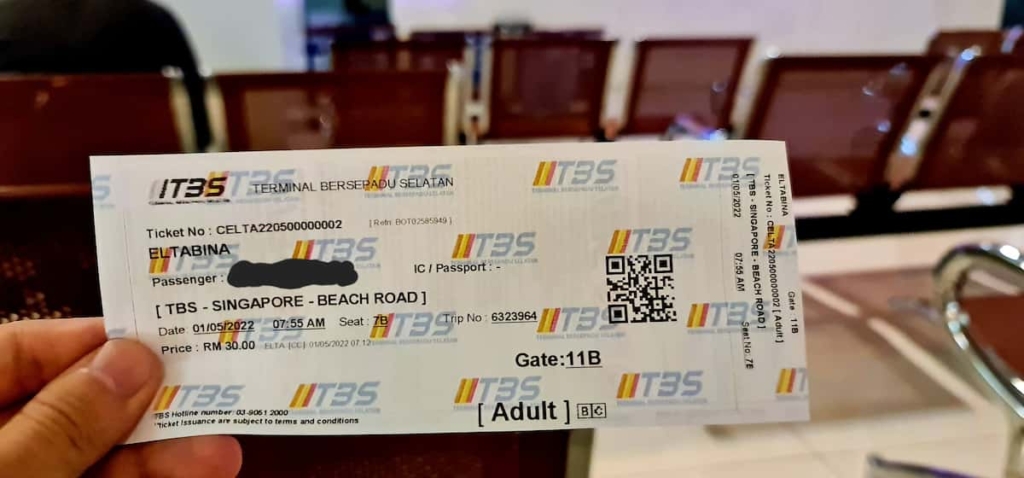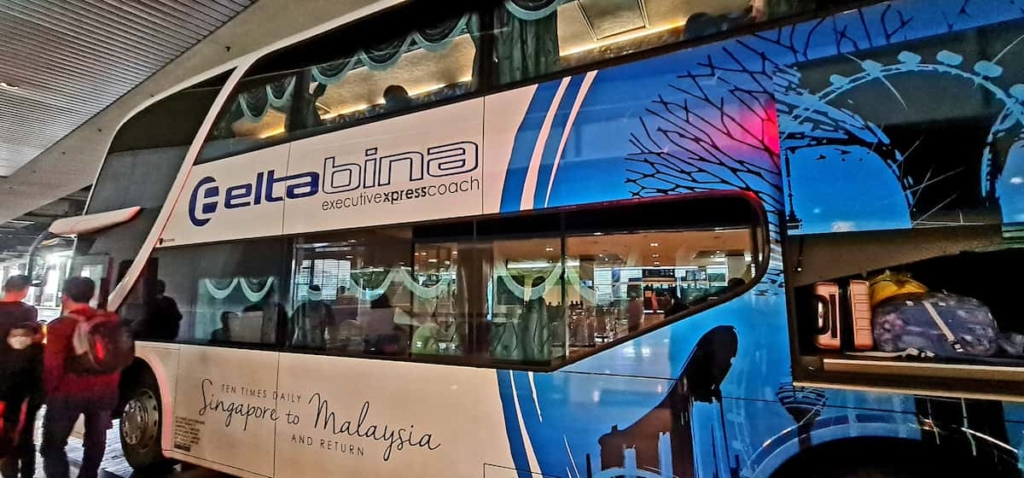 This is the seat and it's 3low seat so you can get much space. But there is no toilet.
There is also USB but around my seat all was not functioning so you'd better bring the mobile battery in case.
How to spend the time inside bus
I took the bus depart on 8am from Kuala Lumpur and arrive to Singapore on 3:15pm.
Inside the bus air con is bit strong and you might feel cold so it's good if you bring jacket.
Bus will stop at the bus stop after 3 hour drive but if you want to take break for restroom you can request the driver and they will stop at the nearest highway station.
The point to be careful when enter to Singapore(Bus・Flight)
PCR is no more require before your departure but need to apply online VISA to enter to Singapore.
Online Visa required
But no worry this application is free no need to pay like America or other country. You need to apply 3 days before the departure. Even on the date of departure is also OK.
This application must be done for every foreigner who enters Singapore. You can apply from below link to apply for Visa you just click「Foreign Visitor」and enter the necessary info.
There is the column「Vehicle Number」to key in. If you are taking bus you just key in「bus」but it's also ok to fill on the departure date when you ride your bus by checking the bus number. If flight just choose「air」and key in the flight number.
Singapore arrival card application
After application is submitted you will receive email from SGAC(Singapore arrival card)which is the eveidence of the application so please take the screenshot since you may need to show at immigration at Singapore.
Singapore application must install in advance
At the immigration they also check if you install the software or not. Th esoftware name is Trace Together and you need to use this during your stay in Singapore.
Android & iPhone can also install. The below icon is 「Trace Together」application.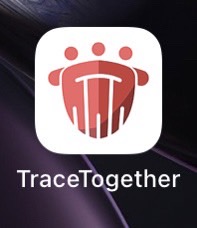 I wrote how to do the setting but setting need to be done after you pass the immigration.
How to set Trace Together①
How to set Trace Together②
How to set Trace Together③
How to set Trace Together④
How to set Trace Together⑤
About emigration and immigration
Malaysia emigration
Both bus and flight must require the emigration. If bus you will do it at Johor Bahru. You just bring your passport and wallet only.
By flight at emigration nothing required to show but during check in for flight ticket required to show the vaccine status.
Singapore immigration
It took quite long time to complete the immigration process. Since the immigration counter was only 4 and needed to bring all belongings due to inspection for luggage is required.
It took more than 1 hour to complete the full process.At the counter they will ask you to show the SGAC application so please take the screenshot in advance.
They ask me few question below
How long you will stay in Singapore?
What is your purpose for this visit?
Which area you will stay in Singapore?
After here it will take around 1hr to arrive to singapore bus terminal.
Maybe because when I arrive to Singapore not so many flight had arrived so immigration was very fast to complete.
No question was asked too.
Singapore emigration (bus)
I prefer to choose same place with the departure so you don't loss or waste your time.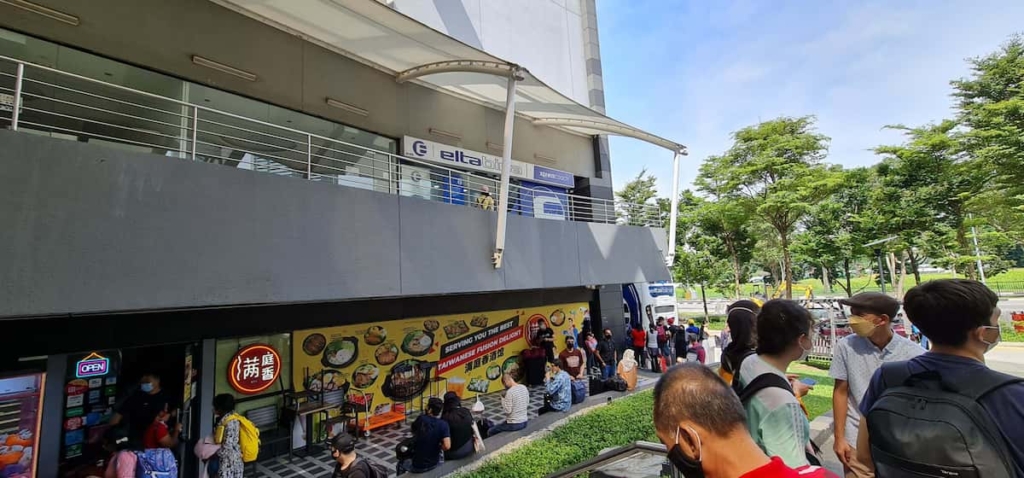 1hour before the departure you need to go to the bus counter and get the bus ticket. The 2nd floor「eltabina」is the office to get the ticket.
Inside the office there is bench so you can sit there until the departure time there is also convenience shop so you can buy some food or drink for the bus trip.
Bus company will give you 1 bottle of water for free.
Singapore emigration
Emigration is really easy at Singapore.
Just bring your passport and wallet. All is done automatic just scan your passport and check your face and fingerprint thats all.
Malaysia immigration
At Malaysia immigration you need to bring all your stuff.
Foreigner need to go to foreigner counter even you have VISA it took a time but at the counter is 10 minutes.
They just ask me 1 question which is below. And after you answer they will scan our face and fingerprint.
Conversation at Malaysia immigration
Immigration Staff : What is the purpose of your visit to Malaysia??
Me : I'm working in Malaysia.
If you are the tourist you can just say
I came for sightseeing to Malaysia.
But maybe they will ask how long you will stay.
After this scan your all stuff (including backpack and whatever) and done.
Singapore emigration(flight)
You just follow the rule to your destination.
If you return to Malaysia by flight below is the point to be careful. Because 1 thing you have to do via Myseja before you check in.
Things to do when use flight to enter Malaysia before departure
For Your Information, Changi airport has free Wifi. Before COVID-19 you needed to go to information center to get password but now no need to do that. It's more convenient.
Singapore emigration
By flight also same like bus you can use the auto gate system but after that emigration staff was doing double check and this was causing time to be finish. And long queue was made.
Nothing was asked about Myseja so maybe other country people might be ask something.
Point to be careful from Changi airport transportation
By using flight mostly you will take train to go to city. The price is Singapore is high in East south Asia but the public transportation such asn train and bus is ver cheap and convenient to use.
But there was 1 big changes which was changed after pandemic. Standard card disappear.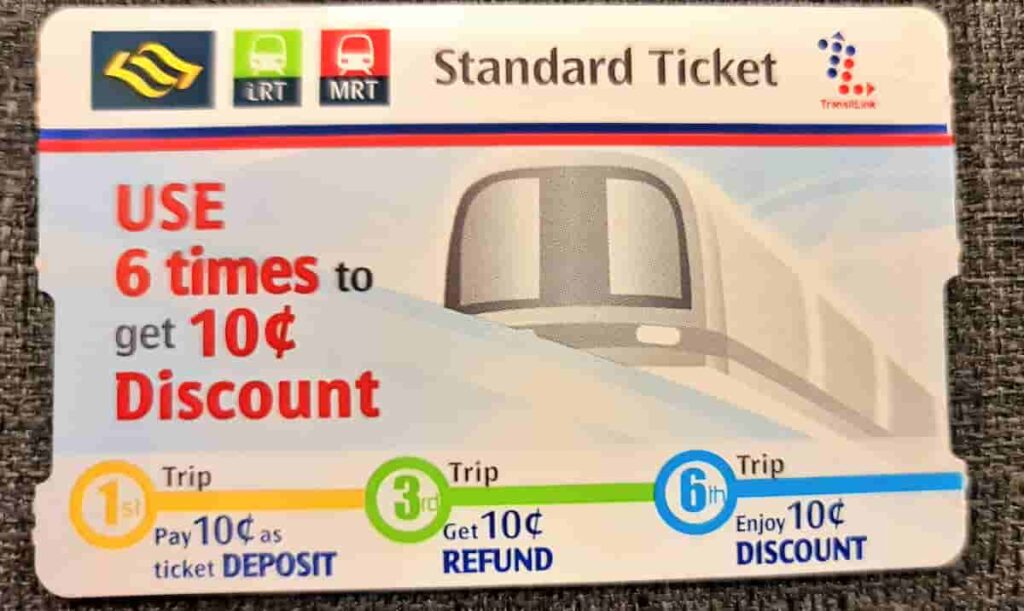 This ticket you were able to get when you buy the train ticket from the vending machine. And can use 6time per card. It was really convenient for tourist but due to COVID-19 they change finish this service.
So you need to use the contact less credit card which has the mark like wifi on your credit card. If you don't have you need to buy at airport for Singapore Tourist card or Ezlink.
Method to use transportation in Singapore
①Contact less credit card
②Singapore Tourist Card
③Ezlink
What is Singapore Tourist Card
It is IC card for tourist to use MRT and bus anytime. Period of the card is shown below.
Singapore
Tourist card
SG tourist pass
シンガポール
ツーリストパスプラス
STSチャーム
Price
$10,$16,$20
$25
$38
$36.90
Period
1D/2D/3D
3D
3D
Deposit
$10
None
None
1D
Remark
Have discount at some
restaurant
& sightseeing spot
None
Have voucher for
restaurant and tour
With merlion charm
Singapore Tourist Card price list
Each pass will become as Ezlink after the period is end.
You can buy at airport or main MRT station. This pass has deposit so if you return back the pass you can return back your money. The place to return the card can be done at every station which has the TransitLink(ticket office)but the operation hour is depends on each station.
Normally the price is around 1$ per ride so if you are going to ride more than 10 times oer day Singapore Tourist Card is benefit to purchase.
What is Ezlink card
It's the cashless card for transportation. You just scan the card at the entrance of station. There are several design and you can buy at convenience store such as 7-eleven by $10. $5 is already charged so you can use immidiately.
You can also purchase at the main station but normally it's sold out.There are 4 option to top up
Top up ta MRT ticket vending machine
Top up at 7-eleven counter
Top at at ATM
Top at via application
At MRT ticket vending machine normally have long queue to just top up. I did at 7-eleven.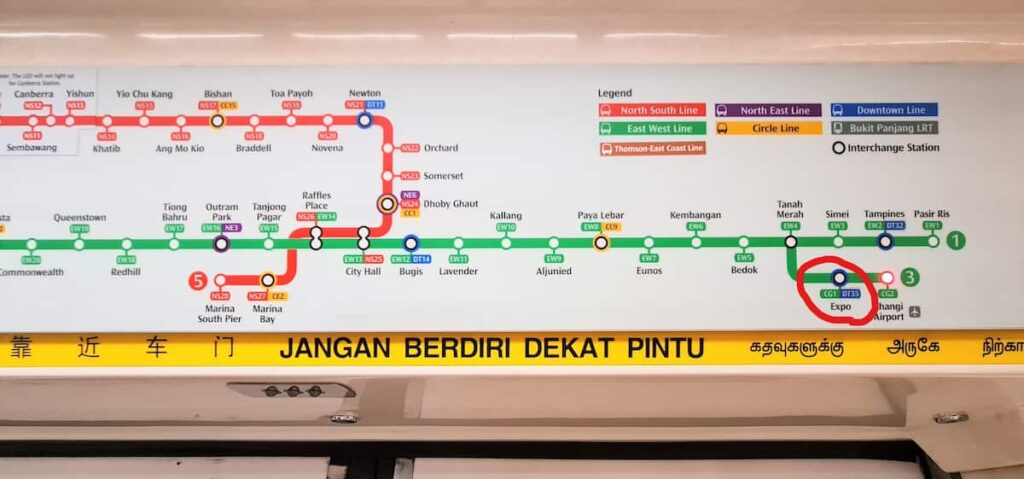 There is 1 good new about MRT. Previously from airport to city you needed to change the train and Tana mela and then transit at Bugis.
But from Expo new city line had connected so you just transit 1 time to go to Chinatown, Marina Bay Sunz which is really became comfortable to go there.
From airport to city ot took around 45 minutes.
Summary
Overall I prefer flight compare with bus because of time management is more easy.
When I use bus and return back from Singapore from Johor which is the nearest town in Malaysia to Singapore it took around 11hours to arrive to Kuala Lumpur. Very exhausting.
But since the price is cheaper if you really want to spend small money to travel to Singapore from Malaysia hope this can be useful for you.
At the end
Singapore Arrival card(bus and flight)must done the application and save the approval email screenshot
To install TraceTogether application in advance
When use bus arrive to the bus terminal 1 hour before the departure
Inside bus is bit cold bring jacket or additional close to protect you(same goes to LCC user)
Singapore bus stop is better to use The Plaza for easy access
Need to prepare the contact less credit card
I booked by using Klook at Singapore tool. In Singapore some of the attraction need to book in advance and Klook price is not much difference from original price. Please check from below link if you are intrested.
[Klook official website]
At Sentosa you can enjoy full day for many activities such as aquarium, Universal Studio Singapore, outdoor acticities but the new activity there is Luge. You can do Luge even it's summer by enjoying the wnoderful nature. If you are intrested on the activity please go!!
2022 this is the latest & best activity to do at Singapore
If you don't have luggage to check in you should better to take the low cost carrier aircraft such as airasia. But sometime it's better to use the major aircraft company such as Japan Airline or Singapore airline. If you are considering to use flight for your trip please check below article. You can get the cheapest flight ticket.
Method to purchase the cheapest flight ticket
If you are planning to use low cost carrier (LCC) you might waste your money. And at the end you might spend more money then using major aircraft company. To avoid such kind of thing please read below article. I summarize the point to be careful when you purchase the LCC ticket.