I would like to introduce the Singapore latest activity "Luge". After COVID-19 this Singapore trip is my first oversea trip. Currently Singapore boarder is opened without quarantine so it's becoming back to normal.
As I said before this is my first oversea vacation after COVID-19 and my last visit to Singapore was 2017.
I arrange my schedule to stay in Sentosa island for this time and find the new hot spot there which will be new sightseeing or whatever nice place at Sentosa island.
Because of many new attraction is at Sentosa island now you cannot say that Sentosa island only have Univeral Studio Singapore.
This article will be useful for below person.
Want to go to Singapore
Other than Marina Bay looking for some place to visit
Want to know new route for sightseeing after COVID-19
Want to know more about current Sentosa island
Want to go holiday!
Not only winter but every season activity 「Skyline Luge Sentosa」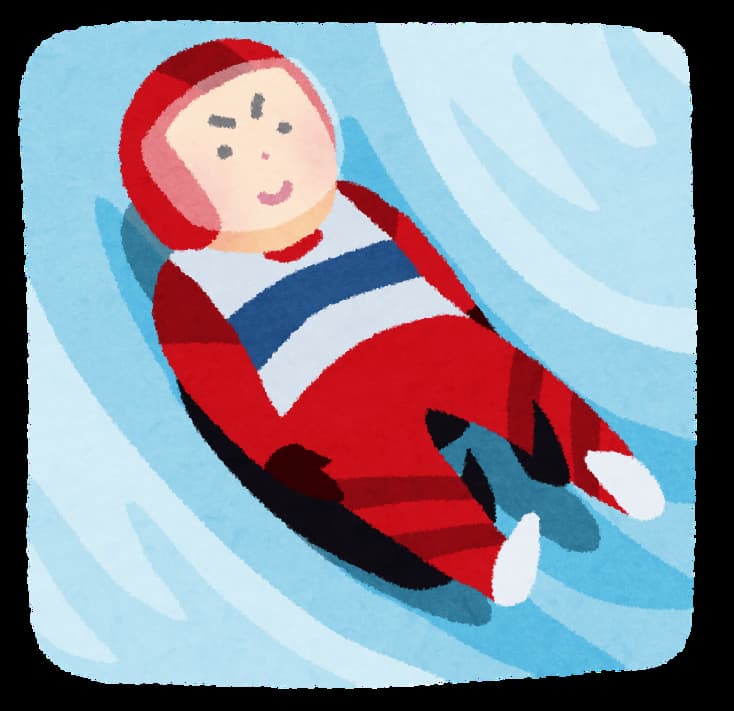 By the way what is Luge
It is a winter sport in which you ride on the sled and compete for the speed of sliding on the ice. Originally, it means "wooden sled" in French. It is also a familiar competition at the Winter Olympics. But Singapore Luge is bit different because as you know Singapore is always summer you can enjoy Luge even in summer.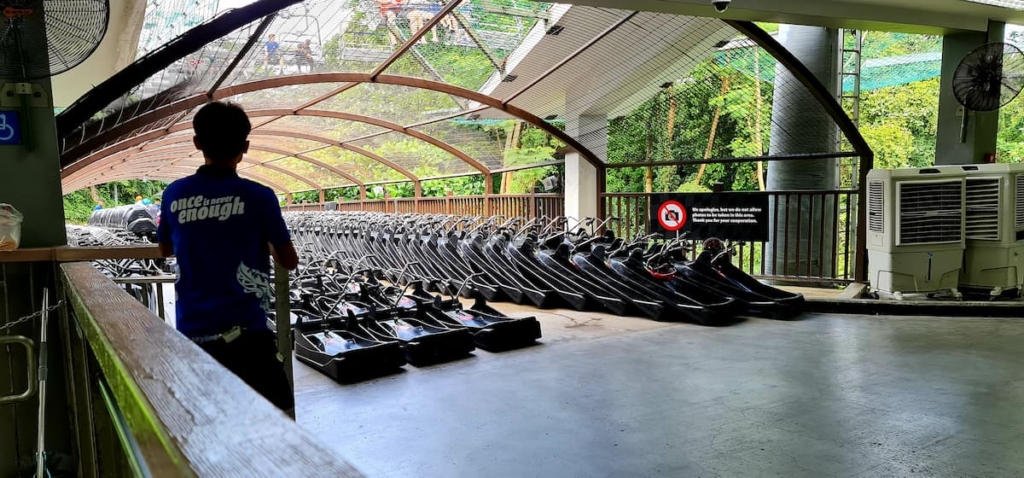 The olympic Luge need to use your foot to control the sled so I guess the handling technique is very high but Singapore Luge is very easy you just control the handle which is like bicycle. Left and right is simple as you can imagine, only you need to know how to go forward and break which is control by push or pull the handle (if you push sled will move forward if you pull you can break the sled) manage good adjustment to reach to the goal.
Luge price and how to purchase
The price depends on how many time you ride the luge.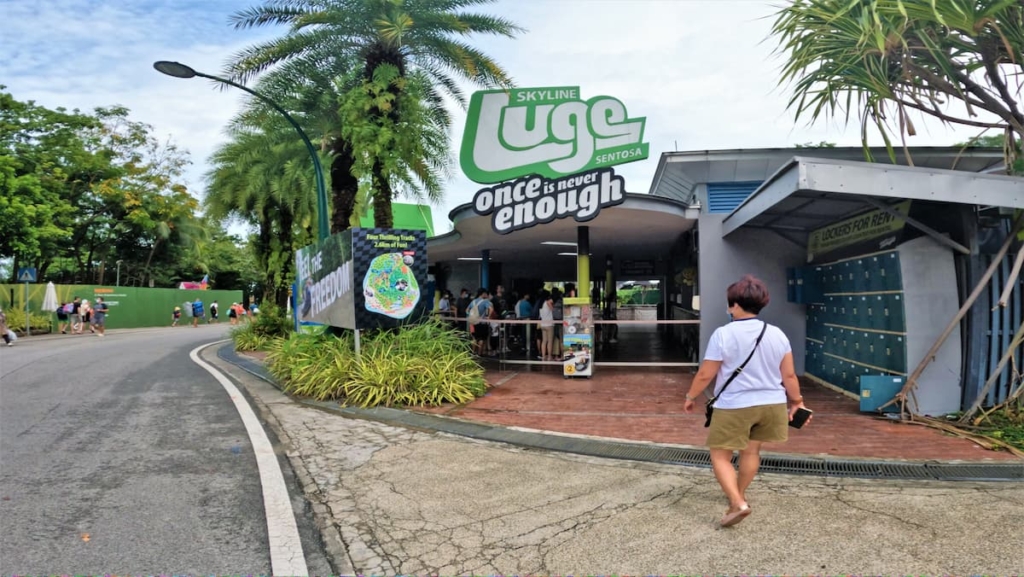 Skyline Luge Sentosa entrance has 2 place anyway both can be start point or goal point and you must take the skylift anyway to return back or to go to the start point.
The price is shown as below
| 4 time Luge | 3 time Luge | 2 time Luge |
| --- | --- | --- |
| Fixed ticket (off peak) $29 | Fixed ticket (off peak) $26 | Fixed ticket (off peak) $22 |
| Fixed ticket $33 | Fixed ticket $30 | Fixed ticket $27 |
| Flexi ticket $36 | Flexi ticket $33 | Flexi ticket $30 |
| Child doubling ticket $12 | Child doubling ticket $12 | Child doubling ticket $12 |
Luge ticket price
SkyFixed ticket is time fixed ticket. You can select the time like 13 – 14. Within the selected hour you can enjoy luge
Flexi ticket is anytime in selected date you can enjoy luge. Also you can change the date as well
Off peak can be use only for weekdays from 11am to 14pm(excluding public holiday and school holiday)
Skyline Sentosa Luge has 4 course can the maximum is 4 time. Minimum is 2 time and I purchase 2 time ticket.
Actually this activity was very fun so it was better to purchase 4 time ticket.
I book the ticket via online Klook site. You may also book through the official site for English. But in case I will put the Klook link below. It's Japanese but you can select your language at the top page.
[Klook公式サイト]
I purchased by online but you may also purchase on site. But there are limitted seat for each section hour and to reduce the time to wait I prefer you to purchase in advance by online.
How to control luge
The staff will teach you how to control luge before you start so every beginner can learn at that time.
If you pull the handle sled will break and stop, if push sled will move forward. Turn your hanlde to left the sled will move to left side and turn your handle to right the sled will move to right side. It was easy but at the curve area since the speed is fast I was bit nervous.
From 2nd time they will also teach you again but more simple.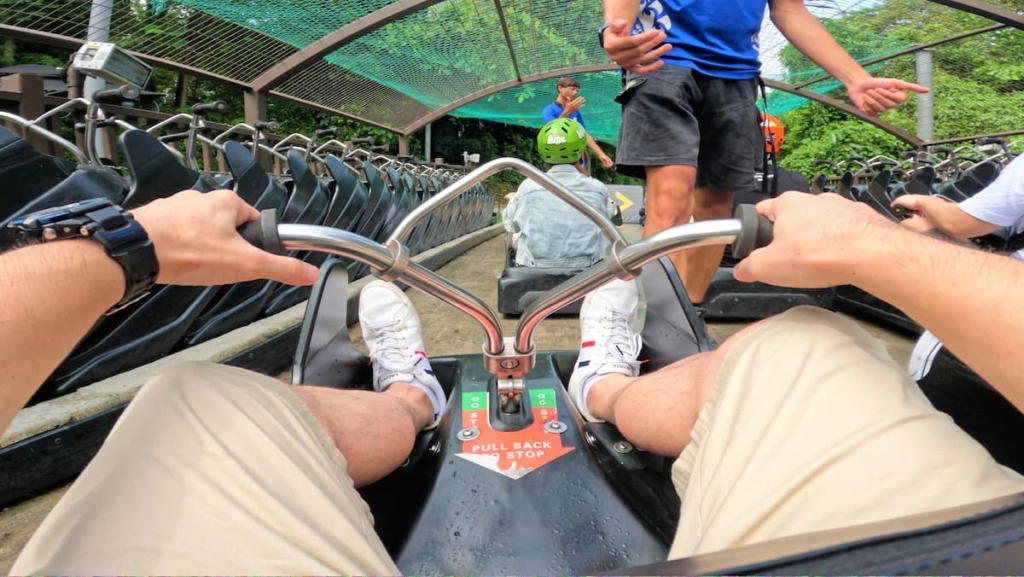 Let's start luge!
As shown in the photo helmet is required to wear. You will get it before you ride on the skylift (but depends on the entrance). Luge itself has many and rotation speed is fast so you don't have to wait long queue like themepark.
After the staff lecture you just follow in front fo you 1 by 1 until the start point. You can also try move forward, break, go left & right at this moment. If you stuck the staff will push you to support.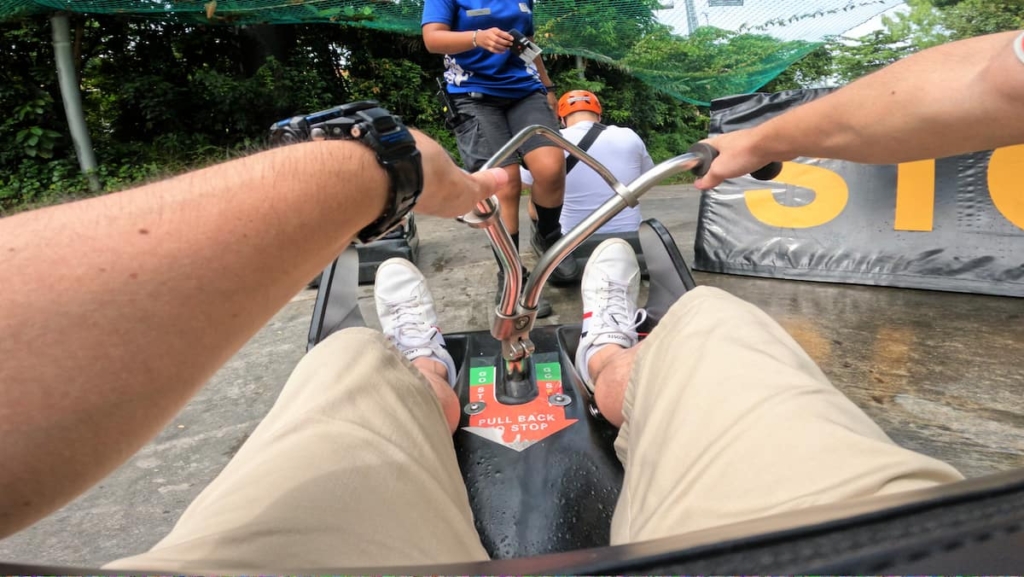 I took "Kupu Kupu Trail" & "Expedition Trail" course. Expedition had more sharp curve so need more technique to manage with high speed luge.
But this day(3rd May 2022)Dragon Trail course was unavailable.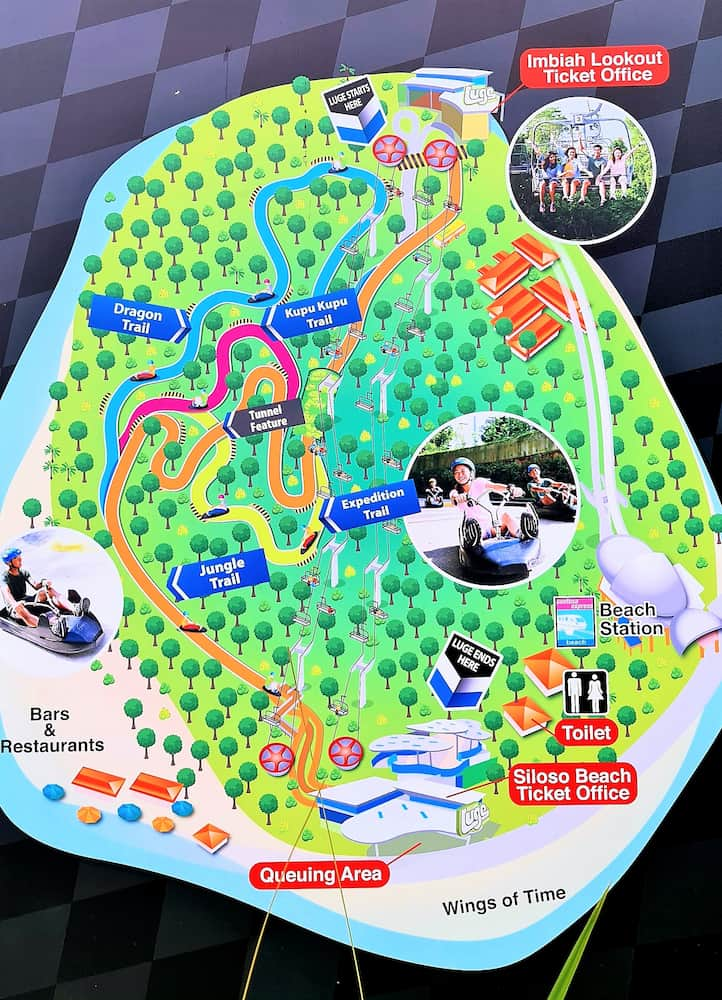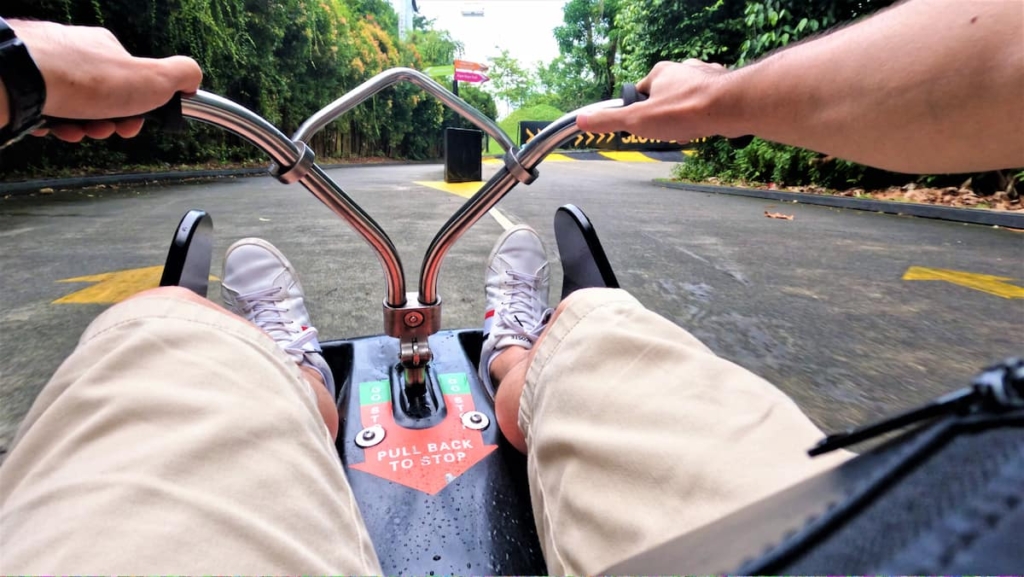 As you can see in the photo each point you need to choose which way to go.
In some of the time population will increase especially children so be careful when you move fast.
I also updated Youtube so if you have a time please also check it. Below movie can start from the Luge start point.
Moving by the skylift
When you do or finish luge you need to use skylift for transportation.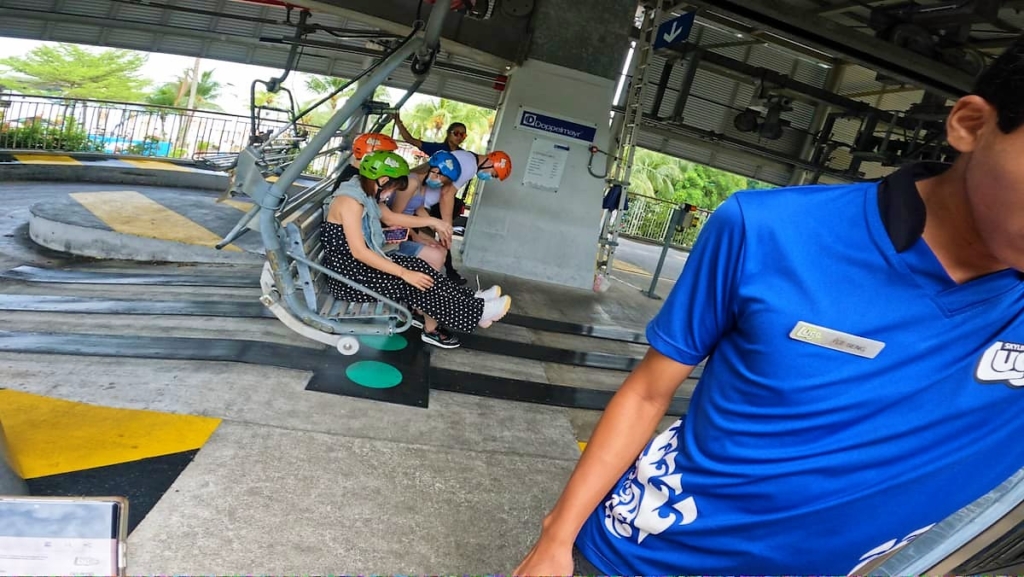 When you ride please show your ticket (QR code).
It will go to high place but no worry just follow staff instruction. The place will be high but view is very nice.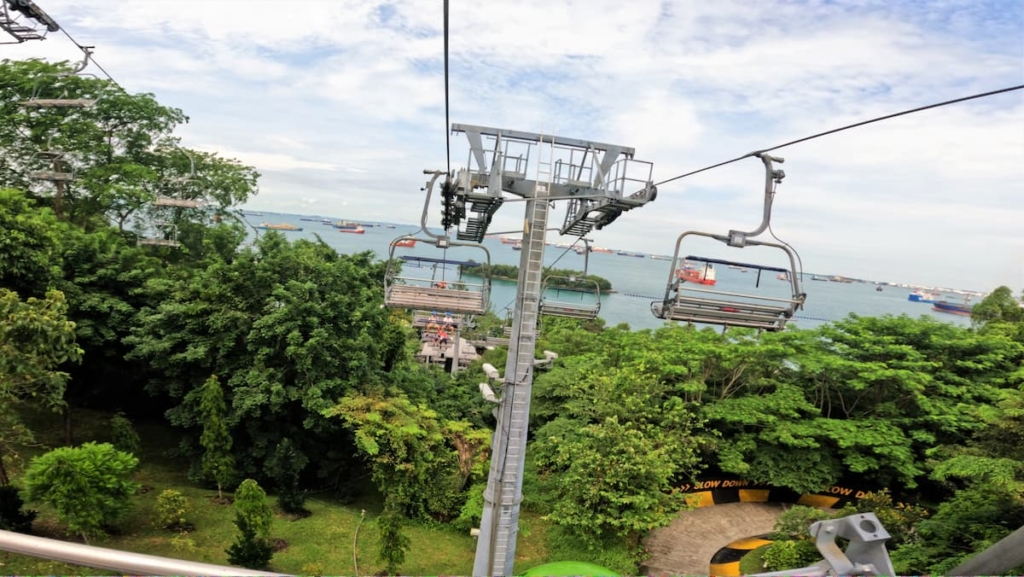 If you are afraid of high place ensure to grab the saftey bar.
How to go to Skyline Luge Sentosa
There are 2 pattern to go to Skyline Luge Sentosa. You can check by official website below but not much detail is mention.
Use monorail and get off at Beach station
Use cable car and get off at Imbiah lockout Station
Use monorail and get off at Imbiah Station and then walk
I choosed no.3 but because I took wrong way and cause me to walk long time. Since monorail is free I recommand you to choose no.1.
Summary
Purchase the luge ticket by online in advance
Luge was very fun so better purchase more than 3 time luge
To go to Skyline Luge Sentosa better use monorail and get off at Beach Station. It's really near
[Klook公式サイト]
Sentosa island is not only USS(Universal Studio Singapore) anymore and most of fun you can do at Sentosa now.
Last time when I come this Skyline Luge Sentosa was not there so it's quite new place.
Other than luge there flying fox which can fly more than 400m, bungy jump, Madame Tussauds Singapore and so many place for activities you can do in Sentosa island now. If you use the cable car more than twice you'd better purchase the limitted pass for cable car.
The negative point is inside Sentosa island hotel price is high and including USS most of the place open from 12pm but why not consider Sentosa for new sightseeing spot in Singapore??
If you don't have luggage to check in you should better to take the low cost carrier aircraft such as airasia. But sometime it's better to use the major aircraft company such as Japan Airline or Singapore airline. If you are considering to use flight for your trip please check below article. You can get the cheapest flight ticket.
Method to purchase the cheapest flight ticket
If you are planning to use low cost carrier (LCC) you might waste your money. And at the end you might spend more money then using major aircraft company. To avoid such kind of thing please read below article. I summarize the point to be careful when you purchase the LCC ticket.