When you travel to oversea don't you think about the flight ticket at first.
Purchase the flight ticket cheaply and use for good hotel, souvenier & for delicious food.
In here I would like to introduce what I normally do when I purchase cheap flight ticket.
Method to find cheap flights
When you find the international flight or domestic flight how you find or what you will use the get the flight ticket.
I guess it can be divide by 3 different group.
Travel agency (such as HIS or any in each country)
Direct from airline (such as American airline, Japan airline , Singapore airline and so on)
OTA Online travel agency (such as Expedia, Trip. com, Kiwi and so on)
But this time my option is not include here so I will explain how to search the flight as for option No.4.
The option no.4 is
Using flight scanner site which can scan all airlines, travel agency at once
You may need to spend more time to find but just a little time only. This time I will explain about "skyscanner" flights.
Skyscanner is the website which can book flight ticket, hotel, rent car all over the world from 1,200 webiste and can compare all the price.
How to use is almost same like what you do when you purchase the flight ticket.
The biggest benefit is from the result of search flight it shows all the price for all the supplier who sell the specific flight ticket.
Skyscanner shows the cheapest flight ticket easily for your vacation.
Of course everything is free so by using skyscanner you can find the cheap flights.
I will explain 1 by 1.
If you just want to know the result please click below.
Will explain how to use skyscanner by using screen shot.
Search skyscanner
At Google I believe it will come at the top.
Click skyscanner
When you click below page will be appear.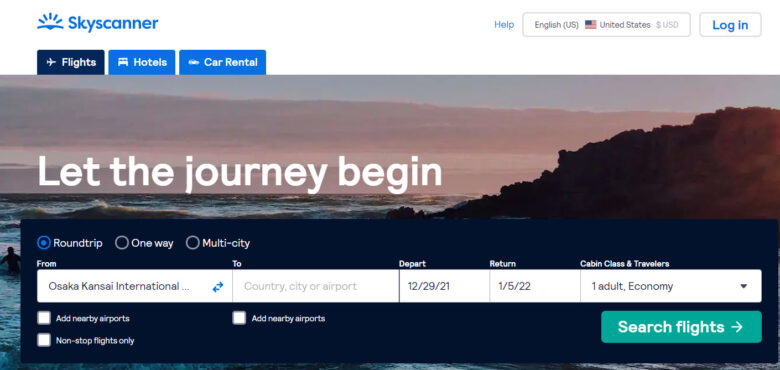 Input the necessary info and press search flights
Input departure, destination, depart date, deturn date, number of person and press search flights.
For this example is set
Depart from:New York
Destination:Tokyo
after you press search flights below display will appear.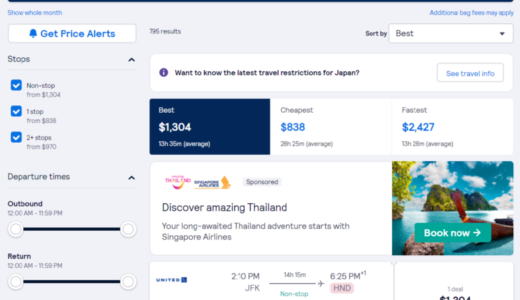 Search the flights will suit to your plan
Defualt is setting for best plan.
If you want to check the cheapest flight you just need to select cheapest only.
But you need to search from 795 result which will take time.
So now going to add condition to make more detail.
At left side you can see Outbound and Return departure time can change.
If you want to choose the specific airline or group you can also select that.
This time only change the departure time only.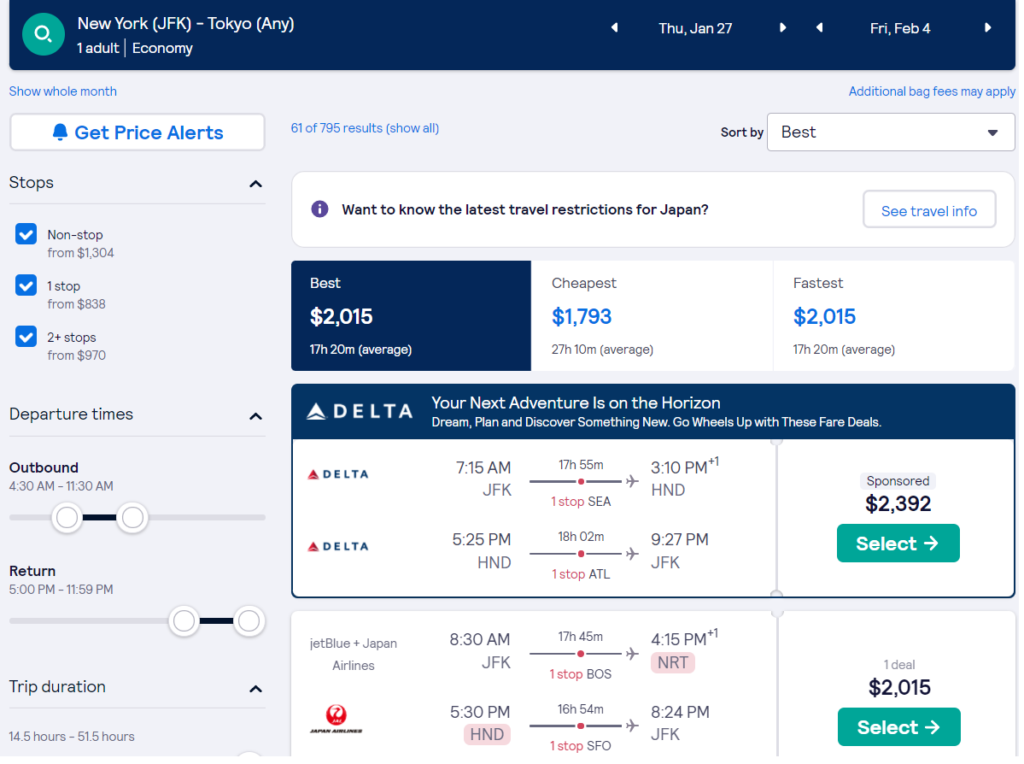 Once you change the departure time immediately the search result will change.
This time theme is cheapest flight ticket so press the cheapest button.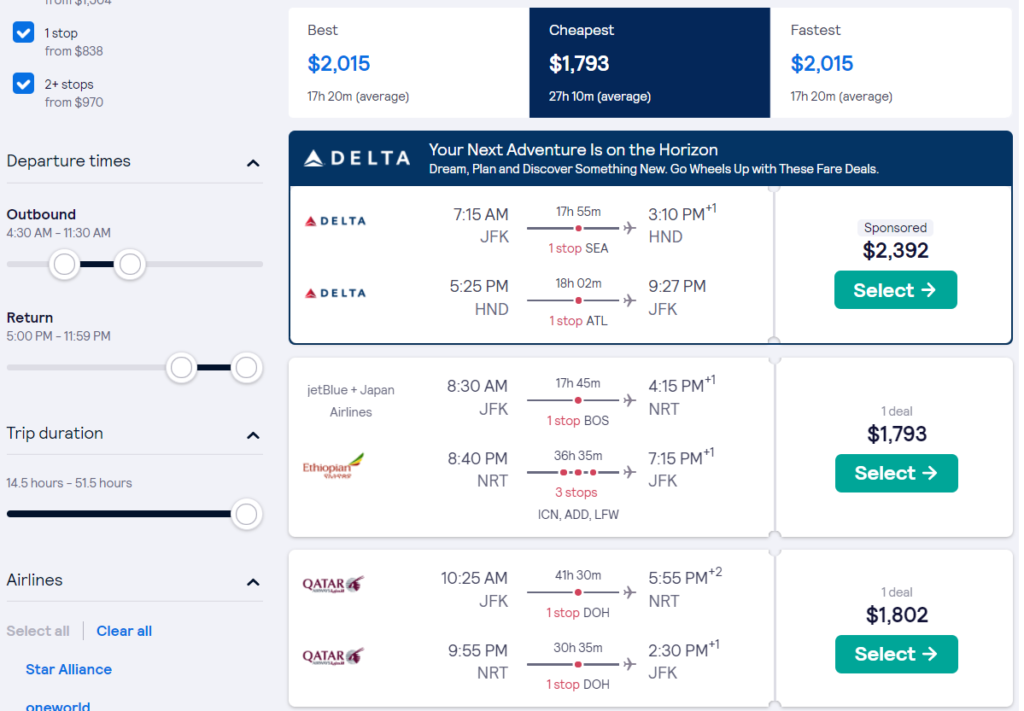 The top DELTA airline is promotion so please ignore.
The cheapest price is 1,793 USD and 2nd cheapest flight is 1,802 USD.
But for this demo when select the Qatar airline option to choose travel agency was only one so this time I choosed Japan airline (JAL).
Select the cheapest flights which is suitable to your plan
When you press select and scroll down, below display will be appear.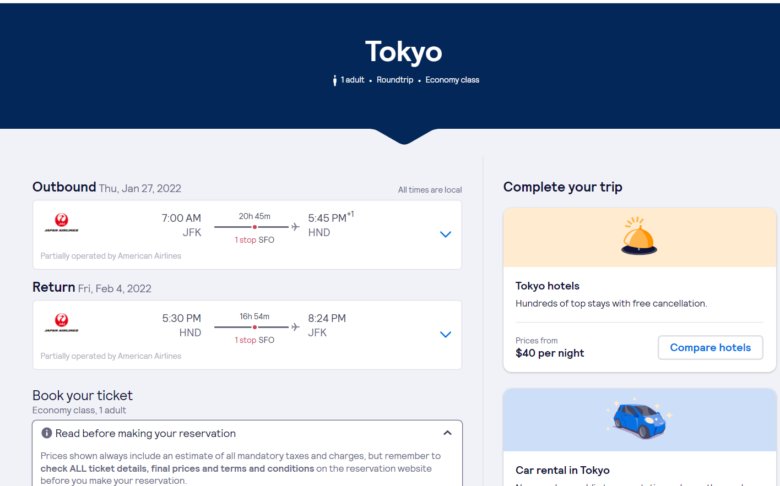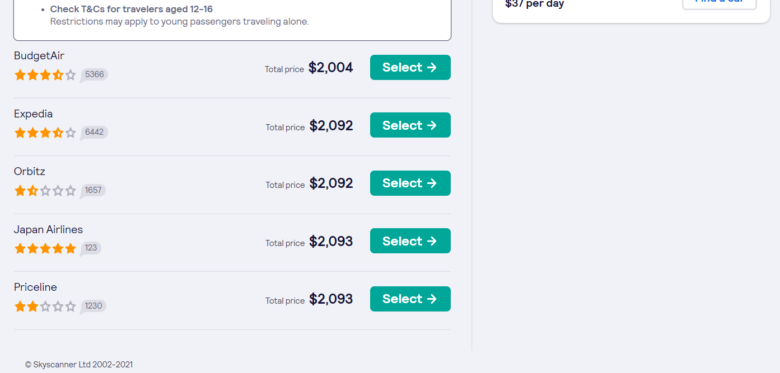 By using JAL there are 5 option to choose but you can see that if purchase from BudgetAir the price is 2,004 USD but others such as Expedia or JAL website is 2,092 USD or 2,093 USD which is more higher price.
Since JAL is under Oneworld airline so if you have mile account such as Qatar or American airline or others you can also earn the miles.
Go to the flight ticket site which is matching to your plam
This time BudgetAir is matching so press the select button at the BudgetAir and move to BudgetAir website.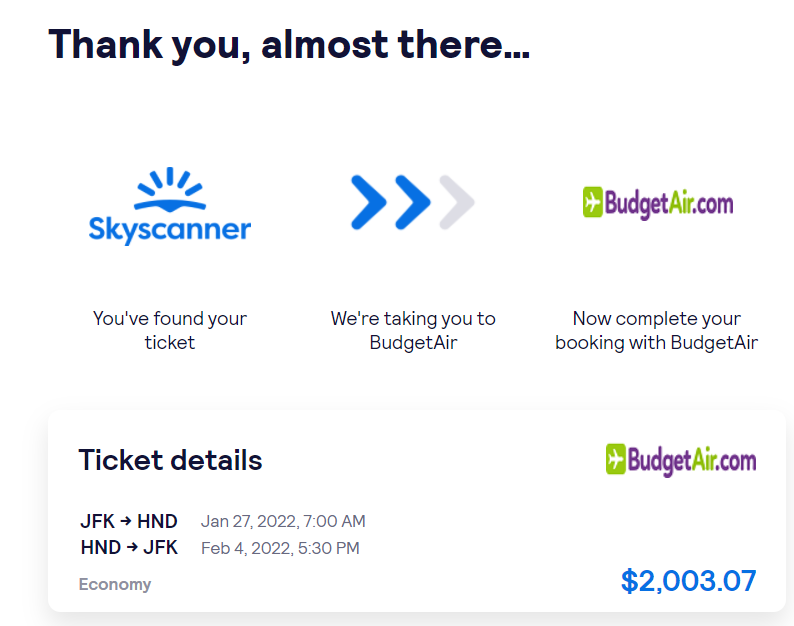 When move to BudgetAir website check your flight schedule and if no problem key in your details which is very very common when you purchase flight ticket normally.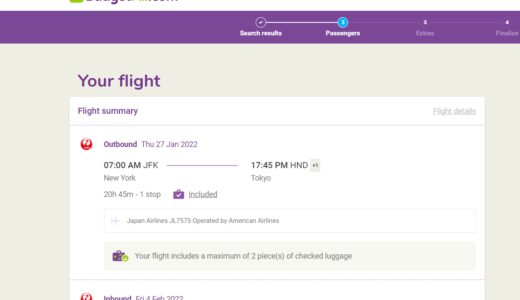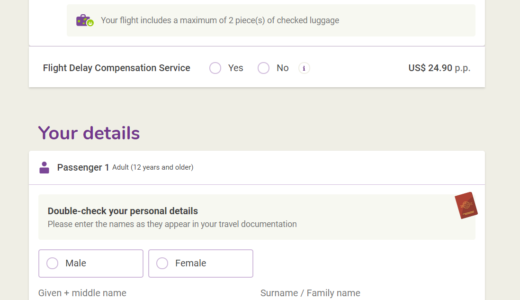 Once you key in the info and confirm the payment, then you flight tickets will be issue soon.
So let's compare the price by using skyscanner.
Travel agency (such as HIS or any in each country)
Direct from airline (such as American airline, Japan airline , Singapore airline and so on)
OTA Online travel agency (such as Expedia, Trip. com, Kiwi and so on)
Let say we compare the price between no.2 (JAL) and no.3 (Expedia).
When choose JAL                     2,093 USD
When choose Expedia                   2,092 USD

When choose BudgetAir via skyscanner 2,004 USD

 
From the result you can understand that if used skyscanner were able to find 89 USD cheaper flight ticket which is quite big cost saving.
This time the booking number was only for 1 person but if for family the cost will become big. You can imagine how good to find it.
The person who normally used the travel agency or Expedia lovers or whatever just taking little bit time but you can get big benefit. Why don't you try to use skyscanner once?
There is another benefit to use skyscanner.
This function is for the person who wants to find the more cheaper flights.
The function is price alret.
When you use the skyscanner you will see the button [get price alert] like inside the red square in the picture.
When you press that button setting to get the price alert will pop up.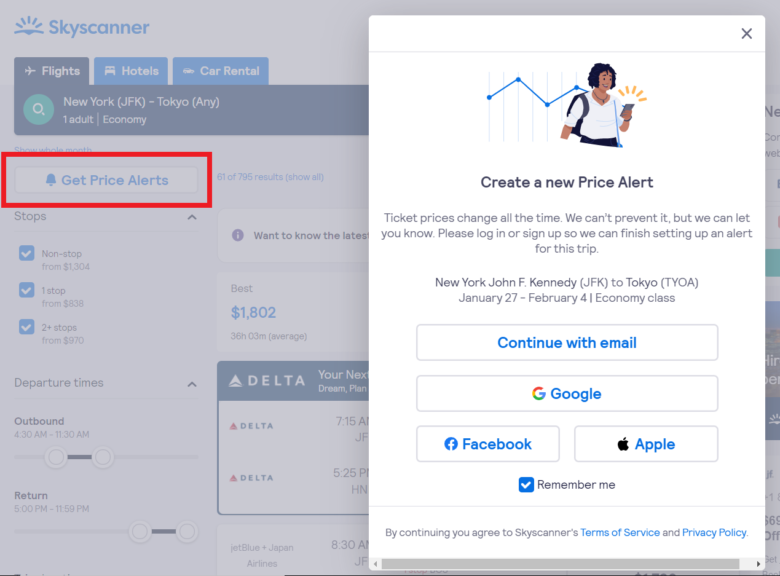 Flights ticket price is fluctuate from time to time. Normally faster you book cheaper you can get but sometime you can find best flight deals.
Once you register and there are change at the price skyscanner will let you know.
It will be an advantage for those who pursue cheapness.
Summary
When you book the flight ticket use skyscanner
Skyscanner benefit 1 you can get the cheapest flight ticket
Skyscanner benefit 2 you can pursue the cheapness by using price alert
Let's get the cheapest ticket and go for oversea vacation!!
In below page I'm introducing best place to go for holiday such as Machupicchu in Peru, Uyuni in Bolivia, the best starry sky in the world Tekapo New Zealand and so on. Please check it.