There is no better place in Japan to spend the summer than Hokkaido.
I visited Hokkaido in September, so it was a little late in the summer, but I hope to be able to introduce some of the highlights of Hokkaido.
This article is useful for the person who
wants to enjoy Hokkaido nature
wants to know the sightseeing info about Furano and Biei city
loves nature especially flower
wants to know about blue lake and surrounding spots to visit
Furano sightseeing
Hokkaido is famous for its lavender scenery in August. The period is a bit short and in September, when I visited, it was already over. But there was a nice view even without lavender.
The photo below shows a lavender field in Sapporo. However, there are many sightseeing spots in Furano other than lavender fields, so why don't you visit there in addition to lavender fields?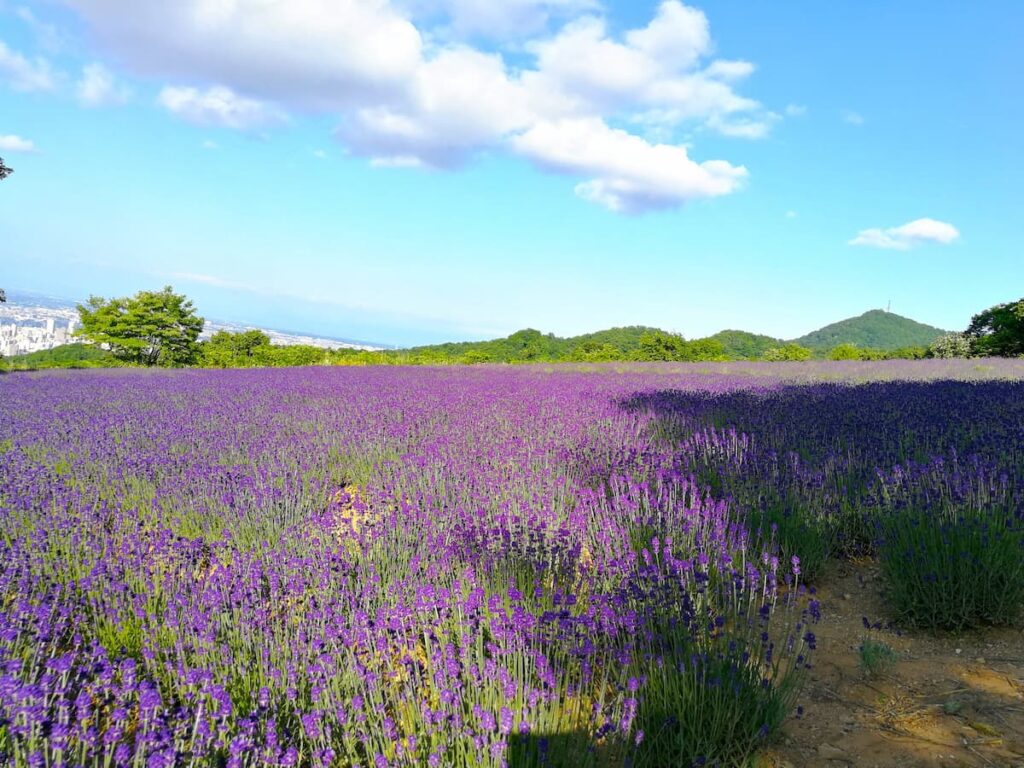 Hinode park
You can see free lavender and flower fields in Furano, but the place I went to was Hinode Park. This one is free to enter.
Hinode Park, as the name suggests, is a place where you can watch the sunrise. The time of sunrise varies depending on the season, so be sure to check the time in advance. From the observatory, you can see the whole Furano.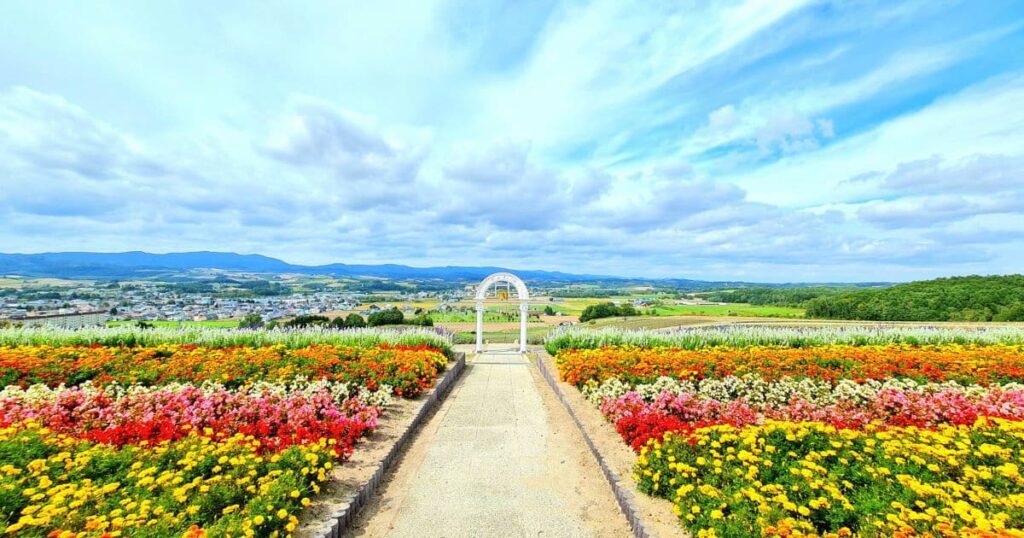 Doesn't image like heaven??
Furano cheese factory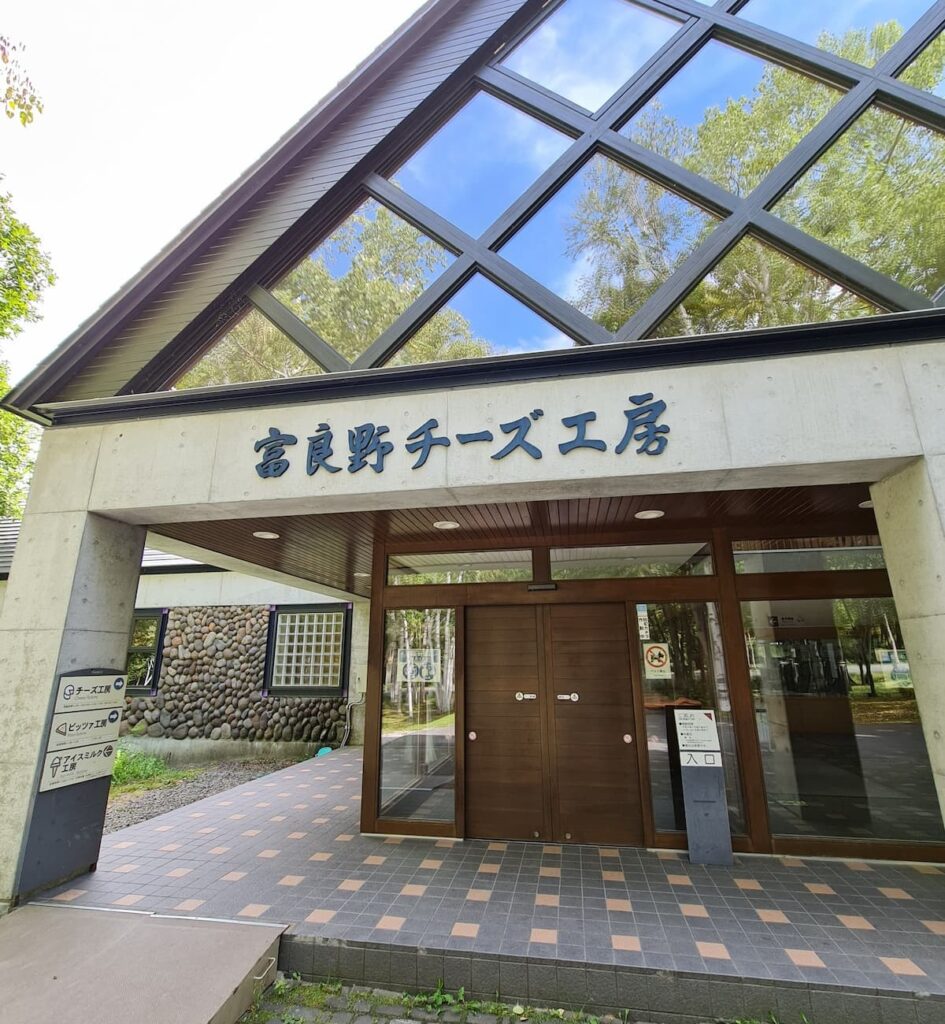 Furano, one of Hokkaido's most famous tourist destinations, has many kinds of delicious cheeses. One of the most popular is the Furano Cheese Factory. At Furano Cheese Factory, visitors can join the activity to make cheese. Expert cheesemaking staff will carefully guide you through the process, so even first time to making cheese you can make easily. The cheese you make can be tasted on site of course.
The following activities are available at Furano Cheese Factory.
Making cheese
Cheese factory tours
Sampling
Restaurant
Gift shop
Nakafurano flower park
This observatory park in Furano City offers a variety of seasonal flowers. The "Field of Gold," a field of calendula flowers that covers the entire area, is a particular highlight during the months of June and July.
Motor paragliding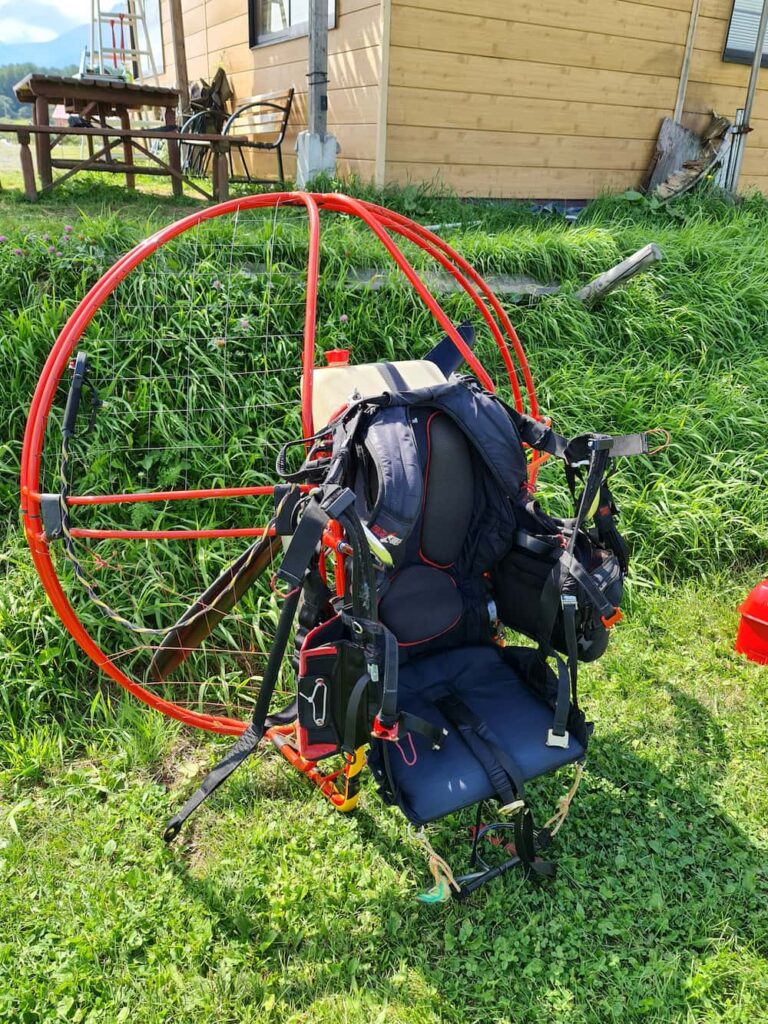 Motor paragliding is an activity in which a paraglider equipped with an engine. It is a thrilling experience to fly in the sky while enjoying a panoramic view of Hokkaido's natural beauty. Ordinary paragliders use the wind to soar over mountains and hills, but motor paragliders are powered by an engine and can soar on their own. Therefore, it is not affected by the wind direction or wind force, and can fly stably. Unfortunately, I could not do it this time due to strong winds, but I would love to participate and enjoy the panoramic view of Furano.
A wide range of motor paragliding experience courses are available for beginners and advanced pilots. In the beginner course, you will fly with a pilot, who will be in charge of the flight. Safety is also taken into consideration, and a thorough safety briefing is given before the flight. In the advanced course, you can also fly by yourself. All courses offer an enjoyable aerial experience with a panoramic view of the magnificent natural surroundings.
Rollar coaster road
One of the eight scenic spots in Kamihurano that attracts many tourists is the roller coaster road.
The 2.5-km straight road with severe ups and downs is aptly described as a roller coaster, and even when driving down from the top, shakes the sensation of going down on a roller coaster. Located at the top, this is a great spot from which to view the Tokachi Mountain Range. At both ends of the road are vast rural landscapes.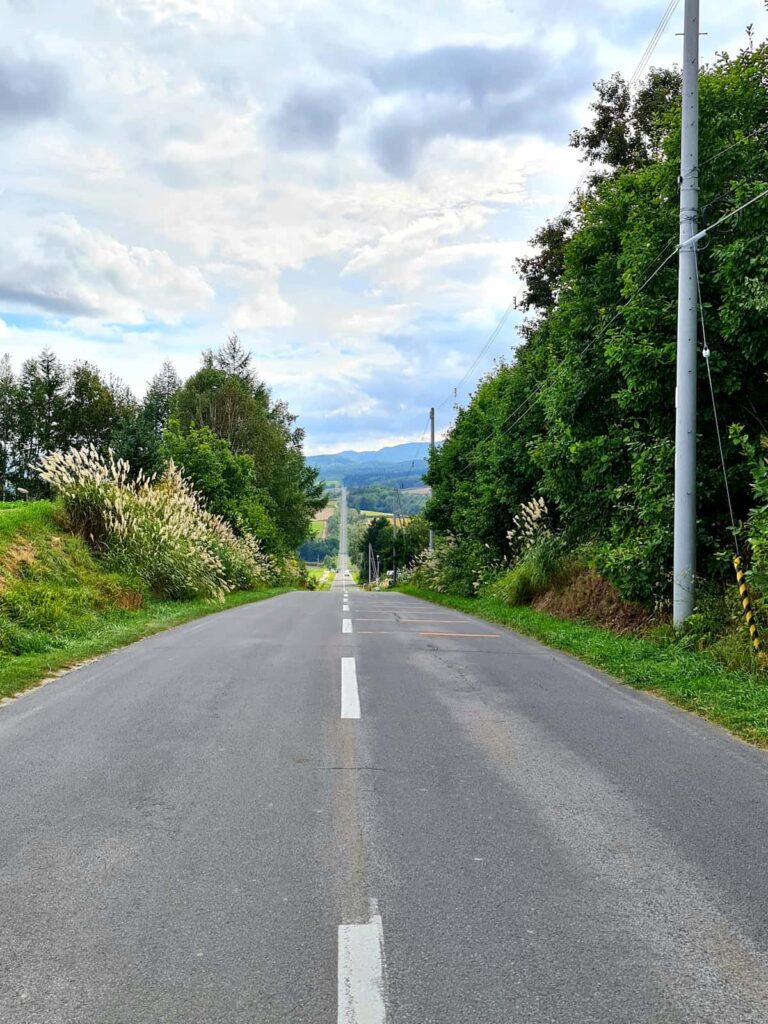 Biei sightseeing spot
Biei is about a 30-minute drive from Furano, and is a sightseeing spot that should be visited as a set if you are going to Furano. Biei has become nationally famous for Ao no Ike (Blue lake), but there are other recommended sightseeing spots in Biei besides Ao no Ike, which we would like to introduce.
Shirogane blue lake
Ao no Ike (Blue lake) in Biei-cho, Hokkaido, is known as a spectacular spot where visitors are enchanted by its fantastic beauty. The beautiful scenery of clear blue water and deep green surroundings will make you feel as if you have wandered into a fantasy world.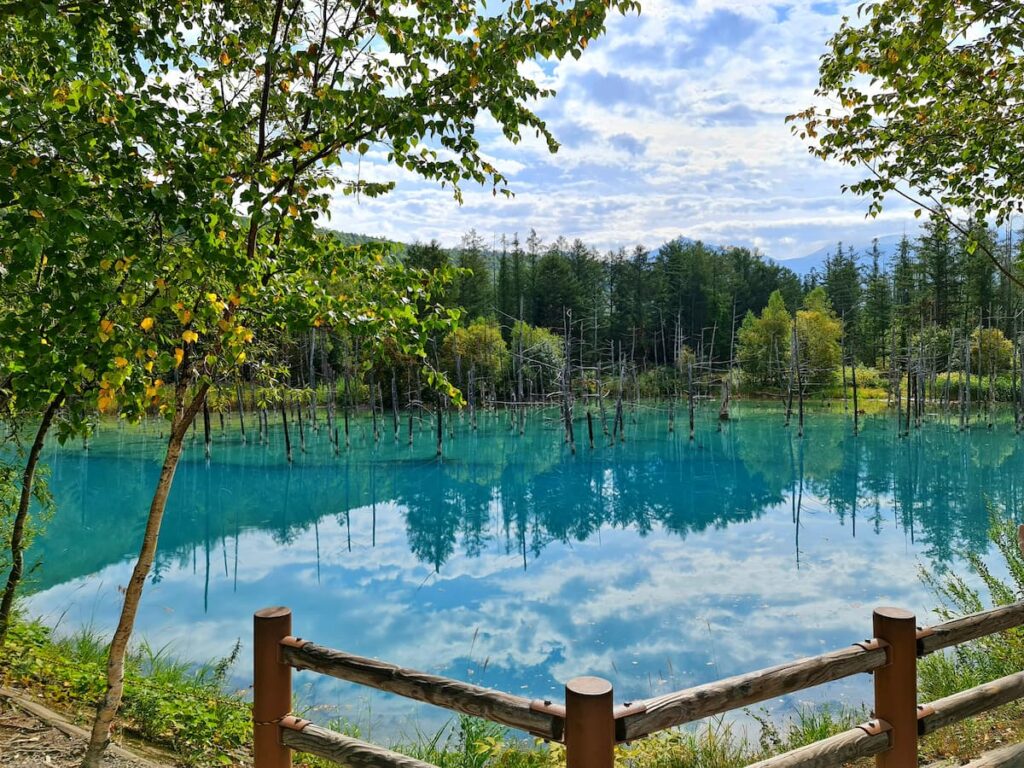 This blue lake is actually an artificially created lake in Biei-cho. The clear blue color of the pond is enhanced by the surrounding trees and the towering mountains such as the Biei Mountain Range, beauty of the scenery is especially enhanced when combined with the autumn leaves in fall. The reason why the lake appears blue is said to be because this blue lake contains no iron or organic matter, so the light reflected by ultraviolet rays appears blue. The lake is only 1.7 meters deep, and the exposed rock surface at the bottom is another factor that gives it a strong blue color.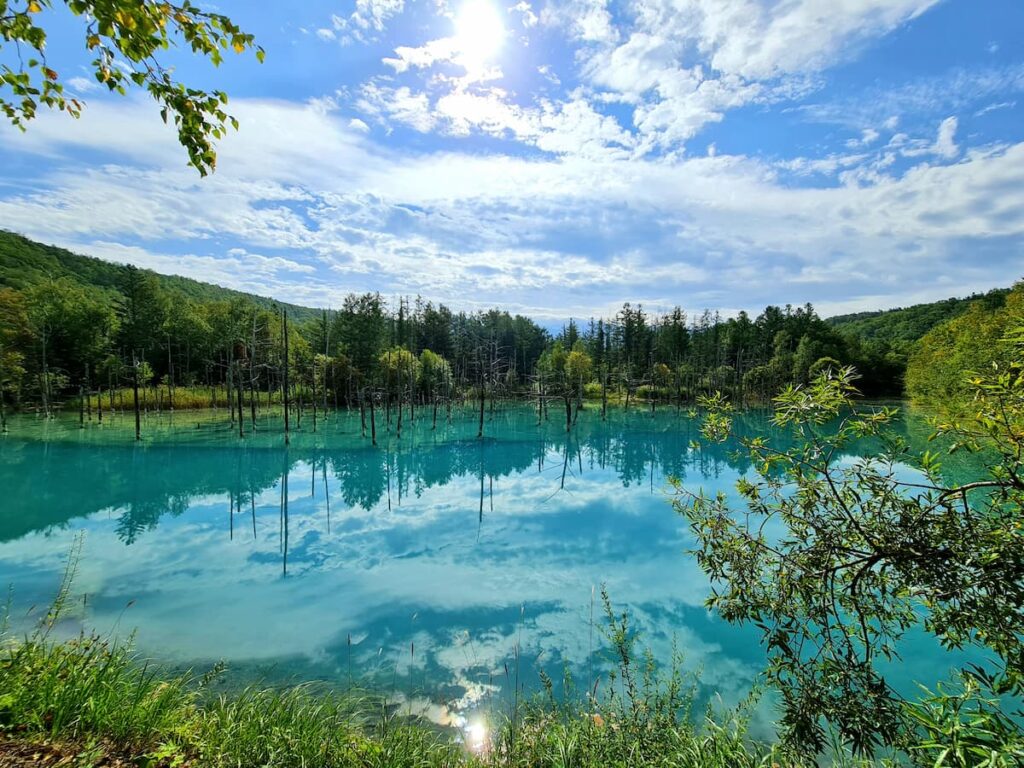 You can see the scenery to be reflect on the lake if there is no rain like in the picture.
Parking lot is right next to blue lake and it's 500 yen.
White string water fall
There is another sightseeing spot within a few minutes' drive from blue lake . White string Falls is known for its cool, beautiful waterfall and spectacular view of nature's breath. Visitors can enjoy strolling around the waterfall, feeling the sound of the water and the cool breeze while being surrounded by the rich nature that surrounds it.
White string Falls is a 60-meter-high waterfall located along a creek that is a tributary of the Biei River. The name comes from the fact that the waterfall's flow looks like white string. Surrounded by deep forests and grasslands, visitors can enjoy walking in the rich nature. Free parking is available nearby.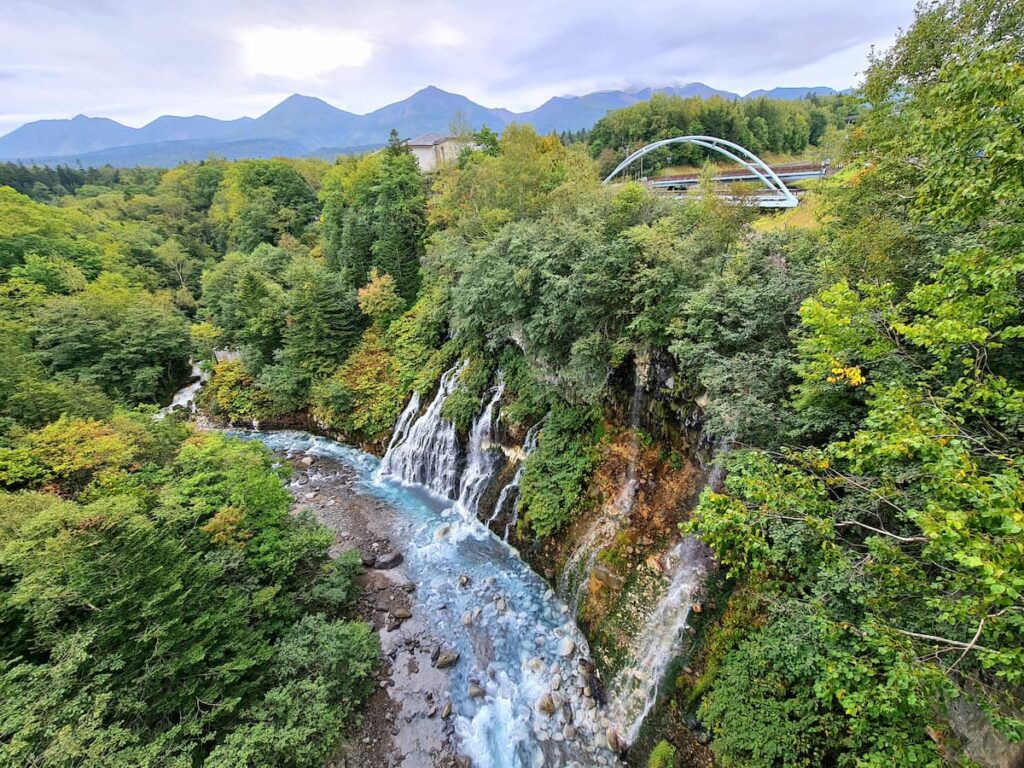 Around the White string Falls are deep forests, where visitors can enjoy strolling while listening to the sound of the clear water and feeling the refreshing breeze. The basin of the waterfall is especially beautiful, with crystal clear water and surrounding greenery, offering a beautiful view that changes with the seasons.
Tokachidake
If you like to climb the mountain or trekking and also have time its good to go to Tokachidake. I didn't have enough time so I couldn't go until the observatory.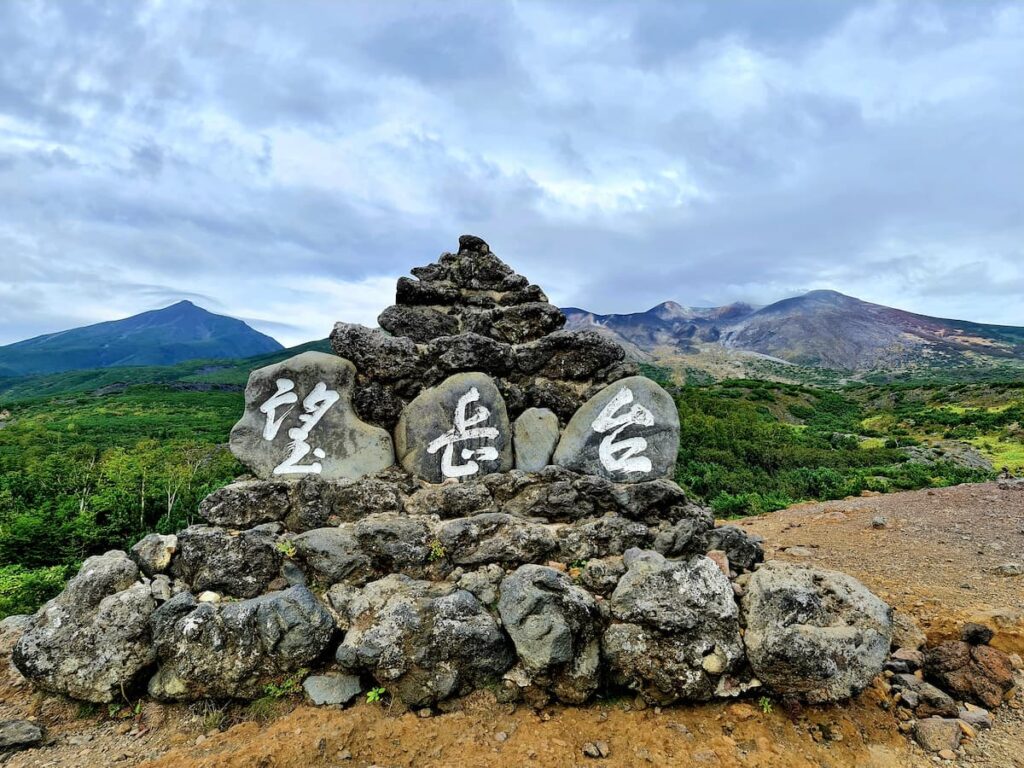 Tokachi-dake is a mountainous area located in the Tokachi mountain range at an elevation of approximately 2,000 meters. The charm of Tokachi-dake is that you can enjoy beautiful scenery in each of the four seasons. In summer, many flowers are in full bloom, and mountain climbing and hiking can be enjoyed. In autumn, autumn leaves create beautiful scenery and you can also enjoy hot springs. In winter, the area is covered with snow and visitors can enjoy winter sports such as skiing, snowboarding, and snowshoeing.
Shikisai no oka
Shikisai-no-oka is a sightseeing facility with colorful flowers blooming on its 15 hectares of land. It is located about half an hour drive from Asahikawa City. During the period from spring to autumn, visitors can see a variety of flowers according to the season, and the beautiful scenery attracts many tourists.
It is about a 30-minute drive from Furano.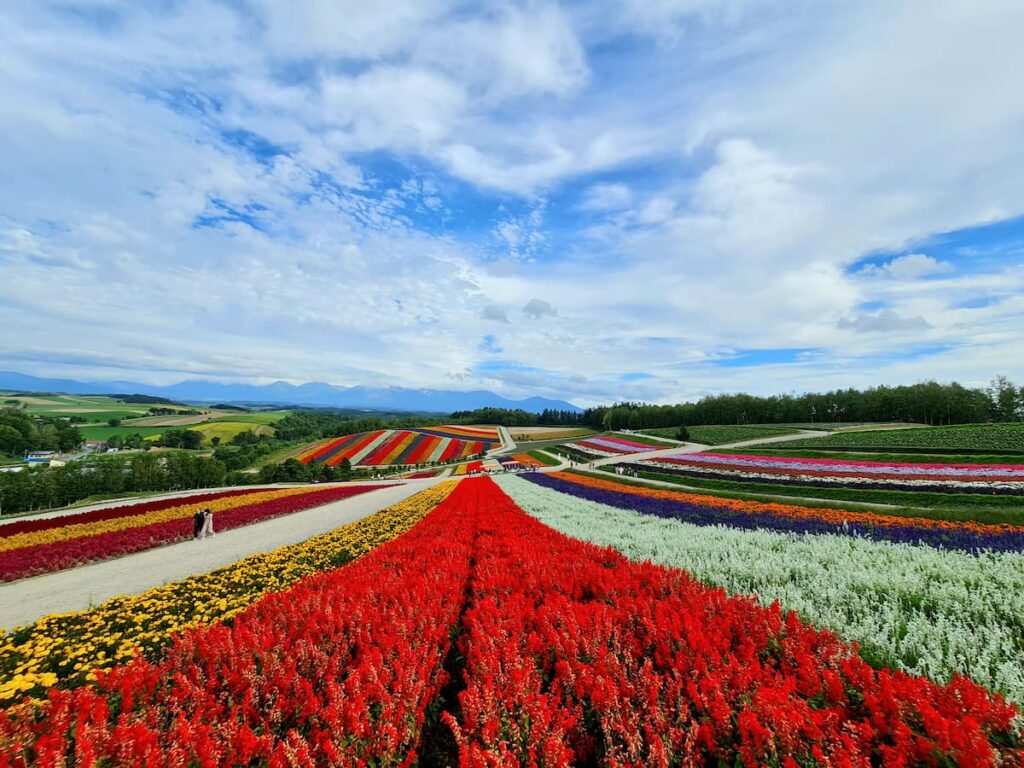 One of the attractions of Shikisai-no-oka is its beautiful seasonal flowers. In spring, tulips, cherry blossoms, violets, and honeybees can be seen; in summer, lavender, hydrangeas, and sunflowers are in full bloom. In autumn, cosmos, akino tamurasou, and chrysanthemums bloom, and in winter, illuminations are held, creating a fantastic sight. Shikisai-no-oka also has restaurants, cafes, and stores where visitors can enjoy meals and souvenirs.
Above 15years is consider as adult and the price is 500 yen person, below that age will be 300 yen.
There is also an alpaca farm within the park. Although a separate fee is required, alpacas are bred as South American species, and visitors can get up close and personal with them by feeding them (100 yen).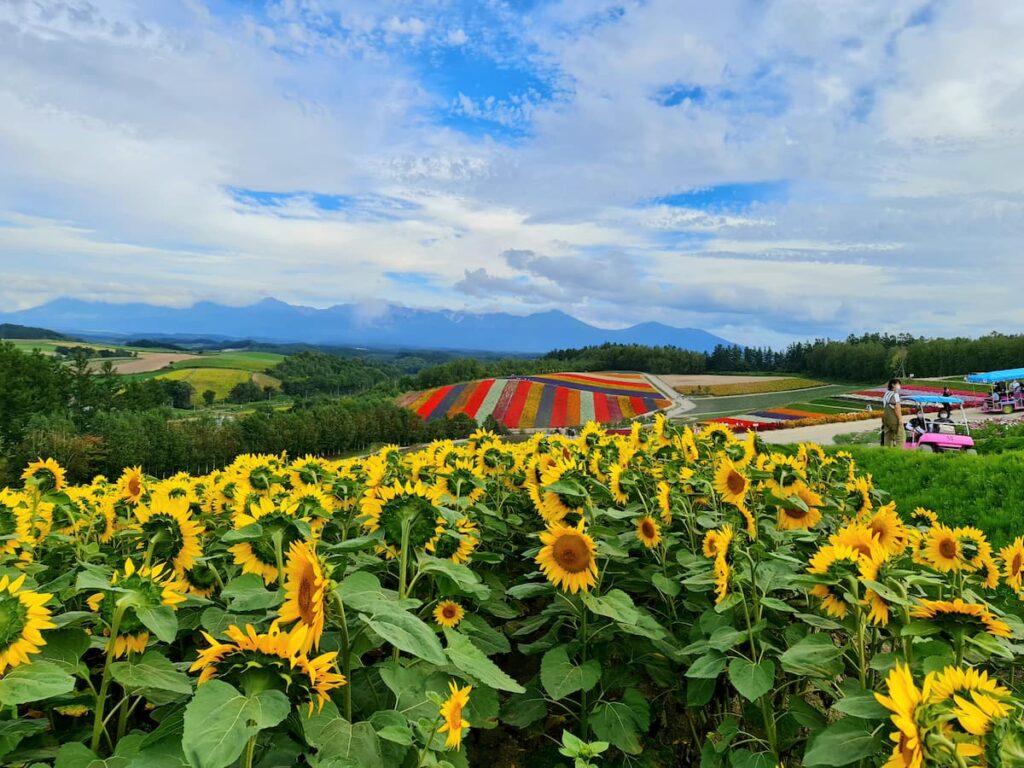 Summary
Furano and Biei have elements that can be fully enjoyed even after the lavender season has passed
Better rent car for more flexibility!
Summer and Autumn morning and night will be cool so better to bring warm cloth
I went in September, and although it was still hot in Japan, Hokkaido was cool in the morning and at night, so I needed a jacket. I did not have one, so I was cold.
Although the trip was mainly about flowers, I think I was very satisfied with the trip. I think it was a very satisfying trip, especially for flower lovers!