If you live in the Kanto area, Shima Onsen is famous as a hot spring resort (famous throughout Japan?). However, since I am in the Kanto area, I started to think that I would like to conquer all the hot spring resorts in the Kanto area.
I really wanted to go to Ikaho Onsen, but there were no vacancies, so I happened to check out Shima Onsen, but as the title says, there is actually a place that was the model for Spirited Away, and I suddenly became interested and decided to go.
Here are some of the current sightseeing spots at the ryokan where we stayed.
This article is useful for the person who
want to go on a quick overnight trip to a hot spring (a day trip may be difficult…)
loves hot spring
wants to enjoy private open air bath
wants to relax at a hot spring hotel
want to visit Spirited Away and other anime holy places
Kashiwaya Ryokan with three private open-air baths
I stayed at Kashiwaya Ryokan, a ryokan where you can enjoy three private open-air baths. Although it is a little more than a 20-minute walk from the Shima Onsen hot spring resort, I was attracted by the three private open-air baths that are prominently featured on the inn's website, so I made a reservation.
However, there is a bus service from the hot spring resort (every hour), so if you get on and off at the Seiryu no Yu entrance, you do not have to walk. The fare is 290 yen and the bus ride takes about 5 minutes. The bus stop is right in front of the Shima Grand Hotel, so it is easy to find. Incidentally, the bus stop in front of the hotel is where highway buses from Tokyo get on and off.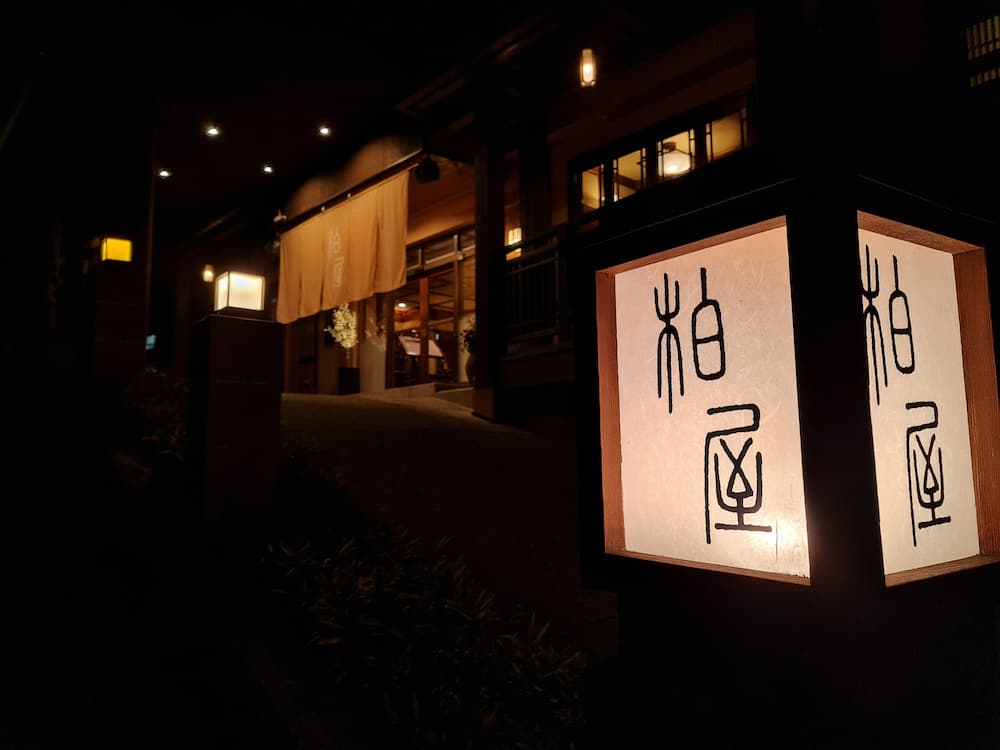 The room I stayed in was the 26,000 yen (200 USD) plan for a single room with dinner and breakfast. The meals are a little cheaper than usual because it is a plan with fewer dishes. Please refer to the various websites for details.
Shima onsen Kashiwaya booking avalibility
Refer below for the detail.
Address:3829 Shima, Nakanojo, Agatsuma District, Gunma 377-0601
TEL:0279642255
Guest room design
I had a single room this time, but it was more spacious than a business hotel room and had a terrace, which gave me a sense of freedom, which was very nice.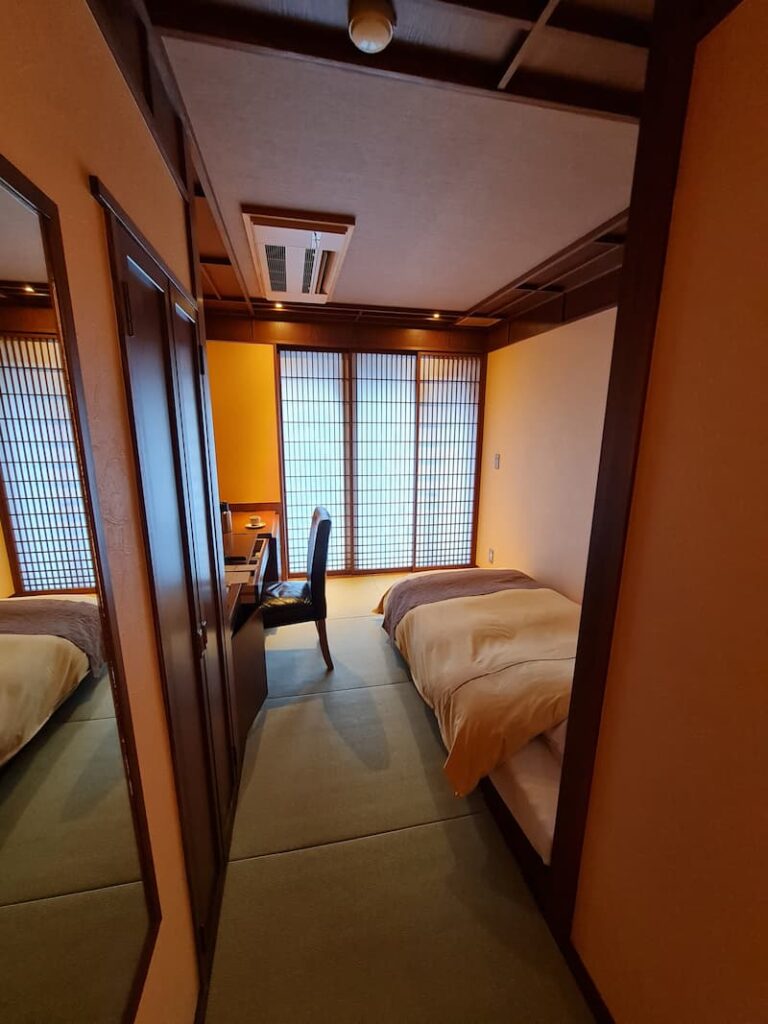 The terrace is especially great in winter for cooling off after a hot day in the open-air bath or large public bath. Slippers for the terrace are always available.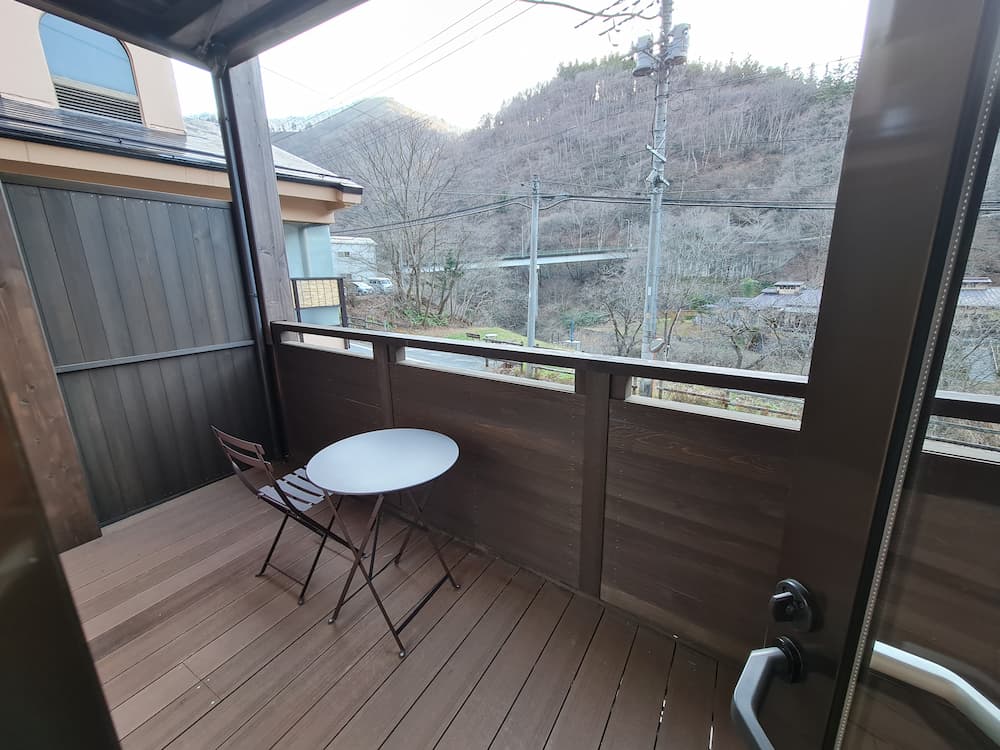 Open air bath view
In terms of baths, there are four: the three open-air baths Tsukinoyu, Sakura-no-yu, and Kaede-no-yu, and the large baths for men and women respectively. What was revolutionary was the system of private open-air baths.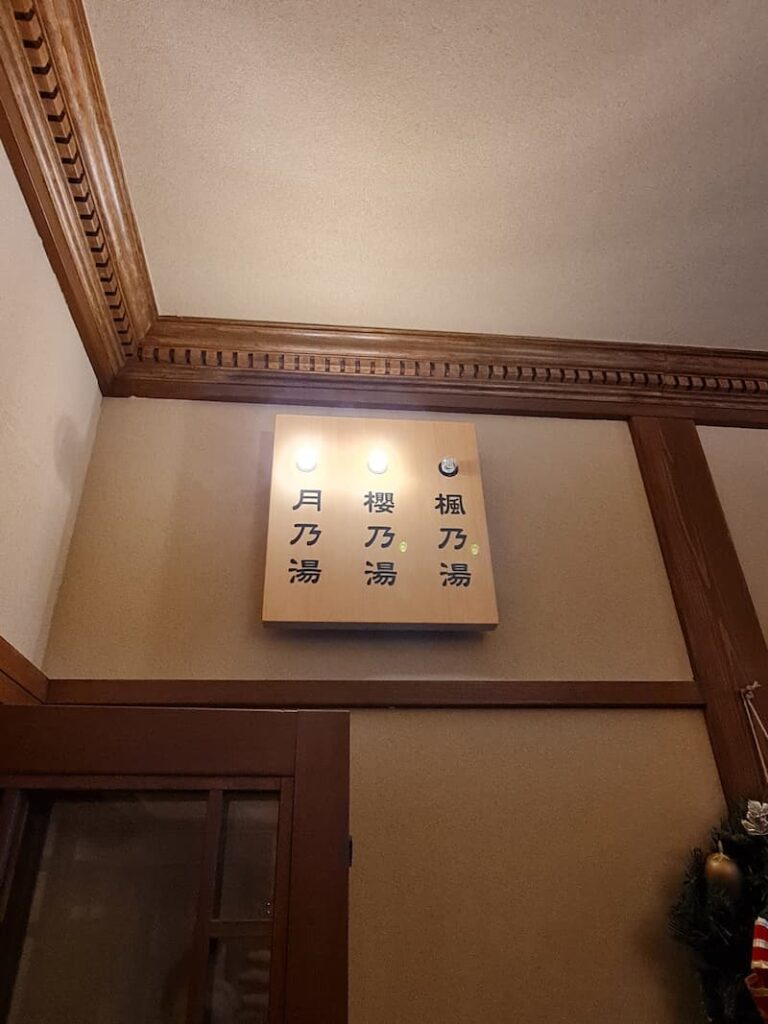 There is a sign in the common area on the first floor (free coffee and tea until 9:00 p.m.) and another sign in the hallway on the second floor, which indicates that when the light is on, the room is occupied, and when it is not, it is empty. There were also foreigners staying, but they seemed to follow the rules without any problems, and the system was such that no one would not use the room even if they made a reservation.
Another wonderful point is that all bath towels and amenities are always provided in all open-air baths (including the large baths), so you can use them as much as you want! The bath towels are a welcome relief.
Tsuki no yu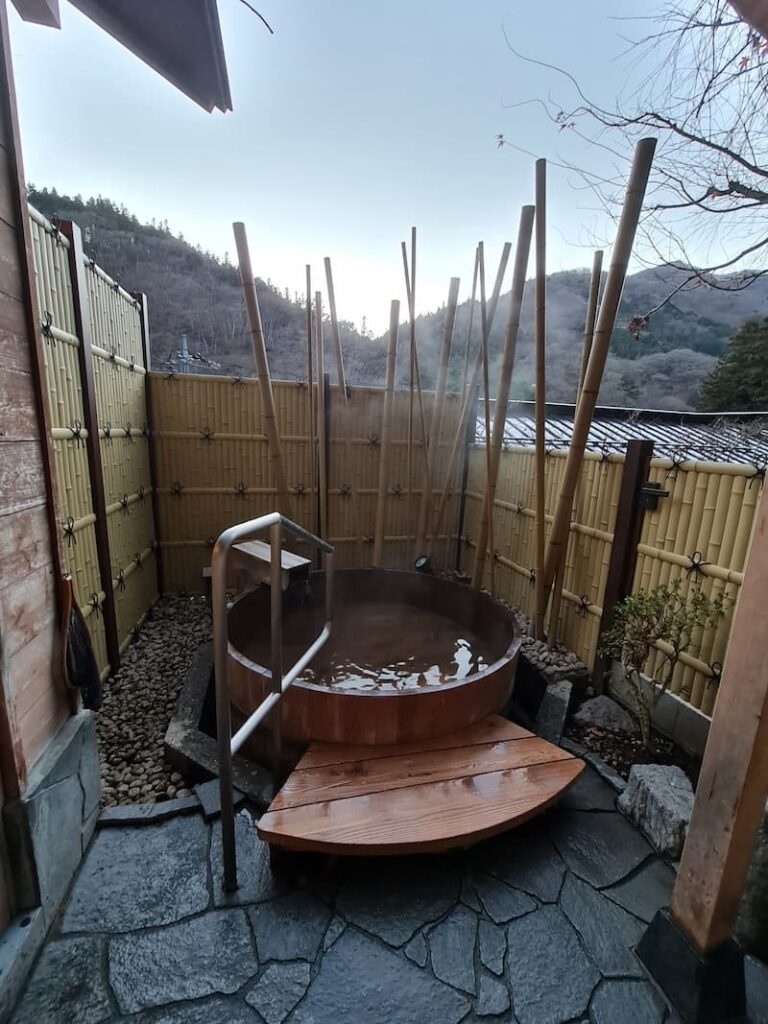 It is an open-air bath like a barrel bath, but the water is a little warm, so it may be a little tough in the cold winter.。
Sakura no yu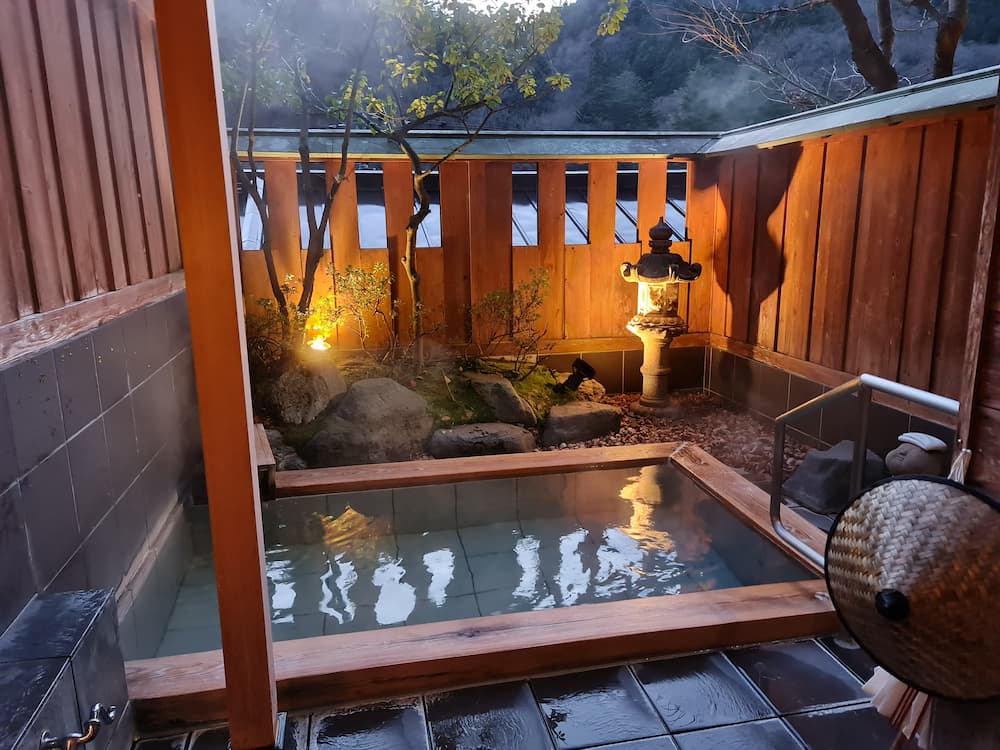 It was a little hot, but it was an acceptable temperature. Personally, I liked this one the best. It is also nice that it is right next to Tsukino Yu, so as long as it is open, you can move right in.
Kaede no yu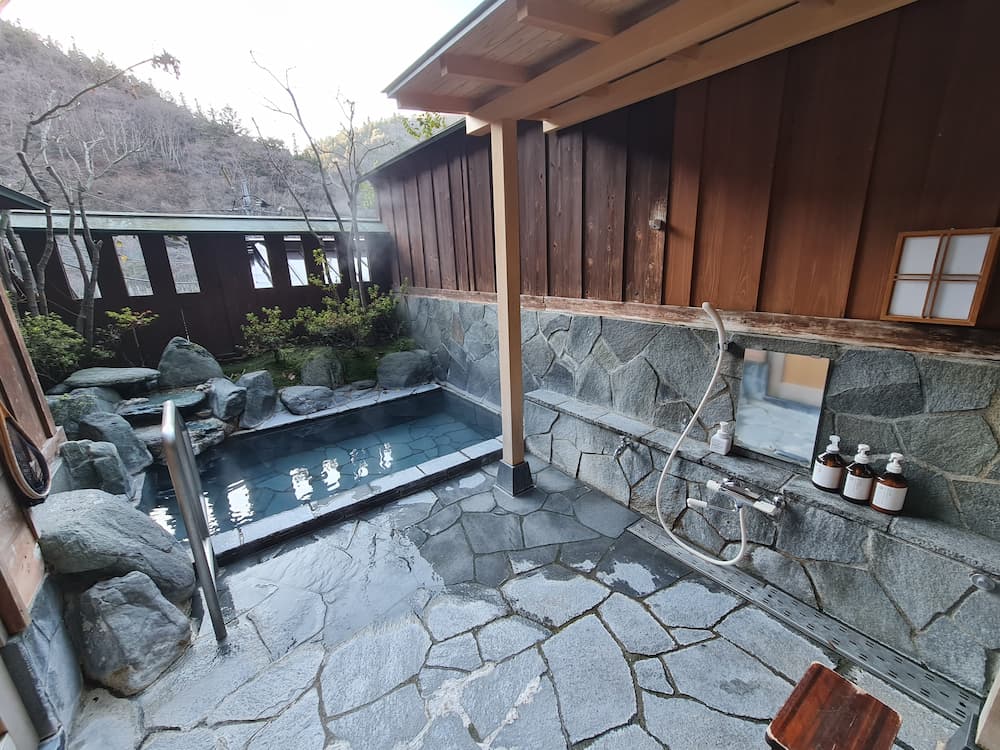 The water temperature here was just right for some people and just lukewarm for others. I felt it was on the right side, but the atmosphere was more like Sakura-no-yu, so this is my personal No. 2 choice.
All open-air baths have changing rooms. The system is such that by locking the baths, the lamps in use in the open-air baths will light up. So please be careful not to forget to lock it.
Kashiwaya dishes
This time I used the light meal plan which includes dinner and breakfast. You need to decide the time for dinner when you check in (6pm or 6:30pm) and breakfast can be decide when you check in or after dinner (8am or 8:30am).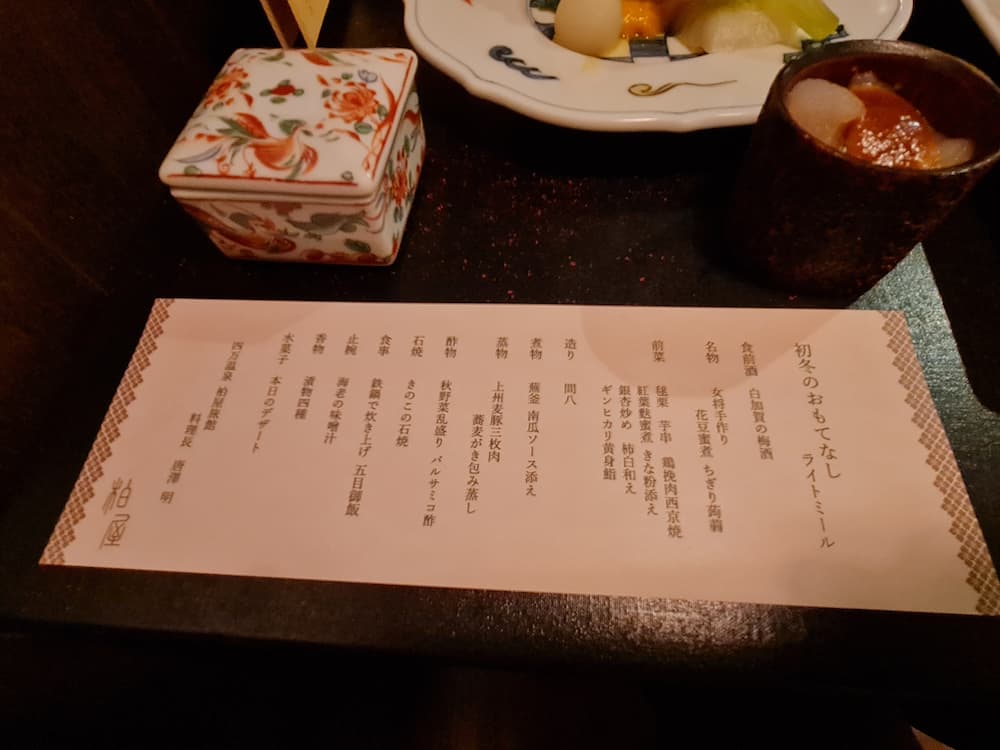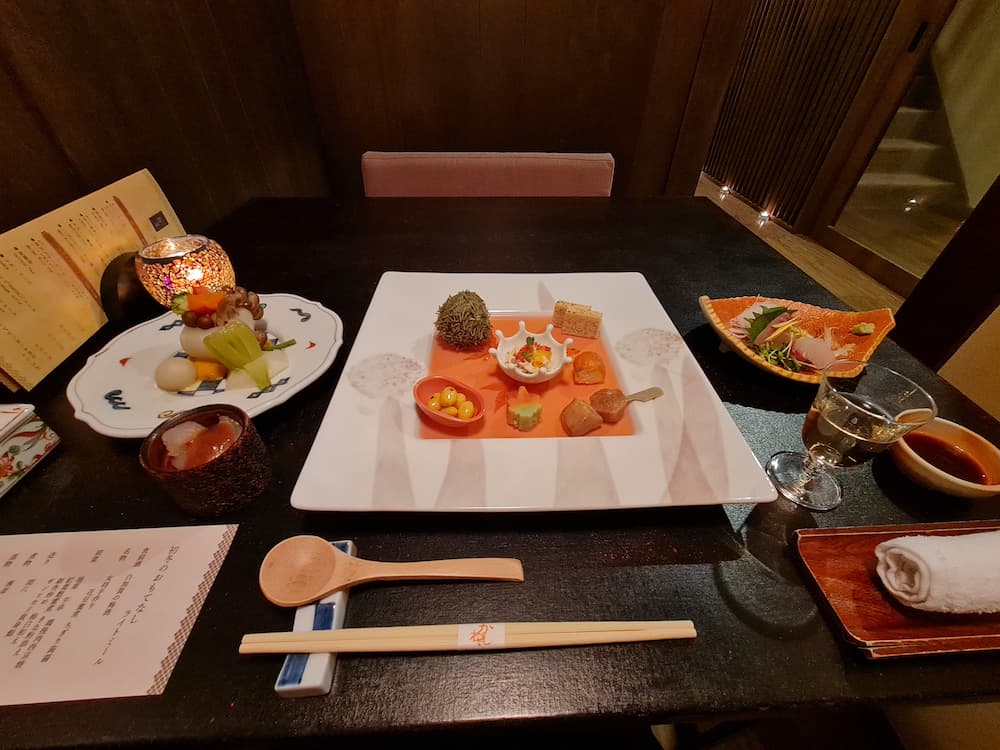 Here are the appetizers. They were very colorful and seasonal.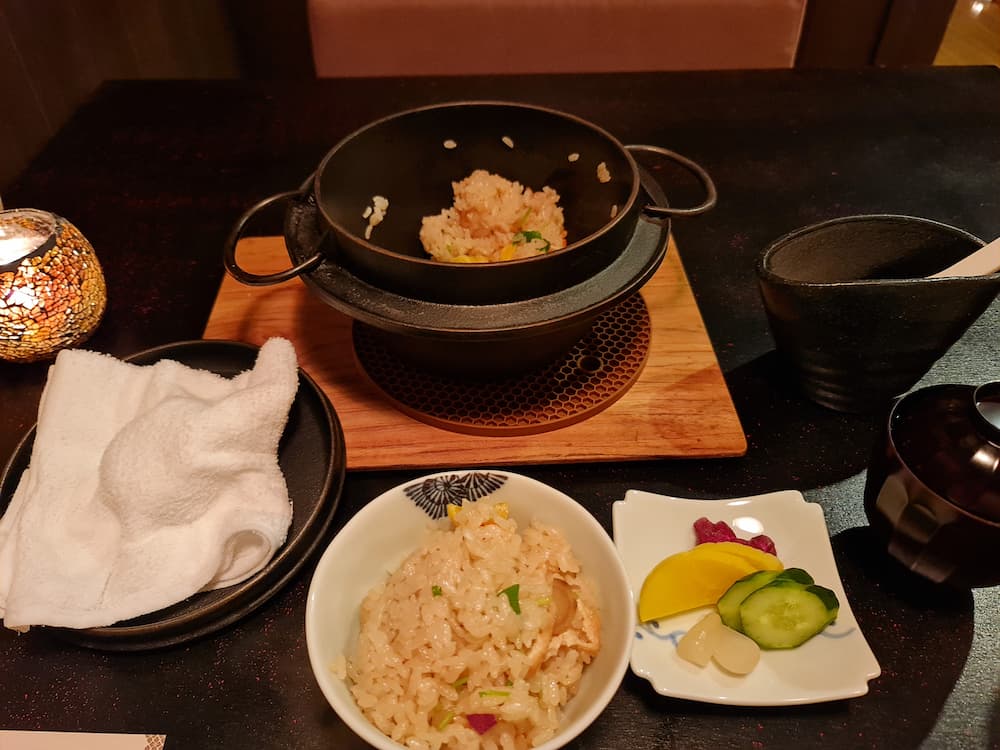 This is the hot dish. The rice and meat are served hot, so you can enjoy them all. The tables are divided into sections, which are treated like private rooms, so you can enjoy your meal at your leisure.
Dessert is served afterwards, and I think the light meal was quite hearty.
The inn also has a store, which closes at about 9:00 p.m., but I would ask you to check the actual hours at the inn.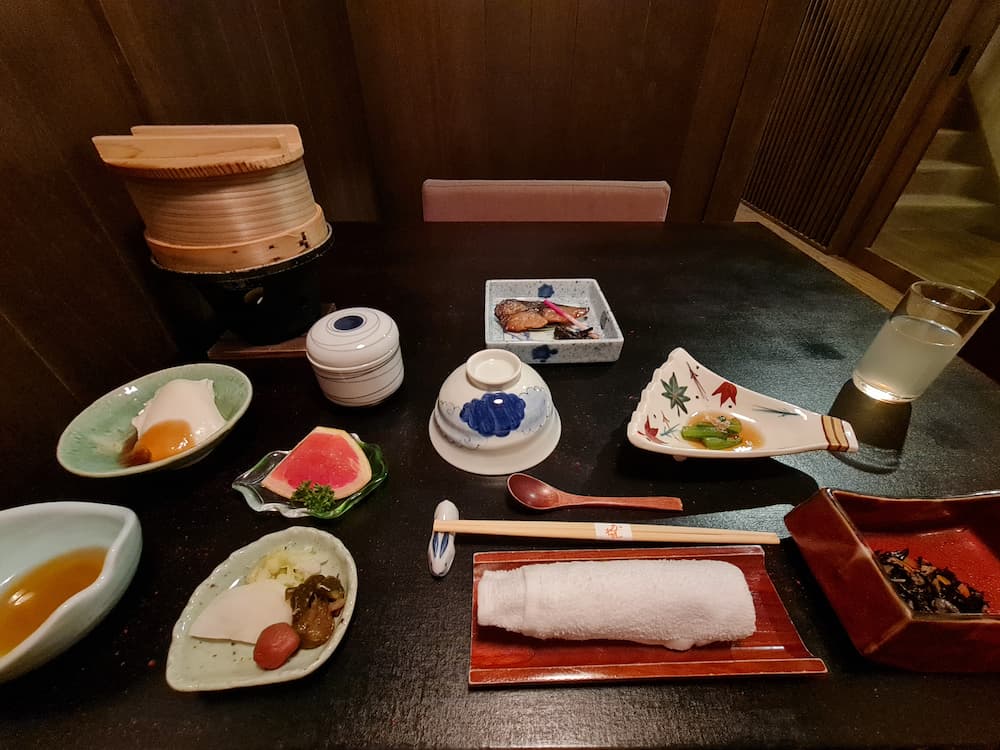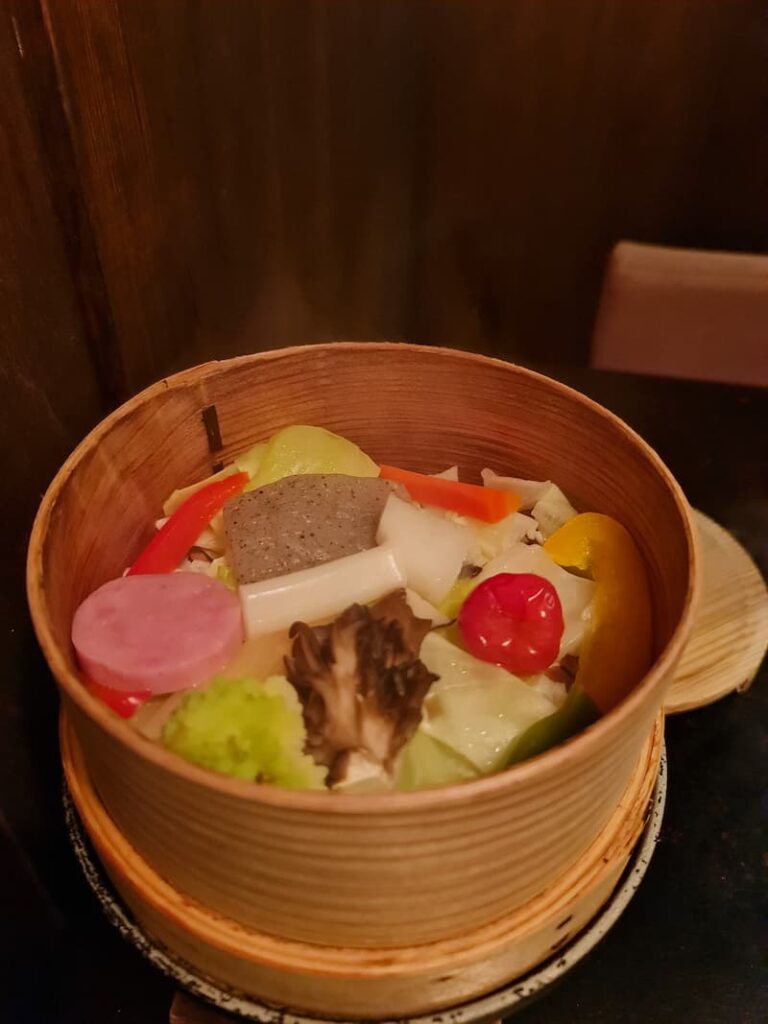 This is breakfast. Although many of the dishes were cold in the chilly weather, I appreciated the steamed vegetables. This is served with white rice, but I couldn't finish it (laugh).
Sightseeing spots in Shima Onsen Hot Spring Resort
Shima Onsen town is quite small and there are actually not that many tourist attractions. It is possible to take a day trip if you use a car.
However, the best part of a hot spring resort is relaxing at a hot spring hotel, so we recommend that you stay overnight.
By the way, even if you use a car, don't worry, there is free parking. However, if you arrive late, the parking spaces are allocated on a first-come, first-served basis, so there is a possibility that you will not be able to find a parking space.
The image of Spirited Away? Sekizenkan
The first place we will introduce is the Sekizenkan, which is rumored to be the setting of Spirited Away, as mentioned in the title. I recommend going there at night when it is illuminated rather than during the day. The bright red bridge and the lattice windows of the main building are reminiscent of the ryokan in Spirited Away, making it a famous sightseeing spot at night, and there were many people there.
Sekizenkan is also famous as a hot spring ryokan with a long history, as it was built over 300 years ago and the main building is considered the oldest existing wooden bathhouse building in Japan. Although I did not use the day spa, but the interior is in a modern Western style, which is unusual for a hot spring hotel.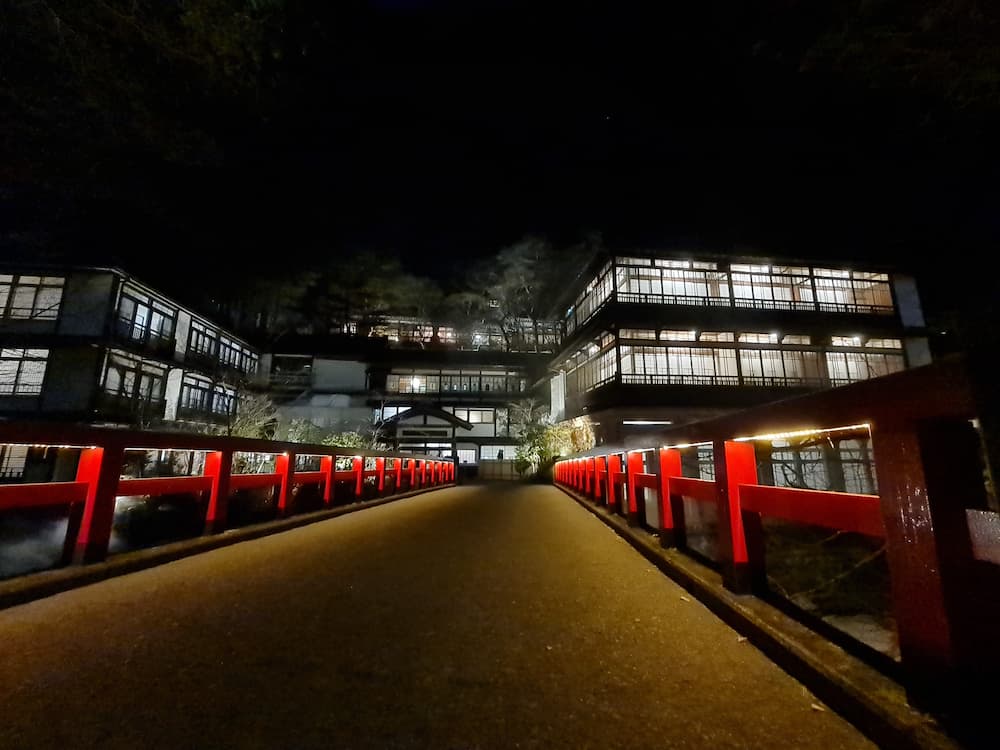 There is also a place in Yamagata that is rumored to be the setting of Spirited Away. Have you ever been to Ginzan Onsen in Yamagata Prefecture? It is recommended to visit especially in winter, and you should see the old inn that is rumored to have been used as the model for the bathhouse.
Not only Zao,Ginzan,Tendo onsen! Kaminoyama onsen also nice!!
Old-fashioned shooting and pin ball Yanagiya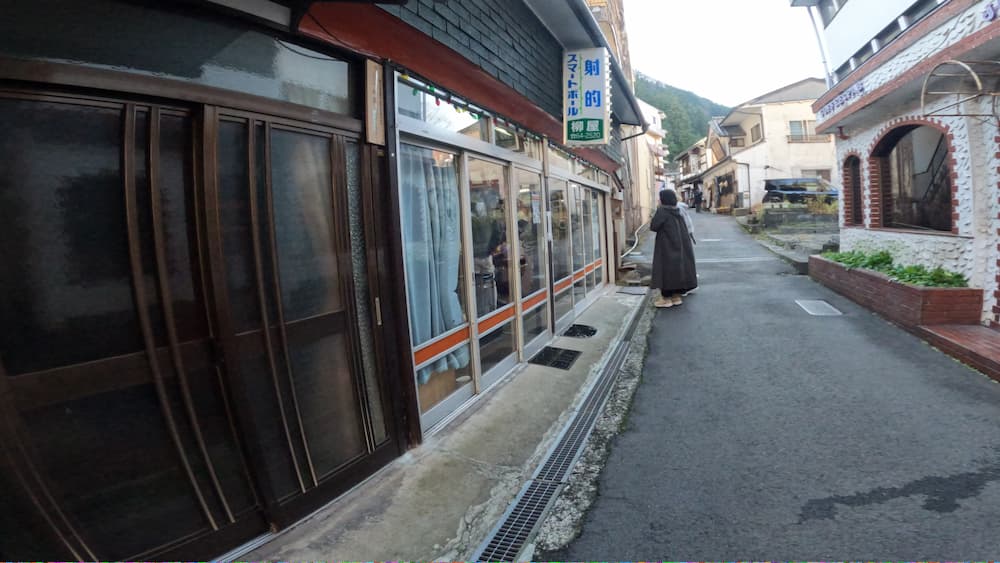 If you go straight down the street exactly opposite from Sekizenkan, you will see the only playground in Shima Onsen, "Yanagiya". You can play retro-style pachinko and target practice for about 500 yen.
The power of the target is quite strong, stronger than that of local food stalls, so if you hit it right, the target will fall off with a single shot.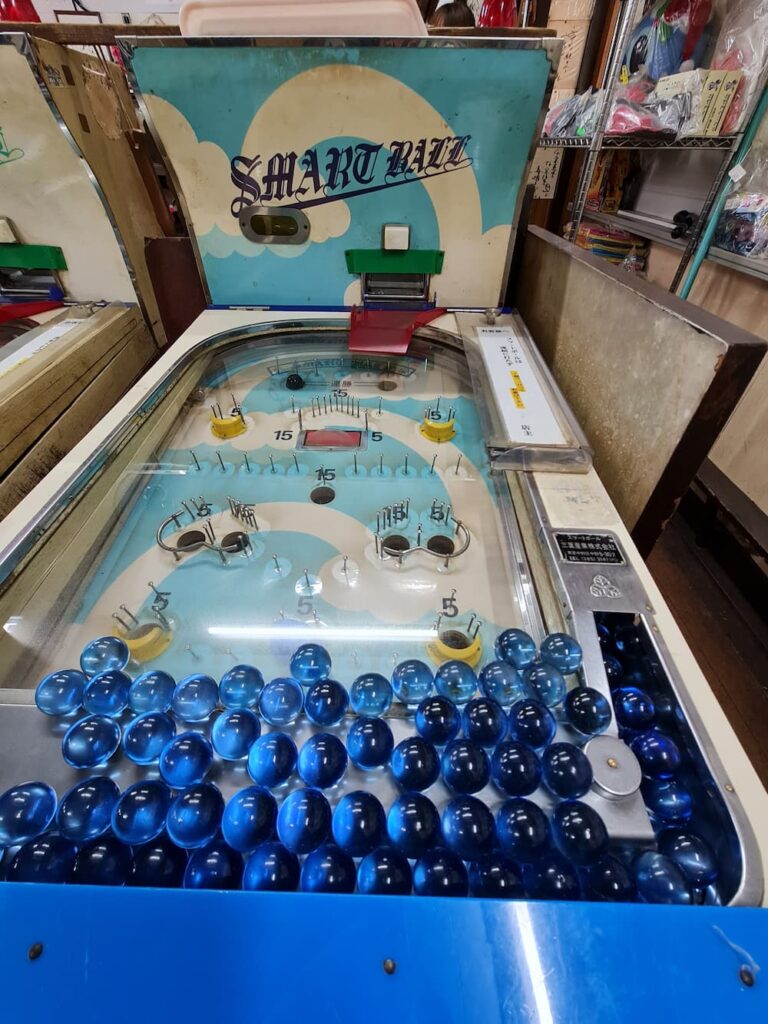 I was able to play for a long time because we were able to drop in quite a few holes for 500 yen!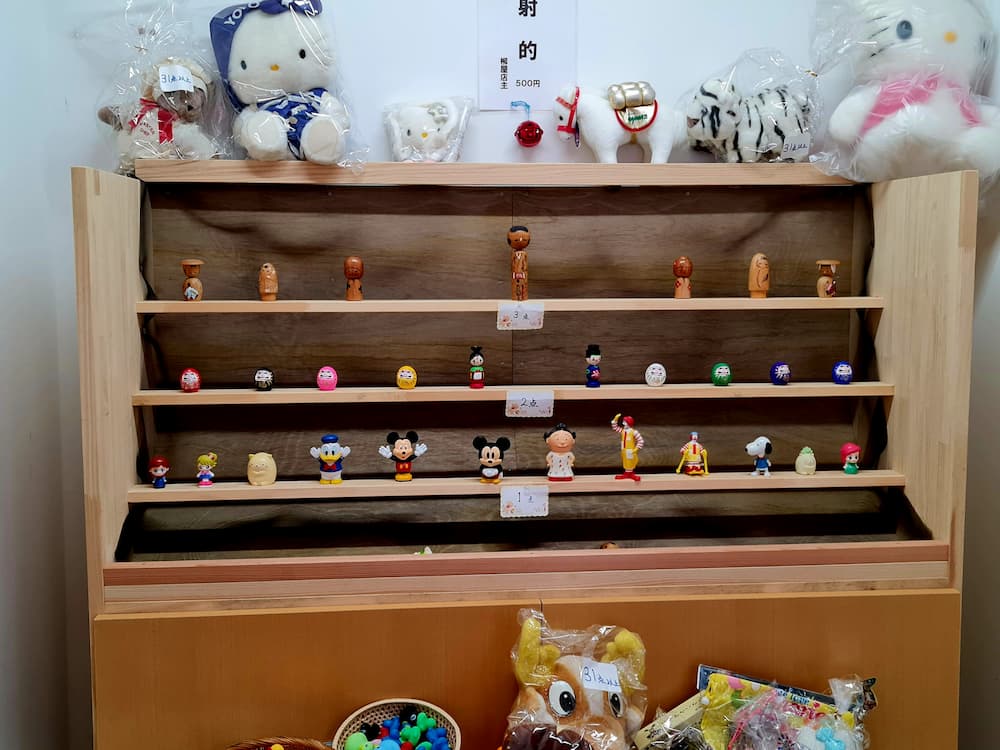 There is a part where there is no target in between, but I hit it well and dropped the target afterwards. I got a great prize on my first try! The shop is quite crowded right after the opening around 10:00 a.m., but lunch time is a good time to visit.
Onsen Latte at a stylish cafe
Shima Onsen Kashiwaya Cafe is one of the most popular cafes in the hot spring resort area.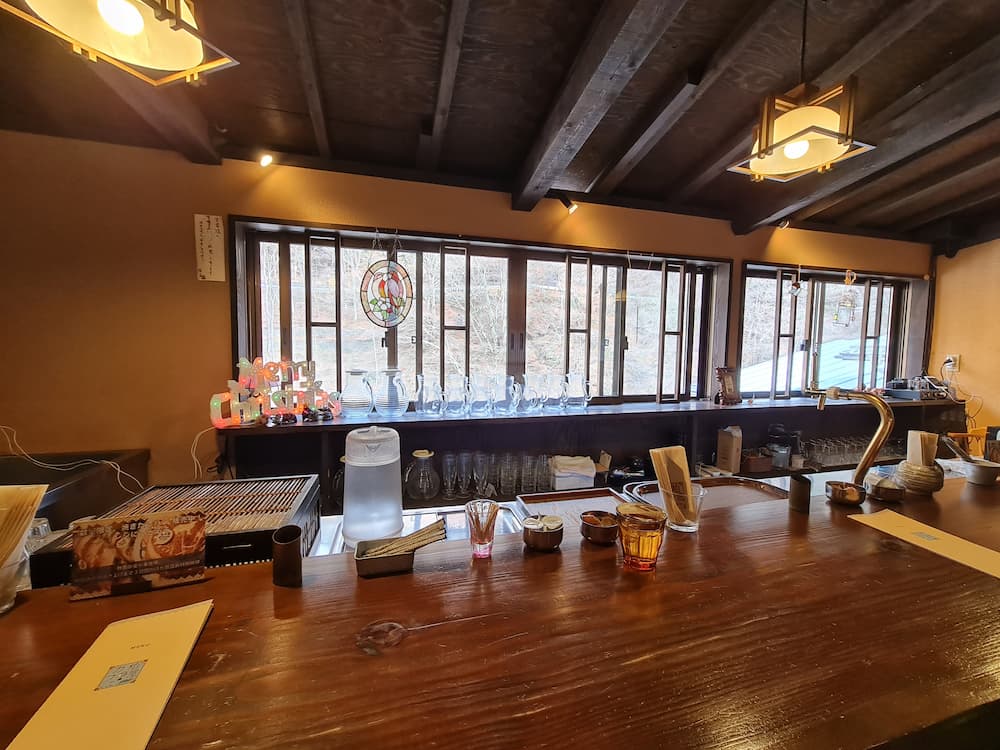 People will line up right after lunch, so morning is recommended.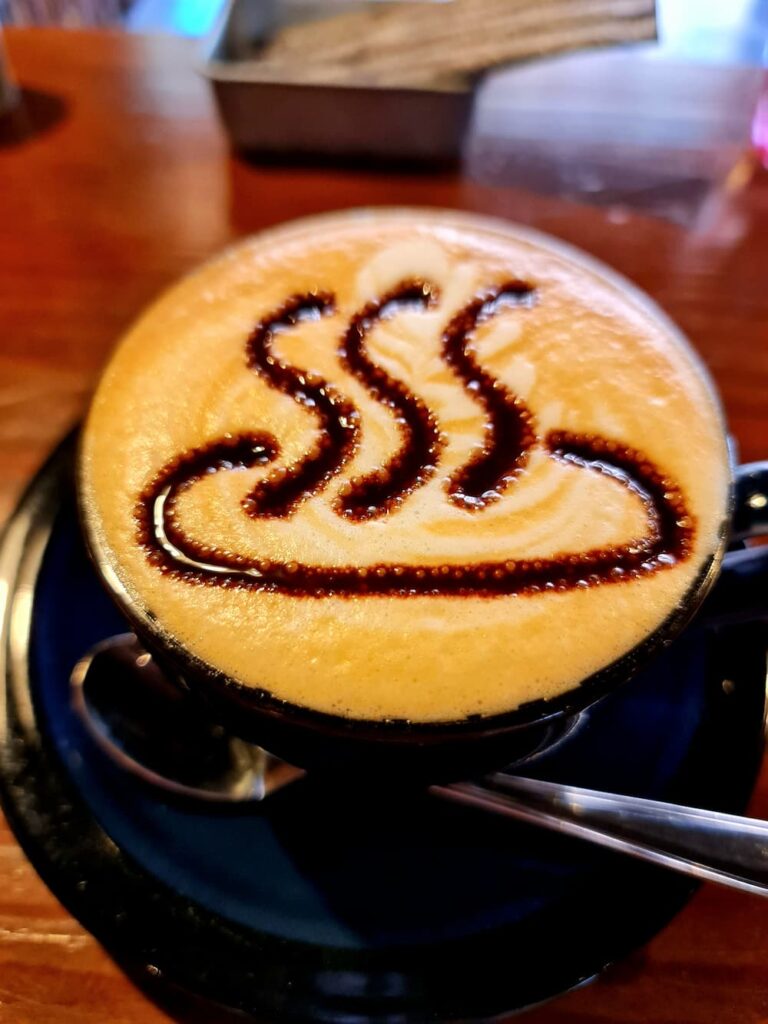 The specialty is this onsen latte. If you are tired of the usual latte art, give it a try.
Enjoy free public baths, footbaths, and drinking fountains!
There are three free public bathhouses, footbaths, and drinking fountains in the Shima hot spring resort.
As the name suggests, drinking the hot spring water is said to have a beneficial effect on the stomach and intestines, but it tastes a little sour. Local restaurants and inns use this spring water for cooking and other purposes.
I did not know where to find it, but it seems there are two places. If you are interested, you can drink it (maybe they are discontinuing it due to the COVID-19).
Enjoy Shima Blue at Lake Shima
In the area called Okushiman (a 50-minute walk from Shima Onsen Hot Spring Resort), trekking and water sports at the beautiful blue Shima Blue Lake are popular in the spring and summer seasons.
In winter, the area can be dangerous due to snow, but in other seasons, visitors can enjoy the beauty of nature.
How to get to Shima Onsen from Tokyo
From Tokyo, bus will depart from the Yaesu Exit of Tokyo Station. It is operated by Kan-Etsu Kotsu Co., Ltd. and the times and fares can be checked from the official website below.
As of 2023, the fare is 3,300 yen for one way and 5,600 yen for round trip. The trip takes around 4 hours if there is no traffic jam. There is one rest stop at a service area along the way, but rest assured that the buses are equipped with restrooms as well. (However, some buses may not have toilets.)
| | | |
| --- | --- | --- |
| | Yearly | During spring and winter for additional |
| Depart from Tokyo | 8:50 | 10:40 |
| Arrive to Shima onsen | 12:20 | 14:25 |
Time schedule from Tokyo to Shima onsen
| | | |
| --- | --- | --- |
| | Yearly | During spring and winter for additional |
| Depart from Shima onsen | 13:45 | 10:45 |
| Arrive to Tokyo | 17:55 | 15:10 |
Time schedule from Shima onsen to Tokyo
Summary
Easy to go by bus ride Tokyo, 2 days 1 night Onsen Ryokan plan is recommended
Let's go for smart ball and target shooting in the morning or after noon before returning to Tokyo
For a day trip, the night view of Sekizenkan is a must-see!
Book your hotel by booking.com or Expedia for your trip!!