Antelope Canyon is a beautiful natural treasure located in Arizona, USA. Formed by layers of sandstone and iron ore, the canyon is known as one of the most beautiful in the world.
Although not as close, the Grand Canyon is also a very famous tourist attraction that can be reached from Antelope Canyon. The luxury of seeing two of the most spectacular canyons in the world is not to be missed when visiting Las Vegas.
I don't know how long you will be able to see them, but if you are staying in Las Vegas, be sure to visit the Seven Magic Mountains, an Instagram-worthy spot that is only 30 minutes from the city.
Fantastic art place Seven Magic Mountain
I would like to give you an update on my visit to this popular tourist destination, which is one of the top places to visit until you die.
This article is useful for the person who
want to visit Antelope Canyon and Grand Canyon
are interested in the world's most scenic spots
are wondering where to go on a trip to the U.S.
Antelope Canyon Attractions
This canyon has two parts that look like a "V" shape when viewed from above. The upper part is called "Upper Antelope Canyon" and the lower part is called "Lower Antelope Canyon.
Upper Antelope Canyon is a canyon about 40 feet high, with elongated walls of limestone and sandstone forming various patterns and colors. Lower Antelope Canyon is a wider, darker canyon, covered with deep blue, green, and yellow limestone walls.
Antelope Canyon has a beautiful phenomenal because sunlight penetrates the caverns. The detailed ore patterns, fantastic light reflections, and streamlined curves and circles created by nature are as beautiful as abstract paintings.
Antelope Canyon is very popular with tourists. Tourists can explore the Canyon on guided tours. The benefits of guided tours are often access to dangerous parts of the canyon and the dissemination of valuable information, and the scenery is even more beautiful when compared to a walk alone.
The most popular is the Upper, where sunlight filters in and fantastic scenery can be seen, but in recent years Antelope Canyon X has been selected as the more popular tour location.
The attraction of Antelope Canyon X is also the beautiful colors of the rock walls and the mysterious light. Especially in the morning and evening hours, when the angle of the sun's rays is lower, the colorful light and shadow effects in the canyon are considered beautiful. Antelope Canyon X is also a nature preserve and home to many rare plants and animals.
When visiting Antelope Canyon, it is recommended to join a tour. This is because access to the canyon is restricted and local guides are required to ensure safety within the canyon. In addition, joining a tour provides a wealth of information about the area from an expert guide. However, if you join a tour group, you will be with other tourists, which can be more limiting than if you go on your own.
Briefly, the advantages and disadvantages of joining a tour and those of making individual arrangements are listed below.
Advantage
Disadvantage

Movement is included so you don't get lost along the way




No need to worry about meal arrangements




Basically included in the tour price, so there is no additional cost

Cost is high




Less flexibility due to fixed time allocations




Fun depends on the tour members
Comparison of tour participation
Advantage
Disadvantage

Flexibility is high

to coordinate the trip


Resourceful and adaptable




Can trip with nice members

Long and unfamiliar driving occurs




Handle all lodging and food arrangements




Everywhere you go, there are expenses




Difficulty in dealing with sudden accidents
Personal Arrangement Comparison
You can check the Viator site for more detail.
Grand Canyon Tour Courses Participated
This time, we joined a 2-day/1-night tour departing from Las Vegas. The following are the places we visited on the tour.
Horseshoe Vent
Antelope Canyon X
Monument Valley
Grand Canyon
Route 66
The price was about 663 USD per person for two participants. The price for one person would be about 1.5 times higher.
Horseshow Vent
Horseshoe Bend is a semi-circular landscape created by the Colorado River. This beautiful landscape is located near Grand Canyon National Park and has become a world famous tourist attraction. My purpose of this tour was only to see Antelope Canyon, so I did not expect much, but the scenery was quite beautiful and I am glad I went.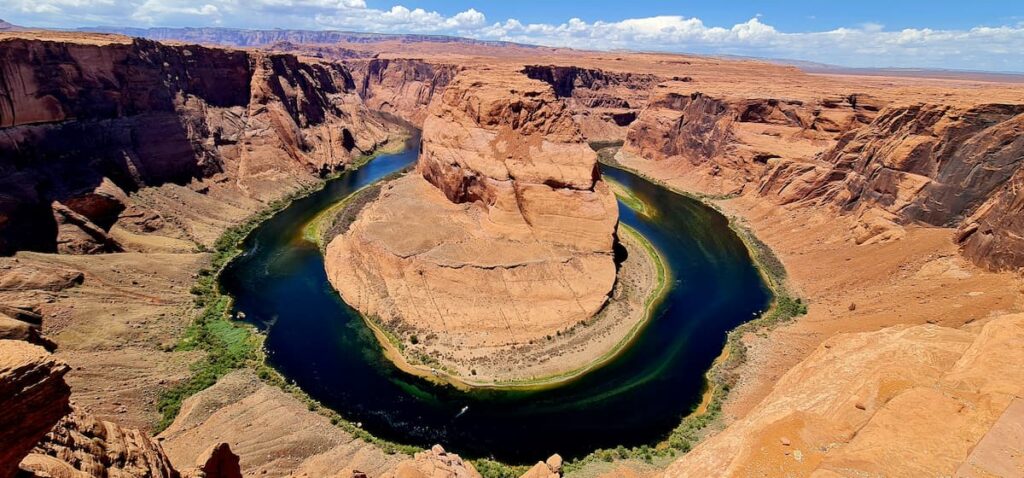 This landscape is approximately 300 meters high and 1,000 meters wide, and the blue water of the river reflects off it, creating a fantastic view. It is also surrounded by red sandstone formations, which at dusk provide a beautiful orange-colored spectacle.
An admission fee is required to view the Horseshoe Vent. The admission fee is $10 per adult and can be paid by cash or credit card. However, the admission fee is included in the price of this tour. A light hike is also required to visit the Horseshoe Vent. The trail is approximately 1.5 kilometers and takes about 30 minutes one way.
It is best to visit Horseshoe Vent early in the morning or at dusk. If you visit early in the morning, the sunrise on the surface of the Colorado River makes for a beautiful sight. At dusk, the orange-red rocks and the blue waters of the Colorado River create a magical scene. Please refer to this page if you are coming by private arrangement.
It takes about 2 hours by car from Las Vegas.
Antelope Canyon X
Antelope Canyon X is about a 2,30 minute drive from Horseshoe Vent. We are traveling by van, but you will need to change to another private van after arriving at Antelope Canyon.
Please note that GoPros and drones, as well as video recording with cameras, are prohibited. Since the Canyon is a sacred place for the Navajo people, it is important to behave with good manners and respect the Navajo culture when visiting.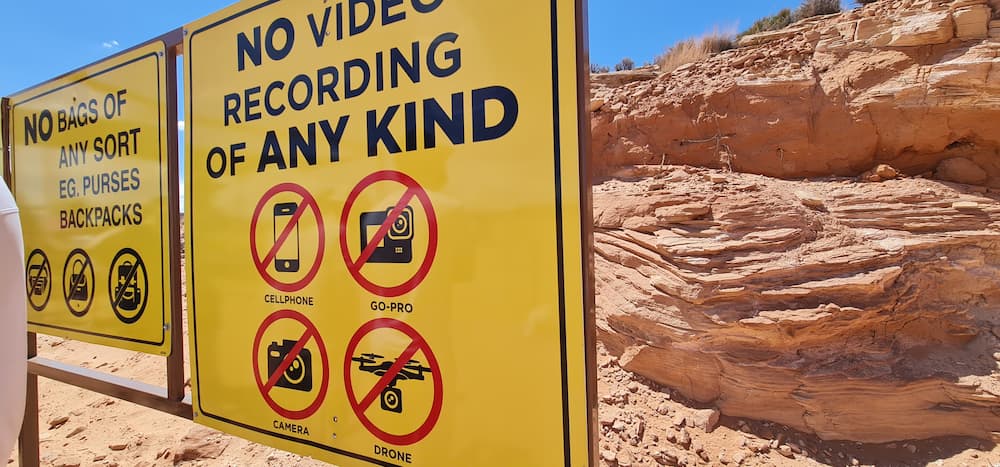 Antelope Canyon is a beautiful canyon formed by natural forces, but it is also deeply connected to Navajo culture and history. The Navajo people consider this place sacred, and they celebrate and respect its beauty. Antelope Canyon is also the site of traditional Navajo songs and dances. The Navajo call this place "Tse' bighanii" . Antelope Canyon is a beautifully scenic canyon with intricate sandstone walls formed by volcanic eruptions.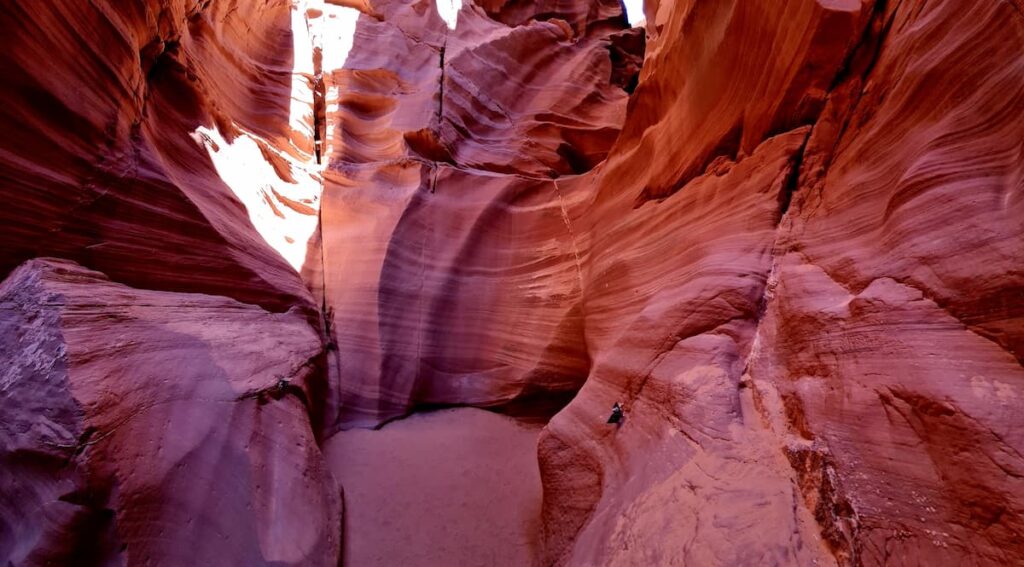 Antelope Canyon is a narrow valley carved out of red sandstone, and the fine grains of sand reflect the light, creating a fantastic sight. The scene inside the canyon varies depending on the season and time of day, with a beautiful curtain of light spreading through the canyon during the hours of sunlight.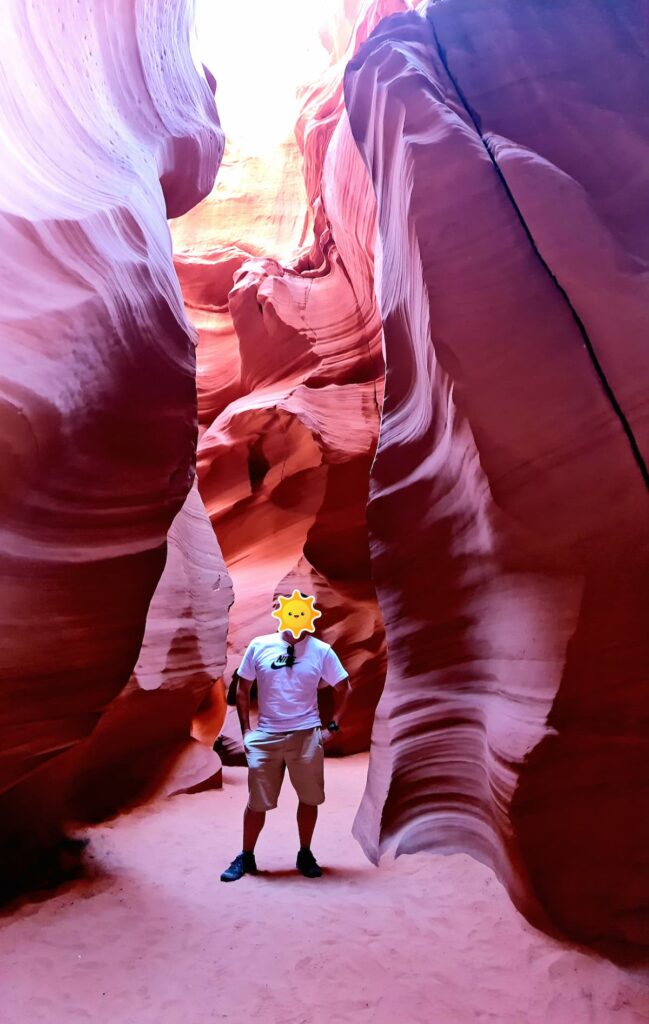 This is why it is called Antelope Canyon X. There are two places to visit in the canyon and explore the canyon, but the first point has more to offer.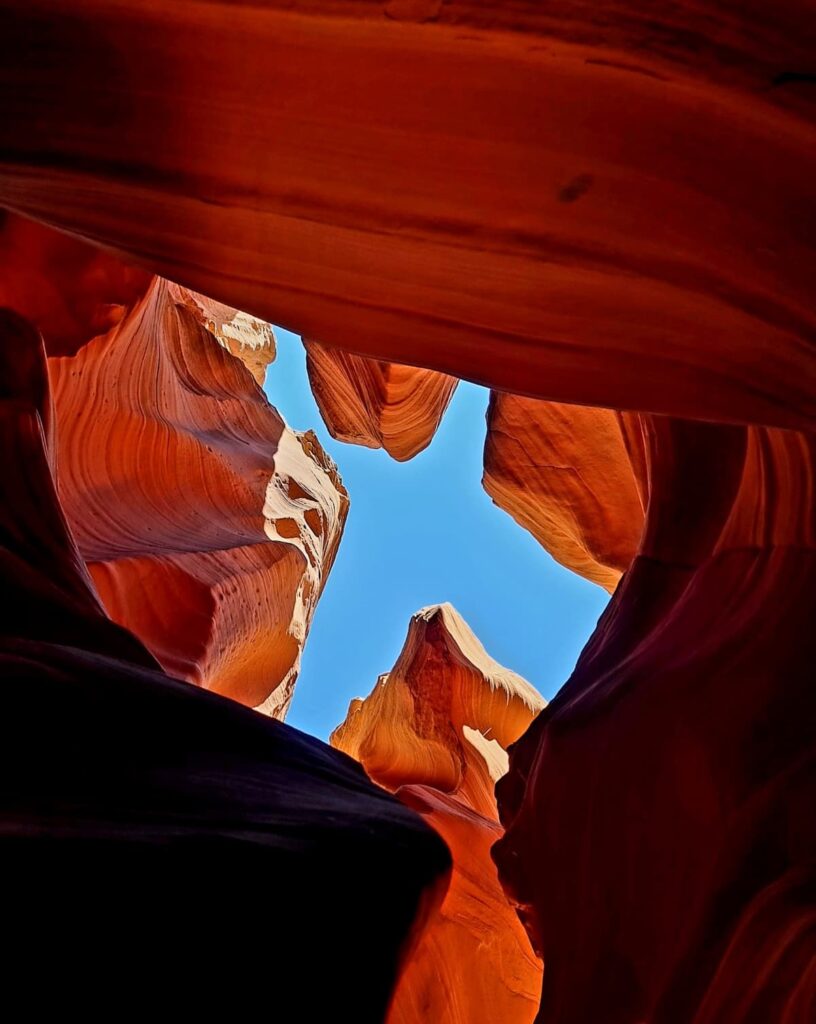 Some creatures can only be found in desert areas, so look carefully at the rocks. All guides will probably show you quicksand.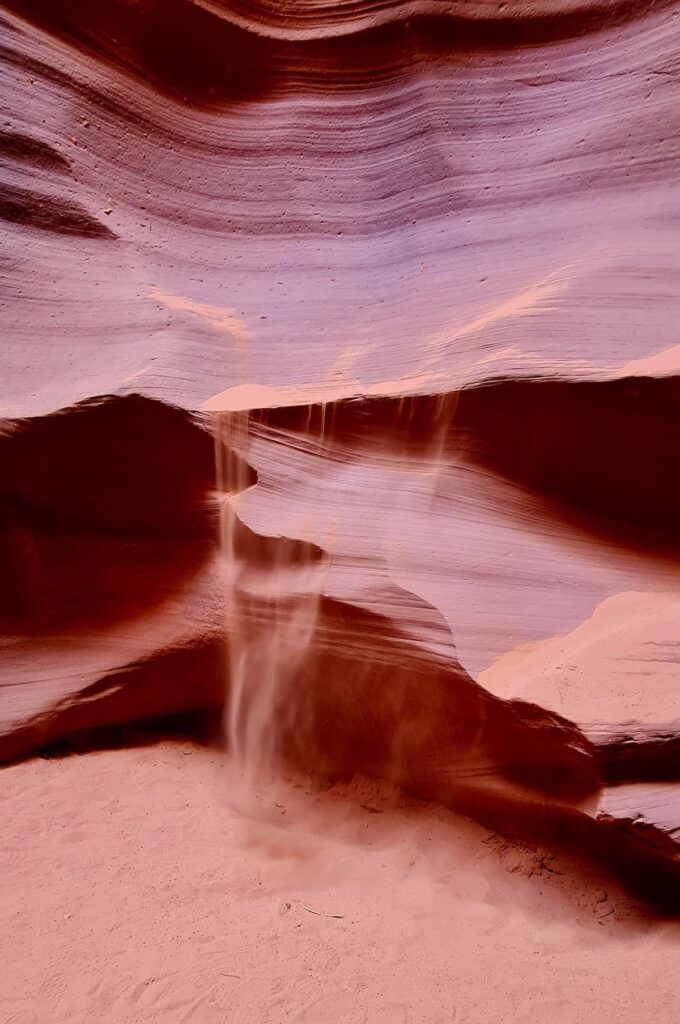 Monument Valley
It is known as a beautiful red rock valley straddling the states of Arizona and Utah in the United States. It has been the setting for many movies and TV shows and attracts many tourists from all over the world. It is famous among fans for being used as a location for Back to the Future and Transformers.
Some of the famous movies that have been filmed in the area include
western (film genre) such as My Darling Clementine
Back to the future PART3
Forrest Gump
Transformers Age of Extinction
Indiana Jones and the Last Crusade
Since Monument Valley starts at sunrise on the second morning, we will travel about four hours after Antelope Canyon the day before and stay overnight at a hotel near Monument Valley.
The landscape of Monument Valley is the sight of a series of red rock ridges, some 300 meters high, with oddly shaped stone pillars formed by weathering. This landscape is considered sacred by the Navajo, an ancient Native American tribe, and is a sacred place for them. Keep in mind that every place on this tour is important to the Navajo people.
This tour only includes sunrise and a walk in Monument Valley afterwards, but the area is actually famous for its beautiful starry sky. If you can stay longer, it would be good to see the stars both in the morning and at night.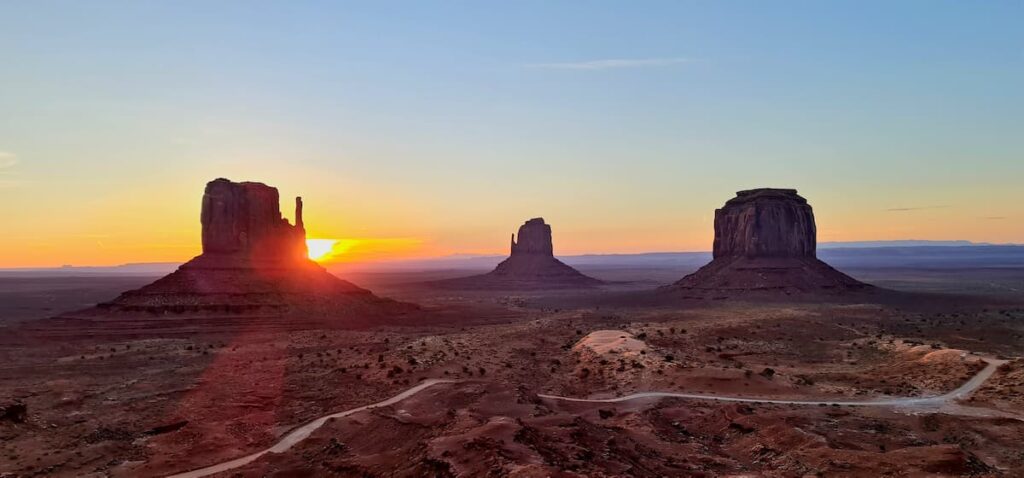 Departure will be late at night or early in the morning, and you will have to wait for a while after arriving. Light long sleeves are useful as you will feel chilly when the sun is not shining.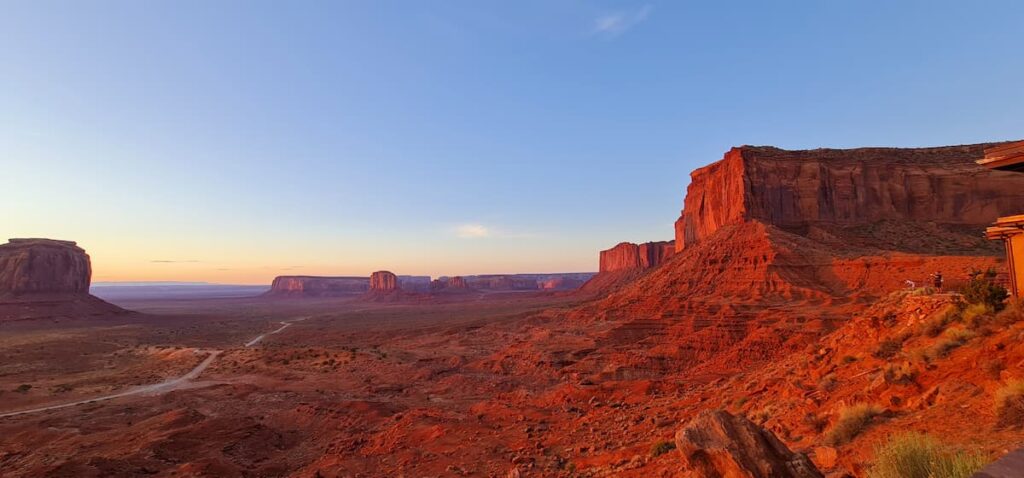 After the sun rises, be sure to see the orange rocks illuminated by the sunlight. The gradual change from brown to orange is a wonderful sight.
After sunrise, there will be a 1-hour 4WD tour of Monument Valley.
West mitten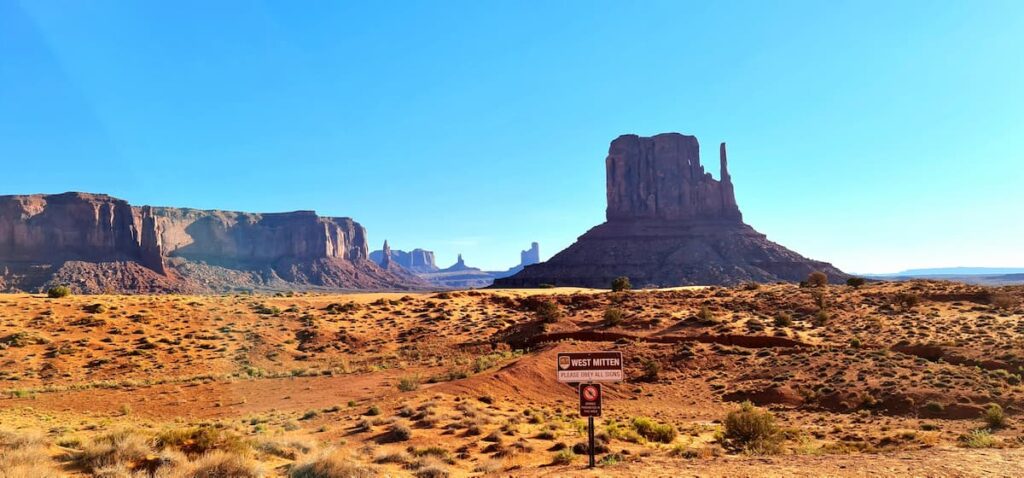 The rock which you can immediately see (also visible at sunrise) is called West Mitten, so called because it looks like a left-hand mitten. On the right side, there is also East Mitten which is right-hand mitten.
Three sisters
There are three remaining eroded rock formations in Monument Valley that collectively are known as the "Three Sisters. They are so called because of their beautiful appearance, as if a nun were veiled.
These are the three pillars seen on the left side of the photo. A similar one is actually located in Sydney, Australia.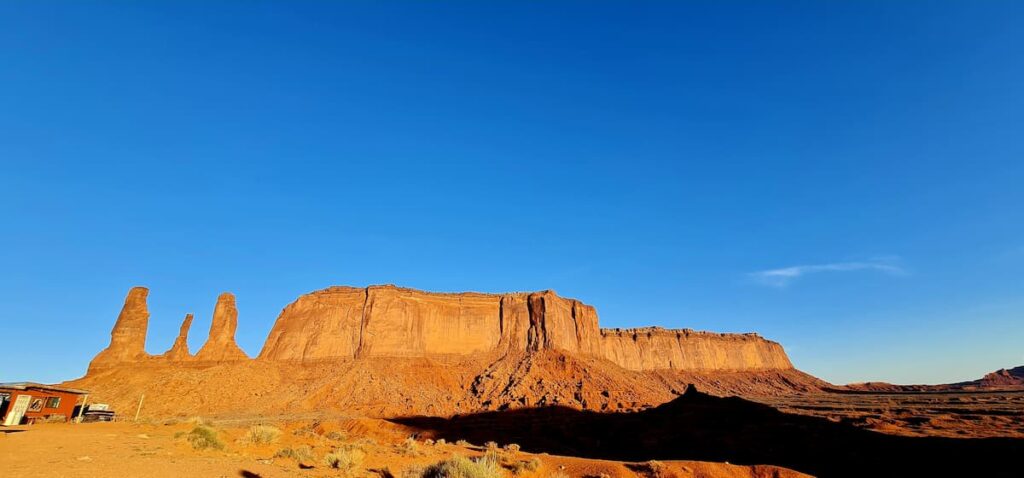 Money tree
It is a money tree, and it is said that by putting money between these trees you will become rich. It was stuffed full of money.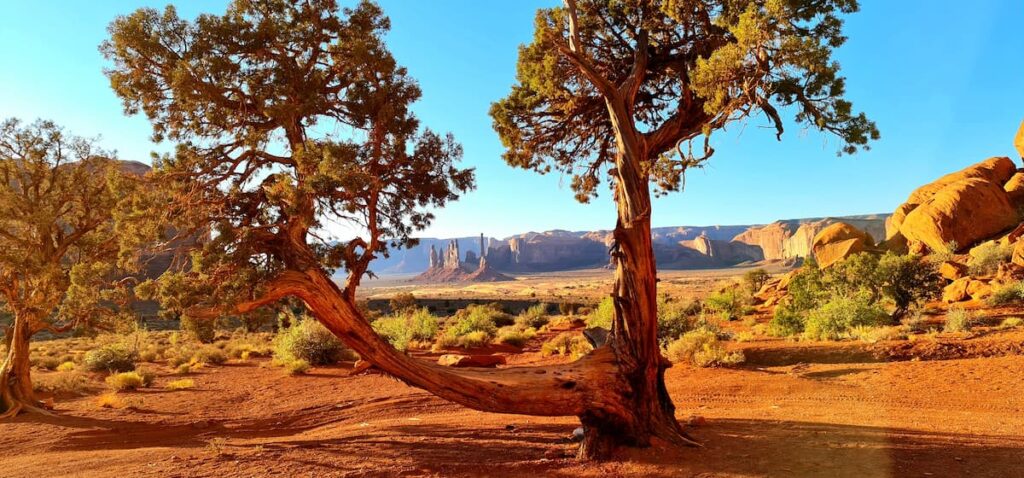 Other unnamed photo spots
Other spots include a trick photo spot and a secret tech photo spot where you can have your picture taken.
Thumbs up for starters.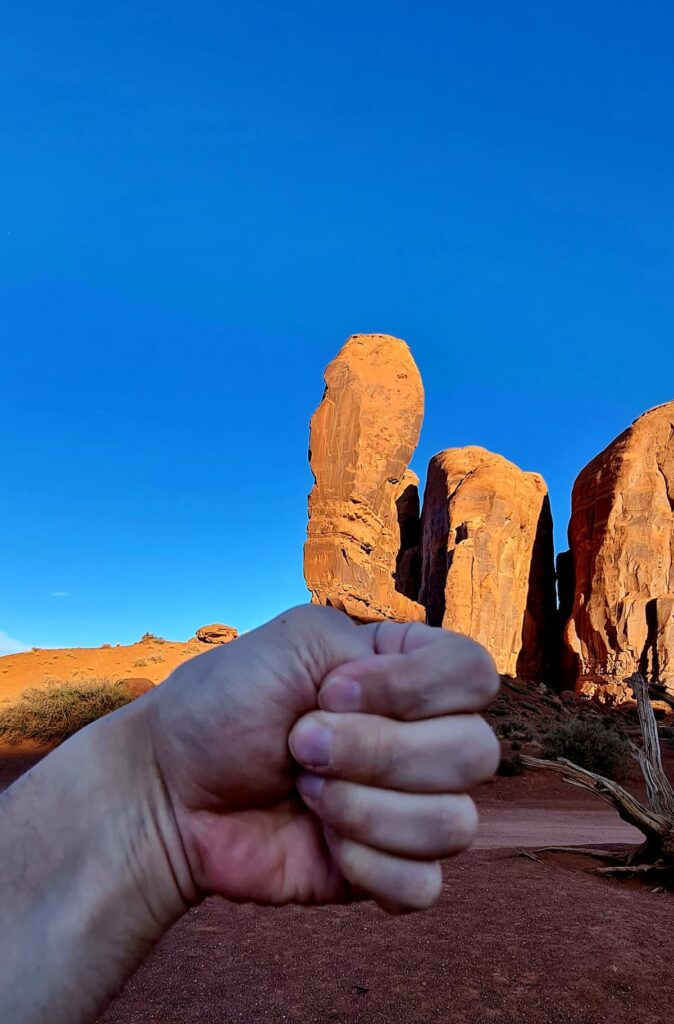 Then a photo of prying open a rock gate in Monument Valley.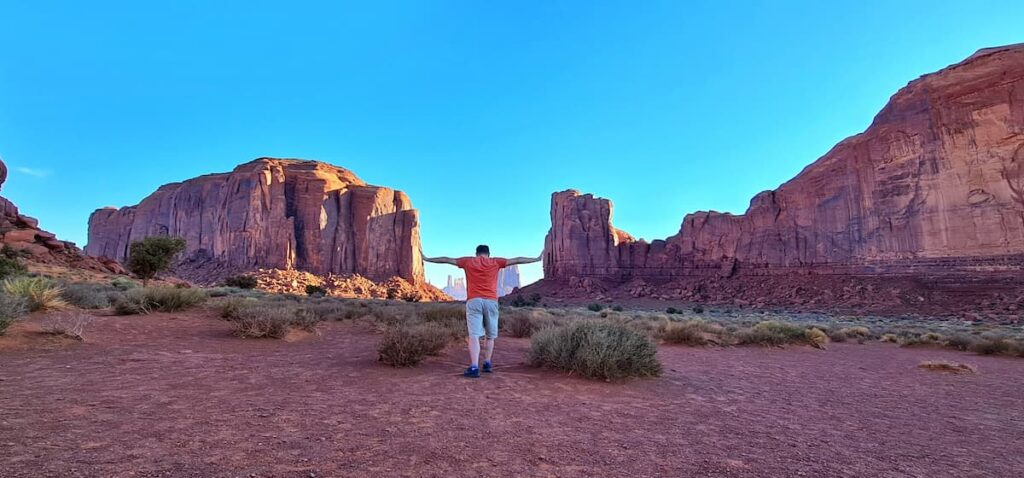 Finally, this is a shooting technique where the same person appears in the panoramic photo. I learned this for the first time.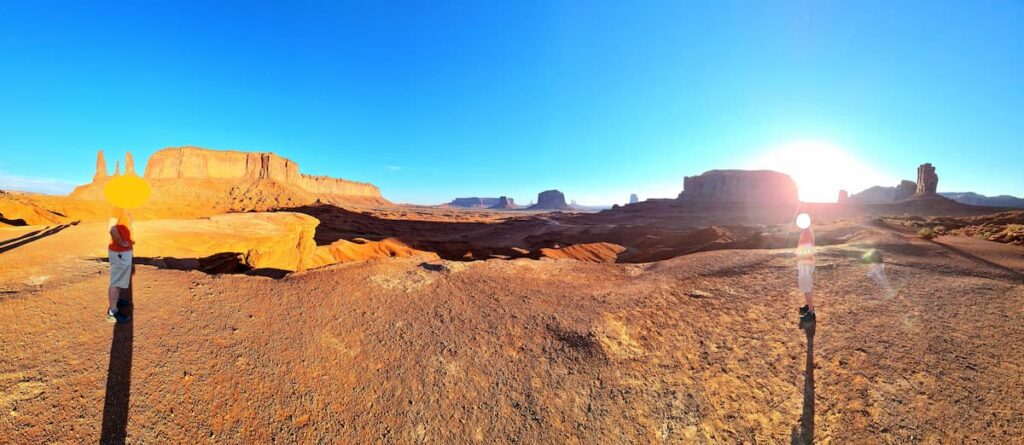 Forrest Gump Point
This is the location featured in a scene from the movie "Forrest Gump". The view of a straight stretch of road on a table-shaped plateau that can be seen from this point is The American Roadway! You will be overwhelmed by its grand scale.
There are not many cars passing by, but be careful of cars while taking pictures.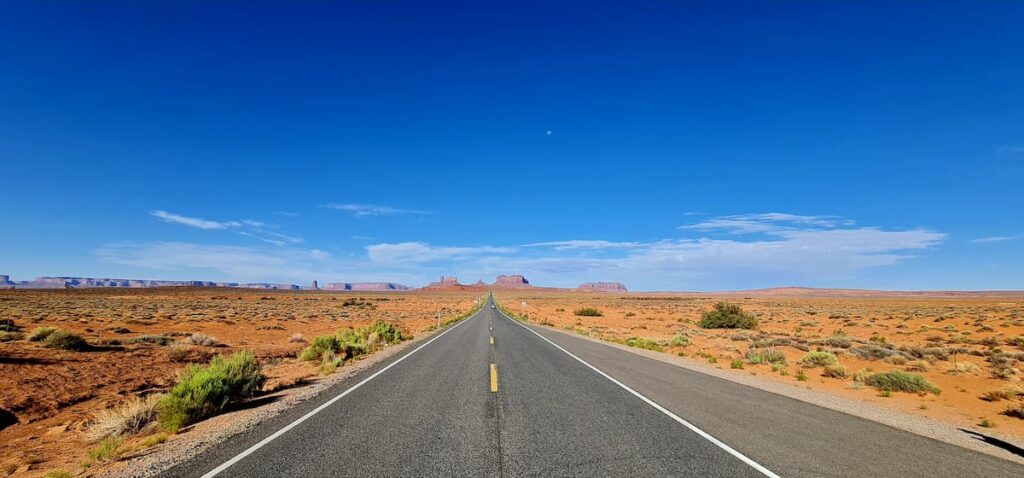 After this, we will return to the hotel and depart for the Grand Canyon after breakfast.
The hotel we stay was named Hampton Inn Kayenta. Room was very comfortable and the restaurant is open for dinner too. If you want to make your meal cheaper there is burger king nearby. But to walk far is not recommended because of wild dogs.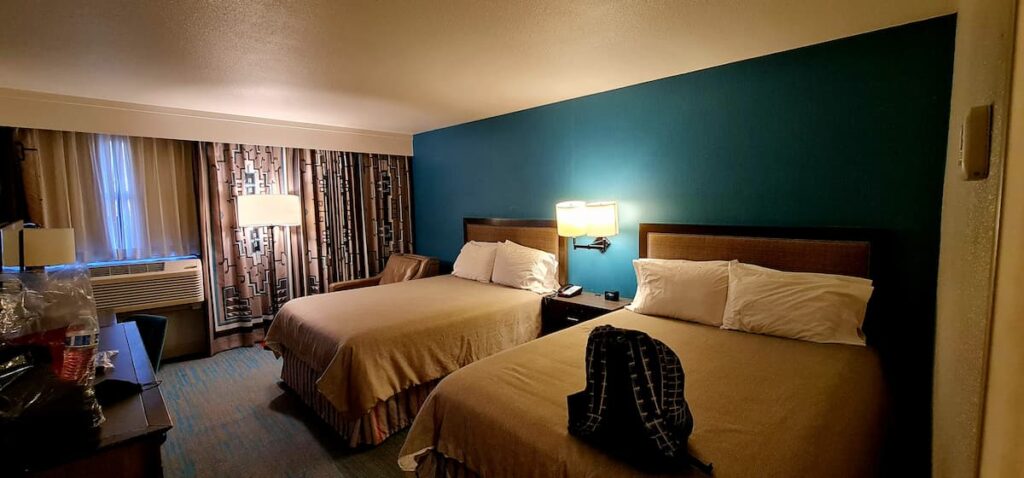 To the Grand Canyon, a World Heritage Site
The Grand Canyon is a massive canyon that stretches approximately 440 kilometers and is 1,800 meters deep. It is one of the deepest and widest canyons on earth and a World Natural Heritage site.
The Grand Canyon's attractions can be roughly divided into the South Rim and the North Rim. The South Rim is the most open to tourists and is one of the main tourist attractions of the Grand Canyon. The South Rim offers spectacular views and is a great place to watch the sunset and sunrise. Visitors can also enjoy hiking, bird watching, and wildlife viewing.
The North Rim is less touristy than the South Rim and is known for its rich natural environment. From the North Rim, one can see spectacular scenery, but access is difficult and time consuming to visit.
This tour will introduce the spectacular viewpoints that can be seen from the South Rim as we entered the area from there.
There will be a rest stop and souvenir shop 30 minutes from the hotel. From there it will take about 1.5 hours to reach the Grand Canyon.
Pina point
Pina Point is one of the most spectacular spots in the South Rim area within Grand Canyon National Park. From Pina Point, visitors can see the most expansive extent of the Grand Canyon.
Pina Point is located at an elevation of 2,704 meters and is situated on a promontory-like point jutting out into the southwestern part of the Grand Canyon. From this location, visitors can enjoy a panoramic view of the magnificent Grand Canyon stretching from east to west, north to south. Especially at sunset, the sun's rays hit the Grand Canyon and turn it into a mysterious color. On a clear day, you can even see Canyonlands National Park to the north.
At Pina Point, there is an observation deck from which visitors can view the Grand Canyon. From the observation deck, visitors can enjoy a 360-degree panoramic view.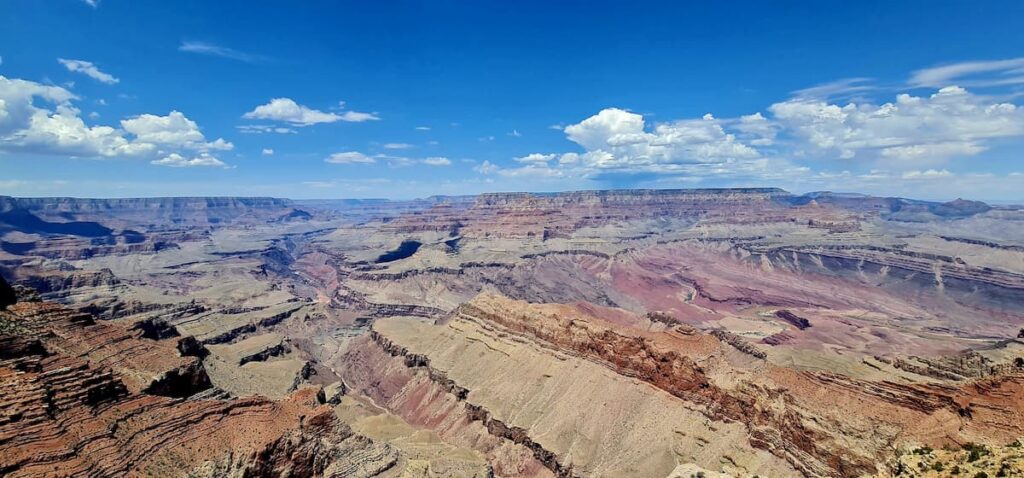 However, since many places in Grand Canyon National Park are at high elevation, there is a possibility of altitude sickness. Please prepare well in advance and enjoy Pina Point while resting your body.
Martha point
From Martha Point, you can enjoy a panoramic view of the Grand Canyon. Especially if you visit in the morning or evening, the sun's rays hit the Grand Canyon and create a beautiful view. From Martha Point, you can see the spectacular canyon, which is approximately 1,500 meters high, and as far as Canyonlands National Park in the north.
Access to Martha Point is about a 30-minute drive from the South Rim area. It can also be reached by public transportation. Free parking is available at the lookout, making it easily accessible by car.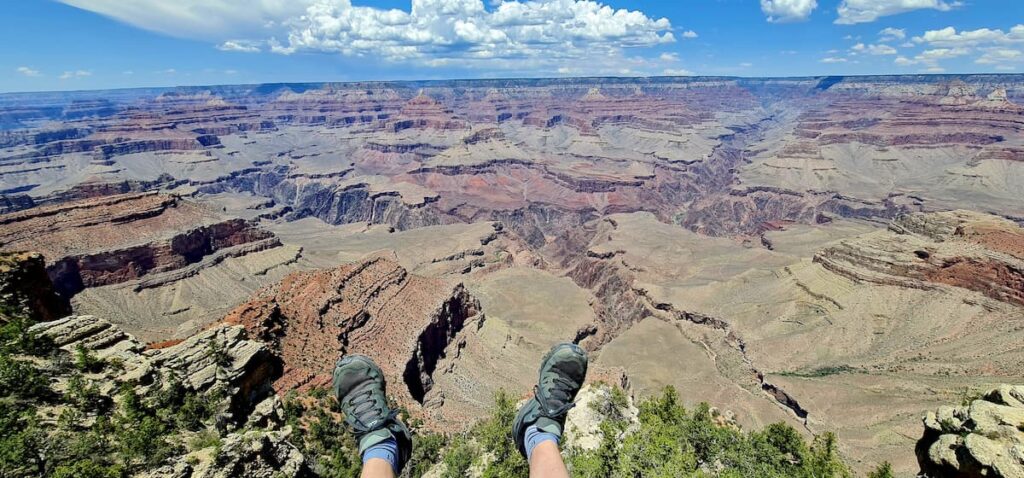 There is also a trekking trail here where you can take various pictures with no fences, but be careful not to get too carried away with the pictures. There seems to be a falling accident every year.
Martha Point has exhibits where you can learn about the history and geology of the Grand Canyon. There is also a trailhead where visitors can enjoy hiking. However, since many places in Grand Canyon National Park are at high elevation, there is a possibility of altitude sickness. Please prepare well in advance and enjoy Martha Point while resting your body.
There is also a museum at Martha Point. There are exhibits about the plants and animals that live in the Grand Canyon, as well as the geology and climate. You can also learn about the history of the Grand Canyon and the people who lived in the area. Souvenirs are also available for purchase.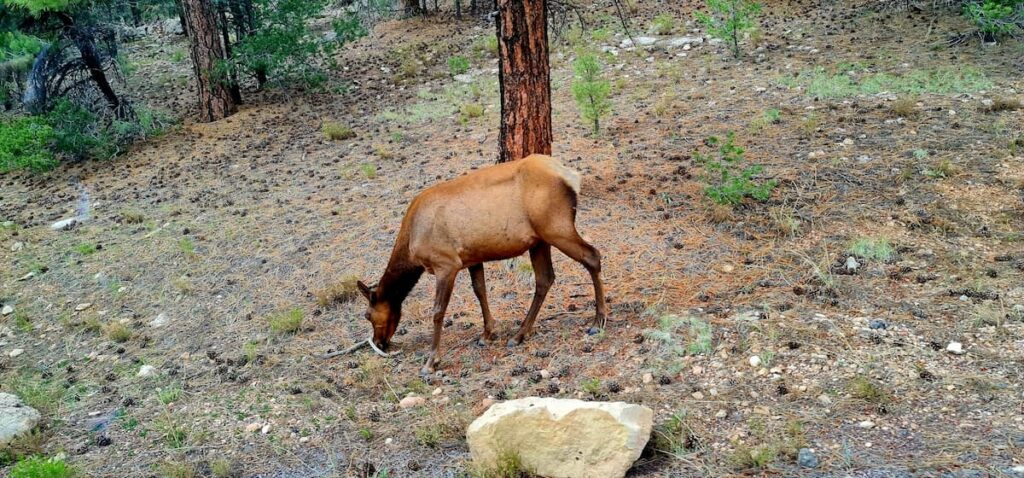 If you are lucky, you can see animals that inhabit the Grand Canyon!
To the Route 66 symbol town Seligman
After seeing the Grand Canyon, we will head back toward Las Vegas, which will be via Route 66.
What is route 66

Opened in 1926, Route 66 was once the main east-west route through the United States and enjoyed its heyday in the 1950s and 1960s. However, it fell into disuse with the construction of freeways and was officially discontinued in 1985. Today, old buildings and signs that remind visitors of Route 66's history still remain in some sections, attracting many tourists.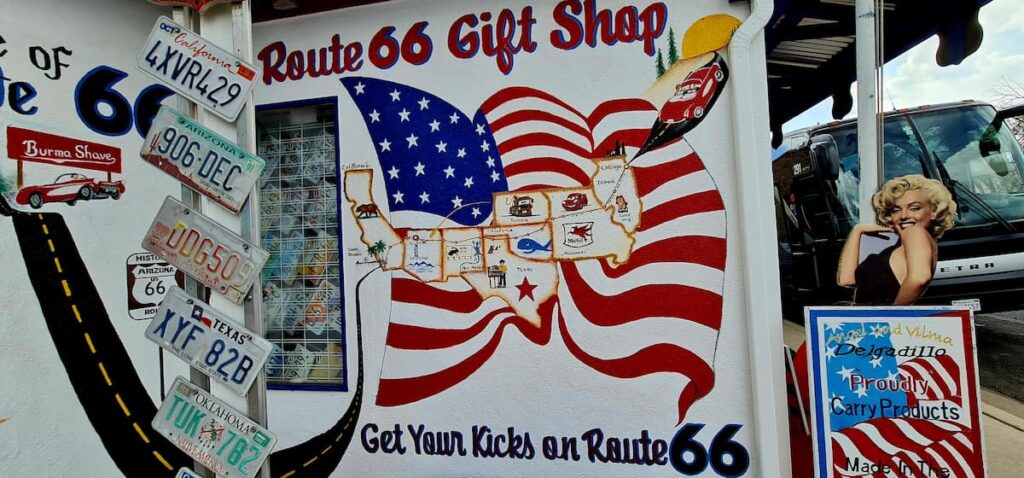 Route 66, which traverses the United States from east to west, was once a main street and a famous route taken by many travelers. Seligman, a small town on Route 66, is one of the most famous places on Route 66.
Seligman still retains the restaurants, motels, gas stations, and other buildings that once stood along Route 66. Among them is Delgado's Shop, one of Seligman's most famous tourist attractions, which sells merchandise and souvenirs featuring Route 66 motifs. The store also has exhibits on the history of Route 66 and the history of Seligman, which visitors are drawn to it.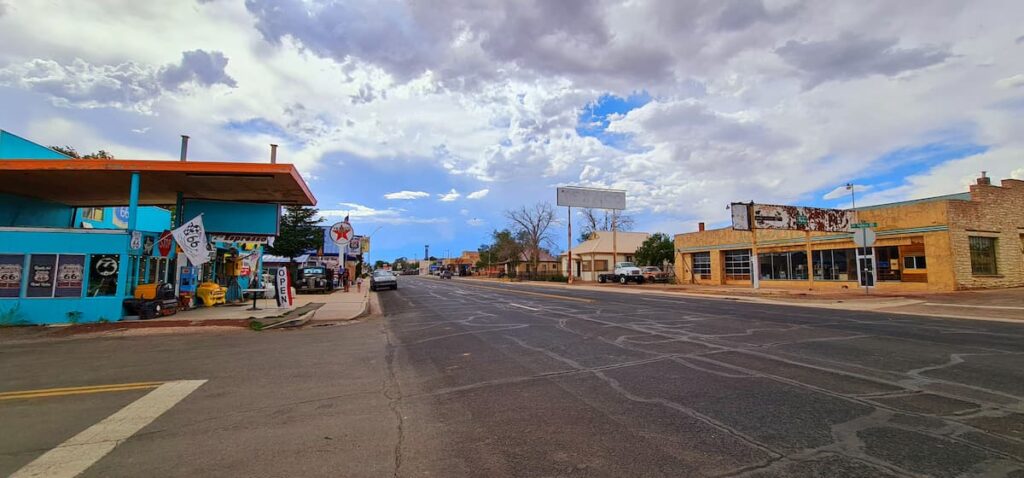 Seligman is also home to the headquarters of The Mother Road Association of America, which represents Route 66. This association preserves the history of Route 66 and provides tourist information. Every year, Seligman hosts "Route 66 Days," an event that attracts many tourists.
Just walking around the town, visitors can feel the bustle of Route 66 as it once was. There are many places to see around Seligman, including Grand Canyon National Park and the Mojave Desert. A visit to Seligman is highly recommended for those who want to experience the history of Route 66.
Seligman is one of the best places to experience the history of Route 66. Although it is a small town, many people are drawn to its history and charm. Seligman has become an essential stop for Route 66 travelers!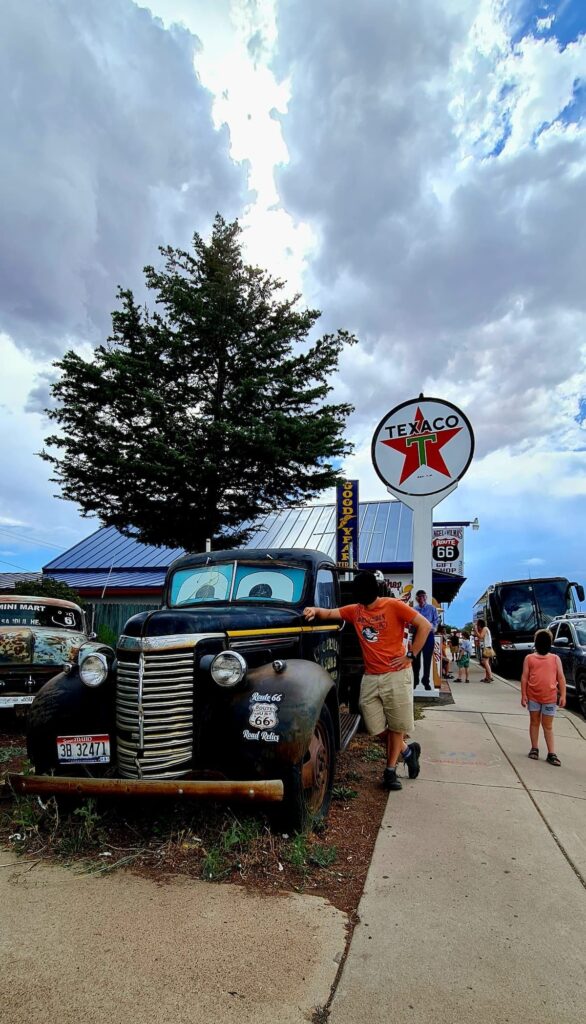 Summary
The Antelope Canyon, which I had always dreamed of visiting, is still a wonderful place where the harmony of nature can be realized
Spectacular tours specializing in nature will satisfy you at any of the sights
Even if you don't know Route 66, the environment is fun
Even if you don't know Antelope Canyon or Route 66, you will have a fun two days. Highly recommended!
If you stay in Las Vegas, you can't miss the world-famous Seven Magic Mountains, one of the most Instagram-worthy spots in the world. It is only about 30 minutes away from the city!
Fantastic art place Seven Magic Mountain
You can check the Viator site for more detail.