There is one place that has recently experienced a surge in popularity as a tourist destination that can be reached from Las Vegas.
Las Vegas has more to offer than just casinos and the very popular Grand Canyon tour. If you have even one free day, please visit the Seven Magic Mountains, which are the most popular installation spots introduced in this article.
This article is for the person who
has plan to go to Las Vegas
lovers photo
looking for photogenic place
is Instagram photographer
is looking for the place to sightvisiting nearby Las Vegas
What is seven magic mountain??
Seven Magic Mountains is a work of art (artwork) made from seven pillars of stacked colorful limestone that was opened to the public in 2016.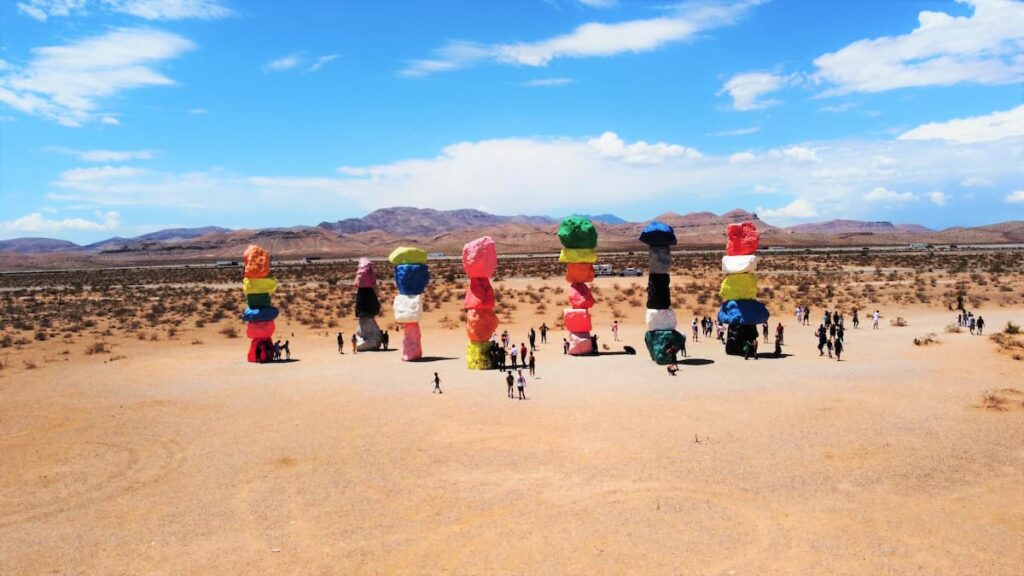 The nice thing is that it is open to the public and can be viewed for free without any admission fee or anything.
The original plan was to open the museum to the public for a limited period of two years, but due to the popularity of the museum, which attracts more than 1,000 tourists a day every year, the lecture has been postponed several times. It may not be possible to see it again someday.
The artist seems to be Ugo Rondinone, a Swiss-born New York-based artist.
The exhibition will be open to the public until May 31, 2027 (2023 information) For more detailed or more accurate information, please visit the official website below.
How to go to seven・magic・mountain
Seven Magic Mountains is located in the suburbs of Las Vegas, about 30 km away, which is about a 30-minute drive (from Las Vegas City and McCarran International Airport).
We rented a car, but if you use Uber or Lyft, the fare varies depending on the time, but it ranges from $55 to $100 at the most.
If you are not worried about driving (*The U.S. is a left-hand drive, right-lane country), we recommend renting a car considering your luggage.
Parking is free. You can see Seven Magic Mountains right from the parking lot because there is nothing in the area.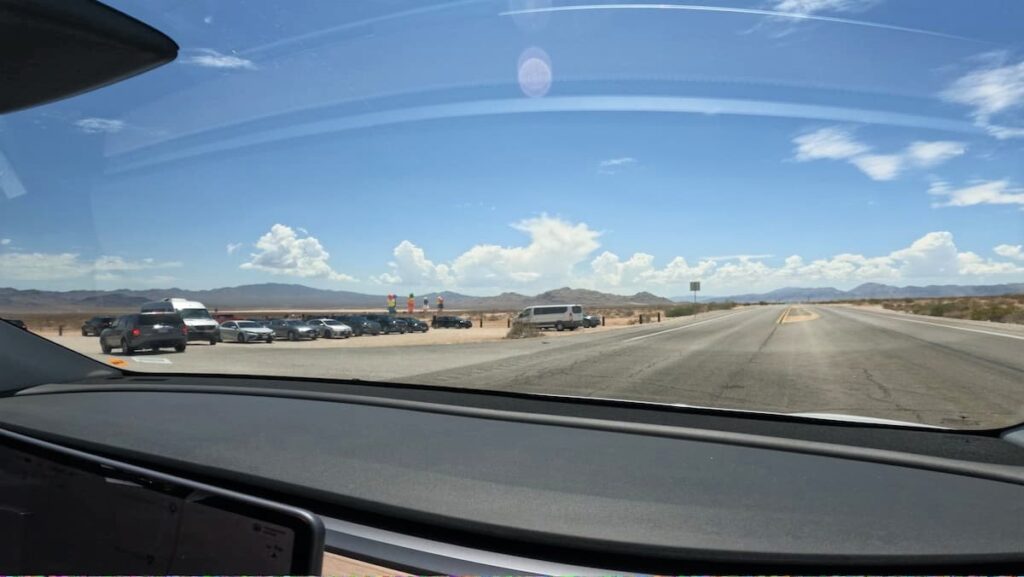 Good prospects for seven・magic・mountain
The day I went there was a beautiful sunny day, which made the colorful scenery stand out even more, but the desert temperature was easily over 40 degrees Celsius, and with no shade, it was no exaggeration to say that the temperature was more than 45 degrees Celsius.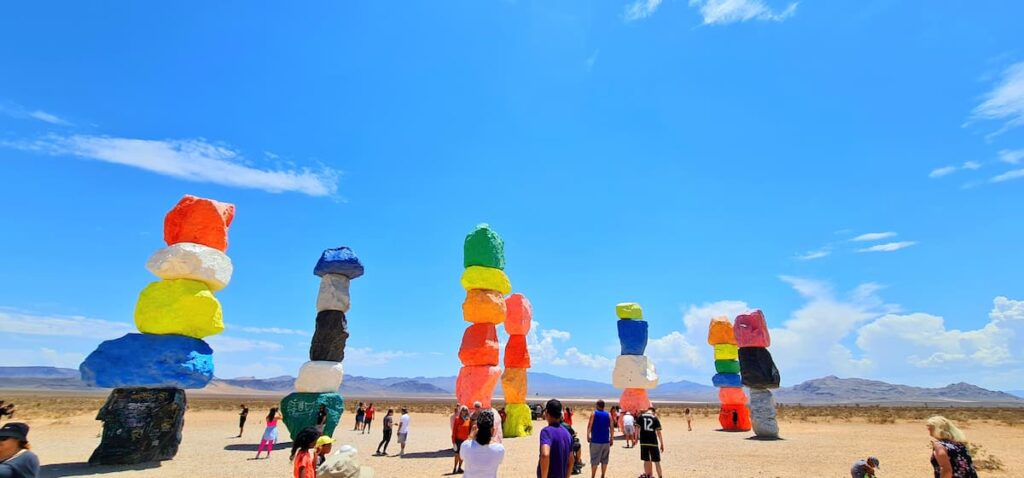 Everyone is taking pictures of trick art, video, etc. from their favorite colored rocks and from their favorite angles.。
I tried to take some pictures with the drone, but the heat made it impossible for the phone to communicate with the drone, and it only worked for about 10 minutes or so.
However, even though communication was lost, the drone did not crash, and just before the battery ran out, it automatically returned to the starting point and landed safely, so we were able to successfully check the drone's functionality.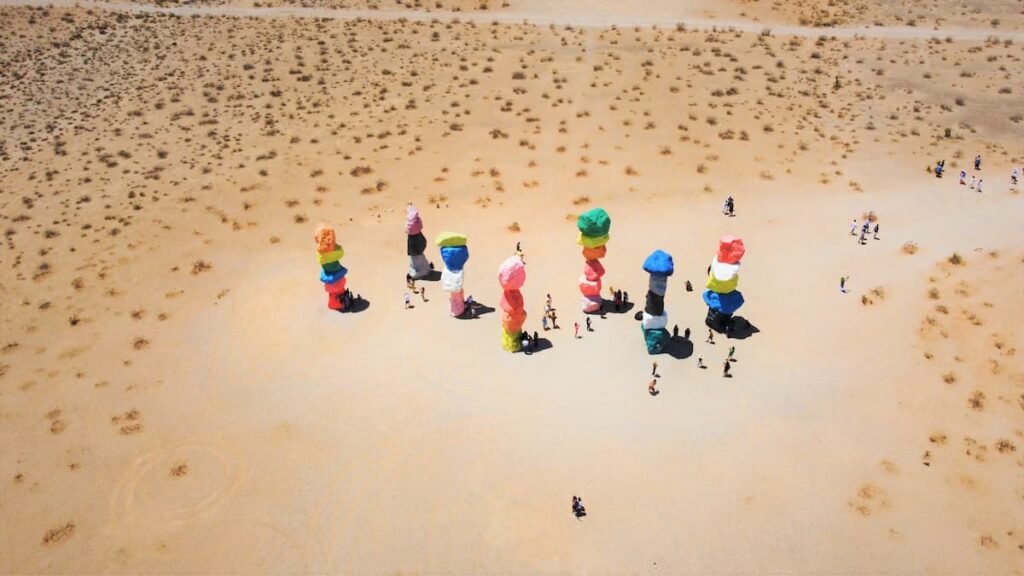 If renting a car is too much of a hurdle, or if you are worried about luggage and money in a cab, there are also tours in case you are interested.
Klook has helped me quite a bit on my trips to the United States. The tours of the Grand Canyon and Antelope Canyon, which I will introduce next time, as well as the Universal Studios Hollywood tour in Los Angeles.
Klook
This Seven Magic Mountains also has a tour, which is a set tour with Grand Canyon and Harbor Dam, and can take you to the main tourist attractions in Las Vegas in one day. If you are interested, please check it out.
We have also uploaded a video on Youtube. Please subscribe to our channel if you like. We have also uploaded a few aerial drone videos.
Summary
Seven Magic Mountains, a famous Instagram photo spot, was indeed a photo-worthy tourist attraction.
Great for people who want to enjoy their own videos and photos.
It's crazy hot, so heat stroke and sunscreen protection is a must.
The actual sightseeing time is about 30 minutes.
Seven Magic Mountains is a great place to visit from Las Vegas, and it is very close to Las Vegas.
If you are interested in traveling to the U.S., please check the following articles. First Class on JAL, Japan's highest class flight! Shohei Ohtani of the Angels, a two-sport athlete who is one of Japan's greatest treasures! If you're going to Las Vegas, go to Los Angeles too!
Japanese highest class airline boarding to First class!!