I also like to watch sports. I have watched rugby, soccer, football, baseball, and various other sports in person. I have had fewer opportunities to watch baseball recently, but since I was going to Los Angeles, I went to see a game of Shohei Ohtani, a two-sport athlete who is playing for the Angels MLB team in Los Angeles.
This article is for the person who
MLB好きな人
エンゼルスのファン
二刀流の大谷選手を生で見たい
野球大好き
アメリカに旅行したい人
Los Angeles home MLB Angeles
The day I visited the stadium was the day that Shohei Ohtani's 2021 MVP T-shirt was given away to visitors.
I was hoping to see Shohei Ohtani pitch at the Angels Stadium because they were giving away t-shirts, but alas…………………… He had pitched one day before and had a great performance.
Fortunately, he played as the DH, so I got to see Shohei Ohtani in action!
We arrived 45 minutes before the entrance time and were already waiting to enter. The play ball was to be played at 5:00 p.m. and the doors opened at 3:30 p.m.
How to go to Angels stadium
Angels Stadium is located in a region called Anaheim, which is quite far from Universal Studios Hollywood, Beverly Hills and Hollywood in the city of Los Angeles.
It is about an hour drive from the city of Los Angeles without traffic.
Most people stay in Los Angeles, but from Los Angeles, the main options are as follows. I rented a car to get there.
Train

Rent car

Uber and other share ride application
How to get to Angels Stadium by train
The closest station to Angel Stadium is the Anaheim Regional Transportation Intermodal Center.
The Metrolink train will take you from downtown Union Station in about 50 minutes without transfers and costs only $8.75 USD each way, making it an affordable option.
However, please note that Metrolink trains are infrequent. If you try to board at the last minute, you will miss the game if you miss the train, so be sure to arrive at Union Station with plenty of time to spare. The Angels Stadium is also a distance from the station, so be sure to calculate the travel time there as well. If you want to buy official Angels merchandise before the game starts, it is even more important.
Also, Los Angeles is a city with a lot of crime. You may get caught in a crime even on the train, so be prepared for the worst case scenario (this also applies to sightseeing in the city other than on the train).
Please note that there is no return train service for night games.
You will inevitably have to return home by cab such as Uber or stay overnight in the city of Anaheim. For your reference, here is the URL of METROLINK
The same is true for another train company, AMTRAK. If you want to know the train time, please refer to the official website below; AMTRAK is more expensive at 16 USD for some reason.
How to get to Angels Stadium with a rental car
This is the method I chose. Since I planned to stay in Los Angeles for four days, I originally rented a car for four days. If you are a confident driver, this is the easiest way to get around.
Of course you will use the freeway from Los Angeles to Anaheim, but be careful of traffic jams during the evening hours, especially around 4pm. It usually takes about one hour, but it will take more than two hours. We recommend arriving at the Angels Stadium early, especially if you are looking to purchase official Angels merchandise.
There are many parking lots around the Angels Stadium, but I recommend the following location: Katella Lot 6. It is a paid parking lot right next to the restaurant, but it is available for USD 10 per day. If you use a rental car, be careful when you return home. If you park your car in the parking lot of the Angels Stadium, it may take an hour just to leave the stadium during the rush to get home at game time.
Katella Lot 6 is more than a 10-minute walk from the stadium, but I was not bothered by traffic congestion at all, and I was able to return home stress-free because there were not many people using the parking lot. The Angels Stadium is behind the billboard in the photo below.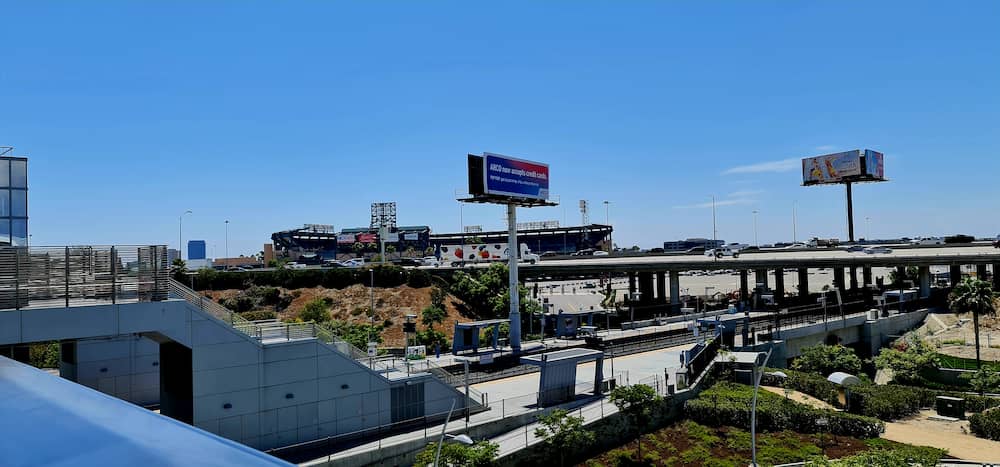 Address:1750S S Douglass Rd, Anaheim, CA 92806, United States
How to get to Angels Stadium using Uber or a tour company
Using Uber from Angeles Stadium to Hollywood costs 50USD one way, but it jumps depending on the time of day.
We recommend using Lyft within the U.S., as the Lyft car-dispatch app is a bit cheaper than Uber.
Either way, this is the only option for those who cannot rent a car.
Since Disneyland is nearby, you may want to stay overnight in this vicinity to visit Disneyland the next day. Since Angeles Stadium is in the suburbs, you will not be able to catch a cab. And it seems to be difficult even with a taxi dispatch app.
It seems to be a surprisingly high hurdle to return home. Angeles Stadium is.
Notes on Entrance to Angeles Stadium
Even before the doors open, people come in droves, as you can see in the photo.
There is a rule for watching games at Angels Stadium. They are
No backpacks, only pouches
No plastic bottles with empty lids (empty bottles are allowed)
Please note that you will be strictly checked at the entrance.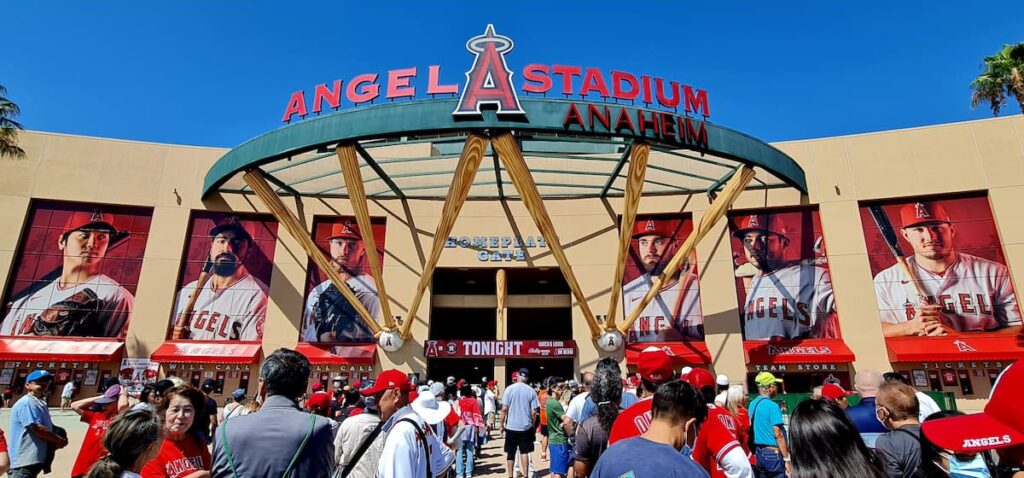 It's not a precaution, but if you arrive early, take a picture with the famous "Giant Angels Baseball Cap" at Angels Stadium because it's a good opportunity. It is actually decorated with a base design.
The names of past players are engraved on the block. Our own Shohei Ohtani was inscribed here in 2022.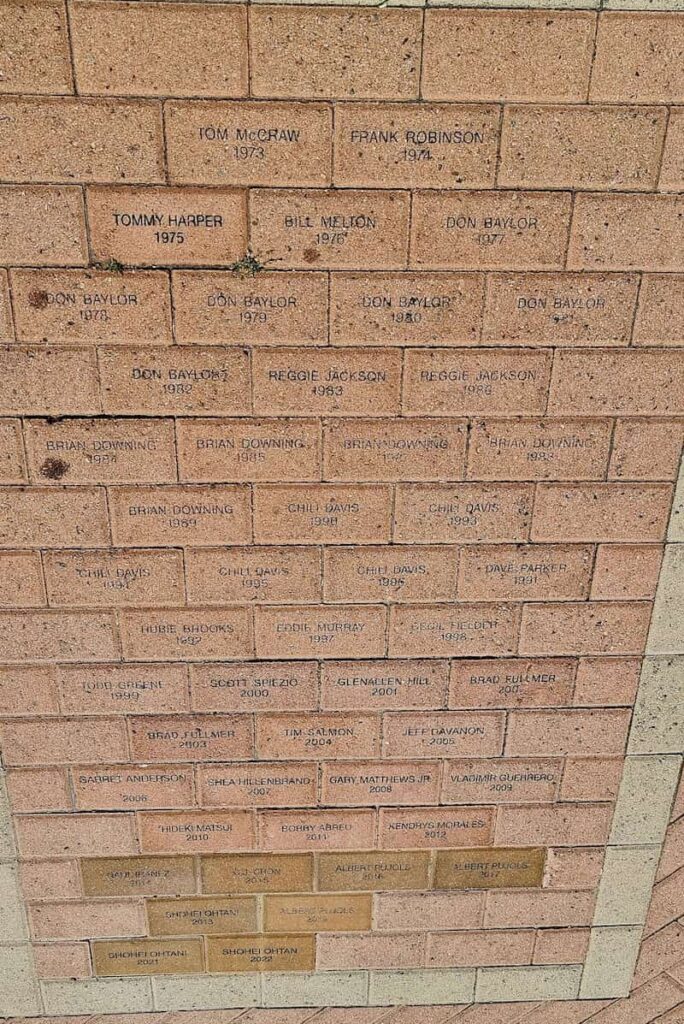 Purchase official Angels goods
As soon as you enter, go to the official Angels merchandise store located to the right of the entrance. There is no need to go to your seat.
Because they will fill up quickly and admission will be restricted.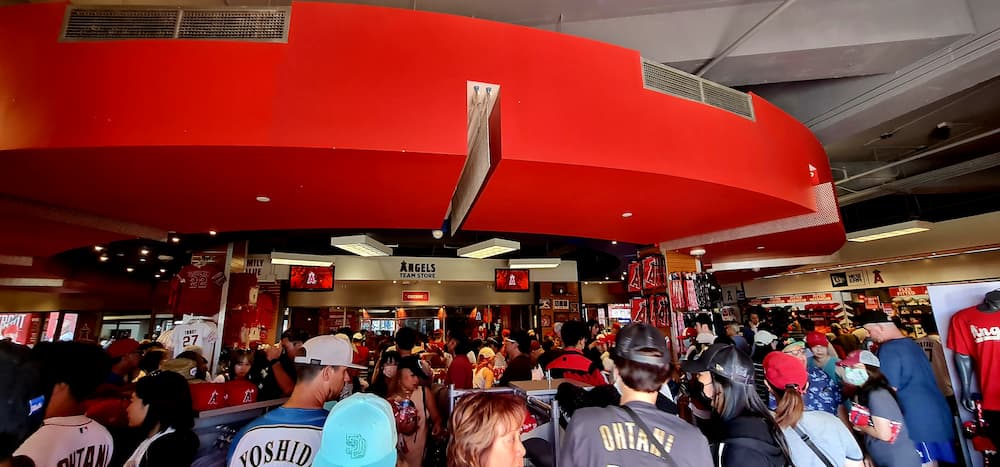 As you can see in this picture, the venue was packed within a few minutes, and the merchandise-related items, especially Shohei Otani's uniforms and goods, sold out immediately. I originally wanted a replica uniform, but they were almost gone too.
I really wanted the 2022 Shohei Ohtani All-Star uniform that the person in the middle of the photo is wearing, but it was already gone. Too bad the internet seemed to have sold out instantly as well…
Angels game
I sat in the infield seats on the third base side.
Please note that in Angels Stadium, Angels players are on the third base side. When purchasing tickets, that is also clearly indicated, so I don't think you can make a mistake.
There are staff members standing at the entrance of each block. When you purchase a ticket, a QR code will be displayed in the app, so please show it to the staff. The same applies when entering the stadium. Unfortunately, you cannot take a screenshot, so you may have to arrange a SIM card or something to be able to communicate.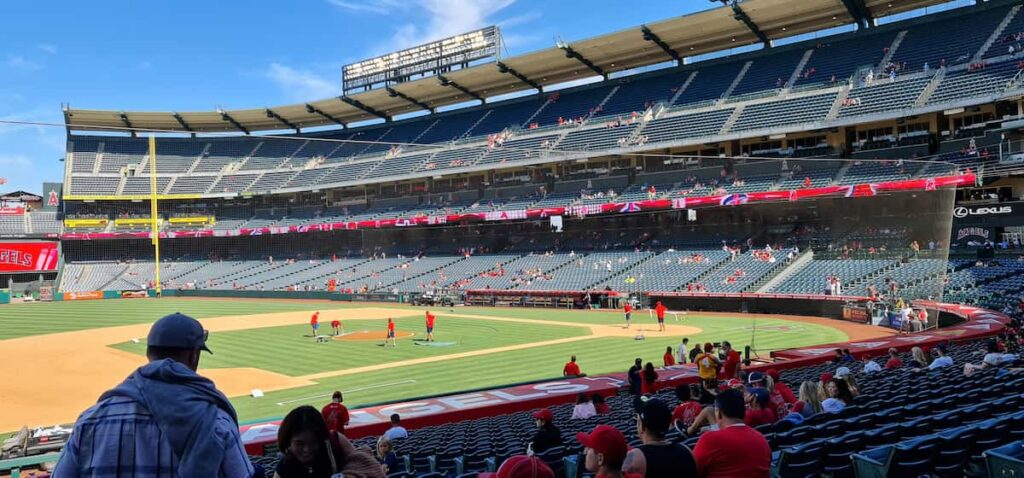 Before the game starts, you can go to the very front and watch Angels players up close and personal. Maybe you will get a chance for an autograph!
Unfortunately, the Angels lost the game that day, but I was able to see Shohei Ohtani get a hit. This was taken while he was standing on third runner after the hit, advancing the base, etc.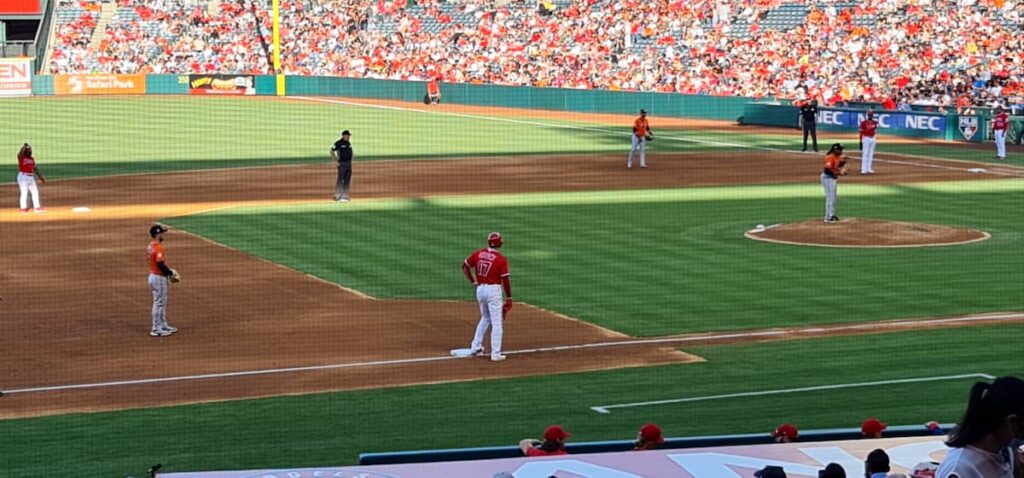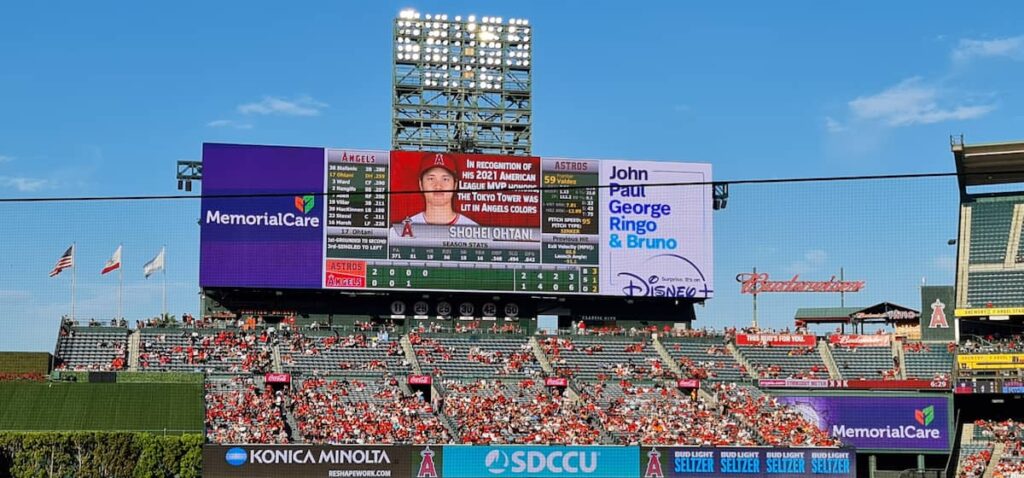 The cheers were crazy amazing only when Shohei Otani appeared. Many Japanese people came to the event, and of course, foreigners also bought and wore Shohei Ohtani's uniform. He is a player loved by everyone.
Summary
Arrive at Angels Stadium one hour to 45 minutes before the doors open!
If using a rental car, park in Katella Lot 6.
Let's go to the Angels official merchandise store right after entering the Angels Stadium.
Although I was not able to see Shohei Ohtani's double and home run in person, I was very happy to see him and his hit in person, and although we lost the game, it was fun.
I am not sure if he will still be with the Angels next year, but if you are planning a trip to Los Angeles this year, why not go to Angels Stadium to see Shohei Otani?