When people hear about Yamagata's spectacular winter scenery, they all know about Zao Juhyo and Ginzan Onsen. Zao Juhyo is one of the most popular sightseeing spots in Japan that is definitely a must-see, and not many people have the chance to see it on a clear day.
I was glad that I made the effort to go there in the extreme cold, and was able to see the magnificent tree ice and the snowy landscape of Ginzan Onsen.
I wish I could have stayed at both Zao Onsen and Ginzan Onsen.
This article is for the person who
loves Japan and Japanese winter
loves onsen (hot spring)
wants to see the Japanese famous juhyo (snow monster)
wants to see a nostalgic Ginzan Onsen with a Taisho era Romantic atmosphere
Someday you won't be able to see them anymore! Let's go see the mystery of nature's tree ice!
The tree ice in Yamagata Prefecture can be seen in Zao. Zao Onsen, a famous hot spring resort, is located there. However, it is said that the juhyo will not be able to be seen for some time to come. This is due to the increasing damage caused by insects, which are the natural enemy of the trees, as a result of global warming. Various countermeasures are being taken, but the situation seems to be serious with no progress.
Don't say someday, someday, let's go now!
This tree ice juhyo is normally called "snow monster"
How to got to Zao蔵王までの行き方
The easiest and most comfortable way is to take a bus from Yamagata Station.
During the snow monster season, special tickets are available at the Yamagata Station bus terminal, and we recommend purchasing those tickets.
The ticket includes a round-trip ticket from Yamagata Station to Zao Onsen, plus a round-trip ticket for the ropeway to see the snow monster, and costs 5,000 yen per person. Children are half-price at 2,500 yen, which is 500 yen cheaper than the regular ticket. During the snow monster season, there are also extra buses, so the number of buses is increasing. If you are thinking of making a stop along the way, please be careful when boarding the bus.
The ride between Yamagata Station and Zao takes about 45 minutes, depending on how crowded the roads are.
This great ticket deal is only available until March 5, 2023, so don't delay!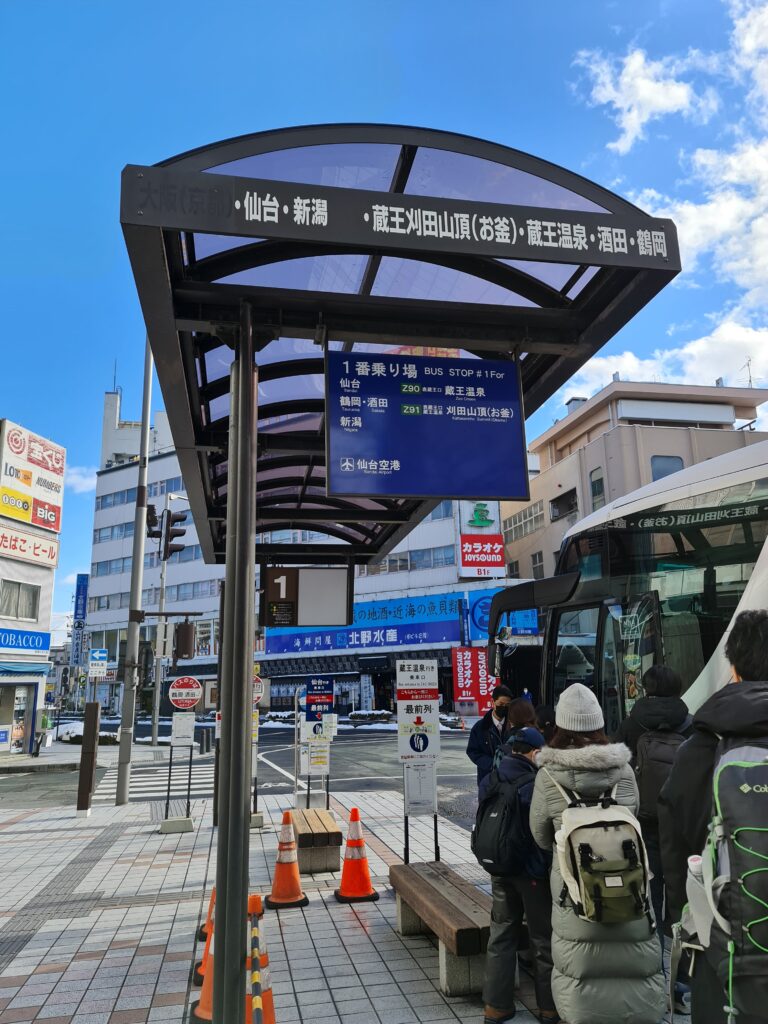 When you get off at the bus stop in Zao, you will see an information board like the one in the photo. The ropeway where you can see Zao's snow monster is located a little further away, so if you only want to see the snow monster, make sure not to make a mistake.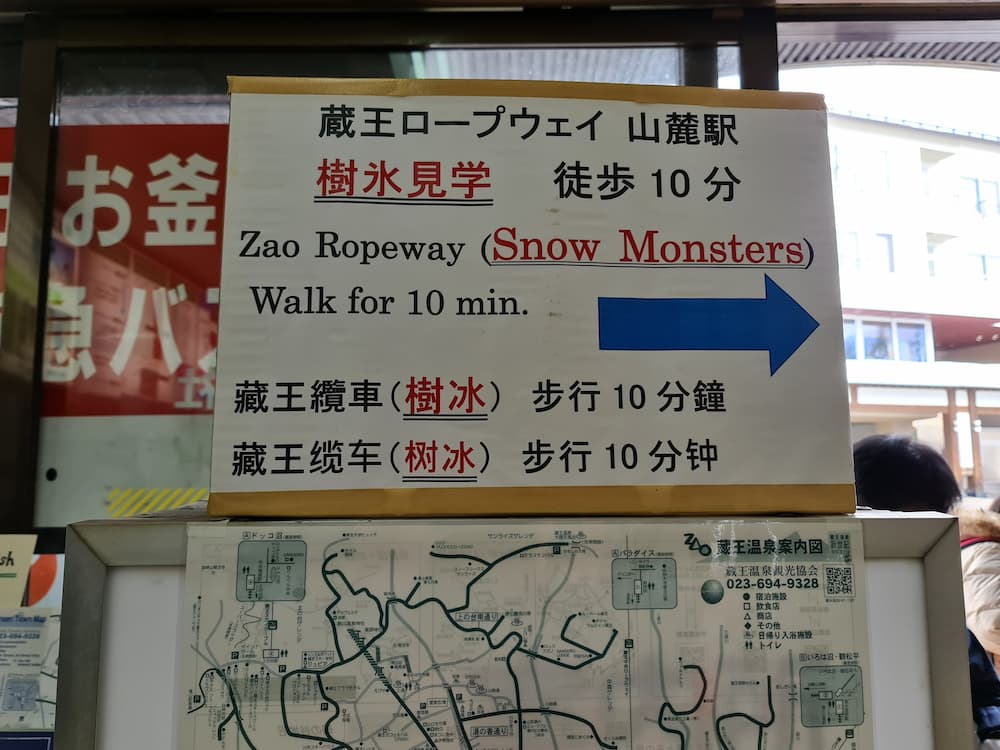 The correct ropeway is Zao Ropeway Zao Sanroku Station. Please note that the Zao Central Ropeway on the way is for skiing and snowboarding.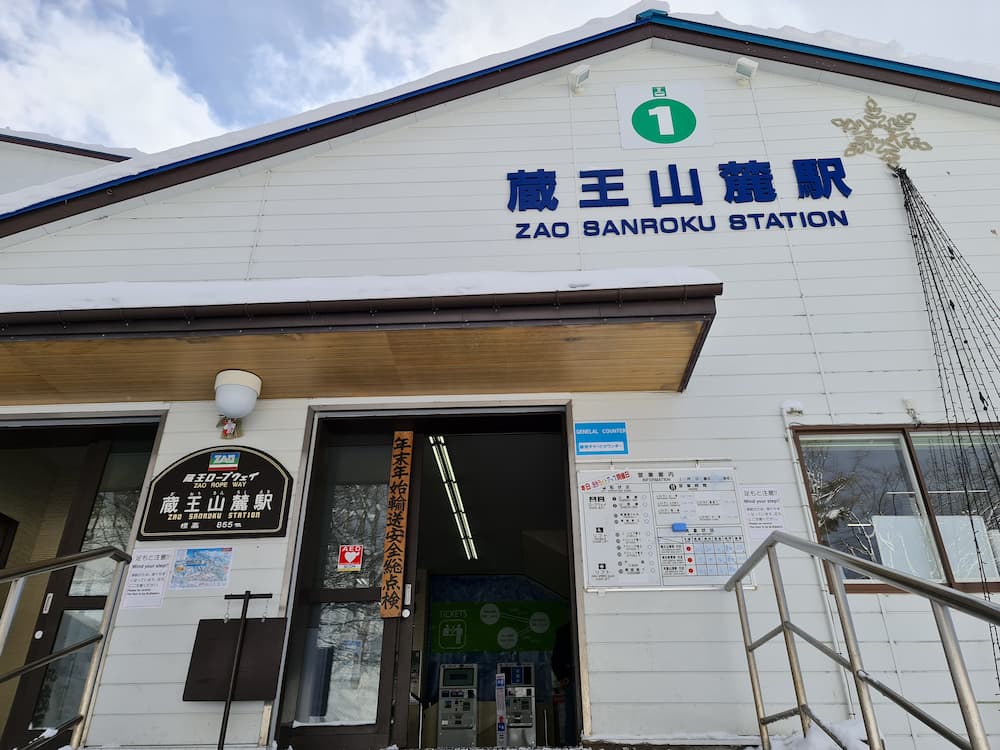 If you haven't had lunch yet, don't worry, there are various restaurants along the way. While walking, you can also smell the sulfur. Hot spring water is flowing out into the river.
Show the ticket purchased at Yamagata Station at the ropeway reception, pick up the ticket to the ropeway, and board the ropeway. The wind is strong and it gets quite cold at the top of Mt. Zao, so be sure to take good protection against the cold. If you can, try to get a window seat so you can take good photos and videos.
You can see the beautiful ice on the trees as shown in the photo.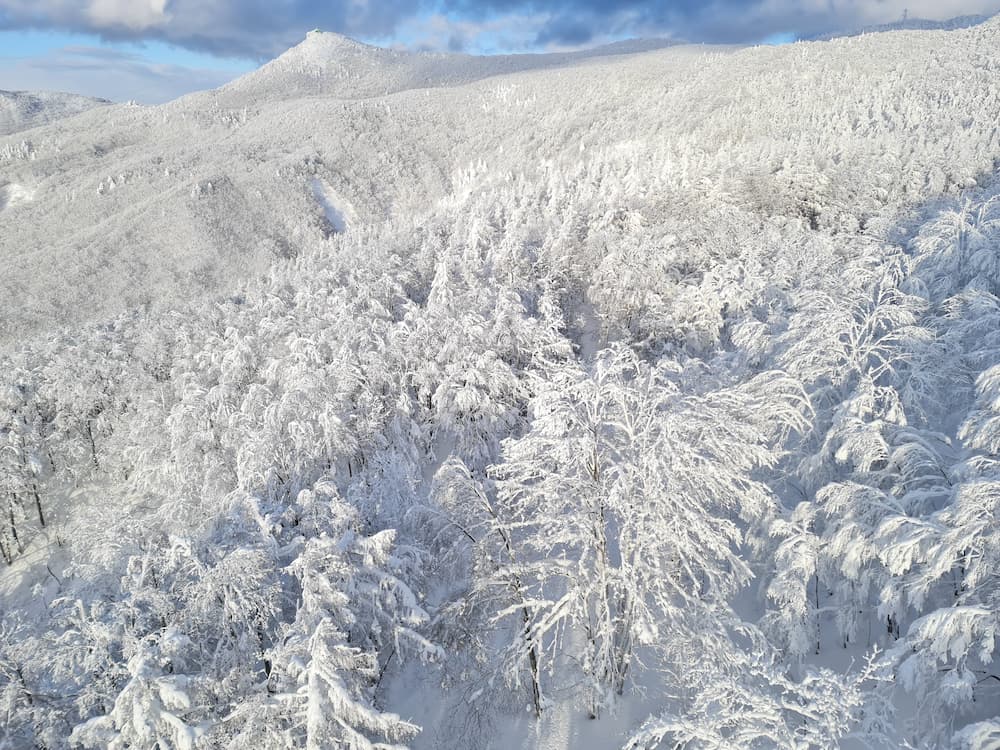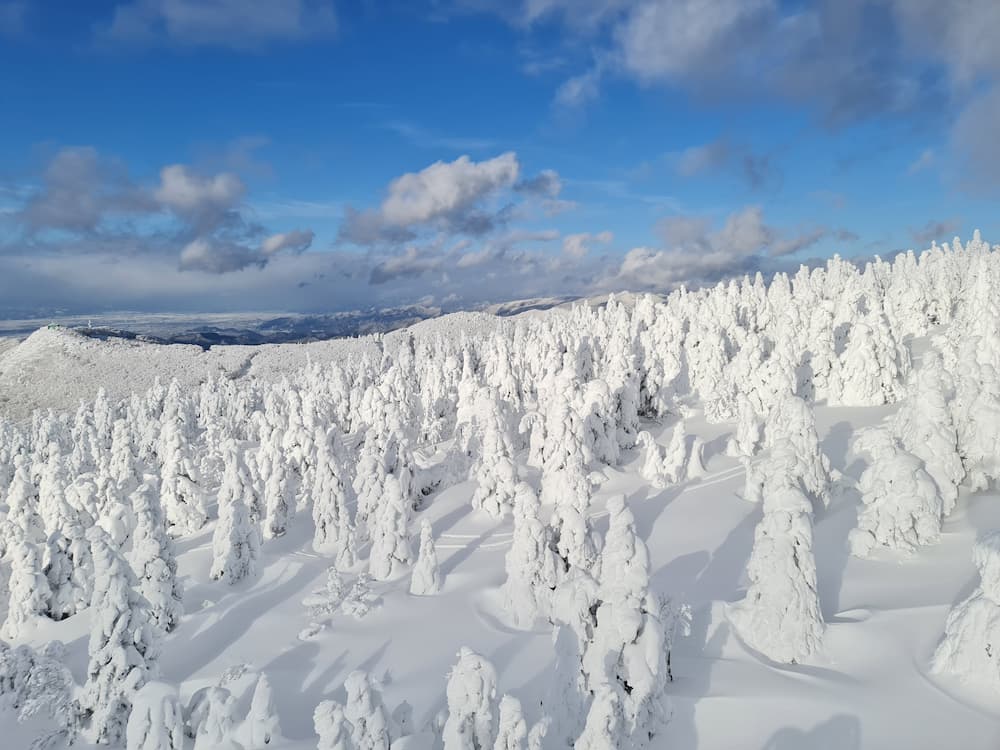 This year the snow fell earlier and in greater amounts, so it seems that the tree ice could be seen as early as January. In the past, February and March are usually the best months to get a good accumulation of snow and good weather. If you haven't seen it this season, you still have a chance!
Meeting to snow monster!!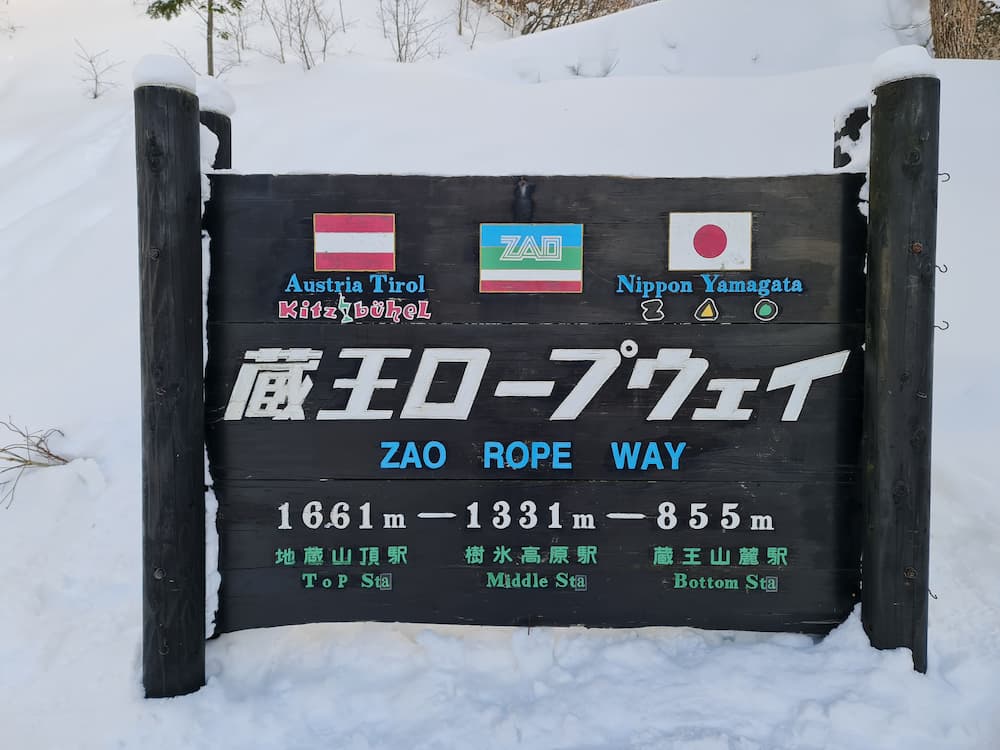 You will connect to the ropeway twice. In total, you will be on the ropeway for a little over 10 minutes. There is a restaurant at the Jizo summit station, so it is a good place to warm up your cold body. Incidentally, it was -12°C in early January when I visited there! A body warmer is a must, but do you know about foot warmers? It is a little less effective in this extreme cold, but it is essential to protect your toes from the cold, and it helped me a lot.
At last, we were able to see the snow monster. At first it was hard to see due to the blizzard, but as we warmed up in the restaurant, the blizzard gradually stopped and the sun began to shine.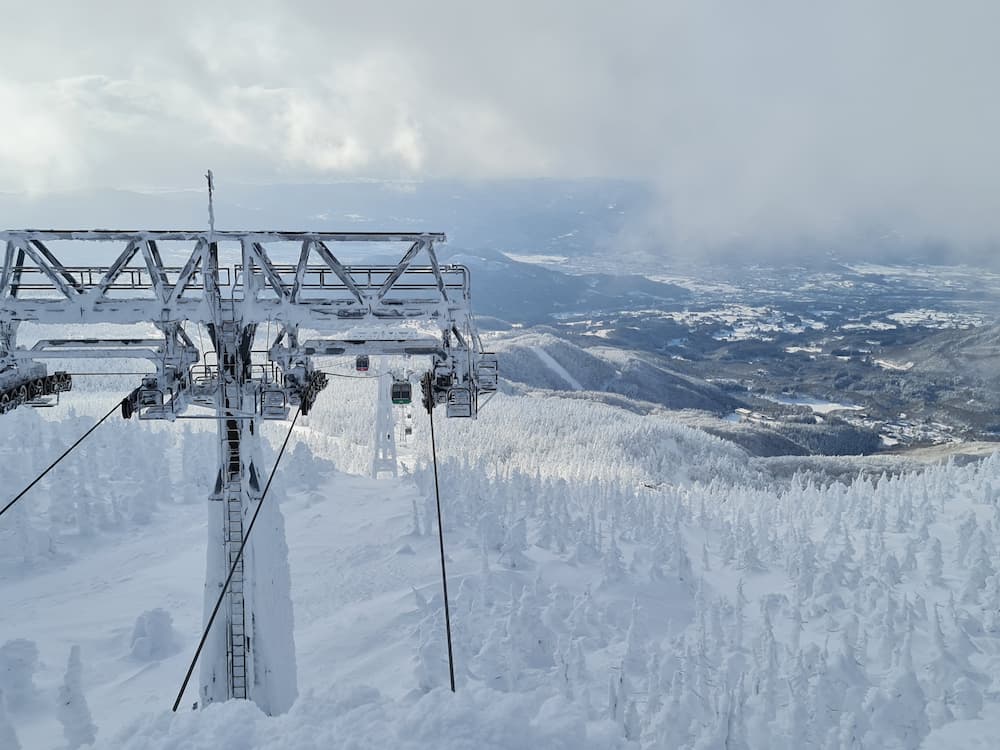 Next should better do skiing or snowboarding inside the snow monster view!!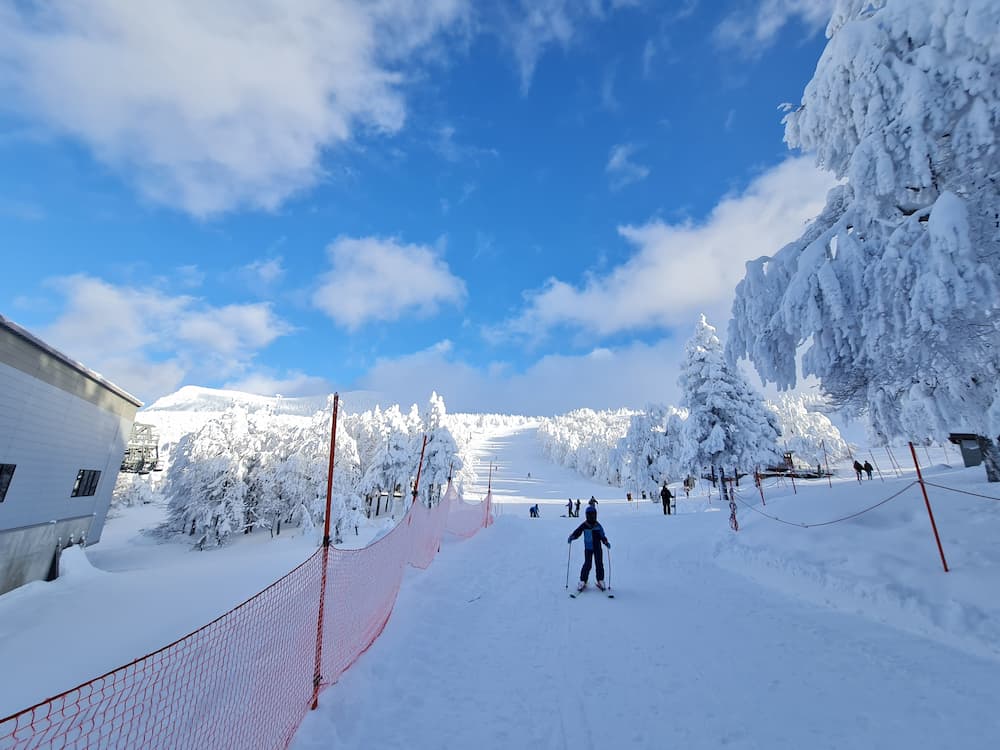 To the nostalgic Ginzan Onsen
Ginzan Onsen has become even more famous since it was the setting for the NHK TV series "Oshin". However, the history of Ginzan Onsen dates back to the Edo period (1603-1868), and the wooden inns lining the streets give the town a retro atmosphere that is reminiscent of a time slip back to the Taisho period (1912-1926), attracting many tourists who come to take pictures when the town is illuminated.
How to go to Ginzan Onsen
The nearest station is Oishida Station. If you are driving in Yamagata in winter and considering a day trip, you can park your car in front of Taisho-Roman Kan and take the city bus, but this is not recommended because the bus service ends at 17:00 and the distance between Taisho-Roman Kan and Ginzan Onsen Town is long and dangerous on snowy roads.
You can take a bus from Oshida Station, but the bus is cash only and change is returned by the driver, so it takes a very long time. There are no extra buses like in Zao, so be patient as the buses never depart or arrive on time. To be honest, there is a very high possibility that you will not be able to catch the return bus (the last bus), so we recommend that you stay overnight. This is because if you stay overnight, the staff of the hot spring hotel will pick you up and drop you off. I took a cab to Oshida station because I thought I would not be able to catch the last bus back. (about 7,000 yen)
There is probably only one cab company that can be used, Obanazawa Taxi. If you call this company, they will meet you near the Ginzan Onsen bus stop, and you will only have to wait a few minutes before you can leave. But it's only Japanese….
Depending on road conditions, it takes 40 to 50 minutes and costs 720 yen per adult. The fare is 720 yen for an adult and half price for a child (360 yen).
If you have luggage, you can leave it in a coin locker at Oishida Station or at the luggage storage area (behind the bus stop).
| | |
| --- | --- |
| Depart from Oishida station | Depart from Ginzan Onsen |
| 9:50 | 7:05 |
| 12:35 | 8:25 |
| 14:10 | 10:35 |
| 15:05 | 13:25 |
| 17:45 | 14:55 |
| | 16:35 |
| | 18:12 |
Ginzan onsen bus deprture
Let's go to the Taisho Era Ginzan Onsen Town!
You have to walk downhill for a few minutes from the bus stop. Be careful walking because it is slippery on the snowy road.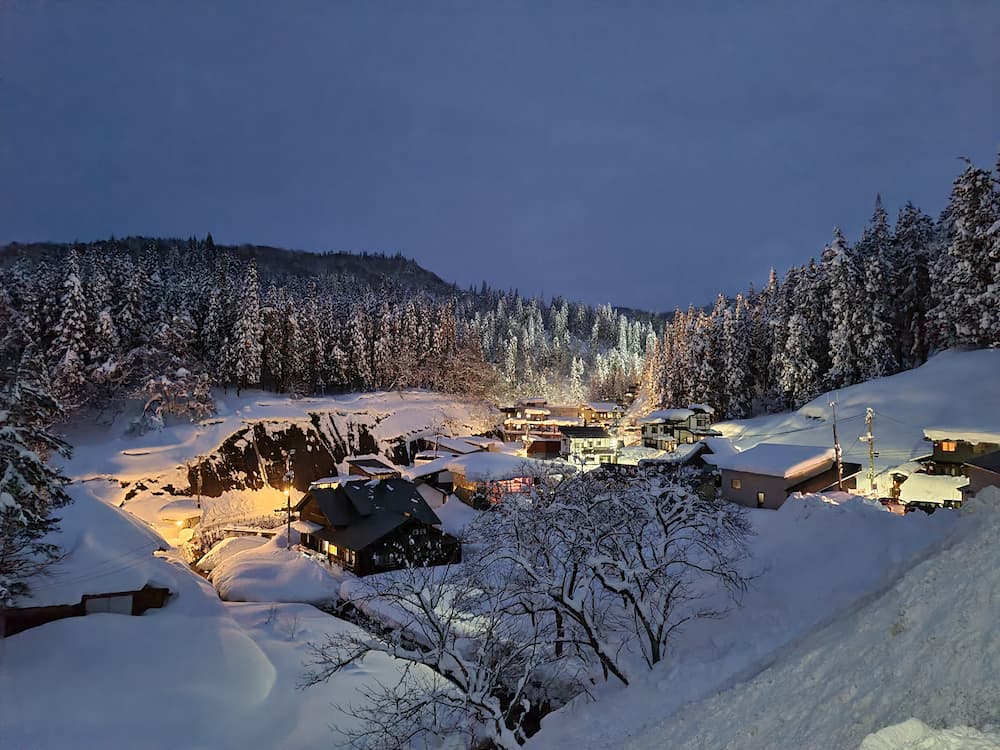 The first place to come is the Shirogane Bridge. There were people taking pictures here as well, but if you go a little further and shoot from the bridge beyond the free footbath called Warashiyu, you can get a view like the one in the photo below.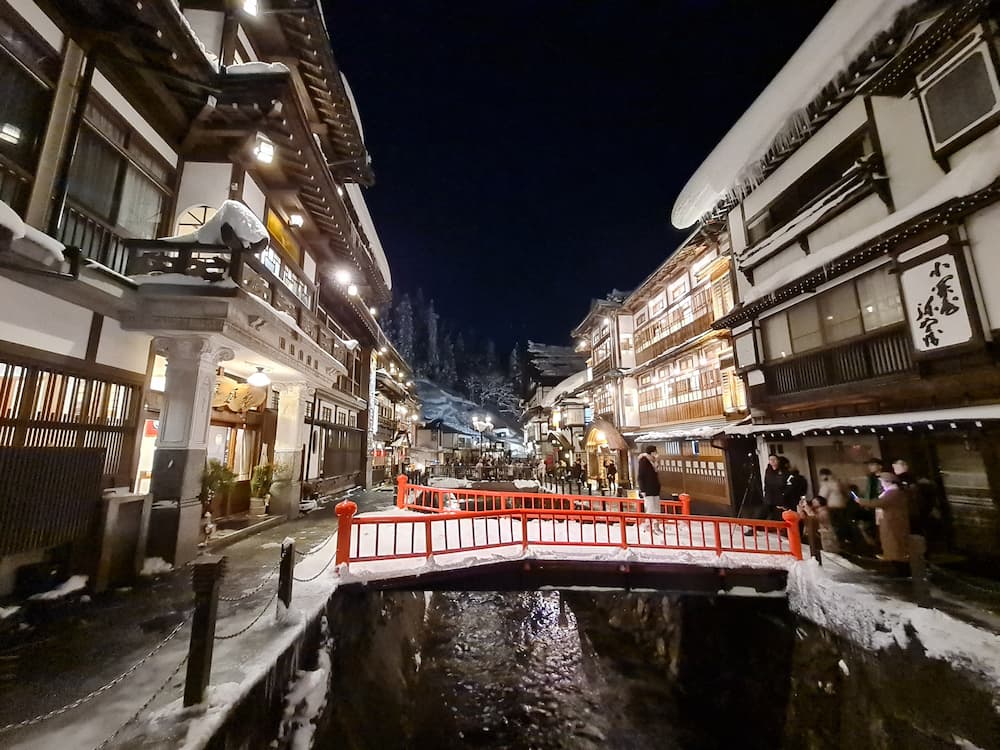 There are many inns here in Ginza Onsen that are so old that they are rumored to have been used as models for the bathhouses in Spirited Away.
Shima Onsen in Gunma Prefecture also has a place that resembles the setting of Spirited Away. Spirited Away fans should definitely check it out.
千と千尋の神隠しの舞台場所!?四万温泉の温泉宿に泊まってみた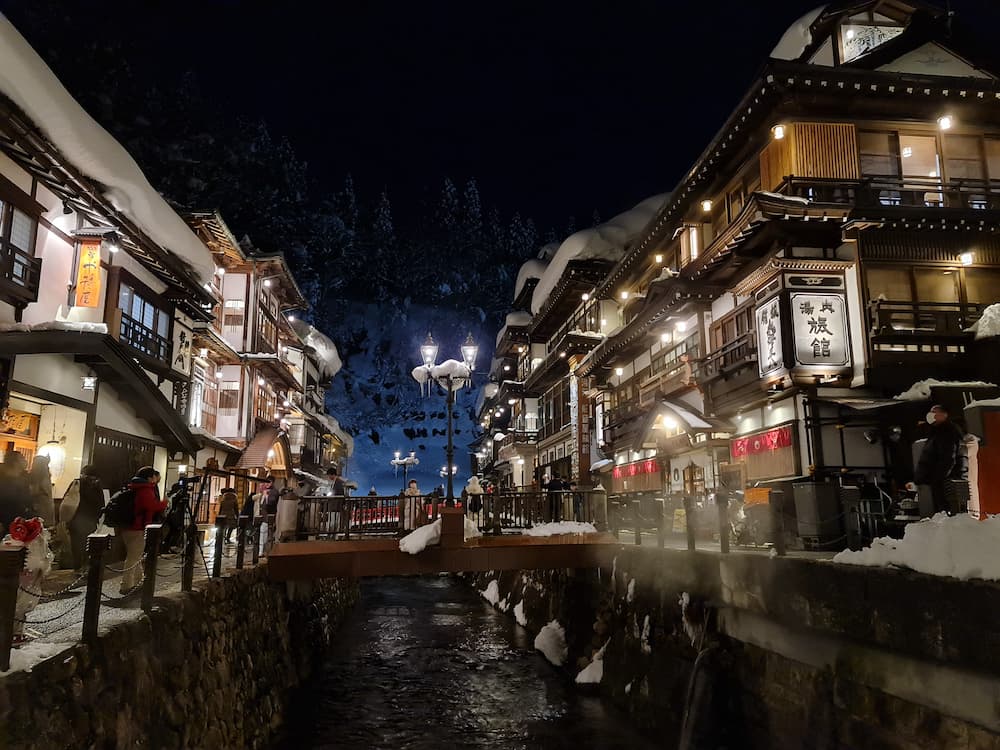 I can't get enough of these gas lamps. The snow will also be piled up and there will be plenty of sights to see.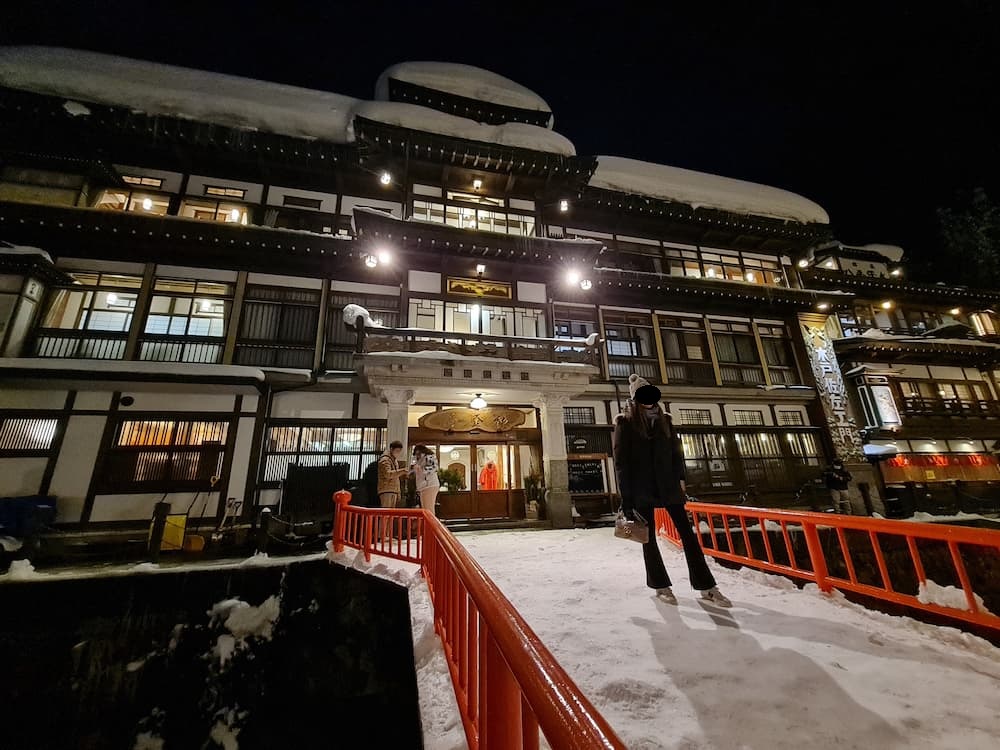 I stayed only for a short time to see the lights, but next time I will stay one night and take more time to visit.
Summary
Buy a round-trip bus + lift ticket to see Zao's snow monster!
Prepare a foot warmer!
Persevere and pray for luck!
Stay 1 night at Ginza Onsen if possible. If you want to take a day trip, a bus is recommended.
Yamagata in winter is extremely cold, but the scenery of harmony with nature is wonderful. Please visit.