We often hear of five-star hotels, but there are seven-star hotels in the world. There are only two, and one of them is the famous "Burj Al Arab" in the United Arab Emirates. It is one of the largest and most luxurious hotels in the world, costing more than 1,200USD per night. The other is in the Kingdom of Brunei, which I will introduce here.
Even a 7-star hotel in Brunei is very popular because it is cheaper than 5-star hotels in Japan at 200USD to 300USD per night, and I would like to introduce the hotel where I stayed this time.
This article is useful for the person who
are interested about 7-star hotel and hotel lover
wants to stay at 7-star hotel
loves oversea traveling
is planning to travel to Brunei
The Empire Brunei booking.com availability
Where is Brunei?
Brunei is a small country located on the island of Borneo in the eastern of Malaysia. It is a Muslim country, and because of its oil and natural gas wealth, the government provides excellent social welfare programs and does not impose income or residential taxes on individuals. This point sounds a wonderful country. In fact, during my trip, I could feel that most people live there love Brunei, including the taxi drivers and so on.
The official name is Brunei Darussalam, and to get to Brunei from you must go via Kota Kinabalu or Kuala Lumpur. Depending on the transit time at the airport, the travel time may be longer.
You may want to enjoy the great nature in Kota Kinabalu and relax at your hotel in Brunei. There is not much to do in Brunei to be honest but rest…
You will need to fill out an Arrival Card when you enter Brunei. If you were given one in advance on the plane, I recommend that you write it down before you arrive. Also, unfortunately there were no pens at the airport upon arrival. I always bring my pen even for my private trip.
Let's go to The Empire Brunei!!
Hotel transfers are available, but you can also take a taxi from the airport. Unfortunately grab taxi is not available, but Brunei has its own taxi dispatch app. I installed it but it was not available, so I caught a cab at the airport to go to the hotel.
The fee was 30 BND (about 30 USD), and if you use the hotel pickup service, the fee is 35 BND (about 35 USD) for one way, so it is a little bit more expensive. By the way, you can of course exchange money at the airport, but it is also possible at the hotel, and there is no big difference in the exchange rate.
I was surprised that it was impossible to exchange Malaysian ringgit into Brunei dollar at Empire Brunei.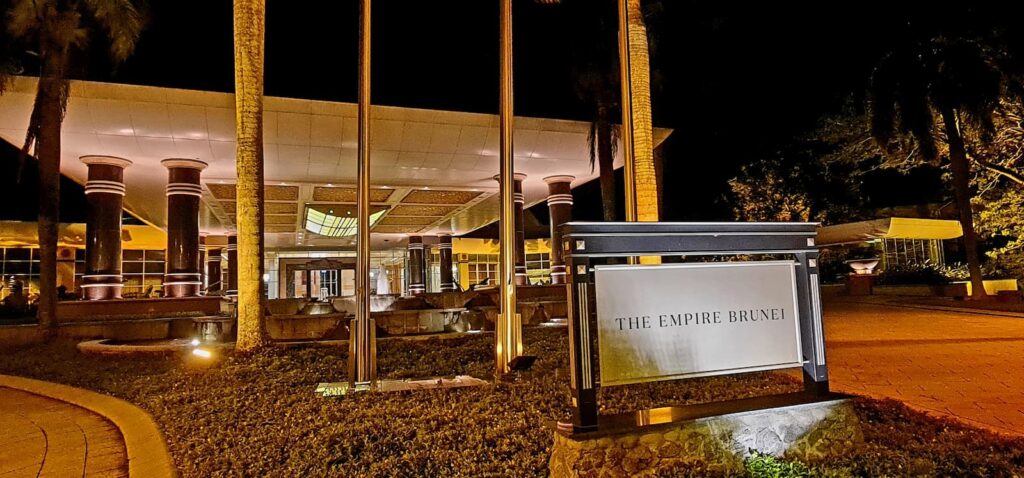 At reception, you will be served a welcome drink cold watermelon juice, in the gorgeous lobby.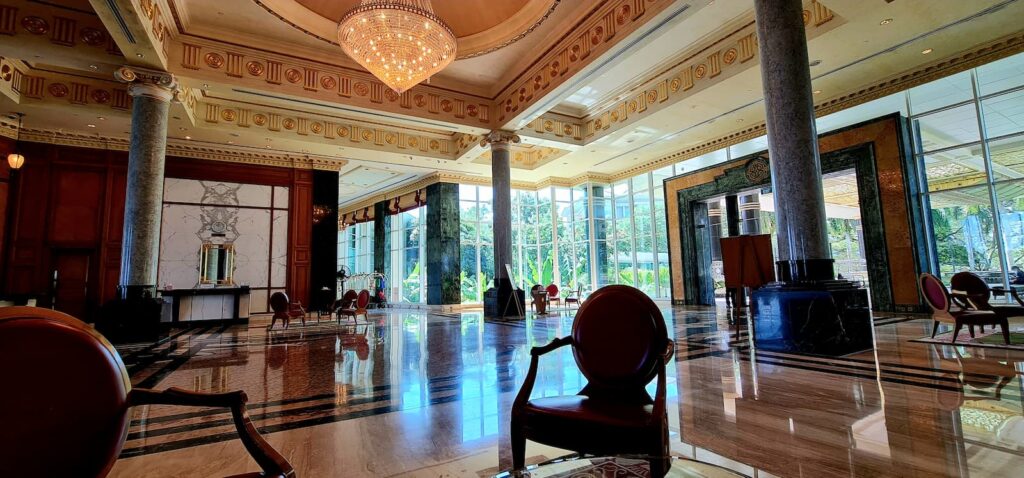 This hotel used to be a guest house owned by the Brunei royal family until 2000, so the building is luxurious.
The pillars are marble, the gold is pure gold, and the furnishings are said to have originally belonged to the royal family.
It is worth that everything can be completed in this hotel. Its peaceful and secluded location offers a spectacular private beach, lagoon, five swimming pools, championship golf course, six restaurants, movie theater, gym and a full range of services with the high level hospitality.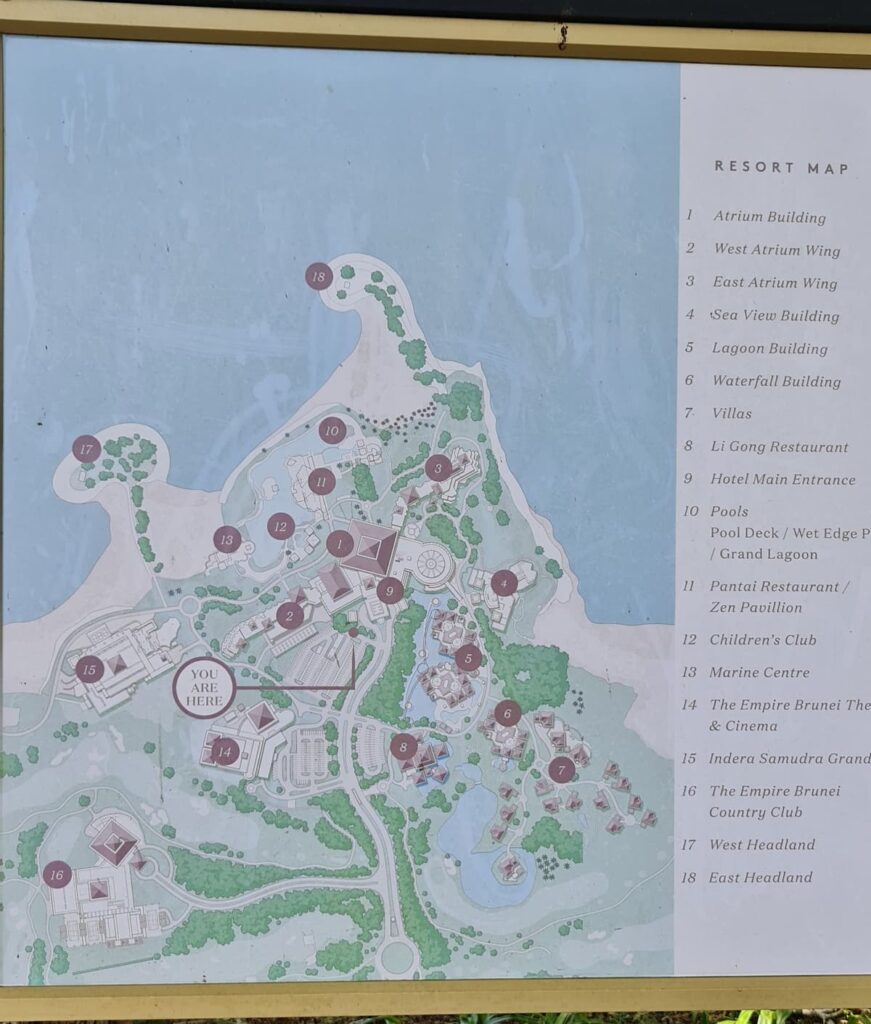 Because the place of Empire Brunei is huge if you want between building to building it will be too far to walk, guests can request staff at each property to provide a free buggy pick-up service.
Let's take a look at the features of each of facilities.
Gorgeous guest room
Rooms at The Empire Brunei Hotel are spacious and luxuriously decorated. All rooms also have balconies with beautiful sea or city views. They are also fully equipped with facilities and amenities to ensure a comfortable stay.
Here is a shot of the room I stayed in and the view from the balcony.
The bathroom has a separate shower room, bathtub and a separate toilet. Amenities were well stocked. Good that all beverages and snacks in the refrigerator are available at no extra charge.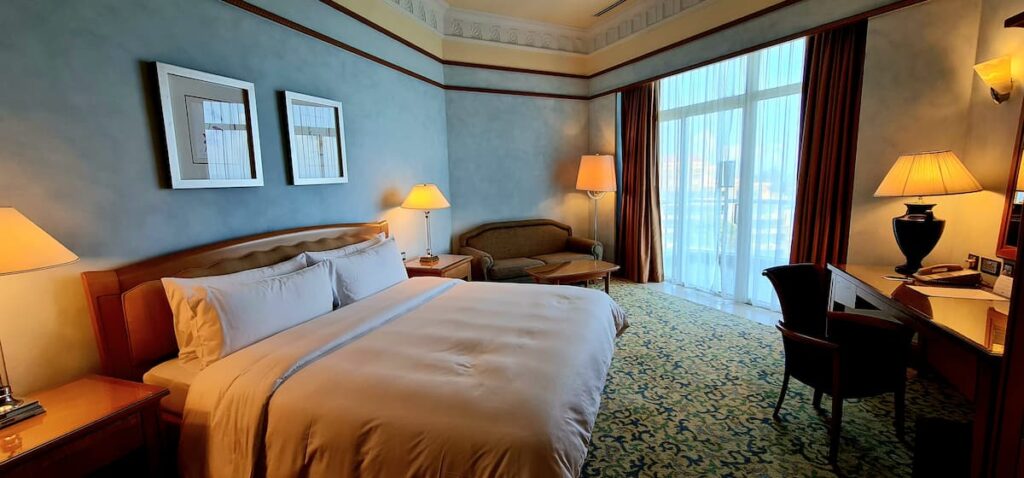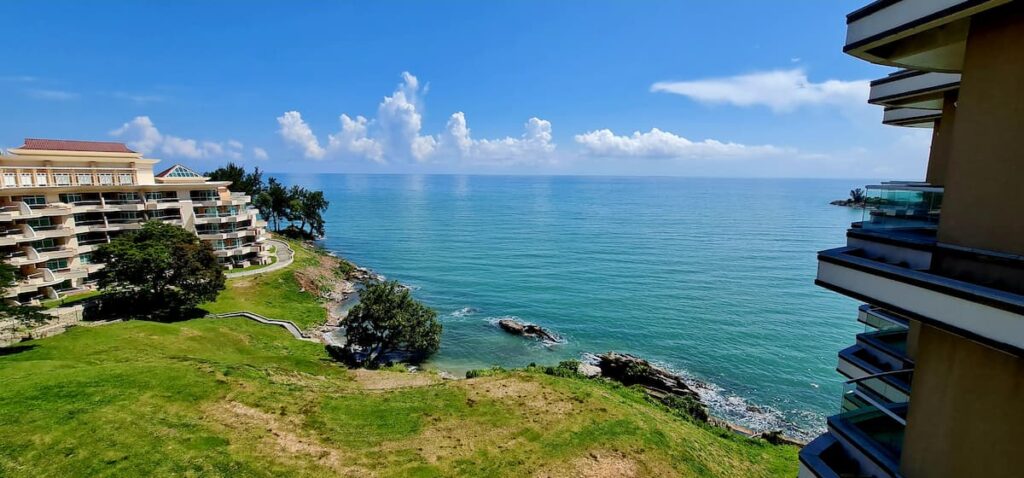 The weather was very sunny, so I had a beautiful view before and after the sun went down. Since the room type is depends on the plan, you may not be able to stay in the place shown in the photo.
The room I stayed was called Ocean Room and the price was 400 USD per night (without breakfast) due to last minute reservation. If you try to stay one night at the Burj Al Arab Jumeirah (Dubai), which is also a 7-star hotel, the cheapest price is 2,000 USD, which is about five times as much as the price in Brunei hahaha.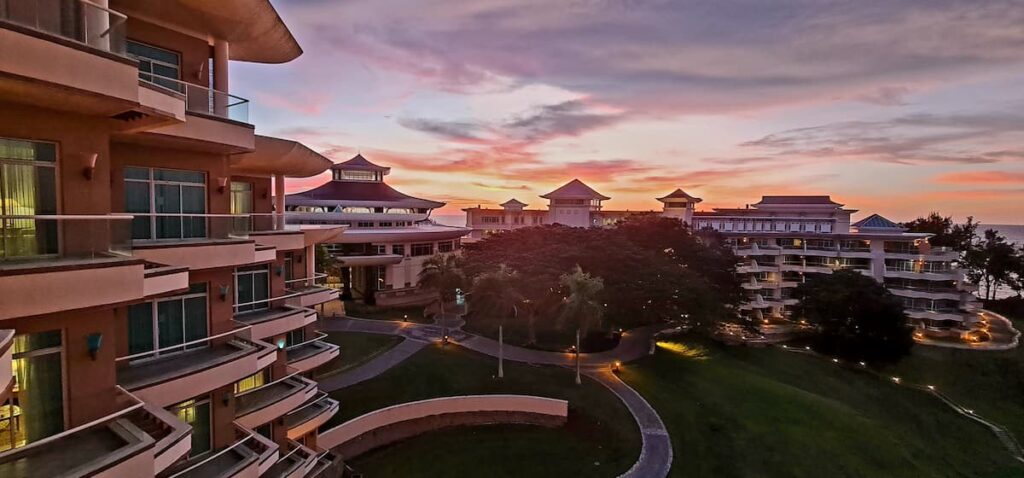 Golf course and activity facilities
The Empire Brunei Hotel is an ideal place to stay for golf player as it features an 18-hole golf course. The area surrounding the golf course is also rich in nature and offers a variety of activities such as walking and jogging.
For those who do not play golf there is a huge swimming pool as well as a sap pool, various sports at the gym, a movie theater, various tours and many other options it's just like a theme park.
Since 1 Brunei dollar = about 1 USD, 18H of golf costs 150 USD and sap costs about 5 USD.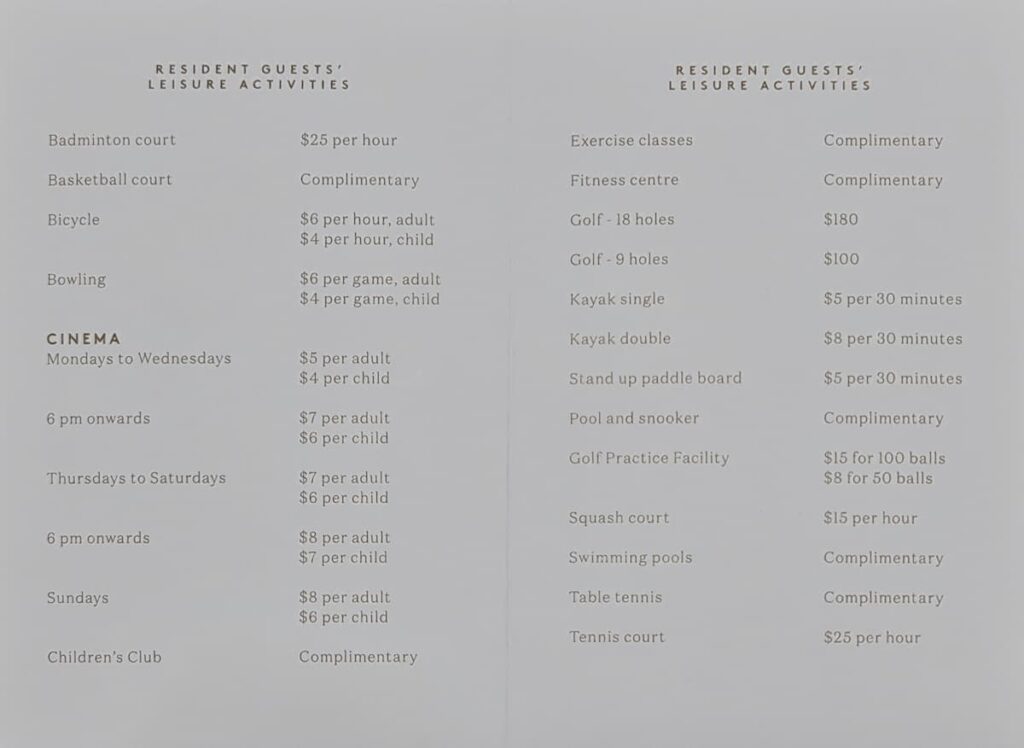 I was happily playing alone at the sap pool. It was quite difficult to paddle straight and fast so I fell many times. I will upload it on Youtube later.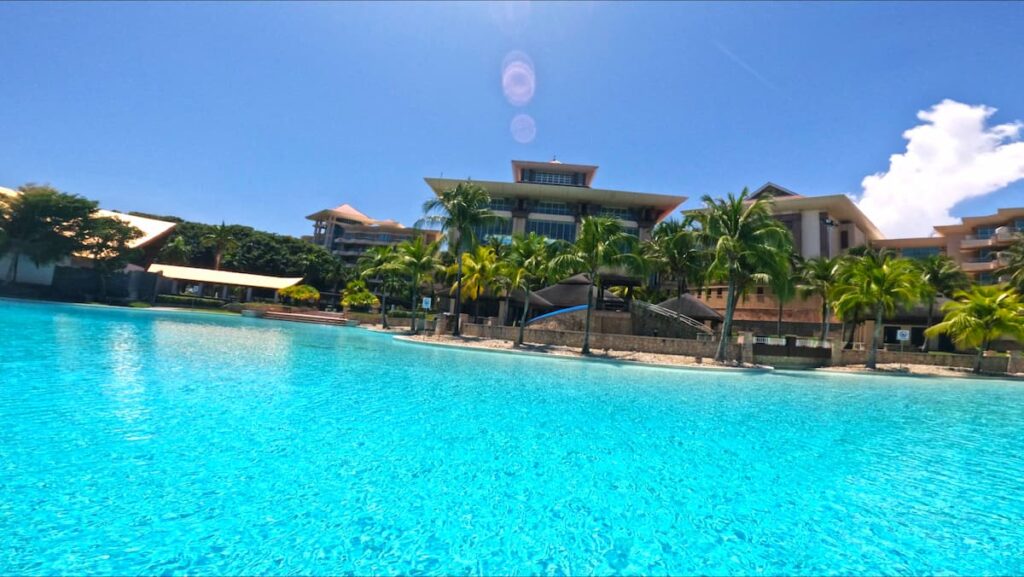 A wide variety of restaurants
There are 6 restaurants at The Empire Brunei Hotel. Guests can enjoy a wide variety of Bruneian cuisine, as well as Asian and Western dishes. Some of the restaurants also have terrace seating to overlook the ocean so you can enjoy the view while dining.
Since it was a special occasion, I experienced afternoon tea.
The tea set here costs 16 Brunei dollars. The table seemed to have a one-hour time limit. Depending on how crowded at there you may not be able to relax very much.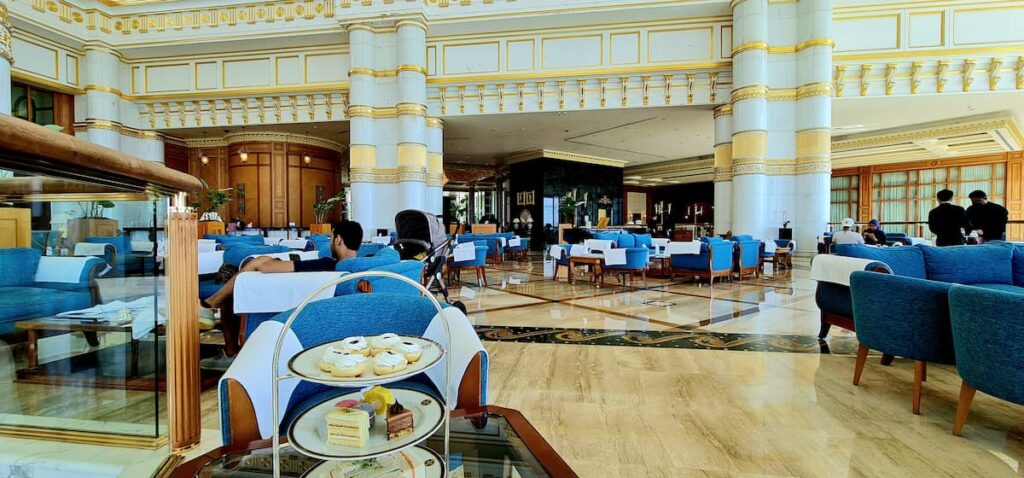 I dined at Spaghettini Restaurant overlooking the lobby. Please take note that there is a dress code.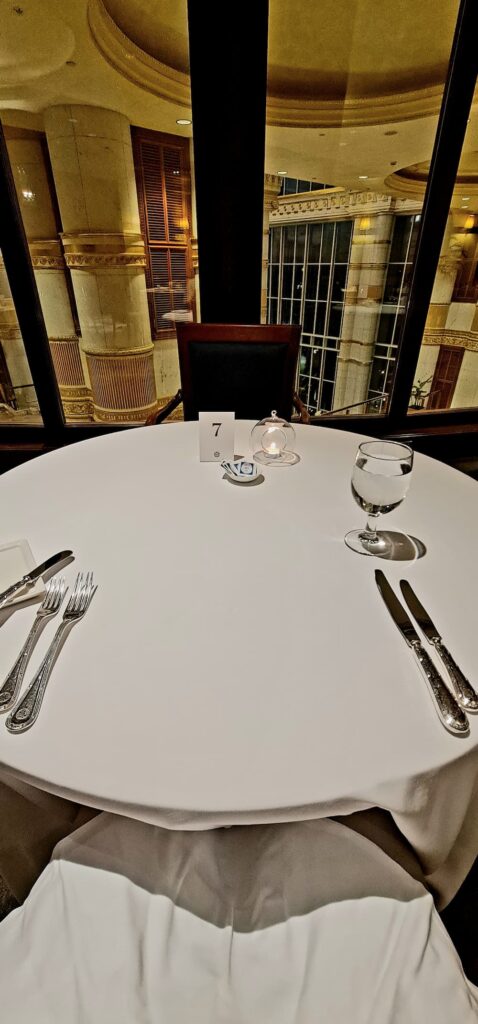 This is menu. You need the select course and the minimum course is to order 3 dishes. I chose the 3-course menu which price is 46 Brunei dollars. Staff recommend the seafood, especially the shrimp.
So I ordered BRUNEI PRAWN, PAN FRIED BARRAMUNDI and AGLIO E OLIO.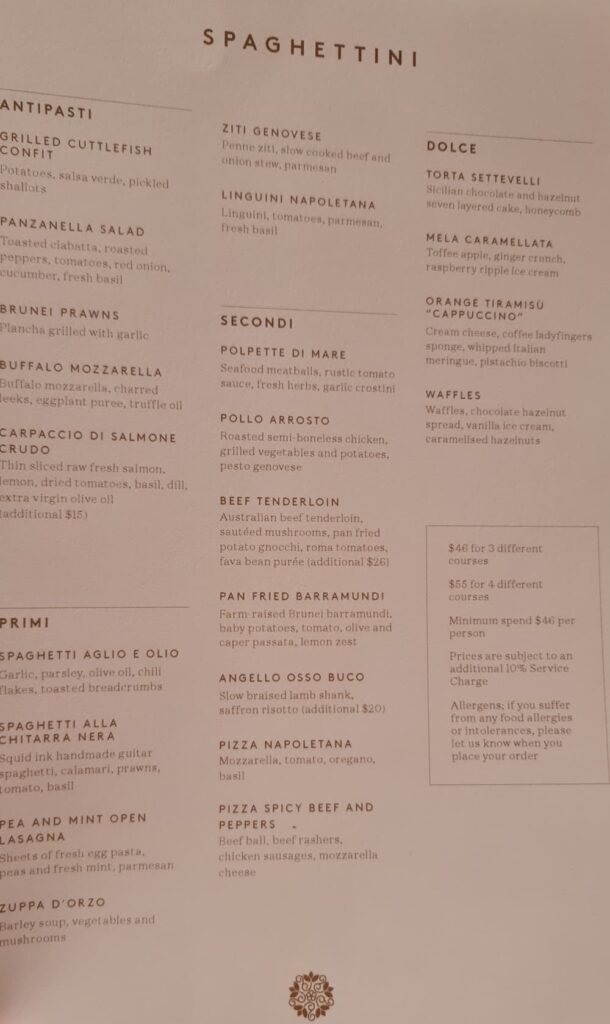 You get baked bread as an appetizer. The sauce next to the margarine was a balsamic vinegar-like mixture of vinegar and olive oil which went surprisingly well with the bread.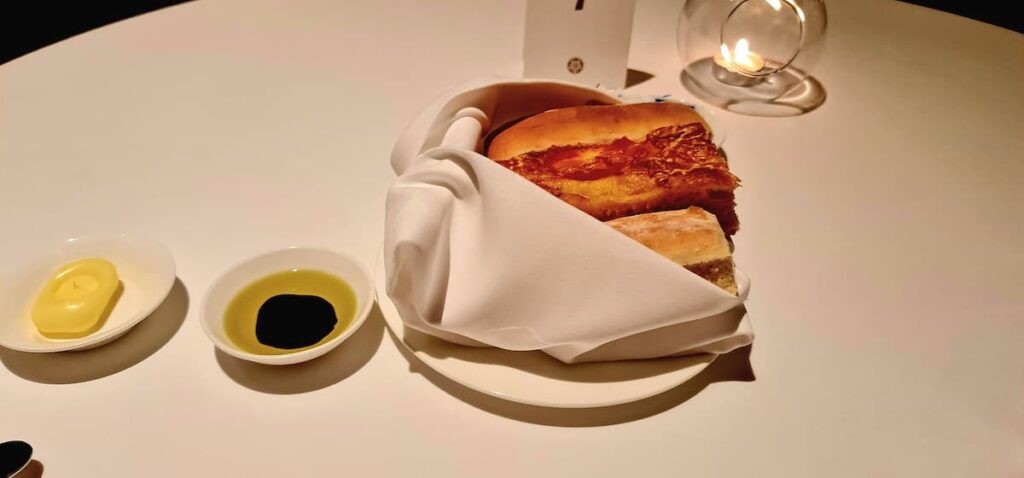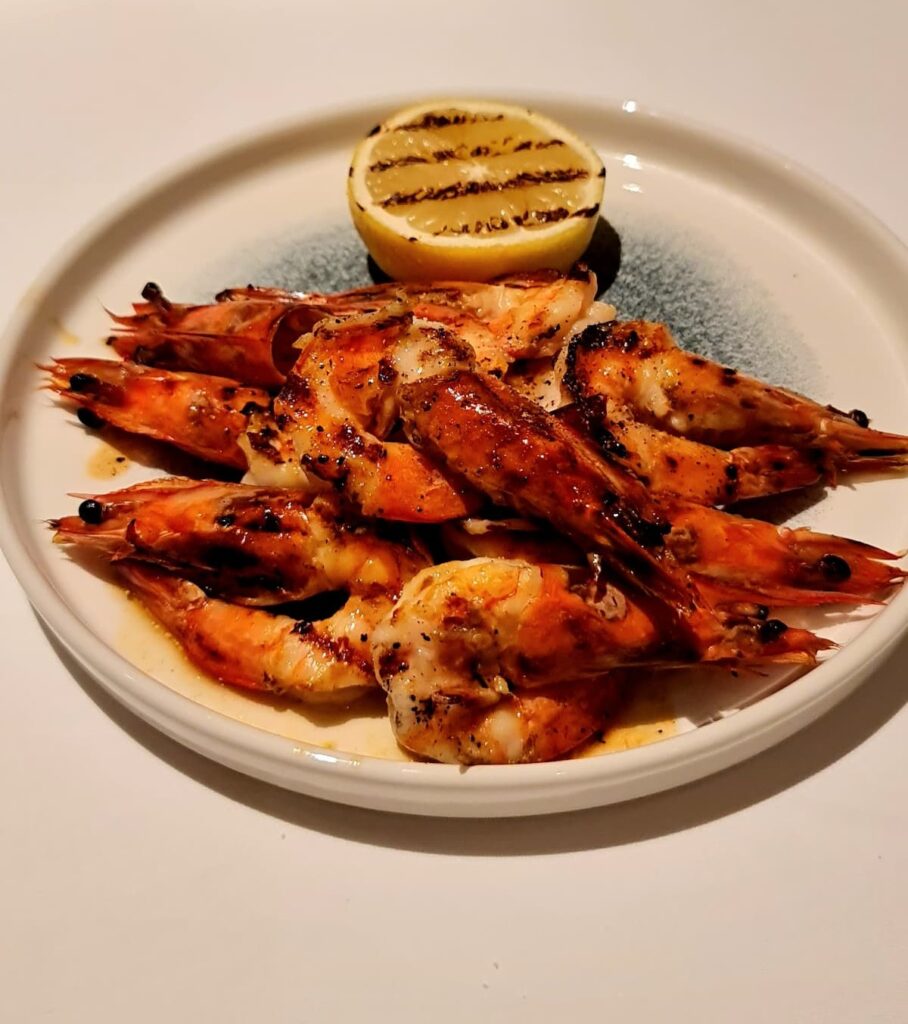 The first dish was grilled shrimp which was get from Brunei ocean. The shrimp were grilled not with a lot of oil as is typical in Southeast Asia, but with the flavor of the ingredients which made them tasty and paired perfectly with the slightly sweet lemon.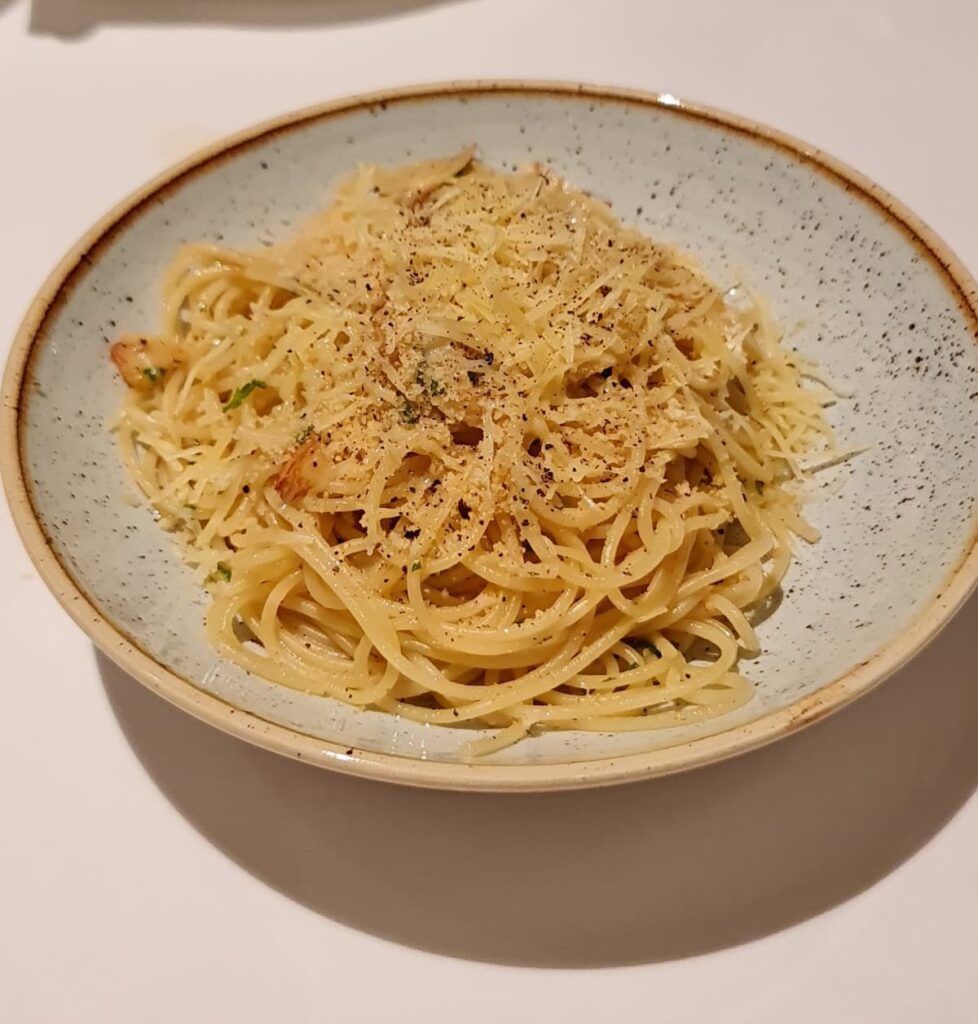 Nothing to say about Aglio Aurio so no picture hahaha.
Barramundi is a fish and tastes like snapper. It is a major fish in Southeast Asia and Australia. The fish is like sea bass in Japan. It also has a crispy surface, tender meat and a small amount of oil and very delicious!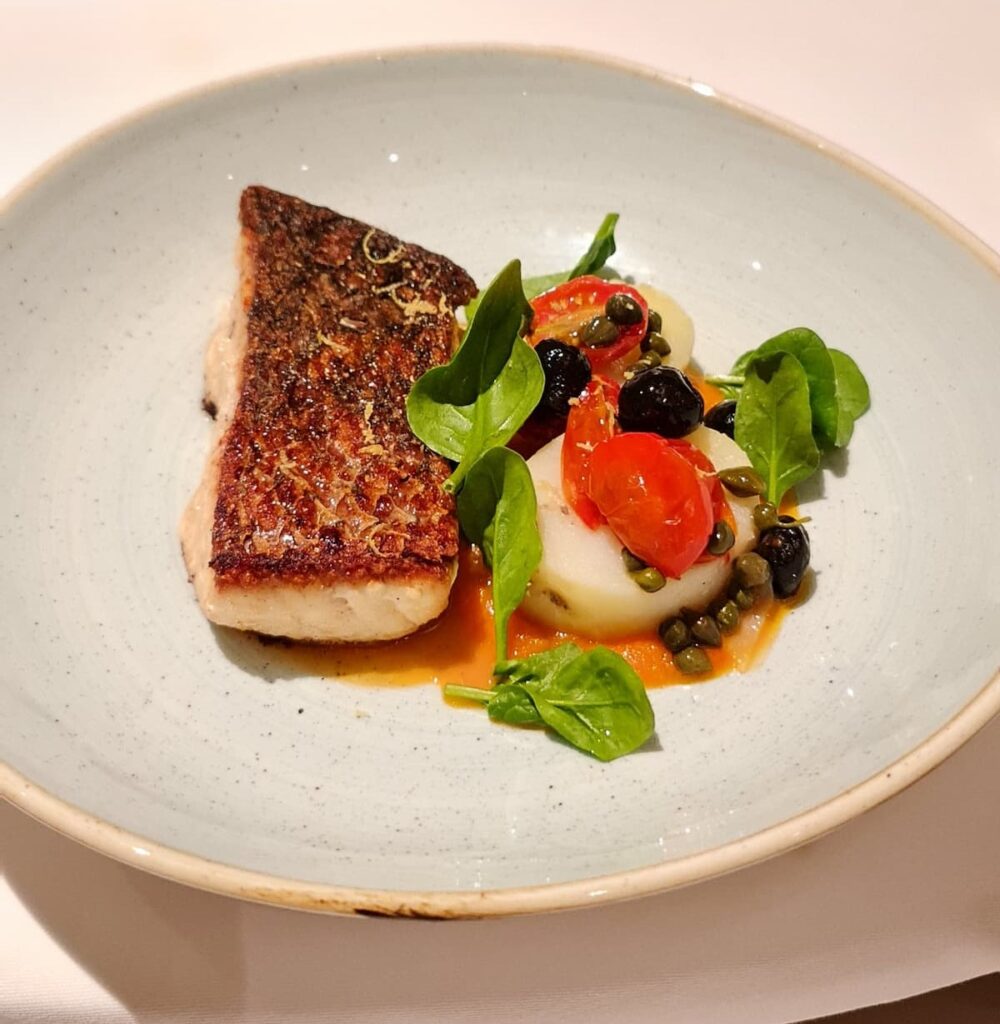 For dessert I had baked apples and ice cream. As one would expect from a 7-star hotel the taste and service were perfect.
As I mentioned at the beginning of this article, Brunei is a country that Islam so please note that alcohol is strictly prohibited.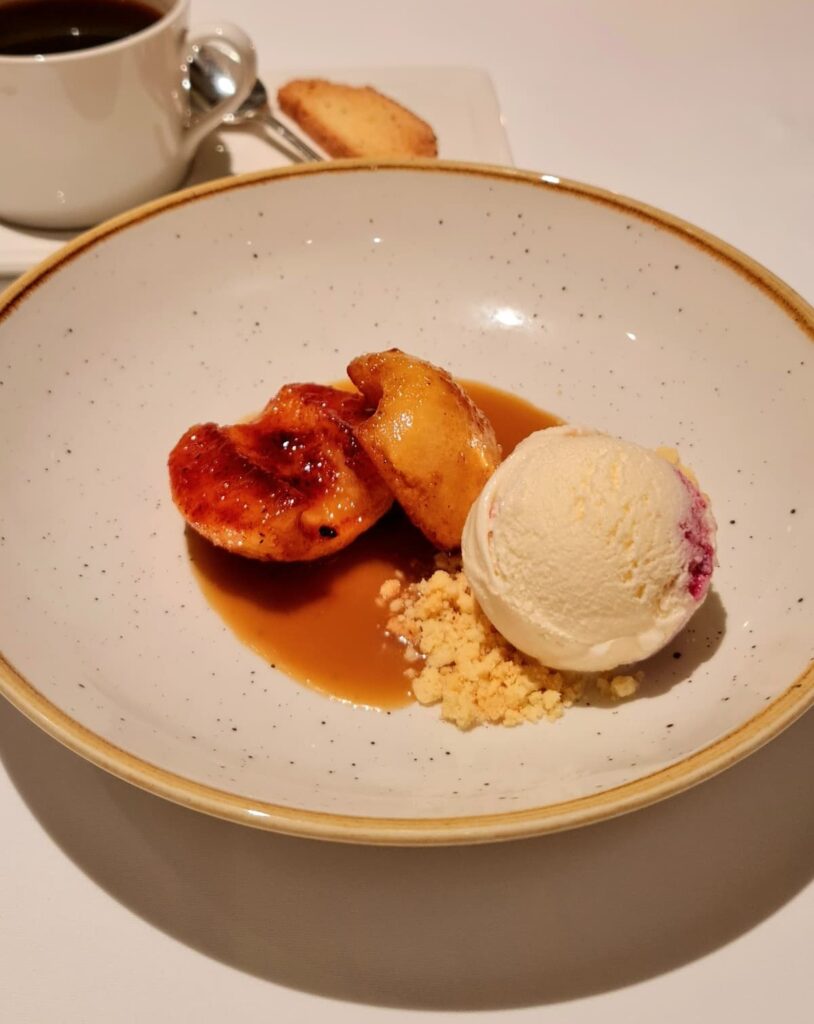 High quality spa
The Empire Brunei Hotel has a fine spa. A wide variety of traditional Asian massages and treatments are available to help you relaxing. The spa facilities also include a Jacuzzi, sauna, and swimming pool where you can spend the entire day.
How to stay at The Empire Brunei cheaper!?
The Empire Brunei Hotel offers a variety of deals depending on the season and events. It is recommended to check their official website and social networking sites for information before making a reservation.
The Empire Brunei booking.com availability
The Empire Brunei Expedia availability
Summary
Although my stay was short (one night stay), we had an elegant and relaxing time.
When I checked out, the taxi I had booked did not show up, so I had to use the hotel shuttle service and unfortunately I did not have any cash it was very grateful that the hotel manager gave me a discount haha.
2 nights is enough to visit the tourist attractions in Brunei, but it was fun enough just to stay at the hotel.