What you want to do in life is commonly called a bucket list. Whether you want to visit the country or see the scenery, you can add it to your bucket list. Doesn't matter it's easy or not to achieve.
I also have a lot of bucket lists, and I think it is difficult to realize all of them, but I was able to realize "one of them which is to get first class flight ticket". So I would like to introduce first class boarding experience this time.
The flight I took is Japan Air Line (JAL) from Narita to Los Angeles.
This article for the person
interest to take first class
want to know the detail about first class
aircraft lover
First class ticket price
Air fares vary in peak season and low season, but I used it in July, so it was an average price.
However, I didn't pay the first class fare with the actual cost, but purchased it with the miles I'd saved steadily.
By the way, if you try to purchase an ordinary flight ticket from Narita to Los Angeles, it costs about 2.2 million yen (in the case of an itinerary in July). I bought it for 140,000 miles round trip.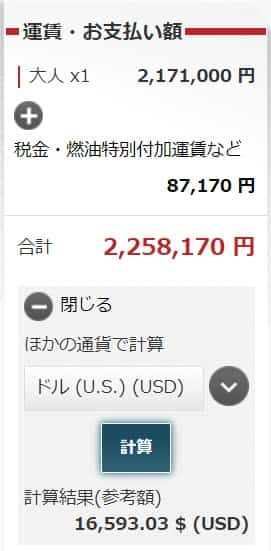 JAL can purchase even one-way ticket, so if you have a certain amount of miles, why not try it? If you have other One World mile maybe you can use that mile to purchase the ticket.
But even if you purchase miles, you have to pay taxes and fuel surcharges. The one-way ticket costs about 26,000 yen (192 USD), so the actual cost is 52,000 yen (384 USD).
In recent years, the number of first-class routes and planes has been shrinking. The current situation is airline are increasing the amount of business class aircraft because there is not much demand to use first class. At first, I was going to fly first class on the Haneda-Los Angeles flight, but due to a changed in aircraft, I ended up in business class. Luckily, I was able to use the Narita-Los Angeles route because there were still first-class seats left, but in the future, this route may no longer be available also.
The hurdles are quite high when trying to purchase first class with award tickets. The hurdle is that there are so many competitor to get award ticket. Since it is a first-come-first-served basis with all status members, including diamond members, you have to prepare by securing a seat in advance.
I secured it about 4 months ago, but at that time there were still a lot of vacancies.
If you try to ride first class with award tickets, the competition rate will be higher because only one or two seats are released for award ticket.
I believe that to purchase the award ticket is the best way to use miles, but please consider that the hurdles are surprisingly high.
First class reward
To make more easy to identify what is nice in first class, I made some list of difference between economy class.
①Seat is 3 times wider than economy
The width of seat is 130cm so even you use the arm rest still enough space to use.
When you sleep the seat can be full flat and easy to sleep like bed.
②3 luggage until 32kg can be keep for check in luggage. Economy is 23kg until 2 luggage
Weight and quantity increase is very helpful.
But if you just travel alone even 30kg is difficult to achieve.
③50% extra mile can be earn (except award ticket)
You can earn 50% more miles except award ticket.
I used the award ticket so if you are using the mile ensure you are not entitled this service.
④Can use the first class check in counter
At Narita and Haneda international check in counter there is check in counter for first class user or first class status user. At Narita airport you can walk on the red soft carpet.
You can save so many time compare with economy check in counter.
⑤First class luggage inspection booth can use (At Narita this service already end)
Before COVID there were luggage check only for first class user so until immigration you can pass very quickly.
But regret to sat that no more service is continues for this but instead of first class luggage check service, the normal luggage check booth became more big and it will help to save the time compare with previous.
⑥Can use the first class roung
You can use JAL first class lounge. Especially Narita airport first class lounge is very nice and gorgeous.
At other article I explained the detail about the Narita airport first class lounge. It has been change after COVID so please check the latest status by below.
2022 Must use Narita International JAL sakura lounge now??
⑦Join the season food inside the flight
Flight meals can be pre-booked. You can choose Japanese or Western food, and you can have seasonal dishes when boarding. Both are course meals prepared by famous chefs.
I chose Japanese food on the outbound trip and Western food on the return trip.
I will post the details of the dishes later.
⑧Can use free Wifi inside the aircraft
At first class you can get the 1day free Wifi coupon which is unlimited.
If you become bored to watch movie it will helps you a lot.
The service you can see at the first class
There are services that are not listed in the above first class reward but basically can only be experienced in first class. Maybe it's just me, but I've never experienced a similar service in business class.
Experience of cabin attendant teamwork
First class have 8 seat (if JAL) and 4 CA staff was attended. On my way back to Japan passenger who was using first class was only 4 people so meaning that 1 CA take care 1 passenger.
Among them, what surprised me most was that everyone who responded to me shared the information, dishes, and drinks which I had talked with each CA before. From the customer point of view, it was impressed because it was rare to see this kind of team play. It may be taken for granted because it is a service industry, but it is quite difficult to remember and share information about various customers at first sight.
In addition, they picked up trivial stories, and when I told a CA that I had seen Ohtani's game of the Angels, it spread quickly and I was asked about it in my free time, so I was able to spend time without getting bored.
Hospitality at its finest
This is also probably natural if you take the first class. But I fully enjoyed JAL's spirit of hospitality on the return flight more than I did on the outbound flight.
There is the rumor that first class 1A seat is generous because it has a chief cabin attendant. Maybe the rumor was true! ?
The chief cabin attendant who dealt with us certainly explained things very carefully. Not only the explanation of cooking, but also the explanation of sake, especially wine.
It was all about providing light snacks and what kind of sake goes well with what kind of food.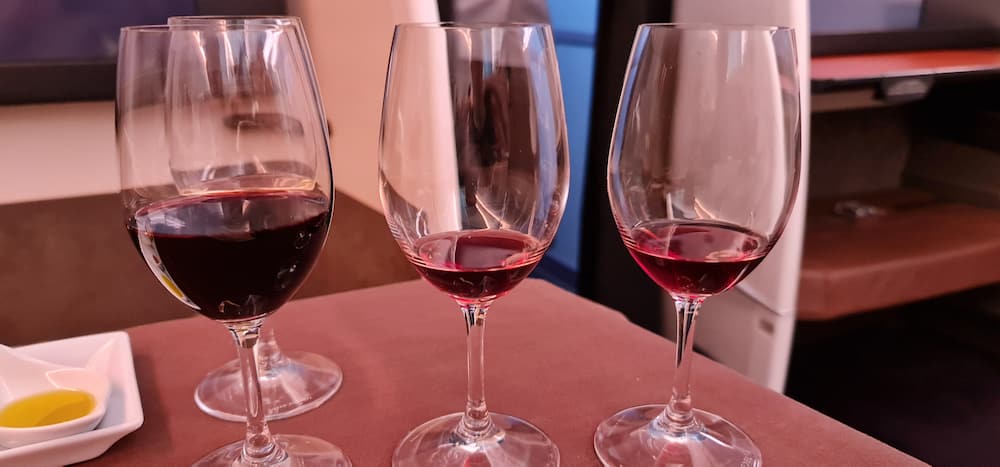 I asked them to prepare this red wine so that we could find something that would go well with the main dish, the steak. The dry red wine on the far left is the best match as explained. The later wine was a wine that had a strong spice and a strong peculiarity, and was thin as a red wine.
The bet making was done at the next seat because it was vacant.
Surprise gift
On my return flight, I received an unexpected present before landing. Maybe it was because there weren't many passengers, but CA gave greetings and presents to all the first class passengers.
I also received a message card and a gift.
This gift is a premium coffee mug that you can drink when you order coffee in First Class. It was very happy for all service.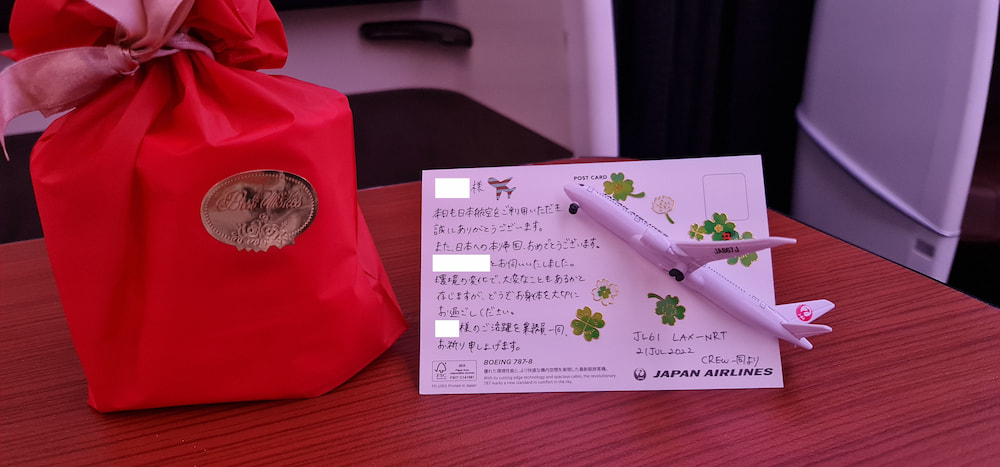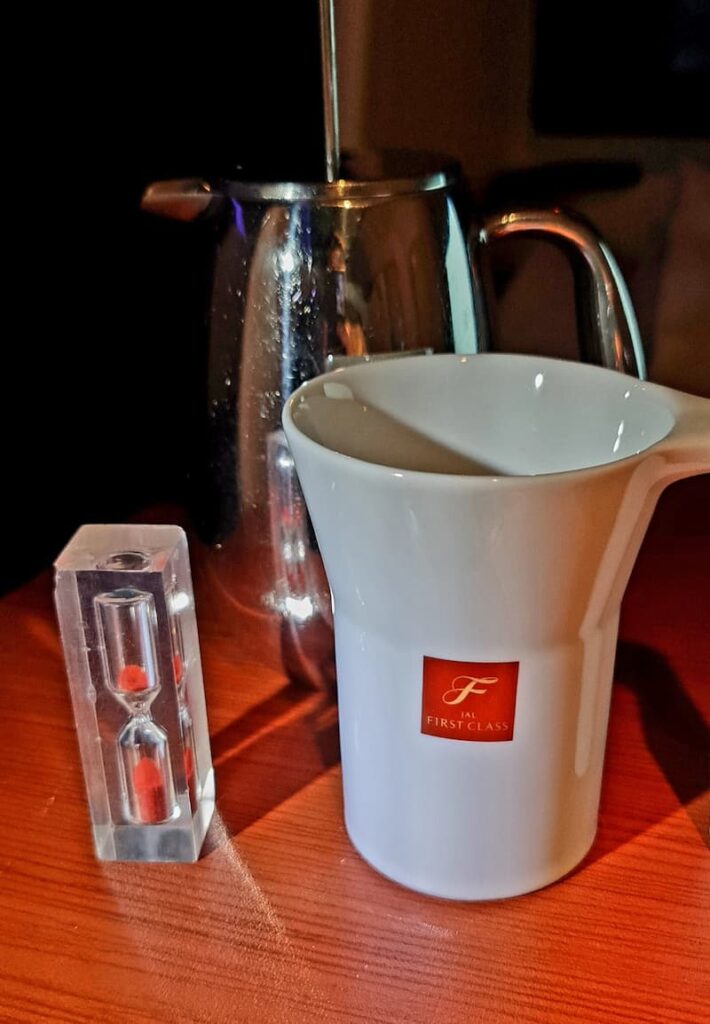 Boarding to first class
My first time in my life to board on first class and of course I went inside first♪
Even I'm already old enough but so excited inside the aircraft like child. CA also asked me that am I aircraft lover or not hahah.
Champagne will be served as a welcome drink. This champagne can only be drunk on JAL First Class flights departing from Japan. This is the exclusive champagne "Salon" offered only by JAL among the world's first class airlines.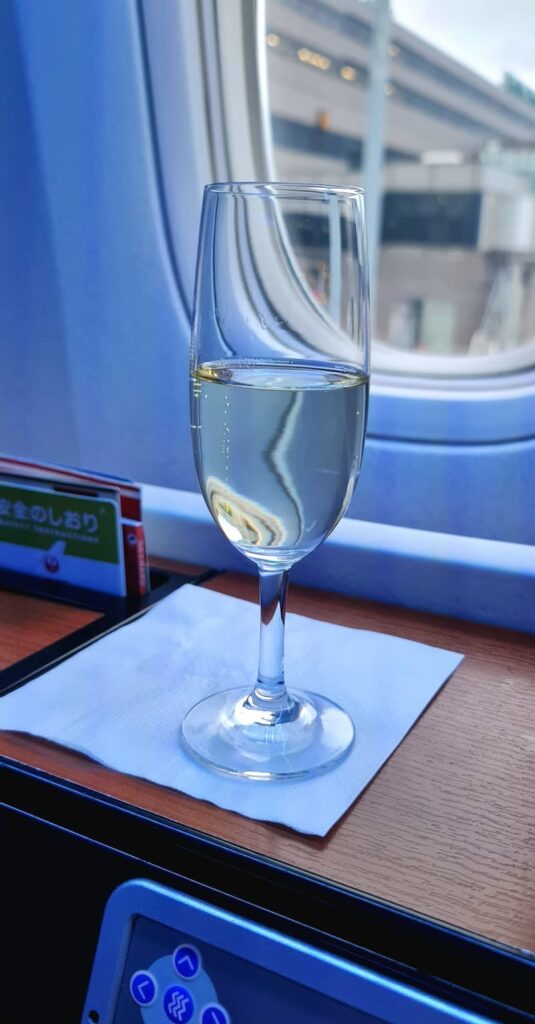 It has a very sharp dry taste. I drank such a sharp champagne for the first time. I wanted to drink more, but unfortunately I was planning to drive a car after arriving in the US, so I didn't drink alcohol after that.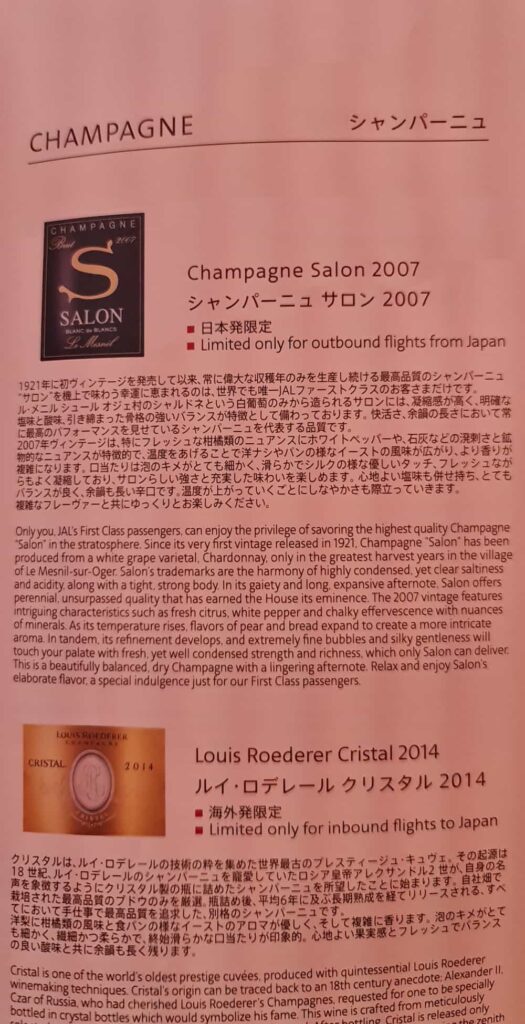 Departing from LA is different type of champagne. But this is also limited champagne named Louis Roederer Cristal 2014.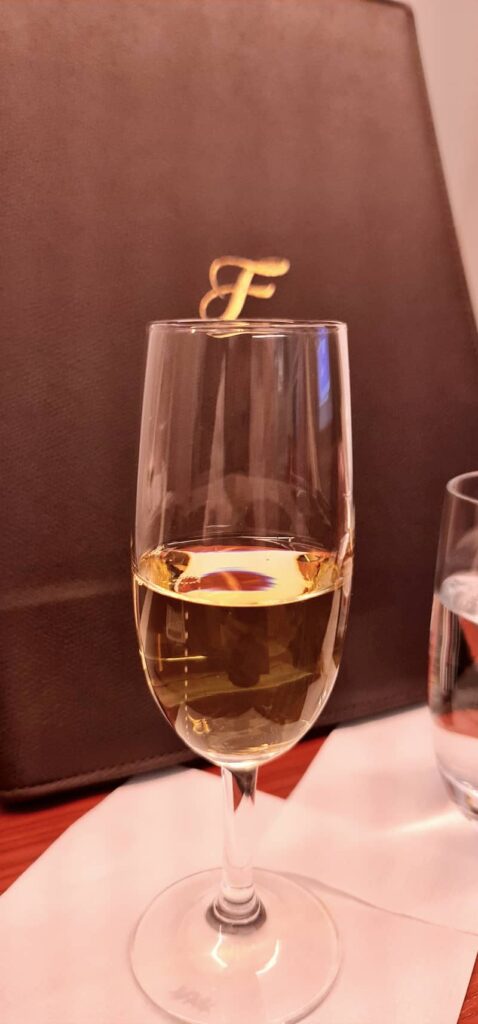 The taste was well balanced with sourness without being too sweet. I personally liked this champagne, and I drank a lot of this champagne because I didn't have any plans to drive after returning home.
It went perfectly with the caviar that came out on the Western course on the return flight. The chief CA recommended this way of eating, so I obeyed. What a nice knowledge.
Introducing first class seat
As mentioned earlier, there is plenty of space, and even if you stretch your legs, you won't reach the end.
The table can be slid back and forth, and it is possible to spend time on the plane with the back seat and the front seat facing each other. It's a great deal for married couples. However, I think that it is a little difficult to eat together because the table is small.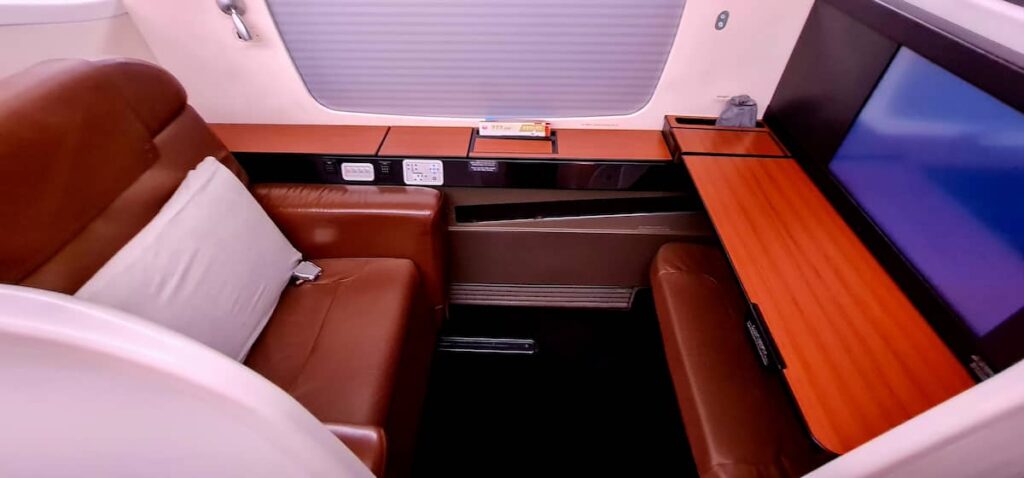 Reclining can be fully automatic and fully flat. When you go to bed, you can use the Airweave mattress, so you can spend a very comfortable time. You can choose between soft and firm hardness.
This Airweave is Japanese famous brand of mattress which is well known as Kei Nishikori (tennis player) and Mao Asada (figure skate player) and using.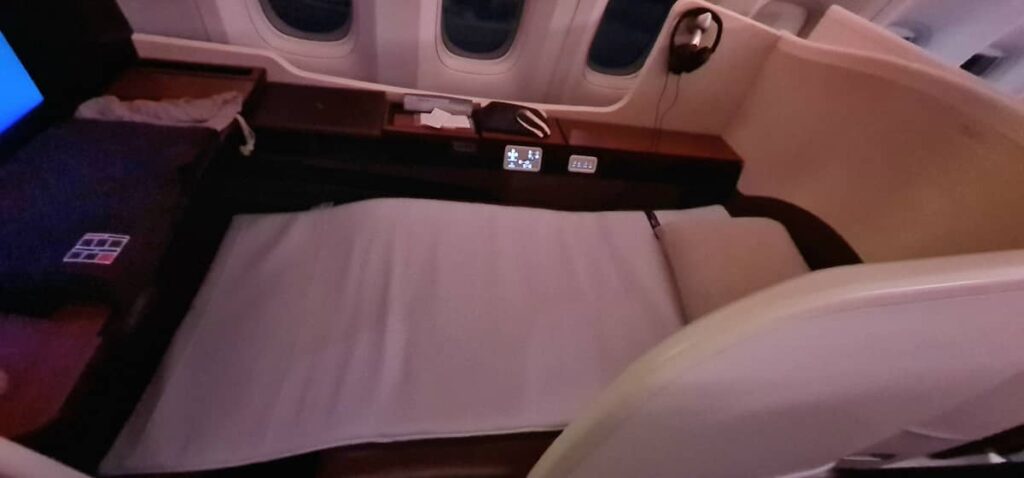 Also have massage function but weak.
Narita- LA was seat no. 1K & LA – Narita was seat no. 1A.
Introducing first class dishes
25hrs before the flight time you need to decide the course to take during your flight. You can choose Japanese or Western which is made by famous chef. There are also other menu that you can eat any time.
Japanese course
日本からロサンゼルスに行く際には和食を選択しました。東京神楽坂「神楽坂 石かわ」と「虎白」のコラボレーションされた献立です。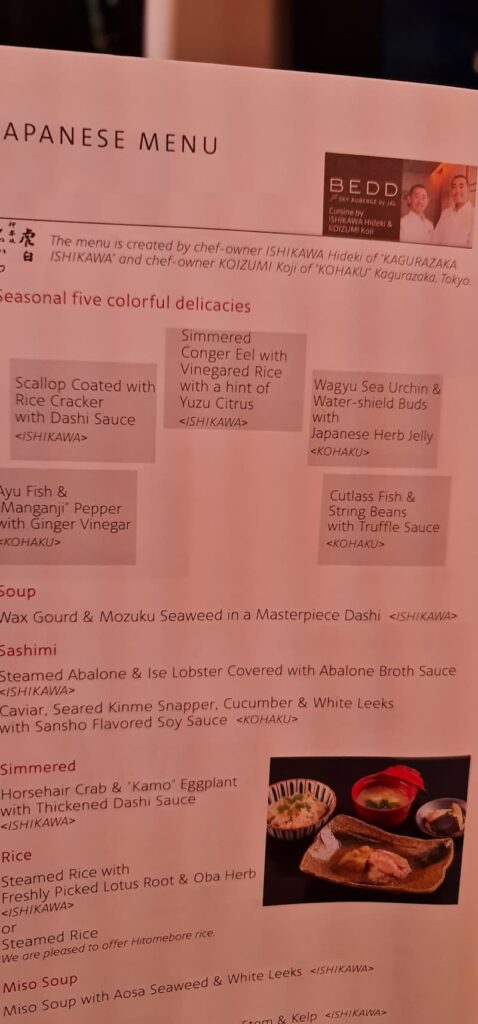 Food will be serve from the top but you can eat with your own pace.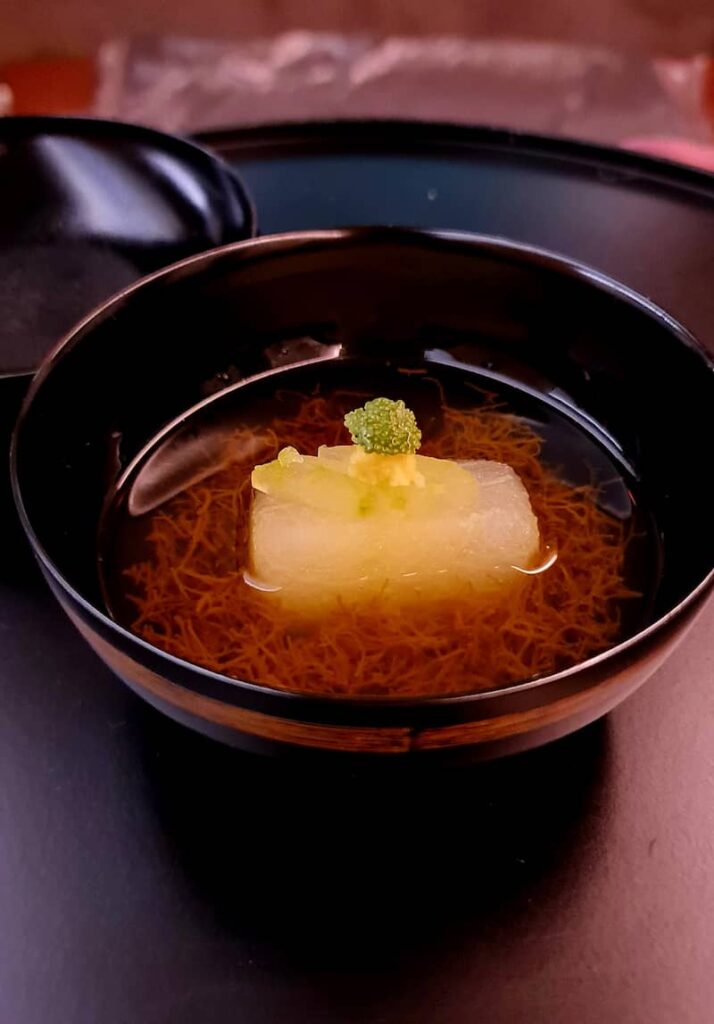 Caviar, lobster abalone many high price food was served and all of course delicious.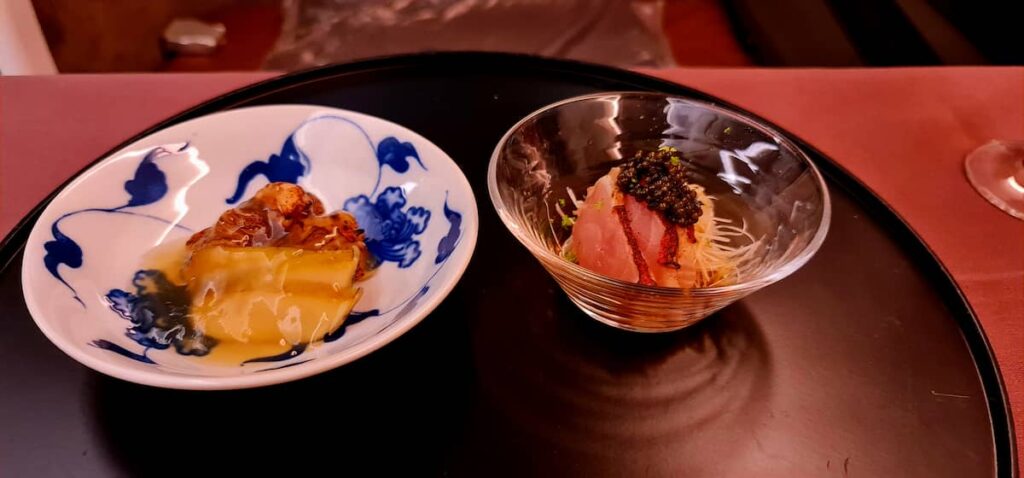 Main is rice. If you eat Japanese food in USA the price will be so expensive so I might miss it.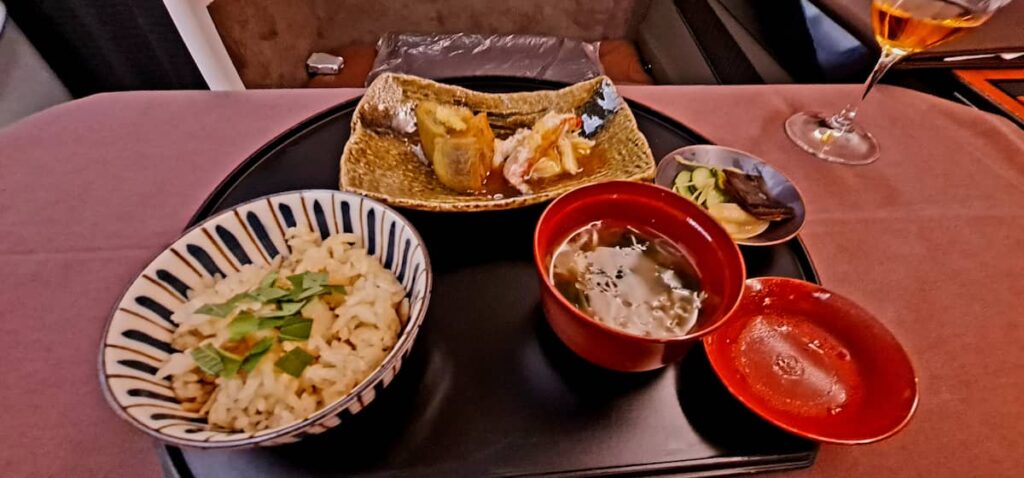 Last is dessert. Jelly is using rum alcohol.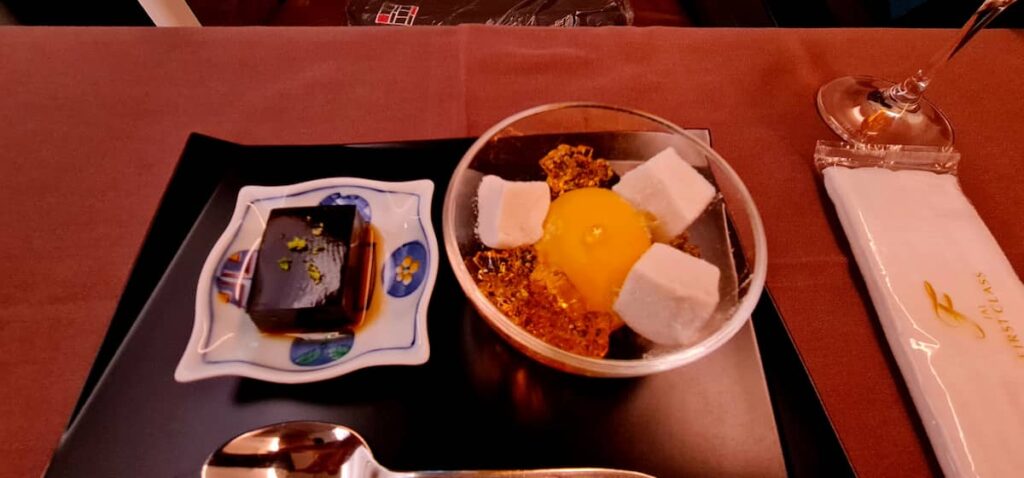 Honestly I wanted to drink alcohol but because I needed to drive once arrive to USA so I give up (TT). Cucumber is my dislike vegetable but because of first class cucumber it was ok haha.
Western course
If you choose Western food from America, American professional chef Mr. Uchiyama will make full use of the techniques and ingredients cultivated in the United States to serve you.
CA explained me a lot but I didn't remember haha.
Champagne and all red wine I drink so already bit drunk.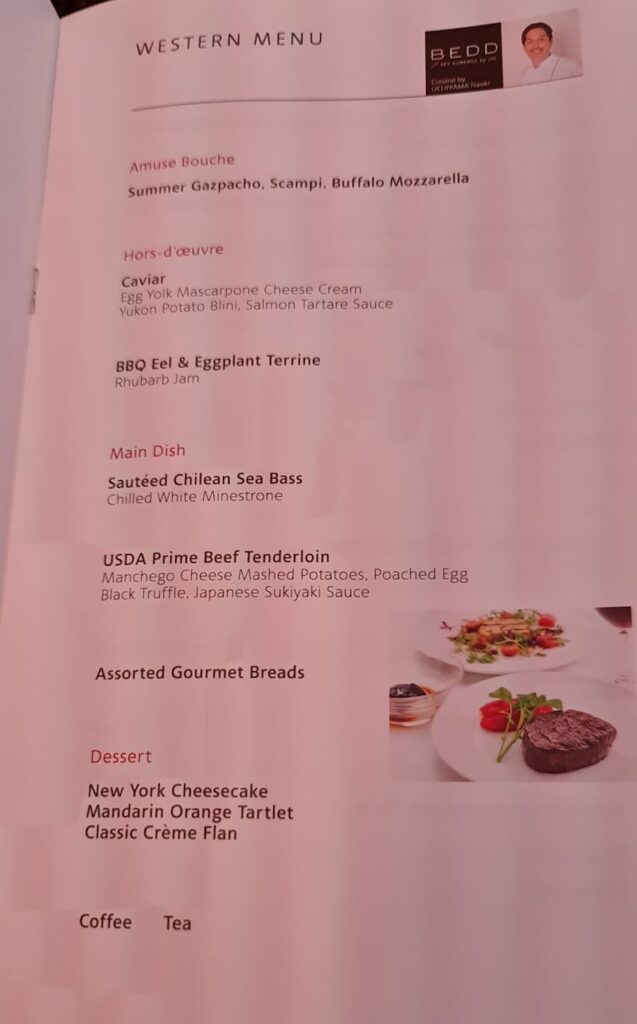 First is the appetizer caviar. Great to wat with champagne. I personally don't think caviar is delicious, but I ate it all because it was so delicious, probably because of the atmosphere.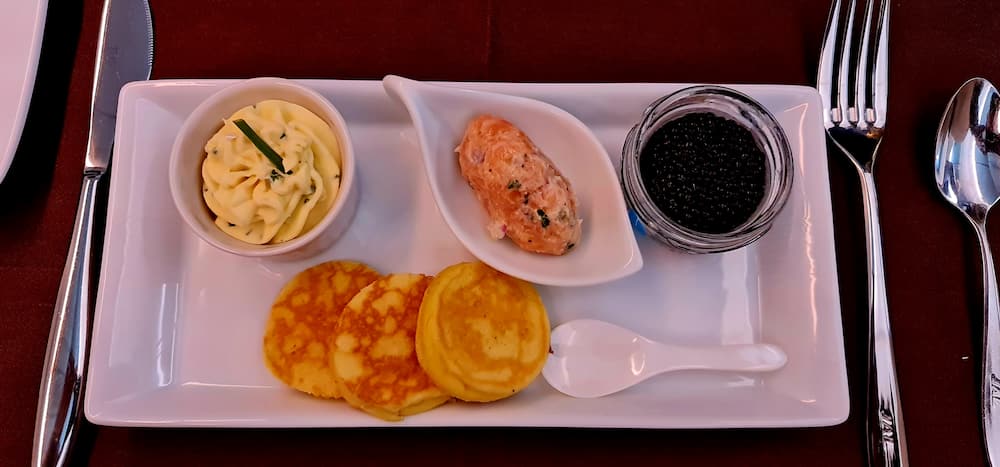 This is also nice appetizer with bread but forget to take the bread photo. Still warm like just made and really delicious I wonder I can use the word to describe delicious.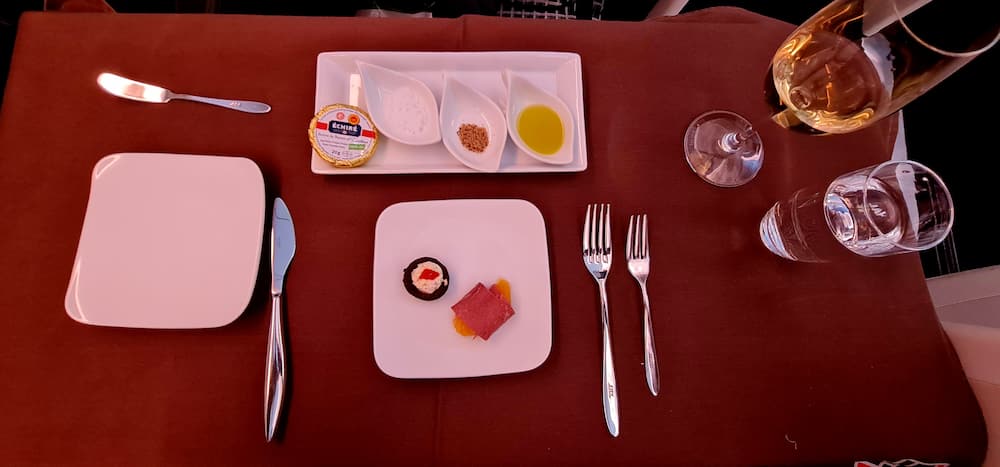 This day was 1 day before of the day of ox in Japan we eat eel in this day. It was my first time to eat eel with jelly sauce but the taste was bit sour with amazing taste.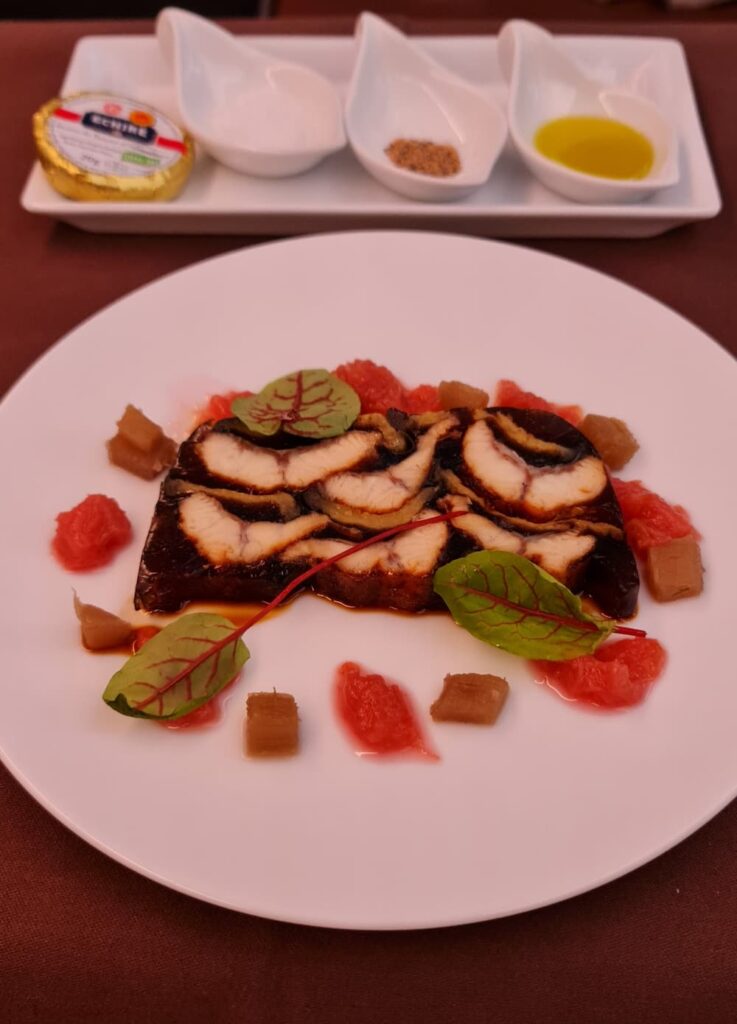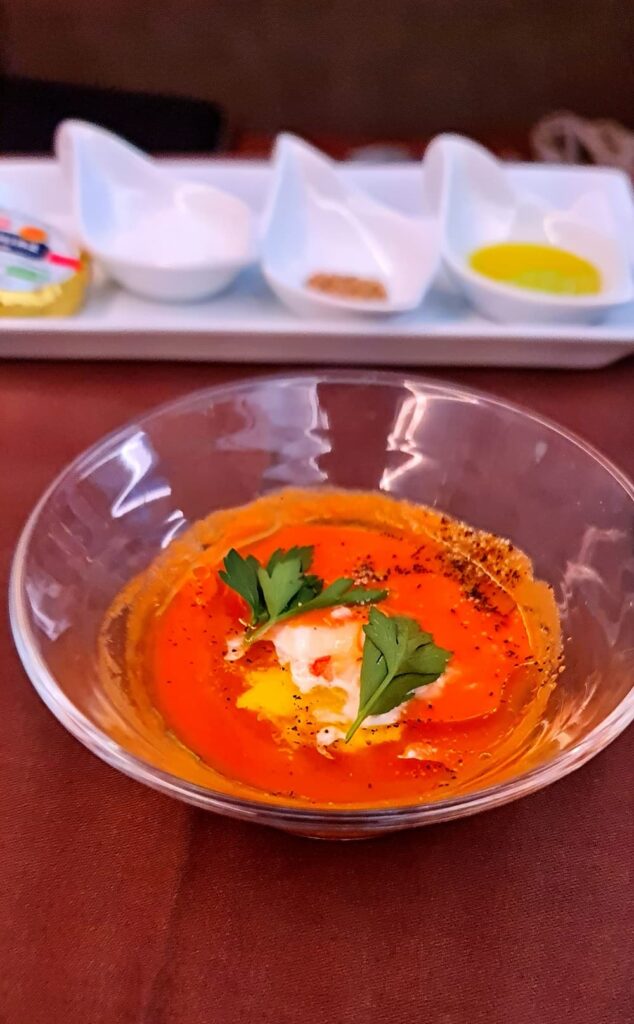 White minestrone was ate with white wine.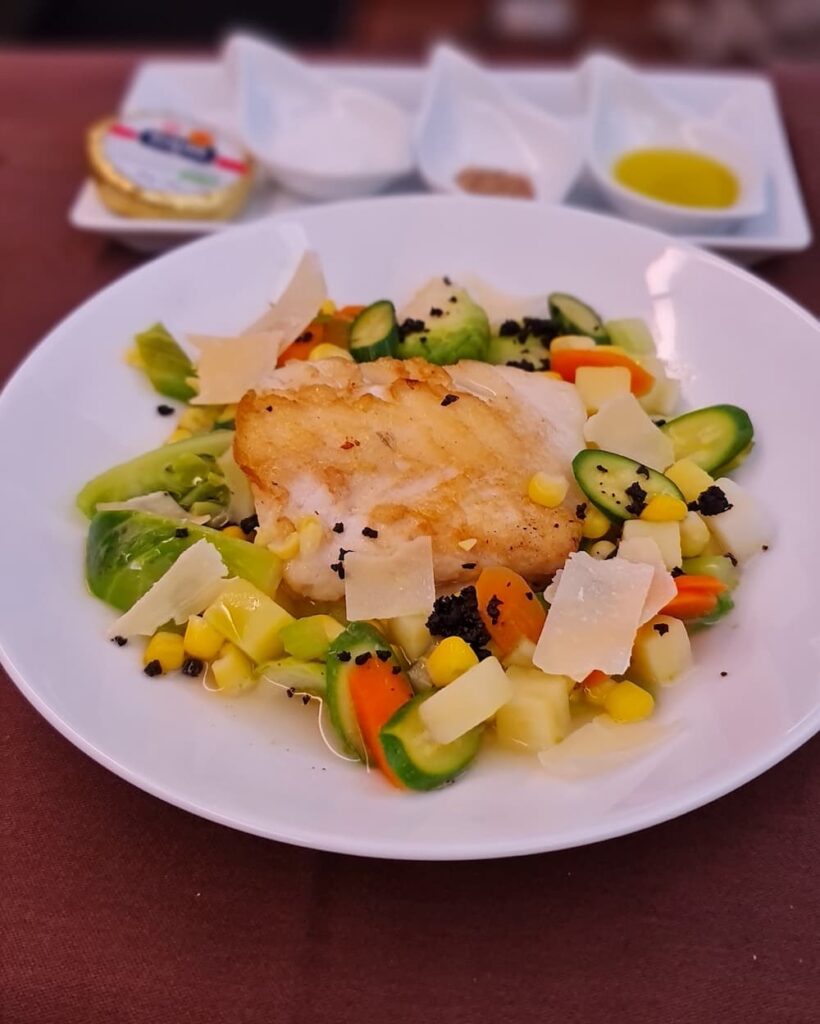 And the main dish steak. You can offer the CA how to cook your steak and I requested medium rare.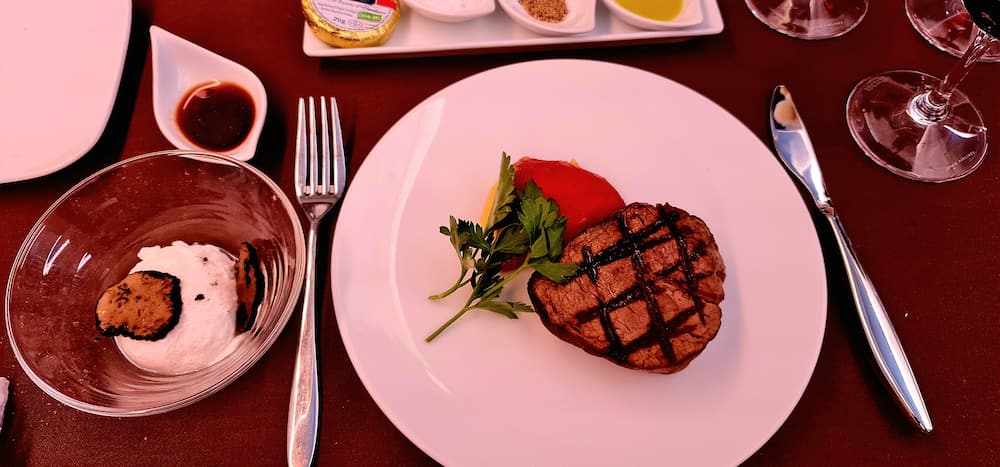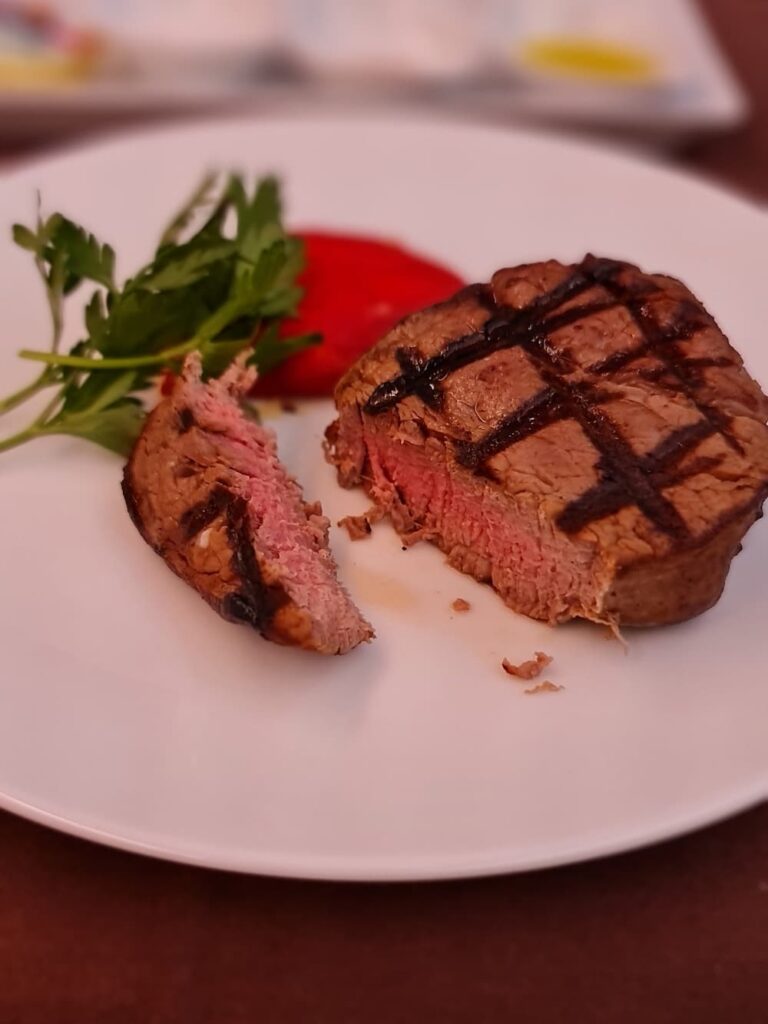 The CA who cooked it was also concerned about whether it was cooked properly or not, but it was medium rare as requested.
I asked the cabin attendant how they cooked and it seems that the steak was cooked a bit in advance and then it was bring inside cabin. CA just cooks the steak on board as the final finishing. In the first class, there is a cabin attendant appointed as a chef, and all my meal was cooked by the assigned CA chef.
And the dessert.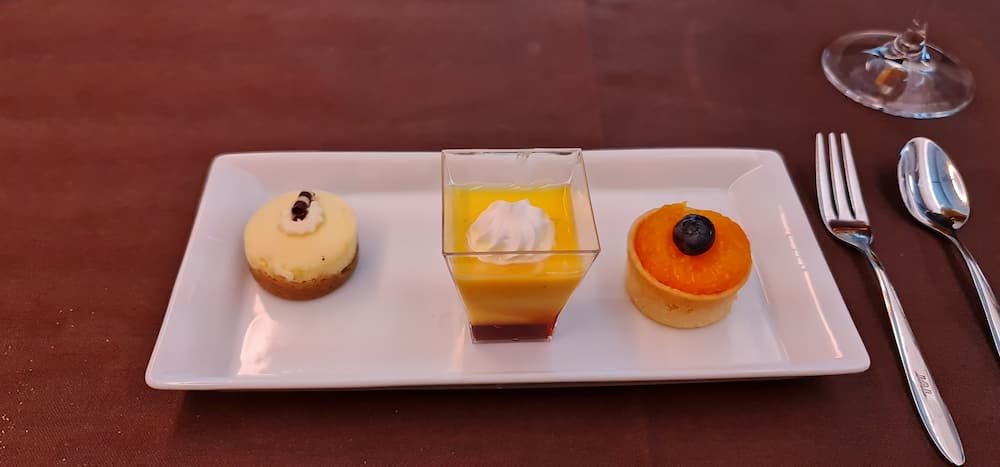 Soft drink you must drink at first class
So far, there are a lot of alcohol beverages, but there are also soft drinks and delicious drinks for those who can't drink alcohol in first class.
It's tea! It uses a wine glass, but it's not wine. It's a rare tea! It's a sugar-free straight tea, but I'm addicted to the nice flavor of tea smell and refreshing taste. Sugar cannot be use!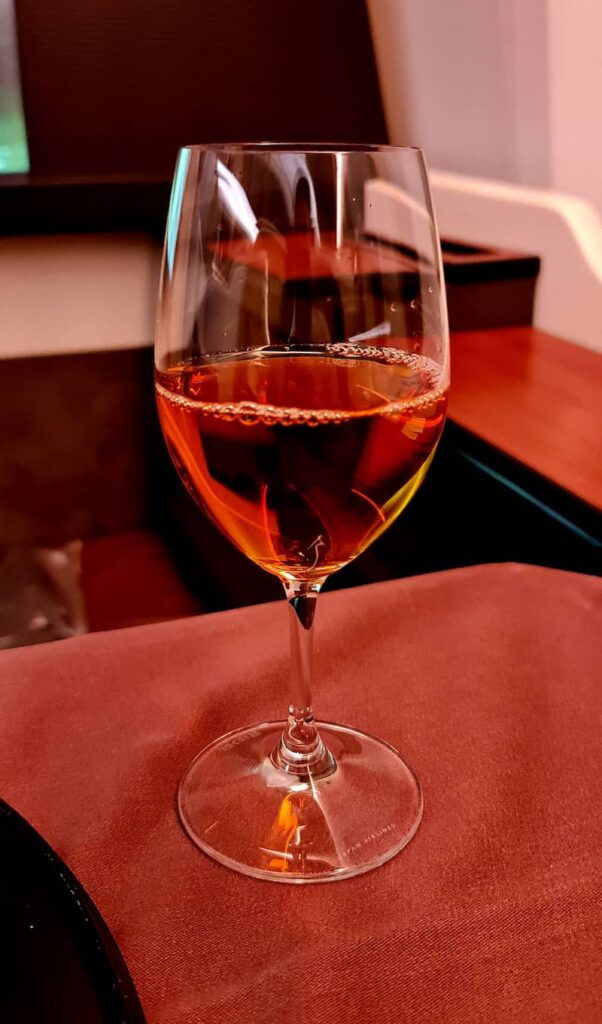 The tea name is loyal blue tea "queen of blue". CA also mentioned that they never see it except inside first class.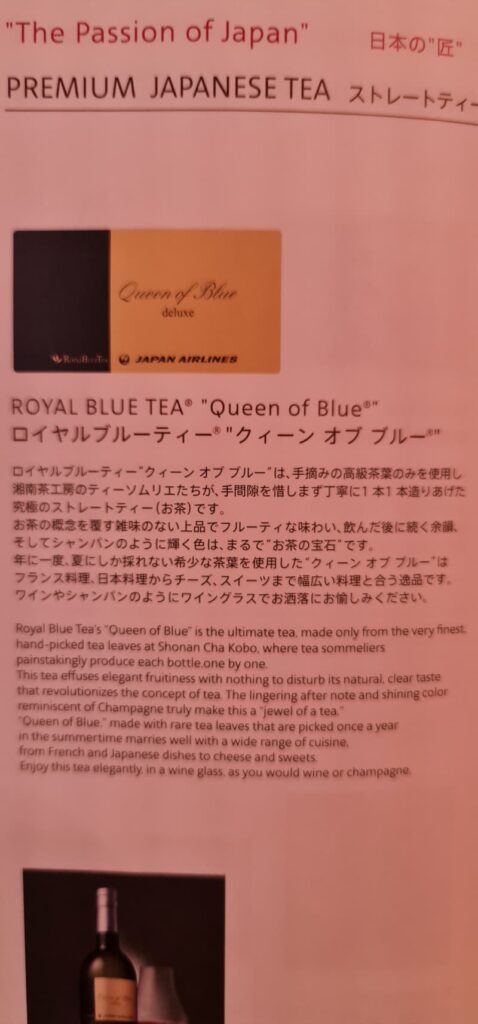 JAL CA trivia
I talked a bit with CA when they are free and asked
After arrive at on site how they spend there time?
I asked the example of USA. When they arrive USA what they do?
During summer time day have 2 night 4days and 1 day will be free but winter time is 2night 3days. They every time struggle with jet lag. I also suffered jet lag during my stay there.
Inside flight how CA manage there meal?
Seems like most CA can eat the meal at there class.
First class CA can eat first class meal, business class CA can eat business class meal. And some CA at economy can eat business class or economy class meal. They take the meal to check whether safe or not.
Sometime they will ask from the passenger about the meal to get feedback and give it to the catering to improve.
Economy class CA can eat business class meal but it really depends on the demand of passenger so if they can get it means very lucky.
Summary
JAL first class had much benefit than the cost
All meal is fantastic
CA hospitality is very nice
There is some drink you can only drink at first class
It was nice to be able to ride first class once in a lifetime.
Please keep up the good work to all the CAs who took care of us. And finally, thanks so much.
I made the article about the ESTA entrance and also sharing PCR info at USA. If you have plan to go to LA or LAS please check.
2022 Latest info how to go to United States of America no more PCR!!
At other article I explained the detail about the Narita airport first class lounge. It has been change after COVID so please check the latest status by below.