Because of COVID-19 pandemic is still continueing many airline is suffering a lot to maintain there business.
Japan Airline so called JAL and All Nippon Air so called ANA is creating a lot of service for customer and which also helping myyself.
For the frequent traveller for JAL member's 1 of the thing to enjoy the service is to use the international Sakura lounge service.
I also longed to use this lounge and got frequent traveller right. For this time being would like to share 2022 Narita international airport lounge service.
Please check below JAL official website for more detail and correct information
JAL international lounge operation hour
Narita international airport Sakura lounge current status
At Narita airport JAL have 3 Sakura lounge.
1 is first class lounge which can be enter for JGC Premia or Diamond member or Oneworld Emerald member. Other 2 is for business class, premium economy class, JAL Safaia member and Oneworld Safaia member.
Big surprise that currently all above member can use first class lounge!!
One news, from July 2022, at Narita airport both first class lounge and sakura lounge is opened but still at Haneda airprot sakura lounge is closed so you can enter to first class lounge at Haneda airport.
Also if your flight id before 14:00 since sakura lounge at Narita only operate from 14:00 you still have chance to use at Narita airport to use first class lounge!!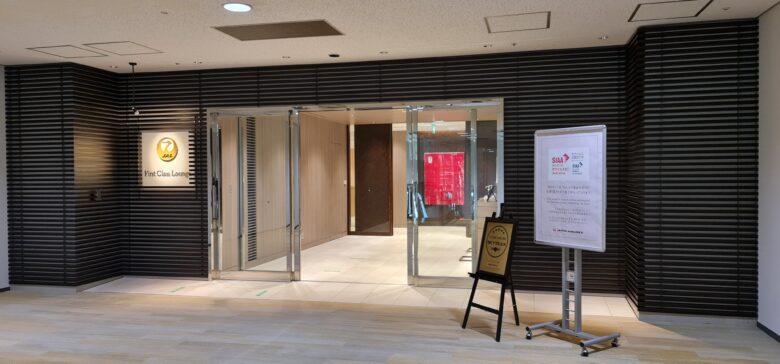 But some changs at there service.
The person who had used JAL lounge might know but here at JAL the meals is served by buffet style so you can arrange the meal by yourself.
At first class lounge, other than buffet there are orderig system for special menues which is also free.
The change point is the method to serve the meals. Because of COVID-19 current SOP is the meals are served by JAL staff to customer.
How to order food & reserve the shower service at first class lounge
When you take a seat at lounge now you can see the QR code as you can see at the photo.
So at first you need to scan the QR code by your camera. Inside the lounge you can use the JAL Wifi.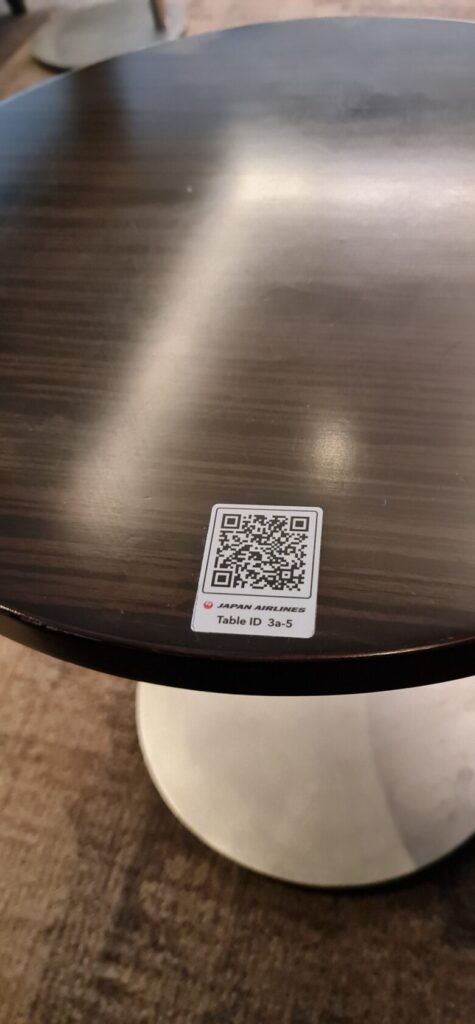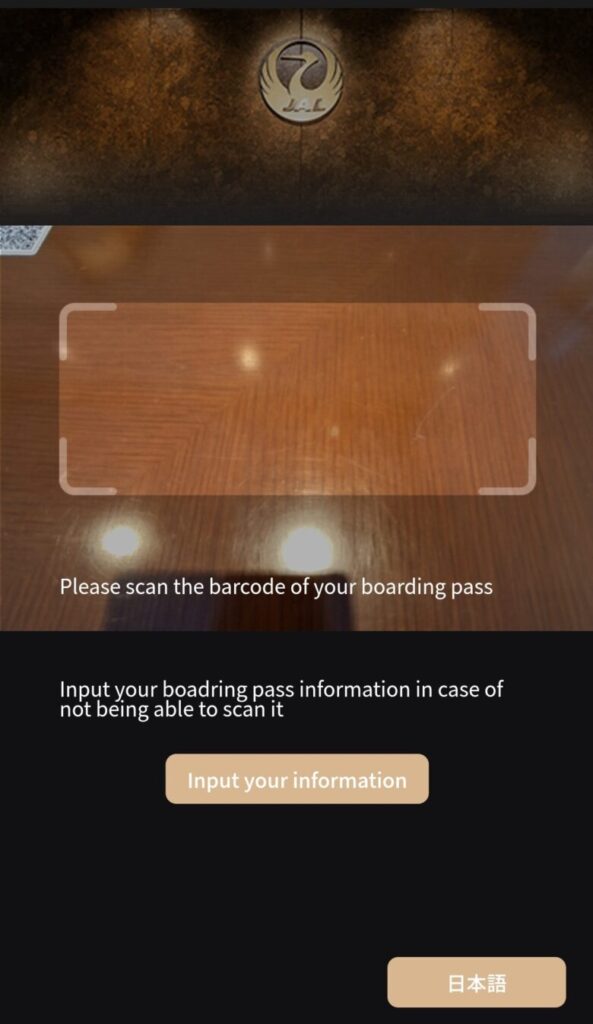 After that the display will change and it will request you to scan your flight ticket. If your camera cannot scan you need to key in necessary information manually.
After key in all info and submit below display will appear.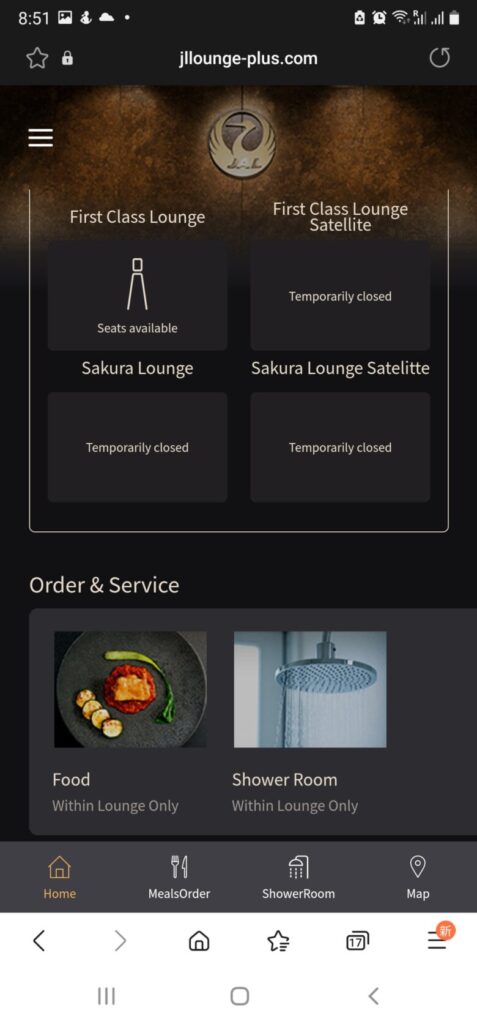 From here you can order your food and book the shower room.
Since I used the lounge in the morning I didn't use the shower but from this application you can check whether shower room is occupied or how many is on the queue.
To order the food just press foof button and the menu will appear so you choose what you want and order the quantity.
Most of the drink is self service but some specific drink need to be order at the bar counter.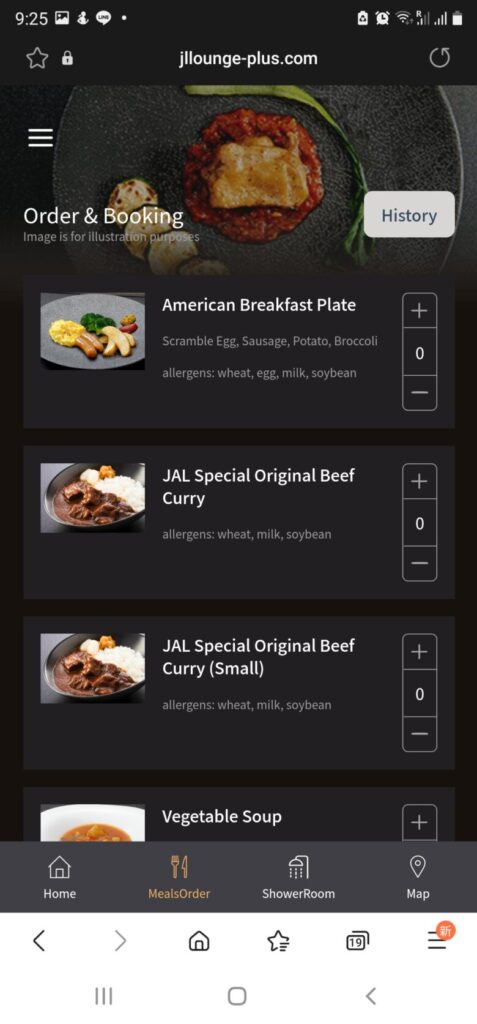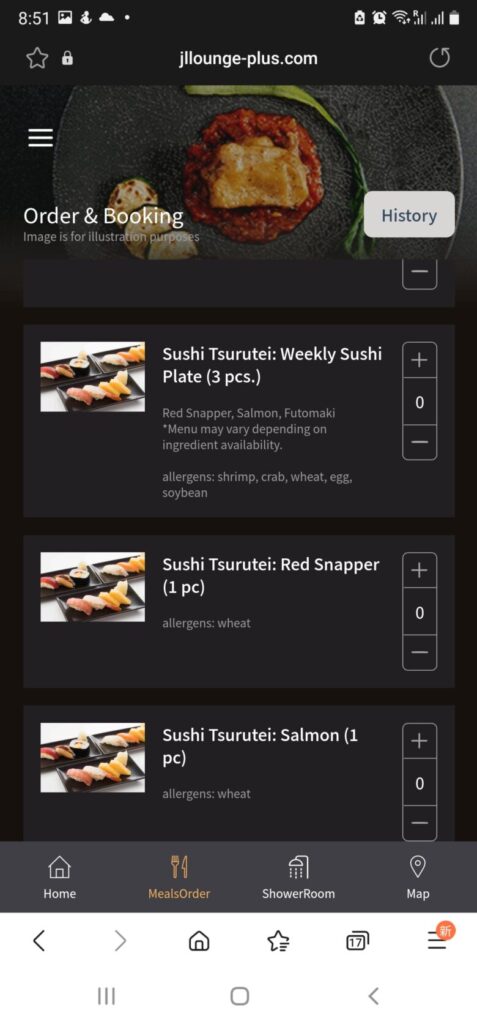 Recommend food to order at first class lounge
The famous service in JAL first class lounge is sushi. Sushi chef from the sushi bar restaurant in Tokyo is here to serve you the last sushi before you leaving Japan. It's really delicous so you must try.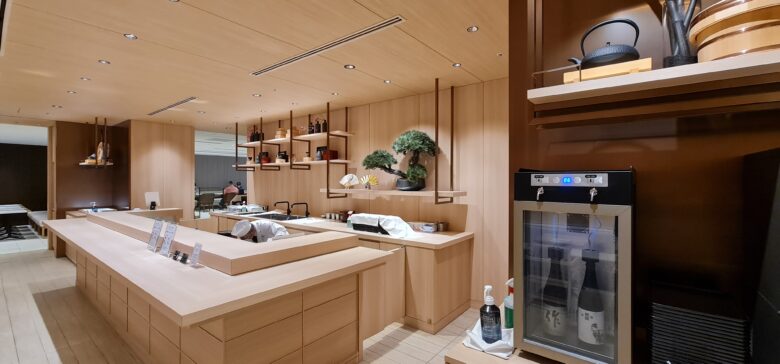 The served menu is changed by weekly.
And no other menu is served so don't order the menu which is not serving when you use the lounge.
This is even same before this pandemic.
When I went the sushi menu was red snapper, salmo & futomaki.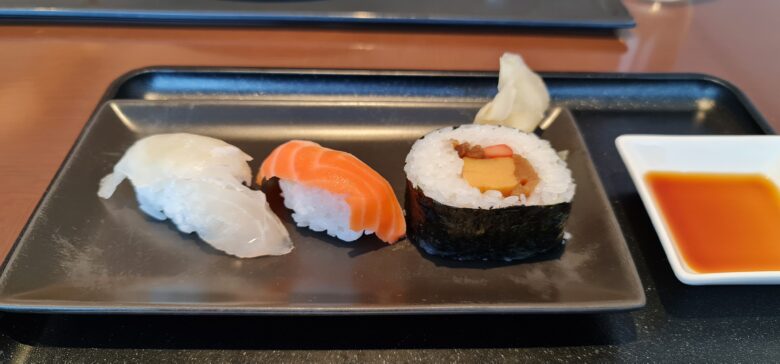 The next menu is JAL special original beef curry. This menu you can also eat at other business class lounge too.
If you want to order small portion of rice there is a menu small.
Topping is also included.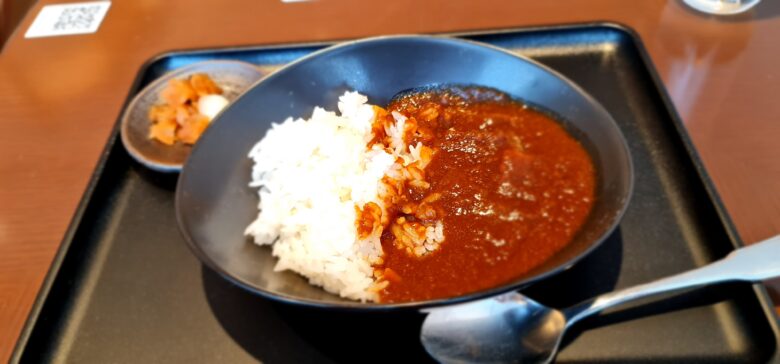 Summary
Experience the first class lounge is now!
Must eat JAL special original beef curry!
Must eat the sushi set made by sushi chef!
JAL international first class lounge operation hour is depends on the day and have some difference.
Even can be changed by government order so for more detail and correct information please refer to below JAL official website.
The Open Hour of JAL Lounge in Haneda and Narita International Airport
I have wrtitten about the process how to enter to Japan.
It's explaining what documentation, application is required to enter Japan and also explaining about what to do after immigration is passed. If you are intrested please also see below link.