I went to the World Heritage Site Shirakawa-go in winter season which is well known as heavy snowfall area.
Shirakawa-go is located in Gifu prefecture.
I wish I can also inform what had been changed by COVID-19 and also want introduce how to have fun at mysterious Shirakawa-go covered snow since I saw some tourist who were in bit trouble there.
This trip purpose was
To see the Shirakawa-go covered with snow
Stay in world heritage site Shirakawa-go hostel
To see Shirakawa-go lightup
so I decide to go by myself and not participating the tour. If you are considering to go private this article should be benefit for you.
How to go to World Heritage Site Shirakawa-go
I went to Shirakawa-go from Nagoya. The option to go to Shirawaka-go is below
Use bus
Join the tour
Use car
there are 3 option and I choosed option 1.The reason I choose 1 is
Wanted to stay in the world heritage site Shirakawa-go hostel (normally tour don't have)
Don't have experience in driving at heavy snowfall area
Want to control the schedule by myself
Since from Nagoya to Shirakaw-ago there were bus so it was very easy for me to transport there.
From Nagoya to Shirakawa-go the price is depends on the season and day but normally it around 3,500 yen to 4,000 yen (35USD to 40USD) which is one way. Please refer to official website below for more detail on schedule and price.
Bus from Nagoya to Shirawaka-go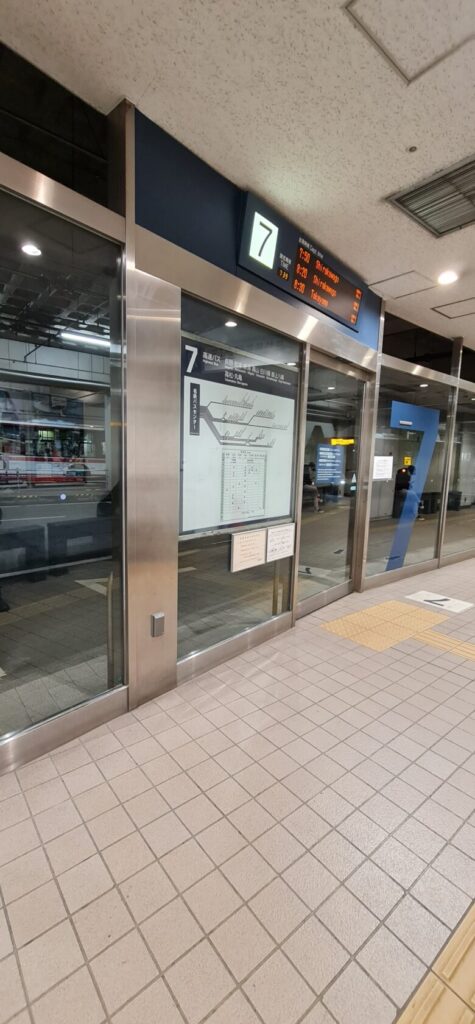 What you need to do at first once arrive to Shirakawa-go
If you used bus you will arrive to Shirakawa-go bus terminal.
If you are using car at first you should come to Shirawa-go tourist assosiation.
You can rent the boots 1day per 700yen (7USD) if 2days price will become to 1,500yen (15USD). I don't think you have the boots for snow so better not buy but rent and you shoes will be keep here.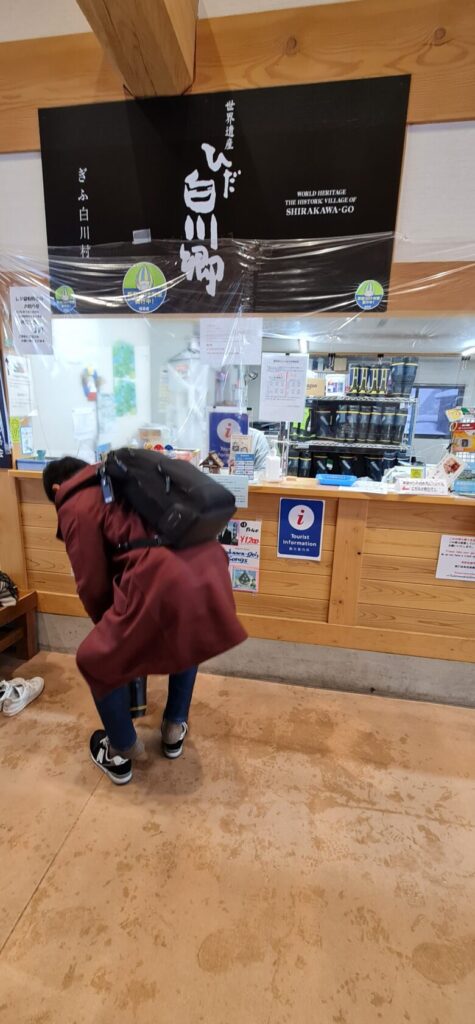 Most of the road snow is removed by Shirakawa-go people who lived there but all snow cannot be removed.
When I go there many tourist was using sneakers, heel or sandal and slipping around so I feel danger about it.
It's pitty if you injured and stop the amazing sightseeing and also cause trouble to your life after.
Even not using boots or even using boots I recommand to use heat pad.
There is heat pad for shoes which prevent your foot from frozening.
※Normal heat pad will become too hot for your foot so not good to use
[itemlink post_id="2818″]
For your refference below is the basic info about Shirakawa-go bus terminal.
Address:1086 Ogimachi, Shirakawa, Ono District, Gifu 501-5627, Japan
TEL:(+81)0577-32-1688
Wada house
When you check world heritage site Shirakawa-go sightseeing this place will be highlighted every time.
Wada house is nominated as National Important Cultural Property since existing house of Gassho-zukuri is used for more than 300years.
Entrance fee is 300yen (3USD) for adult and 150yen (1.5USD) for child.
I know that Shirakawa-go was breeding silkworm to earn money for the village but actually the main business was raw material of gunpowder "flame nitter". It was my first time to know that when I visited Wada house.
It is mention is Wada house ancient documents about it.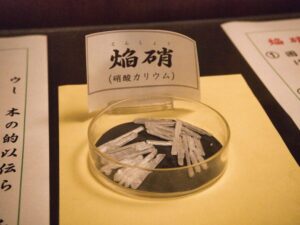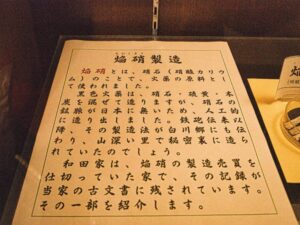 You can visit to 2nd floor and 3rd floor inside Wada house. So please see the design of thatched roof.
If lucky you can see the silkworm too.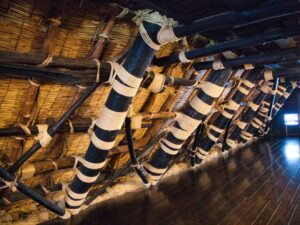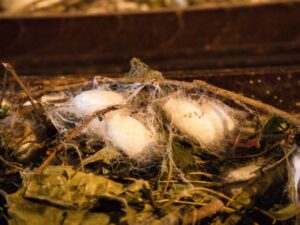 Nagase house
Its 5th floor Gassho-zukuri house which have 250 years history.
The entrance fee is same with Wada house.
Entrance fee is 300yen (3USD) for adult and 150yen (1.5USD) for child.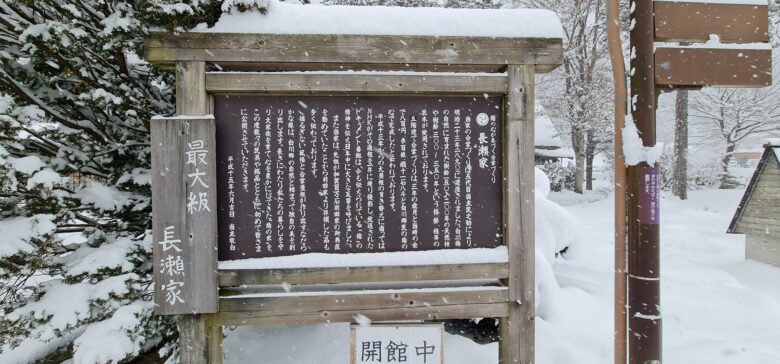 On 2001 Nagase house thatched roof was change for the first time in 80years.
From 2nd floor you can see the medical equipment which was using in the past there since Nagase house was doctor's family.
Kanda house
Kanda house is bit younger than Wada house and Nagase house which is around 150 years but that is because it was independ from Wada house.
Entrance fee is 400yen (4USD) for adult and 200yen (2USD) for child.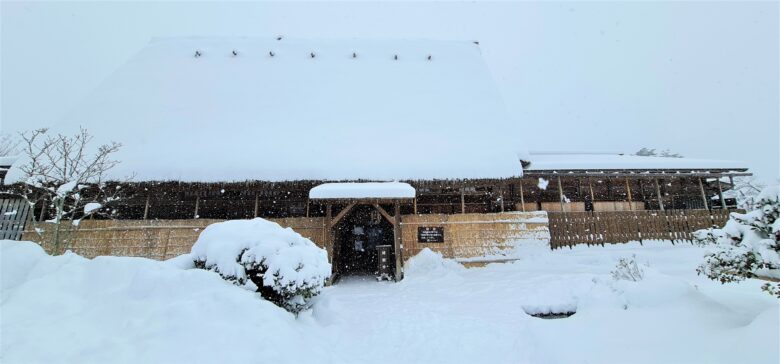 The intresting things here is the clock right behind the fireplace. It's still functioning for more than 150 years. Every hour it will ring and went I came here it was just 12 o'clock so I was able to hear without waiting like surprise.
If you want to hear you should manage your time to see the 150 years old clock to be ring.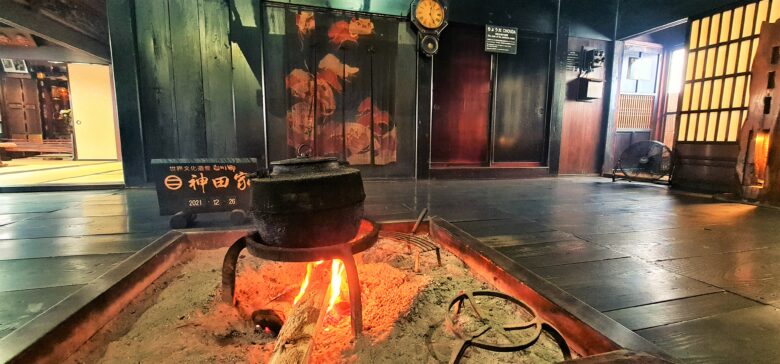 At Kanda house there is room to monitor the hearth for the specialist. From that room you can see fireplace from the peephole. Please find it but it's really easy.
At Kanda house you can see the stuff used in Shirakawa-go.
When you scan the QR code it can jump to the page for the name and function of the stuff.
Not only Kanda house but mostly in Shirakawa-go area you can use the free Wifi.
The farm tools and other tools used at that time is introduced there and if you are intrested of the construction method for making Gassho-zukuri you can check some know-how there. You may understand the wonderful wisdom of surviving in heavy snowfall areas by reading the construction method.
Below picture is the refference of the each page.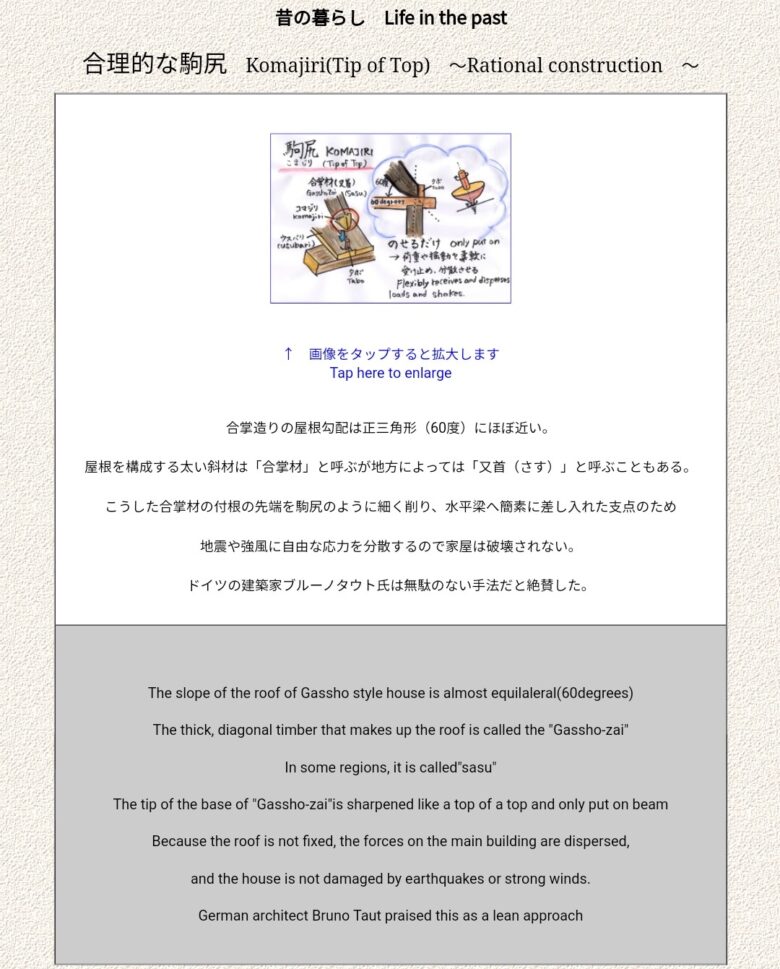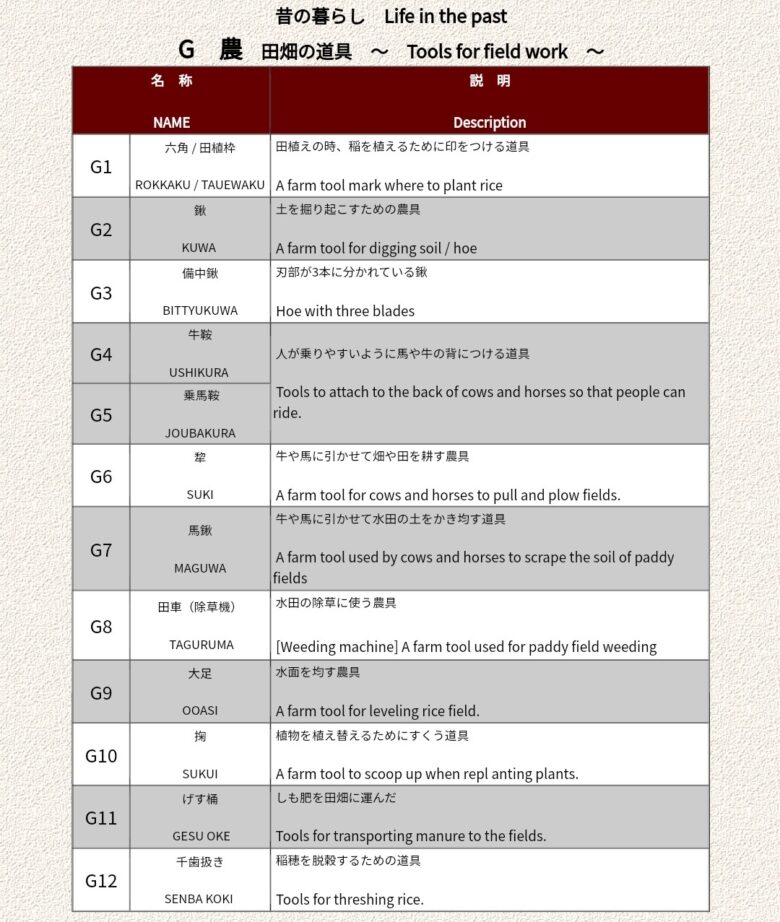 Myozenji
It is the biggest shrine in the village. Main hall, kitchen & clock tour is also following Gassho-zukuri. Especially clock tower with Gassho-zukuri is very rare building in Japan.
The structure of clock tower roof is thatched roof but the 1st floow is using eaves are intresting and it was built in 1801 by 1,425 people support.
Entrance fee is 300yen (3USD) for adult and 150yen (1.5USD) for child.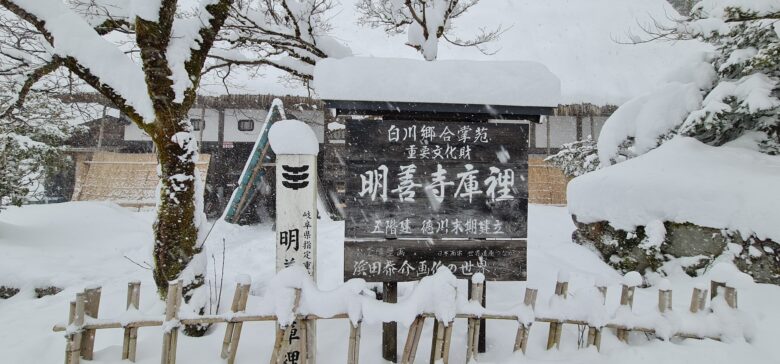 Compare with other house's fireplace I feeled Myozenji was the most warmest fireplace. Especially during winter before you leave the each house I prefer to warm up infront of fireplace.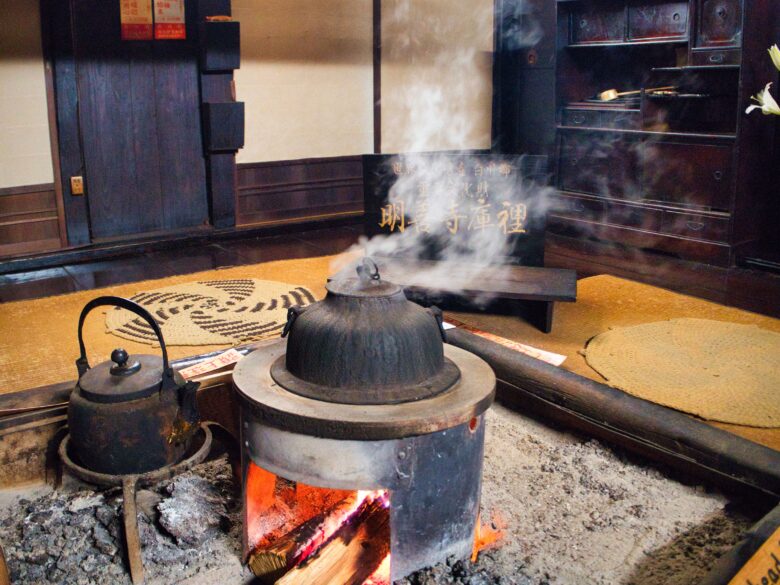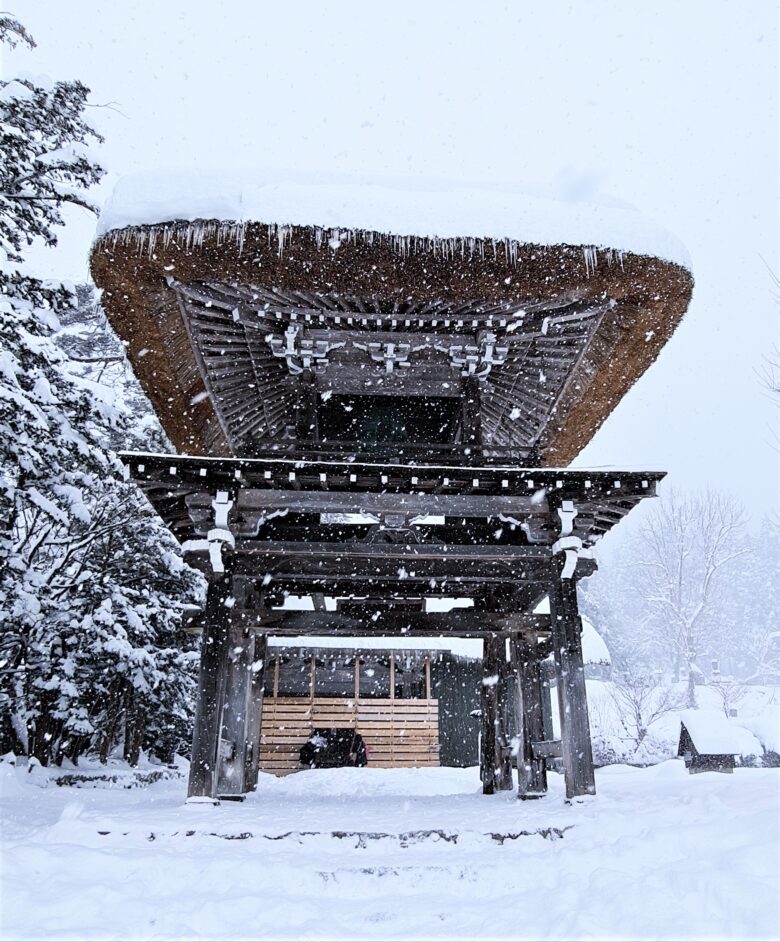 Below picture is one of my favorite photo taken from upper floor of Myozenji.
Fusuma (sliding screen) can open/close so try to find you favorite landscape. But when you open don't forget to close. The snow will enter inside the house and become wet.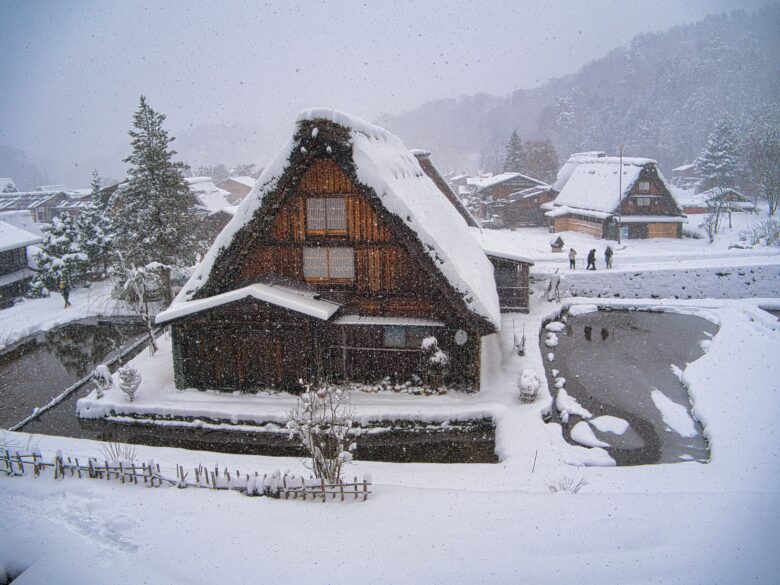 Shirakawa Hachiman Jinjya
Shirakawa Hachiman Jinjyu is very historical temple which was built in 708 – 715.
The old cedar in the precincts is said to be 200 to 300 years old and is nominated as a natural monument.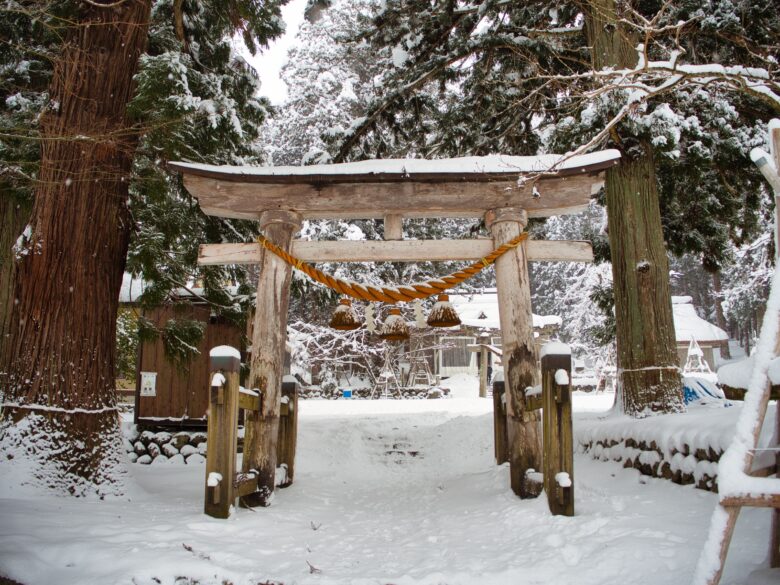 Every October they held "Doburoku festival" the people who pray here can get doburoku.
Doburoku is unrefined Japanese sake.
Shirakawa Hachiman Jinjya is also well know as Japanese anime "Higurashi no nakukoroni" because this is the model place which was used inside the anime.
Shirakawa-go can be fun place for the "Higurashi no nakukoroni" fans since it's not only this temple but better to come on summer.
Shirakawa-go three houses
To go to Shirakawa-go three houses you need to walk to south from the Shirakawa Hachiman Jinjya along the road.
It's not known as the famous spot in Shirakawa-go but this is also one of my favorite landscape.
Because almost no other tourist here so you can spend your time with any interfer. And in front of three houses you can see the rice terraces covered with snow.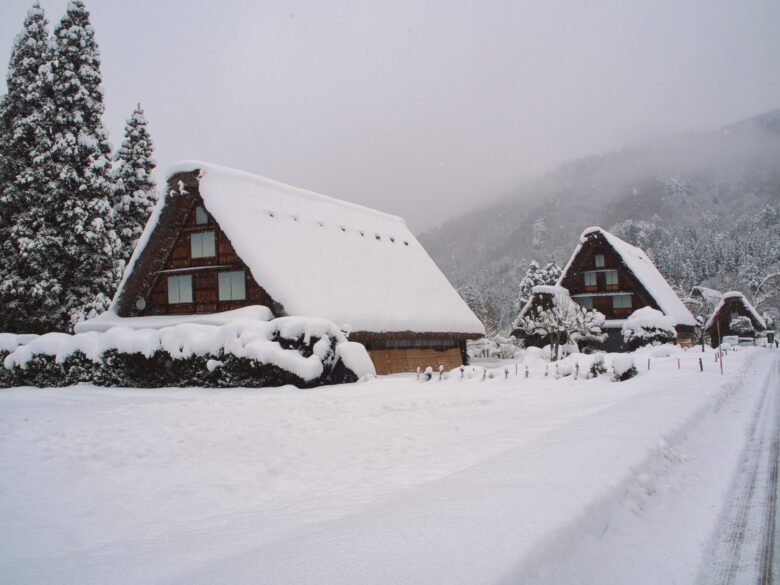 It's bit regret because if sunny it was more nice view.
Shirakawa-go lightup
During winter Shirakawa-go has big event which is the lightup.
It is normally held from January to February and you must book to join.
This time I wasn't able to participate the event but just try wheather I could see the light up or not.
The place you can see the entire of Shirakawa-go is Ogimachi Castle Observation Deck.
Address:Ogimachi, Shirakawa, Ono District, Gifu 501-5627
Normally you can take book but when the snow piles up the bus will stop and you need to take walk to go there.
From Shirakawa-go village it took around 15 – 20 minutes.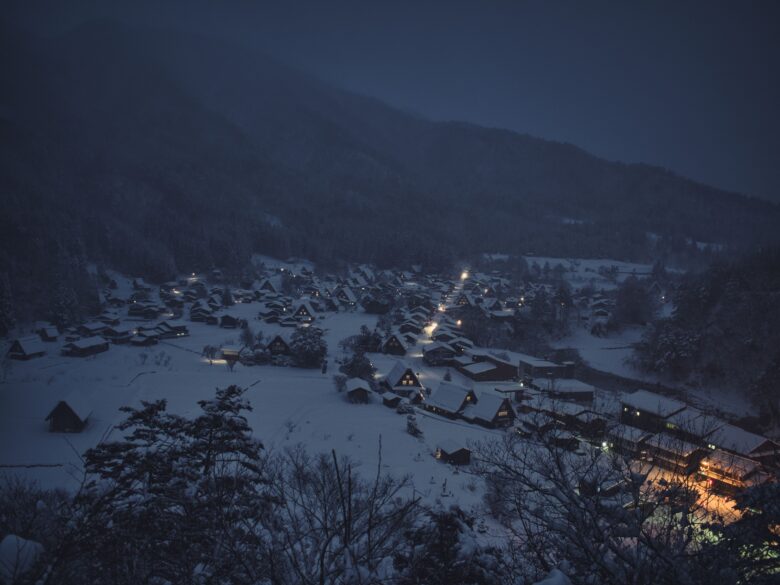 Compare with official lightup event the place which is lightup is less.
According to the people who live there normally they only use the 1st floor so it's seldom to turn ON the light at 2nd oor 3rd floor.
You can refer to this picture link which is taken by Shirakawa-go tourist accosiation.
But there are some houses which turn ON the light so you can take picture as per below.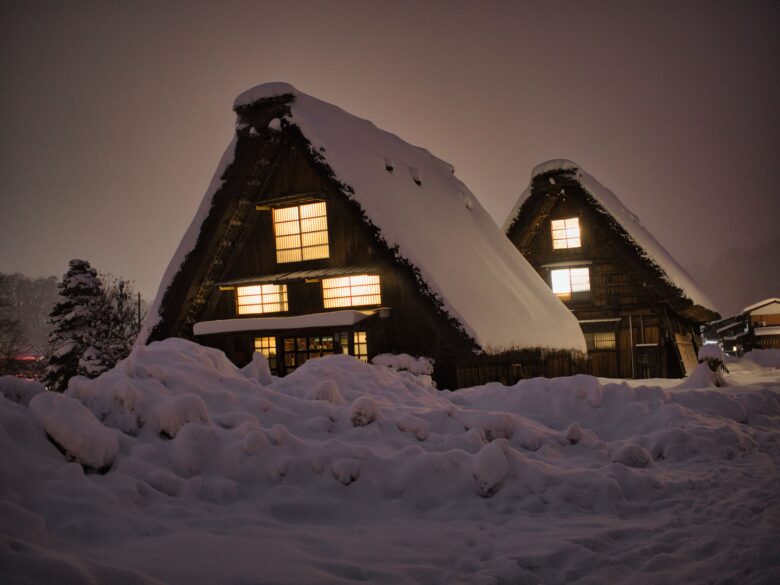 You can enjoy the scenery where you can feel the warm of the light in the cold environment.
It's quite difficult to join the lightup event but these normal days lightup might be more easy you to arrange to see it so let's try.
Shirakawa-go trivia
It's trivia. It doesn't help your sightseeing but I believe you can know more about Shirakawa-go.
Some info I also didn't know and just notice from the TV which I saw it recently in Japan.
Shirakawa-go thatched roof is facing east and west. Why the house structure is like this?

Since the sun will rise from east and sunset to the west. The sunlight can hit to the roof properly and equally to support the snow to melt.
At Shirakawa-go even now people is using fireplace. Why they are using fireplace?

By using fireplace smoke tar will be generated and stick to the thatching. It will prevent from the rain water and pest.
If not using the fireplace thatcing lifetime can be less than 20 years and cause the outbreak of insects worse.
Other than this they is also an event of firefighting training and you will be really lucky if you can see this great scenery.
Due to the training purpose for the village now they don't announce to the tourist when they will do this firefighting training.
Summary
When snowing better use boots for sightseeing (rent is possible)
Use heat pad for your foot to prevent frozening your foot
After visiting Wada house, Kanda house, Nagase house & Shirakawa Hachiman Jinjya you'd better go to Shirakawa-go three house. Not so many people there so you can occupy the thatched house and also see the rice terrace covered with snow
Even you don't join the Shirakawa-go lightup event you can see amazing lightup scenery
Including Gassho-zukuri Minkaen you can finish sightseeing within 1 day so day trip is also can (arrive below lunch time is required)
Wifi is able to use in Shirakwa-go village mostly
By this trip it recognize me the difficulties to live in the snow countrys.
Nevertheless would able to enjoy how nice is Shirakawa-go and due to the big effort of the people who live there making success to maintain this Shirakawa-go.
Gassho-zukuri Minkaen which is the open air museum and the Shirakawa-go hostel will introduce at other articles.
If you can arrive to Shirakawa-go before lunch and take the last bus (if Nagoya depart from Shirakawa-go on 16:30) you just need 1 day for sightseeing.
Thank you for reading.