There is no colder place in Japan than Hokkaido in winter, but it was also Hokkaido that I wanted to visit because of winter. The Snow Festival is probably the most famous winter festival that everyone wants to visit at least once.
The last time the festival was held in 2020, but from 2023 tourist can now safely participate in the Sapporo Snow Festival!!
wants to see Sapporo snow festival
wants to know about Sapporo snow festival
loves Hokkdaido
loves Japanese winter season
During this time in Hokkaido, the temperature drops to nearly minus 10 degrees Celsius in the morning. As your feet get colder and colder, you will feel colder and colder overall, so I recommend a shoe warmer as a countermeasure!
Sapporo Snow Festival Highlights
The Sapporo Snow Festival is a snow and ice festival held in Odori Park and Susukino in Sapporo, Hokkaido, only one week in February each year. The festival features snow and ice sculptures of all sizes, Hokkaido's culinary delights, stage events, light up and more.
The venue of the Snow Festival is
Three locations, but the Tsudom venue will not be held in 2023.
It is very easy to find as it is 12-minutes walk from Sapporo Station and is on a straight road. The nearest station is Odori Station. If you wish to shorten the walking distance, please use this station.
The Susukino venue is a 10-minute walk south on Route 36, where you can see the clock tower.
Highlights at Odori
As mentioned at the beginning of this article, snow and ice statues can be seen at the Snow Festival, but here in Odori Park, snow statues can be seen. Here in Odori Park, you can see a variety of snow sculptures based on the year's popular trends, characters and events.
The snow statues are located from street 1 to street 10, so you can enjoy a variety of events.
Street 3 citizen's snow statues
Snow sculptures created by Hokkaido citizens (including companies) are lined up in a row, and the Sapporo Tower can be photographed in the background. A signboard in front of the snow sculptures with comments by the creators allows visitors to participate in the voting process. The theme of the snow sculptures can be any theme, and there are various kinds of snow sculptures, such as those of local characters, cartoon characters, and snow sculptures symbolizing art, all of which are beautiful and detailed.
This year's theme included characters and people who will be popular in the year 2022, and I took pictures of the ones that left the greatest impression on me.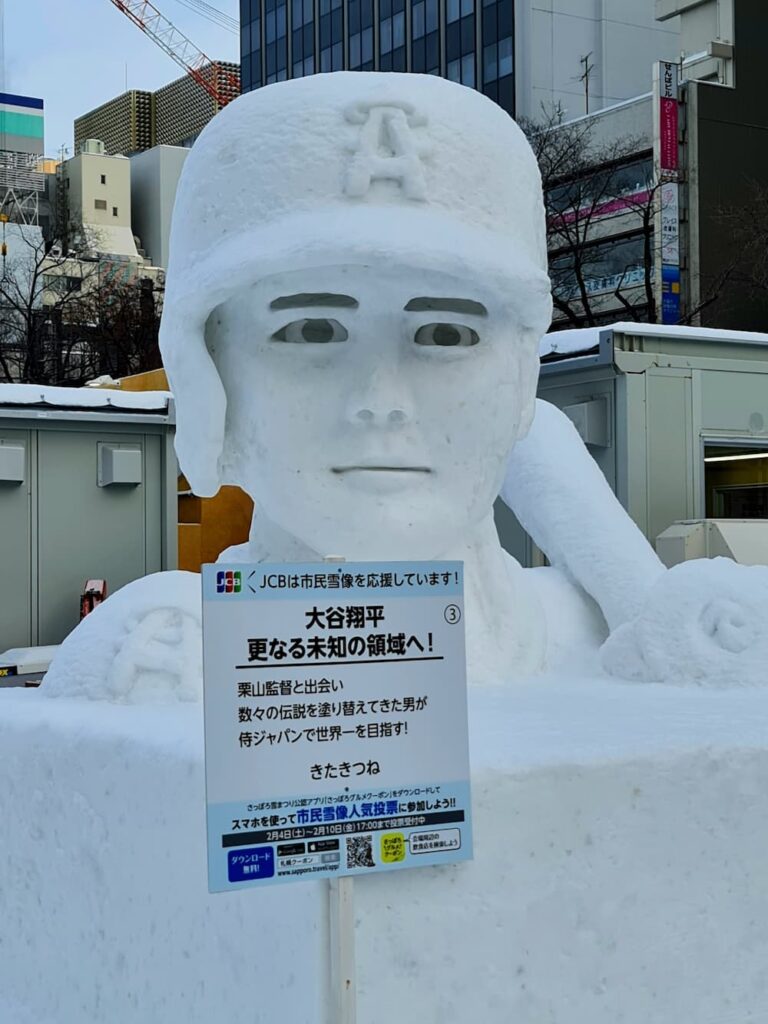 I think the player who personally made the headlines in 2022 was MLB's Shohei Ohtani. He became the first player in 104 years since Babe Ruth to reach double-digit wins and double-digit home runs, and the first player in MLB history to become a pitcher and hitter both in the same season.
If you would like to go to an Angels game live in Los Angeles, please refer to my article about my visit last year.
Watching Ohtani san at Los Angeles!!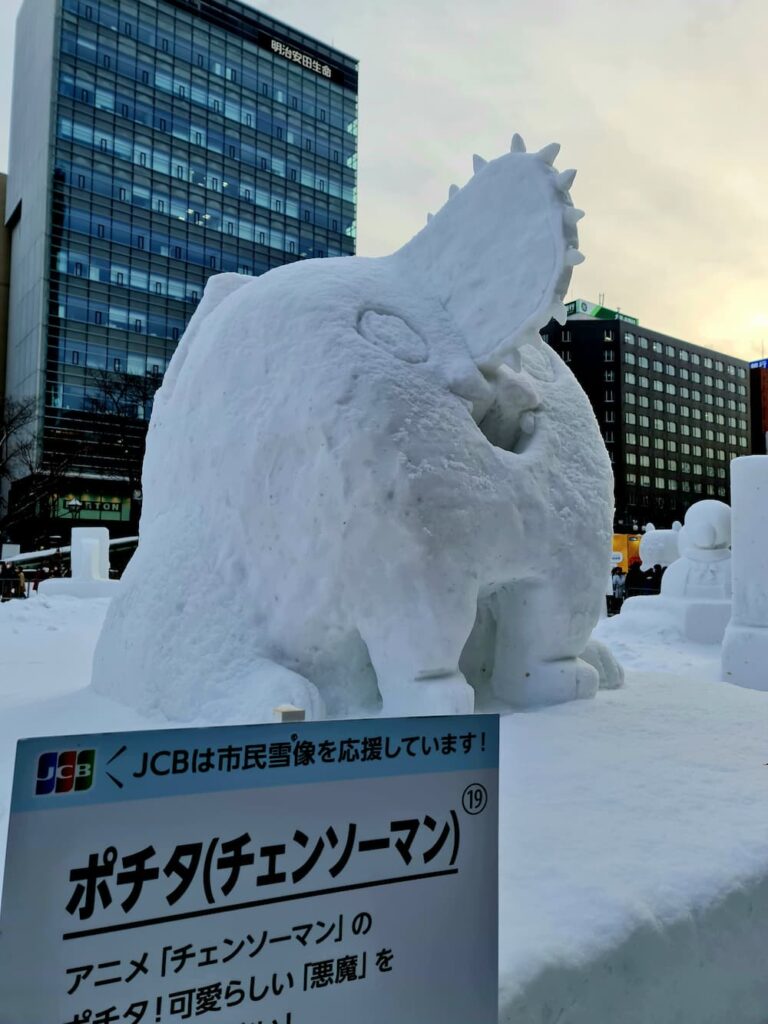 Next is the character Pochita, who boards the anime "Chainsaw Man". This piece captures the characteristics quite well.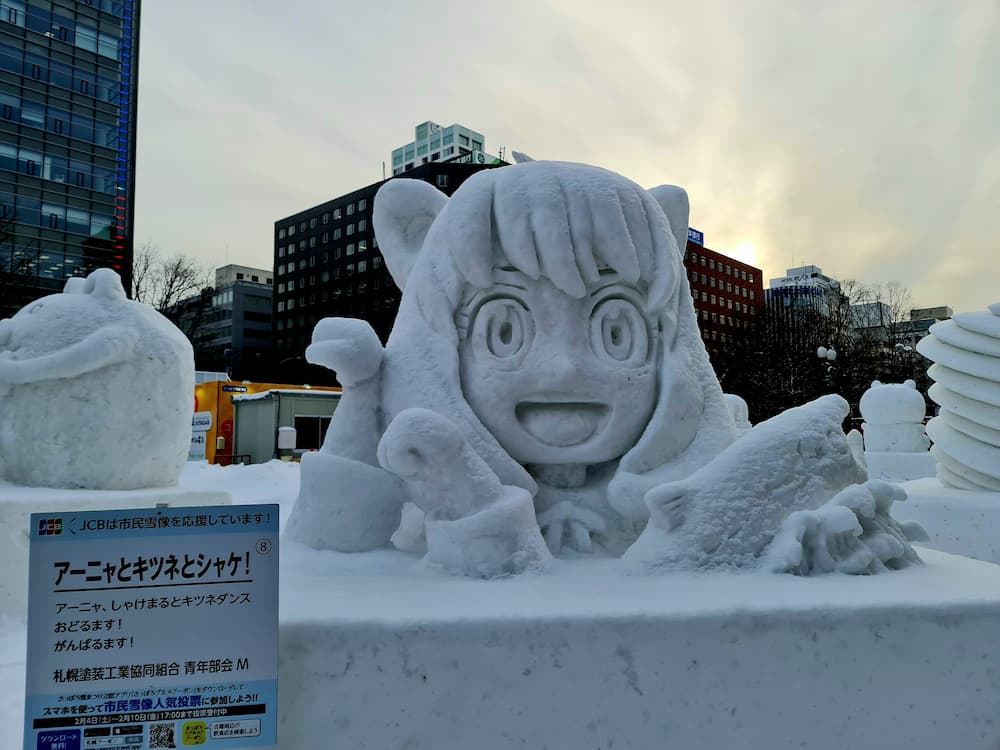 This is Anya, the main character of the Spy Family, which has been made into an anime and is rapidly gaining popularity, and is now going to be performed on stage. They look so much alike! The snow sculpture here was quite popular and people were waiting for a photo. By the way, Anya was not only here.
Street 4 STV square
In 2022, the Cretaceous Period snow statues of a T-Rex and a Kamuysaurus were made in Hokkaido.
The Tyrannosaurus is recognized as the strongest carnivorous dinosaur known to everyone, but the Kamuysaurus was the first fossilized whole-body skeleton of an plant-eating dinosaur excavated in Japan in the Mukawa Town area of Hokkaido. The dinosaur was named "Kamuysaurus Japonicus," which includes the word "kamui," meaning "god" in the language of the indigenous Ainu people.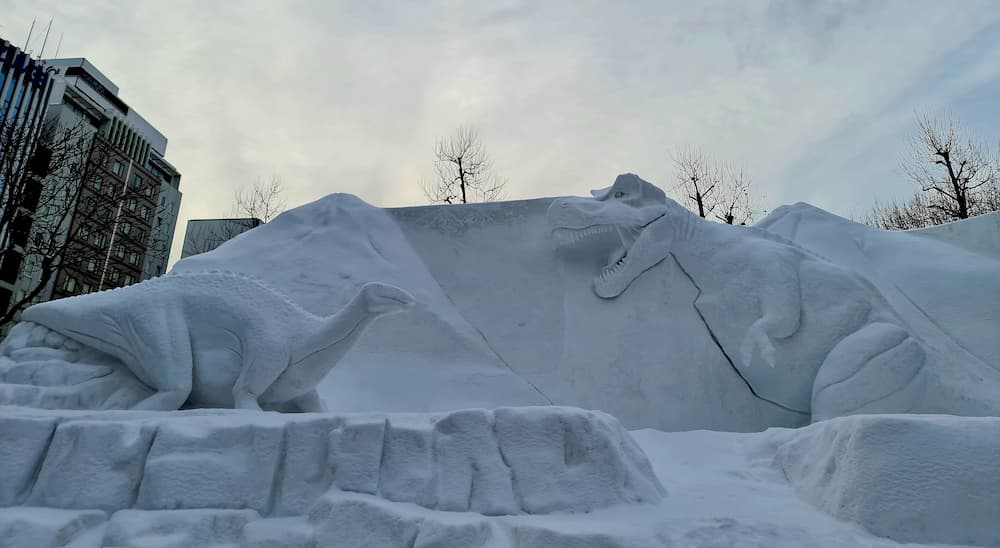 It's very powerful, isn't it?
The fangs and scales are very detailed, and the craftsman's attention to detail and skill are a real hats off to him!
Street 5  Hokkaido Shimbun Newspaper Snow Square
The theme of the next snow sculpture is "Thoroughbreds Running Fast. The Thoroughbred is a breed of horse that was created as a racehorse in England after years of breeding and improvement. This snow sculpture expresses the galloping of thoroughbred horses.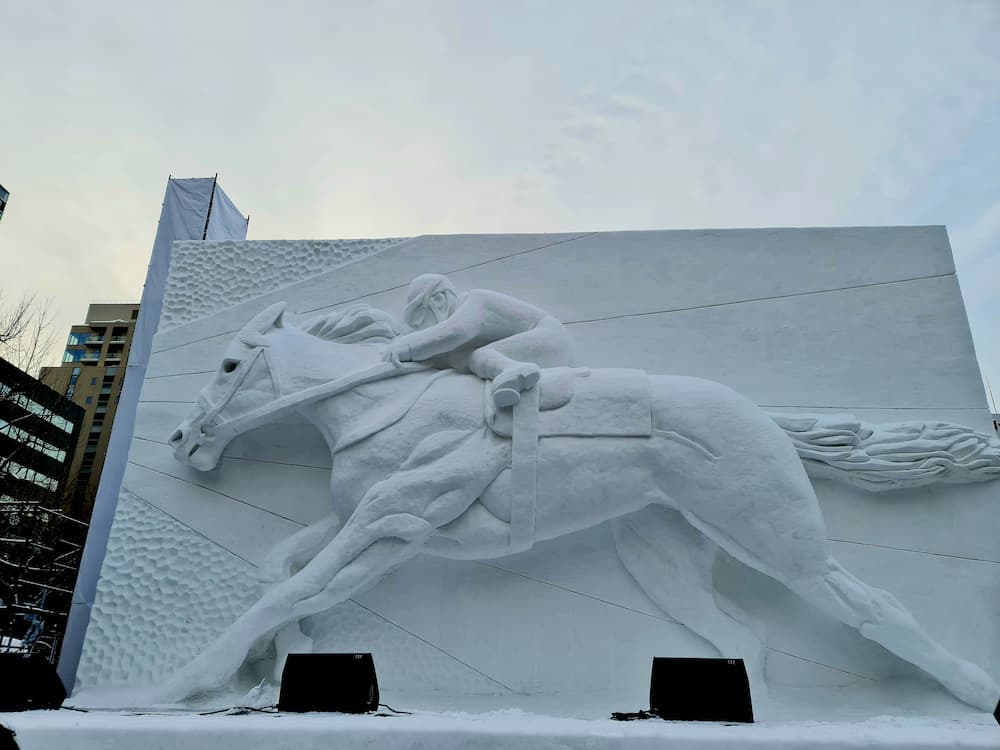 At night, you can see a 3-minute projection mapping, which allows you to see more of its fast pace.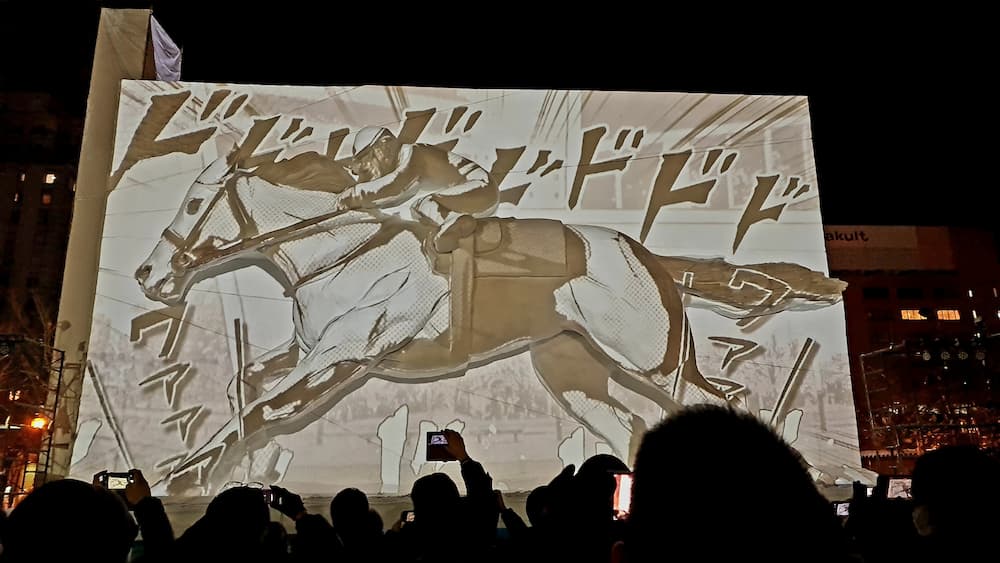 Street 6  Citizens' Square
There are two small snow sculptures, a peddler, and a rest area here.
These are the Yu-Gi-Oh snow statues, but now they have only completely different characters and monsters.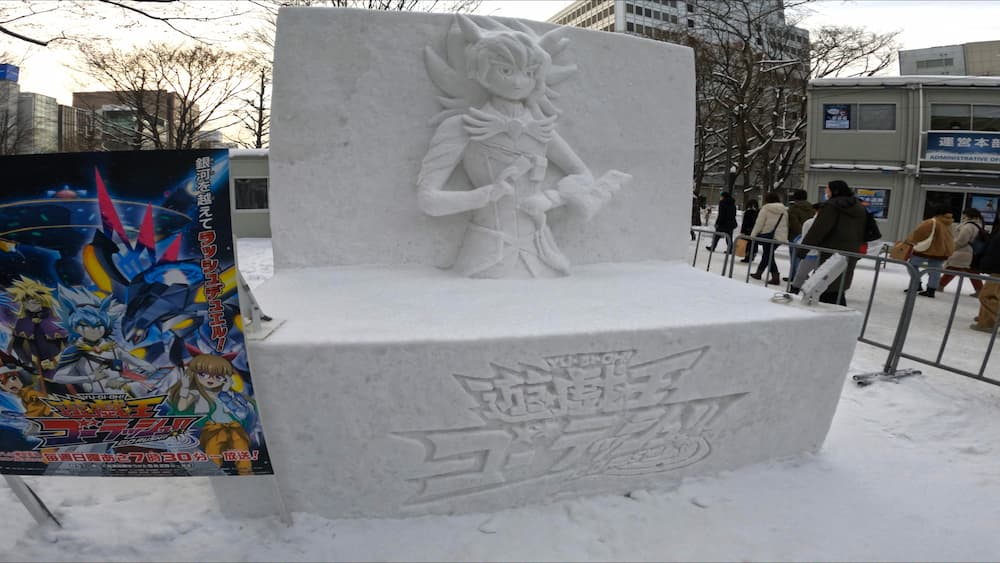 Street 7 HBC square
On Street 7, you can see historic building Embley House , the winter home of the Nightingale family since 1825.
The Sapporo Snow Festival will be held for the first time in three years due to COVID-19, and the HBC has created this theme to thank all healthcare professionals who are fighting the global epidemic. It is great to see that people in Japan and abroad are becoming more accessible to the public.
However, there was also a snow sculpture here. They are "Hero Academia" and "The Bride of the Fifth Estate," which are popular in manga and anime.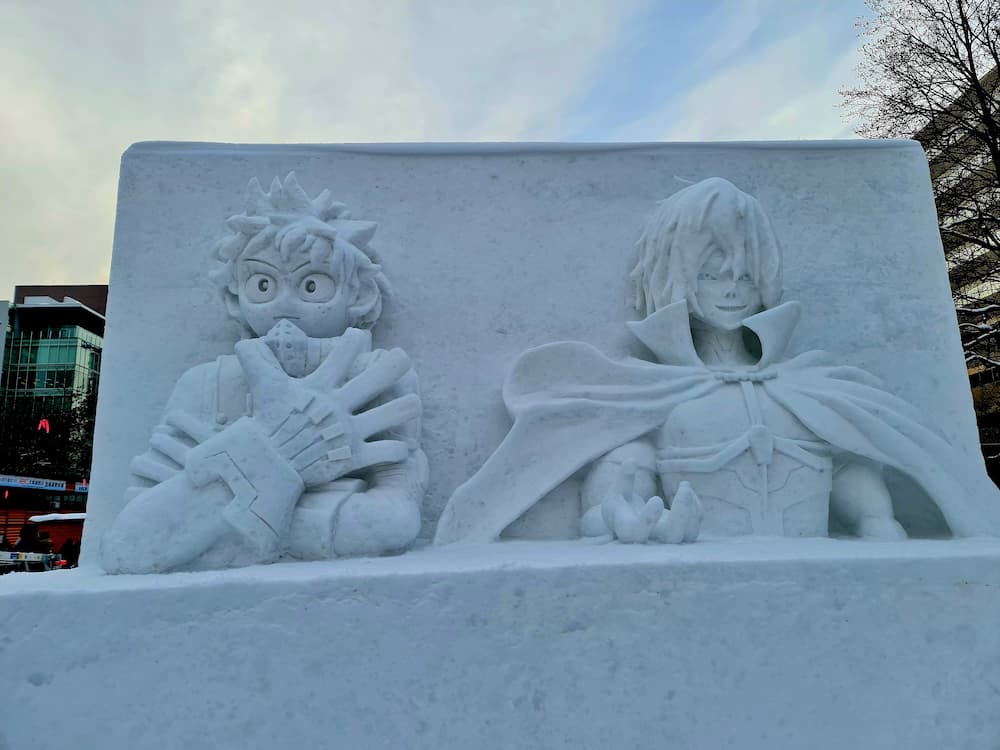 Is it Deku, the hero, and Shigaraki, the villain?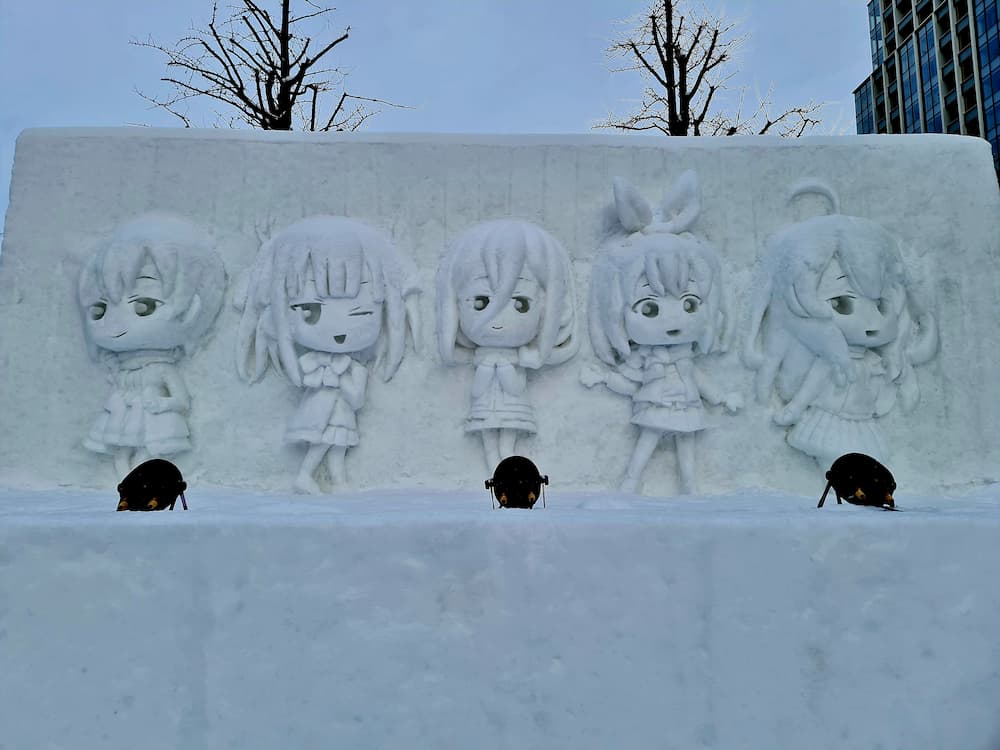 These five female characters look like quintuplets. Can these fans recognize them all?
Finally, come to the main Embley House.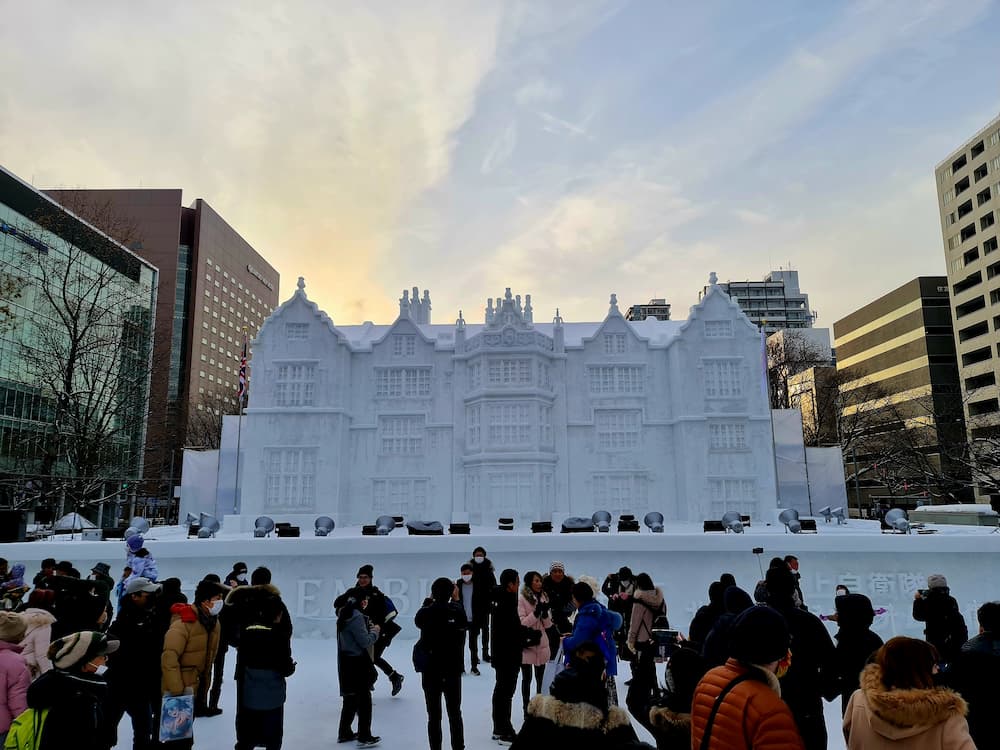 Like the large snow sculptures in the other plazas, it's easy to see how big they are.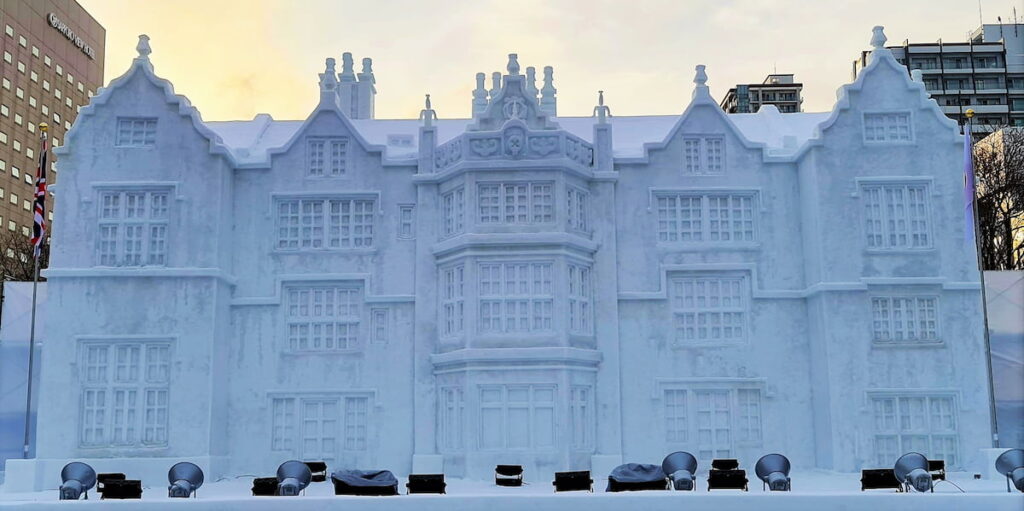 It is so precisely crafted that it looks as if you could walk right into it. Projection mapping is also performed here at night. During the projection mapping, it is better to move early to get a good position for taking photos and videos because of the large number of people. We arrived late at Embley House and had to take pictures from far back.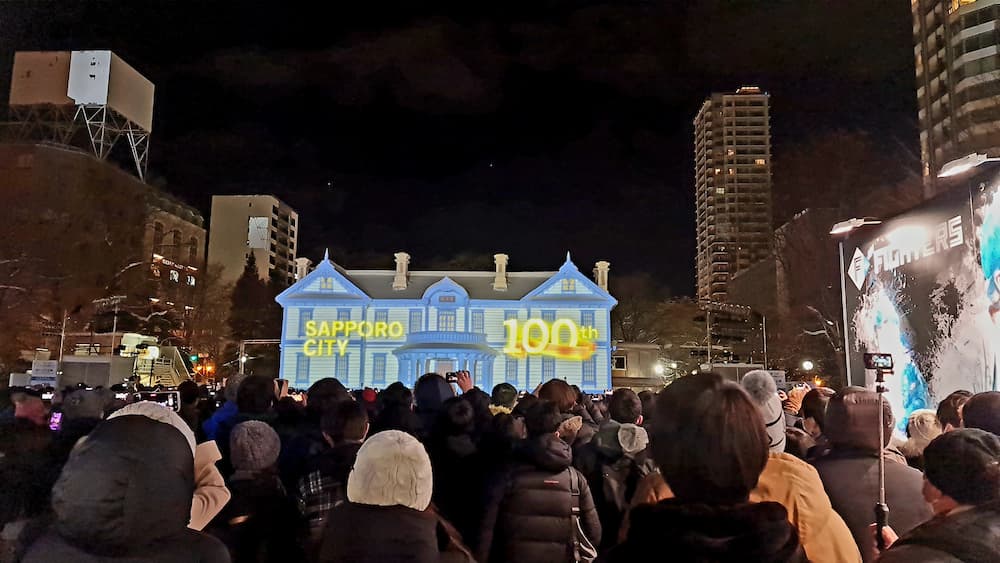 Seems that Sapporo City will celebrate its 100th anniversary in 2023.
As a side note, there is a snow slide here, although only children can slide on it. Between you and me, I wish I could have gone down it as an adult…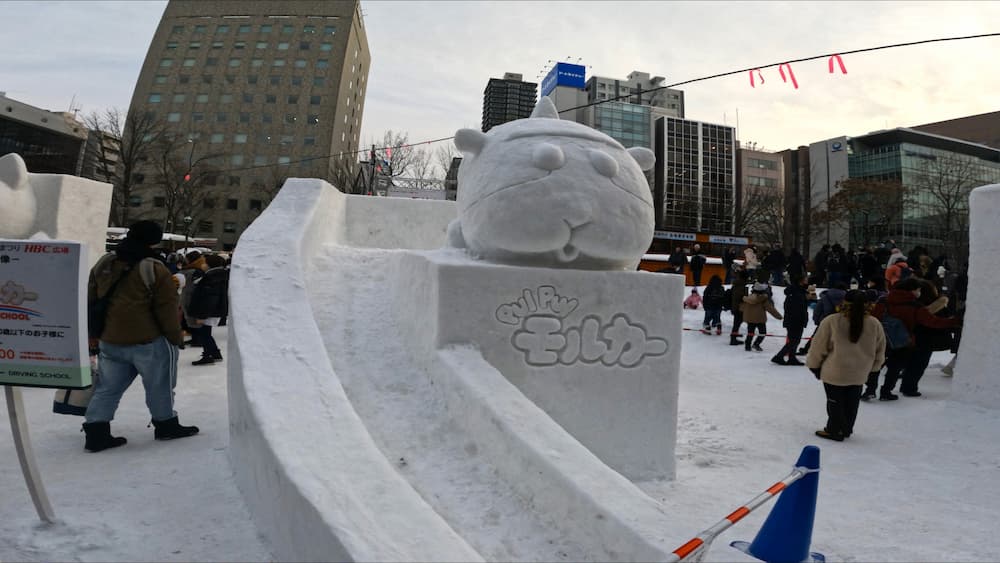 Street 8 HTB snow square
On Street 8, a structure called the Toyohirakan is on display. While based on the American style, the columns of the main entrance and the semi-circular balcony are in the European style, and the building was designated as a National Important Cultural Property in 1964 as a beautiful building that shows various styles of technology in a single structure.
This snow sculpture of Toyohirakan is made by a unique technique known as the "ice block method," in which small parts made of snow are pasted together to represent Toyohirakan.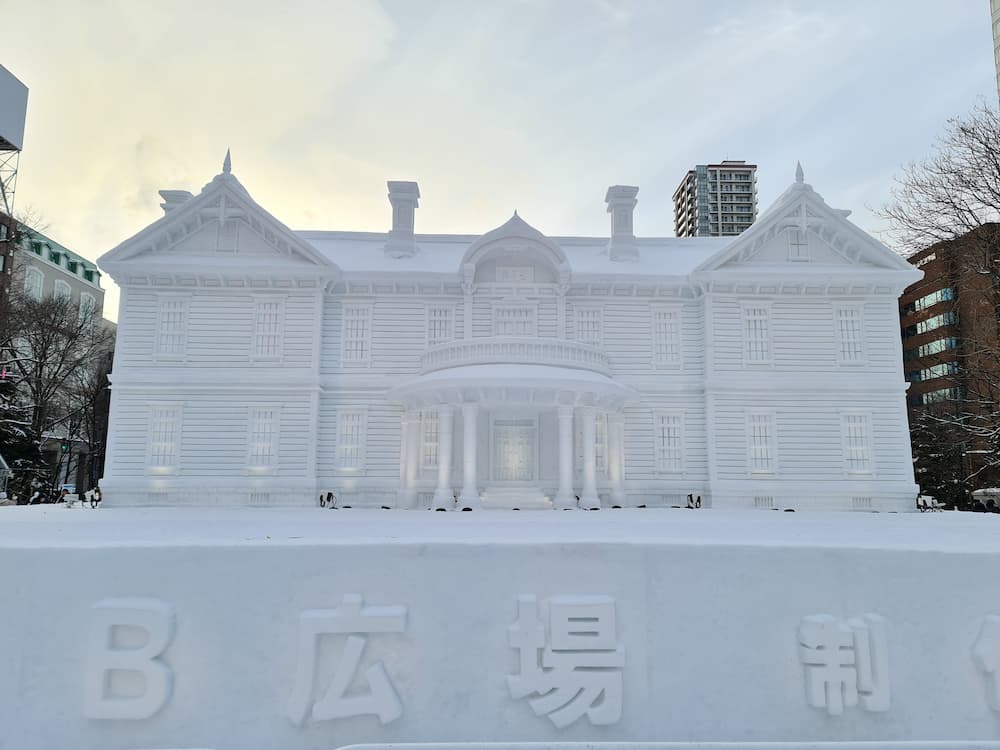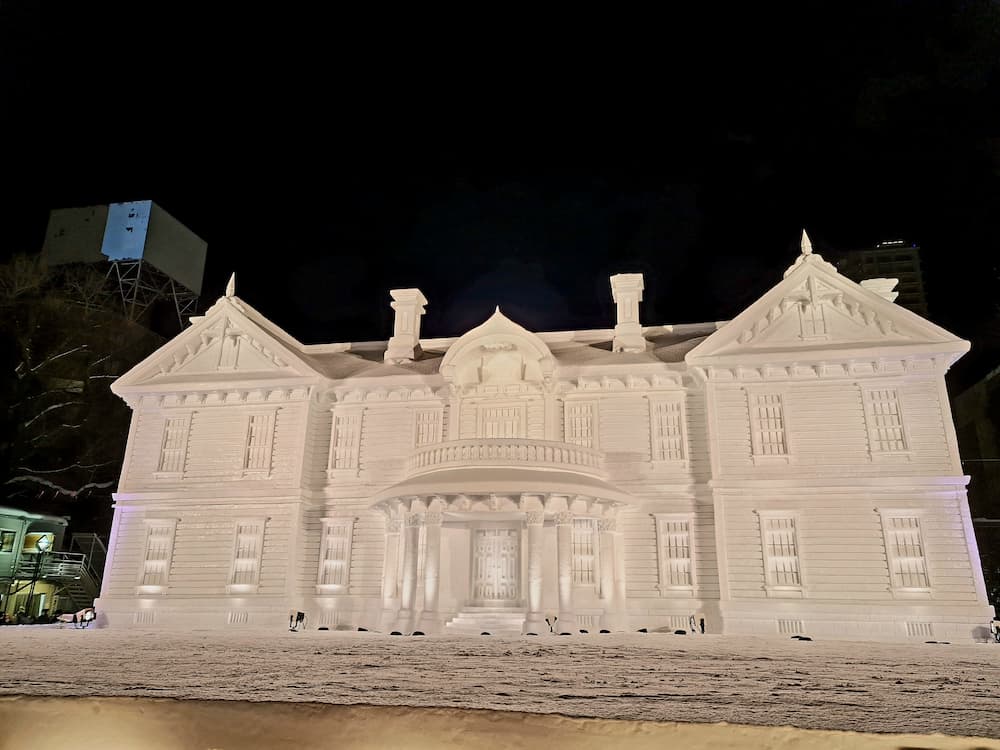 Street 9丁目 citizen's square
You will see many small snow sculptures similar to those in Street 3.
You can participate in voting for the citizen's snow sculpture from street 3 and street 9.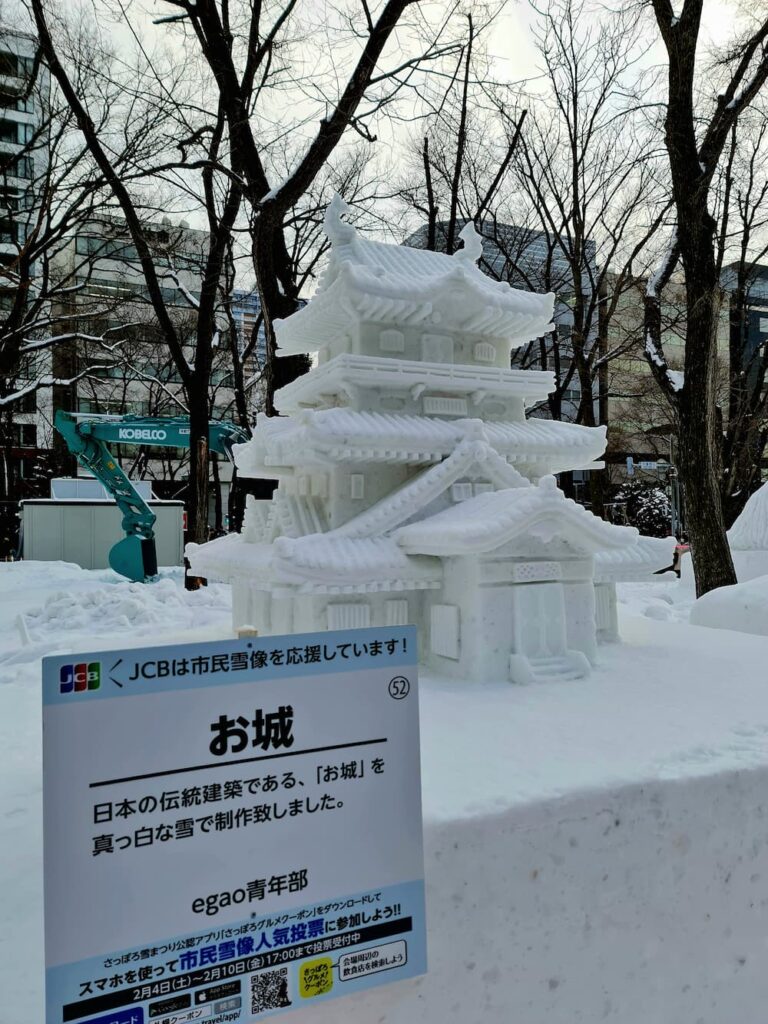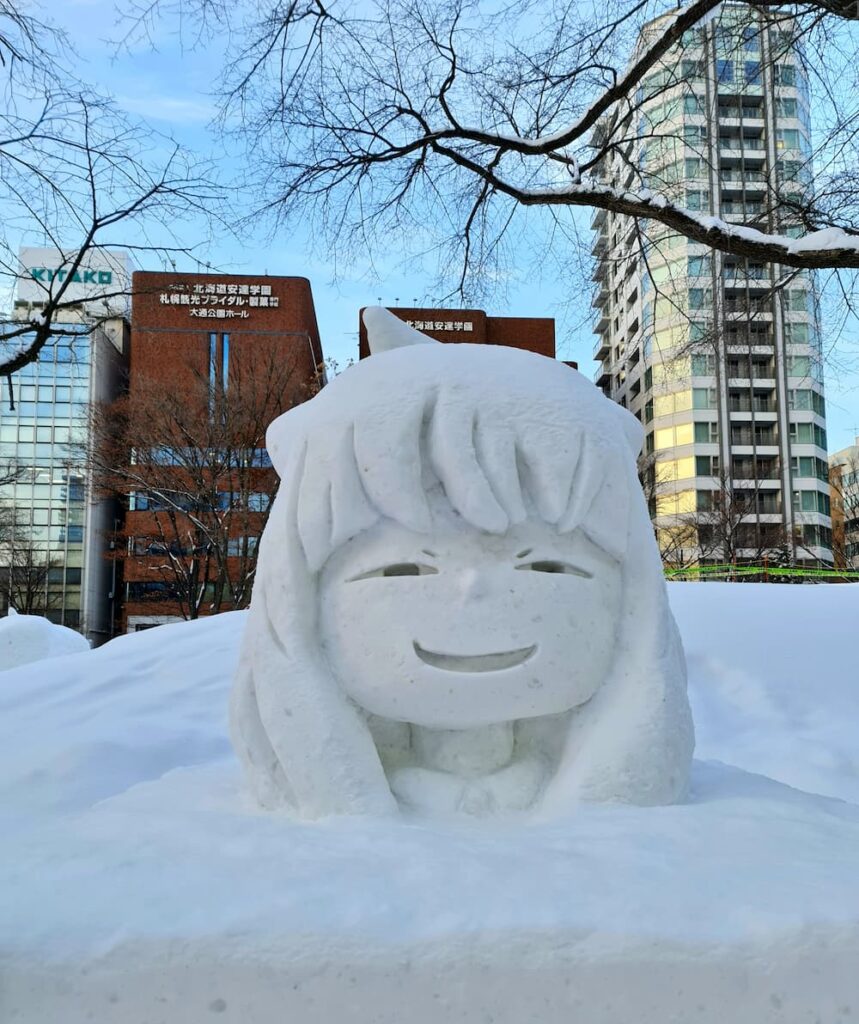 It's Anya, the main character of the spy family again. Next is the familiar face that says, "Hmph." (Laughs)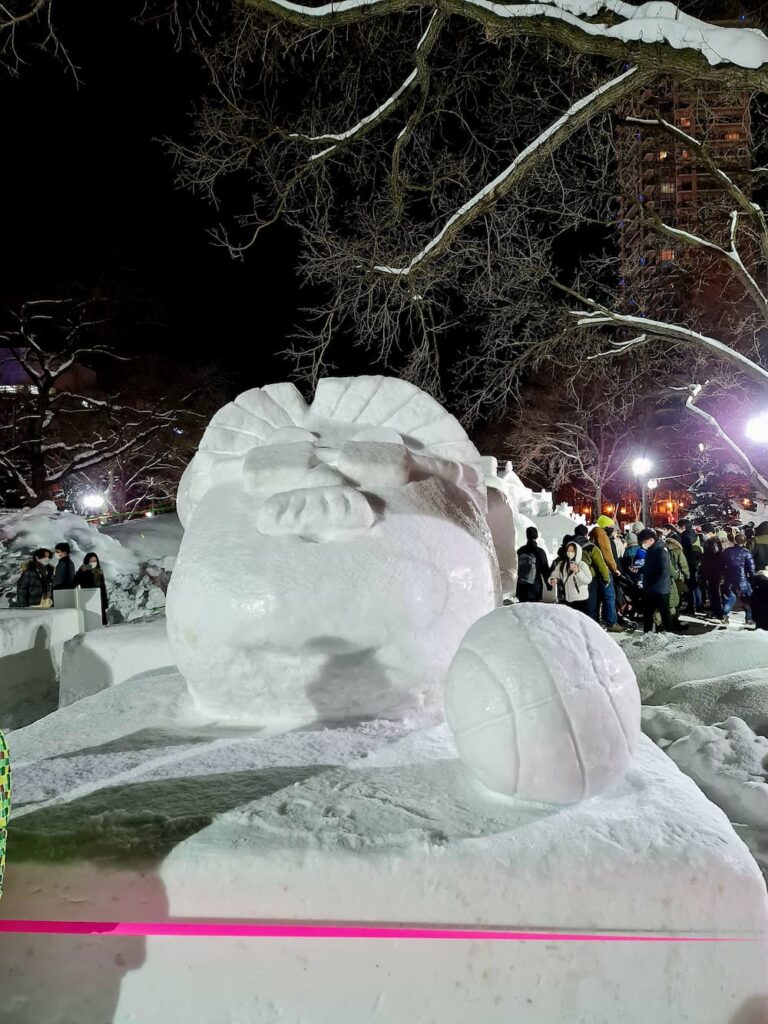 This is Anzai Sensei from the basketball manga "Slam Dunk" It is fresh in my mind that a Slam Dunk movie was released in 2022. I went to see it myself, and it is cool!
Street 10丁目 UHB family land
The last is street 10, where a large snow sculpture is on display; in March 2023, HOKKAIDO BALLPARK F VILLAGE, an area that includes the new stadium of the Hokkaido Nippon-Ham Fighters, will open and become as a new symbol of Hokkaido.
The features of Shinjo, so called Big Boss is also well captured.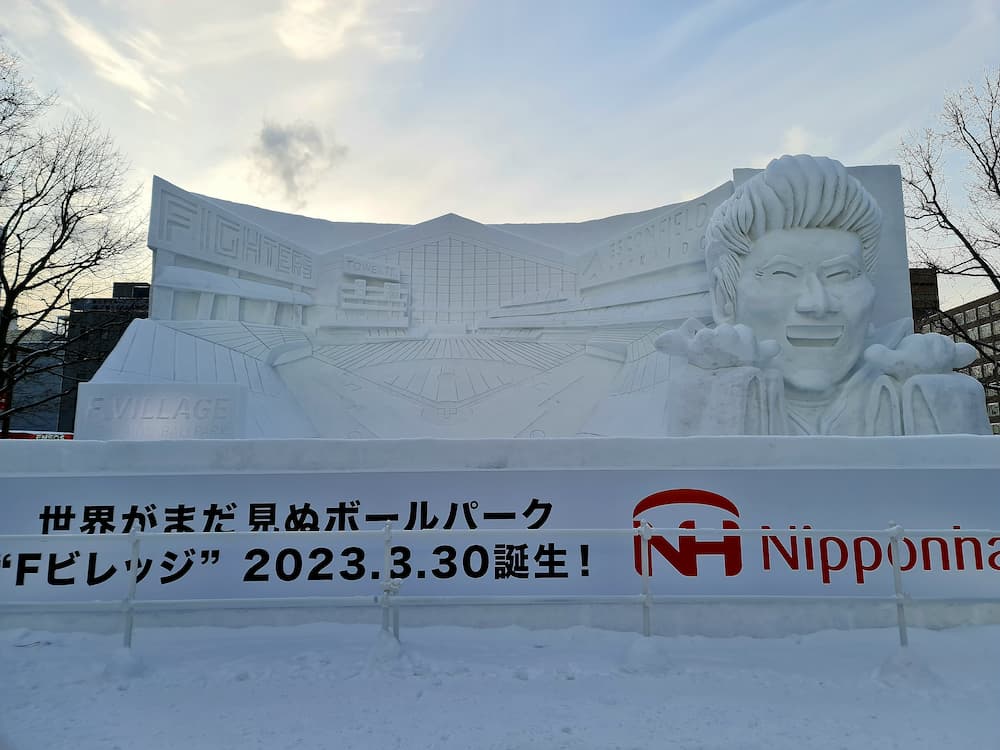 GoPro's sub-zero battery works great. When using a normal battery, the power would turn off on its own even if the battery capacity was sufficient, but with the sub-zero specification ENDURO, I was able to use it without any problems.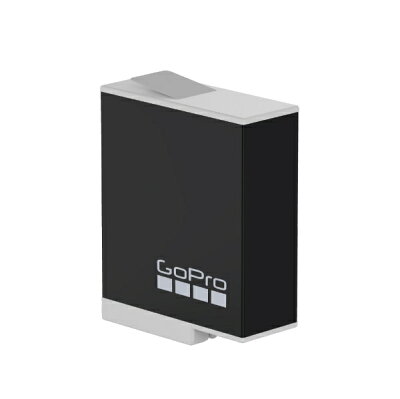 楽天ビック(ビックカメラ×楽天)
¥5,500
(2023/04/09 13:49時点 | 楽天市場調べ)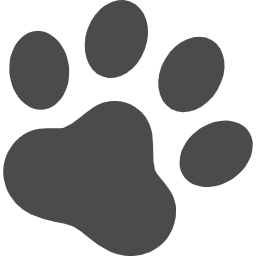 ポチップ
Highlights of Susukino square
Under the theme of "Enjoy the Ice," the Susukino square features large and medium-sized ice sculptures glowing in the neon lights of "Susukino" and offering a fantastic view of the ice.
Although the area is smaller than Odori Park, with an area of almost 100 meters, if you go there on the day the event starts, you can see artisans creating ice sculptures from scratch.
There are four main blocks, divided into the following categories
A block Ice sculpture with fish, oversized ice sculpture
B block Large and small ice sculptures
C block Ice Sculpture Competition
D block Character ice sculpture
The Clock Tower ice sculpture was the first thing I saw as I walked from Odori Park. It is a magnificent sculpture of a popular tourist spot and the symbol of Sapporo.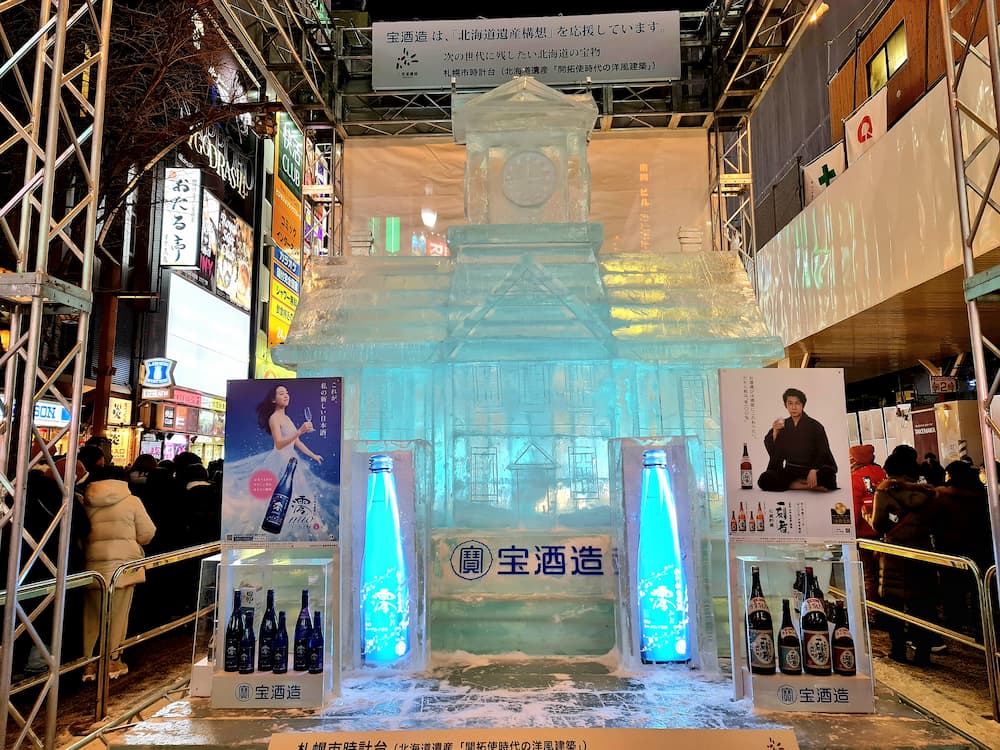 Right next to it, the ice aquarium provided by Sushi Zammai attracted a lot of attention. They seem to exhibit something chic like this every year.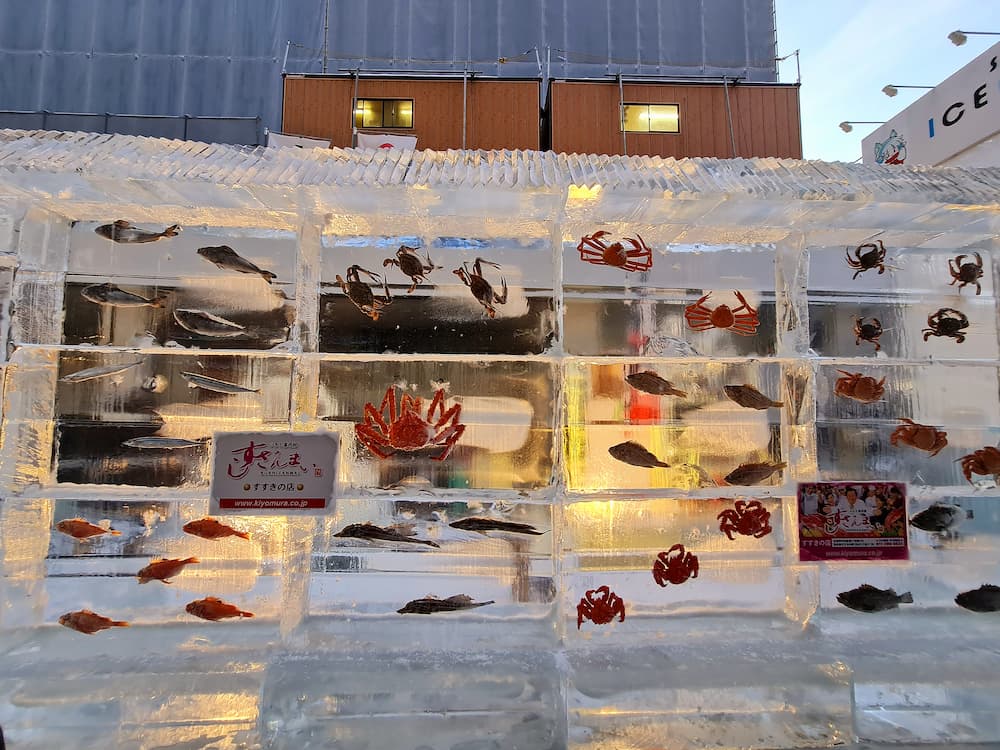 Striped eagles are called Hokkaido's snow fairies, and although it is extremely difficult to find the real ones and I have only seen them on TV, I can't believe that they are made mainly with chainsaws in such fine detail.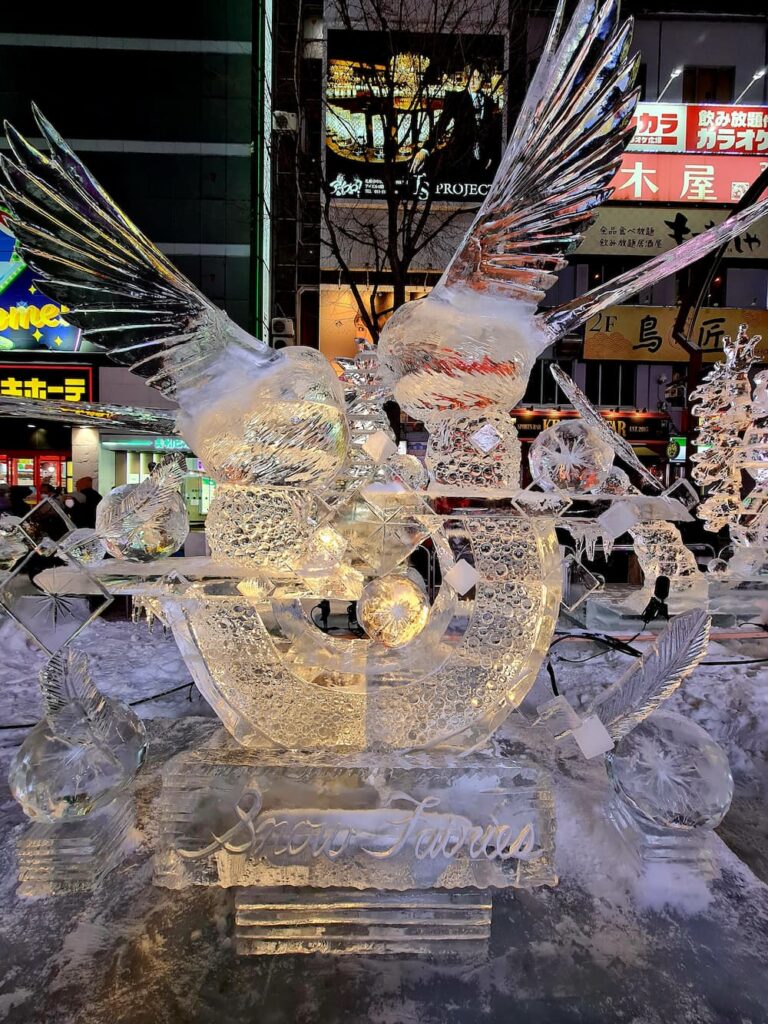 This is the middle of the ice sculpture competition. Since I was there on the first day of the Sapporo Snow Festival, I was able to see the process instead of the finished product.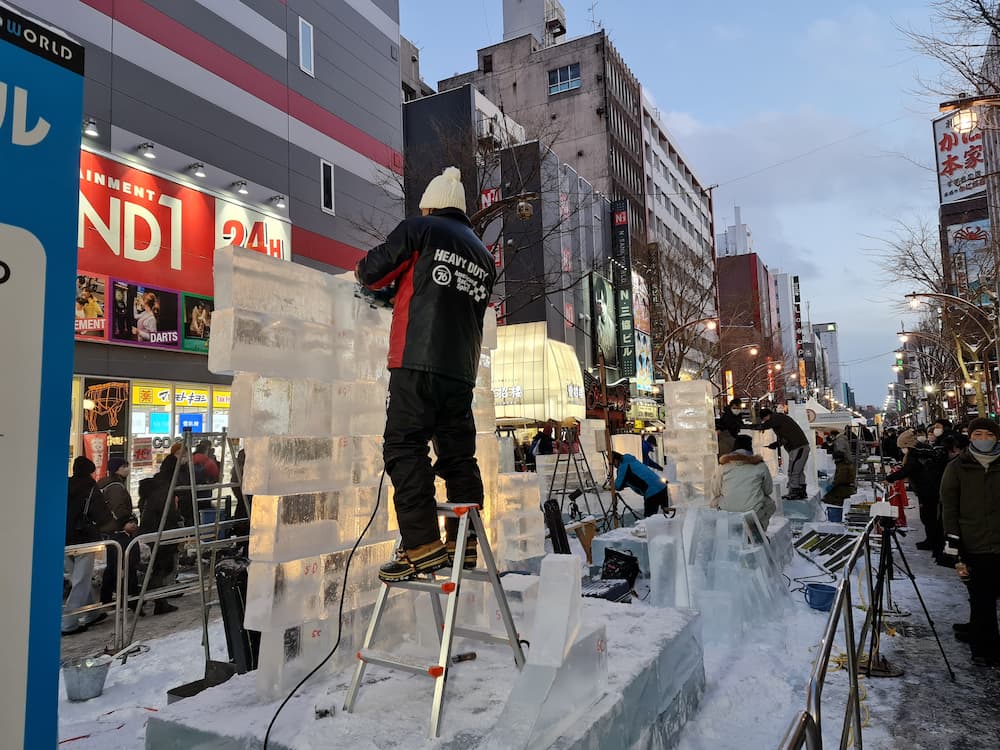 After few hours ….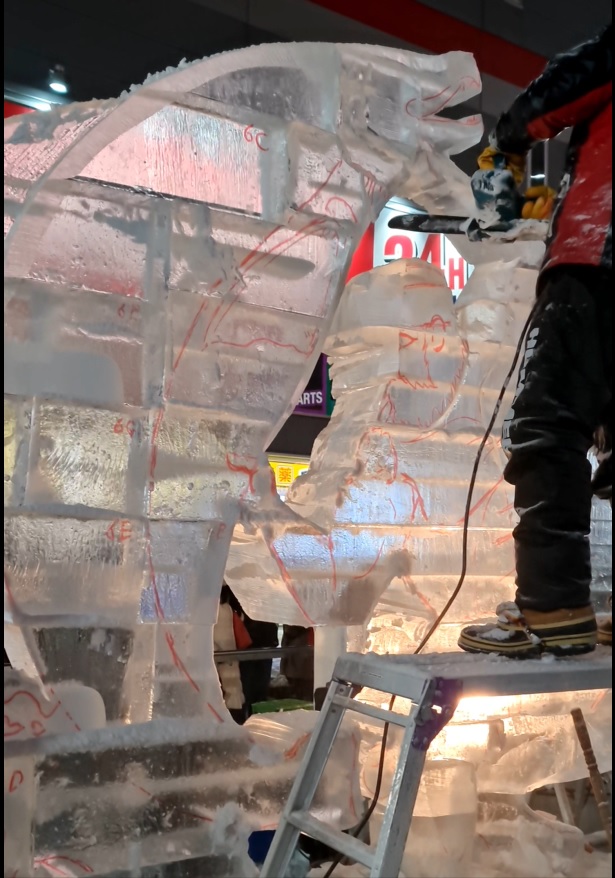 Is it a fisherman catching a fish like a big tuna?
Even the smoking area here is made of ice (lol) I was expecting to see an igloo , but there was no igloo there.
Next time I hope to go on the last day to see this art breaking event.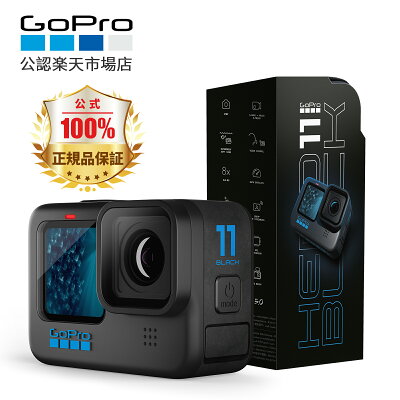 GoPro公認楽天市場店
¥62,800
(2023/06/04 20:00時点 | 楽天市場調べ)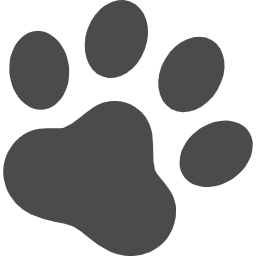 ポチップ
Summary
At the Sapporo Snow Festival, you can see snow and ice statues of what is in season at that time of year, and they are insanely detailed!
The oversized snow sculptures are impressive in scale! Projection mapping at night is also wonderful!
Although not mentioned in the article, Sapporo Miso Ramen is great in the cold winter season! Be prepared for a long queue!
It was my first and longed-for Sapporo Snow Festival and it was a lot of fun. I hope to go again next time.
I hope this article will be helpful.