Yamagata's hot springs are Zao Onsen, Ginzan Onsen, and Tendo Onsen, but Kaminoyama Onsen is also small in size but has excellent hot spring accommodations.
Actually, I wanted to stay at Zao Onsen or Ginzan Onsen, but there were no vacancies even I try to book two months in advance, so I decided to stay at Kaminoyama Onsen. I am a hot spring lover, but I did not know much about it because of my meagerness, but I was very satisfied with the result. I think Kaminoyama Onsen may be a little disadvantageous in terms of access to tourist attractions, but it is totally worth staying there, so I hope this will be a good reference for your hot spring trip in Yamagata.
In winter in Yamagata, the snow monster (Juhyo) in Zao and the gas lamps of Ginzan Onsen and the scenery of the hot spring resort town are definitely not to be missed. Please take a look at the latest updated information.
Japan's winter spectaculars in Yamagata. A classic, but best one!
Kaminoyama onsen hostel "Koyo"
This article is useful for the person who
loves hot spring
wanted to visit the classic Zao, Tendo, and Ginzan Onsen but could not find accommodations
loves Yamagata prefecture
Origin of Kaminoyama onsen
It is said that the origin of the prosperity of Kaminoyama Onsen as one of the three Ou Rakugo areas dates back to 1458, when Gesshu, a monk from Kijima in Hizen Province (present-day Saga Prefecture), discovered a hot spring near the current location of Yumachi.
Since then, a series of hot spring groups such as Arayu, Takamatsu, Hayama, Kawasaki, and Kanabei have sprung up, and the area has become widely known for its scenic beauty and special effects for recuperation after illness.
It is said that the reading of Kaminoyama also comes from the fact that this area was called Kaminoyama (上山) from the upper Yamagata in Yamagata at that time.
Kaminoyama Onsen Station is the nearest station, but access is surprisingly convenient as it is only about 12 minutes from Yamagata Station by regular train. Local trains at Yamagata Station only run a few times an hour, though.
For your information even Shinkawan will stop at Kaminoyama station.
Basically, you will be picked up and dropped off at the hot spring resort hotel. Pick-up times are fixed, but at the hotel Koyo where I stayed, if you call, they will pick you up at the station even during nighttime hours.
Kaminoyama onsen hostel "Koyo"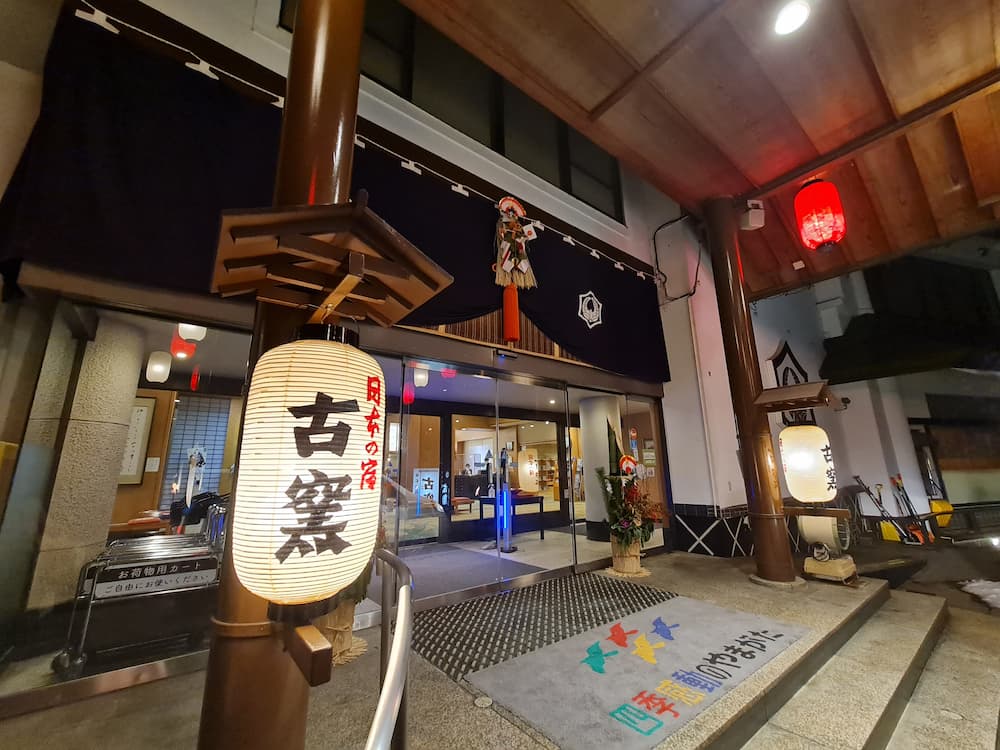 The staff welcomes you at the splendid entrance. You can have a free welcome drink, such as coffee, café latte, or green tea latte.
There are several types of rooms, some with an open-air bath and some with a half-open-air bath, and this time we stayed in a guest room with a half-open-air bath on a plan that included breakfast. The waiting area is spacious and relaxing.
Guest Rooms
I was quite curious about what this half-open-air bath was.
The room was a combination of a Japanese-style room and a Western-style room, with a Japanese-style living room and a Western-style bedroom.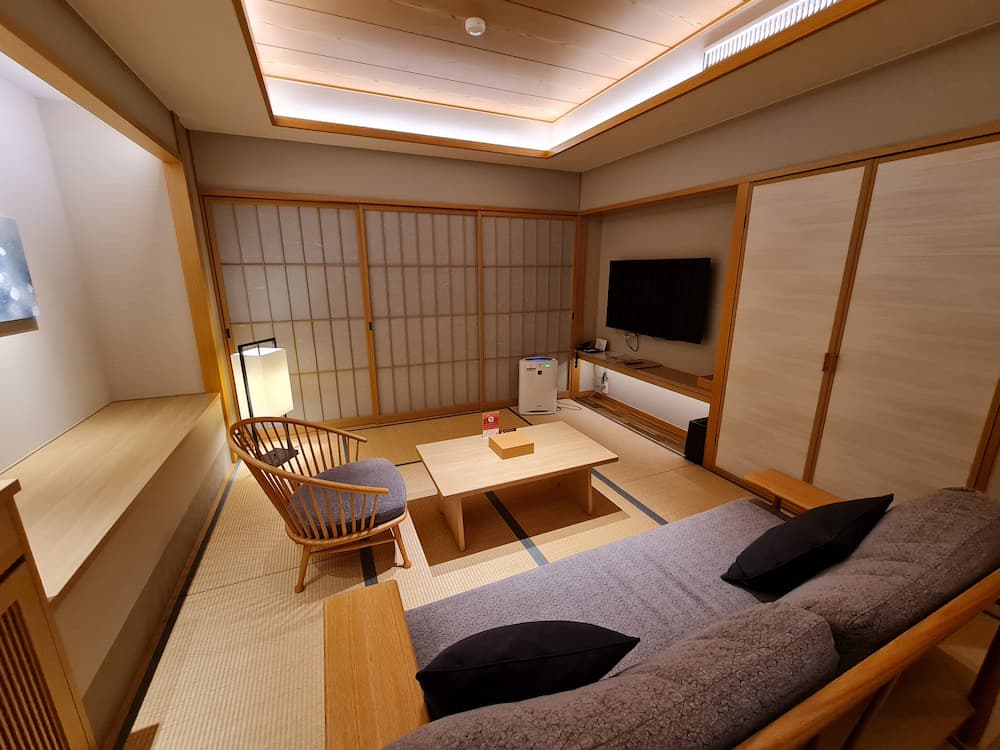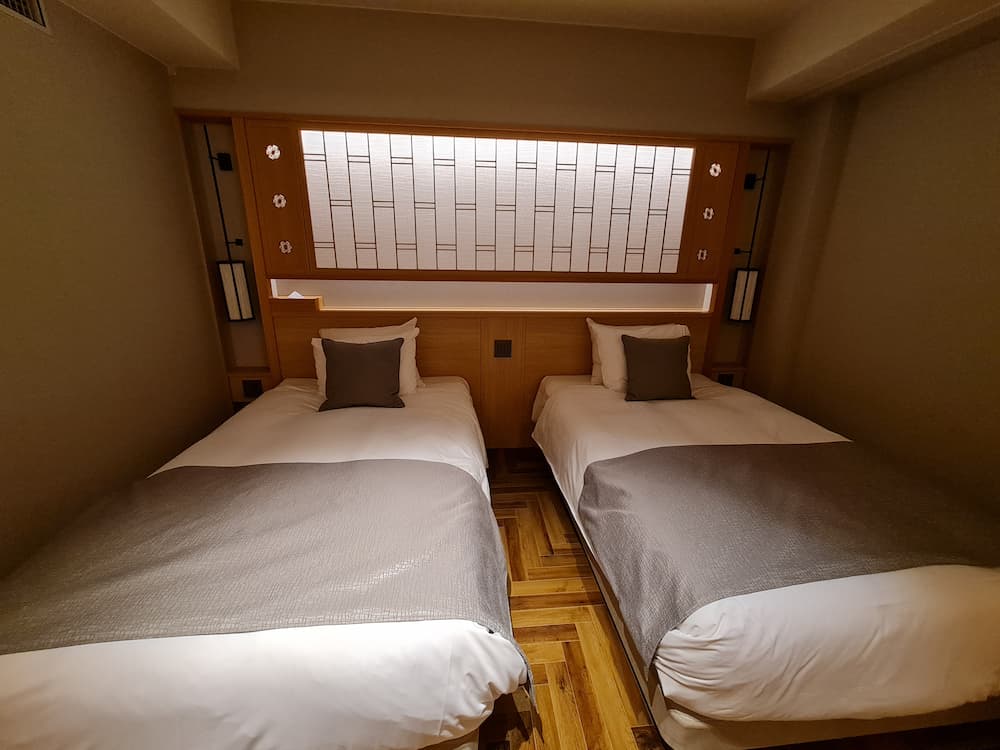 From the room I was not able to see Mt.Zao, but if you request it, you can get a room with a view of Mt. Zao (the price is higher than here). Even without Mt.Zao but you can see snow around there it will make you exciting.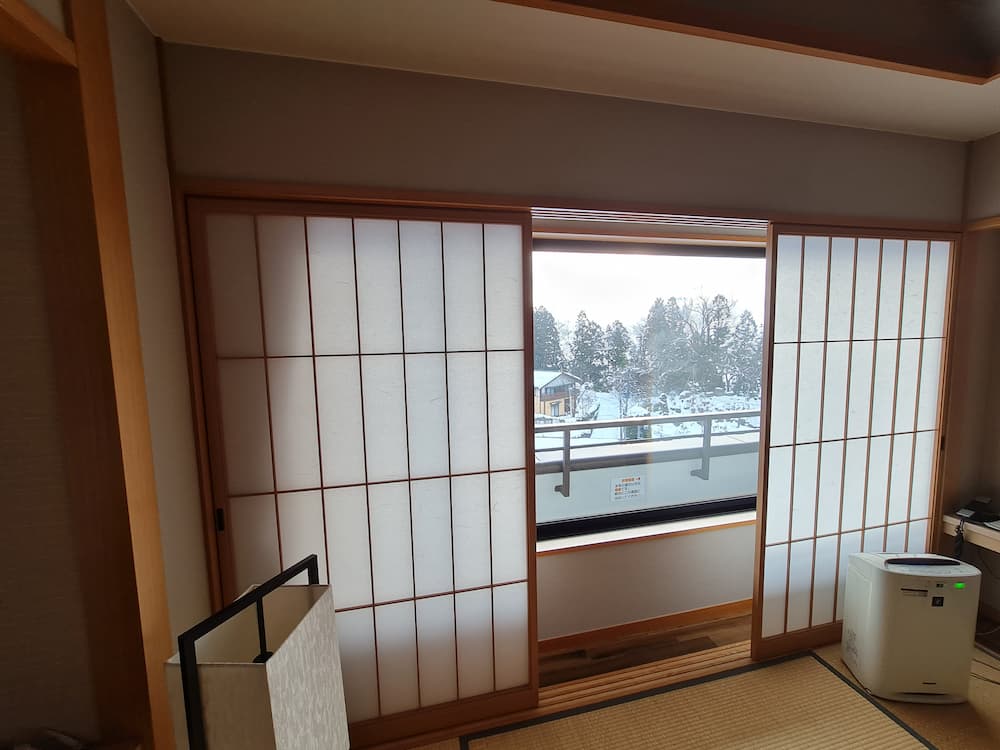 Next is the half-open-air bath I was looking forward to. And I understand the meaning of it, it seems that you can create an open-air bath by opening and closing the windows! It was interesting idea. The wind was strong at night, but when I entered the bath in the morning, the wind had died down, so I was able to relax in the bath while feeling the cold wind peculiar to open-air baths.
The hot spring water here is free-flowing and the water is endlessly hot. There is a faucet attached, and if the water is too hot, you can adjust the temperature of the water by adding water. The water temperature was hot, so I added a little water. The quality of the hot spring water is "sodium, calcium chloride, and sulfate hot spring," which is known as one of the three most beautiful hot springs.
Large public bath and private open-air bath
Besides the open-air baths in your room, there are three other types of open-air baths at this ryokan.
These are the large baths on the first and eighth floors.
1st floor large public bath
A major feature is the safflower bath in the open-air barrel bath. The name "safflower bath" comes from the fact that safflower from Yamagata was used as a dye in Kyoto in the past, and the name "safflower" still remains today.
There are four types of barrel baths, and basically only one person can be used at once because of the size.
In addition, there is a rare sauna cold-temperature sauna that is only available on the first floor. Please experience the -5°C sauna.
Please note that men and women switch after noon and in the morning.
8th floor public bath
The main feature of the 8th floor is the view from the rooftop.
The view changes with the seasons, from the starry sky in summer to the snowy landscape of the Zao mountain range in winter. Unfortunately, there is no cold/heated sauna here, so those who wish to experience it should go to the first floor.
As on the first floor, men and women switch after noon and in the morning.
Charged private open-air baths
There is one more open air bath that can be reserved for 45 minutes with additional fee. It is recommended to make a reservation as soon as possible if you want to use it, as they are quite popular.
The fee is 2,750 yen on weekdays and 3,300 yen on weekends. You need to go to the front desk 5 minutes before the reserved time to borrow a key, and return it when you are done using the bath.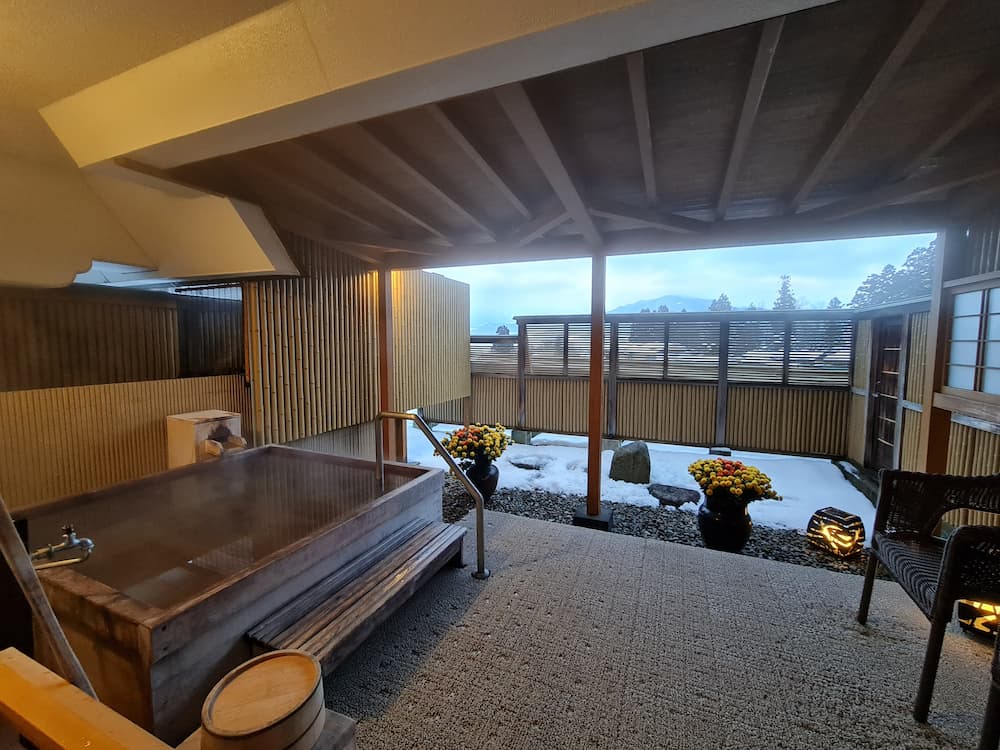 Since there is only one location, you can enter in a fairly quiet atmosphere. There is also a roof, so even if it is raining, you can go in without worry. The temperature of the water was just right.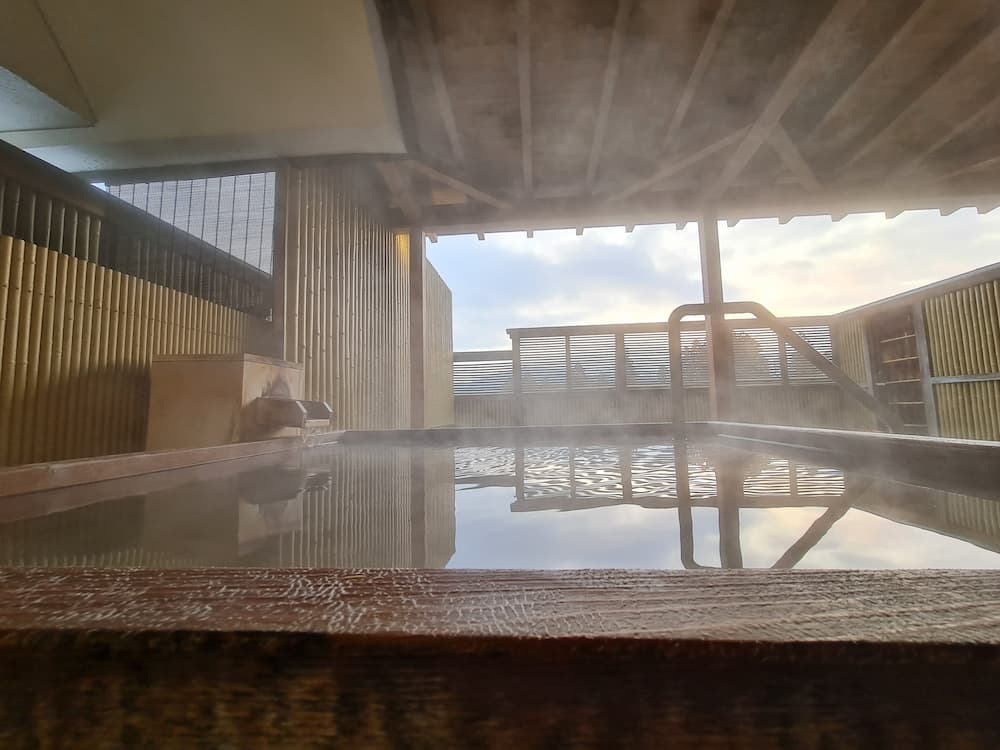 There is a shower room where you can wash your body inside. It is quite hard to wash here in winter (hahaha).
Breakfast area
My plan was including only breakfast so I don't know what dinner was like. Breakfast was a buffet.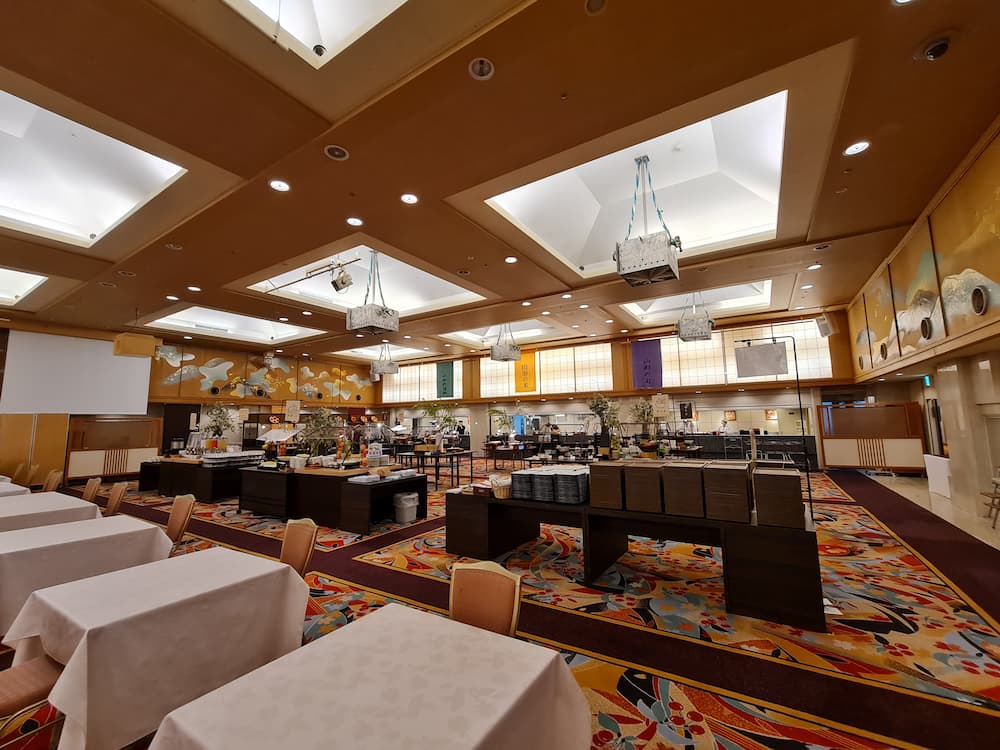 The venue is quite spacious, and you can enjoy a wide variety of food including Yamagata Gourmet. 8:00 is the peak time, but if you arrive at 7:00, you can eat at your leisure. However, some dishes may not be ready yet.
I am a big fan of Yamagata's food "Torichuka" which is Japanese noodle with chicken, very famous food in Yamagata. And another is "Imoni" which is using taro potato will some meet. Of course, you can find them at this buffet, and as for the imoni, you can choose as many ingredients as you like as it is self-service.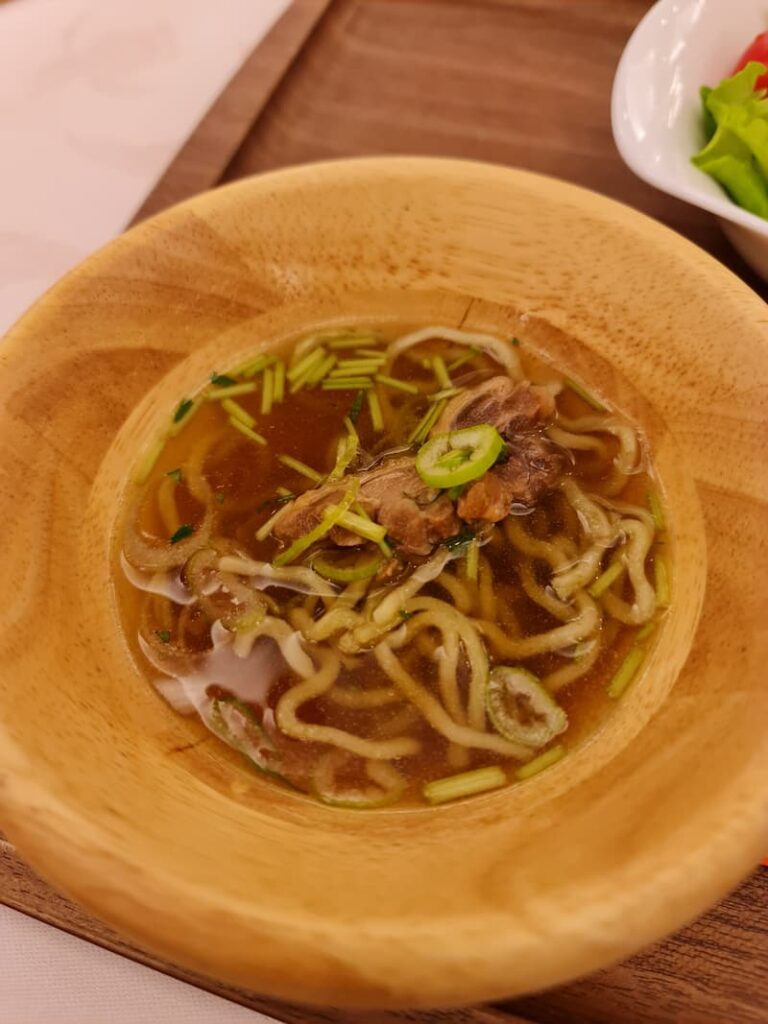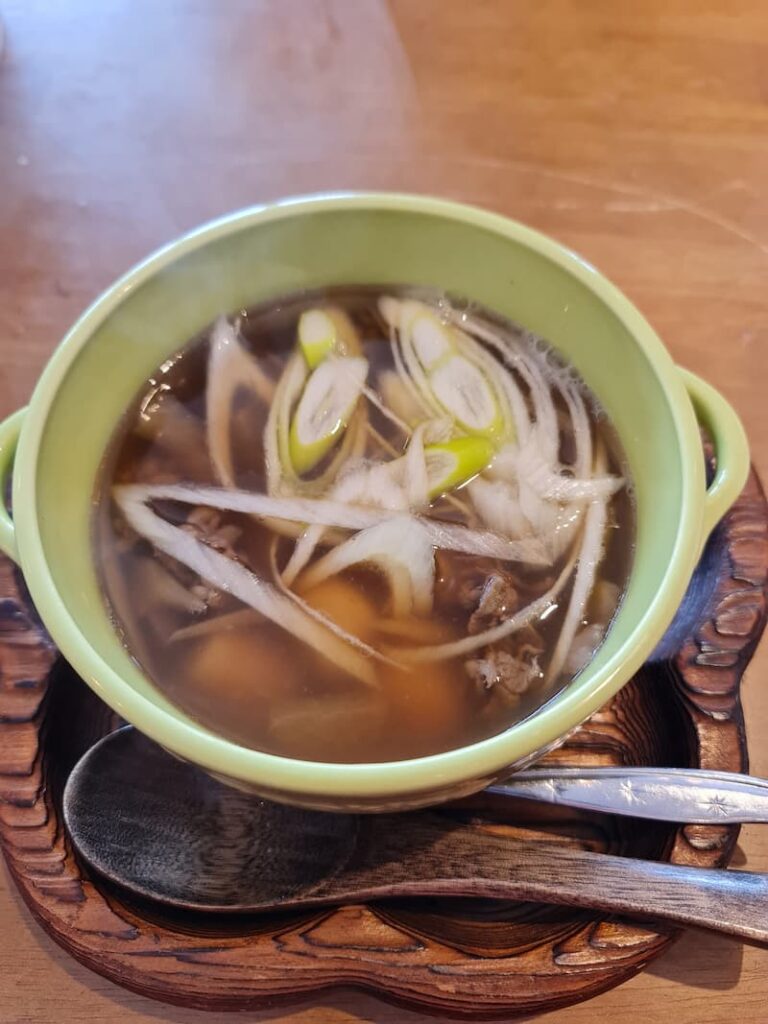 It was a little disappointing that we had to wait for some of the dishes to be ready even though breakfast started at 7:00 a.m., but all the dishes tasted delicious and the hot ones were of course warm.
The rice was made from Yamagata's famous "Tsuyahime" rice, which is a big plus. Of course, I bought some to take home.
Koyo's activity
At Kogama, you can have an unusual experience. It is the Rakuyaki pottery experience.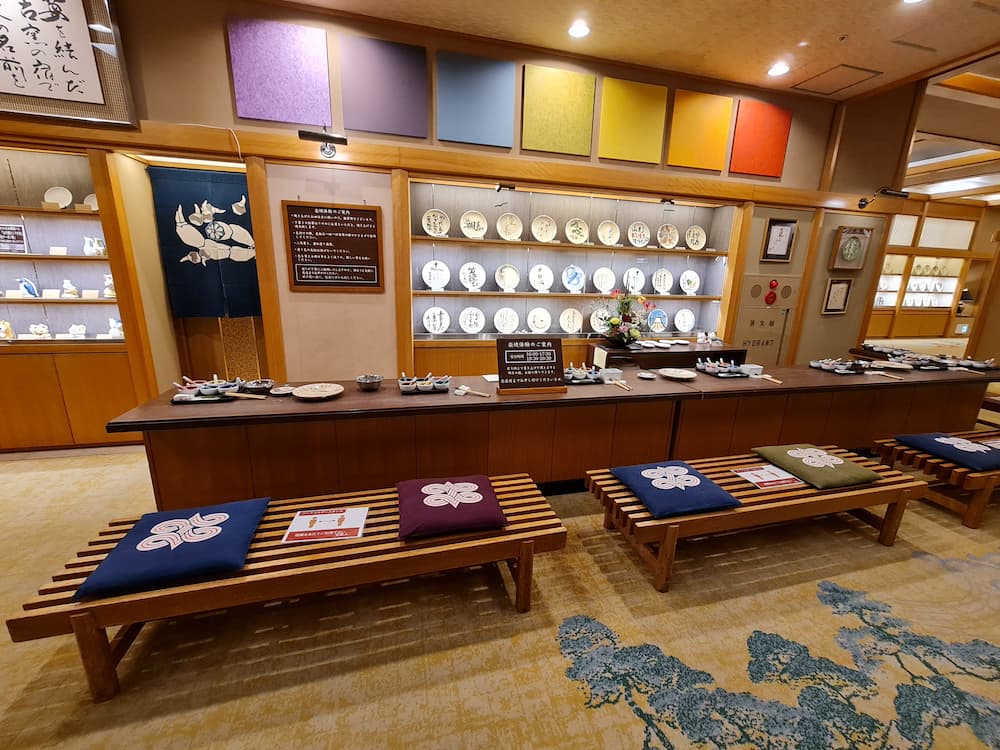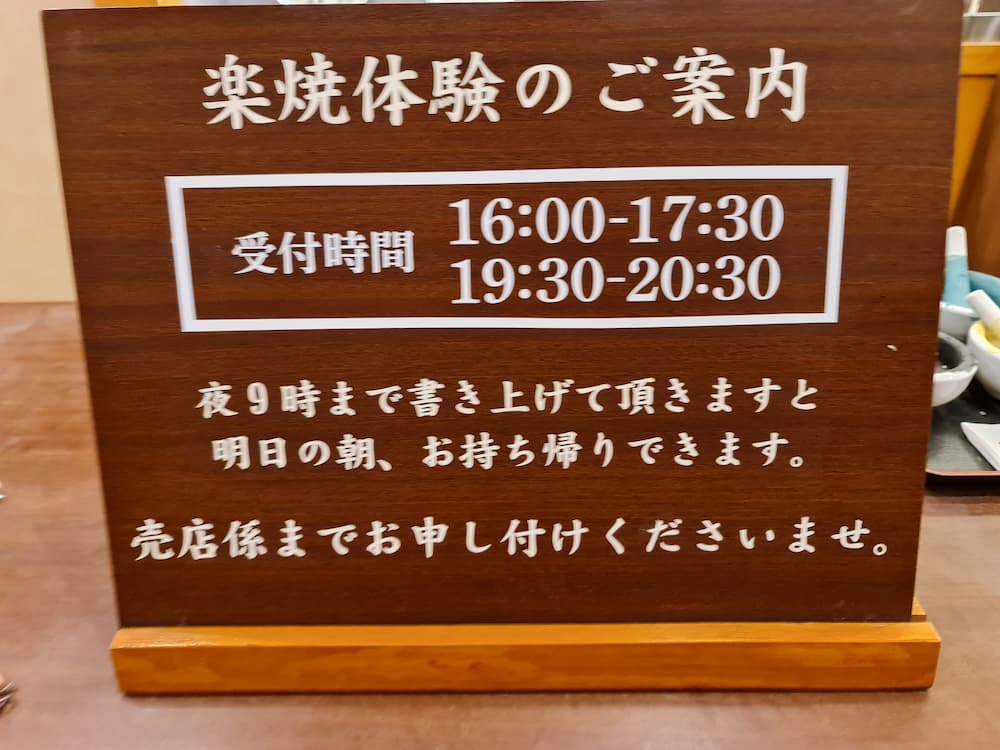 You can try your handmade Rakuyaki, an old kiln specialty, and make your own original pottery. Many of the items are made by famous people, and I found one made by Naotaro Moriyama, famoun singer in Japan.
There is also a souvenir shop on the same floor. You can buy snacks, ice cream, alcohol, and juice. The prices are a bit expensive, but there are no convenience stores nearby, so if you forget to buy something, you can buy it here.
Summary
Kaminoyama Onsen Japanese inn Kogama offers 4 open-air baths which makes you satisfy
All Yamagata specialties can be covered at the breakfast buffet
If you have time, make memories with original pottery at Rakuyaki, an old kiln specialty
There are no convenience stores around the inn that can be reached on foot, so if possible, purchase one in advance
How was Kaminoyama Onsen in Yamagata Prefecture? If you would like to stay at a hotel as one of your choices for your trip to Yamagata, why not consider it?
Kaminoyama onsen hostel "Koyo"
In Yamagata in winter, the snow monster (Juhyo) in Zao and the gas lamps in Ginzan Onsen and the scenery of the hot spring resort town are definitely not to be missed. Please take a look at the latest updated information.
Japan's winter spectaculars in Yamagata. A classic, but best one!