In previous artilce I introduced about how to purchase the cheap flight ticket and how to find the cheap tickets.
If you still didn't check please refer below link which is using skyscanner to how to find and purchase the cheap ticket.
Also including how to use skyscanner.
This time I will share the point which you need to be careful when purchase LCC (Low Cost Carirrer) flight ticket.
Check the agency can use your language or not
If you can speak or use English well theres should be no problem but if not you should check whether the travel aganecy have the other language service or not.
Below is the screen shot of skyscanner when using Japanese.
You can see the exlamation mark at Gotogate and Trabelgenio it mentioned that no contact in Japanese.
So I prefer not to use for Japanese people even cheap.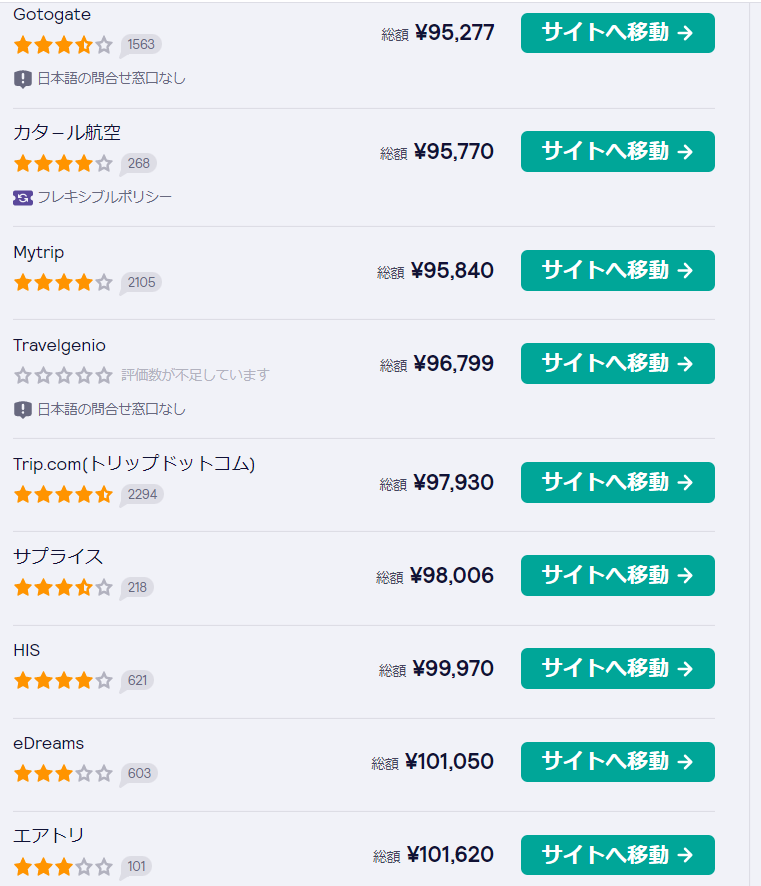 When you use your language such as Korean, Chinese, Spanish or other language there should be these kinds of case so if you are worry about it please select the travel agency which has the contact in your language.
When use LCC be aware about the check-in luggage
In the previous article searching result showed major company such as Delat, Qatar or JAL (Japan airline).
If you didn't see please refer the link.
How to find and purchase the cheap ticket.
Depends on your destination but you might use the low cost carrier so called LCC such as airasia, peach or Jetstar.
Big difference between major airline such as Qatar airline and LCC is check–in luggae is include or not.
When you use skyscanner most of the LCC price is not including check-in luggage. You can add on check-in luggae during your reservation but be aware that there are possibility that the price might be higher than major airline.
For example I will check the flight from Tokyo to Hokkaido Sapporo.
When I check the price found that ANA price is 246 USD and other LCC is around 100 USD so in this case we can avoid to choose ANA.
But in LCC there are Peach and Jetstar.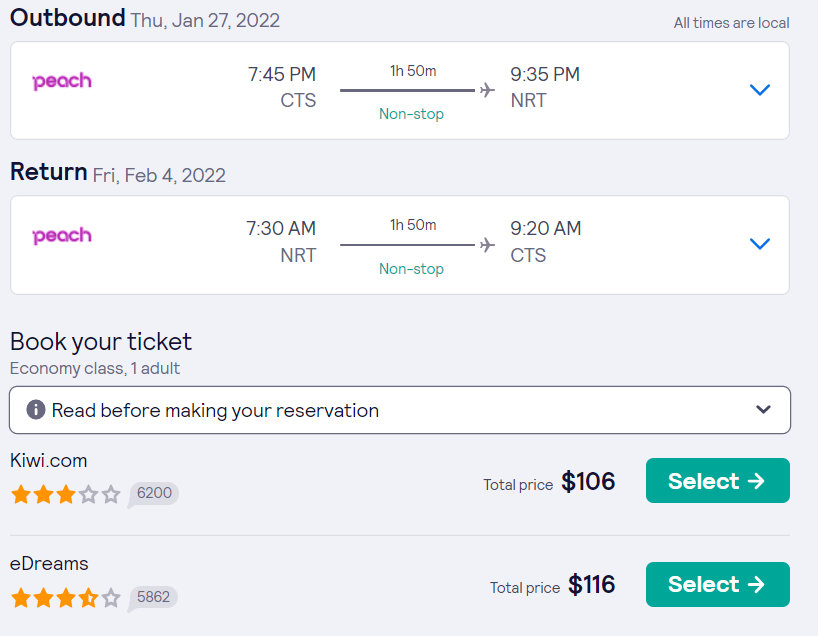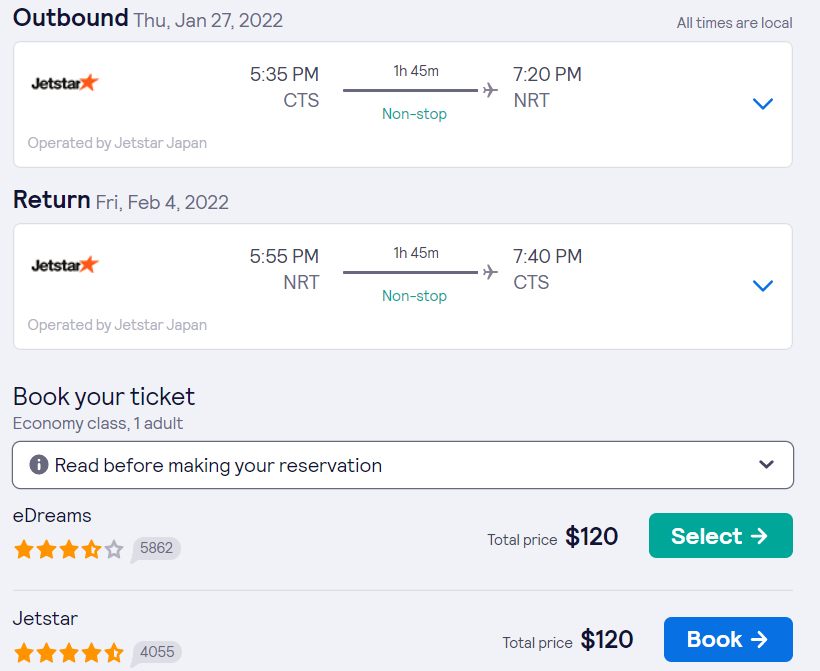 Will check more detail on both site. For Peach Kiwi.com is cheaper but to this time will choose eDreams since it's more easy to use for me to explain.
When you jump to eDreams page and scroll down you can see that check-in luggage is not include so add the luggage.

You can pay at the airport during check in but it will be more expensive so if you have check-in luggage better to pay when you book the flight ticket.
Once you add you can notice that departure and return already include 20kg bags for check-in luggage and 73.52 USD was additional charge.
So now if you select peach the total price will be 189 USD or 179 USD (by using Kiwi.com)
So now will go to Jetstar side.
Will select Jetstar since the price is same.
You can see that this flight also doesn't have checki-in luggage but only hand carry. So add.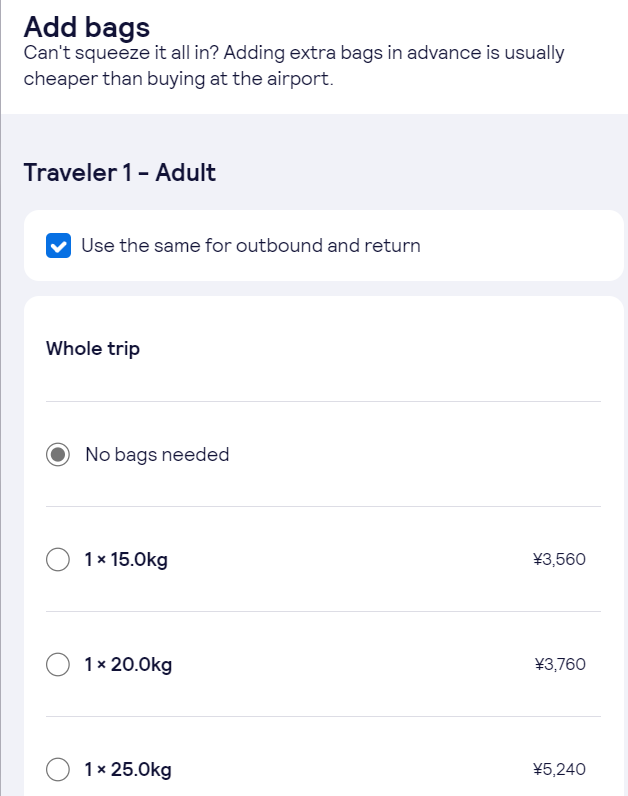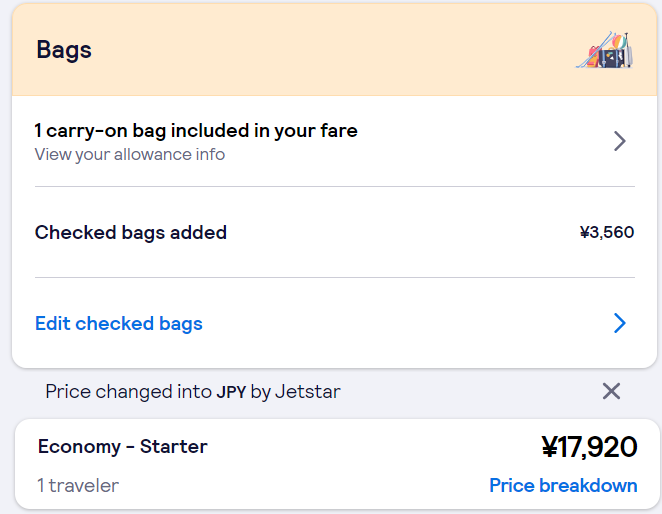 By choosing 15kg the price increase to 17,920 yen (154 USD). Even choosing 20kg it willbe around 5 USD higher.
At skyscanner Peach was cheaper but if adding the check-in luggage Jetstar is more cheaper.
How to cancel skyscanner after reservation
There might have possibility to cancel your flight ticket after you purchase the flight ticket.
But at first you need to understand that skyscanner doesn't have any function to cancel your flight ticket.
Because skyscanner is just only the website to compare the price for flight ticket and not the company who issus the flight ticket.
So even when you use skyscanner to purchase your flight ticket you need to contact to the airline or travel agency where you purchase at the end.
If from Expedia call to Expedia customer service, if American airline call to American airline customer service.
Normally at the e-ticket it mentions where to contact.
Summary
So these 3 points is the things you need to be careful when you purchase from LCC (Low Cost Carrier.
Check the travel agency can use your language or not
Compare each LCC price since the check-in luggage price or weight is different.
If you need to cancel your flight ticket contact to the company who issued your flight ticket such as Expedia or American airline or whatever
Let's purchase the cheap flight ticket and spend nice time at your destination!