I thought COVID-19 was becoming as endemic but now the new omicron came out and still pandemic is continued.
On end of 2021 in Japan there were no announce of stage of emergency like 2020 so to release my stress we went to Kyushu for travelling. At first destination was Oita prefecture which was my first time to go and planning to stay at Yufuin which is very famous of Onsen (English : hot spring) but Beppu was also for sightseeing so on the same day I went to Beppu to go for Jugoku trip.
When you search about Oita prefecture, mostly said that Beppu is the city for sightseeing or to stay. And the best sightseeing place here is Jigoku trip. Jigoku means "hell" in English.
Since my visit was during/after COVID-19 so hope this can help to share the info about the current status there.
I also went there for the first time so this info can also help for the person who are looking forward to go there too.
Beppu Jigoku trip
In Beppu there are 2 famous thing one is Beppu onsen and another is Jigoku trip. Just my personal opinion but for me Jigoku trip is more popular.
In Beppu Jigoku trip you can see 7 type of Jigoku (Hell). In here I will write "Jigoku" instead of "Hell".
Below Jigoku only have Japanese name so for the English name is only for refference.
Umi Jigoku (Hell of ocean)
Oniishibouzu Jigoku (Hell of demon rock with shaved head)
Kamado Jigoku (Hell of furnace)
Oniyama Jigoku (Hell of demon mountain)
Shiraike Jigoku (Hell of white lake)
Chinoike Jigoku (Blood pond Hell)
Tatsumaki Jigoku (Hell of tornado)
Amoung these 7 jigoku, 4 jigoku was notified as designate national scenic spot.
The designated place are Umi Jigoku, Blood Pond Hell, Tatsumaki Jigoku, and Shiraike Jigoku.
To enter each jigoku you need to purchase the ticket. Each jigoku entrance fee is 400 yen (4 USD) but if you purchase the book of ticket for 7 jigoku it cost 2,000 yen (20 USD). If you plan to visit more than 5 jigoku you should purchase the book of ticket.
Please click below link to jump to "How to purchase the book of ticket for 7 jigoku"
Jigoku round trip how to purchase book of ticket for 7 jigoku
The reason why this area is called jigoku (hell) is because in the past the area of Kannawa and Kamegawa which is the one of the hot spring village in Beppu Hatto was written about it inside the "Bungo no Kunifudoki" which is the old topography, due to this area had fumaloric, hot mud, hot water, etc. for more than 1000 years people were not able to get close and started to call as jigoku (hell).
And still the people who live in Kannawa call as jigoku for the hot spring fumalore.
Official site of jigoku is here.
Umi jigoku (Ocean hell)
7 jigoku is not gather at 1 place but can be separate in 3 big area.
At first I went to Umi jigoku & Oniishi bouzu jigoku but where to go is not fixed.
Umi jigoku water color is beautiful cobalt blue which doesn't describe as jigoku.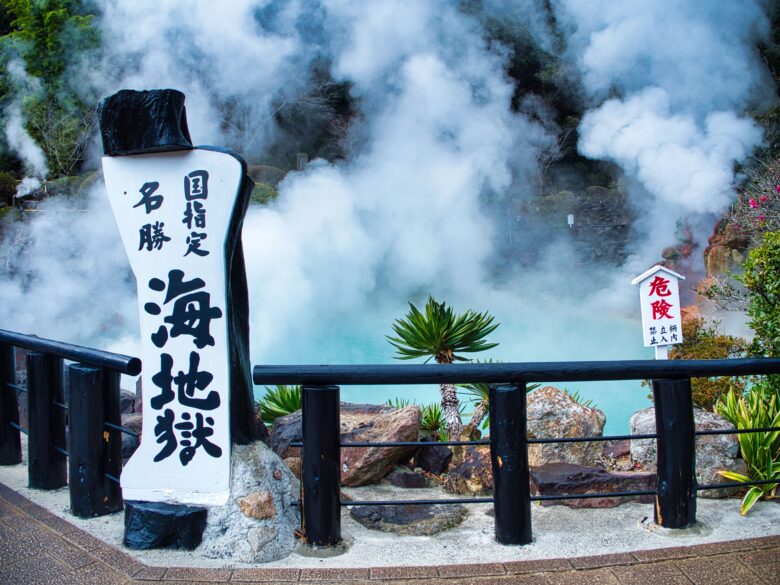 But this cobalt blue pond temperature is around 98℃ so don't touch it!
View from the observatory is also nice. Please see it and it's not crawded.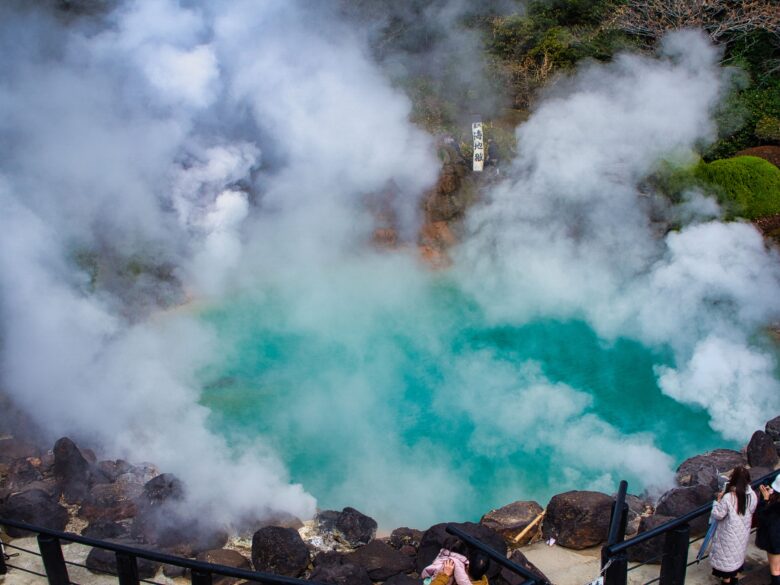 At east side of Umi jigoku there is temple. You just need 1 minute to reach.
There are lucks of family safety, business prosperity, and traffic safety.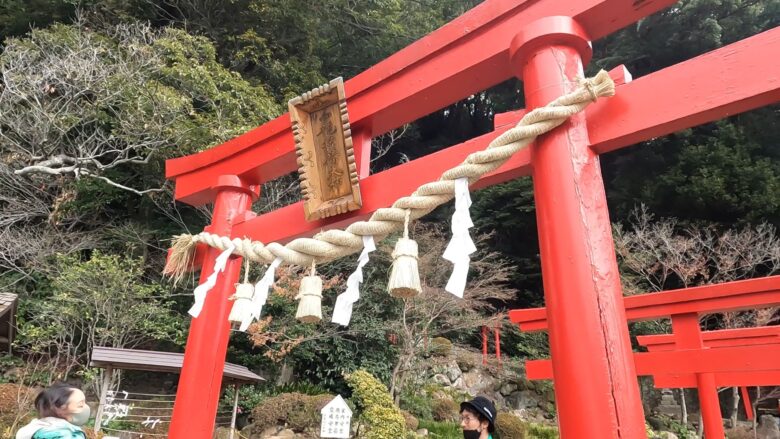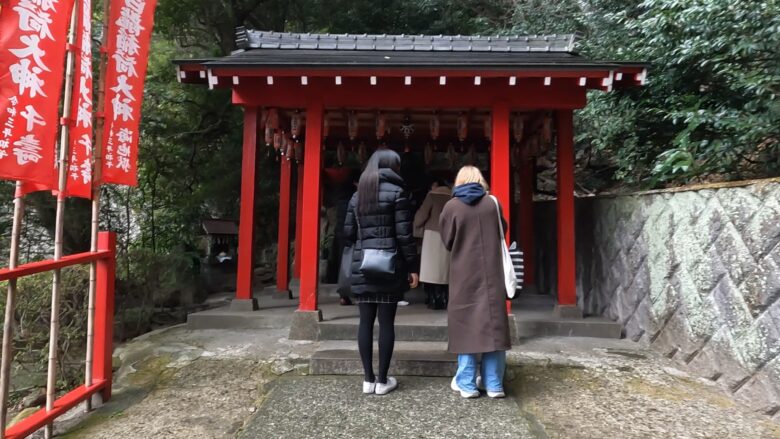 Inside this greenhouse they are growing the victoria amazonica by using jigoku water.
During winter season flower is not blooming but you can see rare plants which you normally can see at tropical area.
Victoria amazonica can grow up until the child can ride on.
You can taste the hell itself in the footbath of Umi Jigoku, which is 100% drawn from the source of hell.
I's quite hot buy you can rest your tired foot.
If you don't have towel you can buy at the shop or vending machine and the price is 200 yen (2 USD).
If you like the sweets try the Jigoku pudding there. 1pc is 300 yen (3 USD) but size is bit big than you expected.
By using local hot spring and ingredients pudding is using steam to make it. Please try the old-fashioned additive-free and uncolored pudding.
Pudding hardness is hard type but for me I like hard tyoe so long time didn't eat such kind of delicious pudding.
It was satisfy for me.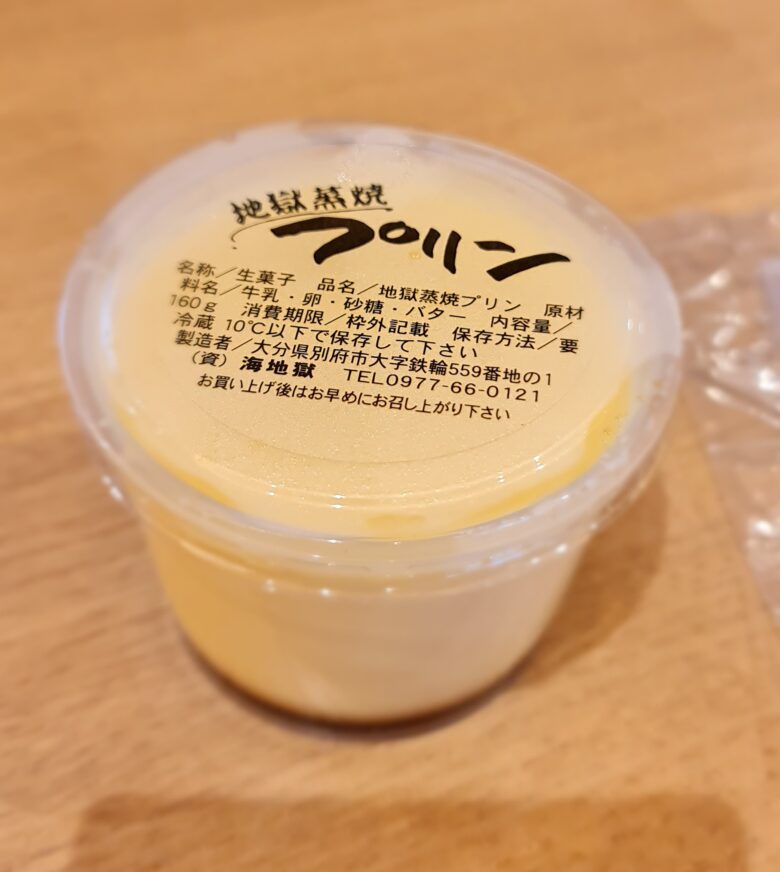 Oniishibozu Jigoku (Hell of demon rock with shaved head
Right next to Umi jigoku there is another jigoku which is Oniishibozu jigoku.
It's walking distance from Umi jigoku.
It has very old history since it's also written in "Bungo no Kunifodoki" on 733. It is written "water color is black and the mud is always stuck at there" so you can imagine that it was existing on 733 already.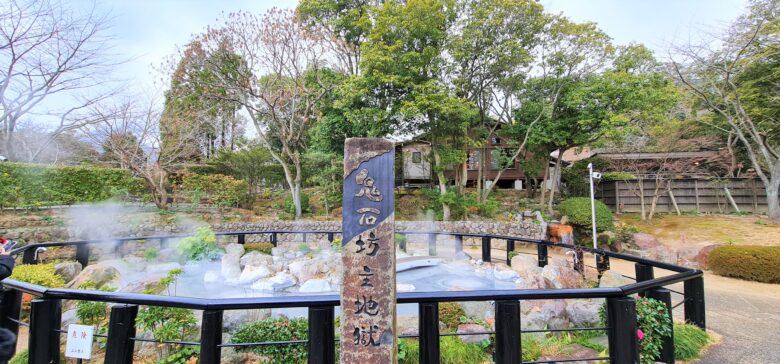 In the past this area field every where but because of hot mud weed was not able to grow and people were not able to live there so it was really like a land of hell. But the nature weird phenomena charmed the people.
Main point to see here is the "hot mud hell" where hot water balls spring up one after another in the clay mud. You might feel dissapointed after you see the Umi jigoku but I was enjoying by using continious shooting mode of my camera to record this phenomena.
Because the appearance of boiling gray hot mud resembles as shaved head which cause to call this place Oniishibozu Jigoku.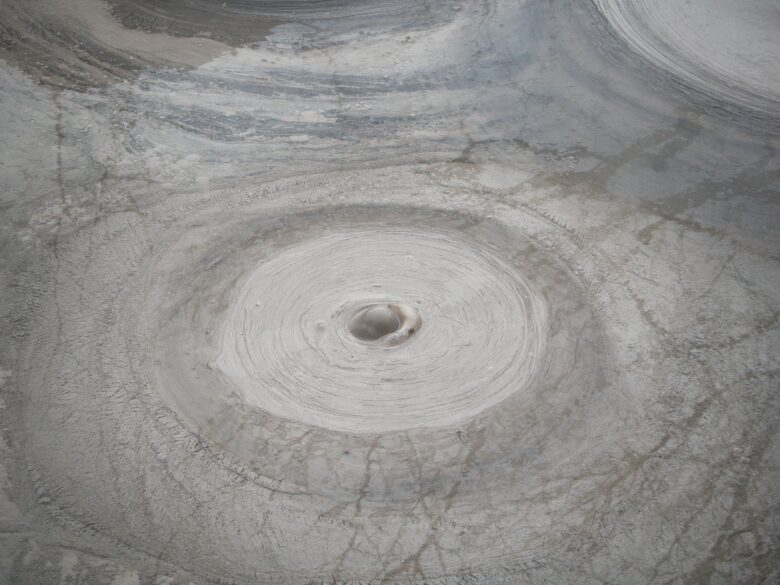 Kamado Jigoku (Hell of furnace)
Kamado jigoku is walking distance from Umi jigoku & Oniishibozu jigoku. It's around 5 minutes.
If you park at Umi jigoku no need to transfer the car it will take more longer since you need to find the space to park.
Others jigoku such as Oniyama jigoku and Shiraike jigoku is also near to Kamado jigoku.
In Kamado jigoku there are 6 street and each street have different thing to highlight so you can enjoy several things at 1 place.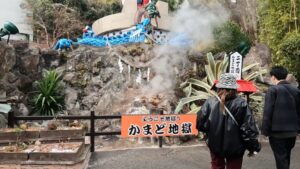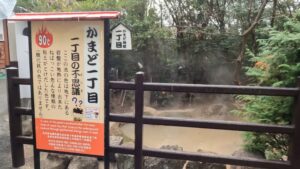 The best place in here is street 5.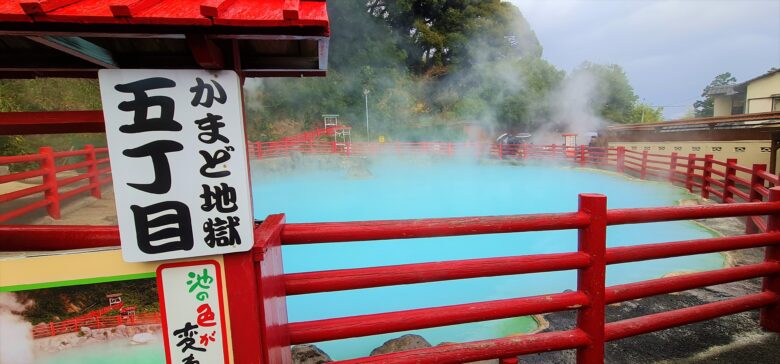 This pond is very mysterious. The color of pond can change. When I went there it was similar like Umi jigoku but it will change to emerald green in some days but don't know the mechanism. It's nature phenomena.
Only Kamado jigoku you can drink the hot spring water.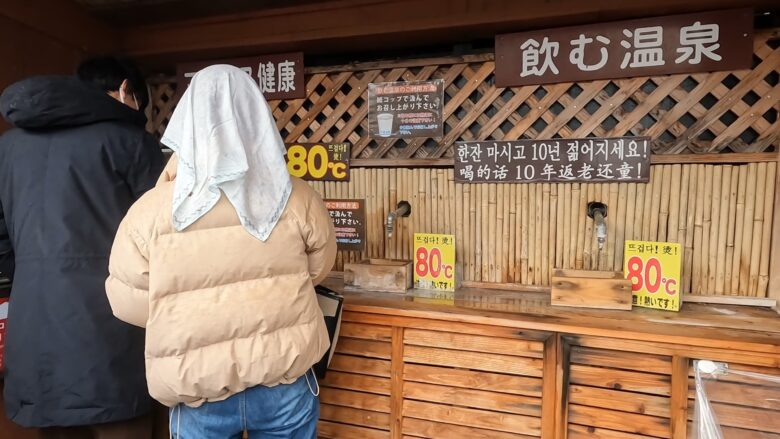 Other than drinking onsen there are throat & skin steam, foot bath which is good to moisture your skin.
Drinking onsen water is very hot almost around 80 ℃ so careful to drink. You need to pay 30 yen (30 cent) for the cup to drink.
Oniyama Jigoku (Hell of demon mountain)
Oniyama jigoku is called crocodile jigoku it's using hot spring heat to breed the crocodile & alligator. Almost 80 numbers of crocodile & alligator are living in the pond.
Around 1 minute walk from Kamado jigoku.
This place is the first place in Japan which is using the hot spring to breed them.
There suppose to have show to feed the crocodie but now because of COVID-19 they still do but without any notice.
Below was the previous schedule of the feeding show
Every Wednesday 10:00
Every Saturday & Sunday 10:00、14:30
You can also see the architecture of typical Malaysia (Sarawak) there.
Shiraike Jigoku (Hell of white lake)
The pond in the Japanese garden with a calm atmosphere is a light green pond based on white. It is said that this is because the transparent hot water at the time of eruption changes its color when it falls into the pond due to the decrease in temperature and pressure.
Shiraike jigoku is also notified as designate national scenic spot.
I was not intrested but inside the park you can see the tropical aquarium, an important cultural property designated by the prefecture, Kunisaki Pagoda, and "Nihonan Gakudo" where local art is exhibited. If you have a time you can see it.
At tropical aquarium you can see the living fossil arapaima.
Shiraiki jigoku is around 1-2 minute walk from Oniyama jigoku.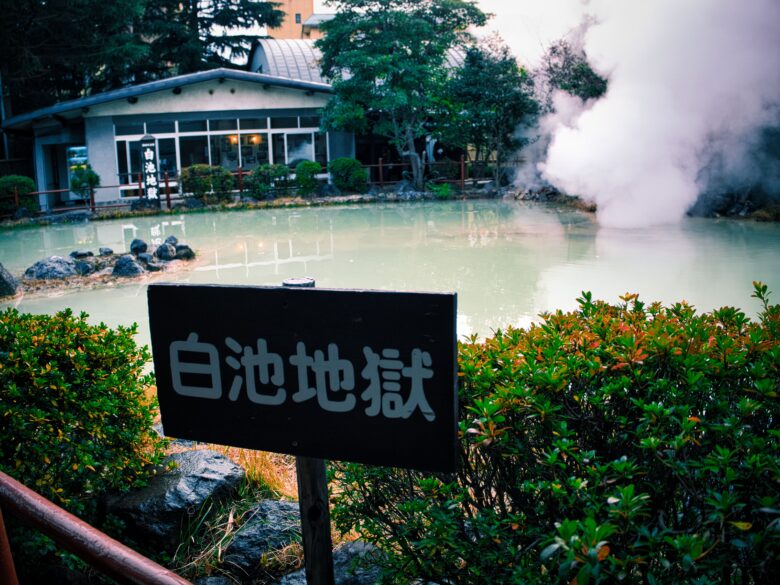 Chinoike Jigoku (Blood pond Hell)
Chinoike jigoku is the most oldest natural jigoku in Japan. Red hot mud containing iron oxide, magnesium oxide, etc., which is generated by a natural chemical reaction under high temperature and high pressure underground, erupted from the stratum and accumulates, so the entire surface of the pond is dyed red, creating a natural blood pond hell.
This scenery is suitable to jigoku.
Chinoike jigoku is also notified as designate national scenic spot.
Chinoike jigoku and Tatsumaki jigoku is far away from Umi jigoku or Kamado jigoku so you need to transfer by car.
Tatsumaki jigoku is 2 minute walk from Chinoike jigoku but the parking space is not enough so better park at Chinoike jigoku.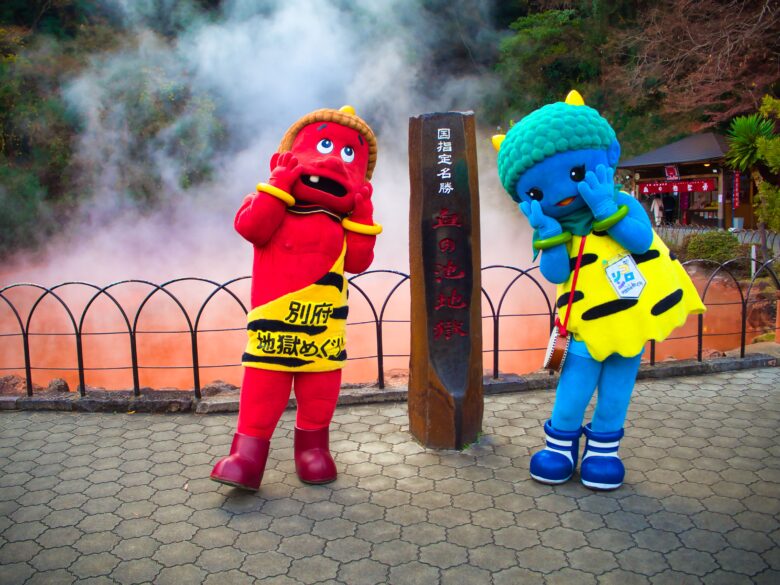 On this day maybe because of new year season there were charactor of jigoku.
According to the staff there seems like these charactors are seldom appear so we were lucky.
If you walk at the aisle side of the pond you can go to the observatory and see the view of Chinoike from high place.
Tatsumaki Jigoku (Hell of tornado)
Last is Tatsumaki jigoku.
Tatsumaki jigoku is also notified as designate national scenic spot.
Walking around 2minutes from Chinoike jigoku.
Tatsumaki jigoku is natural geyser. Erupting from then geyser describe like tornado so that is the origin of the name. The water temperature is 105℃ which is the highest temperature amoung the all jigoku.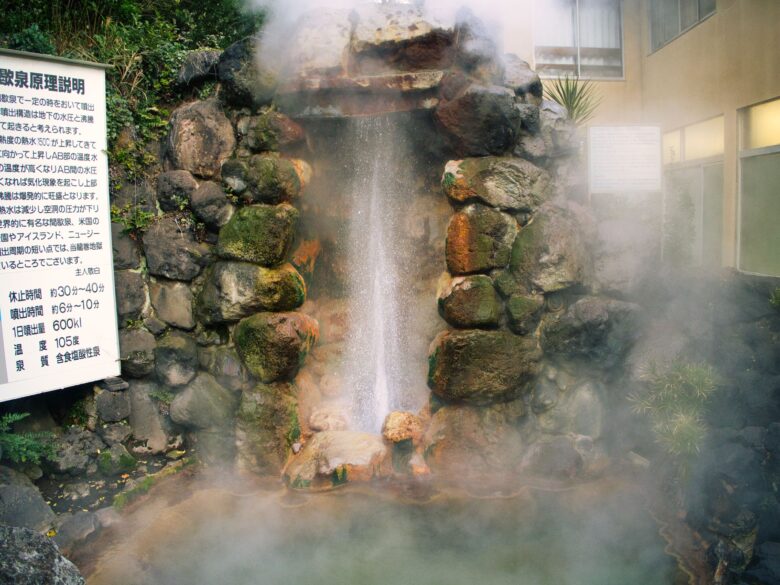 Geyser spout every 30 to 40 minutes. I recommand to park at Chinoike jigoku and then go to Tatsumaki jigoku to check when is the eruption time so easy for you to manage your time schedule.
I was lucky becasue didn't check the time but just go to Tatsumaki jigoku after Chinoike jigoku and the eruption was just started.
It erupt until 30 to 40m above so for safety reason they but the rock roof right above the geyser.
Jigoku round trip how to purchase book of ticket for 7 jigoku
To enter inside the jigoku you need entrance ticket. Each jigoku ticket is 400 yen (4 USD) but if you purchase jigoku round trip ticket the cost will be 2,000 yen (20 USD) and you can enter to all 7 place. If you have plan to go more than 5 place better to purchase round trip ticket.
Round trip ticket can be purchase at each entrance counter.
Round trip ticket is like below picture. Inside this small book there are 7 ticket inside tear off half ticket when enter to each jigoku.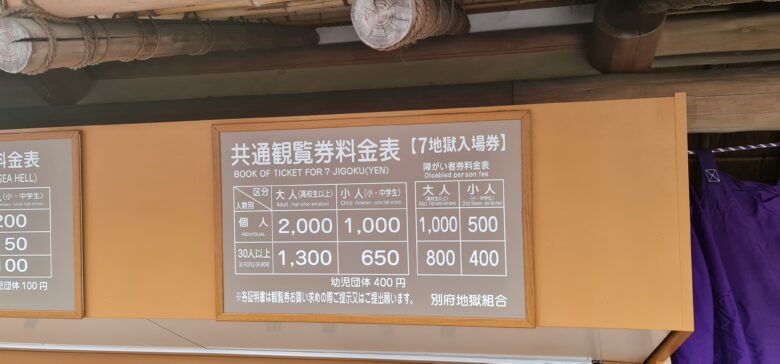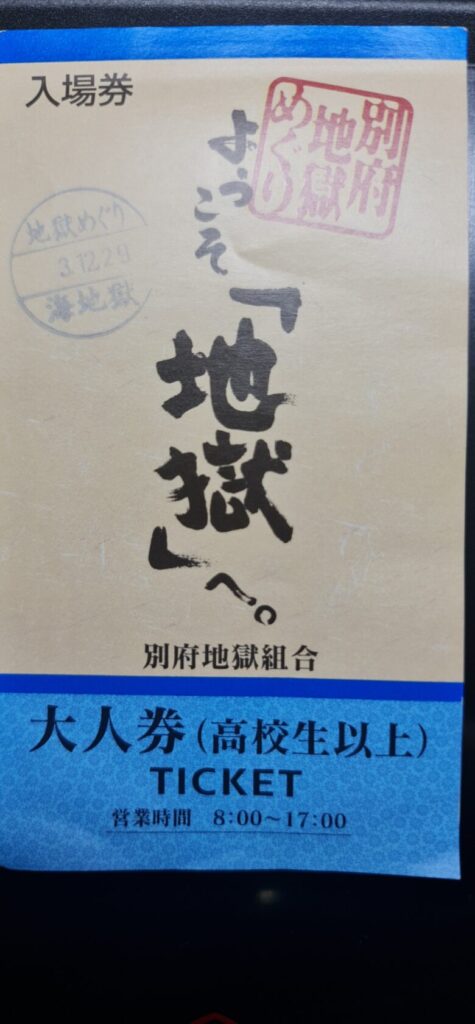 At official homepage of Beppu onsen there is discount ticket. You can get 10% off for your entrance ticket.
No need to print out and just show your display. It's only Japanese.
Beppu jigoku round trip discount ticket
Enjoy the Beppu onsen scenery
If you have a time I recommand to go to the observatory to see the Beppu onsen town scenery.
Yukemuri is steam from the onse in Japanese.
I didn't have time to go there but when we were moving from Tatsumaki jigoku to Umi jigoku this view was able to see.
Below movie is taken during that time.
Summary
Beppu jigoku round trip should better purchase the round trip ticket and visit all 7 jigoku
Park at Umi jigoku or Kamado jigoku and visit to 5 jigoku which is Umi jigoku, Oniishibozu jigoku, Kamado jigoku, Oniyama jigoku, Shiraike jigoku
Once arrive to Chinoike jigoku, first go to Tatsumaki jigoku and check the geyser time
If you have a time go to yukemuri observatory and see the Beppu onsen city scenery
Which jigoku (hell) you like?
I like Umi jigoku and Kamado jigoku.
I wish I could see the emerald color of Kamado jigoku pond for the next time.
This time we stayed at Yufuin but staying in Beppu might be also nice.
Some event is change because of COVID-19 but still easily to manage sightseeing there and feel free to go there.
If you come or stay in Beppu you can also go to the Oita aquarium "Umitamago".
Oita Marine Palace aquarium "Umitamago" is the enjoyable place to go in Beppu