Yufuin is well known as onsen & onsen street but other than that there are several place to see or visit there.
In this article will share the best spot in Yufuin which is just 5 to 10 minutes drive from Yufuin city.
It's near so even you don't have much time it should be nice if you can go there.
For this article it will be useful for the person who likes the nature scenery, temple or shrine & power spot.
Yufuin have many good place it's not only Yunohira walkway.
Mysterious lake covered with morning fog Kinrinko
In Meiji era the scholar Mori saw the fish swimming in the lake was shining in gold because of the sunset reflects fish's scale and that made to name this lake "Kinrinko" in Japanese it's written "金鱗湖". "金(kin)" is gold, "鱗(rin)" & "湖(ko)" is lake.
In the lake fresh water and onsen water is fow in which cause the water tenperature higher than other lakes. This condititon can allow to generate the fog above the water especially during early morning of winter season and you can see mysterious landscape.
If you cannot see in the morning, evening especially sunset time is nice but I tried in the morning.
It's used to say that the best timing to see this landscape is around 8am. But also depends on the weather condition if it's not sunny it's difficult to see.
For my case since my hostel breakfast time was 8:30am I went there on 7:30am. Sun was still not rised and temperature was not so low so only small fog I was able to see.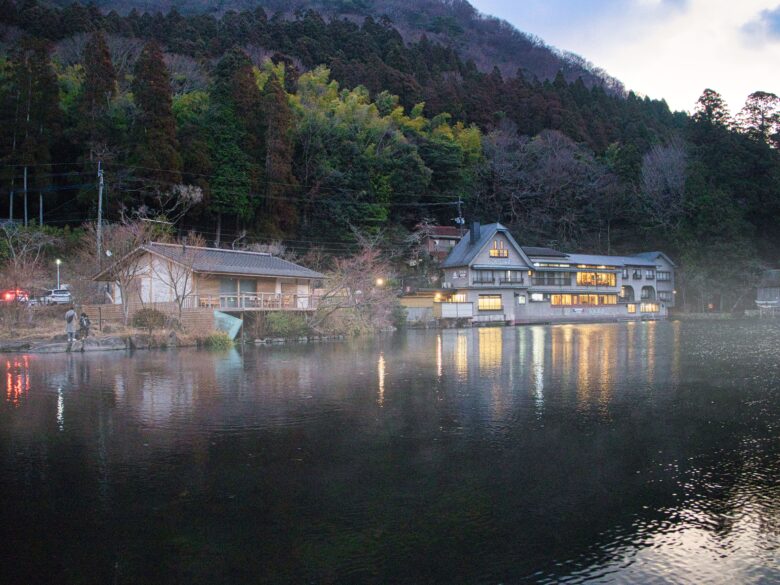 The good view is from the opposit side of parking and take photo from torii which is inside the lake. This time I couldn't manage to take but if the fog is there really nice picture can be taken there.
There was first customer there on the top of torii grey heron.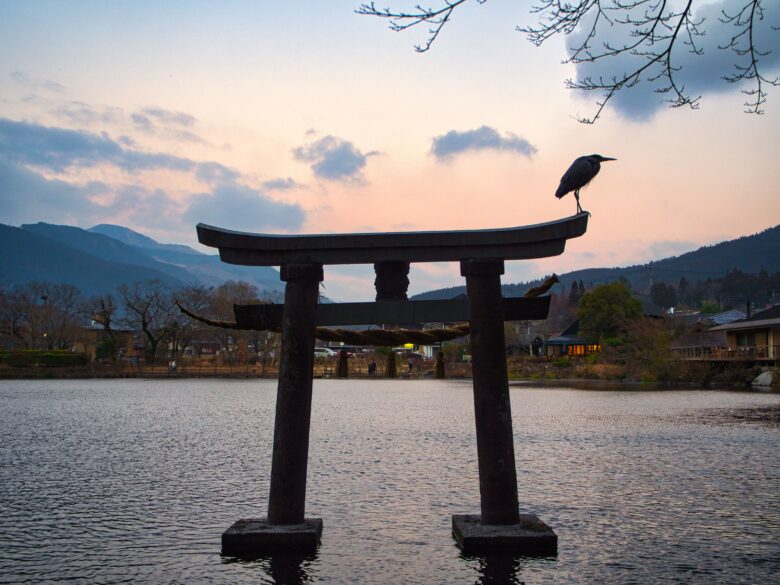 In here there is small temple but nice torri and admirable sacred tree.
This temple is called Tenso temple and the enshrined deity is "Amenominakanushi".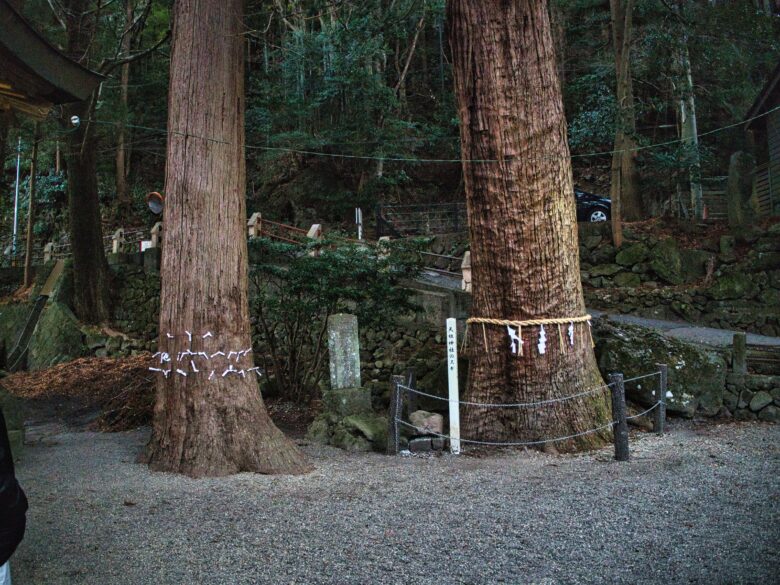 You should park in front of Kinrinko which was the most cheapest parking lot.
For your referenace parking lot is below.
Kinrinko address is below.
Address:1561-1 Yufuincho Kawakami, Yufu, Oita 879-5102, Japan
See panorama view of Yufuin at Sagiridai overlook
When you move by vehicle from Beppu to Yufuin or Yufuin to Beppu you will definitely pass sagiridai & yufudake vorcano and can see the nature panorama view.
On October you can see the morning fog from sagiridai too. I went there during the new year season so not able to see but you can see nature scenery of Yufuin and the city. Ocean level is 680m so nothing will interfere you. Enjoy your panorama view of nature and Yufuin city.
Because of strong wind there you might feel colder than you expected so ensure to bring cloths to protect from the cold.
Address:1946-14 Yufuincho Kawakami, Yufu, Oita 879-5102, Japan
Parking is free and also have vending machine and toilet to use.
All season is ready to see from sagiridai that is also the good point. Each season has different beautiful view.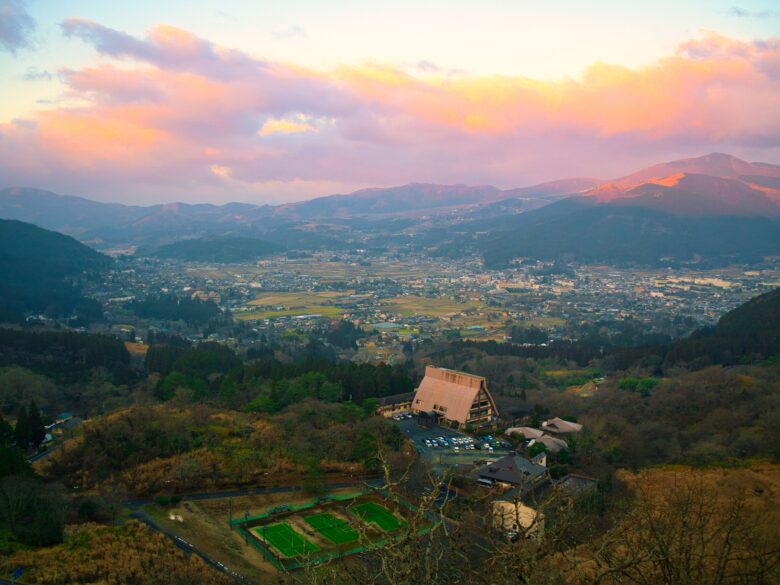 Sunrise is coming soon so the sky color also started to change.
Famous peak in Oita prefecture Yufudake
Famous peak "Yufudake" can also see from Yufuin city and this is one of the famous sightseeing spot in Yufuin.
Recently hikking is very popular and climbing up to Yufudake is also well known activities since it's good for beginners to start here. But this time I didn't climb.
From sagiridai you can easily find the entrance for climbing but even not climbing at the bottom of Yufudake you can see very nice view which better not to miss it.
Yufudake is also called as "Toyogo Fuji" as you know the Japanese highest mountain Fuji is very beautiful but Yufudake is also beautiful to see from any kind of angles.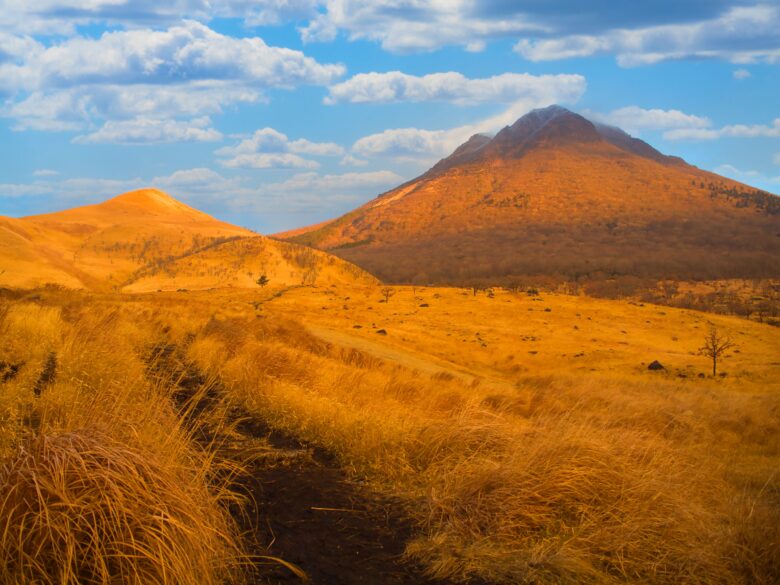 Yufudake course is about 7km and you can return back in 4hours (without resting).
At nearby the entrance you can park your car and it's free. If full you need to park at paid parking area which is very near also.
Address:Beppu, Oita 874-0000, Japan
Unaguhime the person who made Yufuin basin
Unaguhime temple is currently becoming popular as power spot at Yufuin. But actually this temple have very old history and local people also managing very nicely.
The name of the temple Unaguhime is coming from the Japanese word "unagu" which is descriding comma-shaped-bead necklace. "hime" means princess and there are legend that Unaguhime is the princess who used the necklace and become as god and that is why this temple is called Unaguhime temple. Another is the lake enshrined deity was eel (unagi) so that's why name is Unagu temple.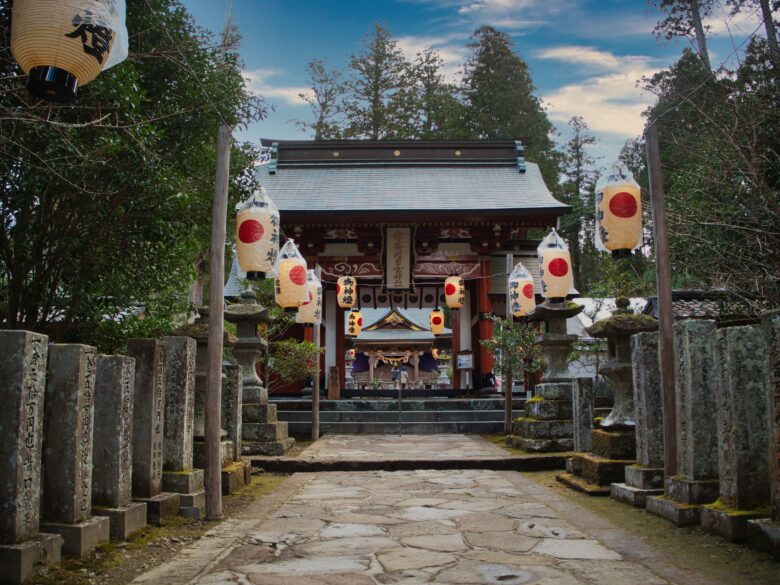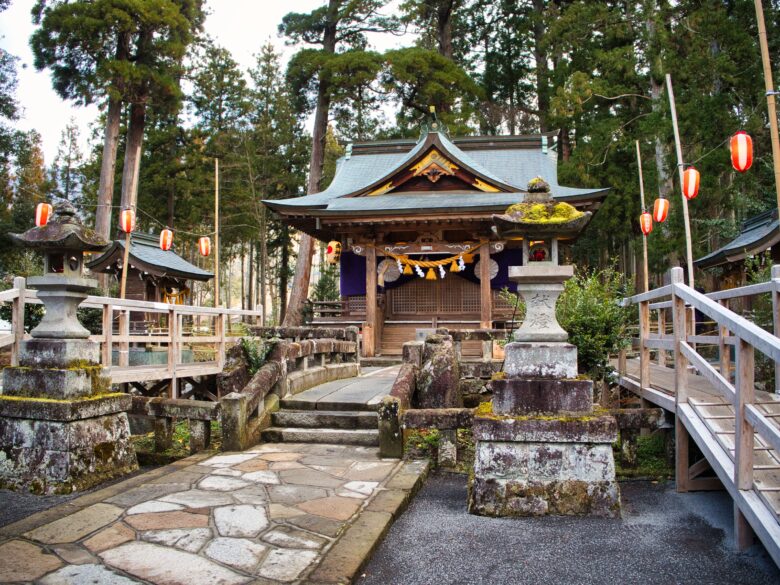 For more detail about Unaguhime temple will explained at other part.
You can come here after your breakfast or check out.
Yufuin new power spot "Unaguhime temple"
Summary
Especially on winter season try to go Kinrinko in the morning to see the fog
After Kinrinko go to Sagiridai & Yufudake to see the nature panorama view
After check out let's go the temple which is said that made Yufuin basin
Actually Kinrinko is good to see on other time too.
Sagiridai can enjoy all the season. Arrange your time and schedule to see the perfect timing for nature panorama view.
I had introduced about my best Yufin hostel. If you are looking for private open air bath & delicious hostel food definitely this hostel will be nice. After public open air bath there are service for free soda. Why not to try this soda which is very old style to drink in Japan.