The Kunisaki peninsula in Oita Prefecture is the birthplace of Shinbutsu mix culture, a fusion of "God" and "Buddha."
Especially Futagoji is recentlt popular place as power spot.
In here will intoduce why it's popular, what luck you can get here & what is the point to see here.
Nio statue standing with a powerful appearance
The Kunisaki peninsula in Oita Prefecture has many temple and stone buddha and called as "Buddha village".
Futagoji is located at the middle of Buddha village and the Futagoji forest is nominated as 100 selections of forest bathing in Japan so you can enjoy the view in all season there.
I visited in the winter but I think the best season should be autumn. This place is also known as famous spot to see the autumn leaves in Oita.
Gomadou is a full power spot of charity, but the eleven-faced thousand-armed Kannon enshrined in the main shrine of the Okunoin, and Ryosho Daigongen have been worshiped of child-giving since from ancient times.
Futagoji has admirable Nio statue at the side of shrine approach this is the first point you must see there.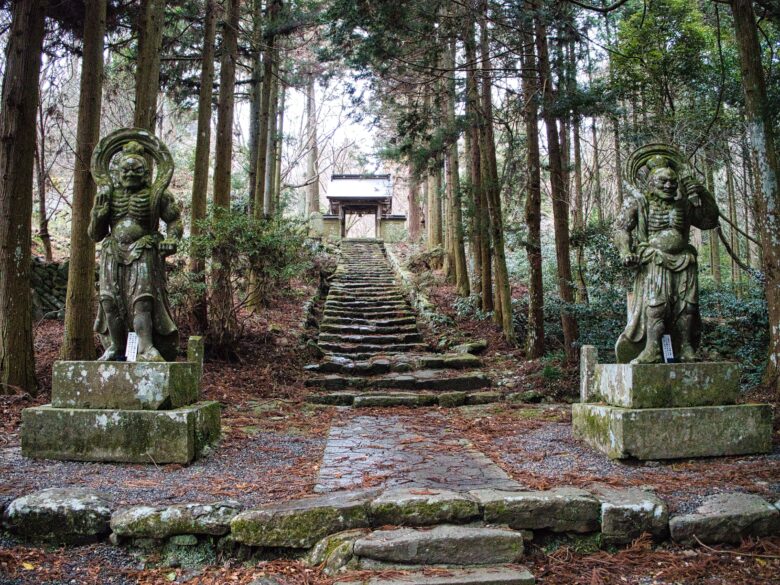 Nio statue which height is more than 2m has name "A" & "Un" Nio statue is the symbol of Futagoji and used to say that if you touch there leg your leg also become strong.
Even at the Nio foot there is display shown "The worshiper who have a bad foot, please rub the foot & leg of the statue of Nio and treat it to become strong foot/leg." Not so many steps here but why not touch and get the strength.
The stone steps along to the gate has moss and during the fresh green season it will fusion with the surrounding nature and become peaceful and relax power spot. On winter season also the quiet environment enhance to heal & relax yourself.
Futagoji have parking lot (if you only come for worship maybe this place is good to park) but if you park here you cannot see the Nio statue until the top. If you want to see Nio statue from the parking lot you need to step down the steps and slopes.
This Nio statues reminds me the Japanese comic GANTZ..
The stone steps and slopes will be very slippy on rainy day or snow day so please be careful to walk. I walked the gravel raod which is the aisle side of the slope.
Restroom is only at the parking lot you better go first before you go to the Okunoin.
Okunoin
To go to Okunoin you need to walk aside of river at Futagoji.
You can see the big stone bridge which name is "Onibashi" on your right side. In English it can say demon bridge.
It is a large stone that is said to have been pulled down from the mountain and made into a bridge by a powerful monk named Sentokubo.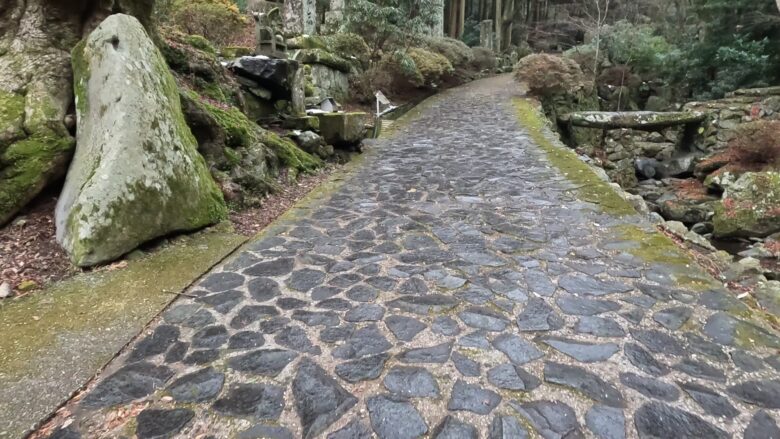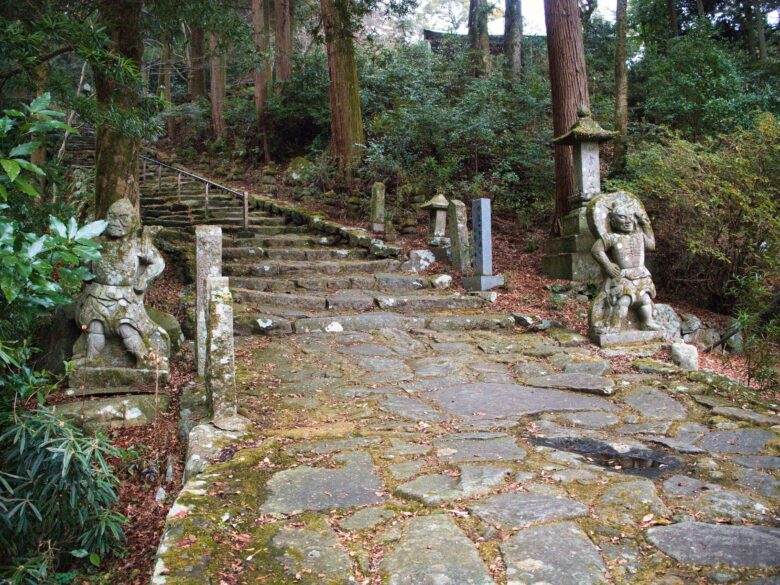 When you go up the onibashi step you can see torii which is connected to okunoin.
Actaully this view is ver mysterious. At the beginning I mentioned that The Kunisaki peninsula in Oita Prefecture is the birthplace of Shinbutsu Shugo, a fusion of "God" and "Buddha."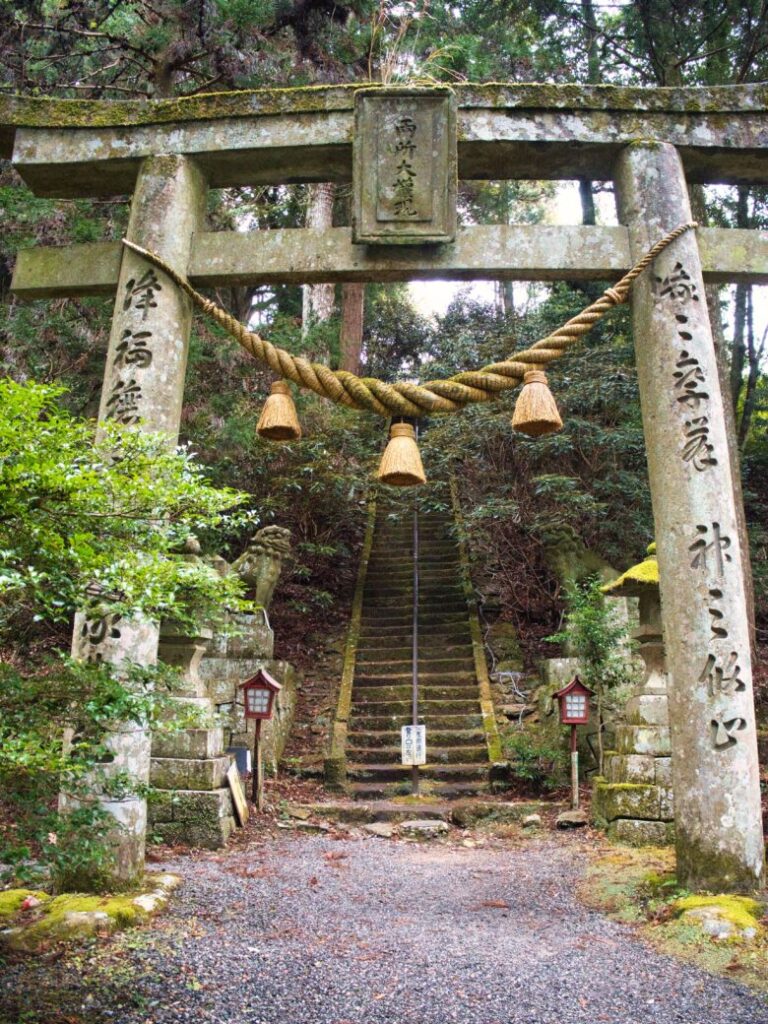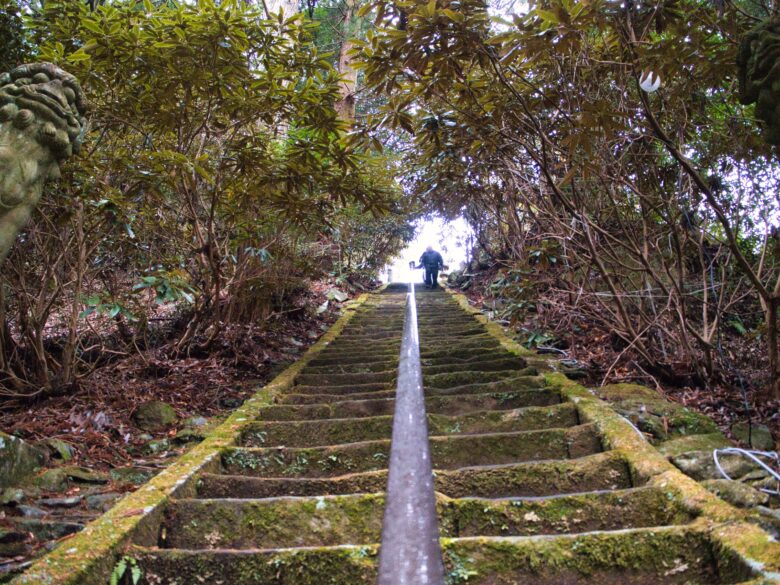 Unfortunately detail of Futagoji is only written in Japanese.
It's difficult for me to explain for me but to say simply the cultrure in Futagoji is "Treat Buddha as God" & "Treat God as Buddha" and cause to create the shinbutsu mix culture.
This torii which is connected to okunoin is the evidence of mix of cuture.
After go through the torii you can see steep slope steps. This is the place you demonstrate the power earned from Nio statue.
It's not so hard compare with the longest step in Japan at Kumamoto.
In Kumamoto there are the longest step which is 3,333 step and at the top there is shrine
Kumamoto onsen trip#1 challenging to the longest stairs in Japan
The Eleven-faced Senju Kanzeon Bosatsu is enshrined in the "Okunoin", which is made by hollowing out rocks. There is a belief in child-giving, and in recent years it has become famous as a power spot for child-giving.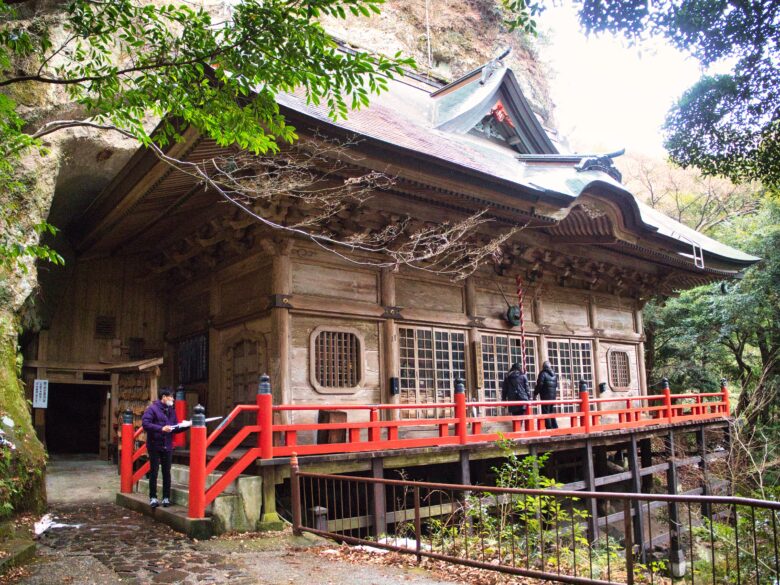 Right behind okunoin there is cave.
You might feel creepy because dark but it's sacred place so don't worry. Cave is not too deep you can see the fountain which is immortal water.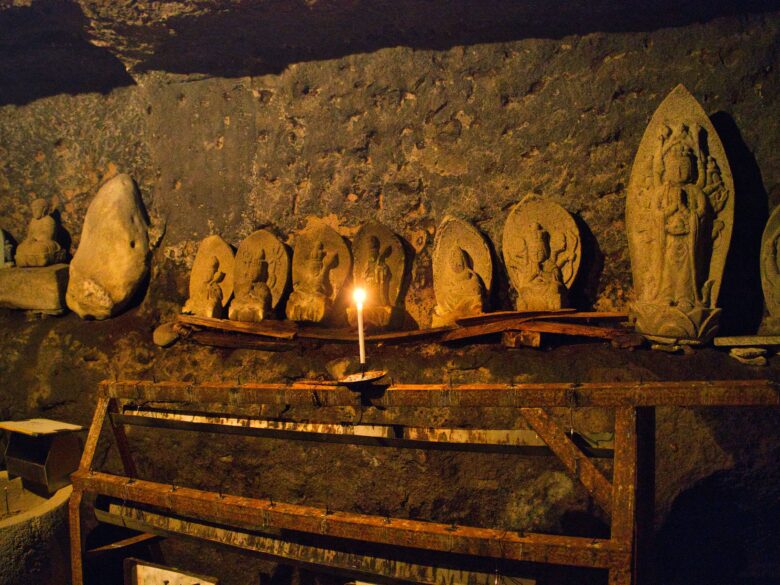 Futagoji basic info
Address:1548 Akimachi Futago, Kunisaki, Oita 873-0356, Japan
Visiting time:8:30 ~ 16:30
Fee:300円
Visiting time is depends on COVID-19. Currently 2022 February is still same.
The place of Futagoji is 30minutes drive from Oita airport. On the way there are few point that the road is narrow so drive safely.
When you use flight to come to Oita, Oita airport is the entrance for Oita prefecture. Futagoji is just around 30 minutes by car so you can visit on the beginning of the trip or on the way back from your trip.
If you are going to Beppu city you should better go to Jigoku (hell) round trip. In below link it is explaing how to go and how to stay around.
Other than that Beppu have amazing aquarium especially the show of walrus and steller sea lion show was very fun.
Please check if you are intresting in above.
2022 Beppu Onsen recommand course for Jigoku trip
Oita Marine Palace aquarium "Umitamago" is the enjoyable place to go in Beppu