I went to the new steak restaurant Kay' steak & lobster.
As mention inside Kay's steak and lobster homepage they only serve juicy and delicious steak and lobster. So I was looking forward the dishes at this restaurant since the review was also highlight as good restaurant.
If you are looking for the restaurant for steak and lobster in Malaysia you'd better try Kay's steak & lobster.
Only serve delicious dishs Kay's steak & lobster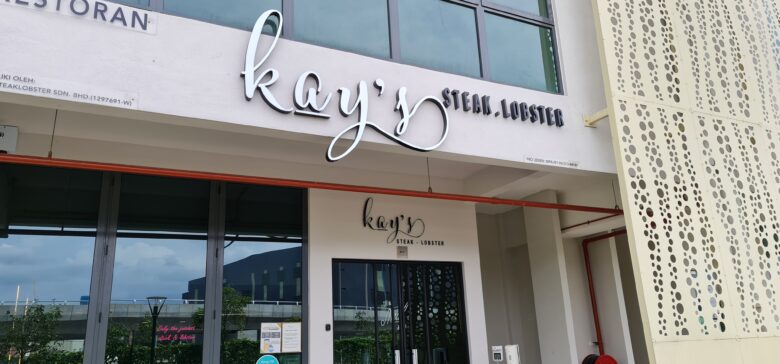 Actually I wanted to eat Tomahawk but unfortunately no stock when I went there.
I booked the restaurant 3days before the selected date but at that time already dinner time was fully occupy and not able to book.
If you want to eat dinner you need to book more faster and maybe better to check the stock of Tomahawk.
Since my target was unavailable I ordered Black Angus Poterhouse. Black Angus Poterhouse can also choose the size and I choosed 600g steak price was 240RM (63 USD).
I was intrested at pasta as well and ordered Wagyu Bolongnese RM38 (10 USD).
You can also check other menu from below link.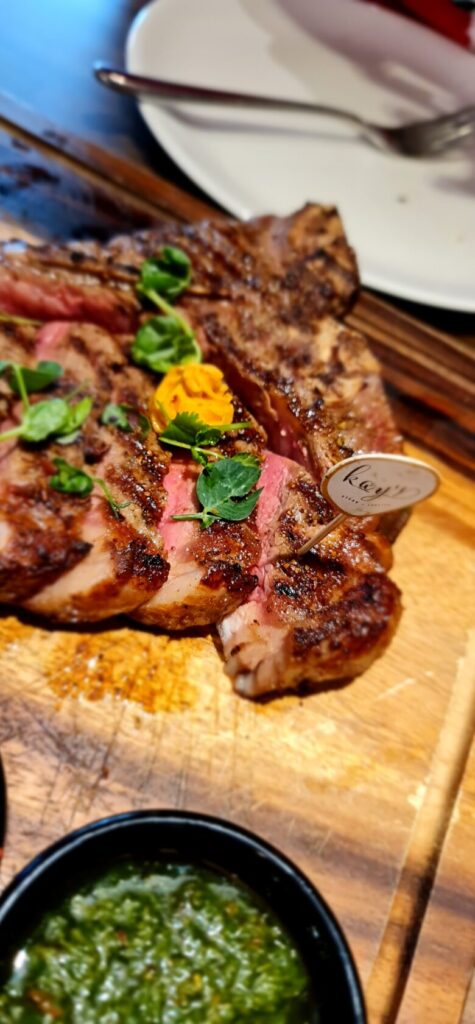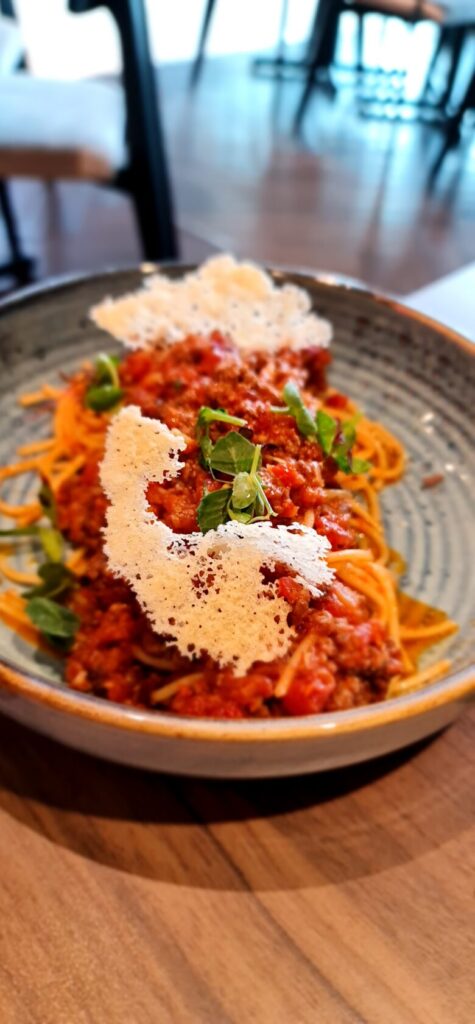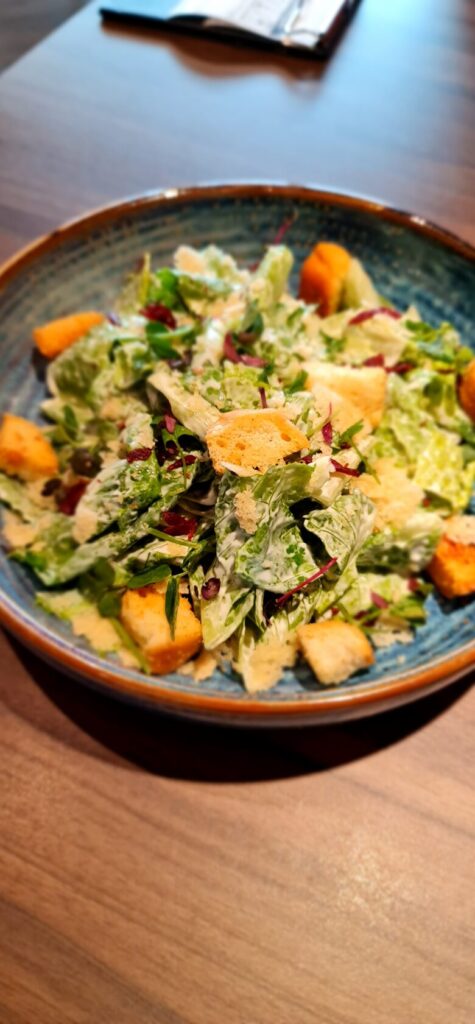 Steak is cooked by medium rare.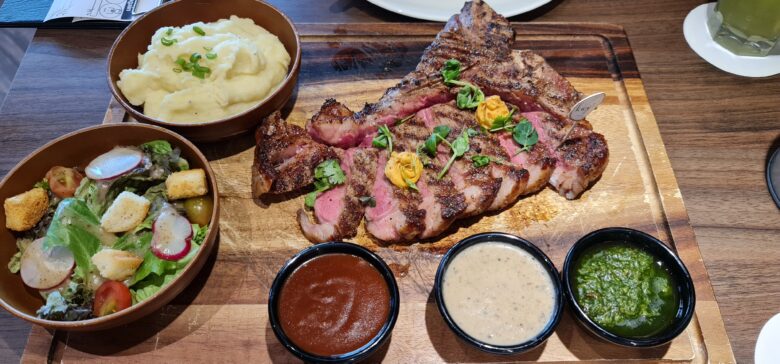 If you order Black Angus Poterhouse mash potato and salad is include so maybe you no need to order the salad.
3 sause's is include from left BBQ sause, Au poivre sause (Kay's signiture) & Chimichurri sause.
I liked BBQ and Au poivre sause.
Steak was tender and easily to cut by the knife and it's juciy and tasty as mention above.
Even lunch hour there were fulled by the people who reserved in advance.
Explanation of sause to use
Au poivre sause
The sause taste like pepper. Normally used for steak by using gravy sause by with salet, pepper & other spices.
Black pepper spice will give an accent to the taste.
This Au poivre is French language.
Chimichurri sause
A sauce of chopped parsley, herbs and garlic mixed with salt, olive oil and vinegar.
Depends on region but some also use chili pepeer or black pepper also. Mainly this sause is use in South America for red meat.
Chimichurri is Spanish language.
As for meat, Kay' Steak handles Japanese beef and Australian beef, and since it is stated on the homepage that all the ingredients are purchased from halal certified shops,so Muslim people can also use this restaurant to enjoy the meal.
Also, they don't have any alcoholic beverages, so unfortunately you can't drink wine with steak.
The white ingredients which is on the Wagyu Bolongnese is cheese.
The tomato sauce procured from Naples and the juicy tasty Wagyu beef went perfectly together with this.
Pasta was also really delicious.
Last good thing is the staff who works there. They were very kind and freindly. There service for customer was really nice too. Some restaurant is good food but bad service or attitude. Kay's steak and lobster was all perfect.
Restaurant Info
The restaurant only have 2 branch. 1 at Subang Jaya and another at Ampang.
This time I went to Ampang restaurant.
There is official website for this restaurant so please see it.
Address:B3-7, Arc @ Ampang Ukay Persiaran Ampang Ukay, 68000 Ampang, Selangor, Malaysia
Operataion hour:Saturday ~ Thursday 12:00pm – 10:00pm , Friday 4:00pm – 10:00pm
TEL:03 – 4065 5127
Address:12A-G Jalan Putra Mahkota 7/6B,Putra Heights, 47650, Subang Jaya, Selangor
Operataion hour:Saturday ~ Thursday 12:00pm – 10:00pm , Friday 4:00pm – 10:00pm
TEL:03 – 5887 1081
I also introduced another recommended steak restaurant before. You can also drink wine here, and recommended white wines are also listed.
Malaysia info#40 recommand Thai cuisine restaurant Amarin