I never eat Frech cuisine in my life. So I try to use Google to find wheather I can find a nice French restaurant to eat in Malaysia but seems like many French restaurant can be try in Malaysia.
The one I found was also listed inside the freepaper which is introducing KL restaurant. So I choose this restaurant for my first French cuisine experience.
French Chef restaurant casual bistro
The restaurant is located at Bangsar area and operated by French Chef and the restaurant name is Chez Gaston French Bistro.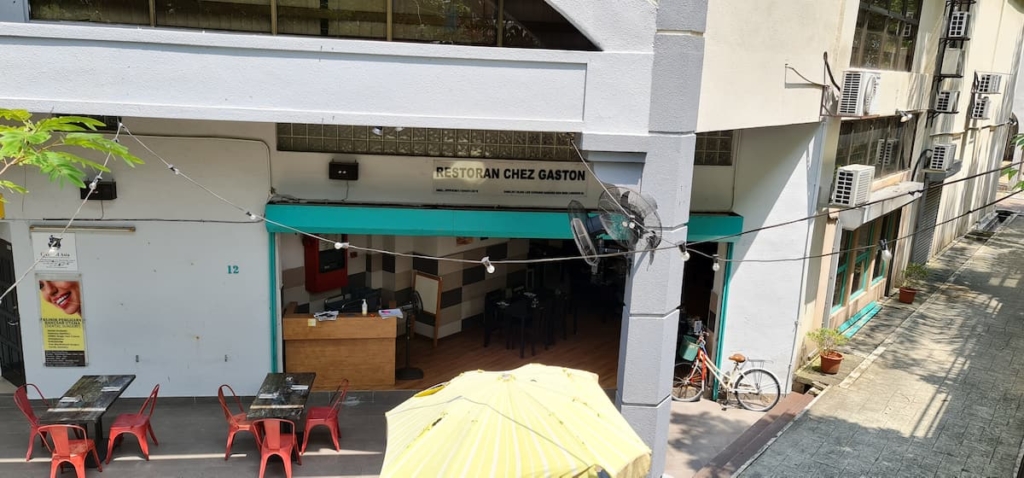 It started on 2018 and the point of this restaurant is lunch course on weekday and weekend. This weekend lunch course will change every week which is very unique idea because the fan will not bored of the menu.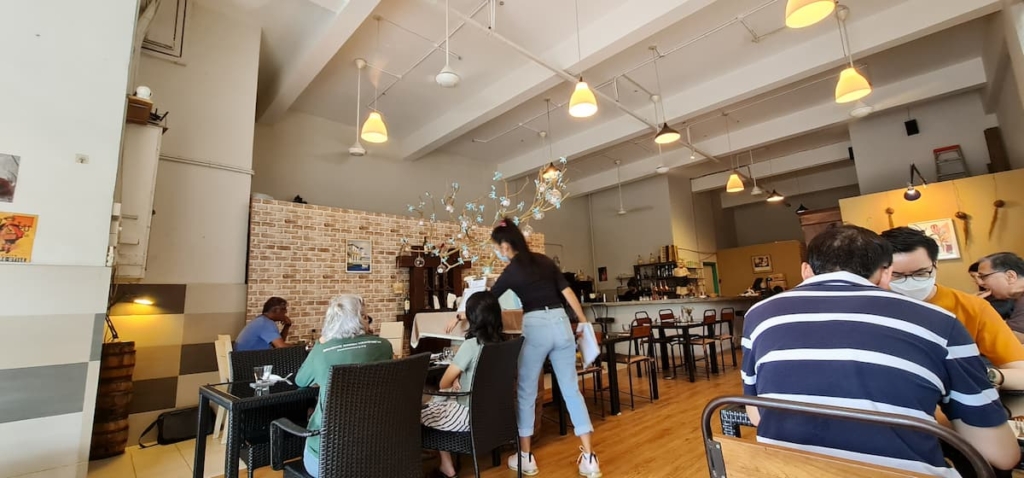 This is the menu. Only the lunch menu for 14th May and 15th May. Appetizer, main & dessert. 3 dishes and RM62 (19 USD) per person. As I have image the Frech is expensive but this price is very reasonable price.
Weekly weekend nice lunch course
This weekend lunch menu was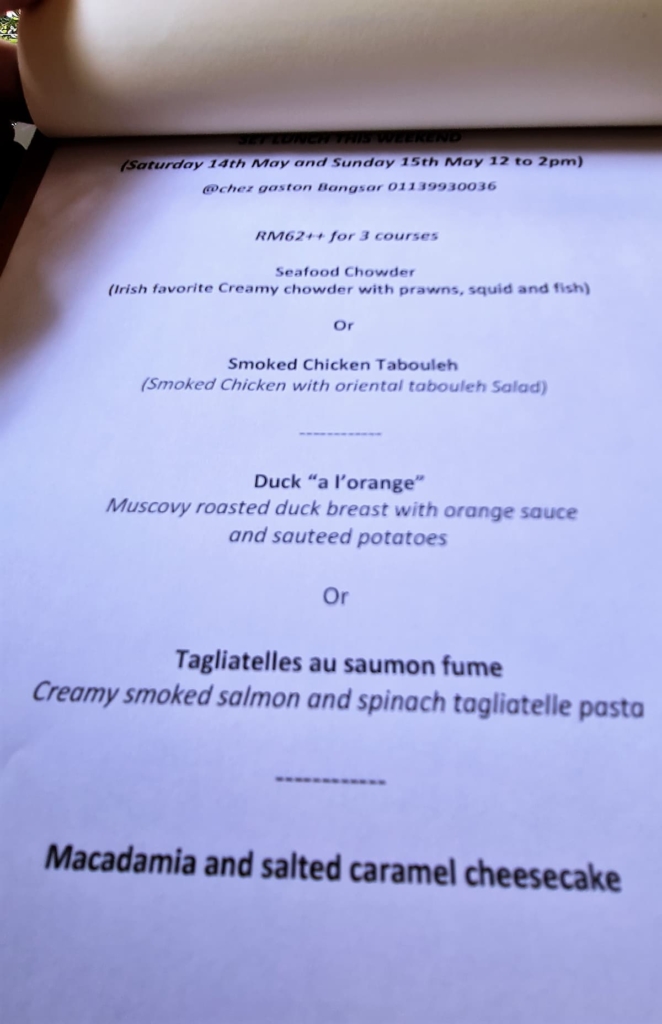 Appetizer
・Seafood chowder
・Smoked chicken Tabouleh
Main
・Duck "a I orange"
・Tagliatelles au saumon fume
Dessert
Macadamia and salted caramel cheescake
I choose seafood chowder for appetizer and Duck "a I orange" for main course. I was very exciting to eat since this is my first time to eat French. For the drink order the mocktail Sparkling pineapple juice RM18 (5 USD). It's fresh and delicous.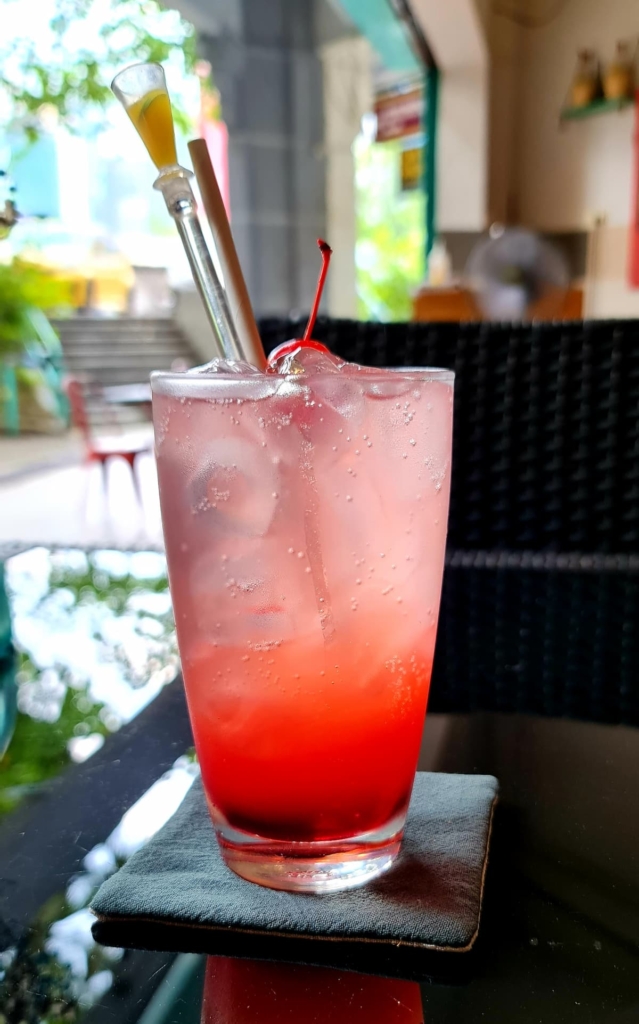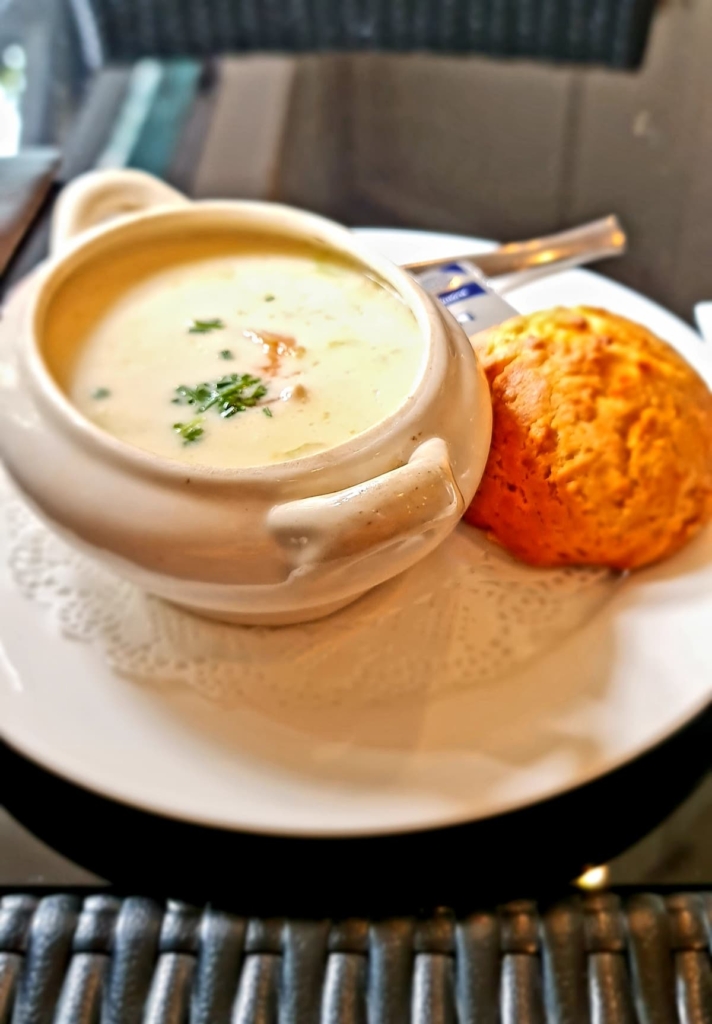 Inside the chowder prawn, squid & fish was used with some vegetables such as carrot. Normally I'm not good at chowder flavor which is mainly coming from the shell but this chowder didn't so much strong flavor of shell for me so I eat it all and all was fine (actually when I order I didn't check detail and thought it was seafood salad not soup). The bread is like scone so you can eat together with the butter and also the chowder.
The nice service of the restaurant was they never serve the main dish before you finish eating appetizer. They only serve you once you finish so no need to rush and you can eat the hot main dish in perfect timing.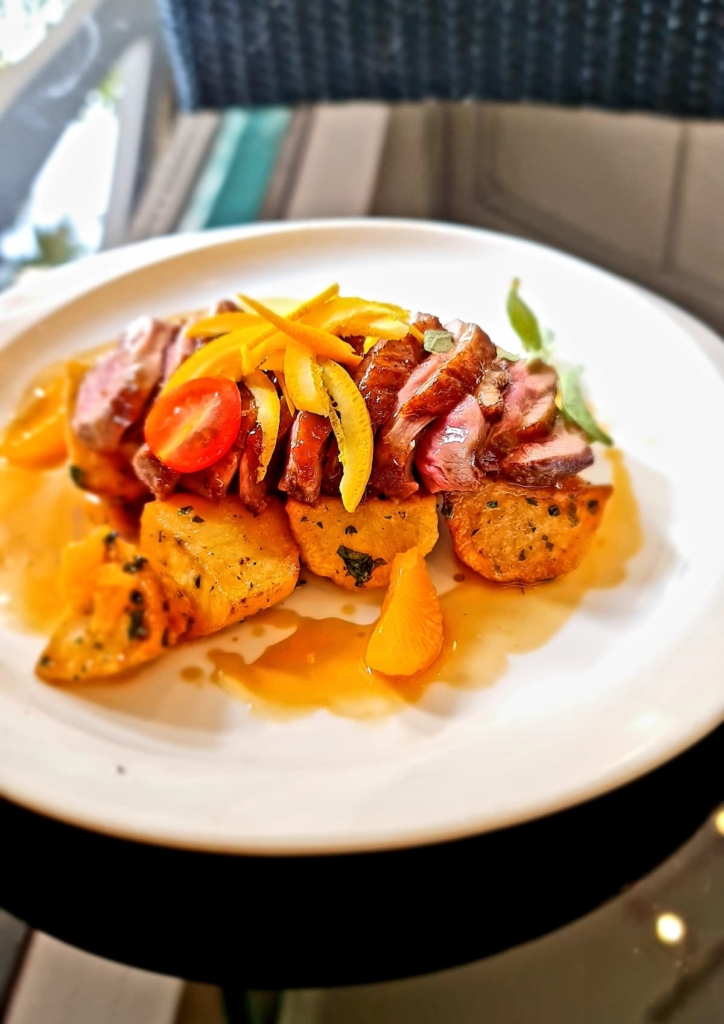 Recently I'm fan of duck meat. This dish come with potato and duck meat with orange sause. Orange sourness makes the duck more juicy. It was really delicous. The plate is very hot so not to touch. The staff also warn you when they served this.
Duck was quite chewy and that made me full faster.
The last is dessert macadamia and salted caramel cheescake.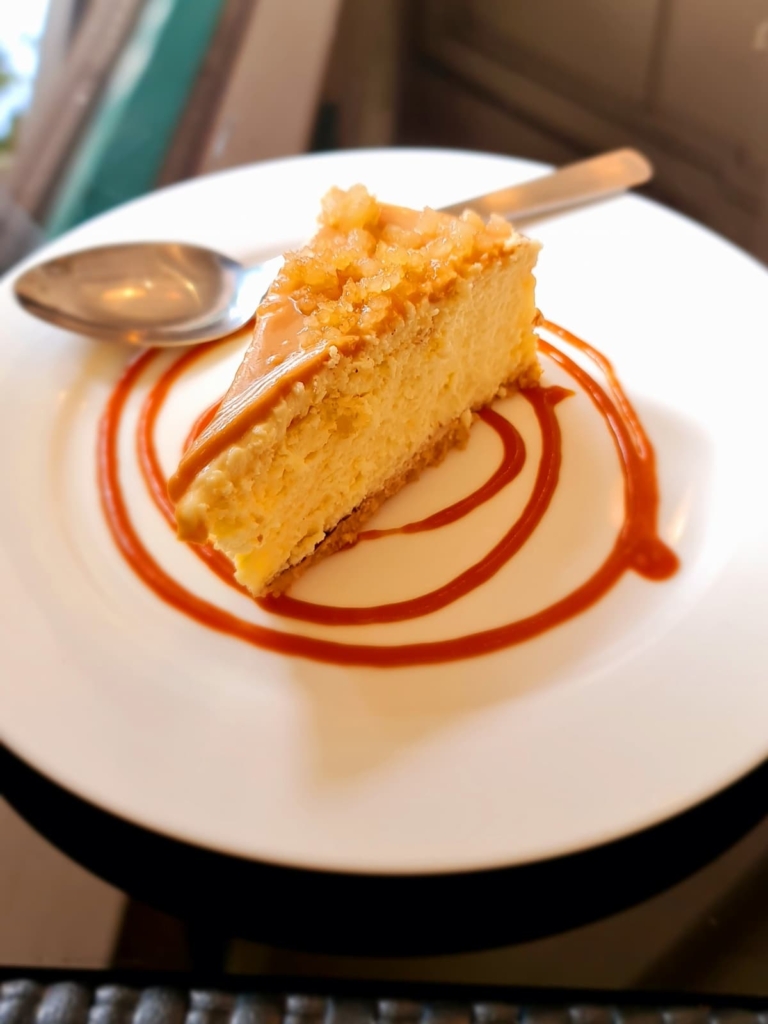 I think this is home made. Cheescake itself was kneade enough and I like these kind of cheescake rather than soft type. The combinatio with salt caramel and cheesecake was perfect. All dished was delicous and fascinated as French.
Chez Gaston French Bistro popular menu
I will share the info of Chez Gaston French Bistro popular menu which was mentioned inside the free paper.
・Escargots Bourguignon
 Escargot dishes flavored with butter and garlic
・Terrine de Foie Gras de Canard
 Using port wine jelly and made the Foie gras dishes with sweetness and refreshing breeze
・Goat chese croquette
・Filet Mignon de Porc
 Pork filet from Spain
・Canard Confit Francais
 Using French duck as confit French cuisine
・Boeuf Bourguignon
・Bouillabaisse A Ma Facon
Soup with condensed seafood flavor
フランス産ワインはもちろん、カクテルもフランスのリキュールを使用したものがありここならではのお酒も楽しむことが出来ます。
Not only French wine, but also cocktails using French liqueur can enjoy unique alcohol at this place.
Restaurant Info
The restaurant is located at Bangsar but when I first visited here I thought I came to wrong place because as you can see on the photo the restaurant surrounding is the completely local apartment. And the restaurant is like at the hidden place.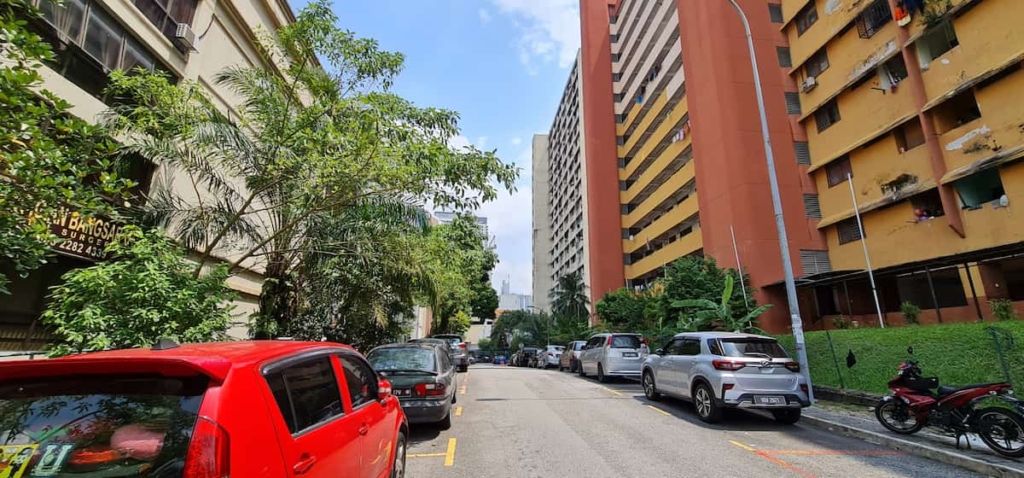 Address:12G, Jalan Bangsar Utama 9, Bangsar, 59000 Kuala Lumpur, Wilayah Persekutuan Kuala Lumpur
Operation hour:Lunch 12:00 – 15:00 、 Dinner 18:00 – 22:00 (Monday:Close)
TEL:01139930036
#55 Most popular Mexican restaurant