As you know the famous hotel in Singapore is Marina Bay Sands.
Infinity pool is only open for customer who stay the hotel and everybody's dream is to go there. At night you can see great scenery of Singapore city view.
Other than Marina Bay Sands Singapore has many nice hotel and I found very intresting which is very rare even in the world. Which is the hotel you can stay underwater as mention in the title. When I first found it I though "What the hell??"
This article is for the person who is
looking for new type of hotel
searching mysterious hotel
seeking to stay at luxury hotel
already bored to stay Marina Bay Sands
Singapore lover
curious
even you not stay in this hotel I hope you will feel fun too.
I was very expensive but it was worth to stay.
Only 7 hotel under the water
This time I stayed in the hotel in Singapore where has the aquarium inside the hotel guest room. You can image like your room is underwater. When I checked seems like only 7 hotel is under the water in the world. Let me share some info since it's just only 7 hotel.
1. The Manta Resort, Zanzibar
2. Atlantis The Palm, Dubai
3. Conrad Rangali Island, Maldives
4. Resort World Sentosa, Singapore
5. InterContinental Shanghai Wonderland, China
7. Jules Undersea Lodge, Florida
There were also cruising on a submarine and an underwater restaurant adjacent to the hotel, but this time I excluded. Only hotels with underwater rooms are selected as per above.
Underwater hotel in Singapore Resort World Sentosa Beach Villas
Resort World Sentosa Beach Villa is the name of the hotel.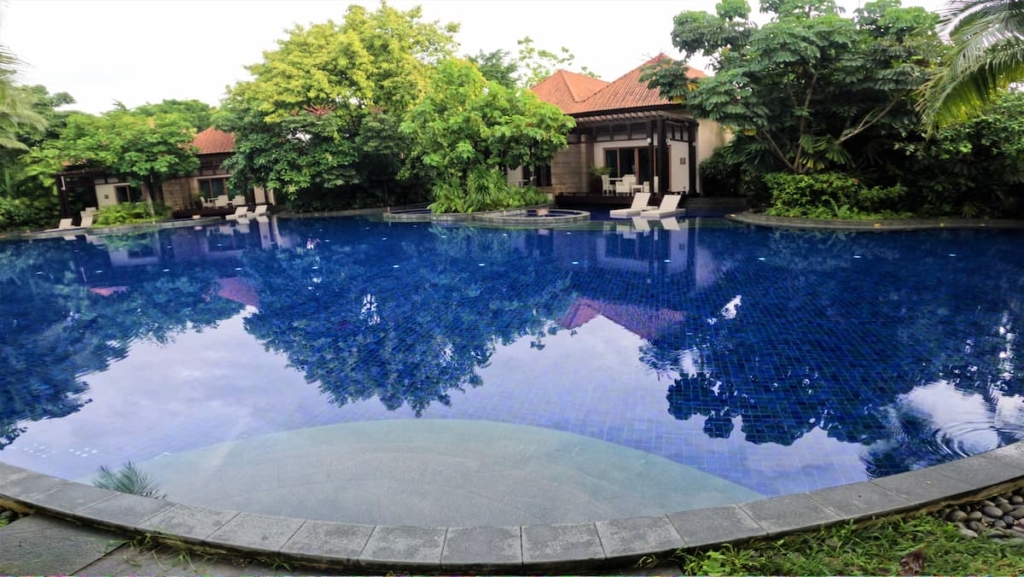 Luxury hotel Resorts World Sentosa – Beach Villas is providing wonderful villa guest room. Aircon of course, private pool, nescafe coffee machine, iHome system, Simon's bed & TWG tea. From the villa you can see the panorama view of ocean and forest.
Since they have TWG for service. If you are TWG lover it's going to be heaven.
I liked the flavor Magic Flute. Not bitter and strong flavor smell of the tea was very nice to drink inside this environment.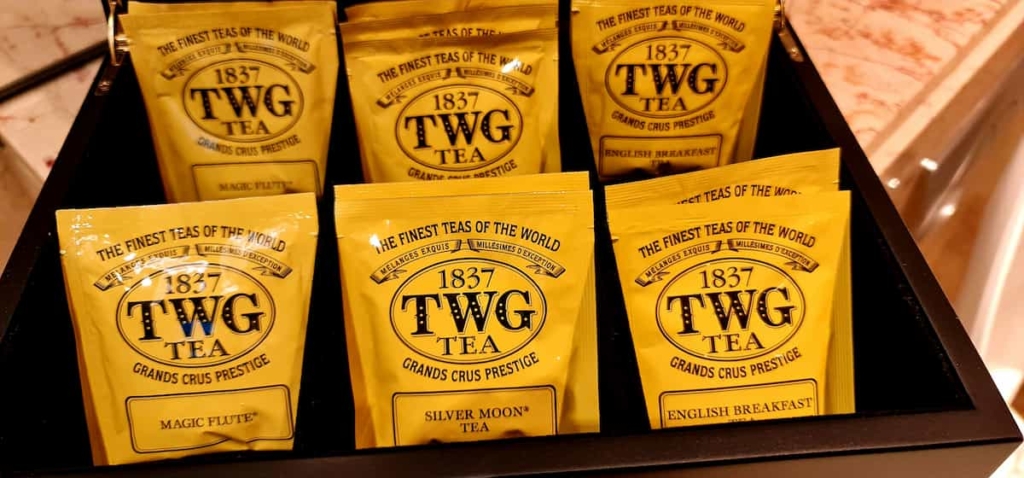 During your stay in hotel normally all transportation will be done by butler service (buggy). This service is 24hour. For breakfast, dinner & check out all you just need to call butler to support you.
Resort world Sentosa Beach Villa guest room info
There ae 4 type. Below picture is the scene you can see it if you not stay at ocean suite.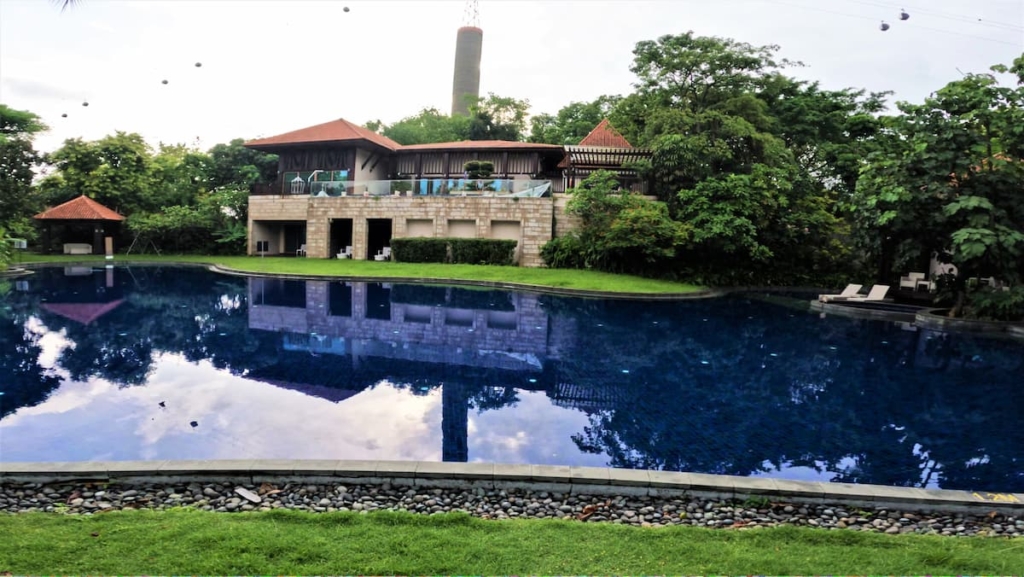 Where I stay is ocean suite so if you stay at beach villa you cannot see the aquarium from your room. Careful to select the room to stay.
1 bed room villa
 2  bed room villa
 3 bed room villa
Ocean Suite
Ocean suite location is different. You need to take buggy to go there which is around 1-2 minute by buggy. The entrance of Ocean Suite is from under ground parking. And there is only 12 room.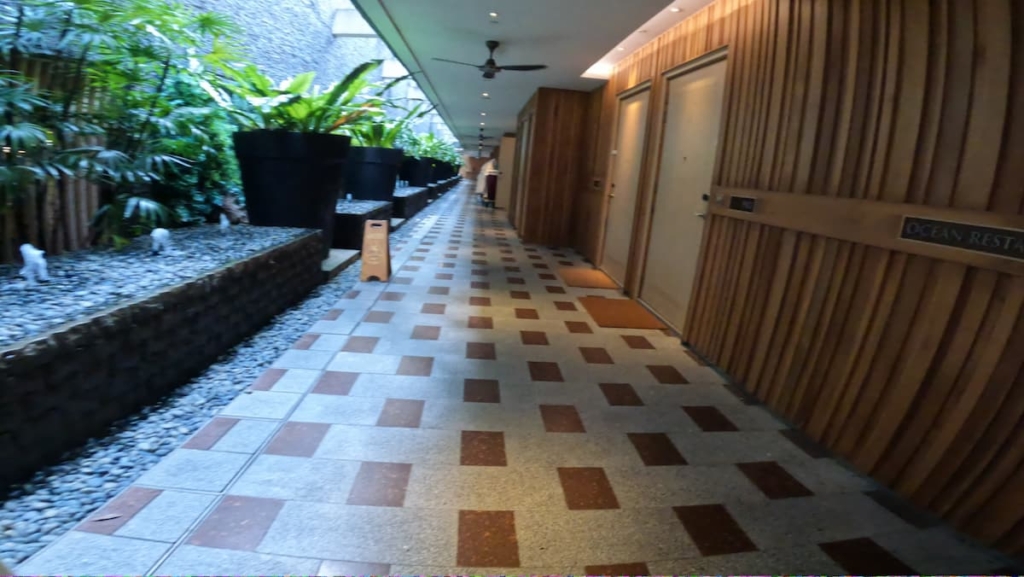 You will be very excited when you see this scenery. My tension was so high. Ocean Suite room is 2 floor. 1st floor is aquarium and 2nd floor is like living room.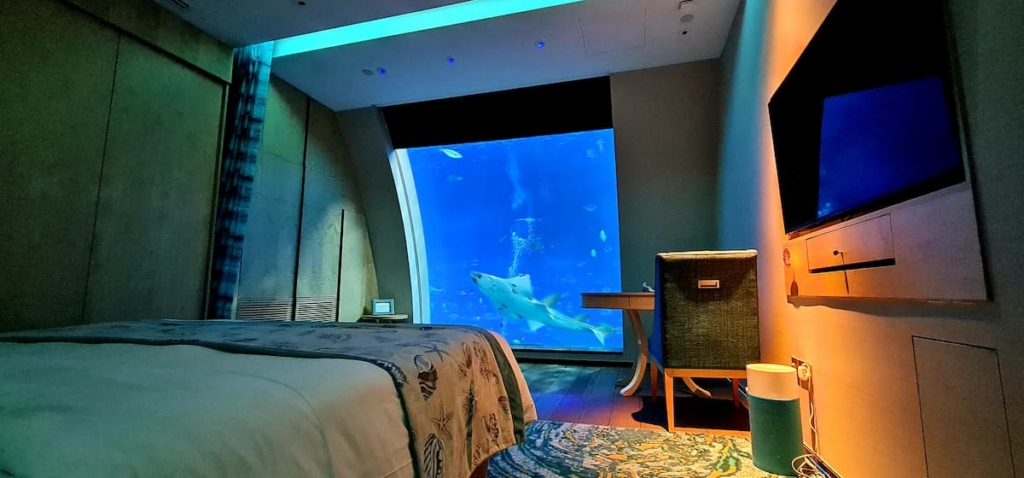 At both floor shower and toilet is there and also have small pool and jacuzzi.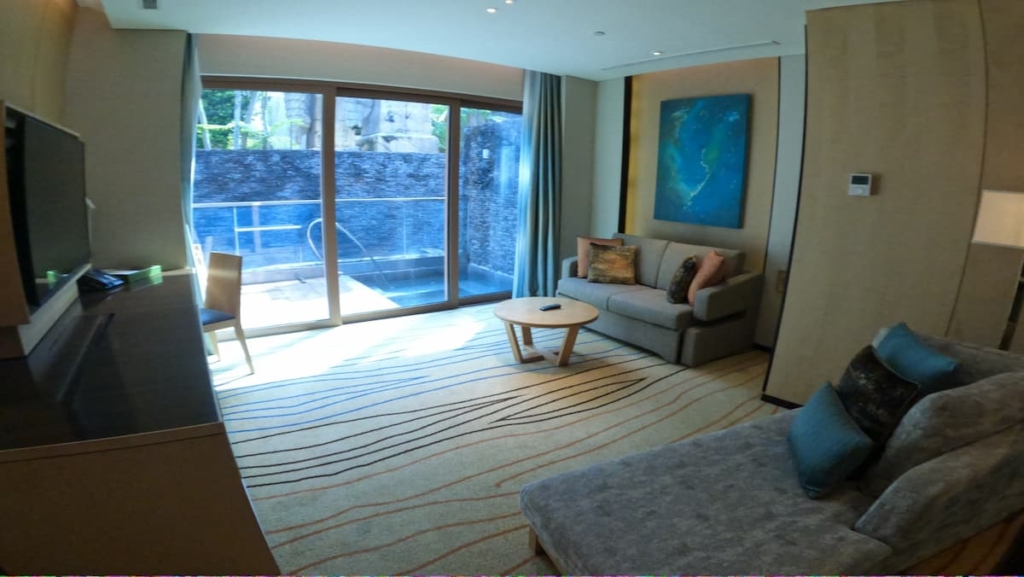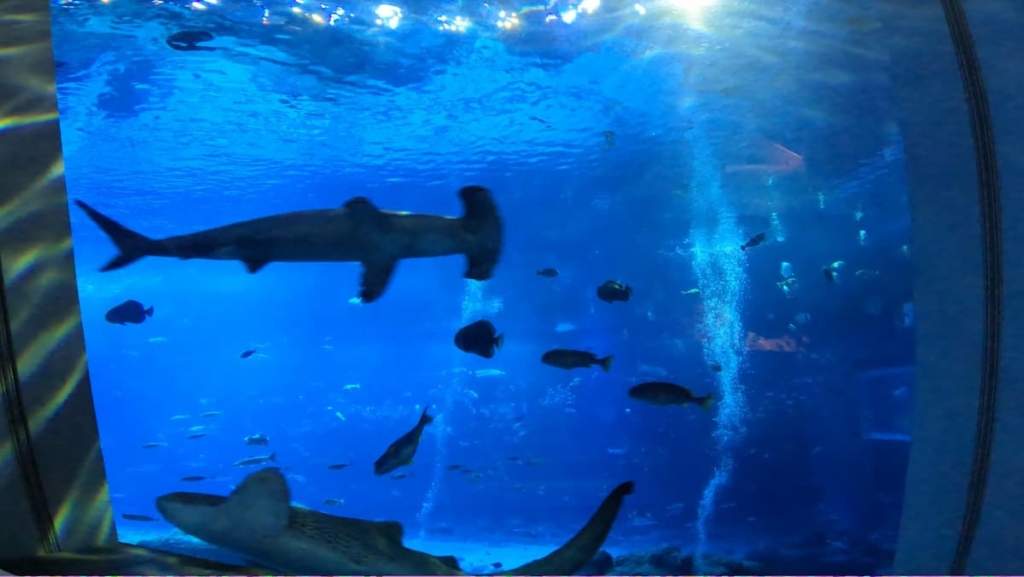 For me the point to highlight about the aquarium is that you can see hammerhead shark and black manta.
After check-in around 4pm to 5pm the diver is going to serve the food for the fishes so you can see it.
It won't make you bored to see this view. I was taking TWG on the bed and explore the luxury time.
Amenities is prepared enough they also prepare tooth brush so no worry on it. They have nice slipper which has good thickness cushion so you won't be tire even using long time.
The price was around 1,415 USD when I booked by Expedia. Booking.com was more cheaper but when considered to get point from Expedia it was bit cheap so I booked via Expedia.
Resort World Sentosa Booking.com
Ocean Suite Rakuten

Resort World Sentosa Beach Villa Expedia
Dinner at Ocean Suite
You may go to restaurant right next to Ocean Suite but also can order room service.
Beginning of May was consider as peak season so I couldn't use the restaurant so used the room service. My original plan was to eat at Ocean restaurant by watching the aquarium but actually it was good to change my mind because you can take more time and relax in your room.
45minutes after ordering all the meals come together. Isn't this is nice arrange for nice dinner in nice room?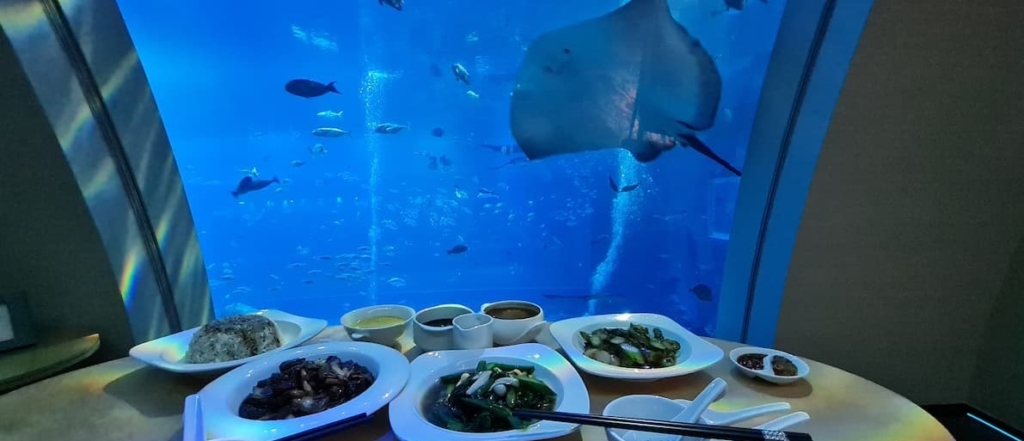 Below is the menu for tonight.
Today soup (Consomme soup)
Scallop and asparagus fried
Beef tendarloin stew
Mushroom and vegetable with oyster sauce
Seafood fried rice with scallop
Since it was room service so the food was not so hot but the taset was no problem and was nice especially the beef was great.
Scallop and asparagus was using like sambal sauce and personally I don't like this sauce.
But it was good decision to use room service because you don't waste the time to miss the every moment in this room. So I recommend to take the room service when you use this room. Since my purpose was to stay at hotel and calm down for this day.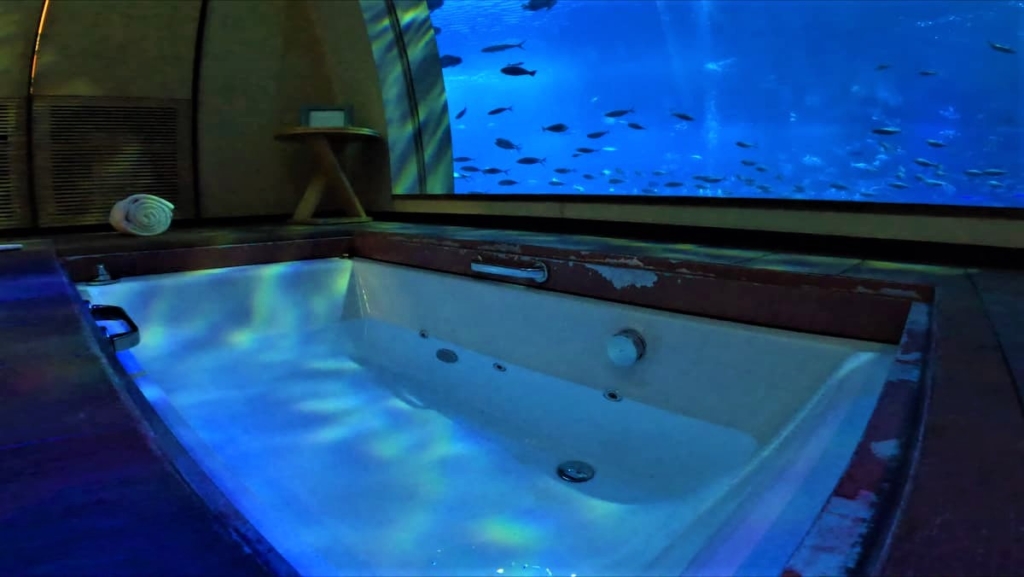 After dinner is bath time. In this room the bathtab was hidden below.
If you don't know how to prepare you can just call butler to support. The panel is quite heavy so if you are preparing by your own be careful not to sandwich your finger.
Breakfast in Ocean Suite
Check out time is 11am. And the breakfast is 7:30am ~ 10:00am. You can use (actually better use) butler to pick up and send to the breakfast place since it's bit far.
I wanted to check out slowly so decide to eat breakfast at 8am. When I arrive there only 1 group weer taking the breakfast but around 8:30am many was coming so I prefer to eat bit faster otherwise you might need to rush for check out.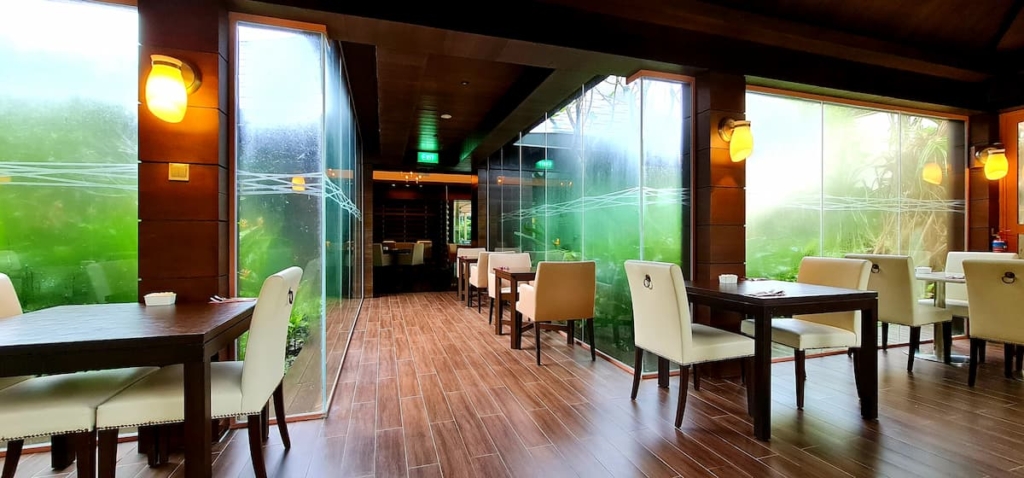 I'm my plan seems like breakfast was not included but you can walk in and pay at the breakfast area to enjoy the meal.
・Continental
・Healthy
・Asian
・American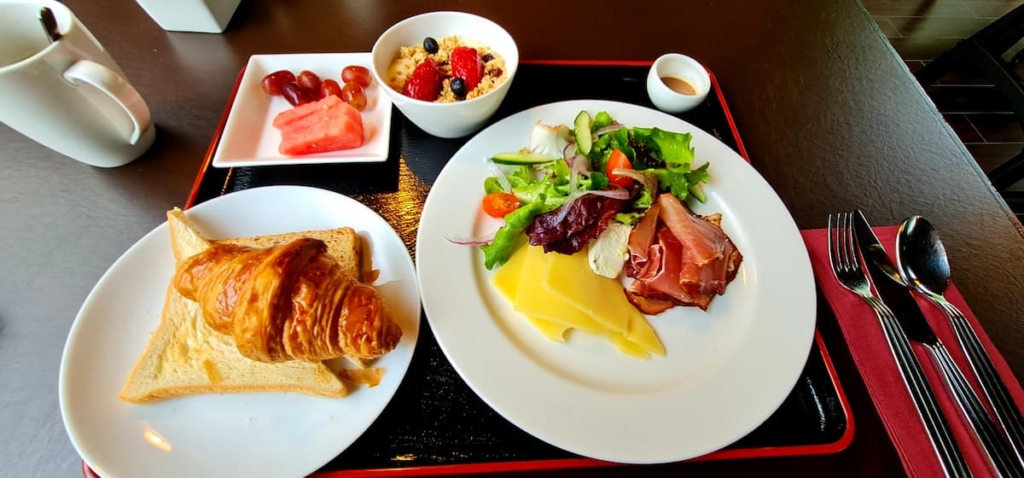 I ordered continental. For drink you can order coffee, tea & juice. I order coffee and juice.
The price is all 35 SGD (26USD).
How to go to Resort World Sentosa Beach Villa
From Vivo city shopping mall you can take free monorail and just drop off by Resort Sentosa.
After dropping off the station just walk to the opposite side from USS and go to Crockfords Tower.
When you reach to Crockfords Tower you can see Hotel Michael and from that entrance there is free shuttle bus to go to the hotel you may drop off at the first stop.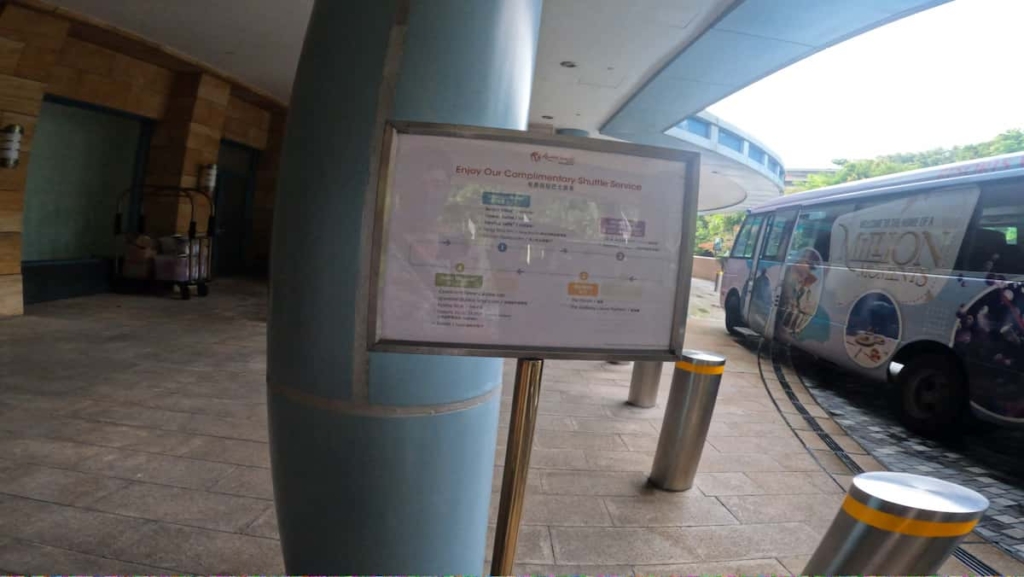 When you drop off you will be in front of Equarius Hotel but to check in you just go inside that hotel reception desk. Beach Villas & Ocean Suite reception is also at Equarius Hotel.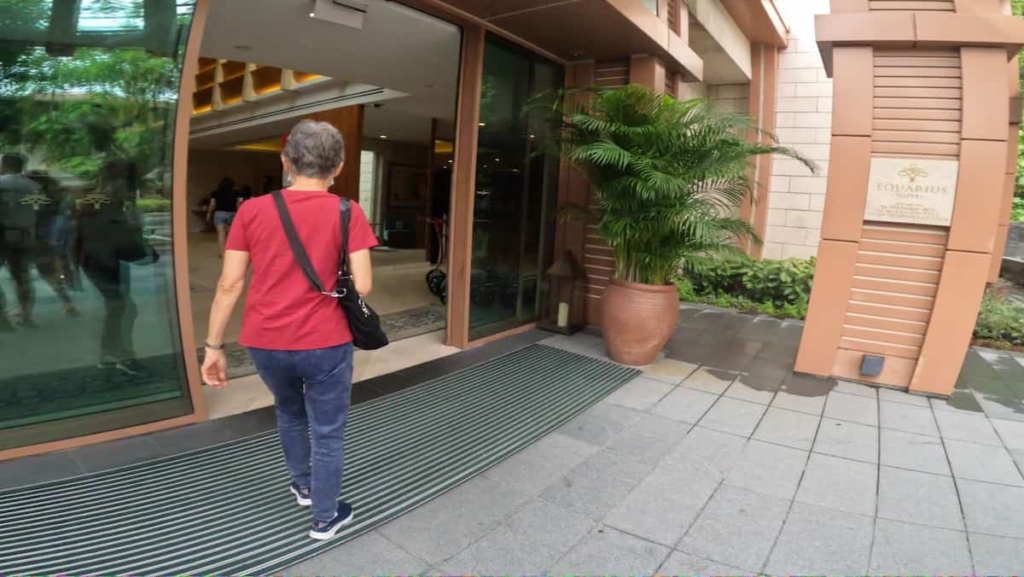 Check in time is from 3pm so you can pass your luggage to the front desk to keep it for you.And spend your time at other place.
If you want to go to the monorail station you just take the shuttle bus again.
If you are using Ocean Suite there is another check in counter at breakfast area lobby. I didn't take the lobby photo but you can see once on your left side once you enter to the below picture building.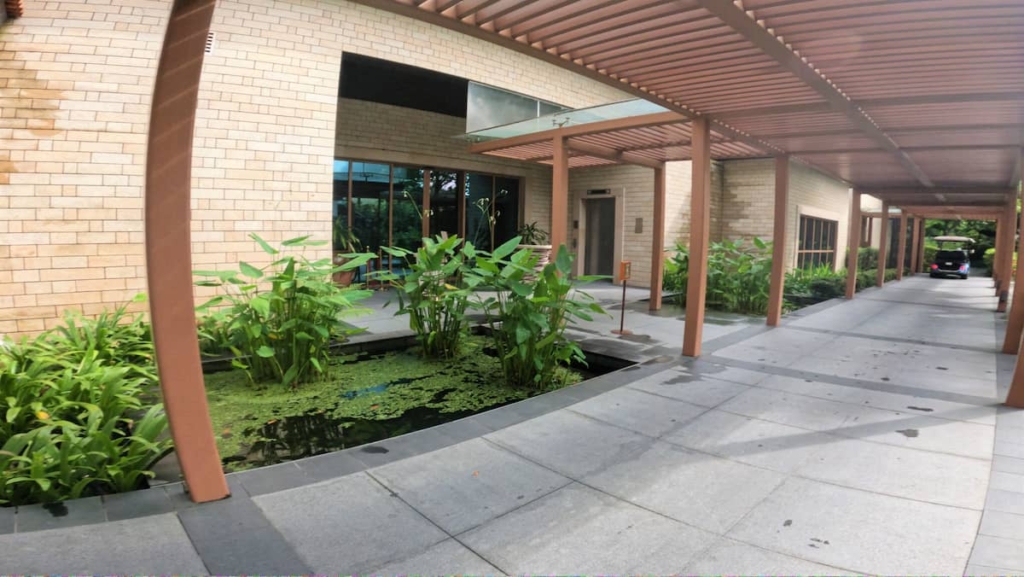 Summary
It might be normal for 5 star hotel but the service for the guest was all perfect. Little bit regret that the check in staff was not good but after check in was all nice including the room, foods and what ever.
When you plan to stay in Ocean Villas must stay at Ocean Suite otherwise you cannot see this view
For dinner better to use room service to spend your time more inside the guest room and enjoy the fantastic view with deliciou dinner
If planning to eat breakfast better eat faster (around 8am)
It's worth to spend money to stay such kind of rare hotel under the water
At Sentosa you can enjoy full day for many activities such as aquarium, Universal Studio Singapore, outdoor acticities but the new activity there is Luge. You can do Luge even it's summer by enjoying the wnoderful nature. If you are intrested on the activity please go!!
2022 this is the latest & best activity to do at Singapore
If you don't have luggage to check in you should better to take the low cost carrier aircraft such as airasia. But sometime it's better to use the major aircraft company such as Japan Airline or Singapore airline. If you are considering to use flight for your trip please check below article. You can get the cheapest flight ticket.
Method to purchase the cheapest flight ticket
If you are planning to use low cost carrier (LCC) you might waste your money. And at the end you might spend more money then using major aircraft company. To avoid such kind of thing please read below article. I summarize the point to be careful when you purchase the LCC ticket.