It's bit expensive but I want to introduce delicious authentic Vietnam cuisine which you can eat in Kuala Lumpur.
I reported reasonable price Vietnam restuarant before so please also review.
Authentic Vietnam cuisine Sao Nam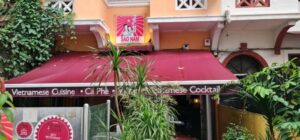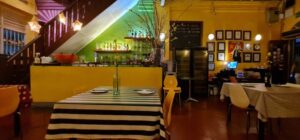 This time I ate 1 of the famous Vietnam dished Banh Xeo.
It is so called Vietnam style pancake.
I first time to know the this Banh Xeo is eaten at South part of Vietnam and North part don't eat.
In this restaurant you can choose 2 Banh Xeo
Chicke and prawn RM30 (5 USD)
Mushrooms, chicken and prawn RM34 (9 USD)
For side menu I order the Vietnam spring roll Cha Gio RM22 (6 USD).
For Banh Xeo I order chicken and prawn.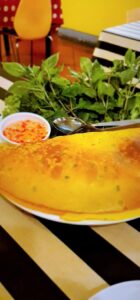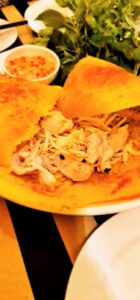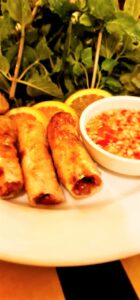 Both will eat with the sause which is sweet, sour & spicy.
For Banh Xeo you eat with green leaf which is served together with Banh Xeo and you will put the dough and meat on that.
You can also put herb with it such as mint it's healthy meal and even this you can become full.
Seems like in the past this restaurant was nominated by best restaurant by Tripadvisor.
All dished was very delicious.
Of course other Vietnam cuisine can eat here so please try.
If you can drink alcohol please try Belguim beer Loffe it's bit fruity but like dark beer. I really love it.
Even if you don't like herbs no worry they serve with the dished and not cooking together.
Also this restaurant is Halal so Muslim people can enjoy.
Located at Bukit Bintang and next road to Jalan Alor.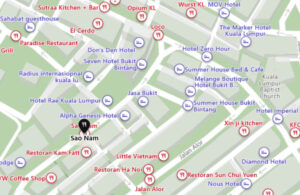 Address:25, Jalan Tengkat Tong Shin, Bukit Bintang, Kuala Lumpur 50200
Operation hour:Monday ~ Thursday , Sunday 12:30pm ~ 2:30pm , 7:30pm ~ 10:30pm
      Friday & Saturday  12:30pm ~ 2:30pm , 7:30pm ~ 12:30am
TEL:+60 3-2144 1225
Malaysia info#35 Amazing skewer restaurant Loong Hot Pot
Malaysia info#37 Not just selling Japanese rice but Japanese set menu is nice Suzuki Shoten