This article is continueing from #2.
The afternoon activity is joining the trekking course Hooker valley which can be able to view Mount Cook very closely and starry sky at Pukaki lake.
If you didn't view #2 please also review. It's about the rare activity to participate ice glacier trekking and you can view the spectacular nature there.
Mount cook National park is registered as world heritage site but the Mount Cook is the most highest mountain in New Zealand which is 3,724m.
It is called Aoraki by the Maori which is New Zealand Indigenous and it means "cloud piercer".
The mountain is in the Aoraki / Mount Cook National Park, in the Canterbury region. The park was established in 1953 and along with Westland National Park, Mount Aspiring National Park and Fiordland National Park forms one of the UNESCO World Heritage Sites. he park contains more than 140 peaks standing over 2,000 metres (6,600 ft) and 72 named glaciers, which cover 40 percent of its 700 square kilometres (170,000 acres).

he peak is located at the northern end of the Kirikirikatata / Mount Cook Range, where it meets with the main spine of the Main Divide, forming a massif between the Hooker Valley to the southwest and the Tasman Valley east of the mountain. These two valleys provide the closest easily accessible view points of Aoraki / Mount Cook. A lookout point at the end of the Hooker Valley Track located only 10 km from the peak has views of the entire mountainsidem.

Aoraki / Mount Cook Wikipedia
There are several recking course to see Mount Cook.
But this trekking course is good for beginners to challange to see the Mount Cook closely.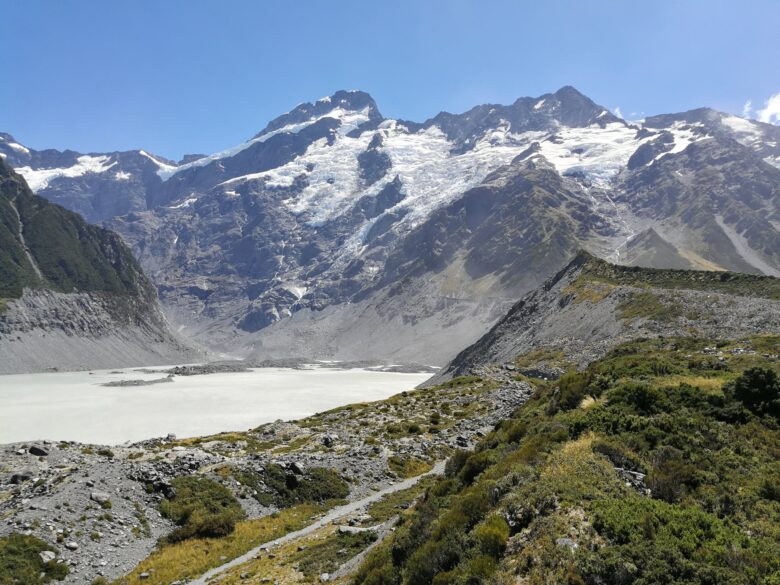 If you come to New Zealand Tekapo I believe that Hooker valley trekking cannot miss.
Trekking fee is actually free so if you are performing low cost travel it's really nice choice.
One way had 4km and it will take 3 to 4hours to return back but you won't be bored because of trekking through the magnificent nature. But please ensure to prepare enough water and so on since you need energy to reach the goal and especially during summer season it's quite dry there.
The reason why Hooker valley is good for beginner is because not many upside down and the walkway is still easy to walk.
Please use the shoes which you are used to use or use the mountaion shoes. I used trekking shoes which was really helping me.
[itemlink post_id="1905″]
You need to pass 3 bridge to reach to Hooker lake & Mount Cook.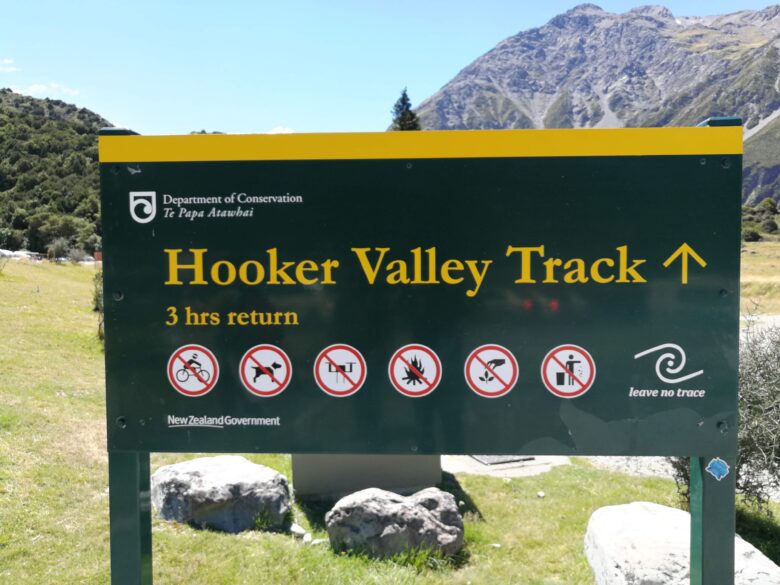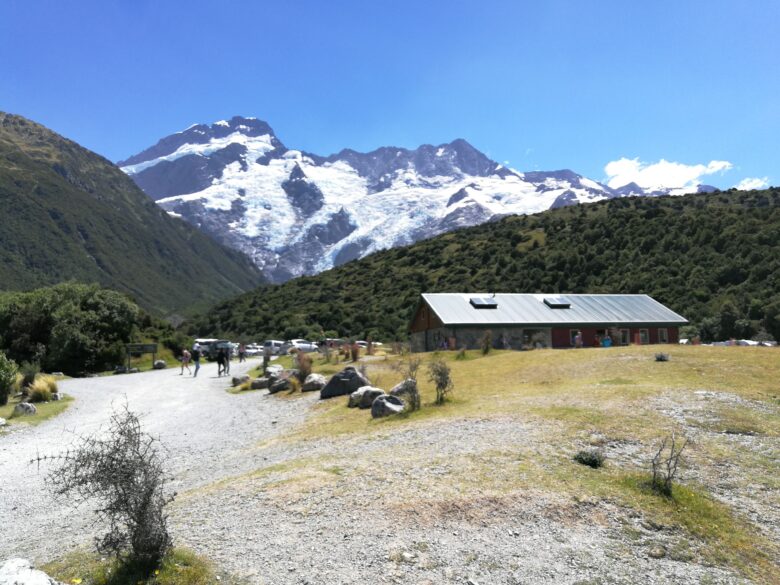 Address : Hooker Valley Track, Mt Cook National Park 7999, New Zealand
Take note that the mountain you can see at the 1st bridge is not Mount Cook.
After your departure from start point you will reach to Mueller viewing platform by 20 minutes. From there you can see the 1st bridge. Instead of Mount Cook you can see Mount Sefton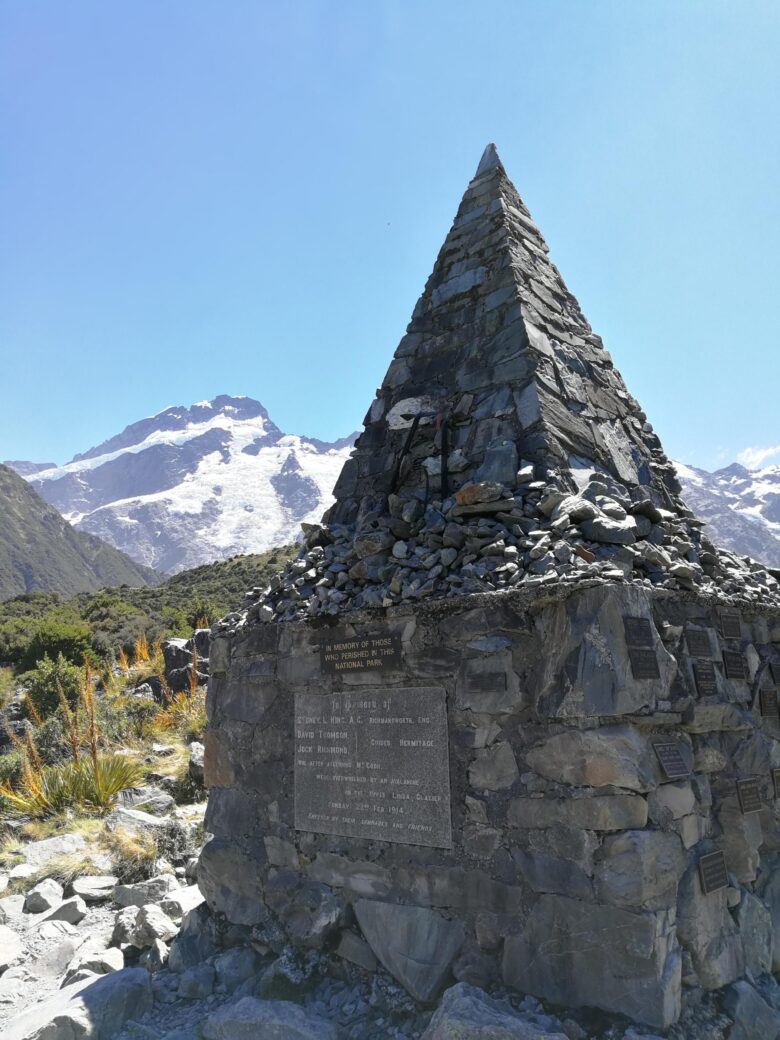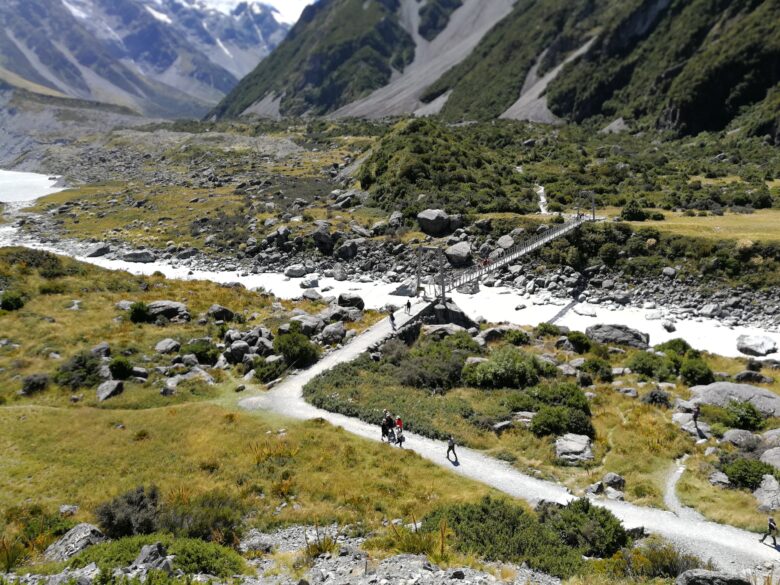 After 1st bridge it will take around 30 minutes to reach to 2nd bridge.
Still you cannot view the Mount Cook but you can view the 3,000m size ice glacier along the Hooker valley.
I guess the 2nd bridge was the longgest and when there is strong wind the bridge can be shaken and you will feel thrill.
When I went there wind was quite strong and it shaked a lot so I enjoyed.
Please see the Youtube so you can notice that.
Best place to see starry sky in the world Tekapo New Zealand #3(世界一綺麗な星空が見えるテカポ湖@ニュージーランド #3)
After you pass the 2nd bridge and for a while you can see Mount Cook in some times. And after around 30 minutes you can see the entire of Mount Cook.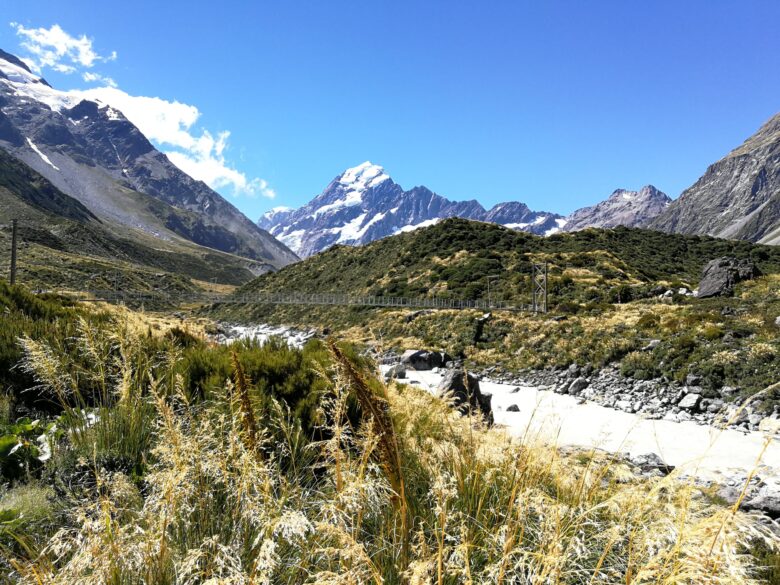 At this point you can see the Mount Cook clearly.
After passing the 3rd bridge and around 30 minutes you will reach to the goal Hokker lake. It's almost there so make a last effort.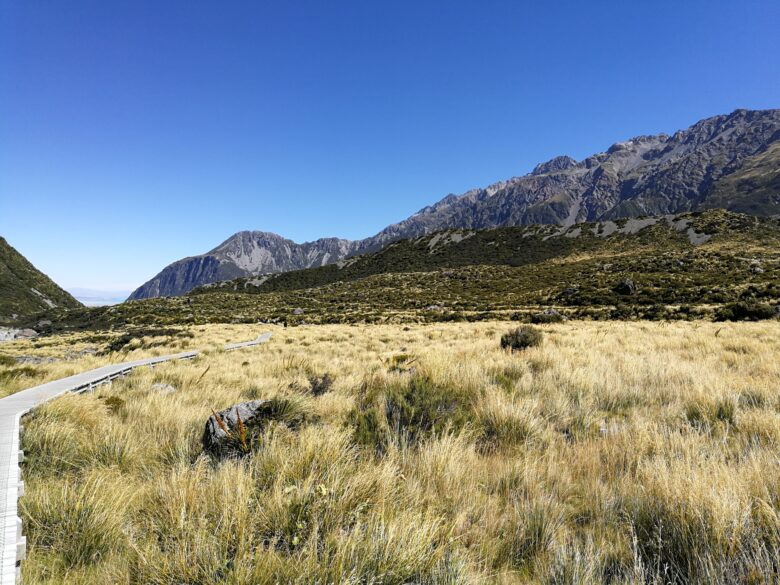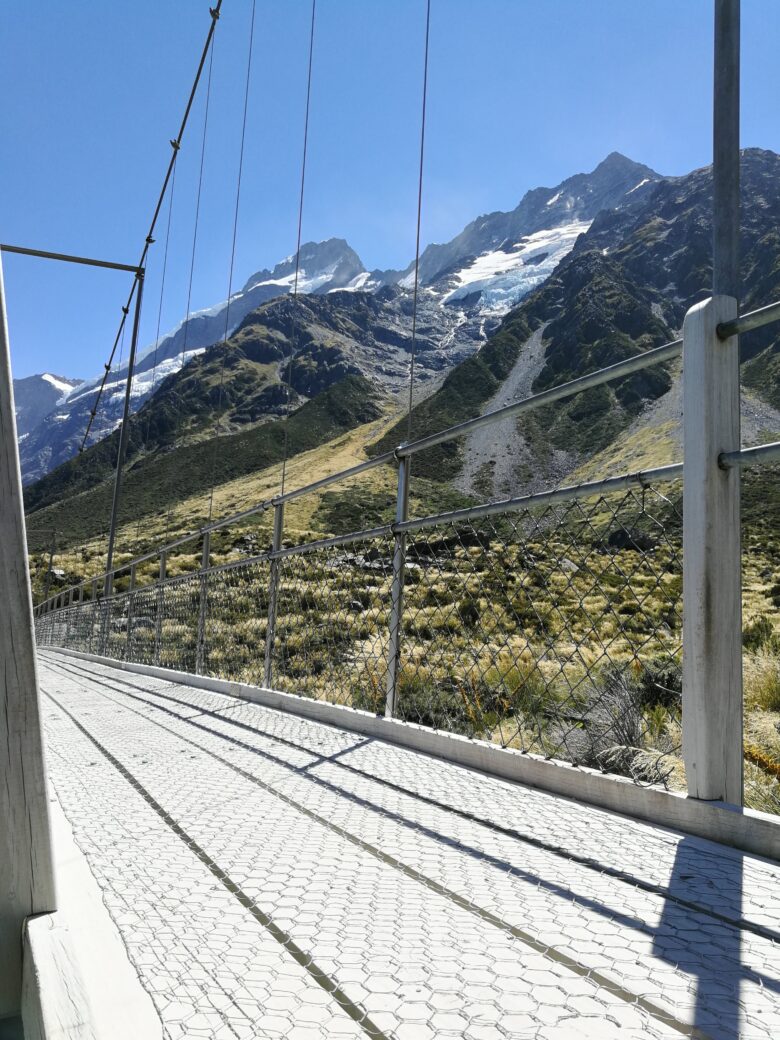 Here is the goal.
There's a bench to rest. If you bring the small meal or snack you can enjoy the meal with spectacular view but please ensure to bring back the rubish.
You can step to the lake side so please see the Mount Cook which standing backward the Hooker lake.
Sometime the small glacier is landed at the side of the lake.
I believe when you see this spectacular view your tireness will go away.
Lake is quite deep but you can swim if wanted but I guess the water is very cold.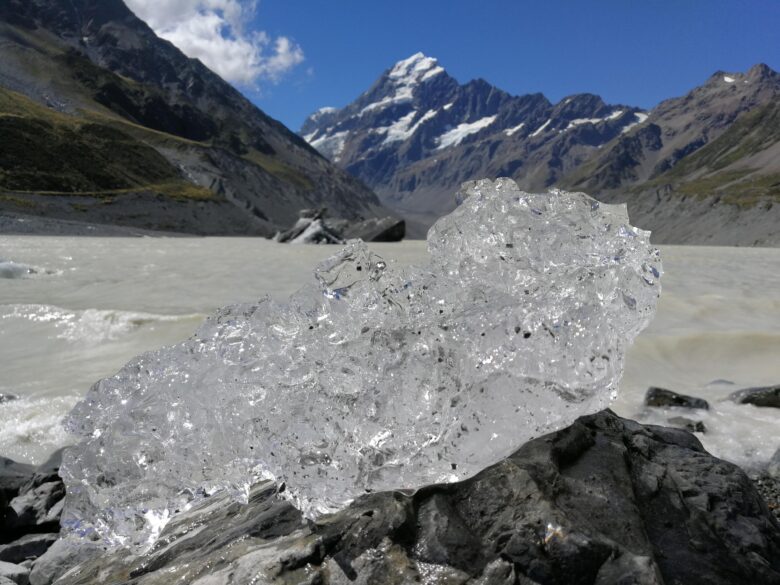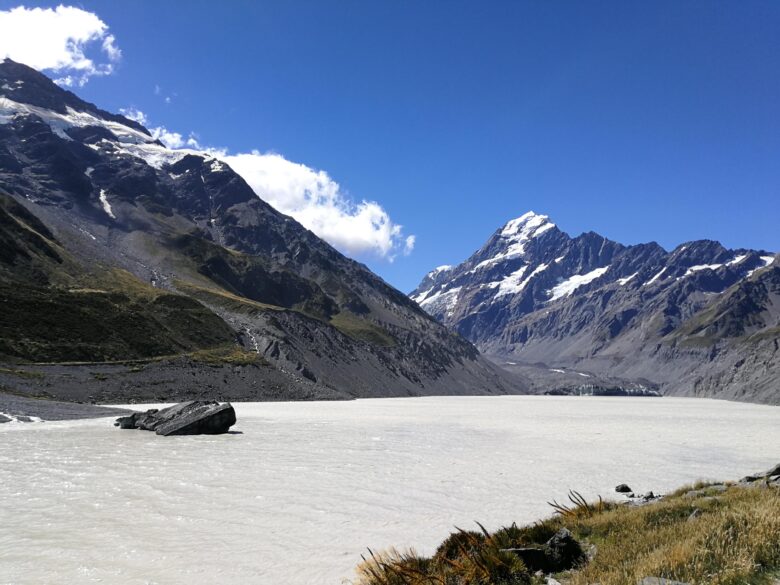 This time I was searching other place to see the nice view for starry sky.
On the way to Mount Cook village from Hooker valley you can see several location to stop so I decided to see it at that point.
The area around Tekapo is a "Starry Sky Protected area" which is certified by the International Dark-Sky Association.
Since the entire city has been taken countermeasures to reduce light pollution as much as possible so that makes does not disturb to see the starry sky, there are no outdoor lights installed in most places.
Address : Mount Cook Road, Ben Ohau 7999, New Zealand
Pukaki lake is same like Tekapo lake which is made of melted snow from glaciers, but different point from Tekapo lake is the color of the lake changes depending on the weather. It didn't rain when I went, so I didn't see what changes can see during raining, but it looked different on sunny and cloudy days.
In the lake, there is sand (rock component) formed by cutting glaciers called glacier flour. It seems that you can see the color change due to this rock component. Or maybe depending on the amount of sunlight and how it hit.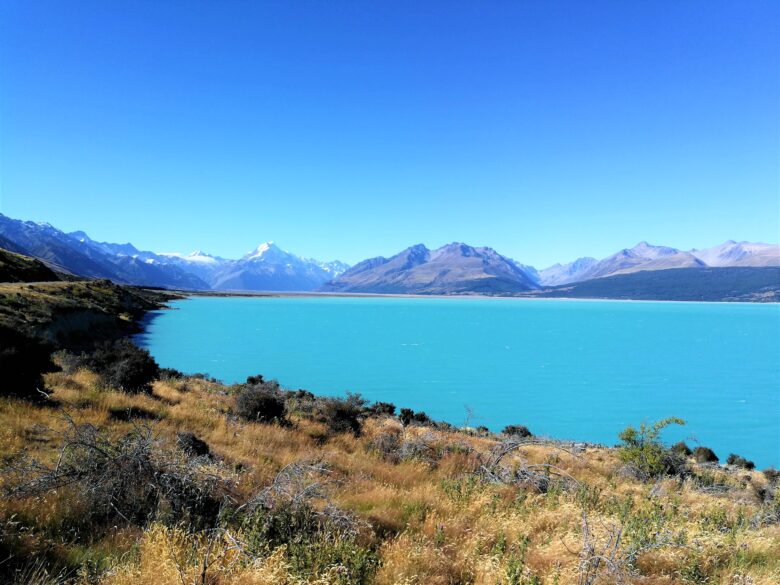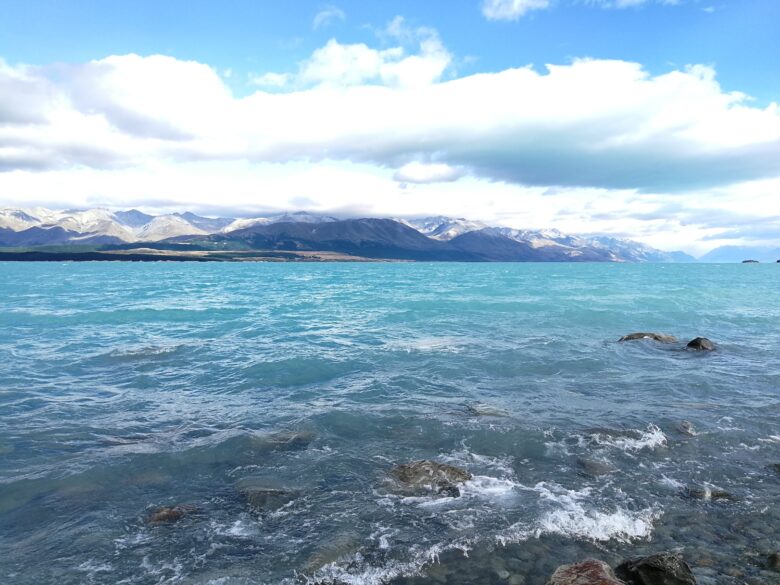 Let's see the most beautiful starry sky in the world.
The first day starry sky at Tekapo was also nice but Pukaki was definitely more nice than that.
By even the camera you can notice that it's very beautiful so you can imagine how beautiful at the site. You'll feel like you are in the space and it really impressed me.
You can view all of this by yourself here compare with Tekapo. If you have 2 days to see the starry sky why not choose other place.
Church of the Good Shepherd is also nice but without any disturb to see this world was so nice.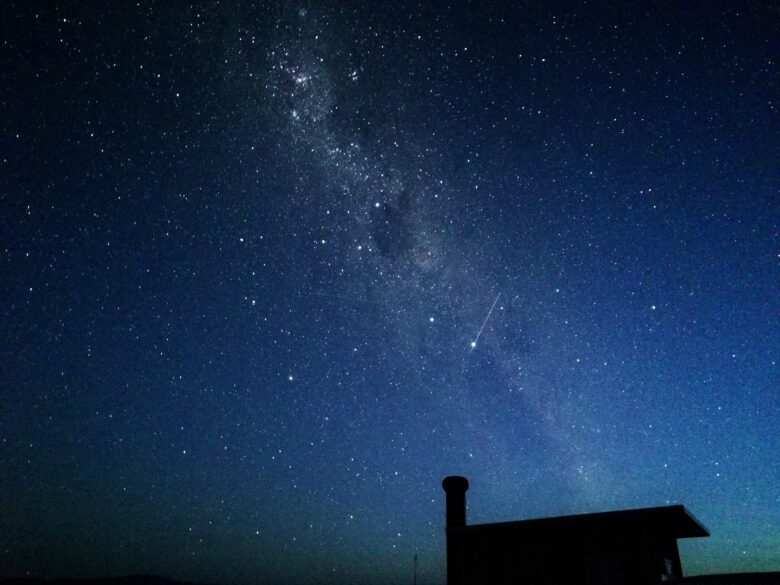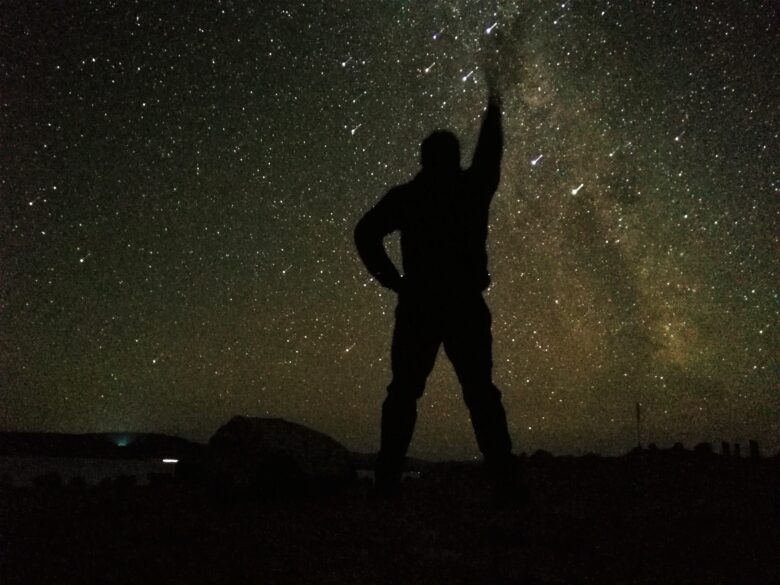 This photo was taken at the Pukai view point which you can see at the Google map.
I'm also not good to take picture but better to use phone than single-lens reflex camera.
Change your phone camera mode to night mode
Prepare the stand for phone
If you camera don't have the night mode try to use manual mode. Use the smallest value for F , the choose the slowest speed for shutter speed & use higher ISO (you need to adjust all these setting base on the result of the picture)
Above 2 item makes you really easy to take the starry sky.
For your info my phone setting was below.
Phone model:Huawei p10plus
F 1.8
Shutter speed 30"
ISO 3200
I'm using the flexible phone stand.
You can put it on the handrail or tree branch or where ever you want so I thought is was more convenient.
[itemlink post_id="1958″]
Summary
I summarize as below.
Even beginner you should try Hooker valley trekking if you come to Tekapo
If you have enough time/schedule better see the starry sky at Pukaki lake
How to take beautiful starry sky picture by phone
I had also uploaded Youtube.
Appreciate if you can see that too.
Best place to see starry sky in the world Tekapo New Zealand #3(世界一綺麗な星空が見えるテカポ湖@ニュージーランド #3)
Best place to see starry sky in the world Tekapo New Zealand #2
Other than New Zealand I'm also writing report about the traveling at other country.
Appreciate if you can see that too.