Brazilian famous churrasco can eat in Malaysia.
In Malaysia there are several type of BBQ style such as Korean BBQ, Japanese BBQ, Brazilian BBQ and so on. If you focus on meat style of cuisine is plenty.
If you really like to eat meat Brazilian churrasco is also very nice and benefit for you to try.
Brazilian BBQ restaurant Samb
This restaurant can eat the Brazilian BBQ churrasco Samba. It's located in front of KLCC the shopping mall name Avenue K. As you can see in the display it's Brazil steakhouse.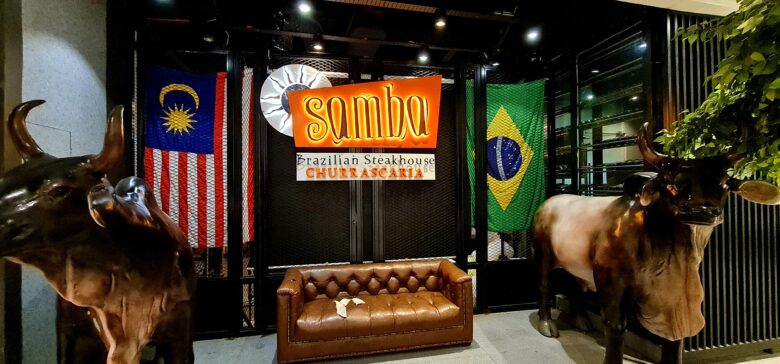 What is churrasco
Churraso is the Brazilian cuisine which is using skewer with beef of lamb meat and cook by using salt or specific sause.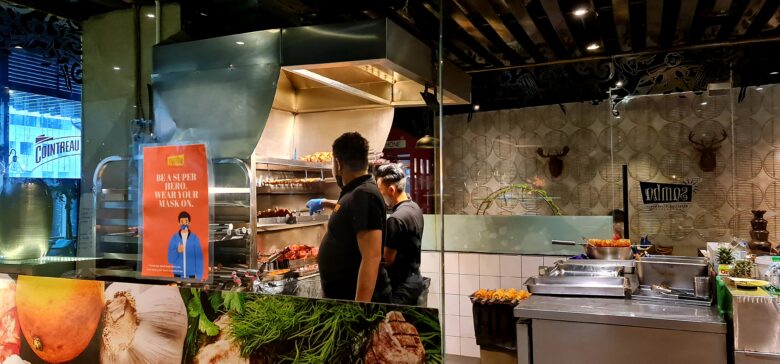 As shown in the picture the well cooked meat will be serve to each table. The customer need to grab the meat by tongues and then the staff will shave off the meat.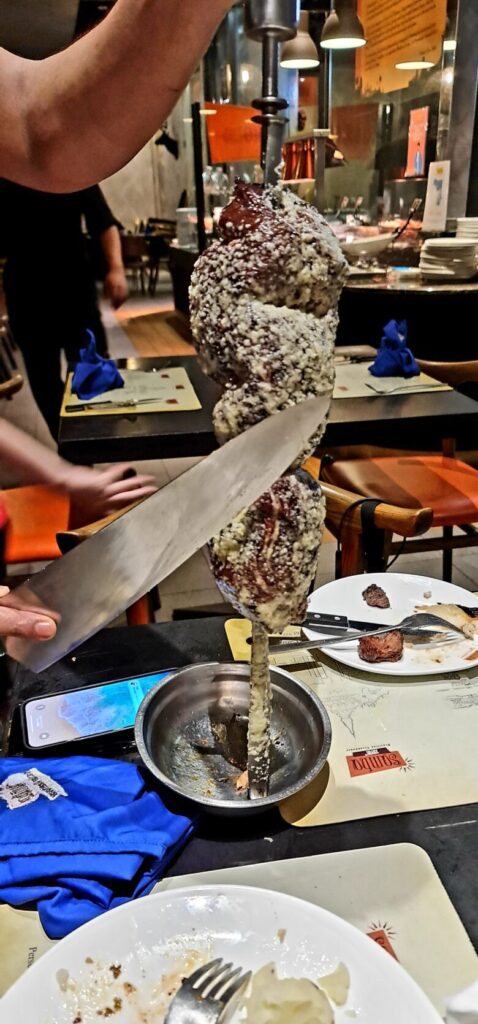 It's similar to Kebab but different.
Kebab is using lamb and the meat is using the sliced lamb to pile up to the skewer which become as 1 big meat mass. The meat mass will rotate infront of heater to cook and when they make the Kebab they just slice off the meat mass.
Other dishes except meat
All other foods or served by buffet style.
Salad, Malaysian cuisine, sushi, sashimi & desert whatever you want you can take it.
If you want to eat the meat a lot, you should be patient but only meat will become boring so salad is good menu for side dishes.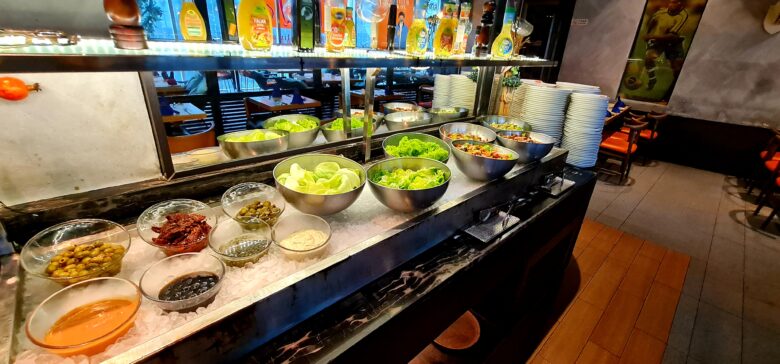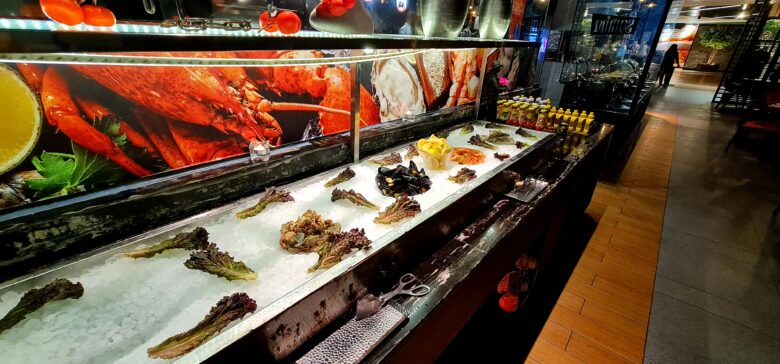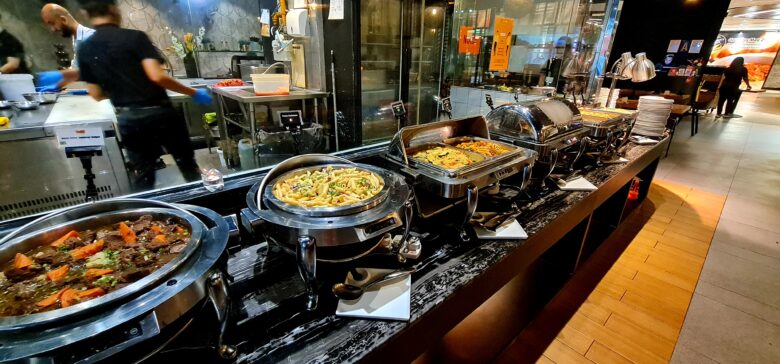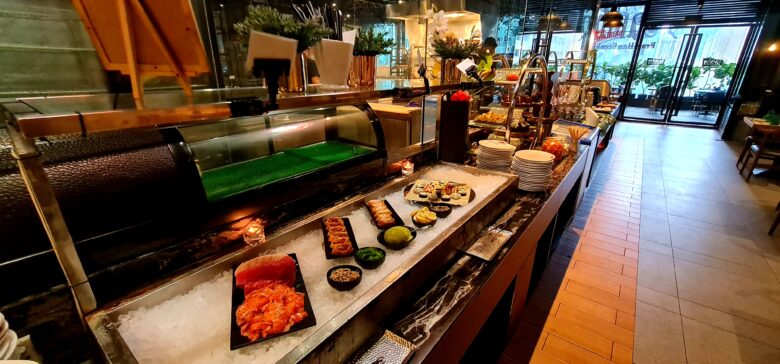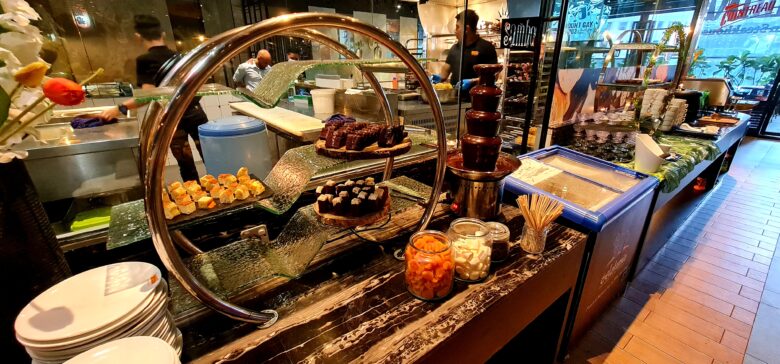 For desert they were serving chocolate fondue, ice cream, cake and some fruites which was prepared nearby the salad area.
We went there around 5:30pm during Ramadan season but the meat was only served after 6pm so if you want to eat the meat as soon as possible you should arrive there on 6pm.
But if you want to go there around 7pm, you must book in advance because around that time was already full with customers.
Drink is separated price you need to order.
If you want to drink alchohol please try Brazilian cocktail "Caipirinha" which is using Brazil liqueur "Cachasa".
The picture below is caupirinha lime which taste is fresh but strong alchohol. If want the sweet cocktail tropical caipirinha mango is best.
How is the taste of Brazilian BBQ!
They serve beef, lamb and duck meat.
For me lamb meat smell was bit strong so if you don't like these kinds of smell you may refuse the lamb.
But the picture below is lamb with cheese was really nice. The smell was dissapeared because of cheese.
My best was duck and beef sirloin.
On the table they normally have the coin which shows need meat or no need the meat. Our table had the coin but only our doesn't have the staff just said [don't worry] but if you have it and don't need the meet anymore you need to turn that coin to red which means stop to serve the meat.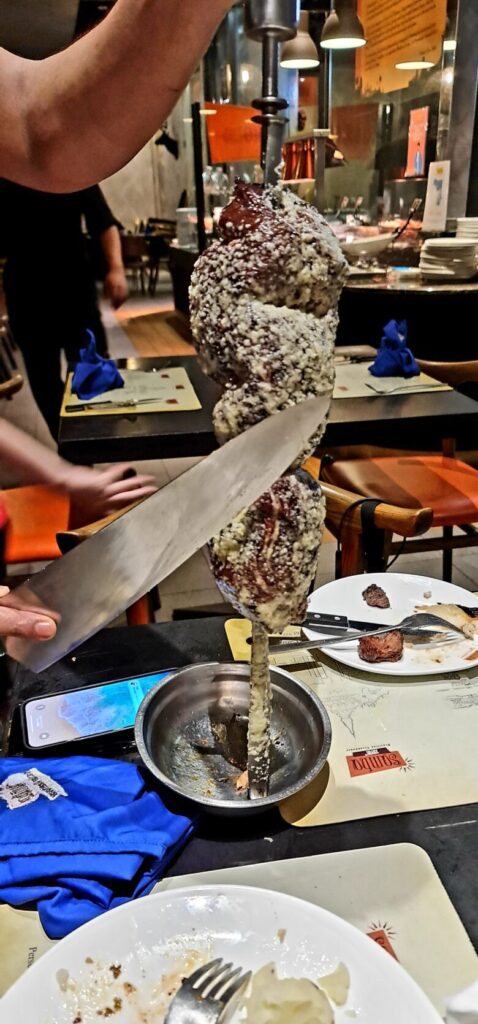 Restaurant Info
The restaurant can be use for Muslim people also but many Chinese and other foreginers were enjoying the meal. Especially during Ramadan better to book in advance since this restaurant is very popular.
Restaurant name:Samba Brazilian Steakhouse
Avenue K is right infront of KLCC. Avenue K also have parking lot but it's small and quite difficult to park there so I prefer to use KLCC parking lot. If you can use train that is the best way.
Address:Avenue K, 3, 156, Jln Ampang, Kampung Baru, 50450 Kuala Lumpur
TEL:0327112911
Operation hour:12:00pm ~ 10:00pm
#52 The place to eat Japanese beef in KL