Do you have your favorite cuisine? What is your favorite food? Since I'm Japanese of course Japanese cuisine is best for me but other than that I really like Mexican cuisine especially tacos.
In Malaysia there are several cuisine and of course have the Mexican food too.
But it's a bit high price to eat tacos. Almost same price as Italian or Chinese.
This time I would like to introduce the franchise fast food such as Macdonald and Burger King which is serving delicious tacos.
Mexican but origin is America fast food TACO BELL
This fast food franchise shop named TACO BELL is the place I really used a lot when I was living in America.
Both soft tacos and crunchy tacos is served.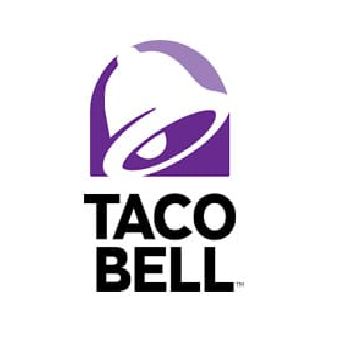 It was opened since2021 but I didn't know until this day. Really thanks to my friend who tell me about it.
Firstly I really recommand you to eat the crunchy shell tacos!!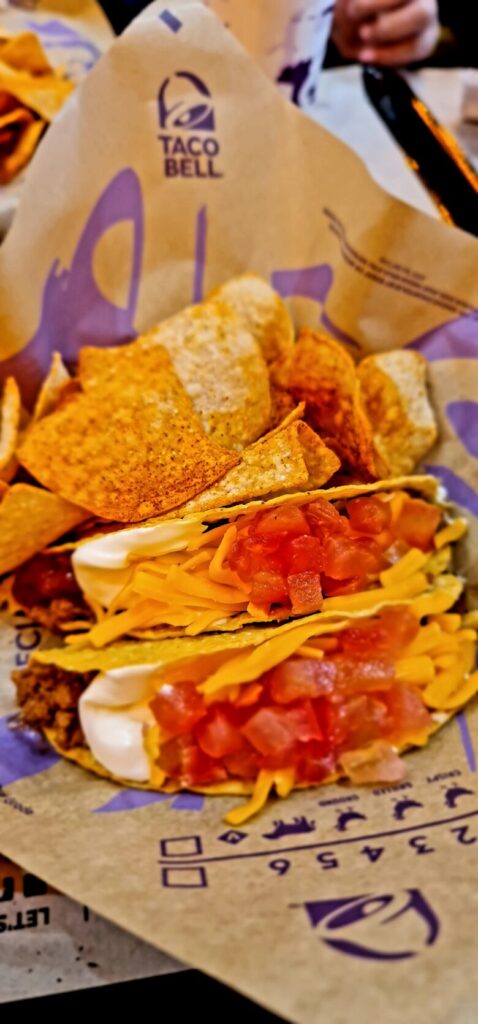 2 Taco supreme combo RM15.90 (4 USD). Please order Taco Supreme combo since this is the first designed menu in TACO BELL and you cannot miss it. Once you order you need to choose the protein and the selection is below.
Seasones ground beef
Ground chicken
Grilled chicken
Black beans
I order the first one seasones ground beef. This is the original tacos meat!
Next you need to choose the tacos shell.
Soft tortilla shell
Crunchy shell
As mention in above I select crunchy shell.
For side menu you can choose nacos or fries so up to you.
I choose nacos. If you are cheese lover you should add on additional cheese to avoid to feel boring of the nacos taste.
And for last choose your drink.
I went there with my friend and I was afraid maybe not enough so ordered Loaded Nacos for additional dishes.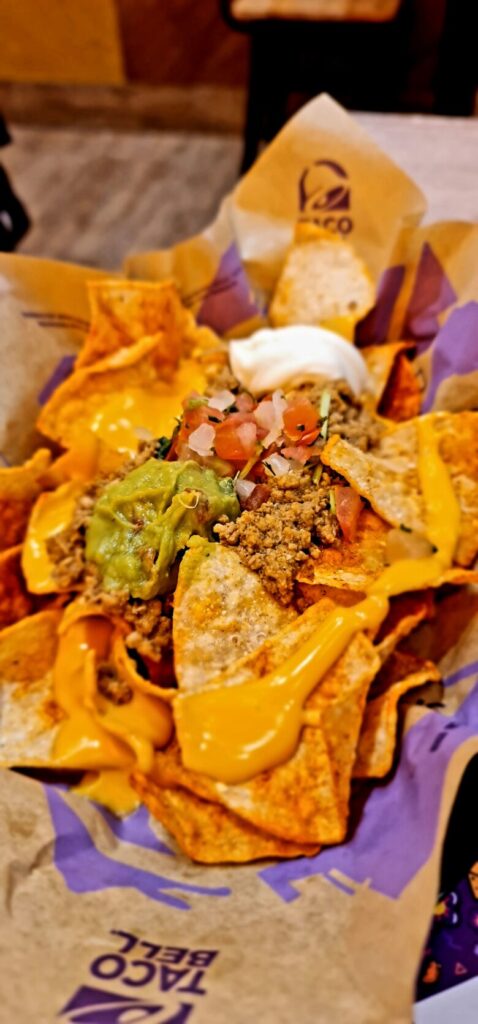 Loaded Nachos RM15.90 (4 USD). Using avocado guacamole, salsa, sour cream & cheese sauce.
You can also choose protein which is same as tacos.
Seasones ground beef
Ground chicken
Grilled chicken
Black beans
Nacos and tacos made very full so I think this loaded nacos was too much for us.
Taste was of course no problem it remind my memory in America. To eat tacos your hand will become dirty but no worry you can wash your hands inside the shop (At Tropicana Gardens Mall)
Less than 5 USD but delicious real Mexican food can make you satisfy.
Shop Info
This time I went to Tropicana Gardens Mall TACO BELL.
For more detail you can refer to official website.
Address:CC-33 & 34, Concourse Floor, Tropicana Gardens Mall, No.2A, Persiaran Surian, Tropicana Indah, Petaling Jaya. 47810 Selangor Darul Ehsan. Selangor
Operation hour:10:00am ~ 10:00pm
Other TACO BELL is below but each shop have different operation hour. Please refer official website before you go.
Taco Bell Cyberjaya
Taco Bell Bandar Sri Permasuri
Taco Bell Setiawangsa
Taco Bell Wangsa Maju
Taco Bell Sunway Pyramid
For your info inside Tropicana Gardens Mall there is also Donki market which is from Japan. You can buy Japanese items here with cheaper than other market. Why not go after you eat at TACO BELL.
High cost performance eating pekking duck in Malaysia #44