2022 June onwards many country had started to open the boarder like before COVID-19.
Australia had announced that from 2022 May no more PCR certification need to submit, no more RTK/OCR test is required once arrival & no more quarantine with vaccination is done. Myself also went to Australia Perth for holiday on 4th June 2022 so wish my info will be helpful & useful for the people who are looking forward to go to Australia.
I'm Japanese so maybe the registration method might be different but will explain the details of application via mobile phone which is now the standard for Australia.
This article is useful for the person
Who is planning to travel in Australia
Who don't know what/how to do to enter to Australia
Who is planning to come for working holiday
Whose vaccination is finish and looking for next trip
Who don't want to do PCR test
Current Australia situation
Currently anybody can be enter to Australia but with some condition.
This article is for the foreigners who complete their vaccination. If you didn't complete your vaccination yet you still have quarantine in Australia so please aware on that.
2022 June below foreigner can enter to Australia without any stress
-Complete vaccination process which is approved by TGA(Therapeutic Goods Administration).
-Apply ETAS and get approval
-Submission of Australia Digital Passenger Declaration (DPD) before the departure
All 3 above must be complete and in my case everything needed to show at the check in counter at the airport to get the flight ticket. If you failed to do 1 of it, you cannot go Australia.
The foreigners who is clear on all 3 points
Not required to quarantine
Not required to do PCR or RTK or what ever the test related to COVID-19
Vaccination approved from TGA(Therapeutic Goods Administration)
Below is the list which is approved by TGA(Therapeutic Goods Administration).
Vaccination process complementation means that certain period is passed after your final vaccination.
For example if you took Pfizer/Biontech complementation is after 2weeks.
Please take note on the meaning of complementation of vaccination process.
Two doses at least 14 days apart of:
AstraZeneca Vaxzevria
AstraZeneca COVISHIELD
Pfizer/Biontech Comirnaty
Moderna (Spikevax or Takeda)
Sinovac Coronavac
Bharat Covaxin
Sinopharm BBIBP-CorV
Gamaleya Research Institute Sputnik V
Novavax/Biocelect Nuvaxovid
Or one dose of:
Johnson & Johnson/Janssen-Cilag COVID Vaccine
You need to submit your vaccination certification via application please ensure the following point is correct.
Name (Must be same with your passport)
Birthday or passport number
Vaccine name
Vaccination date
It is mentioned that you also need to check during the immigration but I only showed at the check in counter.
How to apply ETAS(AustralianETA)
To go to Australia you must apply AustralianETA so called ETAS.
ETAS submission is now can be done by only the mobile application and currently below country can apply.
Brunei
Canada
Hong Kong
Japan
Malaysia
Singapore
Korea
United State of America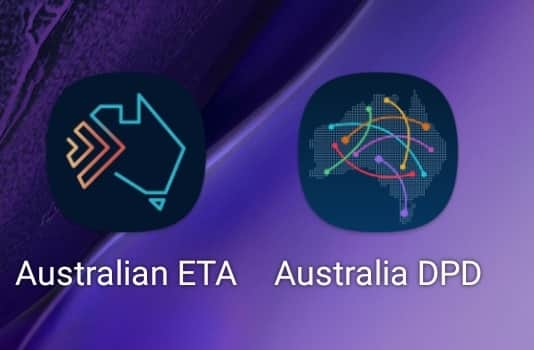 ETAS icon is the left one
Because of the security reason I'm not able to take screenshot but how to apply is shown below step by step.
You must need the function for your smartphone to read the IC tip data in order to proceed the VISA application. Passport data will be automatically key in once you scan it. And this cannot done by manual.
①First open the apps and agree on the statement to snap the photo of your passport.
②Read the passport data from passport IC tip by your smartphone. All data will be automatically insert and proceed to next.
③If no issue key in the origin / residence address and TEL
④Register your email address
⑤Key in your purpose of the visit and applicant info such as occupation and whatever
⑥Crime history
⑦Residence in Australia, hotel address and TEL. During the application I still didn't the hotel so I just key in「Still not book the hotel yet」
⑧Pay for application fee. Price is AUD20$(18 USD)VISA classification is under subclass 601 but please check the immigration site to confirm your country is under which VISA since there are several VISA to apply. If your subclass 601 is rejected by Australia government don not re-apply the VISA otherwise you just receive the same comment and just wasting money and time. You need to submit additional documentation for proof and it will take more longer time to get approve so to avoid these kinds of the case you'd better apply faster.
If approved you will receive email and the word 「Granted」will be written inside the pdf file. It took 1day to receive the email for my case.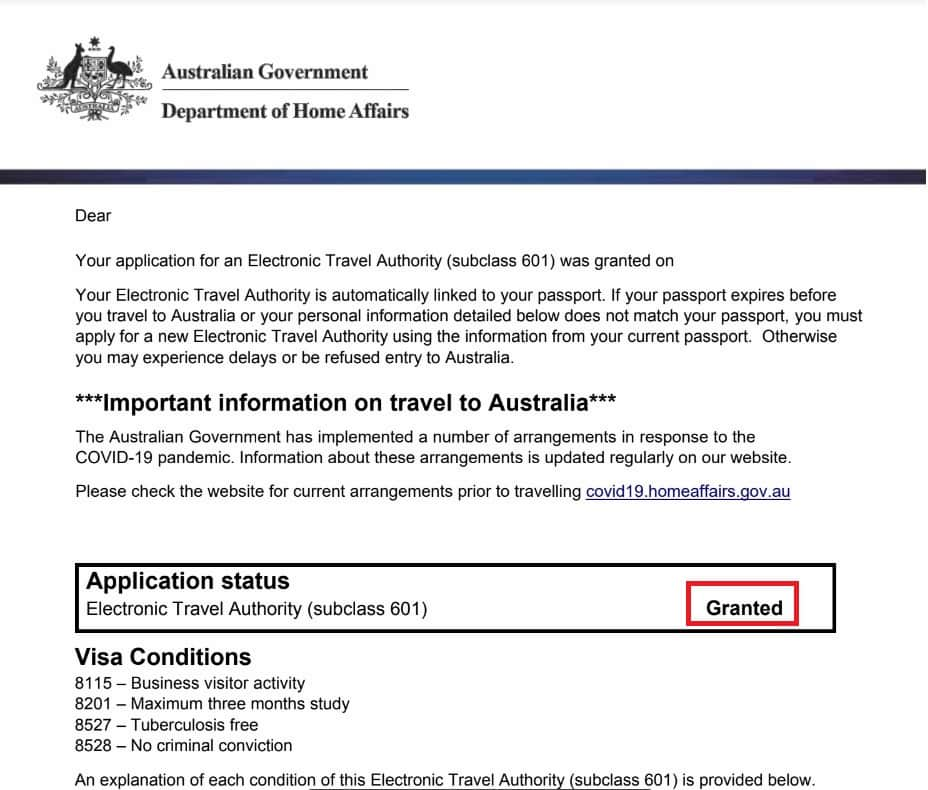 How to apply Australia Digital Passenger Declaration (DPD)
You need to apply 72hours before from your departure.
You must finish also to do the flight check in. Even you don't have check in luggage you cannot get the flight ticket by online you must go to the flight ticket counter at the airport to get the ticket.
Ensure you complete the submission before the check in otherwise you will disturb other passenger to check in. And you need to wait the queue again.
But good things are the method to complete Australia Digital Passenger Declaration (DPD) is quite easy so no worry on it.
Download the app and create the account (ID will be your email address)
Insert your flight information
Insert your passport information
Insert your past 14days country if traveled before (I was at Singapore before so I mentioned Singapore but nothing was required to do
Insert the residence info in Australia
 and some question that whether you transit in Australia, go to other state in Australia, any plan to stay more than 12 months, purpose of the visit, how long to stay, occupation and so on
6.Contact number at Australia
7.Upload the vaccination info and certification
and that's all!
This needed show during the check in at the airport but at Australia immigration it was not required.
Enter to Australia
I entered to Australia Perth.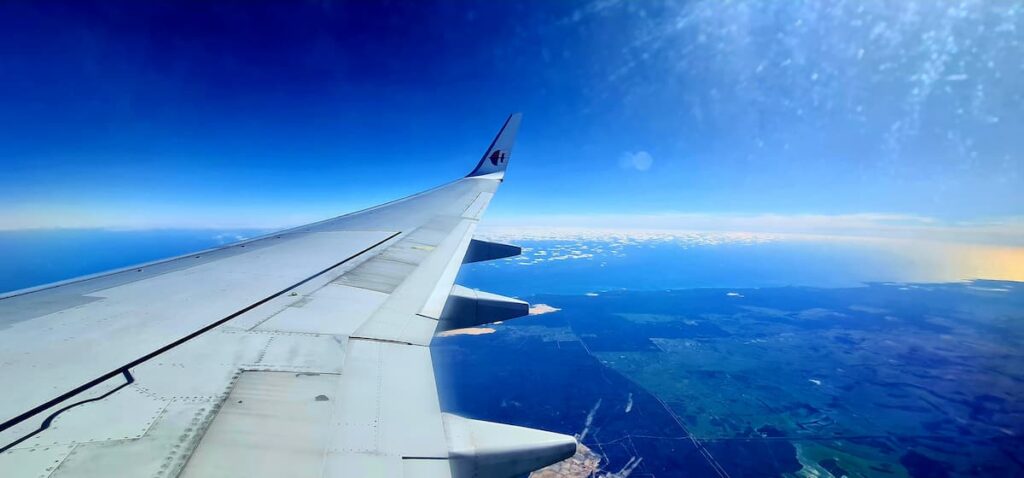 Please check the Australia government website and also the each state government website since the state government also have right to create the own rule which can be against the nation rule.
As mentioned earlier you no need to do the PCR test before your departure and no need to do RTK test after your arrival so immigration process was smoothly done.
So you can do anything once you arrive and pass the immigration.
My flight was from Malaysia and arrive to Perth on 14:50. My friend from other country was arrive at night and immigration method was different with me. At Perth there are 2 method.
1 is auto immigration and another is manual immigration.
Auto immigration (smart gate)
Not all country can use so please check the country flag at the site to check whether your country is able to use the smart gate or not. If no you need to go to manual immigration which is more familiar to everybody.
Scan your passport at the machine and key in the information which is shown on the display.
You just press "Yes" or "No"
Language will be automatically using your country language by scanning your passport so no worry on the language
After you finish you will receive the card name eTravel so please take that together with you
Next is the camera check. Firstly insert your eTravel card which you just collected before and follow the instruction on the monitor to proceed the camera check
If there are no problem the gate will be open and your eTravel card will be return back go don't forget to collect it because this need to be submit later.
If you have a check in luggage please collect and go for inspection of your luggage.
 If no you just pass the tax card and eTravel card to the staff at custom and all done you are welcomed to enter Australia!!
Manual immigration
This is really common way when you go oversea. So nothing much to explain.
I also not sure the detail but depends on the immigration staff whether you required to show some documentation or not.
Just let me say good luck haha.
But no worry about the Wifi at Perth airport. Even at this immgiration area you can use Wifi to check or show something by using network.
For the smart gate use I'm not sure if have limitation of time or not.
How to go to Perth city
Most of the people who use the international flight will arrive to terminal1.
And from the below figure you can see the transportation from airport but I highly recommend to use the bus.
| | | |
| --- | --- | --- |
| Transportation | Period | Fee |
| Bus | 30~50min | AUD $4.9 |
| Taxi | 20min | AUD $50+ airport tax$3 |
| Uber | 20min | AUD $25 + airport tax$3 |
Access from Perth airport to Perth city
But be careful that the bus fee can only pay by cash (no balance) and special pass card.
Better to exchange your money a bit for the bus payment.
The bus station is at the right side after you go out the terminal and will see the bus stop as per below photo. This is the bus station to go to Perth city.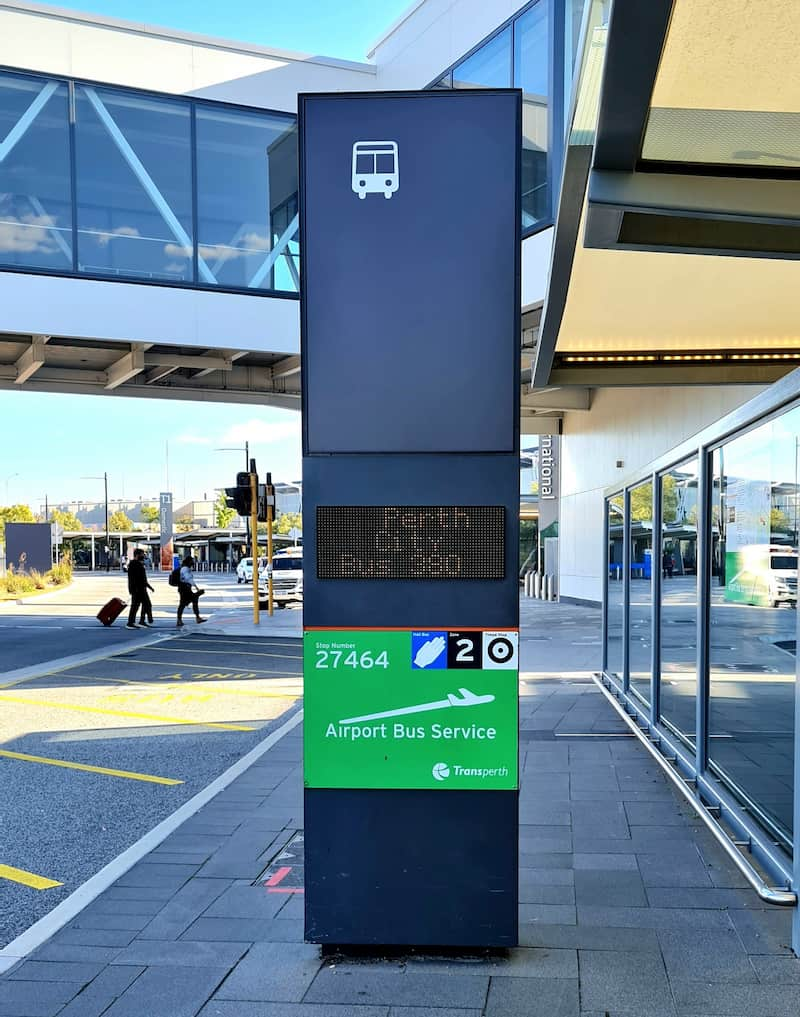 You can refer to current time table for the bus.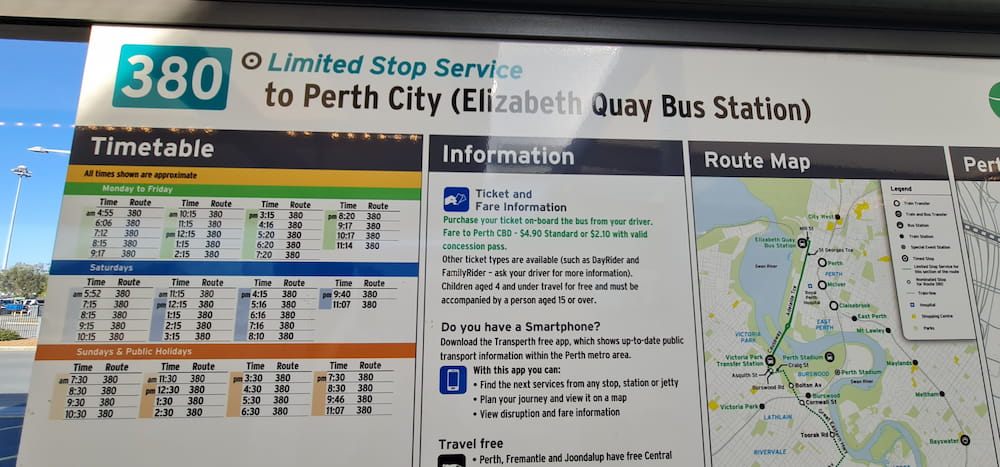 Australia bus doesn't announce the name of bus stop. This bus will end at Erizabes key but if you will get off before this you'd better use google map or any other apps to check your location and check where to get off. If you want to get off just press the button inside the bus.
If there are no bus you need to use taxi or Uber but I prefer Uber since it's more cheap and safe price. I also used several time during my stay there.
Uber can also do reservation which was very useful for me.
Summary
Apply the ESTA in advance/faster and get the flight ticket after you receive the approval
DPD submission is 72hours before your departure don't forget to do
Use smart gate for Australia immigration
Consider to use bus to go to Perth city
Australia national isolation is also over now. Will update my trip at Australia time to time so looking forward to my next article!!