What's the purpose of your visit to Galapagos island?
In Galapagos island there are mostly endemic species which you can only see at Galapagos.
Some is depends on the season or can only see if you go to the specific island inside Galapagos.
I believe that most of the people want to see the endemic species animal.
In this article will introduce about the best tour to join when you come to Izabella island which is famous for the snorkeling at Galapagos "Los Tuneles" and you can also see the blue foot booby there.
My main purpose was to see blue foot booby so if you are also demanding to see the blue foot booby it's also better to read this.
If you just want to see about the "Los Tuneles" go to below link to jump
To the detail of "Los Tuneles" tour
What is blue foot booby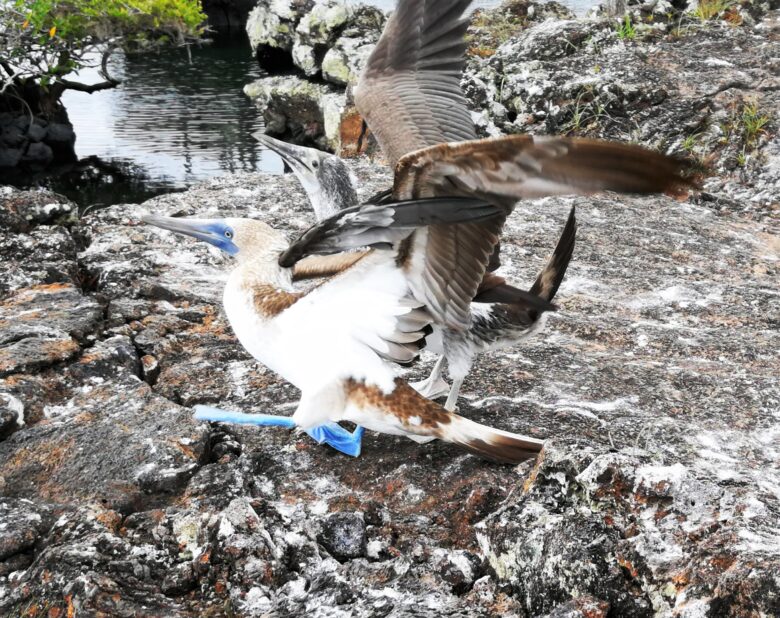 Blue foot booby is as written in the name the blue which had the nice blue color foot. In the photo you can see the blue foot and blue face bird which is male and female is glay color.
Only male can become this nice blue color. When males courts female, the male will dance around the female by raising there foot right and left. The more nice blue color attracts the female. This blue color is used to said that coming from the food they eat in Galapagos.
Blue foot booby has webbed feet so they can dive in to the ocean.
Blue foot booby wariness is less so you can get closer to take photo but follow the Galaoagos rules not to be closer too much.
It was my first time to be excited to just watch a bird but blue foot booby was really nice to see.
Just for your information about the name of this bird blue foot booby is coming from the Spanish word "bobo" which means dumb. Seems like blue foot booby character less wariness made this name.
How to see blue foot booby
To see the blue foot booby you must join the tour Los Tuneles at Izabella island.
There are a lot of island in Galapagos but must island you can only go with the tour guide. Blue foot booby can see only the specific place which you need to go by tour.
In some place seems like you might be able to see but for sure this tour can meet blue foot booby if you join and get closer or take nice photo with them.
The tour name is Los Tuneles and it's well known as the best snorkeling spot in Galapagos island.
Other than blue foot booby there are many animals you could see during this tour.
Joining to the Los Tuneles tour
I booked this tour when I arrived to Galapagos Santa Cruz island together with the ferry booking by local tour agency.
Tour fee was around 150 USD. But in some season it we be around 100 USD.
Most of the tour you can book at onsite no need to apply the tour before the departure.
During this Los Tuneles tour you can also see many animals except blue foot booby so I really recommand to participate this tour. Mostly it's including lunch, snorkeling set & the pricture taken by the tour guide (with Go Pro)
From Izabella island we will go to lava tunnel and this area is called as Los Tuneles.
We had lunch at the bay of lava tunnel. Luckily I was able to see Galapagos penguine which was swimming near our boat. During the different tour ( Kayak tour ) I also see it but it was bit more and cannot see it clearly so I was happy to see the penguine closely.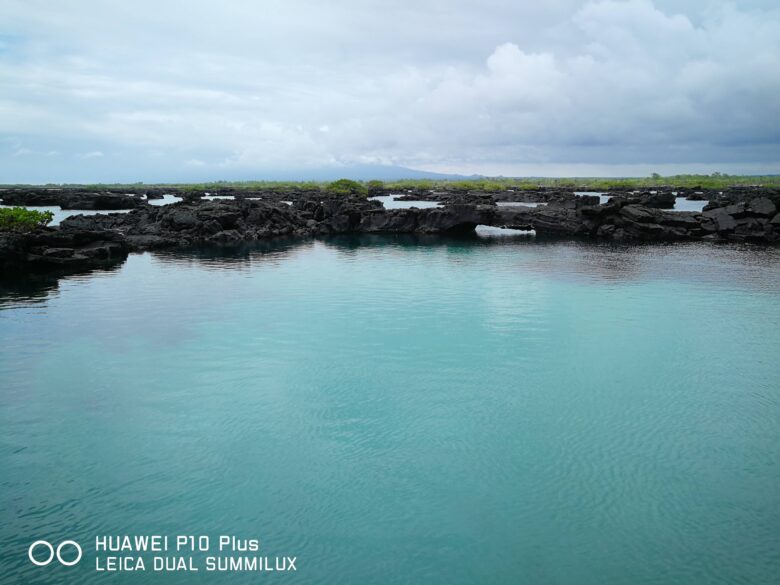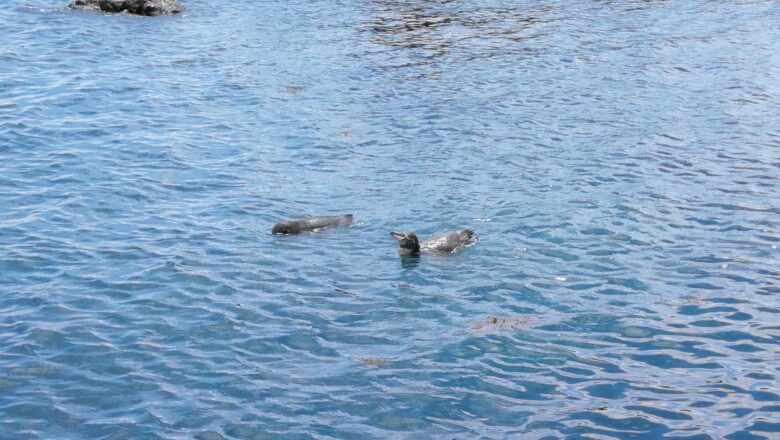 After the lunch we landed on the lava tunnel and plan to visit the blue foot booby area.
Platform is not good so you need to be careful when you walk there since it's quite danger if you wall in to the sea. You can see many blue foot booby at there so no need to rush.
Blue foot booby is as written in the name the blue which had the nice blue color foot. In the photo you can see the blue foot and blue face bird which is male and female is glay color.
Depends on the season but you might be able to see blue foot booby chicks.
When I went there on January I was able to see blue foot booby chicks.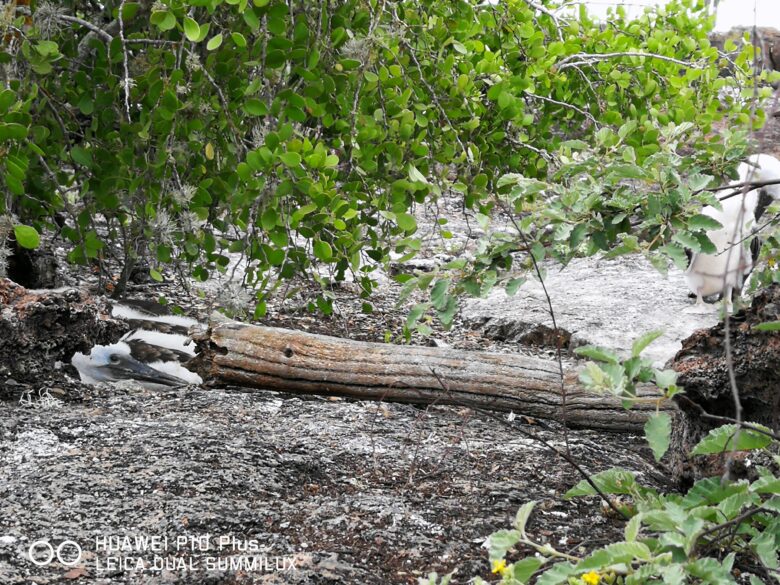 Will do the snorkeling at the mangrove area. Will move around the area with rock and coral so life jacket is not necessary but if you worry you better borrow float.
At this area you can see sea turtle, ray , sharks (doesn't attack) & sea horse.
The secured time for snorkeling was also long so the tour contents was very satisfy.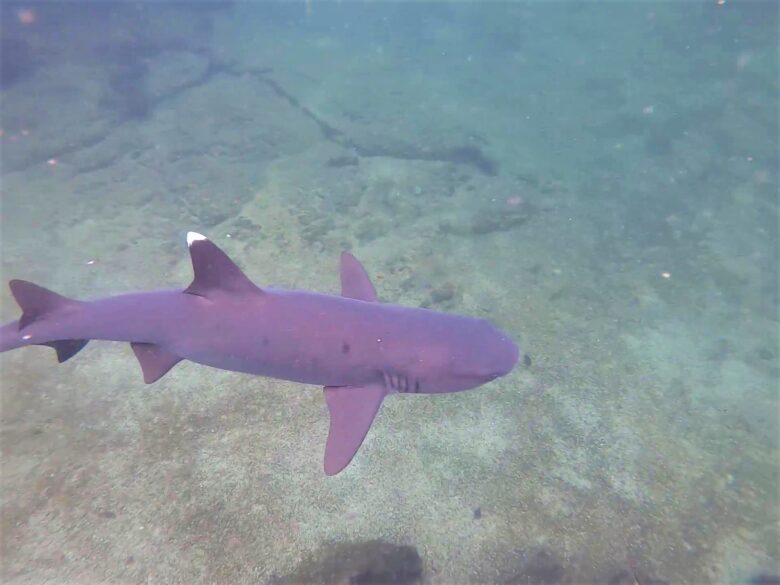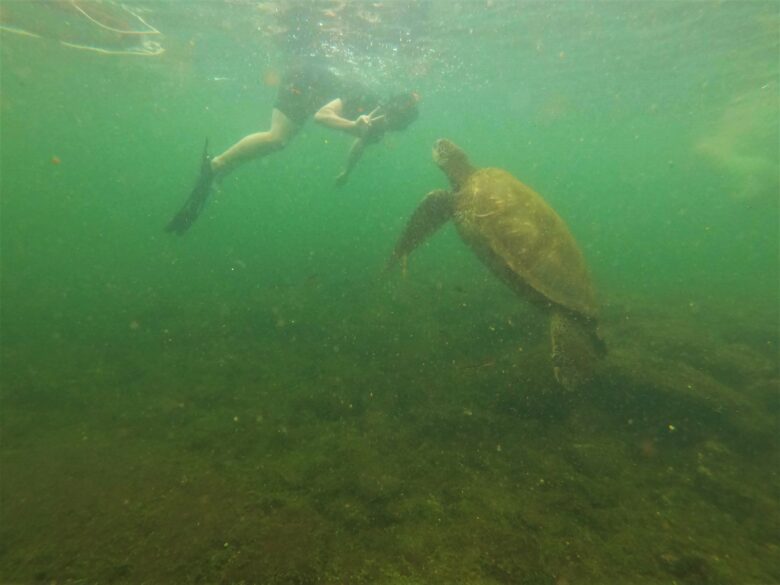 Due to last night rain the water was not so clear at mangrove area.
Whitetip reef shark is taken the photo by GoPro and the turtle is using Nikon water proof camera.
GoPro can take the picture very clear.
The last photo is sea horse.
It was sticking to the leaf at the bottom of the ocean so I couldn't notice even several time I dive in.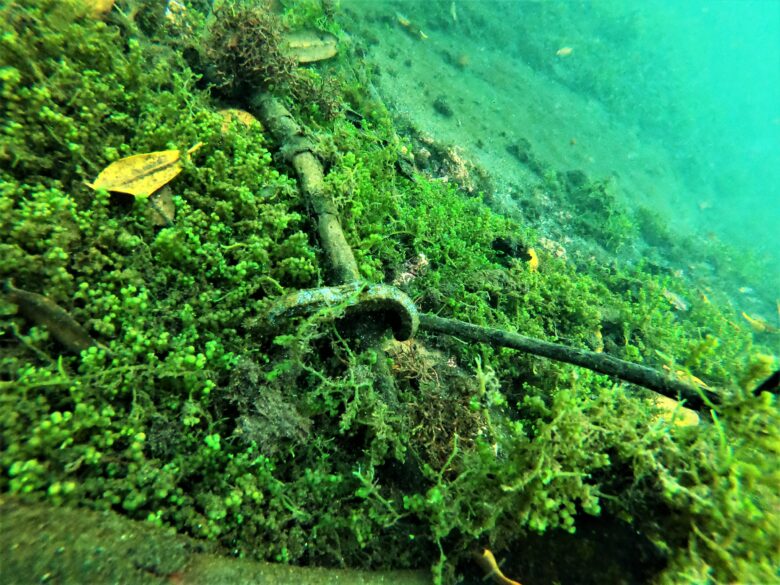 The thing which is wraping to the branch is the sea horse.
On the way back to Izabella we found the turtle mating. It's very rare to see.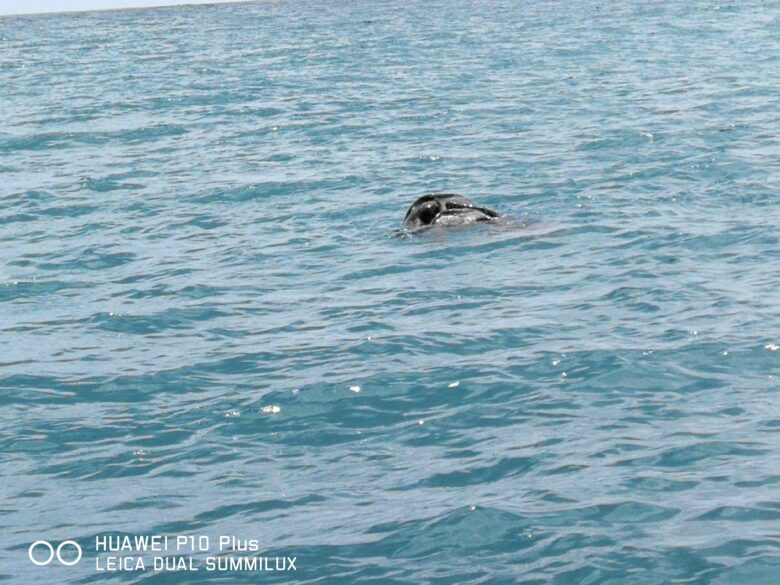 My purpose for the tour was to see the blue foot booby but I was able to see many wierd things and first thing to see by-product.
Very very satisfying tour.
I believe Los Tuneles is the tour you must join so I strongly recommand to secure your 1 day for this tour.
Summary
Blue foot booby is the bird which has the beautiful blue foot and you can only see at Galapagos island
If you want to see blue foot booby you should join the Los Tuneles tour
Los Tuneles snorkeling is very exciting tour
For water proof camera GoPro quality is best for photo and movie
For the tour you should book when you arrive to Galapagos since it's cheaper than using website.
In below showing info about what is Galapagos, where is Galapagos and how to go to Galapagos with several notes which is benifit to know please check.
Galapagos island where is Galapagos? How to go?
Galapagos island cost is quite higher than Equador price especially the restaurant which is frequently used by foreigners. Sharing some info that where to go to eat cheaply inside below article.