On 2022 I went to the place where is very very demanding to go for long time since I lived in Malaysia. That is Mount Kinabalu in Sabah Malaysia which is register as World Heritage Site.
Currently the foreigners who live in Malaysia with VISA are able to go to Sabah without the PCR test and quarantine.
Will share the latest 2022 news about Kota Kinabalu.
To climb the Mt.Kinabalu you must use the tour to go and there are several plans but I choose 2day 1night tour.
It used to say that even for beginner of mountain climber can challenge to climb Mt.Kinabalu so why not try the World Heritage Mt. Kinabalu?
In this article it is writing about the 1st day tour which is from start until the hotel place Panalaban.
Necessary info to enter Malaysia Sabah
Regret to inform that currently still boarder is not open for tourist yet in Malaysia.
Will announce back once the Malaysia boarder is open for tourist.
To go to World Heritage Mt. Kinabalu you need to go to the east side of Malaysia main land Borneo island.
Now only Sabah in Borneo is allow to enter for foreigners who live/work in Malaysia.
Traveling inside Malaysia is allow for most of the people with below consitions and no more required PCR and quarantine if travelling inside Malaysia.
The condition to enter Sabah is below
Person who has address in Malaysia (VISA holder)
Full vaccination is done
Key in the Sabah enter form (official Sabah enter form)
When you proceed on Sabah enter form after submiting via website QR code will appear at the display.
This QR code need to show to the airport staff so please do it in advance.
You can save your time at Kota Kinabalu airport but if you forget to do still you can do once you arrive there.
At Sabah it's same Malaysia but foreigners need to bring passport for immigiration.
This is also same when you return back to Kuala Lumpur so don't forget to get the stamp.
Preparation for Mt. Kinabalu
At first you need to book the tour.
To climb Mt. Kinabalu you must go together with the tour guide and there is only 1 tour agency for this.
Which is Amazing Borneo so you may book from official website of Amazning Borneo.
I apply for myself only but if you book more than 2people the price per person become cheaper. But there are price difference between Malaysian and foreigners.
For mys case I booked on 2020 and luckily had promotion at that time. Original price was RM 2,390 (650 USD) but the promotion price was RM 1,880 (500 USD).
From Kuala Lumpur to Kota Kinabalu transportation is by air flight.
Currently only airasia or Malaysia airline can be use. If you use airasia departure is from KLIA2 but if Malaysia airline even domestic it's from KLIA so don't miss it.
I had wriiten about how to get the cheap flight ticket before. For domestic flight should be not much difference but if you are intrested in how to purchase the flight ticket you may refer below.
Method to purchase the cheapest flight ticket
For domestic airasia is the cheapest but if you have check in luggage there is possibility that Malaysia airline can be cheaper. When you purchase from LCC (Low cost carrier) such as airasia there are several points to be careful before you purchase. I summarize about that in below link please read if you are intrested.
The point to be careful when purchase LCC ticket
Mostly is highlighted at other website or blog but in below I write what I had bring for this trip.
Backpacker bag
Rucksuck
Portable water bottle
Glove
Altitude sickness medicine
Trekking shoes
Head light
Chocolate
Mirror less camera
GoPro
Jacket coat
Knit hat
Long pants
Passport
Toilet paper
Will explain each items.
I needed to check out from Kota Kinabalu hotel so all the stuff I needed to bring.
It's better to use backpacker bag for this trip than using suitcase.
If all the necessary items are inside your rucksuck backpacker bag may not to bring but just request to the Mt.Kinabalu HQ to keep your luggase will some charge.
I needed bring whole stuff so I requested porter to bring my backpack.
1kg13RM (3 USD) and my luggage was 9kg so the cost was 117RM (30 USD) for return trip,
The picture shown in below is the actual bottle I bring. It's very light and after you use you can bend to save space in your bag. Around 700ml water can be contain in each bottle.
Bringing isotonic drink is also good.
The bottle price was around 3 USD.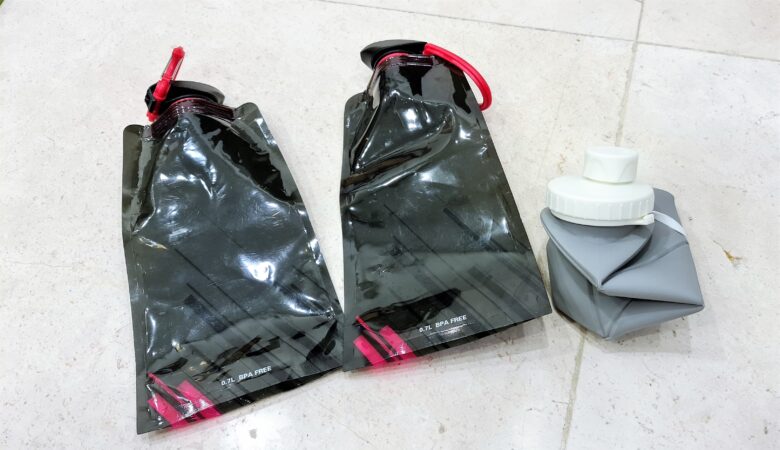 Necesary during Low's peak attach. The hotel is 3,300m height and the departure is midnight so outside is temperature is cold.
During Low's peak attach some of the place you need to grab the rope so it will also help.
I purchase the glove at DAISO the design which doesn't cover my finger because I needed to use phone and camera.
Maybe not necessary but I bring just in case.
You can purchase at KL pharmacy and get medicine for 2-3 days.
You can even buy at Kota Kinabalu but possibility that sold out.
To avoid to become altitude thickness is to climb up slowly and drink water enough.
This is depends on you but I prefer.
Along the way several place is rocky area since you need to walk very very long distance tekking shoes might be helpful for your foot to reduce the shock or any additional force to your foot.
After using trekking shoes instead of sneaker I feel like not much tired than before.
This is also used for Low's peak attack. At the start point from Panalaban still many people is there so you may not need the light but after that people become less which is depending on your trekking speed. So it will be necessary to use.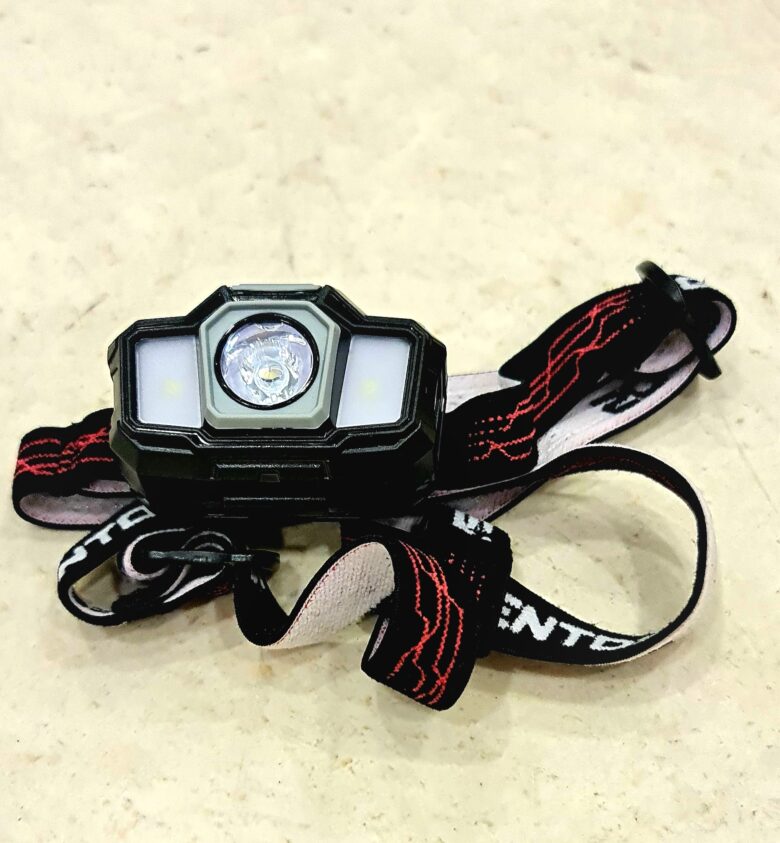 Some of the place required to grab the rope so better you buy to put in on your head. And if possible water proof type since at the mountain have possibility to rain.
Below is the spec I purchase for myself.
Prefferable brightness is around 200lumen but if more higher the price also become higher.
Maybe it was lucky for me because the weather was fine so this spec 130lumens was no problem. 1.2m in front of you can see clear.
Head light spec
Brand:GENTOS
Model:GD-243D
Spec:IP66(dust-proff・water-proof)、head light angle is adjustable
Brightness:130 lumes
You need many many energy to climb the mountain.
It was my first experience that if too hungry you cannot move. So in such kind of case you'd better eat food which is high calorie.
I didn't use much camera but GoPro was very nice for this trip.
Will also update in Youtube soon.
I didn't mention in above list but I also bring the drone but Mt.Kinabalu is windy area especially at the top side of mountain and also need to register and get approve to fly the drone so if you really want to fly the drone please check more detail.
Drone I used at different place Mabul island which is the next destination after Mt.Kinabalu.
Outer jacket is very useful.
The mountaion weather can change easily and frequently during the 1st day lucky that raining was once and short time but I recommand to bring water proof and wind proof jacket such as GoreTex spec especially the wind proof is very helpful for Low's peak attack.
Preventing the wind or can make big difference to feel the coldness.
Northfac brand can buy cheaper than other GoreTex brand.
Use for Low's peak attack. I didn't want to wear the head light directly on my head so I bring the knit to prevent this situation. So maybe some person may not necessary to bring.
Use for Low's peak attack. If half pants it's quite cold.
And also useful when it's raining. So better the water proof type to bring or purchase.
From the first day you need to bring passport to register your name on the tour so don't forget to bring especially if you are keeping some luggage in your hotel in Kota Kinabalu.
At the site normally no toilet paper. At the shelter deffinitely no.
And it's not clean so better not use if it's really not necessary.
The toilet in the hotel is public use so need to share. Not sure if have the private or not but better than shelter.
Paper is prepared but not sure when will the staff top up so better prepare by yourself.
ツアー当日の動き
1st day of the tour, the tour company will pick up from your hotel. From Kota Kinabalu city to Mt.Kinabalu is around 2hours by car and normally depart at 6:00am to 6:30am.
So you must check in to hotel on the day before your departure.
Don't forget to bring your passport.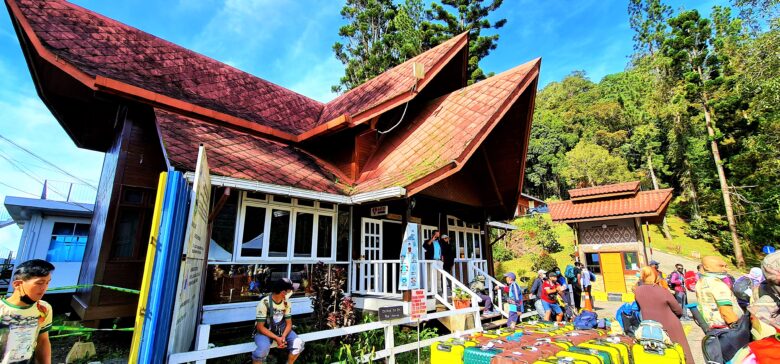 Once you arrive to Mt.Kinabalu HQ you need to register to join the tour so pass your passport to the guide you meet there.
At the same time you will sign the contract if you want to store your luggage please request here they will keep inside the locker if you don't need to store but need to bring together with help request support from porter.
Once all is done they will introduce your tour guide. And normally that guide will be your porter so they will bring your luggage to measure the weight.
My tour guide was Rony he is nice guy who can climb by using Crocs.
1 Tour guide will accompany to 1group. If you go with 2 or 3 person, 1 tour guide will follow. If you are alone, 1 tour guide will follow.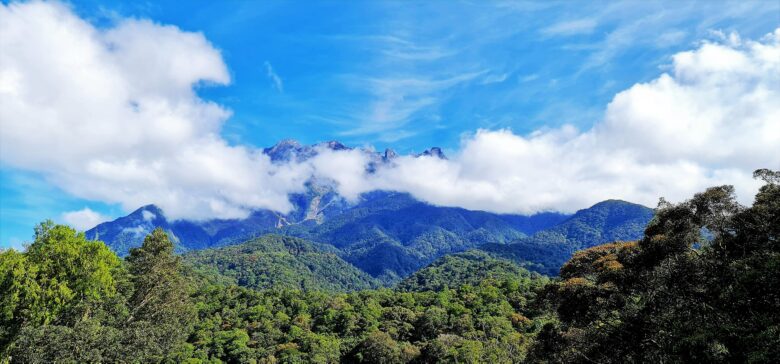 The fee of porter is depend on the weight of your luggage 1kg13RM(3 USD) my bag was 9kg so the fee for return trip was 117RM(30 USD). I was feeling so sorry because Rony also had is own luggage but it was needless anxiety.
He didn't become tired on the first day and also the next day. Only I was exhausted whole the time.
Once ID is registered you will receive your ID pass.
Please check if you name is correct or not I didn't notice the name on the pass also even didn't notice that my name was wrong spell. I only notice on the next day check point station.
After you reach to the top of Mt.Kinabaku you can recieve the certification and the name of spell is following the IC pass luckily I was still able to change it correctly.
The gate for trekking will be move on with the car which is few minutes from the HQ.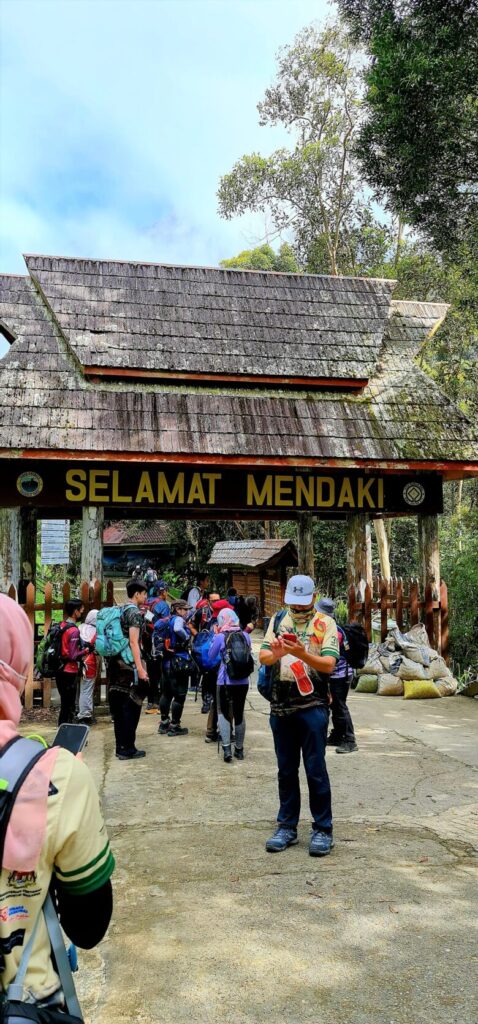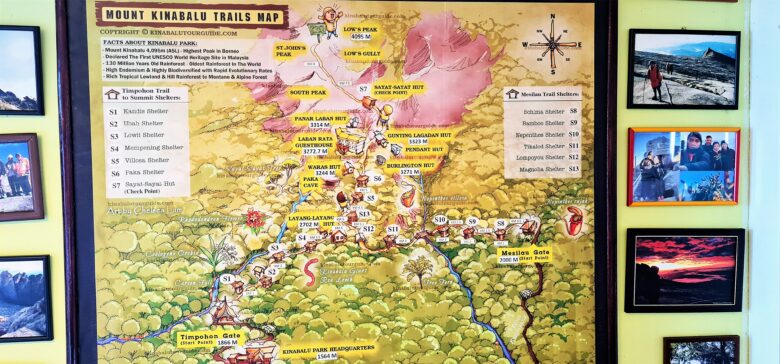 Start point ocean level is 1,866m. The first day goal is the place which hotel is located Panalaban 3,272m.
Every 1km walk there is shelter to take break the lunch will normally take at Layang Layang which is around 2,700m ocean level height.
At the shelter you can use toilet but toilet paper is not prepared. You need to bring your own.
On 9:55am my trekking had started. This day was many people joining and there were few big groups maybe you can depart more faster.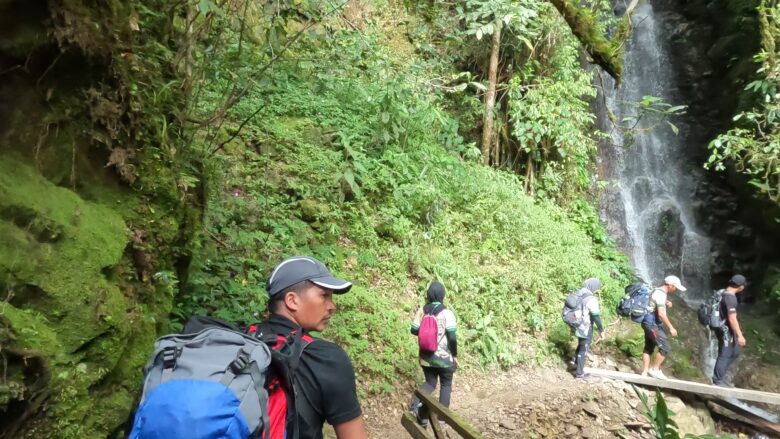 The person right infront of me is Rony. He was very nice.
Our first target is to arrive to Layang Layang (2,702m).
I was excited much but I walked but fast so cause me easy to short my breath.
According to Rony the point to climb the mountain is to calm down, walk slowly and make the stable breathing this will contribute to avoid to become altitude sickness. So after that I walked slowly and make my breathing stable.
12:44pm I arrived to the first destination Layang Layang. This place is 4km from the start point and last destination Panalaban is 6.5km.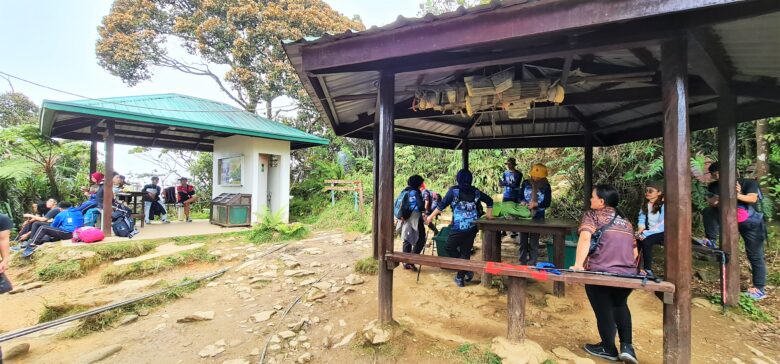 At here I was already exhausted.
During the trekking you'd better walks the place which is gentle even the distance might be far.
Even you are so exhausted you can still manage.
Not only Layang Layang but at the shelter many squirrel are there. They are not scared of people so if you are eating like cookies they will climb up until your leg. If you don't want to get stole the food please be careful.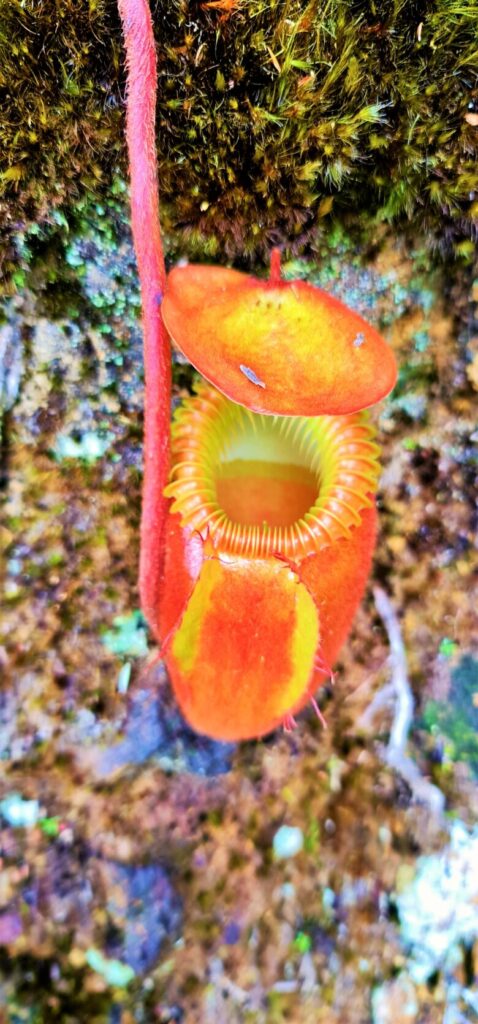 Wild nepenthes. Rony knew in Japanese "Utsubo kazura". According to him March is the best season to climb Mt.Kinabalu because you can see many flower will bloom.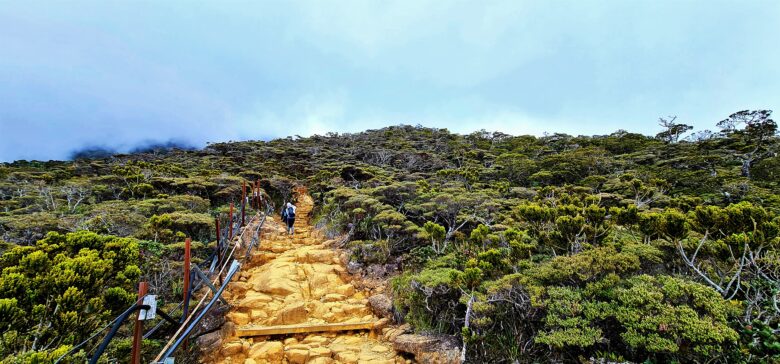 You will see the view like above but don't worry still the goal is far.
This time was cloudy so if it's sunny without the cloud maybe very nice scenery can see and make you feel better.
At the end I was just walking without thinking anything and from these area to walk 1km took more than 1hour.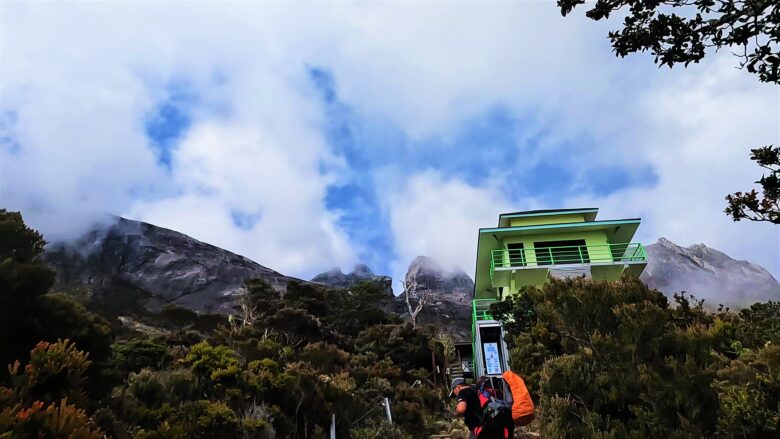 Here is the check point. I though the goal but Panalaban is almost there let's make a little more effort!!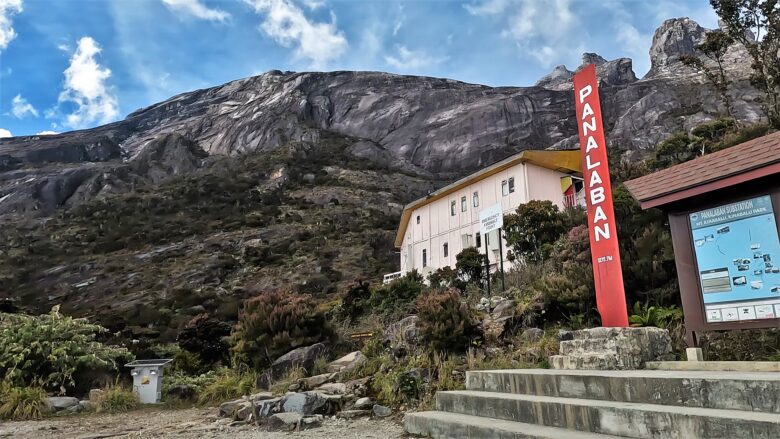 Finally reach to the today's destination Panalaban. Arrival was 15:34.
Trekking time was 5 hour and 39 minutes. Normally it will take around 5hour.
Break up with Rony at here and meet again in the midnight 2:30am for Low's peak attack.
The next day departure is possible to negociate. The sunrise time is changing (january is around 6am) so check the sunrise time with the tour guide and consider your walking speed.
Normally it will take 3 to 4 hour to reach to the peak of Mt.Kinabalu.
How to spend at Panalaban hotel
After checkin hotel staff will explain about the hotel. Mostly the meal fee is included inside the tour package.
All the meal here is buffet style and Malaysian cuisine.
If you are not good at Malaysian cuisine you may bring your own such as cup noodles. But mini market is also there so you can buy breads or cup noodles. Other than that also sell water, juice, snacks including chocolate but higher price that you can buy in the city. Head light also can buy here but not sure about the spec and price.
Meal schedule
Dinner: 5:30pm ~ 7:00pm
Meal at night (Sapah):1:00am ~ 2:00am
Breakfast:8:30am ~ 10:00am
Since Panalaban is 3,700m height you may feel bit cold from the evening so why not take a hot coffee or tea at the terrace together with the nice view from hear.
When I came here it was cloudy so I couldn't see the nice view of Mt.Kinabalu nature.
The meal served there you cannot expect too much but I believe your energy is empty so better eat as much as you can to earn the energy for tonight Lo'w peak attack.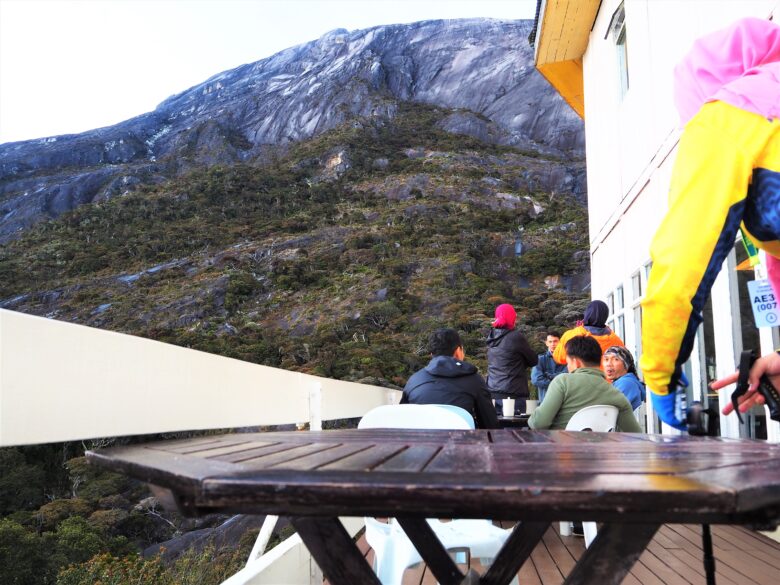 My room was shared room with 4 people but very lucky because I was able to use by myself only.
Towl and slipper is provided so you no need to bring.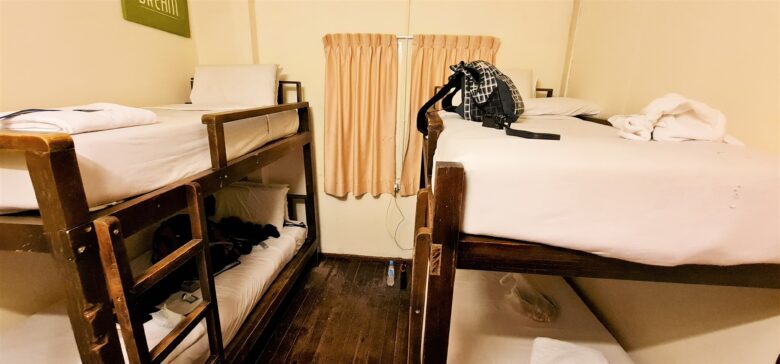 If using by 4 people I guess it was bit small if consider the space of luggage.
For electricity most guest room is from solar panel and generator so some only function during specific time.
Hot water is using solar so if you can use or not is depends on the weather. And it's very cold if you use cold water.
My guest room was right above the pountry so can hear some noise but no worry for me since I slept on 7pm because of the tireness.
Mt.Kinabalu night sky is also very beautiful the light meal in midnight is 1am so I woke up bit early to see.
Before 1am most of the light cannot function so its good timing to view the starry sky if the weather is fine.
Since it was clear I was also able to see the milky way.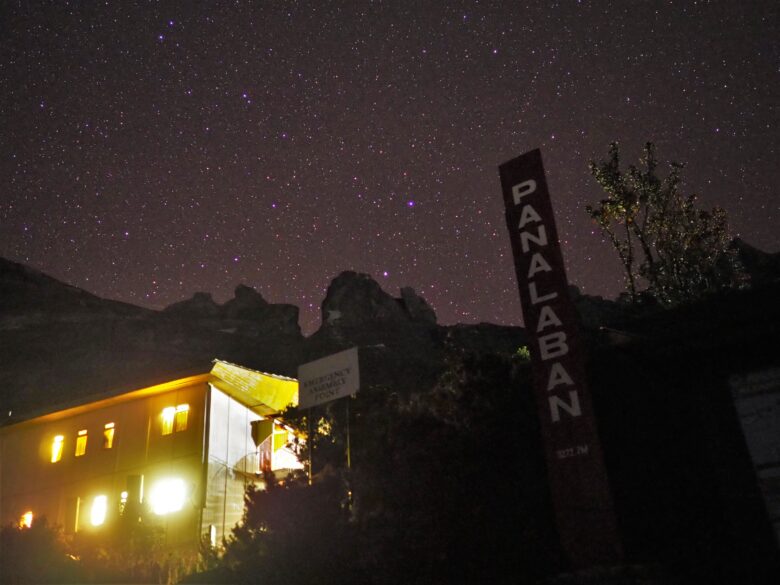 You can even see the Kota Kinabalu city at below. Temperature was below 10 degree but it was worth to see even getting up early.
Summary
Before your departure key in to Sabah entry form(official application form)
Mt.Kinabalu trekking is very popular and limited. Secure your tour schdule first by trou agency Amazing Borneo(Official website of Amazing Borneo)
If you keep your luggage at Kota Kinabalu hotel don't forget to bring your passport
Walk slowly and find easy route during your trekking at Mt.Kinabalu (prevent for altitude thickness)
Once arrive to Panalaban hotel and eat the dinner be ready for Low's peak attack and sleep early
If you have enough time view the wonderful starry sky at Mt.Kinabalu (depends on your luck)
Good luck to everyone's climbing attack!!
If you are intrested to climb Mt.Kinabalu, please also review below article. It is talking about how nice of Mt.Kinabalu low's peak attack.
You also need really good luck but nothing can make you disappointed.