Stay 1night at Penang Blue Manison which is world heritage hotel.
Official name of this hotel is Cheong Fatt Tze but it's well known as Blue Manison and you can see the exterior is also blue which make more on the image of name.
Blue Mansion (Cheong Fatt Tze mansion)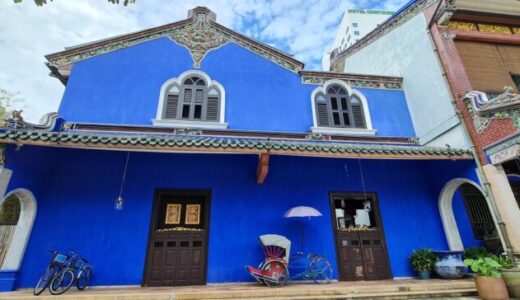 I was build during 19th century by Mr. Cheong Fatt Tze.
After Cheong Fatt Tze grand child is dead this Manison was sold out but it was repaired after 6 years without being demolished under the activity of protecting the historical heritage, and it is said that it was repaired using the same materials as at that time.
It had received the Heritage Award from UNESCO for its restoration technology, method, and analytical ability.
Other than Blue Manison around 4thousandof historical buidling in Penang is protected by UNESCO.
Blue Mansion is also used for movie scene in recent movie "Crzay Rich Asians" is famous. I also watched but I didn't know that.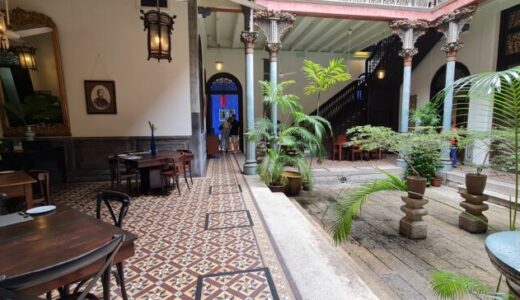 For more detail explanation about the Blue Manison history you can join the tour.
If you stay 1 night here the tour is free but no you need to pay.
Tour starting time:11:00, 14:00, 15:30
Fee:Adult 17RM
Time to be taken:45min

No ticket to buy. You just come to the reception on above time and pay there.
The person who stays in hotel just come to lobby at specific time.
Staying in World Heiratge hotel Blue Mansion
I stayed in the room name Taipu.
Each room have each meaning and you can check the detail inside the information diary in your room.
Key is unique design but you need some skill to properly open and close the door. You need to return the key to reception when you go out from hotel.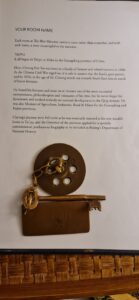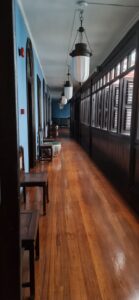 Some oversea hotel doesn't prepare the room sandle but here they had. Even tooth brush was prepared by the hotel.
The room itself was big enough to relax. But the negative point was shower room was small and hotel Wifi was unable to use. Luckily my sim card was possible to use without any issue.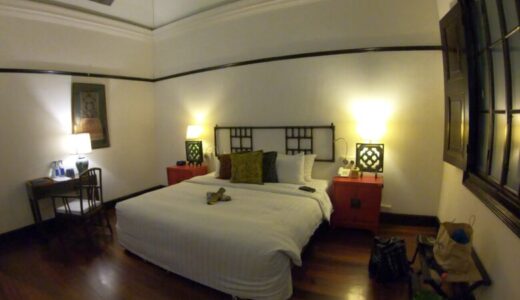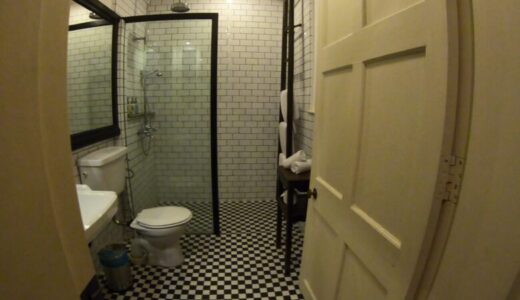 Price was 502RM (130USD) per person including the breakfast. Breakfast need to choose during the checkin and the menu was a lot to choose such as pancake, fried egg, scrumble egg and so on.
I booked via Booking.com since it was cheaper than expedia.
You can choose where to eat either your room or at central coart yard. If you are afraid from COVID you can eat inside your room but we choose to take at central coart yard.
World Heritage hotel check availability for Blue Mansion (Expedia)
World Heritage hotel check availability for Blue Mansion (Booking.com)
Exploring Blue Mansion at night & having peaceful time at bar
Blue Mansion light up during night is very nice.
You might be tired at night but it do have benifit to spend time to explore too.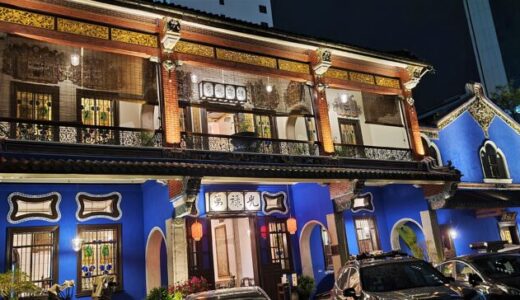 At the bar of the Blue Mansion, they played with stringed instruments at night. Maybe it was only done on Saturday since my stay was Saturday, but there might be an event at dinner.
Blue Mansion also have the restaurant but booking is requested. And take note that this restaurant only have course menu and doesn't have alacart menu. I didn't know about that and noticed when I enter to the restaurant.
Restaurant name is Indigo restaurant. For your info the Blue Mansion color is also called Indigo blue so the restaurant name is coming from that.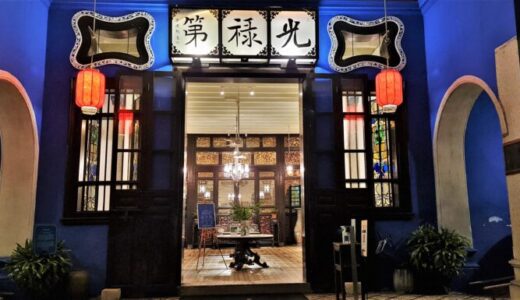 It will be nice if you drink at Blue Mansion bar.
You can take your drink to central coart yard as well. Especially during night you can feel the comfortable wind there.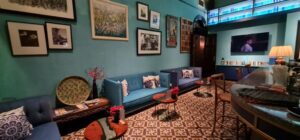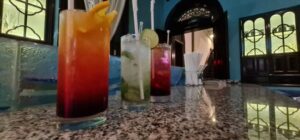 1 bad news for me is no food or snacks. If you need you should prepare with your own.
But still ok for me with nice drink and envirionment.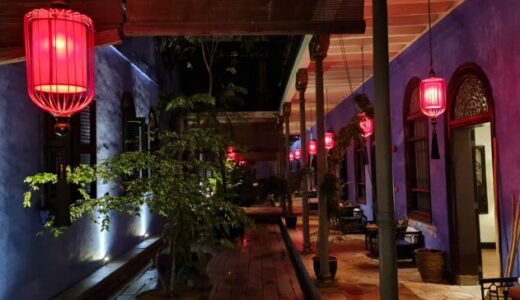 These garden can be enter only for the guest who stay at Blue Mansion. During night you will feel like you had time slipt to the past era. The unique scenery of the lanterns and the blue mansion was quite nice.
Surrounding of hotel is quite so you can rest well too.
Enjoying delicious Blue Mansion breakfast
You can decide your breakfast time.
I ordered fried egg and pancake.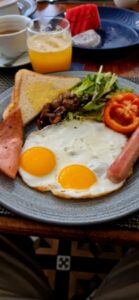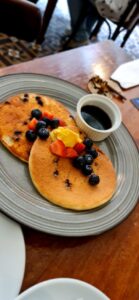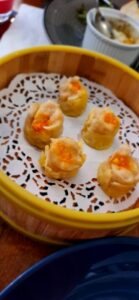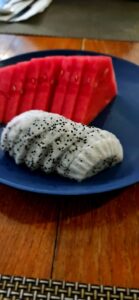 Dim sum and fruits is set for any type of breakfast.
Everything was delicious but just so many.
You can choose your breakfast from below menu.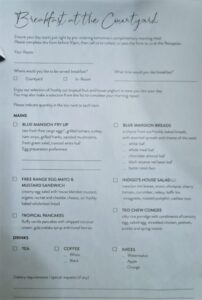 After breakfast we cleaned the room and prepared for 11am Blue Mansion tour.
The guest who stay here is free to join so you can relax inside your room until the tour time.
Learning the history & background about Blue Manison by tour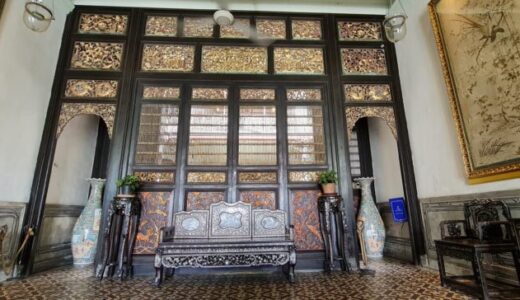 You just wait here (lobby) for the tour. Tour will start just in time and staff will explain about the history of Blue Manison. The tile on the floow is using the same thing it was using on 130years ago which is all hand made.
Some explanation I had wrote at "What is Blue Mansion" at the beginning of this article.
If you missed please also read that too.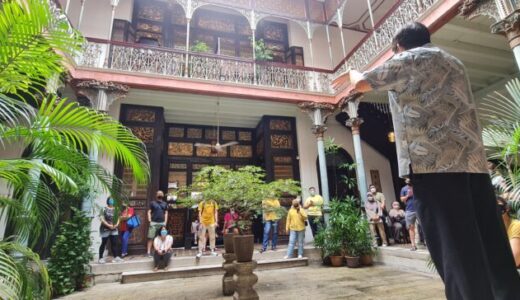 As well known that China loves the theory about feng shui and if follow that this place is consider as the center of Blue Mansion and used to said that wind, water & money will be gathered.
The structure of the atrium is to take in light so that the bad Qi won't come in. There is a concern that rainwater will accumulated, but there are also function to drain out the water.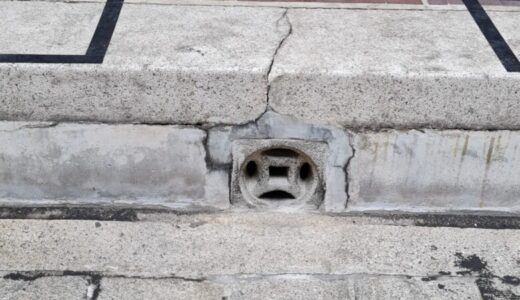 The upper hole in above picture has the function to flow out the water which is collected from each pillar and accumulate the water at center of garden. And the lower hole is to drain out the old water from this garden.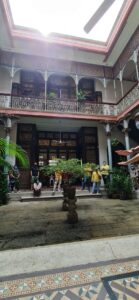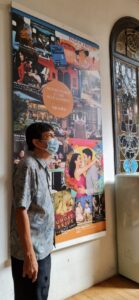 Blue Mansion is used in a movie scene because of its worldwide construction technology and art.
Seems like other Crazy Rich Asian there are several movie.
The contents of the tour were introduced about the background of Mr. Cheong Fatt Tze, the story of eight wives, how to repair the building at that time and the materials for repairing.
By the way, this Blue Mansion was for the 7th wife, but it seems that the 7th wife was the beloved wife for Cheong Fatt Tze.
At the end of tour you can go to the Blue Mansion souvinear shop. I noticed after tour is finished but this souvinear shop only open during the tour so if you have anything to buy you need to buy at that time.
After check out explore the daytime Blue Mansion before your leave
Check out time is 14:00 but please check with hotel.
Maybe beause I was Genius level2 in Booking.com .
During the tour, they explained the exterior wall decoration of the Blue Mansion, so you can see it when you look into the roof from in front of the room.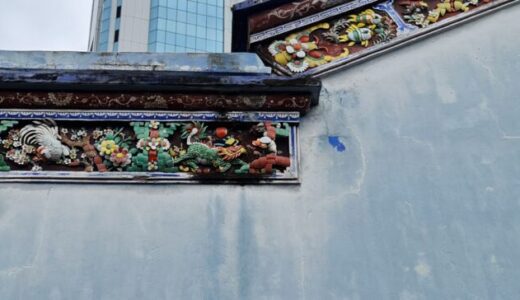 It looks like it's floating because it using pottery.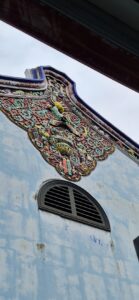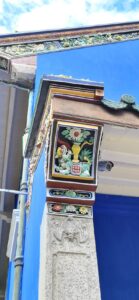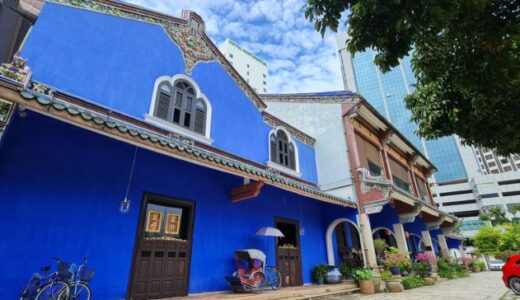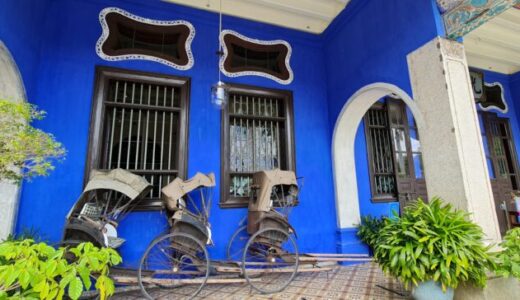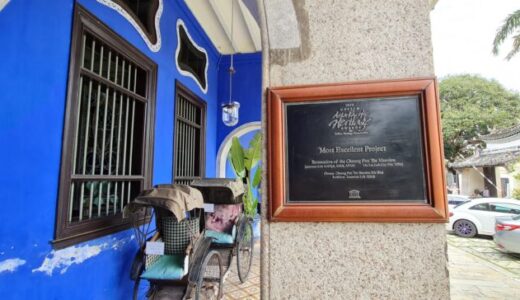 How you think of the beautiful indigo blue colored hotel Blue Mansion (Cheong Fatt Tze Mansion).
After checking out, I ate a fashionable dessert with the last bad luck and went home.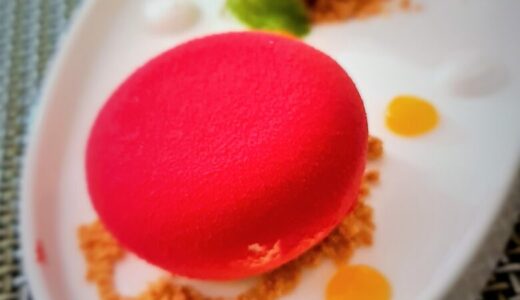 Register as World Heritage site and still exist with the technology from 130 years ago. Why not try to stay in this historical hotel.
Please also review Youtube about Blue Mansion
The best place to eat and stay in Penang (ペナンでおすすめするレストランとホテルとは)
Address:14, Leith Street,10200 Penang, Malaysia
TEL:+604 262 0006
Malaysia info#28 Best seafood restautant in Penang Dehappy seafood