Machu Picchu mountain climbing
Today is attacking Machu Picchu mountain.
The way to top is easier to walk if compared with Waynapicchu but the distance is more longer.
Please refer below link for 2021 latest Machu Picchu map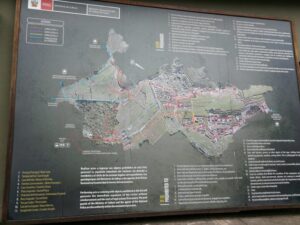 But there are dangerous area which is using rock steps. Especially during raining its slippy. This is same as Waynapicchu.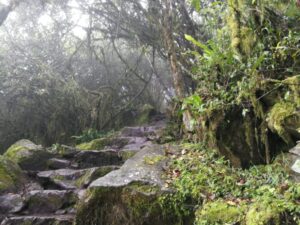 To reach to top it took around 1.5 hrs to 2hrs. This trip have strong image to climb the mountain.
Machu Picchu mountain height is around 3,000. Meaning higher than Machu Picchu so have risk of altitude sickness. So keep your own pace to reach and take rest oftenly.
If not foggy you can see wonderful view but today condition was worse than yesterday I was able to see nothing.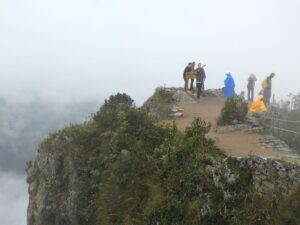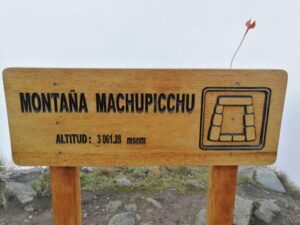 It really helps that at the top of mountain there are bench which you can rest properly. I ate some snack and rest there.
Generally its prohibit to bring food inside Machu Picchu but its not strictly controlled but ensure to bring back the rubish since there are no garbage.
After Machu Picchu mountain I continued to visit Sun's Gate(Intipunku).
To Sun's Gate(Intipunku)
Sun's Gate(Intipunku)can visit without reservation. Can enjoy your view like Waynapicchu. Trail is not so difficult and just around 1hr to the top so very easy for the beginners (I guess). But for me since I was climbing after Machu Picchu mountain it was tough.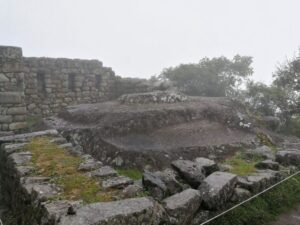 After around 30 minutes walk you will see ruins like at the picture but that is not the goal Sun's Gate. So don't misunderstand and return back.
Sun's gate have the display which you can see like below Intipunka.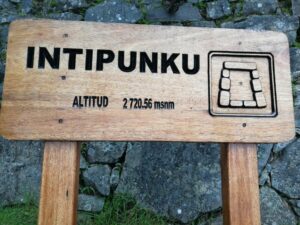 For your info this Sun's gate is the goal for stand by me course (walking from Ollayntaytambo to Machu Picchu).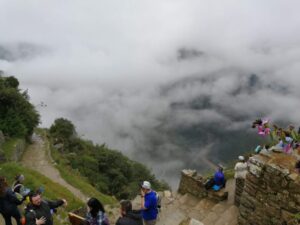 2nd day in Machu Picchu, I notice that I walked aroud for 20km….
Sorry to continue saying same thing but GoreTex jacket and trecking shoes was really nice.
Below is North face brand which is bit higher price.
[itemlink post_id="1996″]
To the famous spot of picture
After Sun's gate and Machu Picchu mountain please go to watchhouse.
You can take te picture where you oftenly see at TV or travel magazine.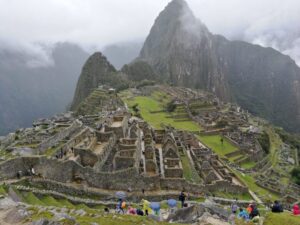 Many people is willing to take picture so stay calm and be patient. You have plenty time if you not with tour guide. Because you can wait until the people leave that place.
When you come first in the early morning you can take picture without any people inside the ruins. If you only plan to go to Sun's gate you'd better go to the watchhouse first but please check the route map first if that is possible or not.
Honestly speaking climbing Machu Picchu mountain was not high priority but since I also had 3rd day I decide to go. You may consider with your plan and maybe just choose 1 to climb. If you have any other place to visit in Peru, Machu Picchu stay should be 2 days of course depends on your luck against the weather.
Inside the ruins you can see the alchitecture with plenty of technology. They use nothing between the connection of the stone. So surprise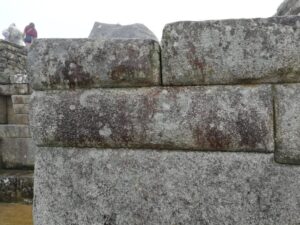 Even the razor blade cannot go into the crevice between the stone. This is also impossible to do by current latest technology so Ire ally wonder how these people in Inca did this.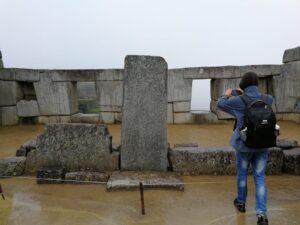 3 window temple is facing the sunrise during summer season (the most highest day in summer)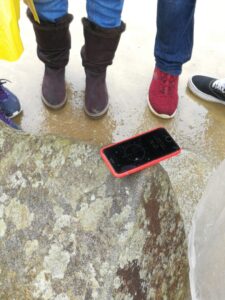 In this palace there is stone which shows the clear direction for East, West, South & North.
We checked by smartphone app but it shows 0 degree for the North.
Happy New Year
Today was the last day of 2018.
When return back to Mahcu Picchu village they were preparing for New Year countdown.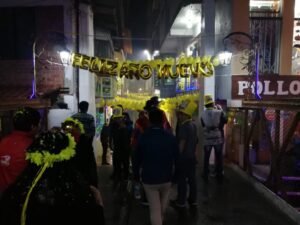 The reason why yellow decoration is used is because in Peru yellow is told that the color which brings the happiness. Every where was using yellow and many shop was selling yellow shirts, pants & handkerchief.
Countdown had started at the palace of village. Its not so big but small fireworks was used for celebration. Some rocket fireworks went inside the restaunrant and the New Year fireworks was fired before 0 o'clock but look looseness of South America was fun.
Hope nobody injured by the rocket fireworks.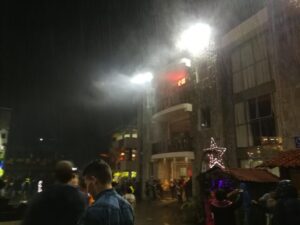 Tomorrow is the last day in Machu Picchu. Only in the moring I will visit the Machu PIcchu and return to Cusco.
Machu Picchu the world hertitage traveling #Day3
Machu Picchu the world heritage traveling #Day5
Please see Youtube.
世界遺産マチュピチュの旅 (World heritage Machu Picchu travel)
You can also see how to purchase Machu Picchu ticket cheaply in below link.