Kurokawa onsen is onsen city so there are plenty of hotel there.
This time I stayed at "Hozantei" so I will report about Hotel Hozantei.
There are also other sightseeing place which I reported so please on review.
Kurukawa onsen Hozantei

Aso Panoramaline
Surrounded by lush mountains Aso Onsen "Kurokawa Onsen"
In Japan Onsen is Japanese which means hot spring. So I will use the word Onsen instead of hot spring.
Kurokawa Onsen is one of the best onsen resorts in Japan. Before the pandemic occur, it was also popular spot for foreigners too.
In the past it was introduced as the first onsen resort which was scored 2star by Michelin Guide.
There are not many place to park the car but at the center of Kumamot Onsen town there is the place called "Kazenoya" and at there you can park and get info about the map of this area and during winter season you can know where they do the Yuakari (light festival) which is nearby the river.
This place you can get Onsen passport and walk into several onsen or rent the Yukata as well.
For your info parking at "Kazenoya" is free.
During winter season you can see very beautiful scenery Yuakari for more detail please refer below.
2022 the place to go in Aso Kumamoto Prefecture
Recommaned hotel in Kurokawa onsen Hozantei
This time I stayed at hotel name Hozantei.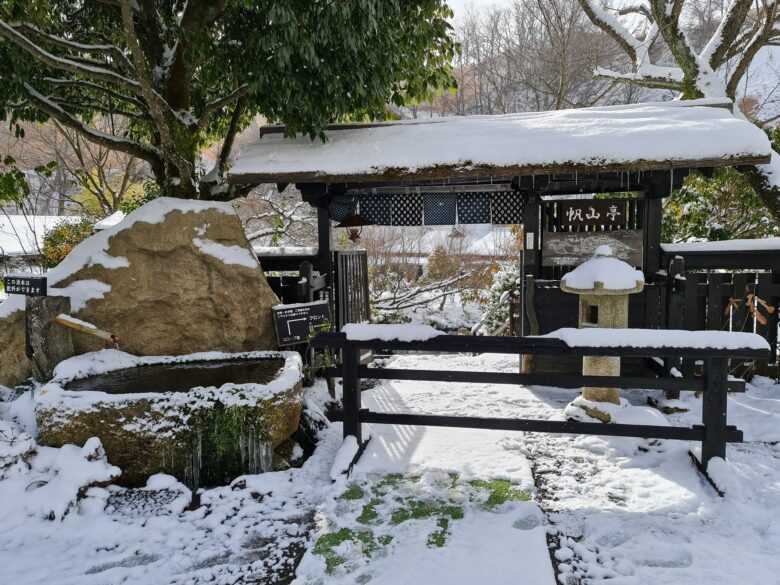 I choose the room deluxe "Yama Fuji".
At Deluxe and Suite room there are private open air bath. There are also open air bath for other room but during pandemic it's closed.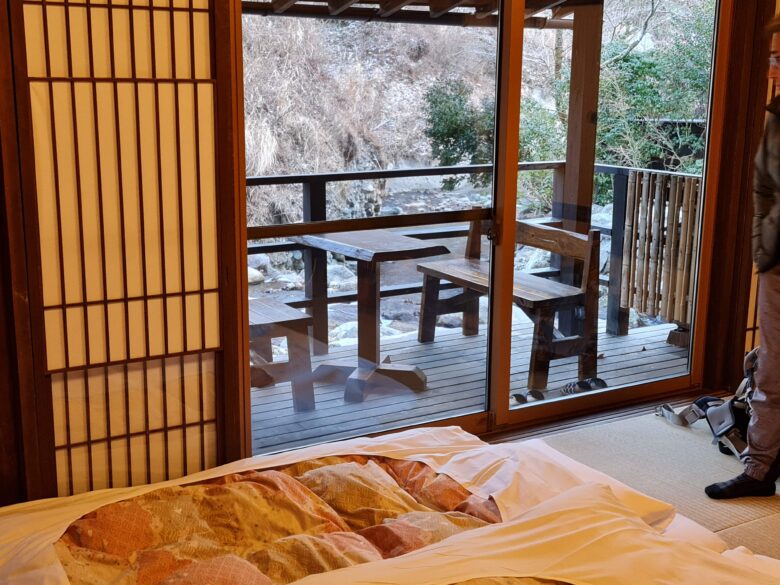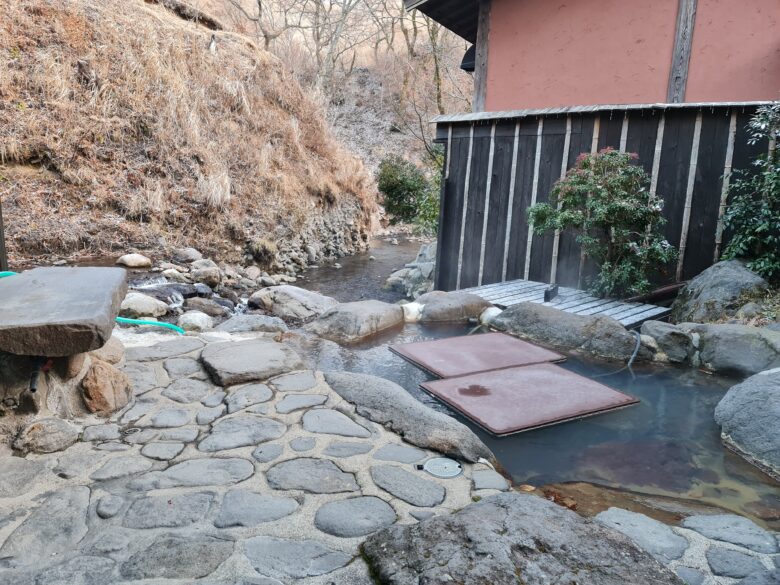 Including the breakfast and dinner the fee for 1night per person was around 33,000yen (330USD). I believe that this was the most highest fee for me in my life but no regret to pay this amount since I really had good time at here to relax. Open air bath was amazing, breakfast & dinner was so delicious and the hotel staff was really kind with perfect Omotenashi so it was really satisfy.
Omotenashi (in English called hospitality) is very well known word these days because of promotion of Olympic.
During winter season there are event called "Yuakari (light festival)" Normally its held from middle of December to end of April but for more detail please check the official website of Kurokawa Onsen.
Inn of source Hozantei guest room info
Super luxury Hozantei luxury dinner course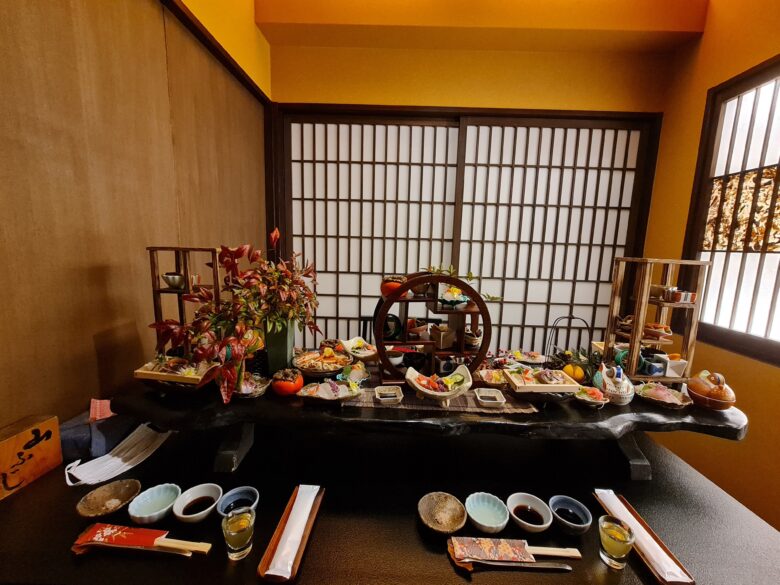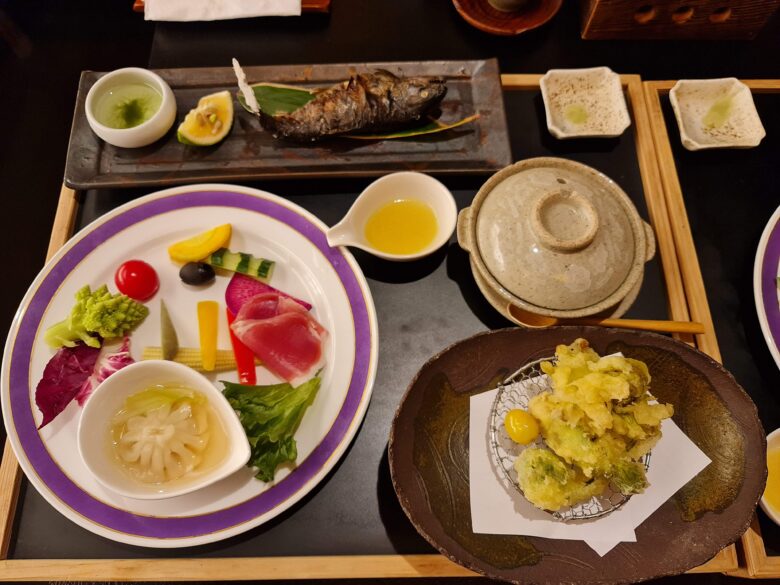 When you do the checkin you need to decide the dinner time. Staff will ask you so please decide the time in advance. You can select from 17:30,18:00,18:30 .
Dinner and also breakfast need to take at the dinning area but as you can see in the photo it's private room.
If you stay at deluxe or suite room assorted horse sashimi is added which is Kumamoto famous meal.
I was impressed. Taste and appearance was best in my life.
It's so regret that too many for me and no able to finish to eat all.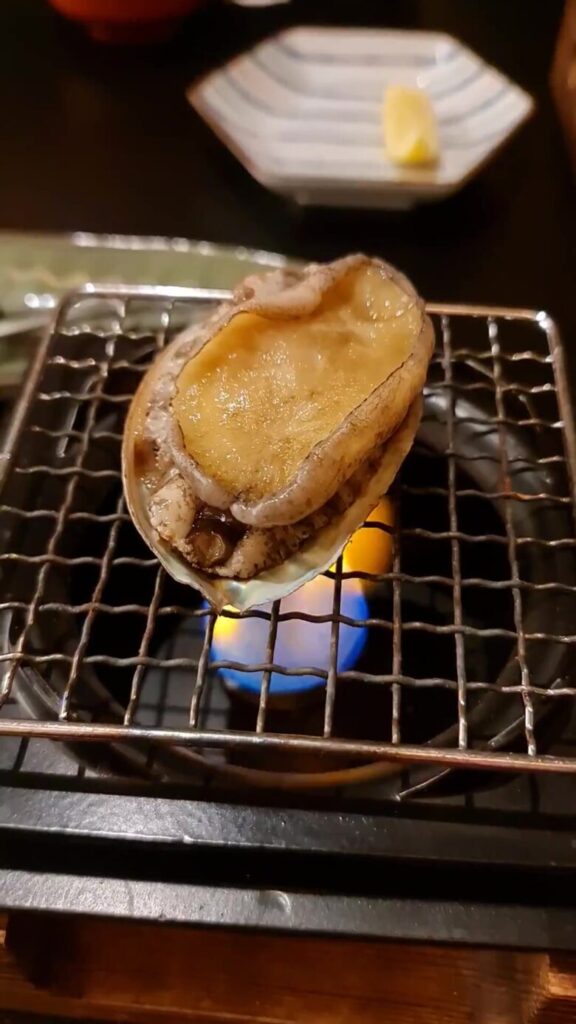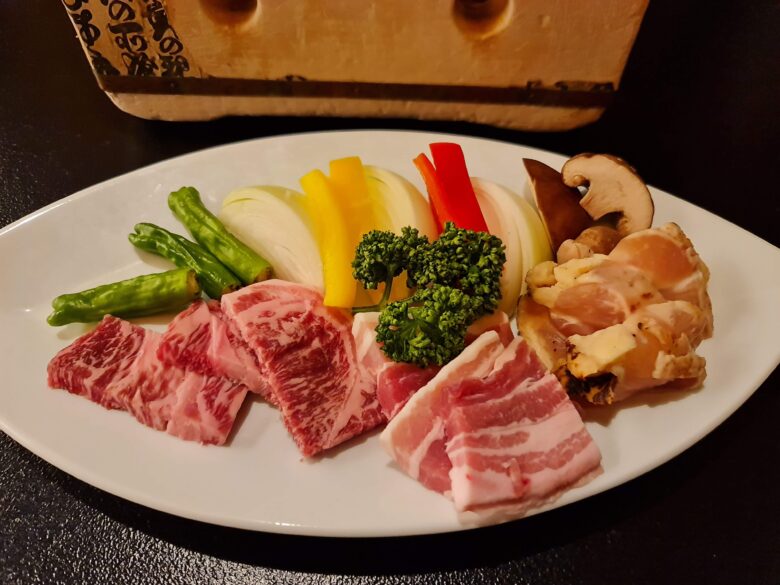 There is no loss in doing such a luxury thing.
Most restaurants are open only during the daytime. In addition, Hozantei is quite far from the center of Kurokawa Onsen, so you must take a taxi or rent a car when traveling.
When you eat dinner at Kurokawa Onsen, you should always make a reservation at the hotel (even not Hozantei).
I think that the real pleasure of traveling to onsen includes meals at the hotel where you stay.
I just list the simple menu for dinner. I didn't take photo but at the table staff will provide the today's menu by hand write.
Appetizer (9 kinds)
Assorted hourse sashimi
Kuwayaki Higogyu and other fresh vegetables
Okuni gratin
10 kinds of other tradition dishes
I used rent car company skyticket. Below site is only Japanese. You can also book by using skyscanner.
Skyticket rent car (written in Japanese)

Search Flights, Hotels & Car Rentals to our most popular destinations
Hozantei hearty breakfast course
Breakfast was also including in the plan so I was looking forward of the breakfast very much.
You need to decide the breakfast time when you finish the dinner and you can choose from 8:00 or 8:30 .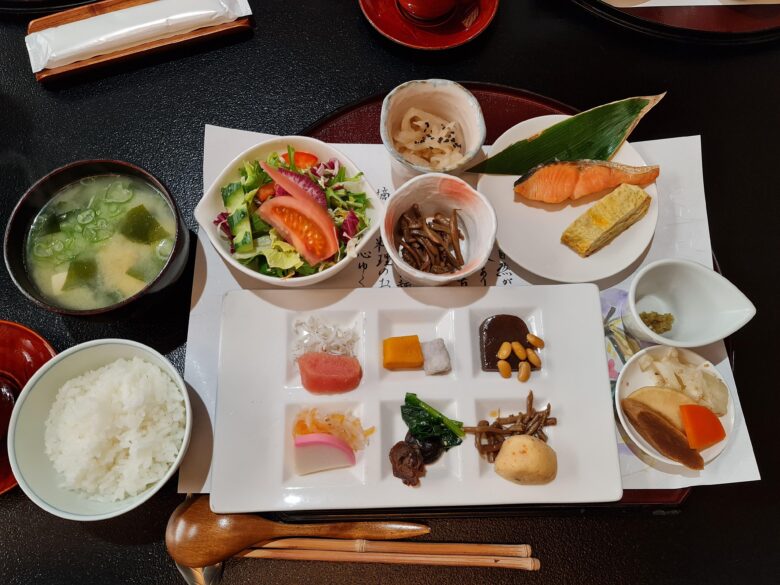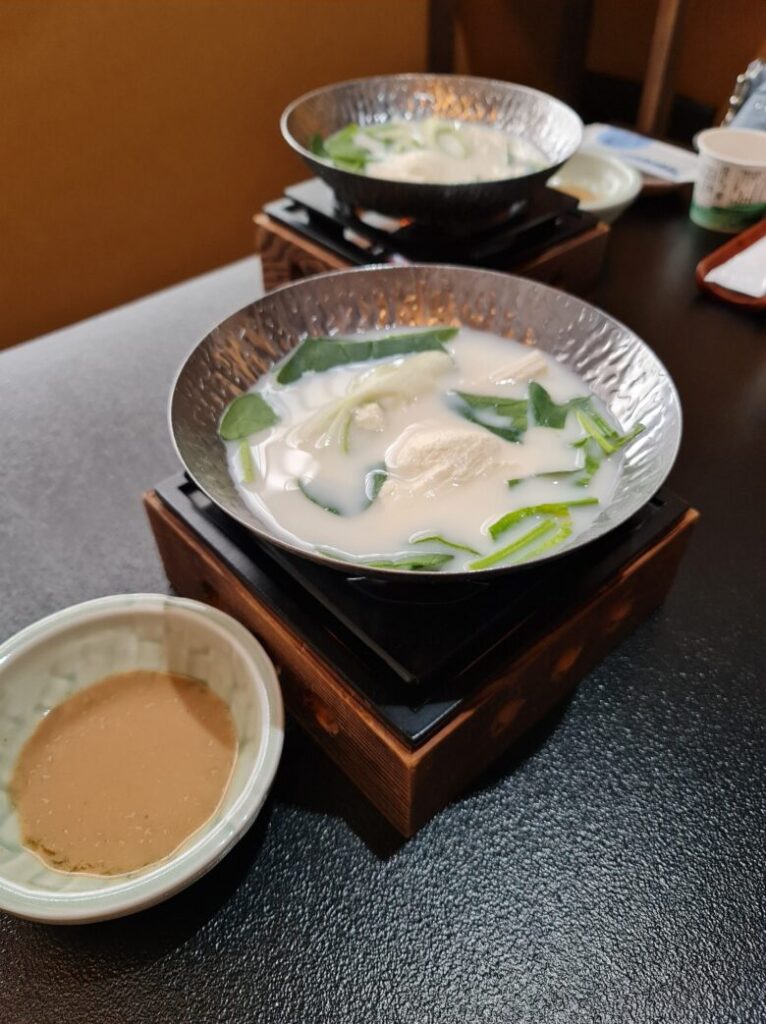 It was quite hearty breakfast and had a lot of food to eat from the morning, but I'm glad since I was able to finish it.
Breakfast menu is
Soymilk pot
Rice with 6 kinds of meal
Fresh vegetable salad
Cooked fish
Omelet
simple but delicious.
I normally don't eat much in the morning so it was like challenging to a big eater for me.
Nice hospitality by Hozantei staff
We booked via a phone but from that time there hospitality was very nice.
Against the quantity of the quest they suggested the suitable room for us with detail explanation.
We choosed deluxe and staff had choosed the best room for us and also the bit cheaper type.
They also shared the info about the environment at Kurokawa during our stay at the hotel. They adviced us to use the studless tyre since there is high possibility to snow. That info really helped us because we are able to manage the studless tyre and it really snowed.
Checkin was done smoothly by following the proper COVID-19 SOP and can consider that staff is taking serious against it. Also they display the method how they do.
During dinner since we were first time to come to Kurokawa staff teach us what is the fastest way to go Yuakari and return to hotel and also advising which area is nice. This year it was held at several place to avoid the area to become crowded.
It was really nice and friendly staff since they info helped us a lot.
When you check out if you inform in advance staff can help you carry out the luggage.
Due to the snow the hotel looks more nice and also made fantastic view with Yuakari.
I also updated Yuakari so please review if free.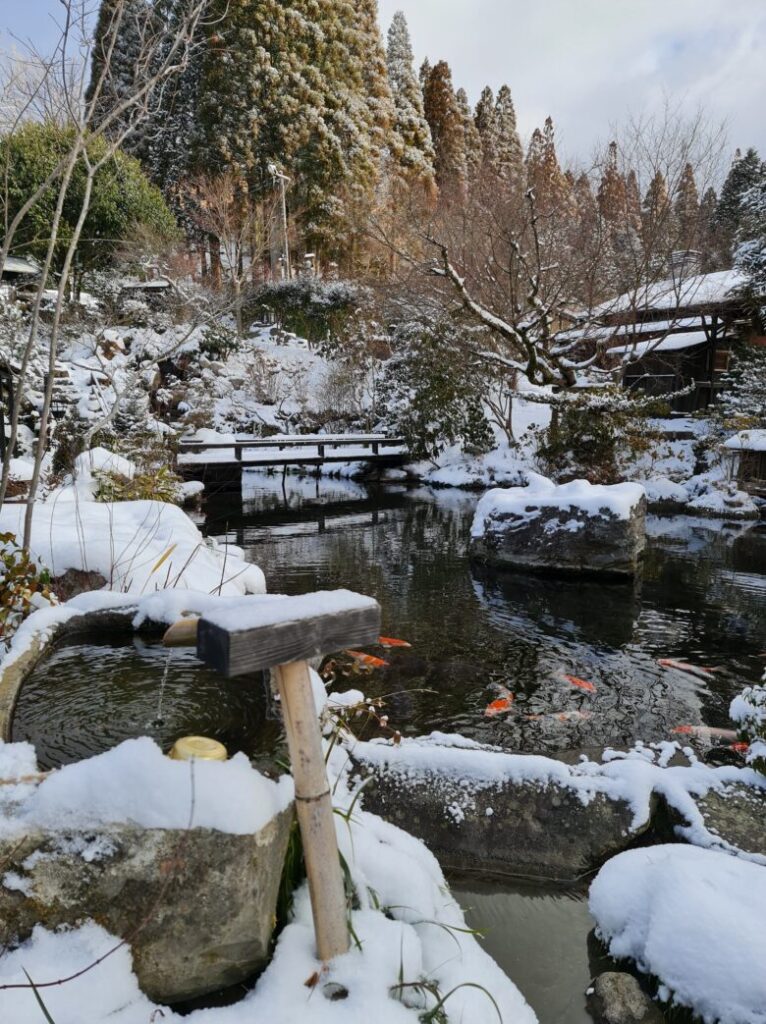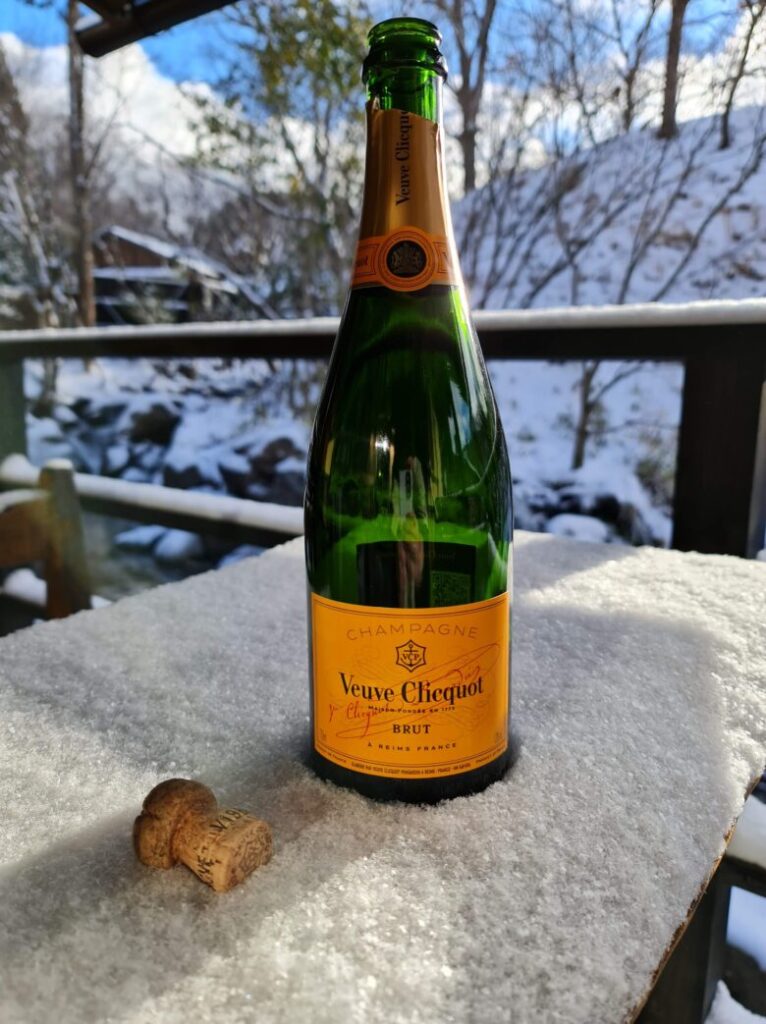 Hozantei basic info
Hozantei basic info is below.
Address:6346 Manganji, Minamioguni, Aso District, Kumamoto 869-2402
TEL:(+81) 0967-44-0059
If you book from internet please book from official site.
源流の宿 帆山亭 一休.com

People who better stay in Kurokawa onsen Hozantei
Hozantei has been praised so much, but it also has some disadvantages.
Disadvantage of Hozantei
Quite far from the Kurokawa onsen main town
From suite room to dining area is bit far
Price is bit high
Each person has different budgets, but there is no doubt that it is worth to stay.
Even its far from the Kurokawa onsen main town must of people is coming by car so shouldn't be the problem.
I list up some items for the person who is still wondering whether to stay or not.
Want to spend at quite and calm place
Want to stay at the hotel who do the protection of COVID-19 properly
Want to have luxuary time
Want to relax at private open air bath
Want to experience the real Omotenashi "hospitality"
Want to feel the each season at the hotel
If one or two are matching, why not give a try?
2022 latest yuakari info you can refer the detail in below link. This year is annivesary you can see more nice view compare with previous year.
2020 info you can see in below link. All season is really nice but the season to see the dramatic view should be winter.
Kumamoto Onsen trip#2 The reason why you should go Kurokawa in winter
I went to Hozantei again and stayed at special room. It was really nice and one of the best private open air bath was there. More better than delux room if you can come with 3-4 people or maybe with special person.