Kumamoto prefecture is well know as Amakusa, Kumamoto castle and Mount Aso.
Many people will go to Aso for sightseeing. Nature panorama view and delicous food. I also like Aso city but if you come to South Aso why not try more drive at east part??
Kurokawa Onsen, one of the best hot spring towns in Japan, is located in Minamioguni, Aso-gun.
I might feel that if you come to Kurokawa onsen, need to stay one night there but atcually you can also do the day trip.
Especially winter is really nice time to go there because of the traditional light festival is held and it's really beautiful.
On 2020 I also introduced but 2022 is the anniversary for this event so I will highlight again with other sightseeing spot which I couldn't go last time.
If you didn't check the surrounding sightseeing spot from Kurokawa onsen please refer to below link.
Oita prefecture Kokonoe Yume Otsurihashi is quite near to Kurokawa onsen. This bridge is the highest bridge in Japan and you can enjoy the wonderful panorama view there.
Kumamoto Onsen trip#5 Recommand sightseeing spot around Kurokawa Onsen
Use at commercial on TV Nabegataki par
It's 20 minutes far from Kurokawa onsen by car and the point at this waterfall is that you can go right behind the waterfall.
Because it can see from behind of waterfall it is also called backward waterfall.
Waterfall iteslf is 20m width and 10m difference so not so big but compact view with balancing water flow can create the water curtain.
It's old commecrial but this area was used for green tea commercial.
For COVID-19 currently you can go by reservation in advance. You need to reserve by internet.
Booking site can go from here.
During winter Nabegataki will held light up event which make it more attractive. I also wanted to see but new year season is closed so couldn't able to see it.
Photo is borrowed from PHOTOHITO.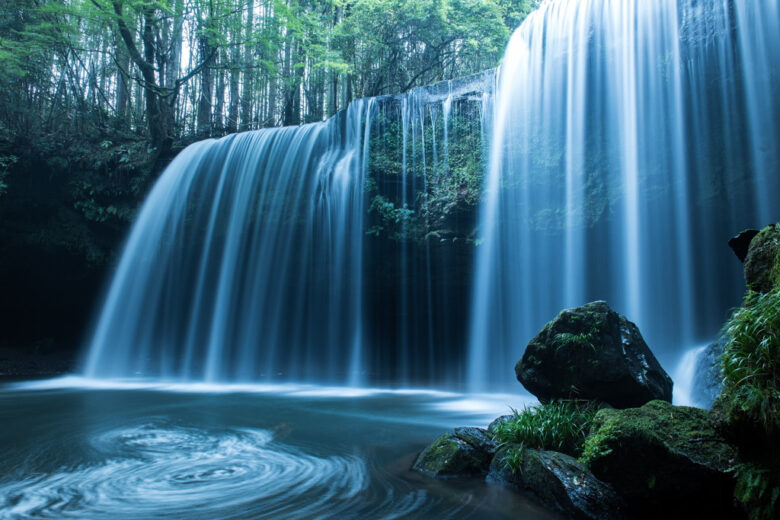 One of the spot to go at least once but actually this place is nominated in Japan scenery best 20.
I'm really regret that not able to see.
Entrance fee:Adult (Above high school student)300yen (3 USD)
      Children (elementry & junior high school student)150 yen (1.5 USD)
Operation hour:9:00 ~ 17:00 (Last enter 16:30)
Address:Kurobuchi, Oguni, Aso District, Kumamoto 869-2502, Japan
TEL:096-333-2335