For this article I will introduce the main event for this trip which is going to Kurokawa onsen in winter.
My trip place was at below place but please refer others if you have time.
Yuakari (light festival)

Aso Panoramaline
Surrounded by lush mountains Aso Onsen "Kurokawa Onsen"
Kurokawa Onsen is one of the best onsen resorts in Japan. Before the pandemic occur, it was also popular spot for foreigners too.
In the past it was introduced as the first onsen resort which was scored 2star by Michelin Guide.
There are not many place to park the car but at the center of Kumamot Onsen town there is the place called "Kazenoya" and at there you can park and get info about the map of this area and during winter season you can know where they do the Yuakari (light festival) which is nearby the river.
You can buy "Nyuyu tegata" and enjoy the onsen at surrounding or rent yukata here.
What is "yukata" ?

It's Japanese traditional cloth. Used at specific place or season.
Both men & women can were and they are different design.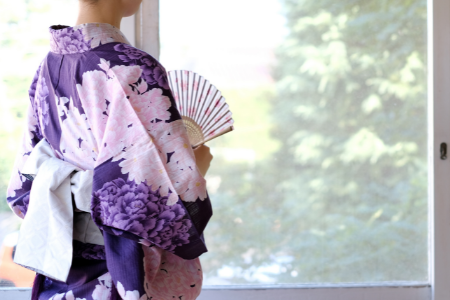 You can check the unique Kurokawa onsen map but there is only Japanese version.
For your info Kazenoya parking lot is free.
Kazenoya basic info will be below.
Addres:Kurokawa Sakura-dori, Minami-oguni-machi,Aso-gun, Kumamoto Pref. 869-2402 Japan
TEL:(+81)0967-44-0076
During winter season event called Yuakari will be held. Normally held from December until end of March but for more detail info please refer to the official website.
Kurokawa Onsen winter tradition "Yuakari"
Yuakari is started from 2012 so it's still new event in Kurokawa onsen.
This event started to protect the region environment from abandoned bamboo by cutting and renovating.
Every year this yuakari is made by the people who involved at Kurokawa and the profit which earned by the event is used for these activities.
All season you can see very nice view in Kurokawa onsen but Yuakari only held during winter season.
Yuakari is using the spherical temari lantern and tubular lantern which is made by bamboo and the quantity to be used during the event is almost 300pcs. It's set above the river and the light up is doing after sunset to 10PM.
Above Yuakari light location is the place duirng 2021 December until 2022 3rd April. Every year location and number will be change so please refer to the official website.
After sunset you can see very beautiful view and even by your phone you can take nice picture.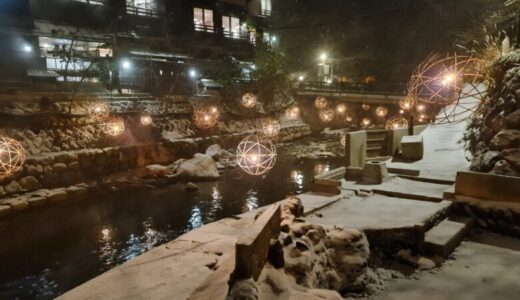 Fortunately or unfortunately, it was snowing and made the best situation of winter tradition for Yuakari.
In order to enjoy the fantastic winter illuminations of Kurokawa Onsen, you must come in winter.
Spring, Summer & Autumn all season is beatiful but on winter you can see the beautiful scenary of nature and artificial fusion.
You can walk the riverside but if raining or snowing please be careful since it's slippy.
This photo is taken at the river nearby Kazenoya Marurin bridge.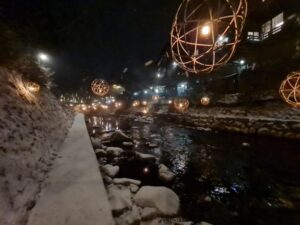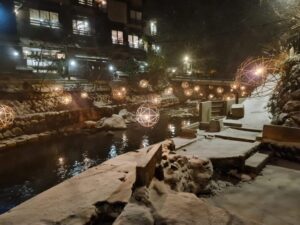 How is it?? Isn't so much beautiful?
This day it was too cold to stay outside so didn't stay there long even I still wanted to enjoy the view.
I thought that we should come to Kurokawa Onsen in winter to see the fantastic scenery by the lantern lights made by the people involved in this nature and Kurokawa Onsen.
About Kurokawa onsen "Nyuyu tegata"
What is "Nyuyu tegata"?

It's the ticket you can choose 3 onsen from 28 onsen inside Kurokawa onsen.
At the beginning I mentioned about Nyuyu tegata you can purchase this ticket at Kazenoya or any hotel in Kurokawa onsen.
In Kurokawa there are 30 hotel is operating by owning there own onsen by pruchasing this ticket you can choose 3 hotel to enjoy onsen from 30 onsen.
But 1 person can buy only 1ticket unless you finish to use.
Price for adult is 1,300 yen (13 USD) and for children (3 years old to 12 years old) is 700 yen (7 USD).
Purchase "Nyuyu tegata" at Kazenoya or hotel at Kurokawa
Choose which onsen you want to try and let's go!
The type of onsen and the hotel location you may refer below but in Japanese.
But there are so many type of onsen so in the Kurokawa onsen homepage onsen sommelier is giving 4 option.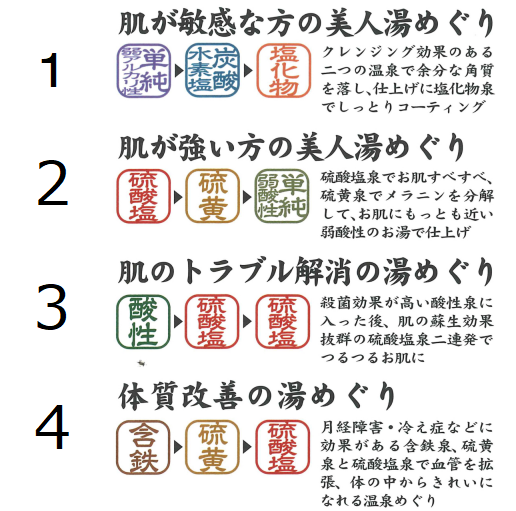 For the person whose skin is sensitive choose the pirple onsen first, 2nd for blue onsen & last orange onsen
For the person whose skin is strong choose red onsen first, 2nd for yellow onsen & last for light green onsen
For the person who want to solve some skin problem choose green onsen first, 2nd & last for red onsen
For the person who want to improve constitution choose brown onsen first, 2nd ofr yellow onsen & last for red onsen
Get stamp to the "Nyuyu tegata" at each hotel
Opearating hour for each hotel is 8:30 ~ 21:00.
Bring back "Nyuyu tegata" as for souvinear
Currently they discontinue to give reward to the person who completed to use 28 onsen but if you complete you can get the prize.
For example your name will be listed at Kazenoya or you can get special towel which is not for sale.
This reward was only for adult and child cannot get but instead of that if teh child complete 3 onsen you can go to Kazenoya and get the "well done reward" with snack or toy for the prize.
And if you have "Nyuyu tegata" you will also have benifit at each shop or hotel such as 10% discount or 1 free drink service and so on.
If it's not cold you can rent yukata at Kazenota. By wearing yukata and wondering the onsen town you can get the experience of old era Japan.
Yukata price is 2,000 yen (20 USD) per person.
Recommaned hotel in Kurokawa onsen Hozantei
This time I stayed at hotel name Hozantei.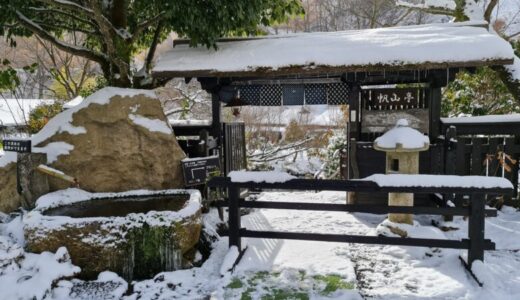 That's all the reason that you must go to Kurokawa onsen during winter season and watch Yuakari.
Please review other sightseeing place where I went during this trip.
Yuakari (light festival)

Oita Kokonoe yume suspension bridge
Aso Panoramaline
Kamishikimi KUmano Imasu temple detail you can refer below.
Longest stair in Japan "Shakain Misaka walkway" detail you can refer below.