In Kyoto the number of shrine and temple are enormous.
I went to very very famous shrine which is well known as "Senbon Torii" Fushimi Inari for my first time in my life.
I wanted to come and thinking for a long time but didn't go so I decide to go this time.
Fushimi Inari is one of the photogenic spot in Kyoto and the shrine is also known as "O-inari-san".Inari shrines are the most familiar shrines to Japanese people. The main shrine is register as Important Cultural Properties, several power spot is located inside Fushimi Inari shrine, well known spot and Inari-yama toughness info will be shared here.
Kyoto Fushimi Inari Taisha (shrine)
Most of the people will imagine "Senbon torii" when you heard the shrine name Fushimi Inari but this Senbon torii will introduce later.
Senbon means one thousand.
Inari shrine is well known as "O-inari san" which is common to call fox in Japan. In Japan "O-inari san" shrine is existing more than 30,000 and Fushimi Inari Taisha is the head shrine with which all the others are affiliated.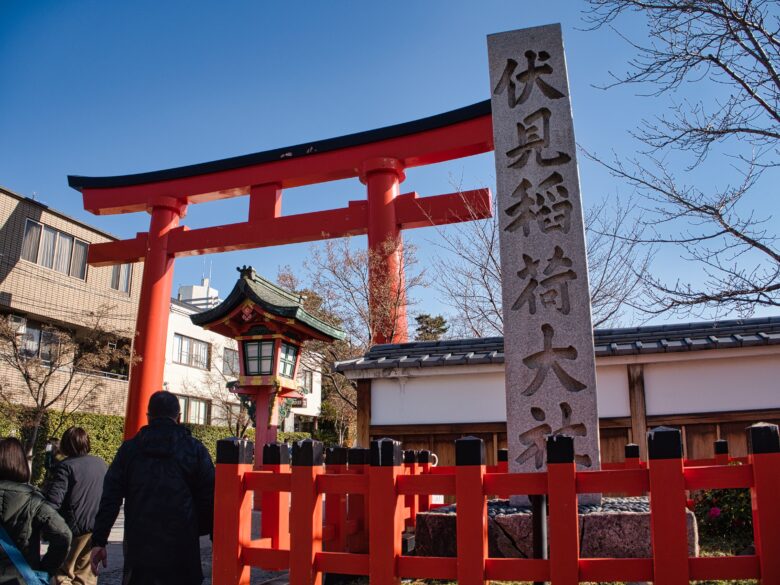 Fushimi Inari Taisha which is famous as the god of business prosperity and fertility, has not only the Senbon Torii, but also the Okumiya behind the main shrine, Inariyama, believe that the power spot to make your dream come true "Omokaruishi" and so on.
The deity Inari Okami took up residence on the mountain on 711, have more than 1,300 years history. The name of the shrine have several theory but used to say from the Japanese word "Ine ga naru" to "Inari".
"Ine ga naru" means rice grows which is very important for Japanese from the past until now.
Bright vermilion tower gate
After pass the torri which is along the approach of shrine you will see beautiful bright tower gate.
Inside the shrine you can see fox statue instead of guardian dog.
The thing inside the fox mouth is not same you can check who they keep in there mouth. In front of the gate they keep key and ball in the mouth.
After the tower gate five deities are enshrined together in the main shrine building which is designated as an Important Cultural Asset.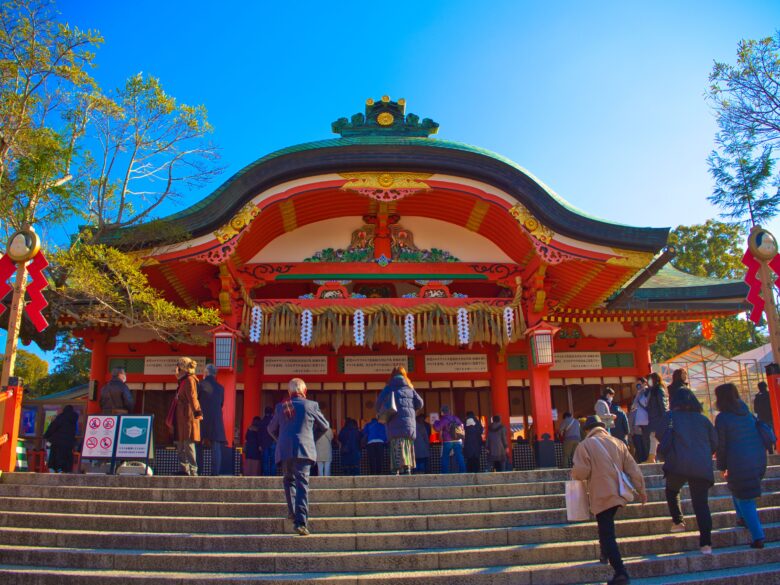 Main point for sightseeing "Senbon Torii"
To see the "Senbon Torii" you need to pass the main shrine. You can see many torii but that is still not the "Senbon Torii" so don't mistake. There is display.
The entrance of "Sebon Torii" is right side and the left side for return.
After COVID-19 they change like this and in the past it was freedom.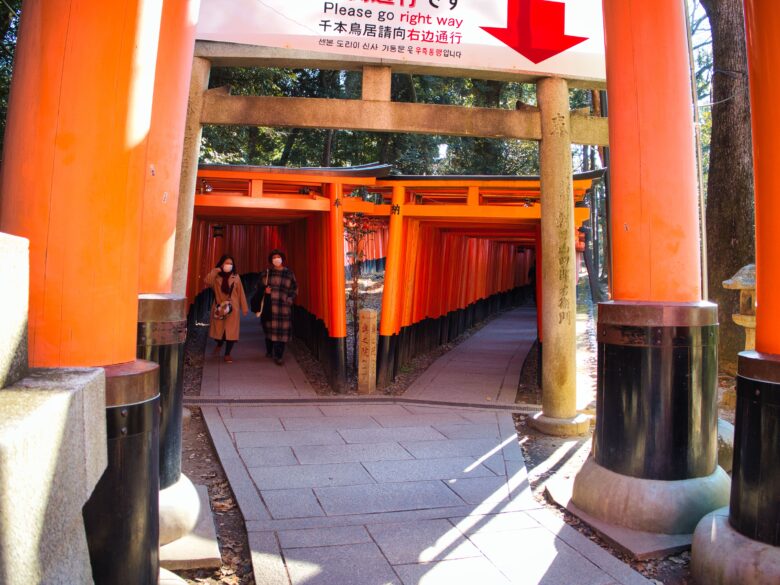 The view of beautiful bright red torri which is aligned nicely was really nice view and many tourist was waiting each turn to take good photo there.
The reason why this place have so many torii is because during Edo era people believe that the dream will come true or to become true can be enhance by dedicating torii to the shrine.
And until now Japanese are believing this.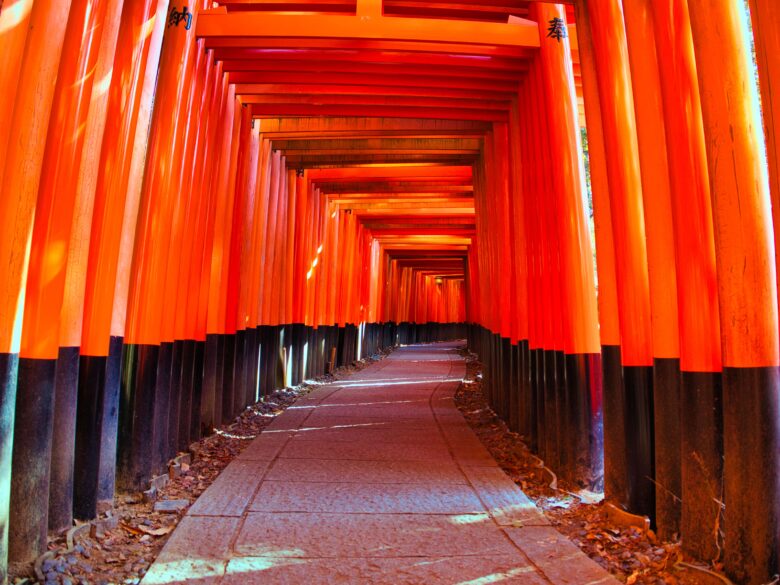 Another power spot which used to said that the dream comes true "Omokaruishi"
When you pass "Senbon Torii" you will arrive to Okusha Hohaisho prayer building. People come here to pray to the holy mountain Inariyama, which you can see three peaks from right behind the building.
There is a pair of stone lanterns in the back right-hand corner of Okusha Hohaisho which is known as "Omokaruishi". Make a wish in front of the lanterns and pick up the top of the lantern (kuurin). If the stone feels lighter than you expected, your wish will become true, and if it feels heavier, your wish will be unlikely to come true.
I raised and feeled lighter than expected but the money I throwed didn't go inside the money box there… Hope my wish can become true haha.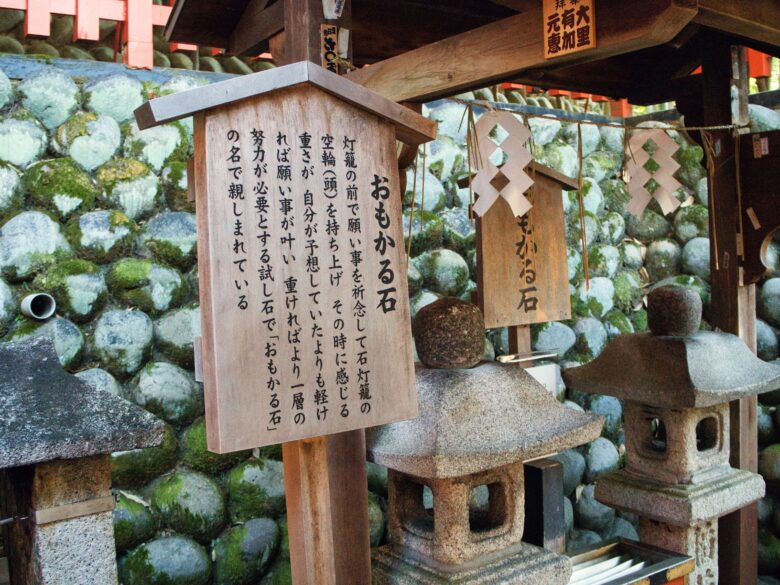 Make an effort to climb Inariyama!
In Fushimi Inari Taisha number of torii used is around 10 thousand. So inside Inariyama also there are many torii. Since the entire Inariyama, where the Inari Okami was enshrined, is the object of worship, Inariyama also has many beneficial mounds and attractions to see.
The famous essay "Pillow book" author Seishonago used to say that enshrined Inariyama. If you still have energy to go up you should go.
Actually I think too easy to climb Inariyama because it's just mountain inside the shrine but it was very tough than I expected. One way is around 4km if you go to the top and many stairs were there. For me needed 2hours to return back.
Better to use sneaker or trecking shoes and additionally bring towel and water. I went there during winter season but my jacket was disturbing me.
To buy water there is no problem you can buy on the way to the top of Inariyama there are few shops at each point and few rest area is also there. Souvinear shop is also there but must of it you can buy at the entrance of Fushimi Inari Taisha. If you want you just need to buy the specific items which is related to each point small temple.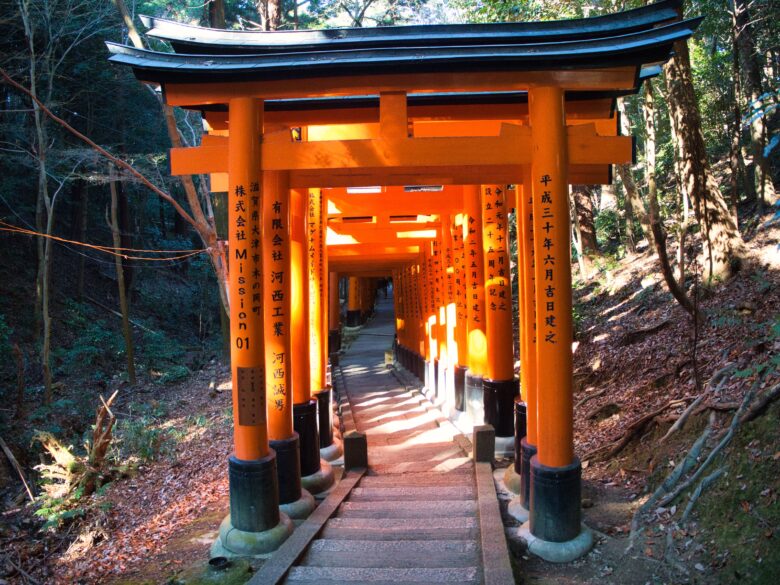 Inariyama is quite nice for walking because not so many people is there and because this quite environment you can feel something mysterious and also feel like you are in different world. Other than that the combination of green trees and red torii won't make you boring.
At Yotsutsuji you can see the South part of Kyoto panaroma. This area was quite many people.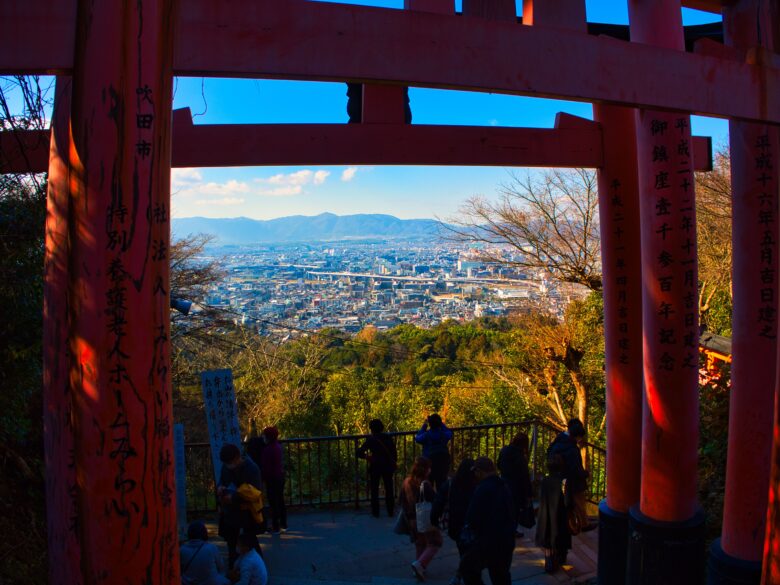 When you arrive to Yotsutsuji there are 2 way to go forward. 1 is clockwise and another is anti clockwise. Both you will return back to Yotsutsuji. At this time I choosed anite clockwise.
What I thought was the place you can rest with good enviroment was Mitsurugisha and Kiyotaki. So if you want to rest first you (during your climbing up) should choose clockwise, if you want to rest later (during your climbing down) should choose anti clockwise.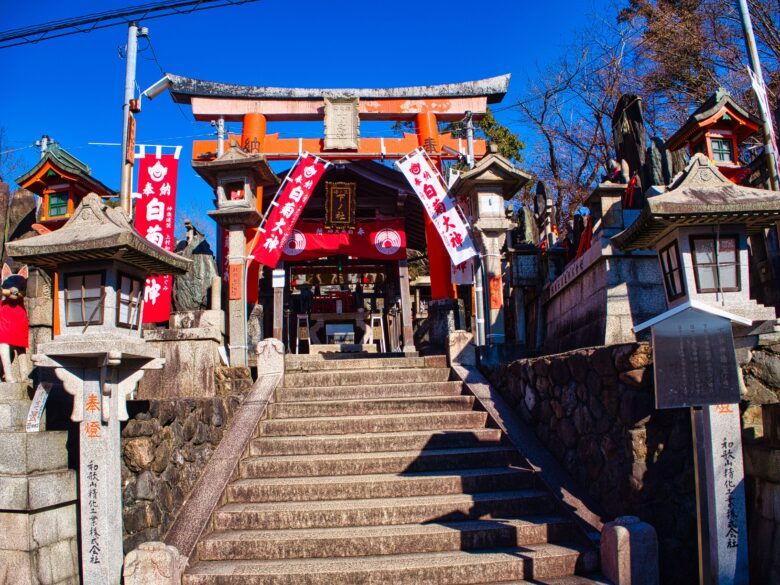 Suehiro Ohami is enshrined at Ichinominejosha. It is popular because it is auspicious as it means "spreading" and it is said that everything will be successful if you visit.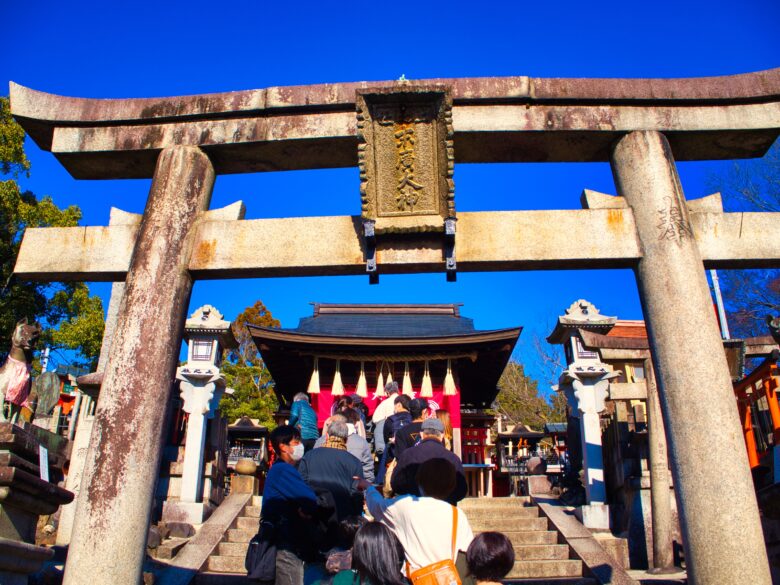 After Ichinomine you can see the temple which is enshrined the god for eyes "Ganrikisha" and the god enshrined as caugh "Osekisha", benefit of disease-free breathing "Yakurikisha" , several places related to health is there. If you choose clockwise you will see this first.
The most attracted me was Ganrikisha which is god of eye is enshrined.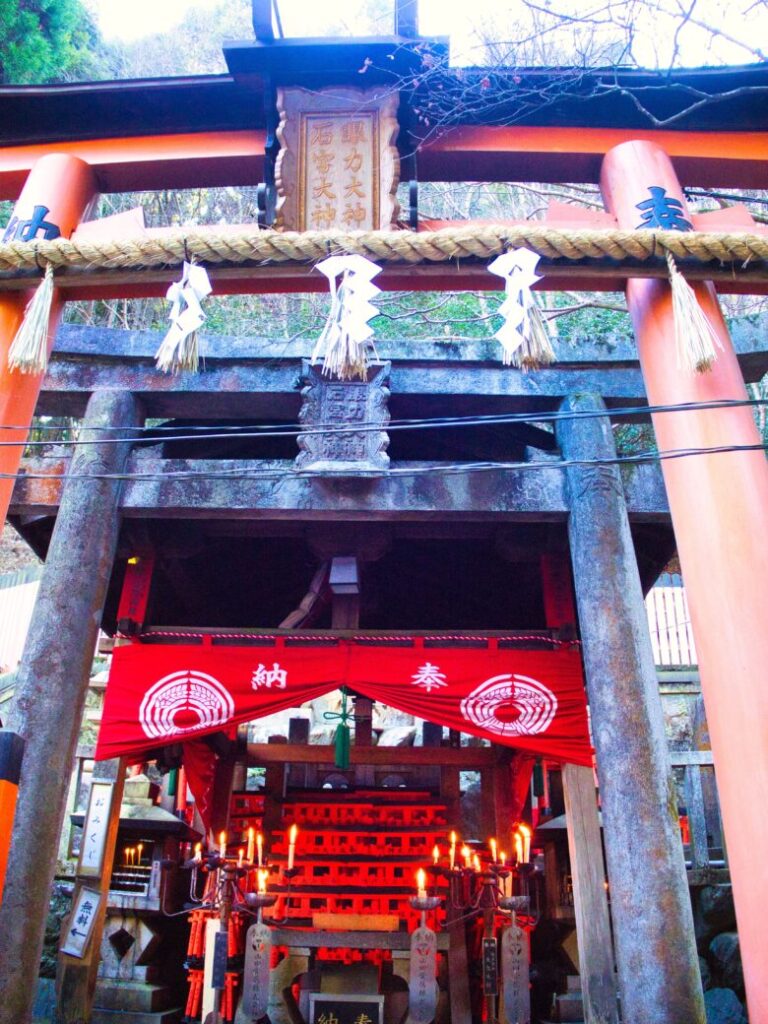 Mostly we will describe about eye disease or poor eyesight. Of course there are benefit for this but one I was intrested is "Gives foresight and eyesight".
Whatever you do identifying the things is very important and also important factor.
When you work, choose something, go to travel, doing sports and so on everything you see by your own eyes and judge. If you gain the ability to see the essence of things, your vision will expand and the world in which you can play an active role will expand. It's deep mindset, isn't it?
何事においても物事を見極めるということは非常に大切であり、重要な要素です。
仕事をするとき、選ぶとき、旅行にいくとき、スポーツをしているときなど自身の眼でみて判断をしています。ものごとの本質を見抜く力をつければ視野が広がり活躍する世界が広がります。奥が深いですよね。
眼力社ではここでしか買えない眼力社特製、隷書文字があります。私は豆書と呼ばれるものを早速購入しました。財布の中にも入る小さなお札です。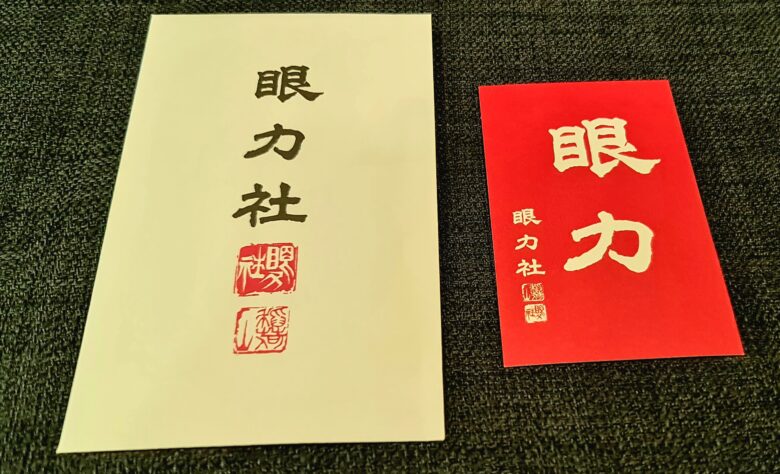 God of eyes is not many in Japan. My main purpose for here was to visit "Oinari san" so it was happy for me to get and earn additional thing which I didn't expected.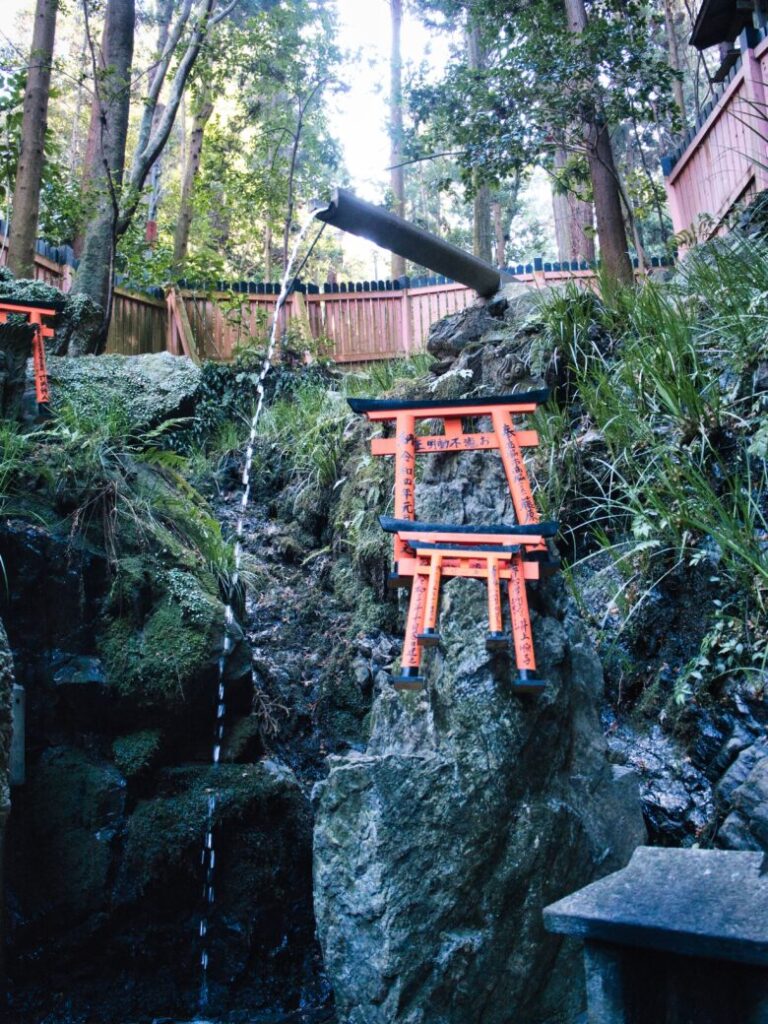 Summary
Fushimi Inari Taisha is very very well known because of "Senbon Torii" but actually other than that there are so many things to see and attract you.
Actually I also ony intrested to "Senbon Torii" but when I go to Inariyama I impressed about how nice is Fushimi Inari Taisha.
Other than "Oinari san" mamy gods are enshrined. To find your intrested god is also might be good activity for this trip.
If you didn't go to Fushimi Inari sightseeing will finish around 30 minutes.
Note for travller
If you have a big luggage such as suitcae you can storage at the locker at JR Inari station but the locker is not so big and not many, so you may not to use.
Most of the people need to change the train at Kyoto station it's better to get off there and use the Kyoto station locker since it's more big and there are many.
Address:68 Fukakusa Yabunouchicho, Fushimi Ward, Kyoto, 612-0882, Japan
Operation hour:24hrs open