As written in the title I went to New Zealand Tekapo lake which is well known as the best place to see starry sky.(February 2019)
From Malaysia to New Zealand you can use Malaysian airline for direct flight to Auckland. From Auckland to Chirstchurch need to use domestic flight. Chirstchurch is te nearest city to Tekapo lake.
Depart to Tekapo Lake
From Chirstchurch there are bus to go to Tekapo which is long way but in order to move flexible I prefer to use rent car. New Zealand is same as Malaysia or Japan which is right handle and left side to ride on the vehicle.
I rent from the company at New Zealand. You can check from below link. 4days including insurance was around 210 USD.You can get rent car by skyscanner as well. Please use if necessary.
Skyscanner Search Flights, Hotels & Car Rental to our most popular destinations
First day needed to stay 1 night at Chirstchurch due to the flight schedule so departing to Tekapo will be in the morning.
From Chirstchurch to Tekapo its around 231km and took 3hrs. If your car has the navigation system you can use that but if you don't you can use your smartphone app 「Waze」. For myself this is better than Google map because the navigation voice is more clear to hear.
It was long drive but you can enjoy the veiw on the way and during summer season beautiful flower won't make you boring.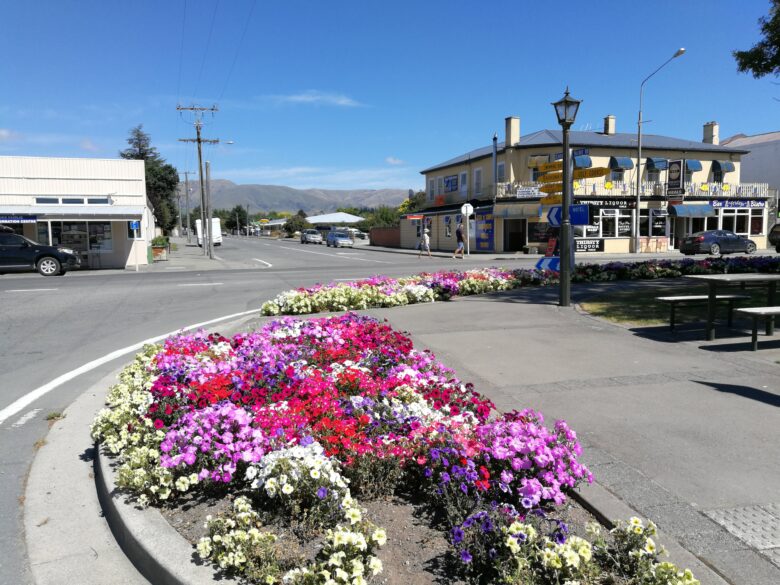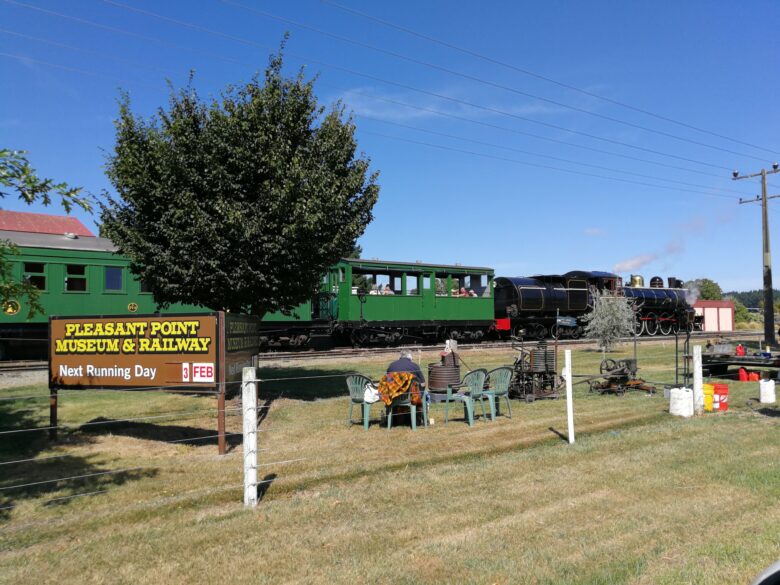 When you come near to Tekapo Lake you can see the beautiful emerald green lake which make you exciting. And you can notice that many car is parking around. You will fell hungry on the way to Tekapo but make sure not to eat to much before you arrive. You must eat lunch at Tekapo.
The reason will be explain just after this.
The thing you must do at Tekapo
If you depart Christchurch ar 8am or 9am it will be good time to arrive Tekapo Lake.
In Japanese there is a word says 「If you are hungry you cannot beat」. Enegry is very important for traveling so we shuold go to one of the best restaurant in Tekapo.
The reason why to take lunch in Tekapo
The restaurant named Kohan Restaurant is the place managed by Japanese is must try. There delicious salmon is famous and all travelers like this too.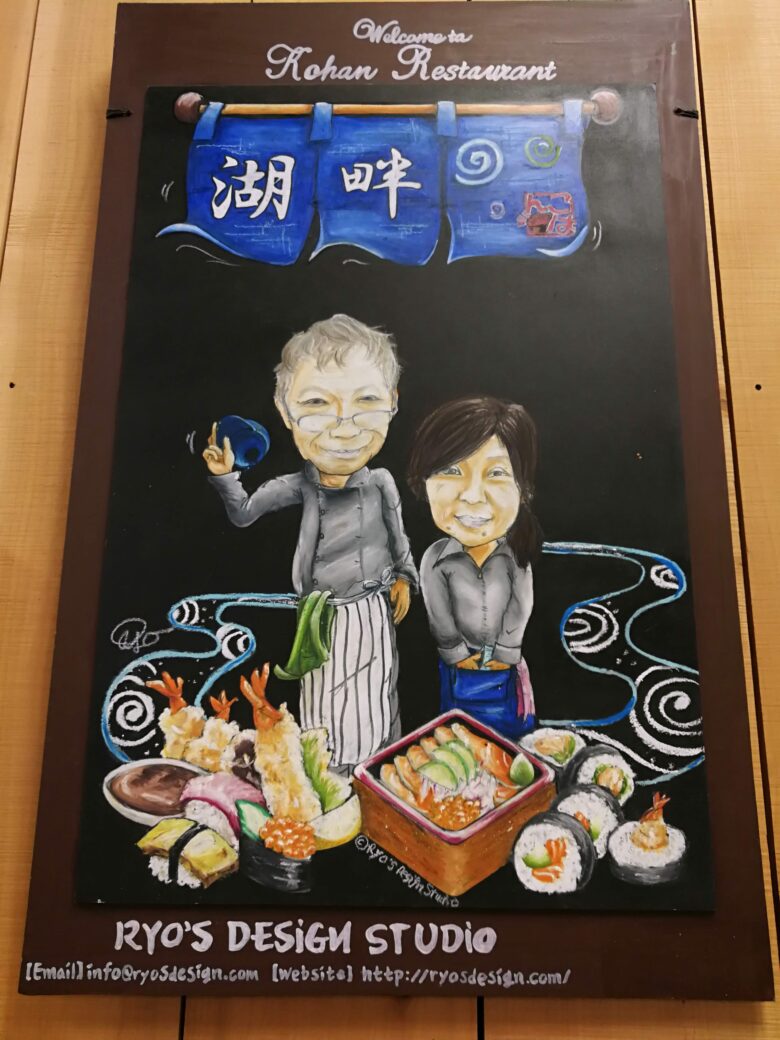 If you want to dine in most probably you need to book in advance but if you don't mind you should take away because of 3 reason.
Having lunch outside by seeing the wonderful Tekapo Lake view
Environment outside makes happy
Salmon rice bowl can be more delicious because of ① & ②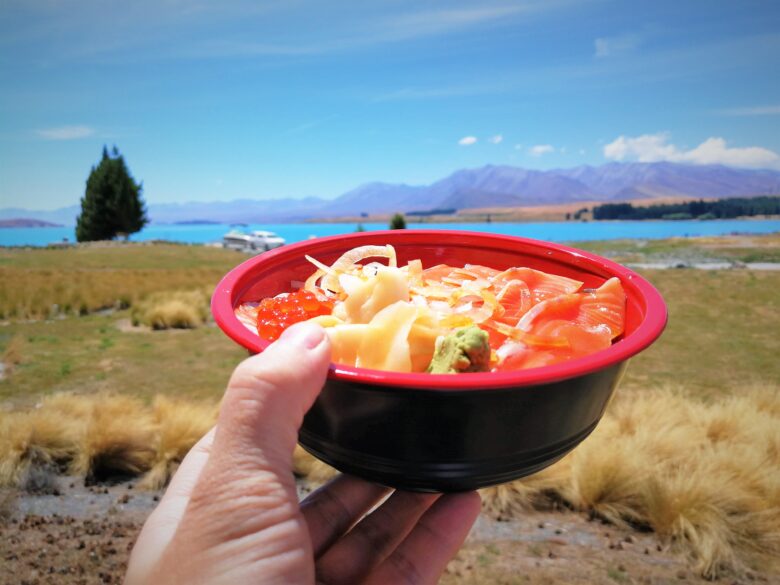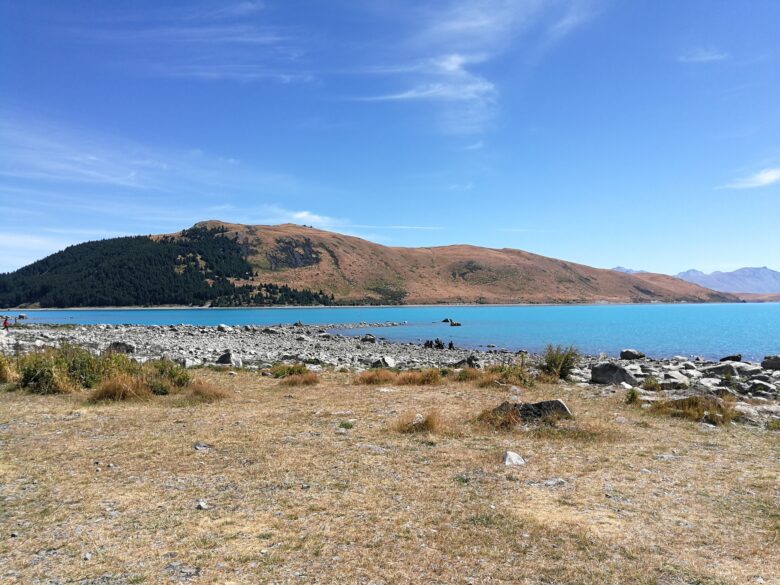 Bench is prepared but you can prepare picnic sheet as well.
Below is the basic info about Kohan restaurant.
Address:6 Rapuwai Lane, Lake Tekapo 7945, New Zealand
TEL: +6436806688
Operation hour: 11:30 am – 2:00 pm, 6:00pm – 8:30 pm
Wandering around Tekapo Lake
When you search Google what to do at Tekapo「Church of the Good Shepherd」must hit and of course you should go.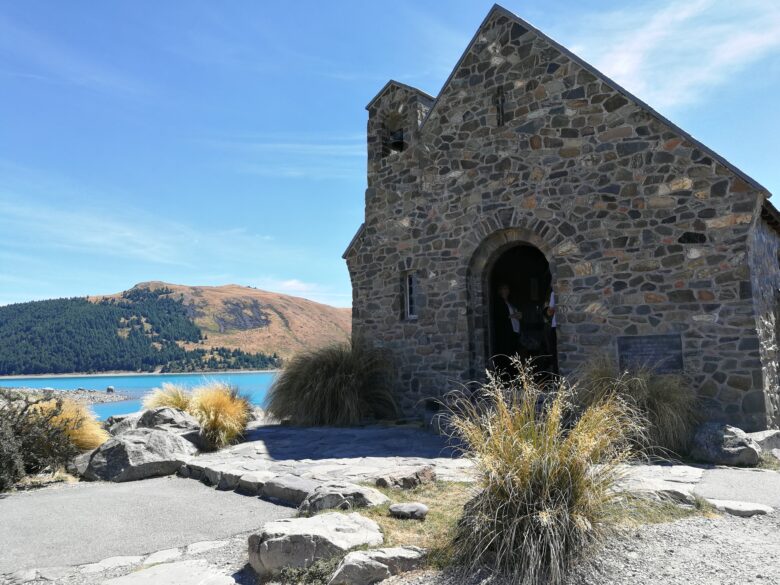 Walking around the lake is also wonderful things to do. At nearby there is hot spring but not natural. You can heal yourself there.

Preparation for the starry sky
Will move to hotel after this.
I use the below hotel High Country Motel and Backpackers1night was around 60USD there is supermarket at nearby so quite convenient.
High country motel & backpackers (Expedia)
High country motel & backpackers (Booking.com)
I believe you not stay in hotel during daytime but inside hotel there was no aircond so its very hot inside. But during night the wind is cool so you can sleep without these heat.
After a while will move back to Tekapo and eat early dinner. You can take tour to see the starry sky but time is short and even not participating the tour you can see the starry sky.
But the place to see starry star is very dark after sunset you better move to the place faster and prepare the flashlight for leaving the site.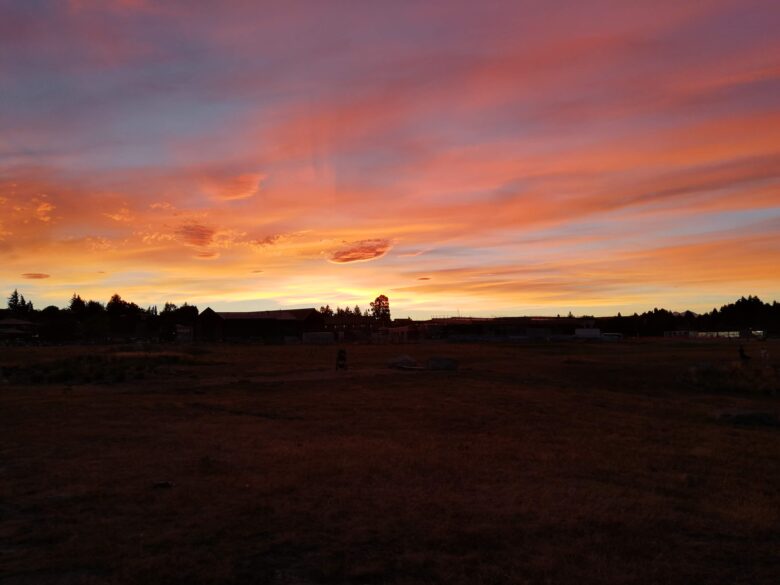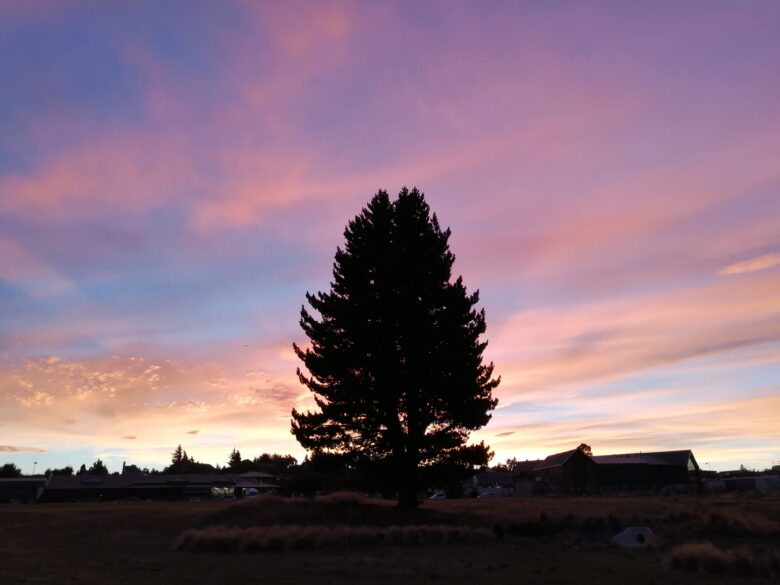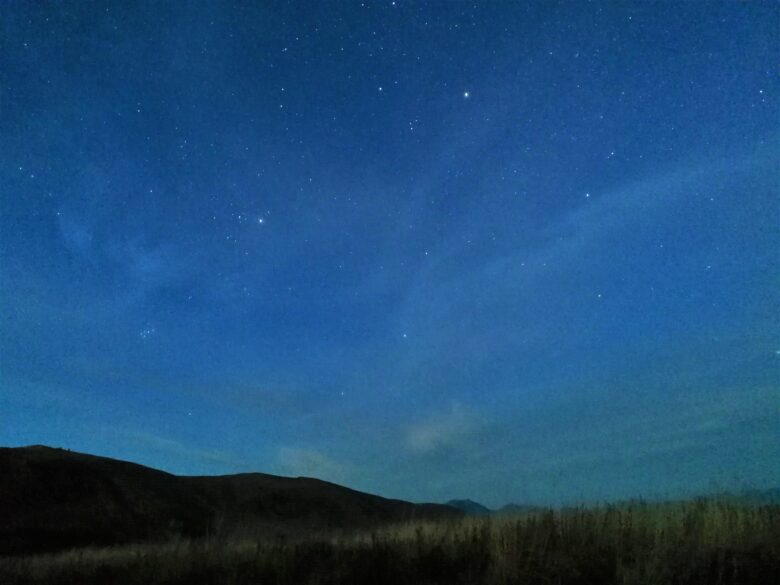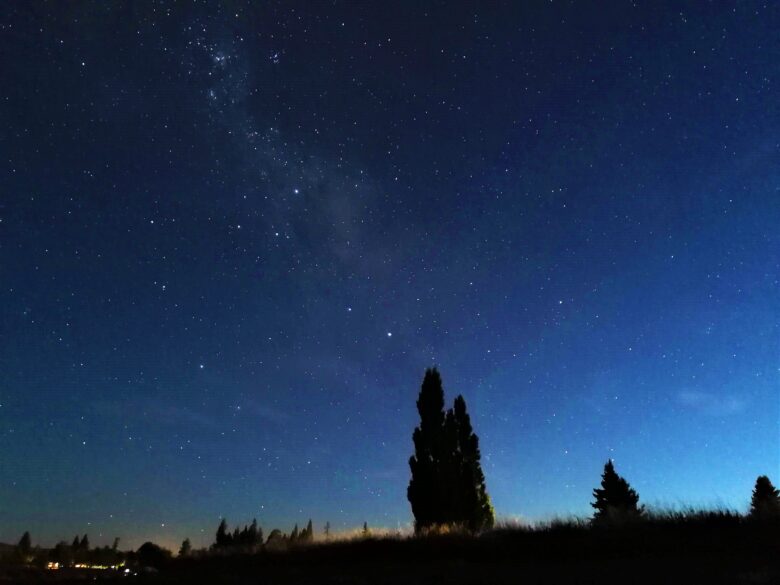 Beautiful sunset is getting more lower and becoming dark but even this condition you can find soe stars by naked eyes.
This is the view when the sun completely disappear.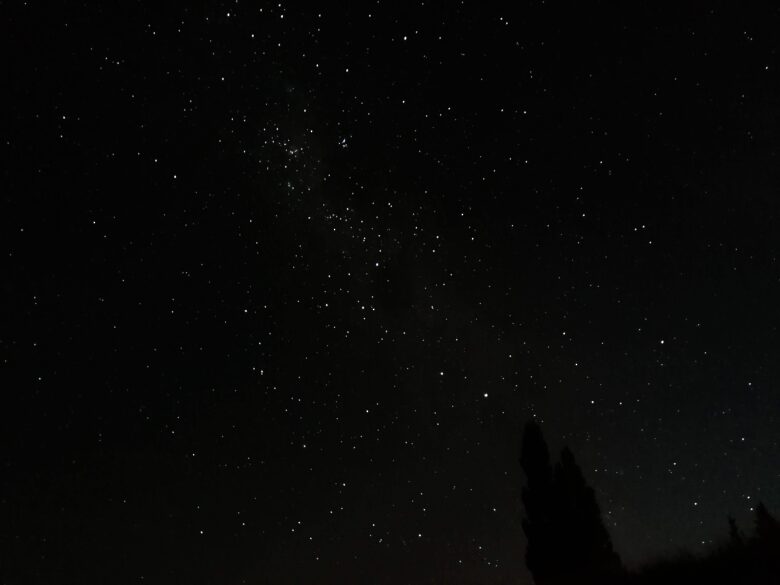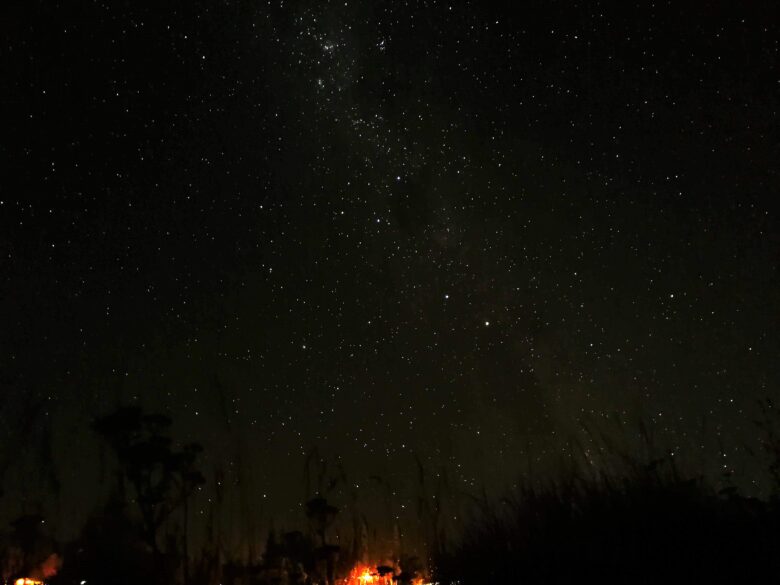 By my smartphone this was the limit to take nice picture.
To tell you the truth I found that Pukaki Lake can see more beautiful stars than Tekapo Lake which was on the other day. But even in Tekapo I never seen starry sky like this in Japan so it impressed me.
I upload Youtube about my trip at New Zealand please watch it if free.
Best place to see starry sky in the world Tekapo New Zealand #1 (世界一綺麗な星空が見えるテカポ湖@ニュージーランド #1)
Best place to see starry sky in the world Tekapo New Zealand #2