On 2nd day at Uyuni I participate below 2 tour.
Starlight 23:00 ~ 3:00       Fee:25USD
Fullday + Sunset 10:00 ~ 19:30   Fee:33USD
Uyuni starlight tour
On the first day together with the evening tour I also apply the starlight tour.
Please see the first day if you still didn't see it.
The place to see before die was true Uyuni #1
Tour company is same HODAKA.
You will again come to HODAKA at the time given by HODAKA staff.
Uyuni ocen level is around 3,670m. During daytime it's quite hot if sun is arised but at night it's pretty cold so you need jacket or whatever to protect from cold.
Uyuni town and also lake is very dark if you have you should bring the light and better change your camera or phone setting in night mode so that you can secure your time during tour.
I was using Huawei P10plus and took photo by manual mode.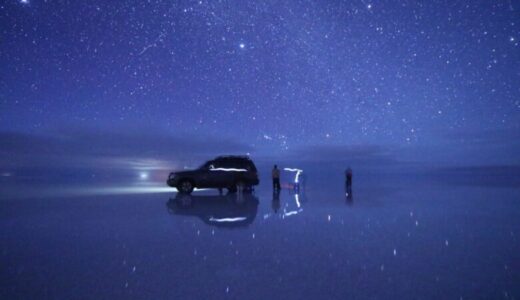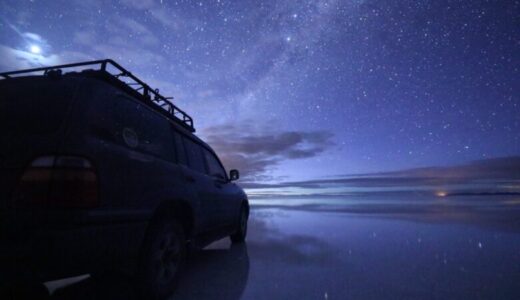 Photo image is bit rough because of noise but isn't nice enough by mobile phone photo.
If you want more beautiful photo you must use single-lens reflex camera. This is the limit of mobile phone spec.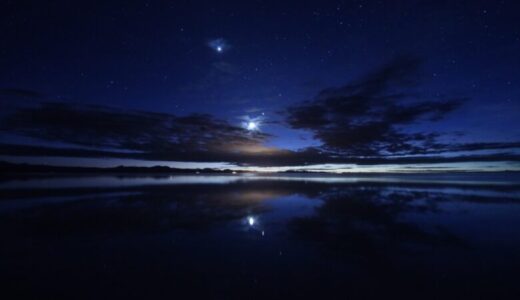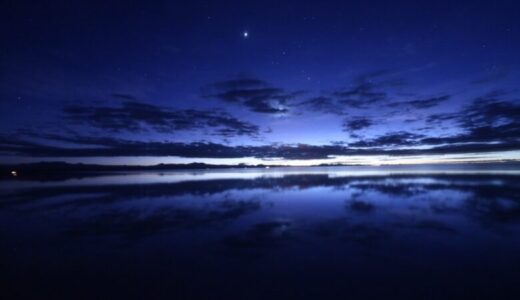 You will see sunrise at here. It was my first sunrise to seen in 2019.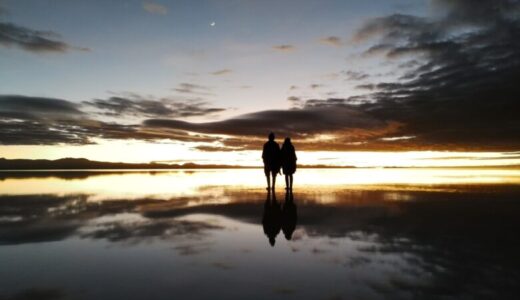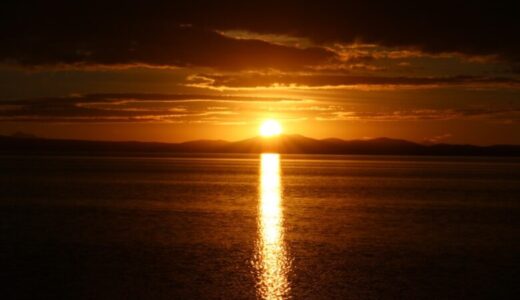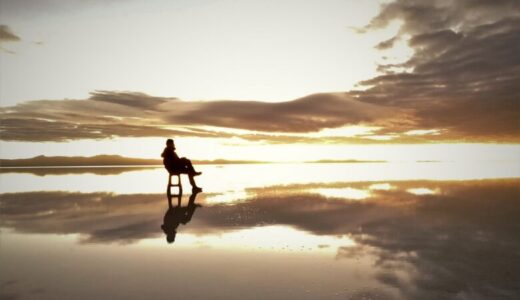 After tour is finished I take a nap since still had time for the next tour.
Uyuni major tour 1day tour and sunset
Again using Hodaka.
This group was 3 Japanese pair and 1 Peru pair.
This Peru pair was able to speak English so it really helped us.
First we went to train cemetery. As of the name it was used to dispose the train here and become as tourist sightseeing point.
You can see the train which is almost about to collapse and making you feel inside SF worlde. It's 1 of the ruins spot you can enjoy easily.
Theres no special rule so you can do it as your owns such as riding on the train or getting inside but don't forget that this area is 4,000m ocean level so not moving so fast or exciting too much otherwise you need fight against alitidue sickness.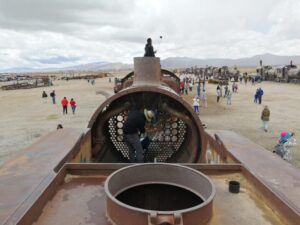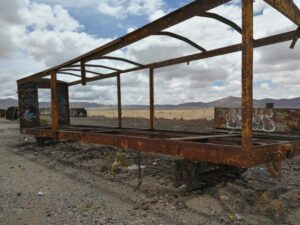 Today will eat lunch at here mirrored Uyuni.
You can choose the meal whether meet or vegetables in advance.
But this day's view was not so nice.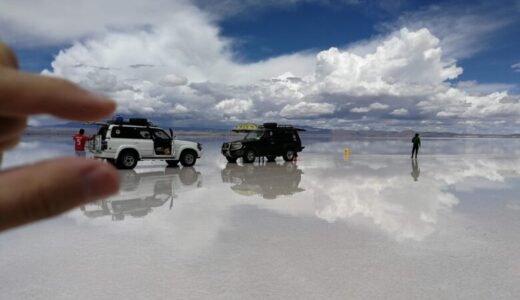 I tried trcikart by myself. Uyuni is the most highest horizontal level which makes this kind of trick art easily.
But you can do more like this after this at dry area.
Dry area is like below. All is salt instead of sand.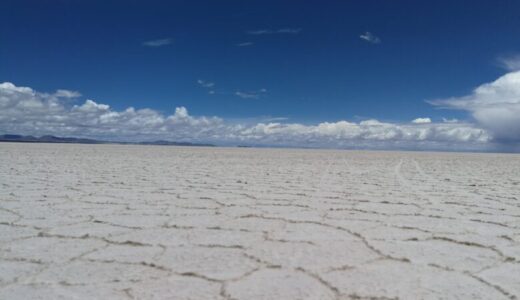 At here tour guide will lead you first and take the photo or video for all members to join these trickart.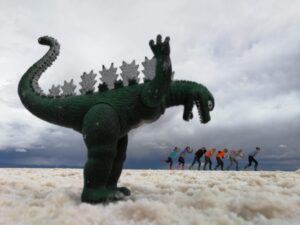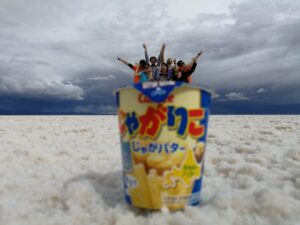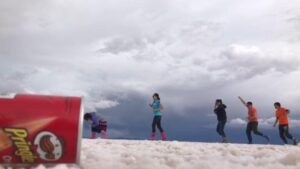 Most items are prepared by the tour guide but you can also bring yours. The middle picture snack is Japanese snack which was brought by 1 member.
For the trickart video you can see at the below Youtube.
To the place to see before die Uyuni salt lake!(死ぬまでに見るべき絶景ウユニ塩湖へ!)

Pringles picture is the screen shot I took from the video.
This hotel was used in the past which is located in the middle of Uyuni. Now is left as museum and used for rest area and some small meal to eat in.
You can purchase nice souvinear too.
At outside the building you can see many country flag I found Japan but Malaysia didn't find.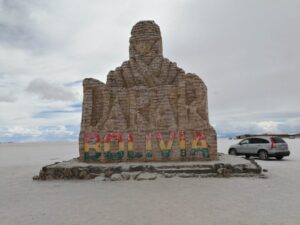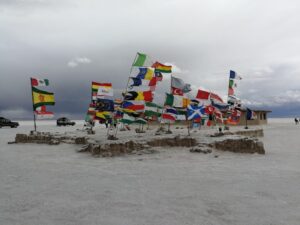 All table and chairs are made by salt.
This is the last place for toilet but to use the toilet you need to pay the tip.
After this we went to watch the sunset but this day wind was too strong, rain started with thunder storm so we gave up.
During this season it's diffcult to see nice view of sunset.
The main street in Uyuni is Plaza Principal Aniceto Arce.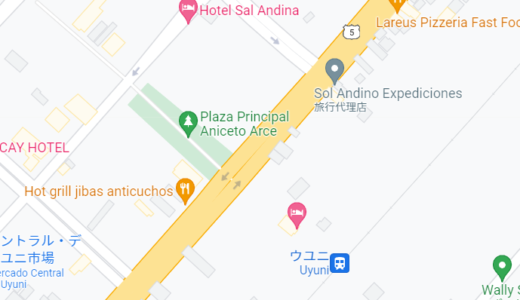 At this street you can find many restaurant but most of the website says that it's not good. I thought Mexcian food should be ok but even Mexican food was bad taste.
When you walk at different street you can find local burger shop which is selling in car and that was delicious.
I also tried the local restaurant which is bit far from the main street and that restaurant was also nice.
But I made a big mistake here.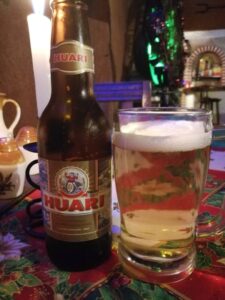 I will explain what happened at next article.