Next morning move to Zagreb by domestic flight and went to Plitivice Lake national park which is registered as world heritage site.
To go to Plitivice from Dubrovnik there are 2 way bus or flight.
Due to my schedule I used domestic flight to move to Zagreb which is bit expensive.
What is Plitivice Lake National park
One of Croatia's most famous tourist attractions, the Plitvice Lakes National Park, was registered as a World Natural Heritage Site in 1979.
It is a national park with more than 16 small lakes shining in emerald green & 90 waterfalls including Croatia's largest "Veriki Waterfall" .
The fantastic nature of clear water and trees can be enjoyed at any time of season but the best season is said to be summer.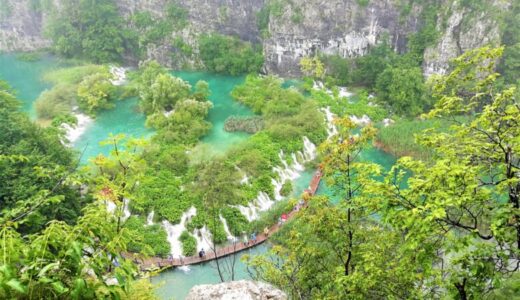 Recommand way of sightseeing at Plitivice Lake
Since June was just the beginning of summer, it was just before the high season, so I could make a reservation easily, but if you plan to go to July / August, make a reservation as soon as possibile same concept with the hotel in Dubrovnik.
I booked private tour via Viator. It was 8hr private tour and fee was 180USD per person.
The contents of tour was outdoor war museum, Rastoke village & Plitivice Lake. To be honest war museum was not necessary to go for me.
Outdoor war museum
You can see the tank and fighter which was used during the war.
Some of it you can go inside and ride so if you not intrested in these things you'd better pass this course and secure your time more at the Plitivice Lake.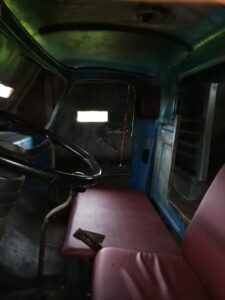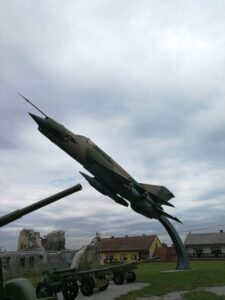 Rastoke village a town with water and nature
Rastoke village is historical town which is in between Slunjčica river & Korana river. Also register as cultural heritage.
It is also called small Plitivice and you can feel the fantasy enviroment from the view of river crossing between each houses. There's nothing special to do there but can relax by listening to the sound of the river before depart to Plitivice Lake.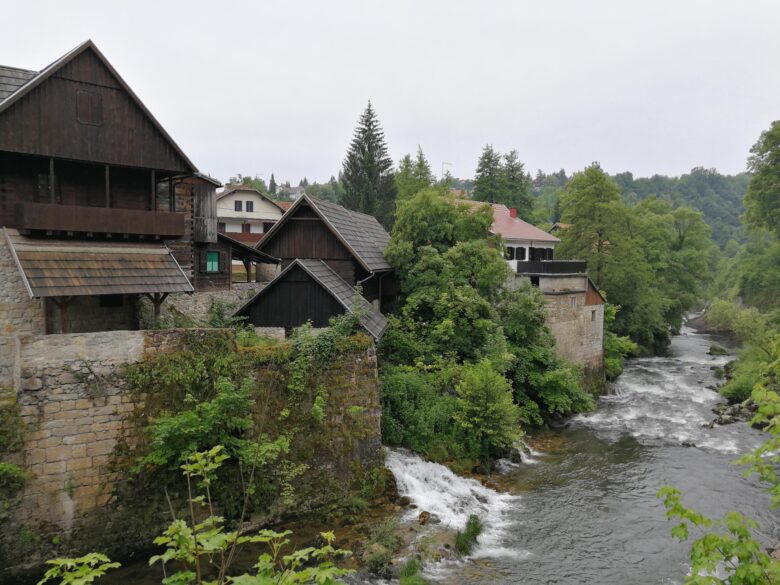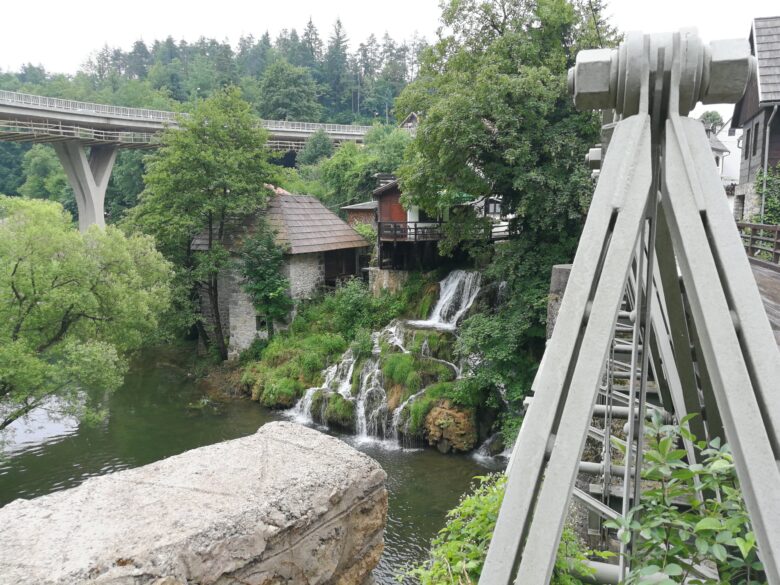 Plitivice Lake National Park world heritage of Croatia
At Plitivice you will do hikking with tour guide. You can see 16 lakes which is connected to the waterfall. Go around to see both north (upper lake) and south (lower lake) lake by walk and at the end you can enjoy crusing with forest at the Kozlak lake which is the most biggest lake in Plitivice.
From November to March the operation of train and boat is stopped meaning during that period you just need to walk every where.
It's possible to walk both upper lake and lower lake but need many energy.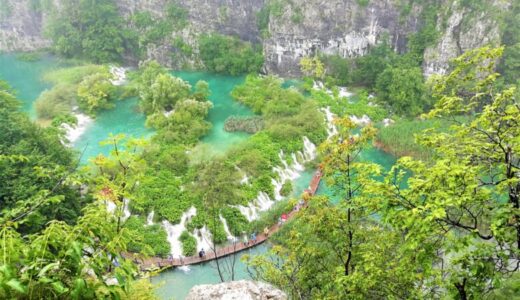 The tour is incluidng the entrance fee as well. During early summer its consider as rainy season and unfortunately during my visit to Plitivice was raining.
If raining you might feel cold. Basically you will become warm while walking around but when you go neraby the waterfall, water splash is so many and you'll get wet so you should bring raincort.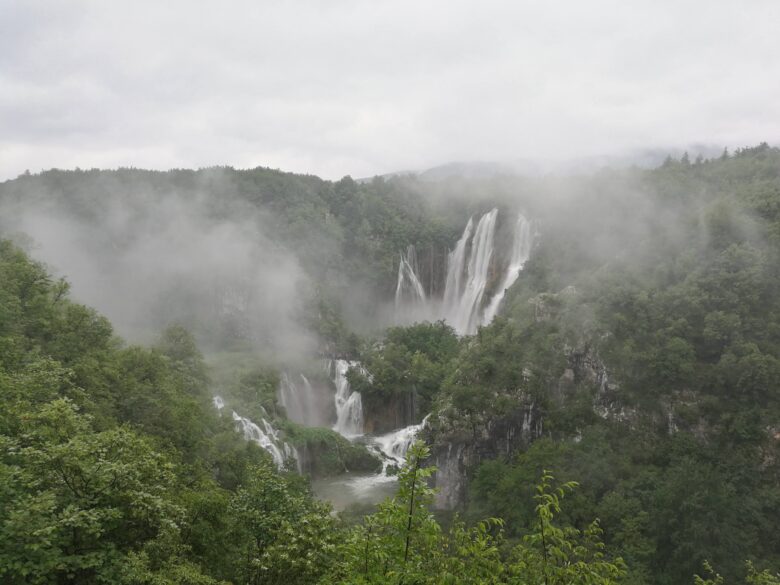 Walk with your guide through the promenade.
Walk along the promenade that you saw from the entrance earlier and go to the main waterfall.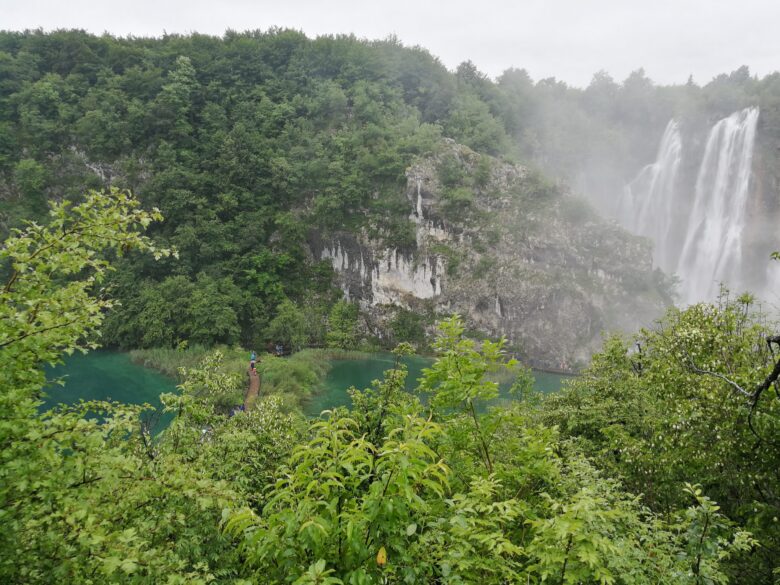 The waterfall's splashes are pretty amazing, so it's a good idea to bring a rain cort.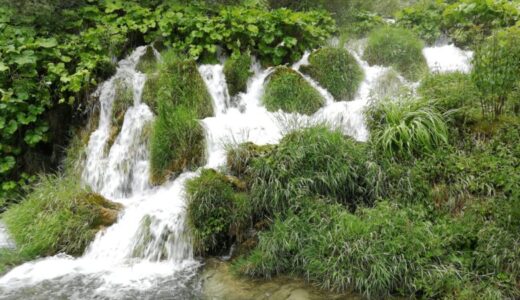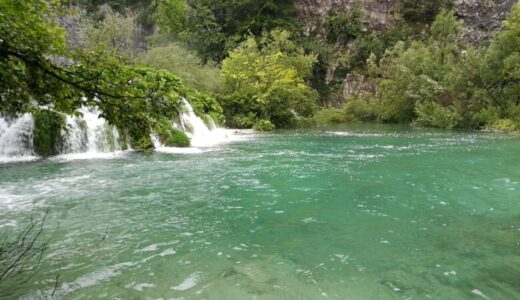 After seeing the waterfall, we will move through another promenade. The walking distance is quite long, so you should wear comfortable shoes. At this time, I was wearing sneakers because I didn't know the existence of trekking shoes, but I wish I had used Gore-Tex products, which are resistant to rain and breathability from this time.
You can even purchase by reasonable price from famous brand so you may try from that first.
My 1st trekking Gore-Tex shoes was Timberland brand.
At the end of the tour, take a boat and return to the entrance. If you have time, you can go to another lake after that, so please decide according to your schedule and tiredness. I chose to go home after the boat because I thought the time after that would be difficult due to the rain.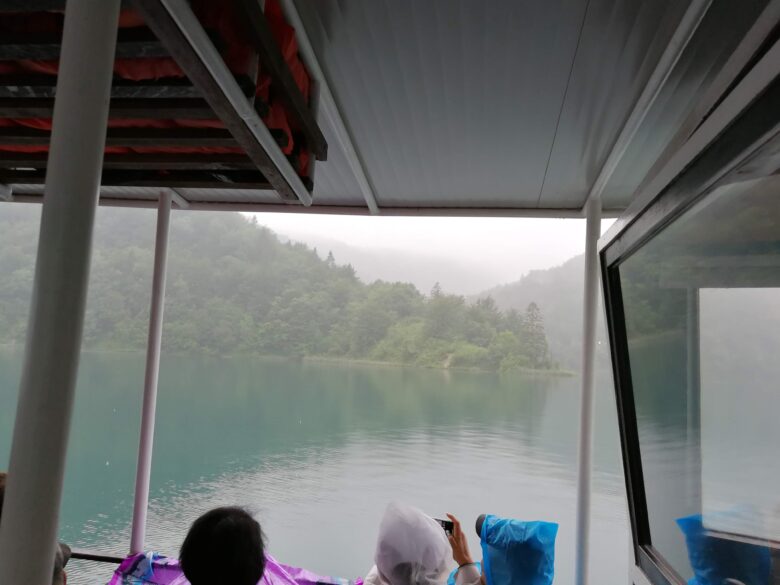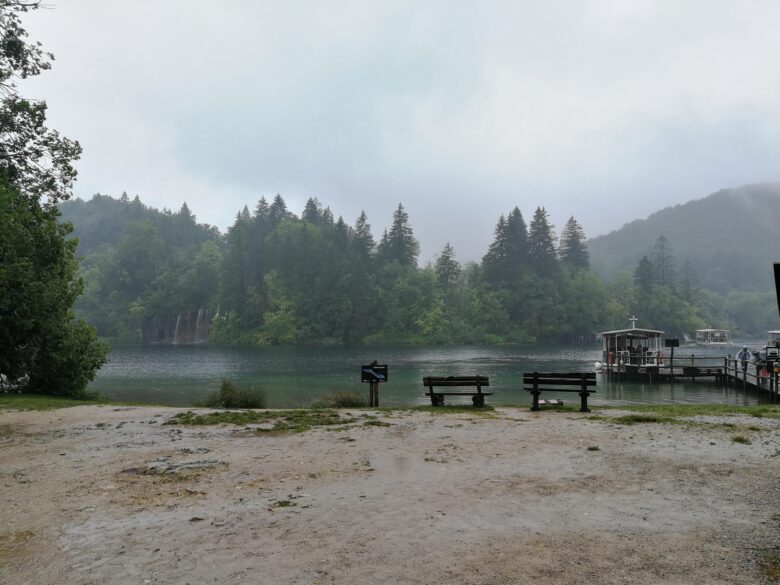 You will have lunch break before taking boat. At the palace in front of the boat area there are some few shop and small restaurant to eat. But it will be quite crowded there so maybe it's good if you can bring some foods.
You can also buy souvinear since after eating lunch, there are still some time.
You can buy souvinear here or at the entrance. If you want to purchase T-shirt the entrance shop has more type so you'd better purchase at the entrance shop.
After tour is finish the guide will send you to airport or Zagreb city and the tour will be finish.
Unfortunatelt flying back to Dubrovnik was delayed due to thunder storm so neede to eat dinner at Zagreb airport. I was looking forward Croatia cuisine so it was depressed. During this season seems like evening shower and thunder is frequently happening and cause impact to the flight schedule.
Tomorrow will go to Montenegro world heritage site Kotor.
You can also check the 1st day trip ay Dubrovnik.
Croatia world heritage Dubrovnik trip #1
At Youtube also updated Croatia version please check.
With Pearl of Adriadic Ocean Dubrovnik trip(アドリア海の真珠「ドブロブニク」の旅に)