What you describe when you heard Croatia.
I like soccer so I only have Croatia is strong team.
But I notice when I read the book that Croatia have very famous & wonderful world heritage.
During this trip I went to Durbrovnik, Plitivice in Croatia & Kotor in Montenegro.
All the place was written in below book which is Japanese. THe beautiful and superb view you can see within 5days holiday.
Actually 5days for this trip was very tough but able to manage.
Pearl of Adriadic Ocean Dubrovnik
Dubrovnik is located in southern Croatia and facing the Adriatic Sea. Dubrovnik is called the "Pearl of the Adriatic Ocean" because of its beauty. It features the deep blue Adriatic Ocean, solid white walls, and an orange roof.
It is said that this city of model for Japanese anime "Kiki's Delivery Service"
The view in below picture you can see from the car from Croatia airport. From airport to Dubrovnik it took around 30mins.
Croatia especially Dubrovnik is very famous place during Europe summer season.
Those who plan to go will not be able to stay at hotels around Dubrovnik unless you make a reservation a few months in advance, otherwise you will have to go to a hotel which is far away, from Dubrovnik so securing a hotel should be urgent.
Prices in Croatia are as high as those in developed countries in Europe. There aren't many cheap hotels around Dubrovnik, so be careful about that.
This time I use the hotel name Villa Iveta
Villa Iveta availability (Expedia)
Villa Iveta availability (Booking.com)
I rented a pension a few minutes walk from the Pile Gate. Dubrovnik has a large number of stairs. Suitcases aren't very convenient, so I think backpacks are easier to move around during this travel.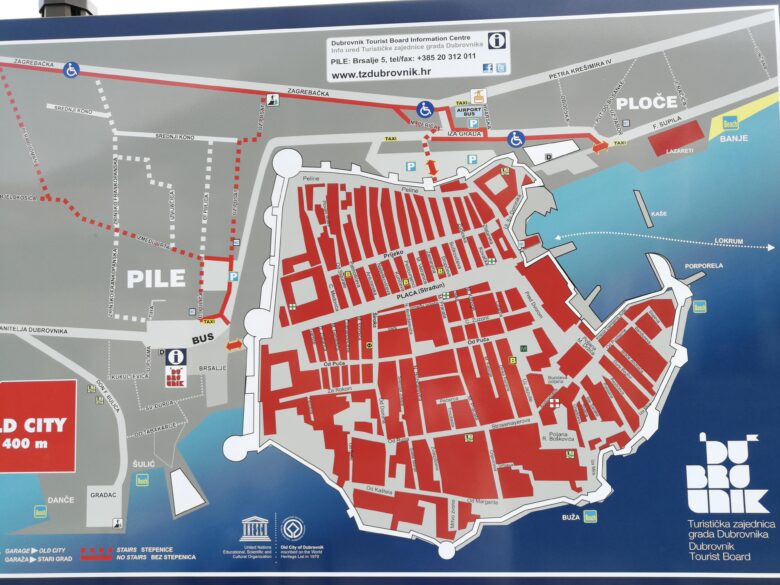 When go to the airport you need to go to Pile Gate to catch taxi so during this hot summer season that was quite tough.
At above map dotted line is the stairs. My pension was aline to that.
For dinner I went to Restaurant Mimoza which was recommanded by pension owner.
Dubrovnik is famous of seafood so if you don't mind please try,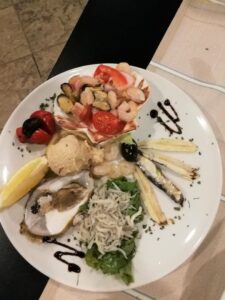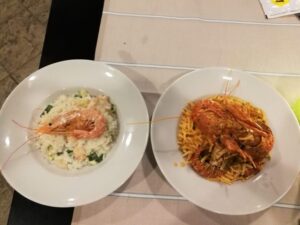 Seafood was actually delicious. I had rarely eaten sashimi at restaurants outside Japan and abroad, but it tasted satisfying for me.
I order cheese risotto which was very nice.
But if you want to eat with the Adriadic Ocean I don't prefer to use this restaurant since from this restaurant it cannot see outsude. You must go in front of Pile Gate but its so crowded you need reservation.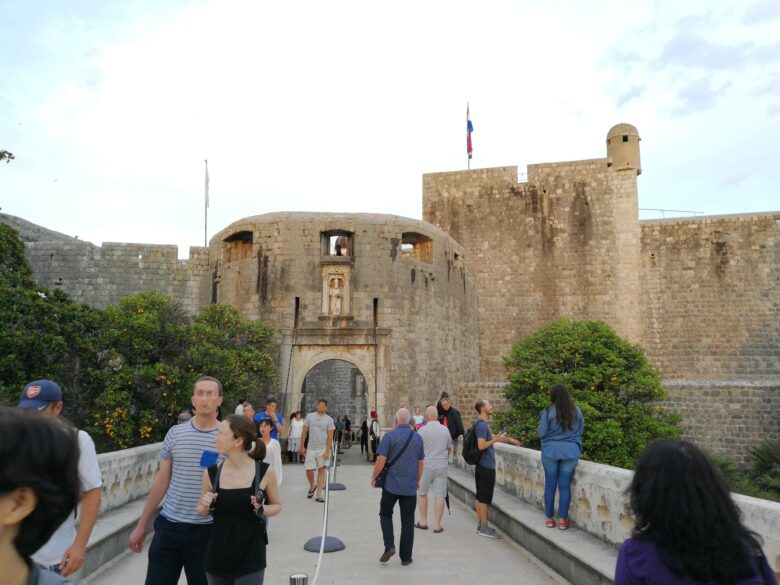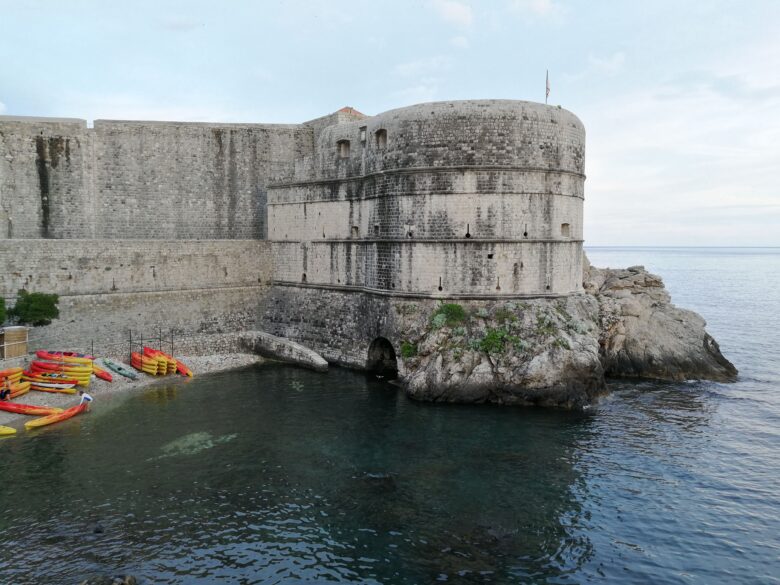 Because of transportation schedule I arrive on the evening but Europe sumer day time is very long.
Even after the dinner still sun was visible.
Tomorrow will go to Zagreb and visit to Plitvice National park.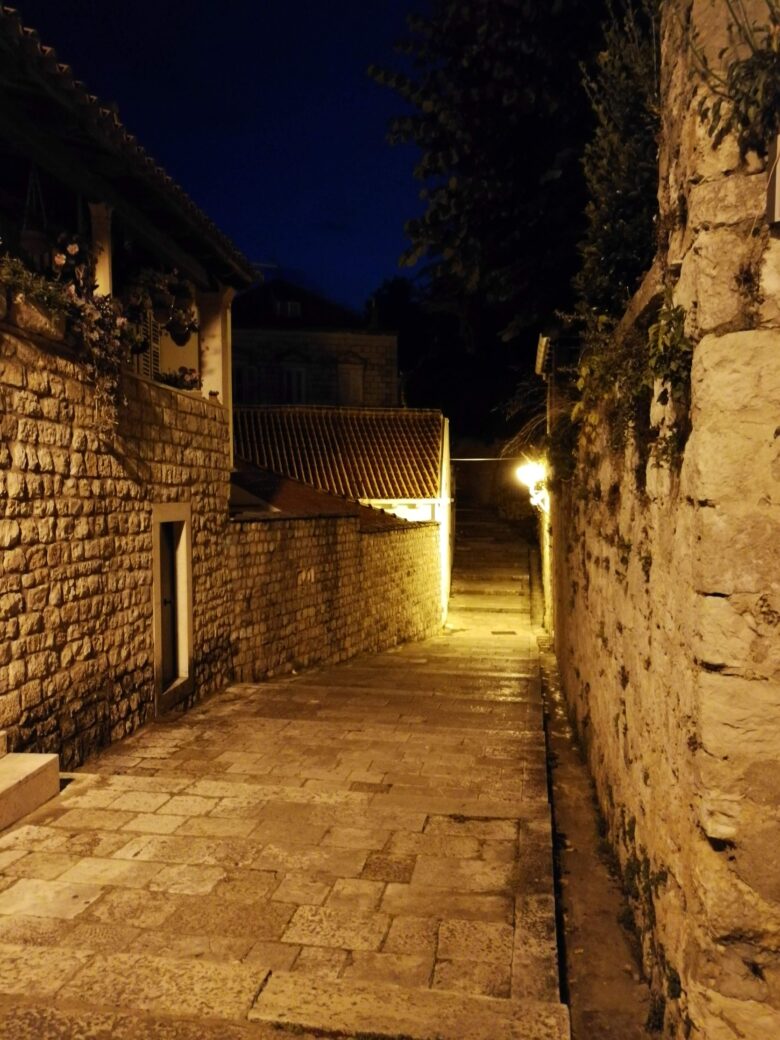 This is surrounding at the pension during night. It's quaint.
Like Kotor in Montenegro, which I will introduce later, there are quite a lot of cats in Dubrovnik. It's soothing because they are used to the people. This is great information for cat lovers.
I updated Croatia trip in Youtube too. Please see when you are free.
アドリア海の真珠「ドブロブニク」の旅に(With Pearl of Adriadic Ocean Dubrovnik trip)