Narita is the airport I often use when I return to Japan. And going back to Malaysia normally its daytime flight so mostly the day before departure I stay near Narita station.
Previously I used Tokyo for the last day to stay and take the early bus in the next morning to go to Narita airport but I notice that to saty in Narita is more convenient.
Edokkosushi Bar
From Narita station there are famous sightseeing spot which is Narita temple (Naritasan Shinshoji) and the way to Naritasan you can find this sushi bar. The road name is called Omote sando. I think only Narita sushi bar will serve Unagi (eel) which is the famous product they handle in this city.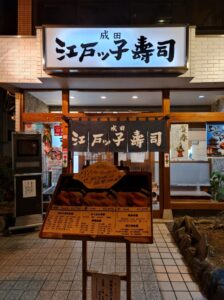 I use this many time.
This place was also introduced by the media with Japanese famous comedian "Banana Man" and seems like I order the same thing what they ordered before I come.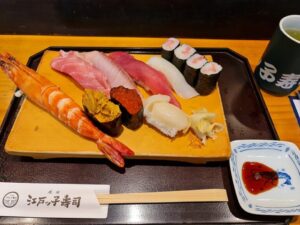 Pirce is 3,740 Yen (35 USD)
I forget to take photo but this course also include unagi sushi.
You can notice from the picture but each sushi is so big.
Because I was keeping the shrimp until last chef asked me that do I hate shrimp.
But I answered that its because my favorite and so big no choice to keep until last.
No need to say it was very delicous. I will go again if I go back to Japan again.
Restaurant Info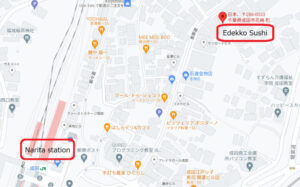 Its around 5 minute walk from Narita station.
Operation Hor:11:00 ~ 20:00 (LO 19:00)
There are also alacarte menu and other reasonable set menu.
Narita wandring trip#2 The famous restaurant to choose for "unagi"
Please also review sushi bar in Malaysia too.